Whether using a bottle of worcestershire sauce from the grocery store or a homemade worcestershire sauce recipe, you are going to want to use it to make these delicious recipes that use worcestershire sauce!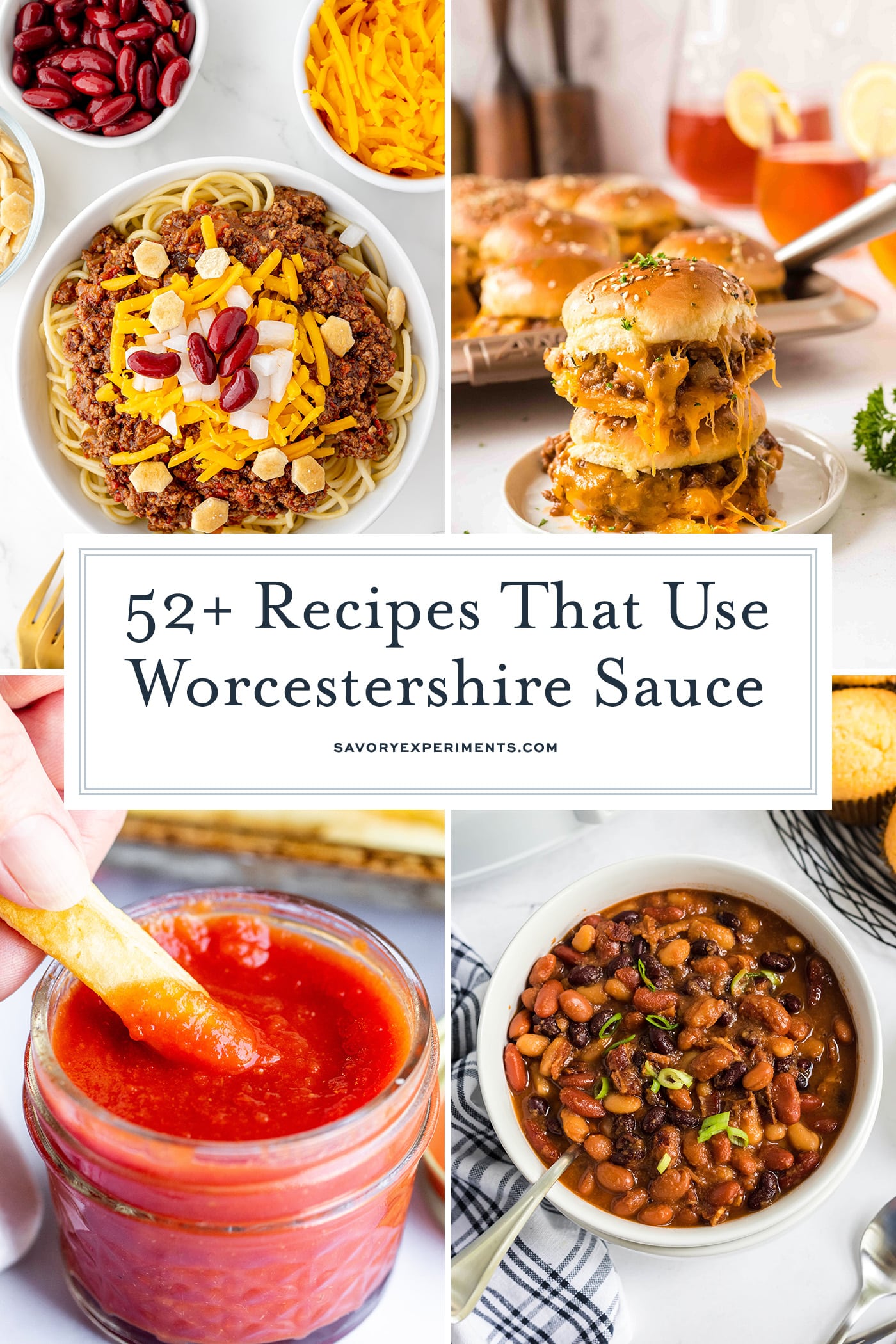 What Is Worcestershire Sauce?
Worcestershire sauce is a widely used condiment with a distinctive and complex flavor profile. This thin sauce is known for its ability to add depth, umami richness, and a savory kick to a variety of dishes. Its origins trace back to Worcester, England, where it was first created.
Although the exact recipe is a closely guarded secret, Worcestershire sauce typically contains ingredients such as anchovies, vinegar (often malt vinegar), molasses, tamarind, garlic, onions, salt, sugar, and a blend of spices and seasonings. These components are carefully fermented, aged, and then strained to create the flavorful sauce used in many global cuisines.
The sauce's popularity stems from its ability to balance sweet, sour, savory, and spicy elements, making it a versatile ingredient. This popular sauce adds a distinctive and robust flavor that elevates the overall taste of many dishes.
Use it as a marinade, a seasoning in sauces, or a flavor enhancer in cocktails and soups.
Ways to Use Worcestershire Sauce
One of the funniest memes I've ever seen was a picture of a Worcestershire bottle and someone saying they only buy one every decade. Well, foodie friends, I use mine a lot and probably buy a bottle once per month!
It is a versatile condiment that adds a savory, umami-rich flavor to a wide range of dishes. Here are some popular ways to use Worcestershire sauce:
Marinades: Combine Worcestershire sauce with other ingredients like olive oil, garlic, herbs, and spices to create flavorful marinades for meats, chicken, seafood, or tofu. It is also acidic, so it digs deep into fibers and helps to tenderize.
Steak Sauce: Drizzle Worcestershire sauce over cooked steaks or mix it with melted butter for a classic steak sauce.
Bloody Mary: Add a dash or two to your Bloody Marys for an extra layer of umami flavor and richness.
Caesar Salad Dressing: Incorporate Worcestershire sauce into your Caesar salad dressing recipe to enhance the depth of flavor. Some even use it instead of anchovies.
Barbecue Sauce: Use it as an ingredient in homemade barbecue sauces to give them a tangy and savory kick.
Soups and Stews: Add a few dashes to soups and stews, such as beef stew or chili recipes, for a deeper, richer flavor in a flash.
Burgers: Mix Worcestershire sauce into your ground meat when making burgers for added juiciness and flavor.
Meatloaf: Incorporate this sauce into your meatloaf mixture for beefy flavor.
Roast Vegetables: Toss roasted vegetables with a bit of Worcestershire sauce before serving for an extra layer of flavor.
Gravy: Add a teaspoon to beef or mushroom gravy for a savory twist.
Glazes: Create glazes for baked or grilled meats, such as ham or chicken, by combining Worcestershire sauce with other ingredients like honey, brown sugar, or Dijon mustard.
Seafood: Use Worcestershire sauce as a dipping sauce for seafood, such as oysters or shrimp cocktail.
Beef Jerky: Include Worcestershire sauce in your homemade beef jerky marinade for a unique flavor profile.
Now that you've got the rundown on this secret ingredient, check out some of our favorite recipes that use it! From appetizers to sauces and everything in between, these recipes are all made better by the dark amber fermented condiment.
Appetizers
A few drops of worcestershire sauce is a great way to take a dip or other appetizer up a notch. These are some of our favorites.
Main Dishes
Meat loaf, chili and even burgers, these main dishes are all made better by a dash of worcestershire sauce. The savory flavor of these meals are certainly even better.
Marinades and Sauces
Fish sauce, a bloody mary cocktail and so many more sauces and condiments can be elevated by one single ingredient- a splash of worcestershire sauce!
Side Dishes
​Not only are main dishes and appetizers great with worcestershire, but it's also a great addition to lots of side dishes. An easy way to go from boring to delicious!