There are few things as lovely and delicious as a colorful steak kabob. Juicy chunks of steak threaded with snappy pieces of vegetables. Is your mouth watering yet?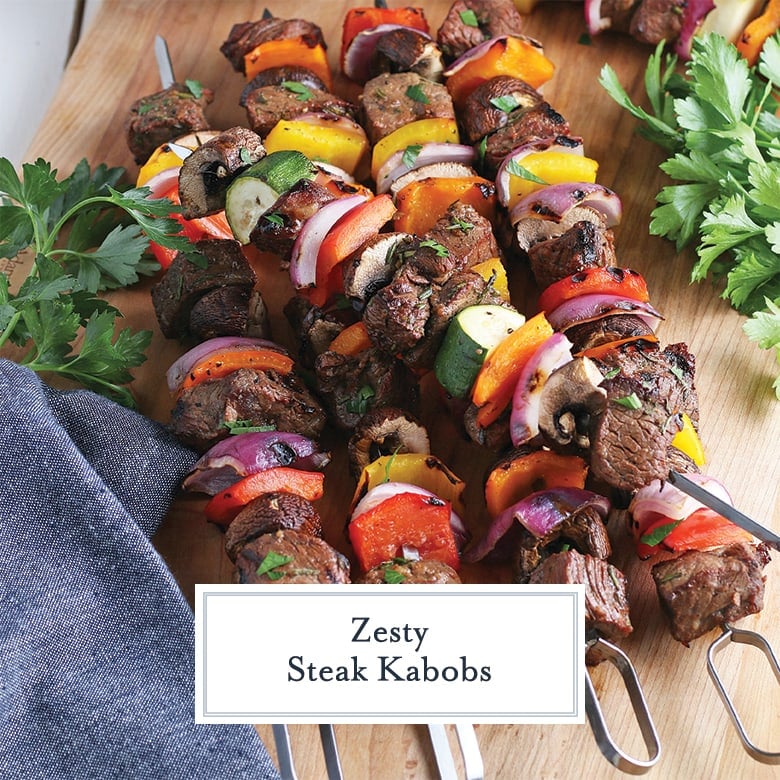 Kabob? Kebob? Kebab?
They are all right! It really depends on your geographic location. A shish kebab is Turkish and usually means that veggies are cooked on one skewer while meats are cooked on another.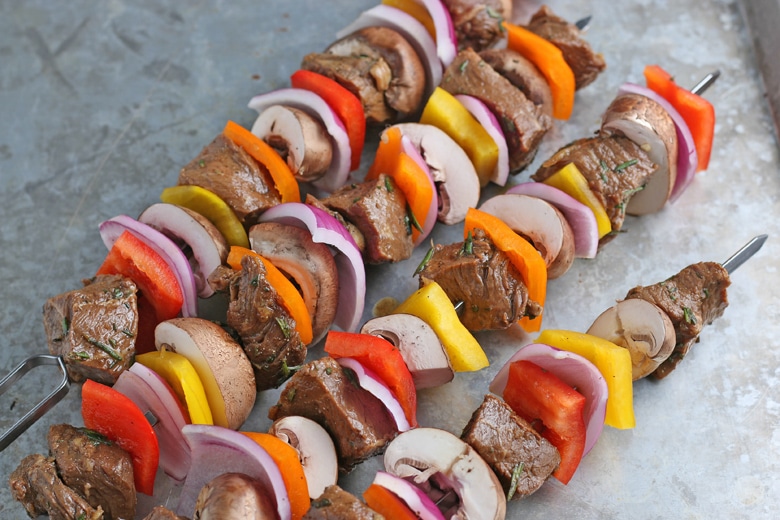 But in the Americas, they are all cooked together and mostly commonly referred to as just a kabob. Do we really care? Just know they are tasty…
Steak Kabob Marinade
The choice of veggies and beef cut is important, but the marinade is the star of this show. I encourage marinating for a minimum of 4 hours, but up to overnight. Since these are thicker (not like a skirt steak or something thin) they need longer to absorb maximum flavor.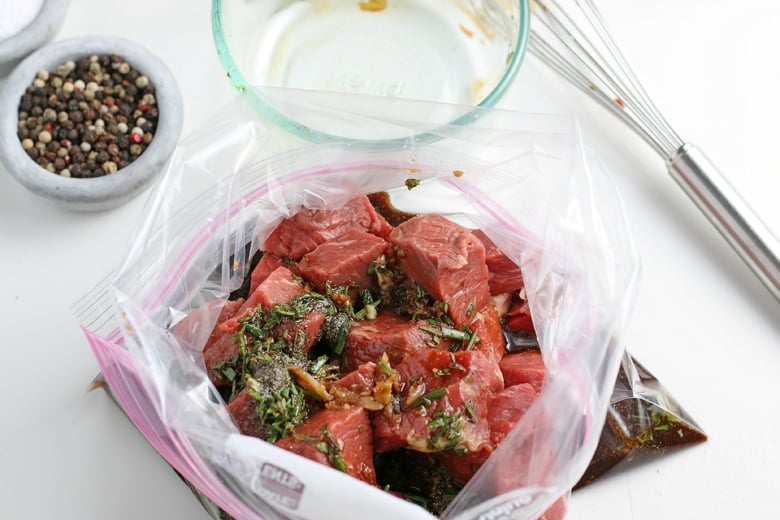 Because there is so much surface space, the marinade has more places to soak right on it and tenderize meaning it will produce super flavorful pieces of juicy steak.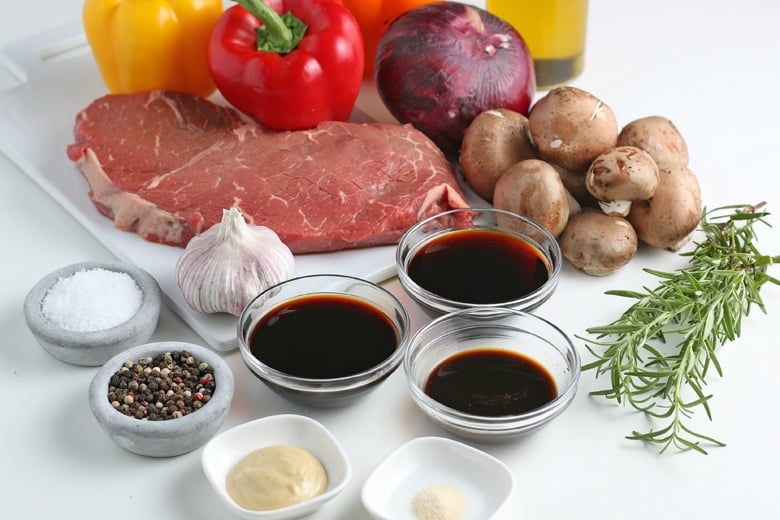 The ingredients list is probably items you already have in the pantry.
balsamic vinegar
low sodium soy sauce
olive oil
fresh rosemary
garlic
Dijon mustard
black pepper
onion powder
smoked paprika
honey
Kosher salt
With so many acidic flavors, it needs to balance with honey, but feel free to leave it out if you want to make it lower sugar. Smoked paprika adds a mild, subtle heat without the marinade being spicy. But if sweating is your goal, substitute this with aleppo pepper or chile powder.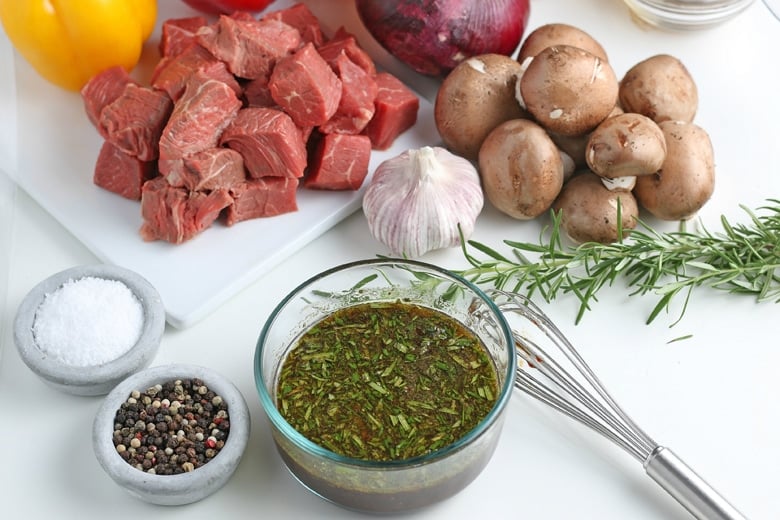 Best Vegetables for Kabobs
This question inevitably comes up- how to pick the best veggies for your kabob. The name of the game here is that you want to introduce color, but the pieces also need to be large and toothy enough for them to stay on the kabob while cooking, but not droop right off.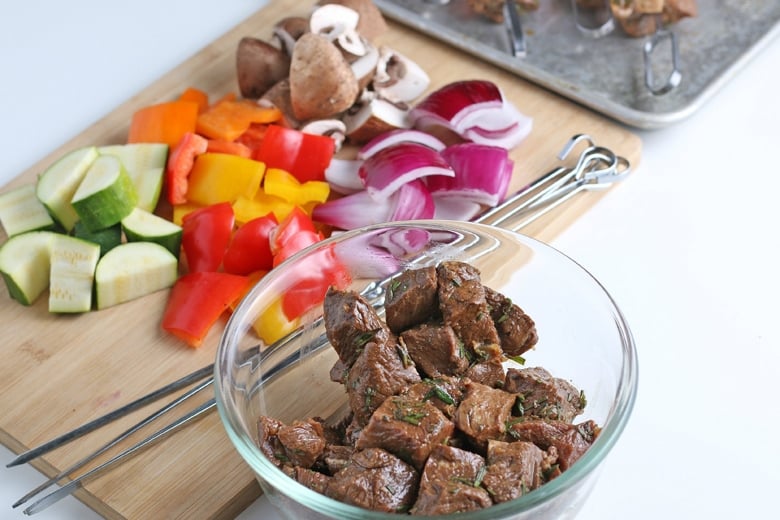 Ideally, these veggies will have char and snap, but not be fully raw. Picking the veggies is just as important as knowing what degrees of doneness you'll be cooking your steak.
If you like a rare steak, then something like zucchini won't have enough time to even char or soften. If you like it well done, cherry tomatoes will blister, pop and burn.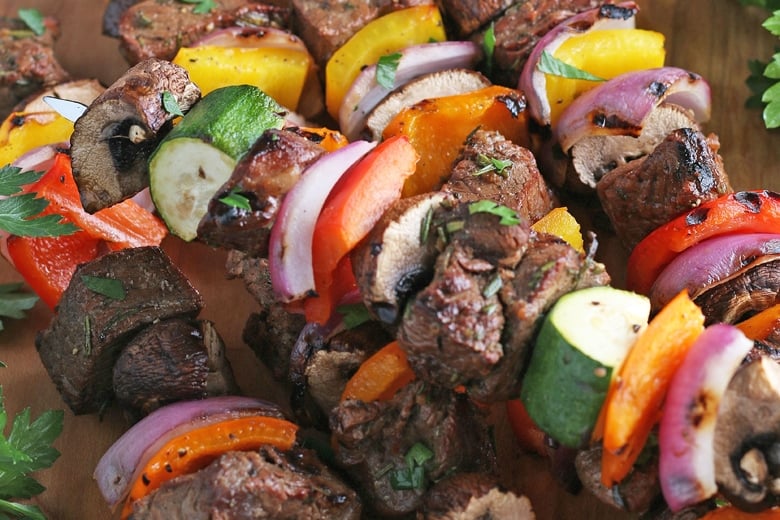 Here are my steak kabob favorites:
Yellow Squash or Zucchini– Cut thick to prevent falling off, best for medium-well done
Onion– thread with 2-3 layers to keep it thicker, red, yellow or sweet works
Bell Peppers- great for color and any degrees of doneness, yellow, red or green
Mushrooms– use whole button or white mushrooms or large mushrooms cut in half
Cherry Tomatoes– use the largest you can find, best for rare to medium-rare
Whole Garlic– If you love garlic, roasting whole cloves is the best, best for medium-well done
Baby Potatoes– regardless of the degree of doneness, parboil or microwave these to kickstart cooking
Eggplant- cut into cubes
Best Steak for Kabobs
I like to use top sirloin or New York strip primarily because they are the middle of road on tenderness and fat content. Something too fatty or marbleized has the tendency for fibers to spread and fall off the skewer.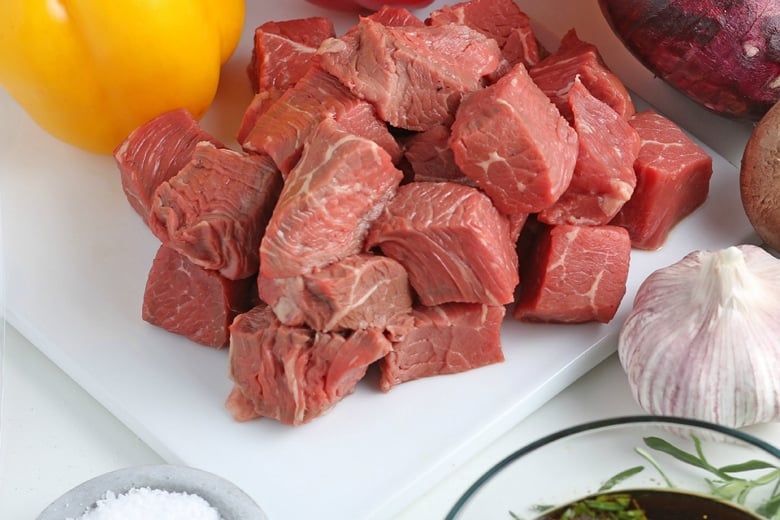 Some cuts, like a petite sirloin, are too thin. They will be charred beyond well done before the veggies are even starting to cook.
Other cuts like a top round, need more time to cook and low and slow, so they aren't ideal for steak kabobs either.
Flat Top Grill, Griddle and Oven
You can surely make these using other cooking methods.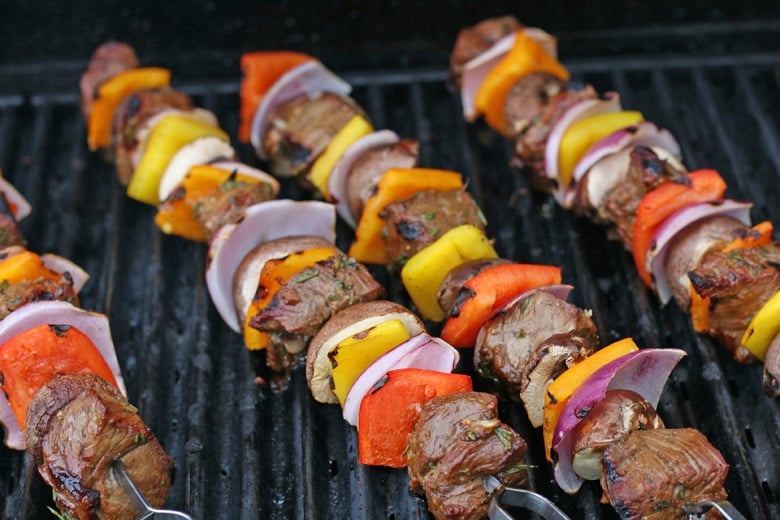 On a flat top grill or griddle, heat to medium high heat and sear on all sides, rotating for about 12 minutes or until desired doneness.
In the oven I highly suggest using metal skewers instead of wood, as these have the tendency to catch fire. Baking is great, but since these just a need a quick burst of high heat, broiling is best. Place them on a broiling pan and broil on high for 10-12 minutes, rotating to get even browning.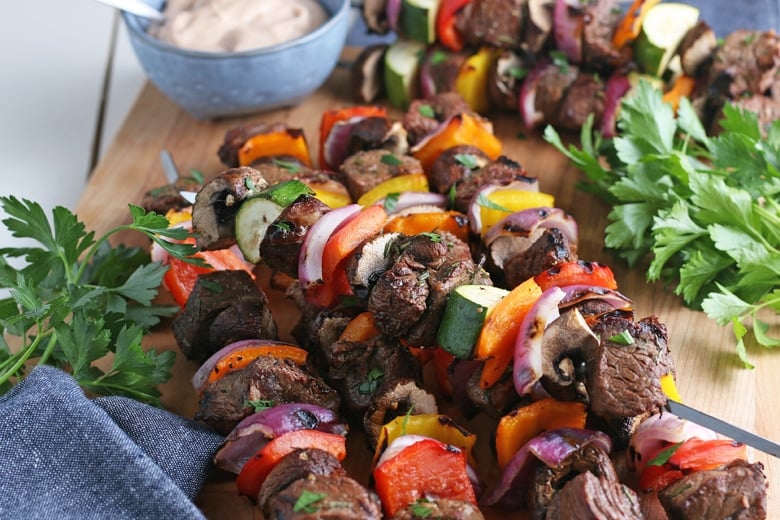 Steak Kabob Tips
This marinade can be used for chicken, pork or shrimp. For shrimp, only marinate for 1 hour as they have the tendency to get rubbery if left for too long.
Soak wood skewers for at least an hour before threading. Metal with a spiral texture are also good and prevent foods from falling off.
Don't thread veggies too tight otherwise the heat can cook the center leaving it raw.
What to Serve Steak Kabobs With?
I love serving steak kabobs over a bed or rice, but you can also eat them with grilled potatoes or even broccoli.
Serve bread on the side with dipping oil or even just eat them on their own.
Any classic BBQ side dish will do. Macaroni salad, baked beans and corn are all great too!