*I received product compensation in exchange for this post, however all thoughts and opinions are my own.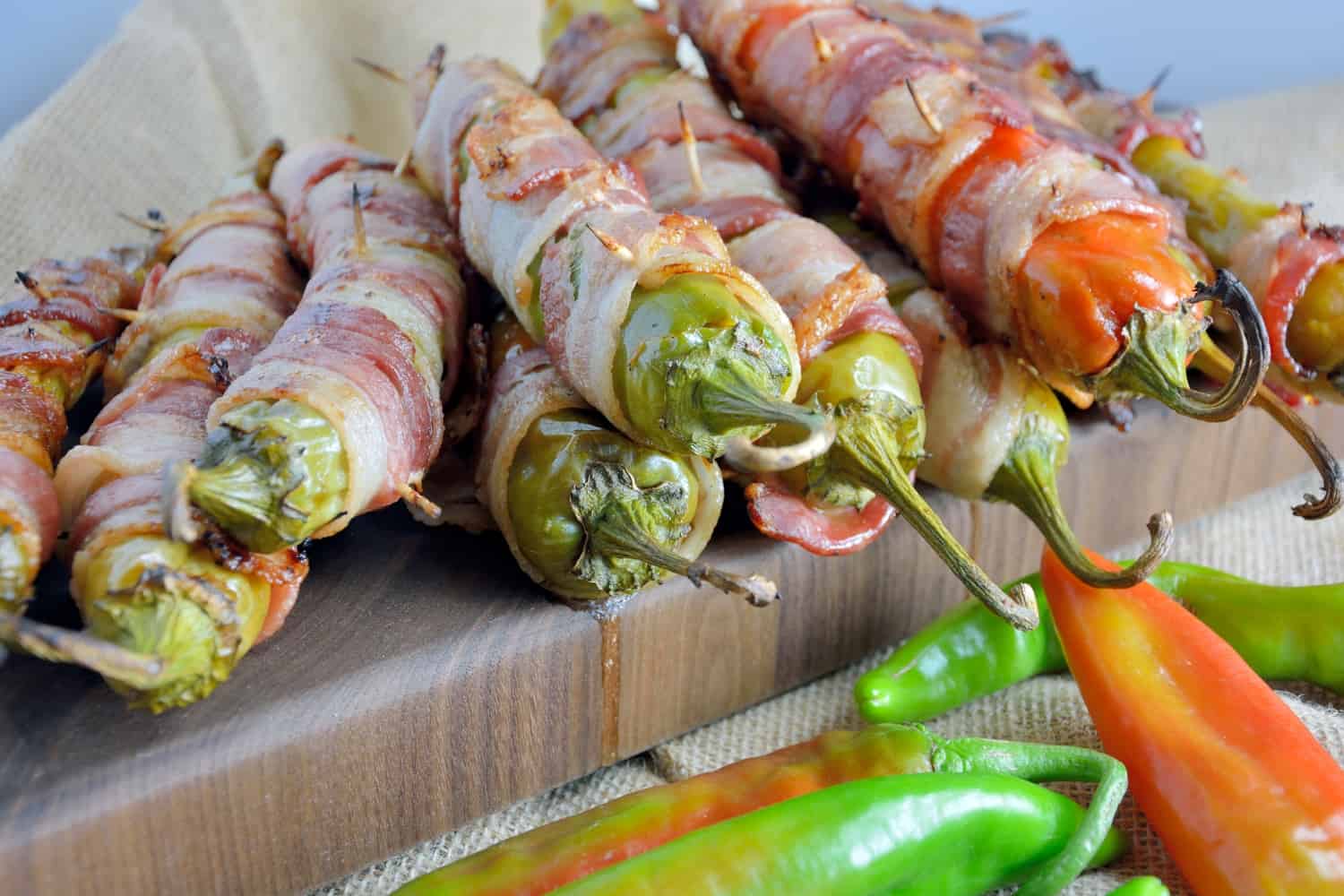 The photo says it all: Bacon Wrapped BBQ Chicken Stuffed Chile Peppers. *Cue lights from the heavens and the angels singing, this is a GOOD recipe!*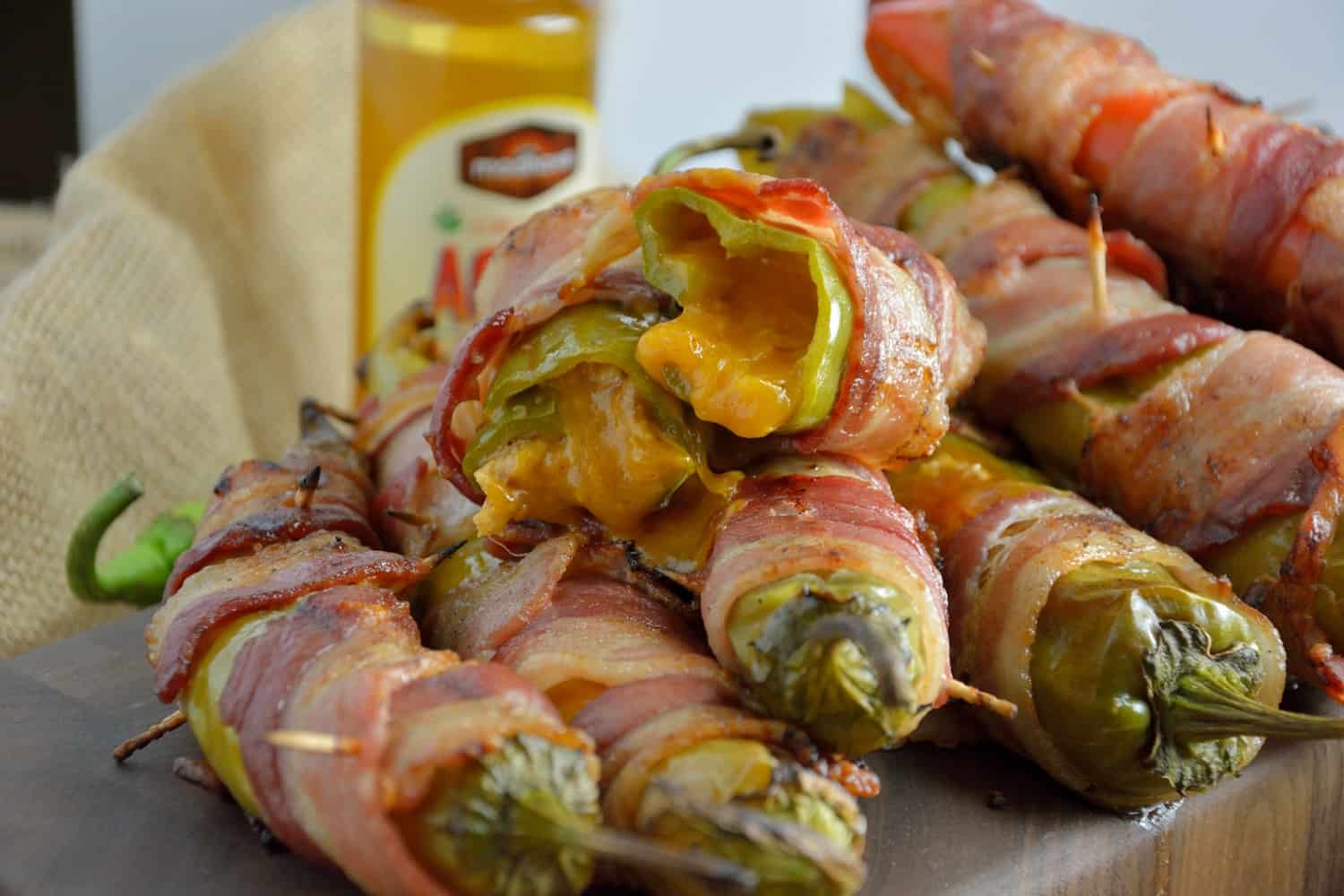 First, a little chile pepper trivia. Did you know that chile peppers are actually a fruit? Yep, the internal edible seeds classify all 100+ varieties of chiles as a fruit rather than a vegetable. Did you also know that the substance that gives chiles their heat is called capsaicin? Scientists have recently correlated chiles receiving more water produce higher heats (for their species) and those with less water with a milder heat index. The last great debate: chili versus chile. I recently presented this question to a notable book editor since even the Internet couldn't give me a concrete answer. Her answer: chili is reserved for stews, chile is reserved for peppers. In my experience, everyone has their own reason of why they use which term, but for now I'll stick with her reasoning. They range in heat, size, geographic location and season, but ultimately all have a few similarities like the shape, seeds, flesh and skin.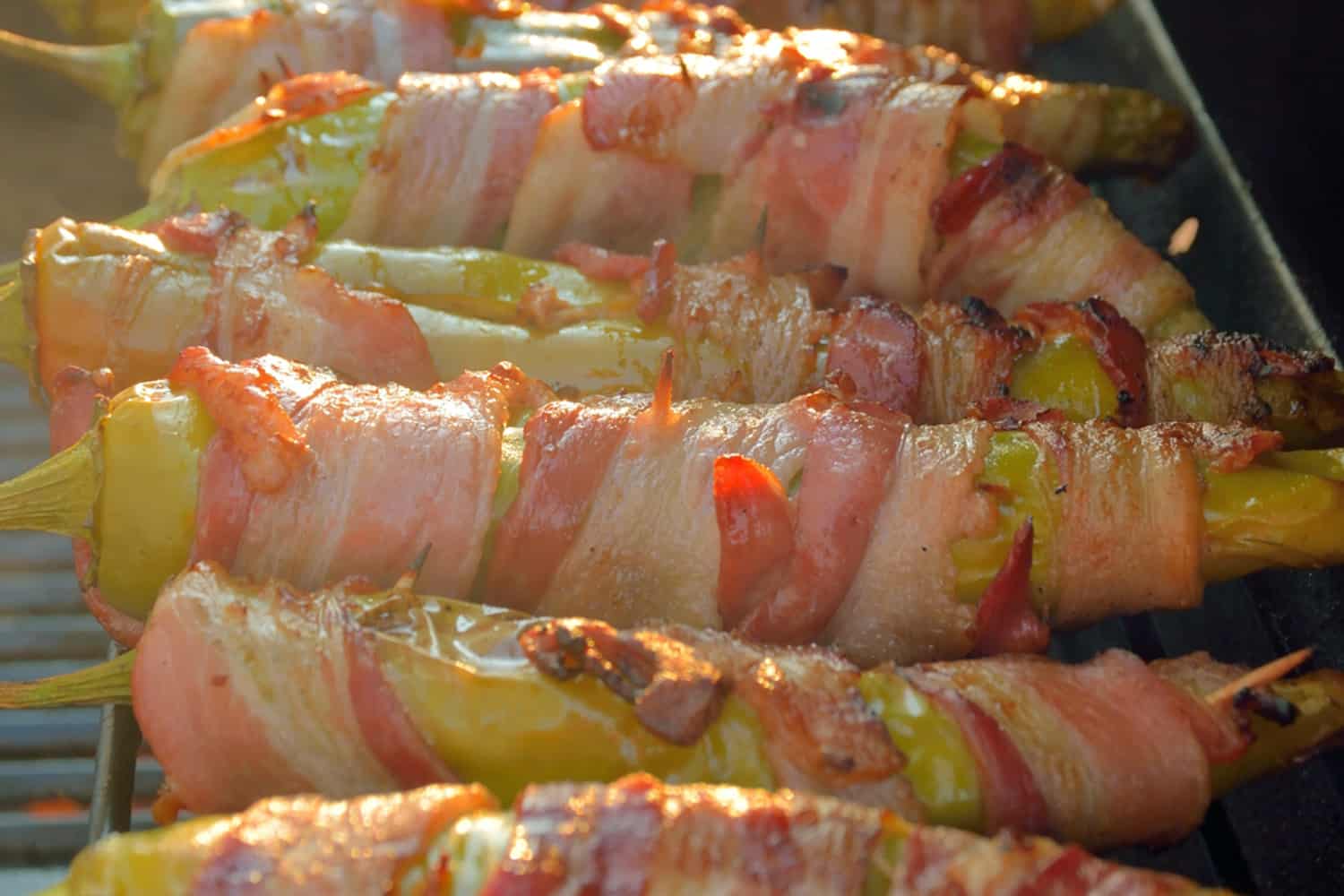 Now that you are armed with a few Jeopardy questions, let's talk about Bacon Wrapped BBQ Chicken Stuffed Chile Peppers. This recipe is simple and versatile. You can use any type of chile pepper you wish as long as it is cavernous and has fairly thick flesh to uphold on the grill. While I've used poblano peppers because I like their relatively thin skin, I also use Hatch chiles when they are in season and have even been known to make this dish into an appetizer by stuffing jalapenos.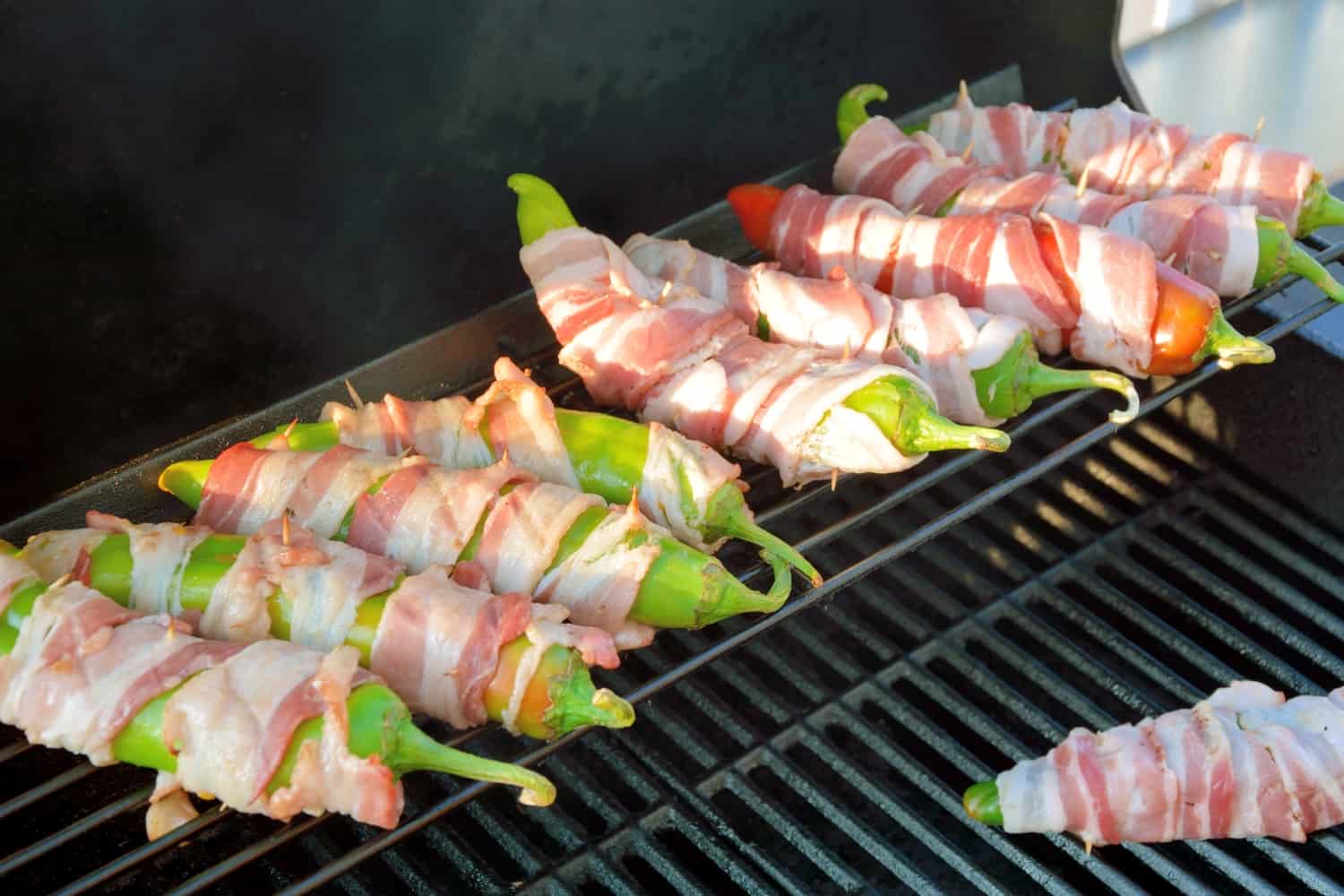 Many chile peppers have a thick waxy skin and that can vary even more from chile to chile. While I am fine with noshing my way through it, others aren't. If you wish to remove the skin before making your Bacon Wrapped BBQ Chicken Stuffed Chile Peppers, throw them on the grill at a high heat directly on the flame to char the skin and allow it to release from the flesh. This is tricky because you don't want the flesh to loose its structure, or else it won't be able to hold BBQ chicken or withstand a good bacon wrapping. The skin will help hold all of this together if you are willing to try it. In the long run, the bacon's natural fats from the chicken and bacon will soften the exterior.
For Bacon Wrapped BBQ Chicken Stuffed Chile Peppers, I carefully removed the seeds from the inside of each pepper, stuff them with a chicken BBQ combination, wrap each one with bacon, grill to perfection and then drizzle with agave nectar to complete the dish. They were wildly popular at my home, as I am sure they will be at yours as well! One thing to keep in mind is when you are picking out your chile peppers, aim for ones that are "roomy"- if they are collapsed you will not be able to fit in as much BBQ chicken and that would be disastrous.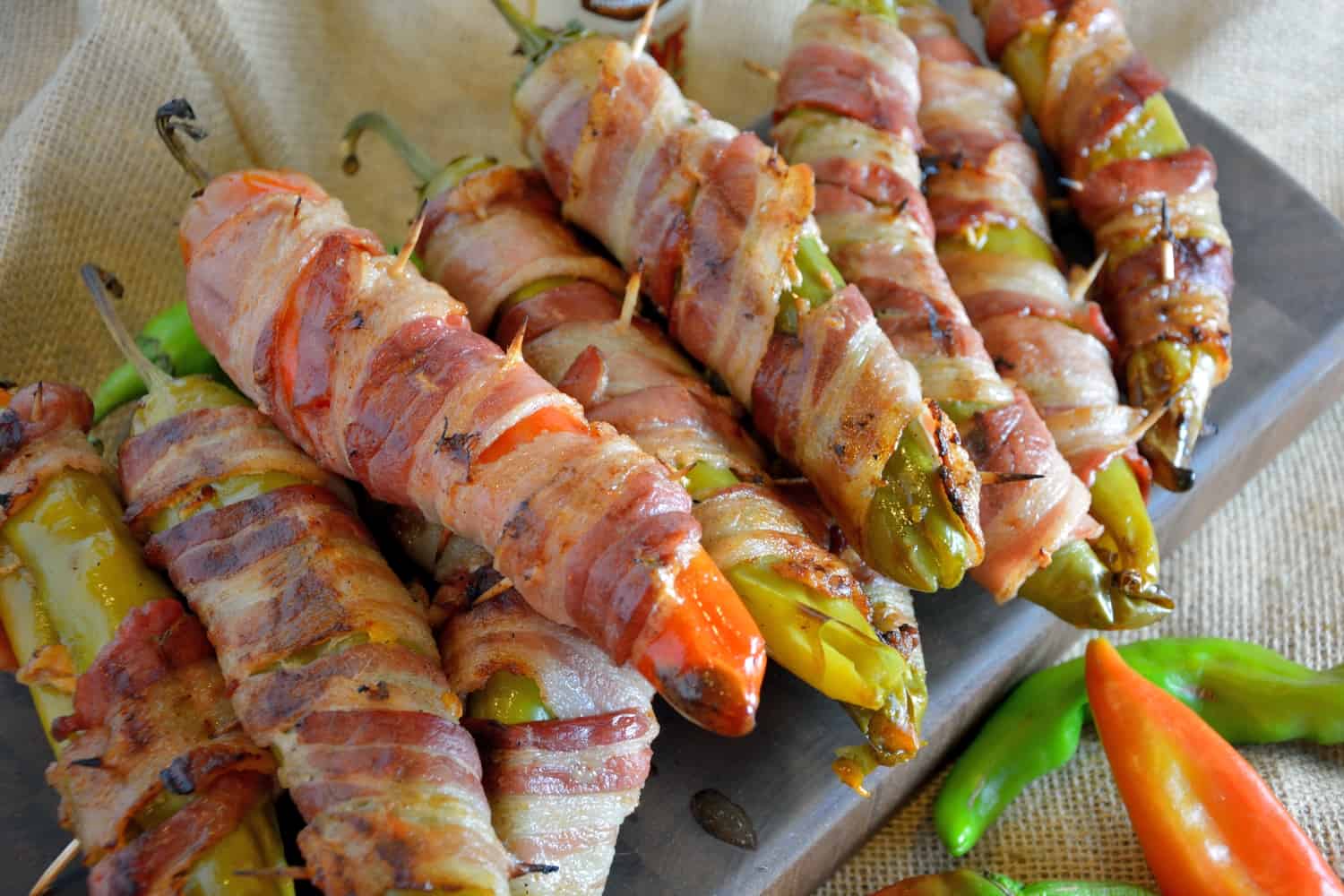 Print Recipe
Bacon Wrapped BBQ Chicken Stuffed Chile Peppers
Yum
Poblano peppers stuffed with succulent BBQ chicken, wrapped in bacon and drizzled with sweet agave nectar.
| | |
| --- | --- |
| | |
In a small mixing bowl, combine shredded chicken, BBQ sauce and cheddar cheese. Also, soak 15 toothpicks in a bowl of water.

Wash the chile peppers using gloves, oils produced can still burn your skin, so wearing protective gloves, such as non-powder latex gloves is highly recommended. Cut a thin slit from the stem to tip, all the way down. Using your fingers, carefully remove seeds and membranes, or at least as much as you can get. Reserve stem, even though you can't eat it, it is beautiful for presentation.

Using your fingers, carefully stuff chicken and cheese mixture into each pepper. You might have a little left over- size of chili peppers can vary greatly!

Wrap 2-3 strips of bacon around each pepper, securing with toothpicks, as many as are needed.

Heat the grill to medium-high heat. When heated, lightly coat with cooking spray and place the bacon wrapped chili peppers onto the top rack or on indirect heat. Turn every 2 minutes until all sides are done and bacon is fully cooked, approximately 15-20 minutes.

Remove from the grill and plate on your serving dish. Remove toothpicks. Drizzle with 1 tablespoon agave nectar over each chili pepper. Enjoy your Bacon Wrapped and BBQ Chicken Stuffed Chile Peppers!
Shredded chicken can be as simple as purchasing a pre-cooked rotisserie chicken at the grocery store, pull apart and discard bones and skin. You can buy chicken strips and chop them further, use left over chicken from another meal or bake and shred 1 chicken breast.
You can order Hatch Green Chiles and other varieties from ChileMonster.com. It is the only site I trust for fresh and flavorful chiles.
If you also like Mexican Food, check out my Mexican Food board on Pinterest!
Also check out these chile recipes:
If you like this recipe, make sure to follow me on Pinterest for even more!