This fresh dill dip is packed full of bright and tangy flavor from fresh dill and creamy sour cream (or Greek yogurt). It's the perfect dip to serve alongside a veggie tray or with crispy chips and crackers.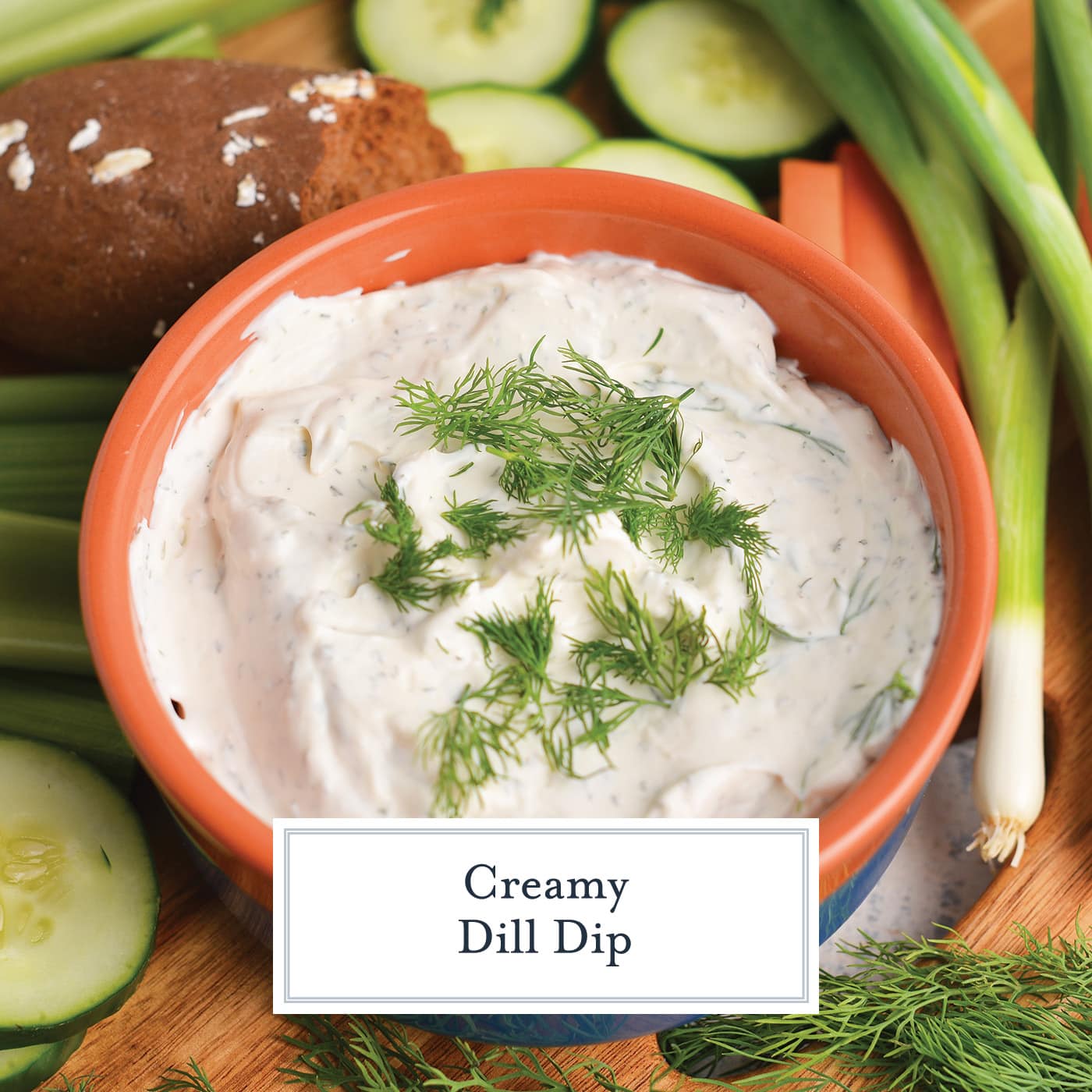 One of the best parts of this easy dip recipe is how simple it is to make. Just add the ingredients to a bowl all at once, mix it together, and it's ready!
And you needn't reserve it just for fresh vegetables or other dippers — it's a great way to upgrade nearly any meal. Add a dollop to baked salmon, grilled meats, or starches like a baked potato.
If you've been looking for a recipe for an easy dip or sandwich spread, this classic dill dip is it!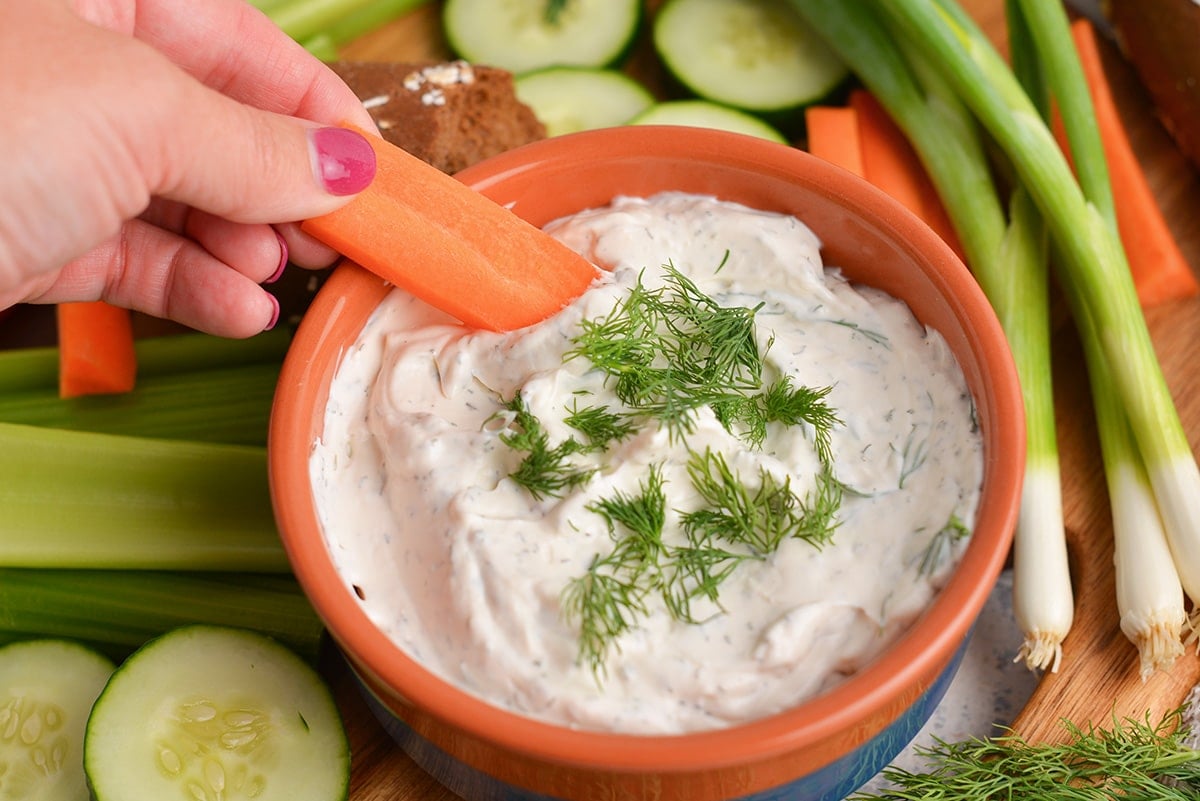 Why You'll Love Fresh Dill Dip
A creamy zest that's full of zest and perfect for veggies- what's not to love!
Flavorful – This zesty dip is packed full of fresh flavor from the dill and tanginess from the sour cream or Greek yogurt.
Easy – It only takes a bowl, a spoon, and a couple of minutes to whip up this delicious dill dip that has only a handful of ingredients.
Versatile – You can serve this simple dip at nearly any event with anything from veggies to potato chips. Or, you can spread it on sandwiches or use it as a dressing for salad.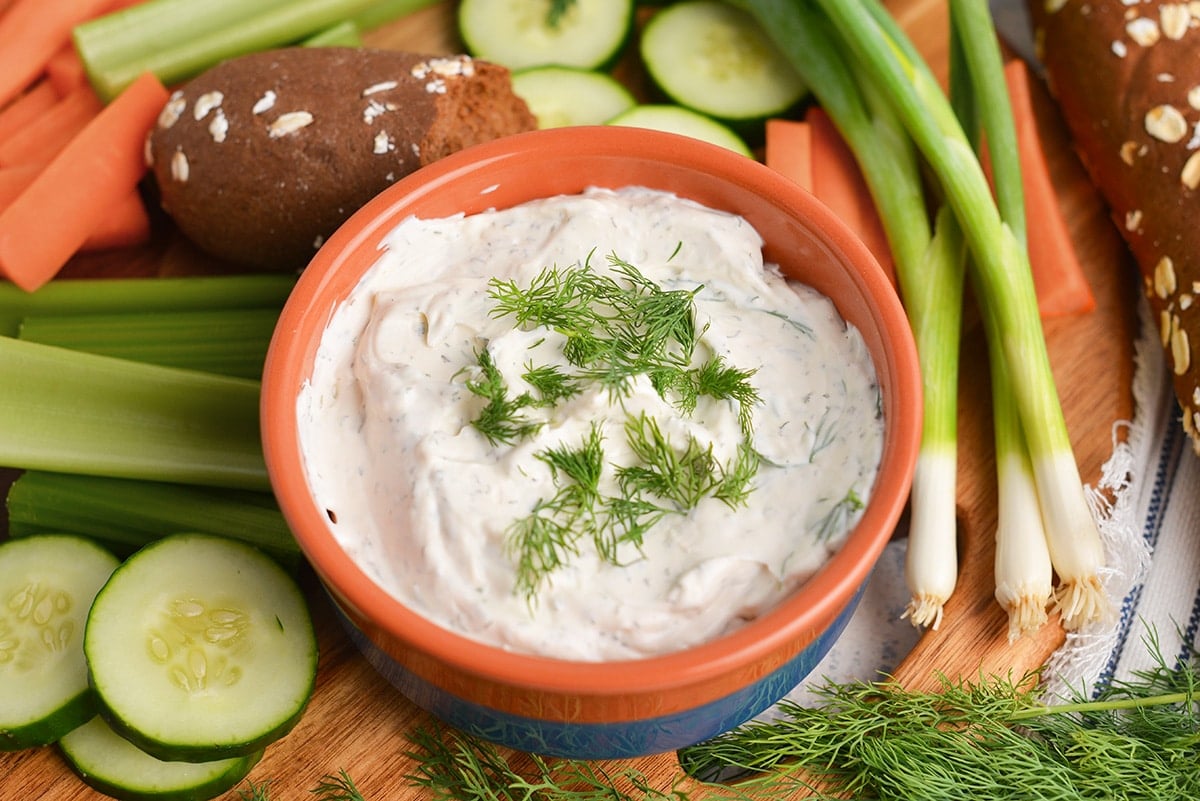 What Do You Need To Make Dill Dip?
A few simple ingredients are all you need for this delicious dip.
Mayonnaise & Sour Cream – The creamy base is made from a blend of mayo and sour cream. However, you can easily use just one or the other or even swap one or both with plain Greek yogurt. Both offer different textures and flavors, with sour cream or yogurt giving the dip a slightly tangy note.
White onion – I like to grate the onion using a micrograter so it is an onion pulp. All of the flavor, but no large bits. Other recipes use dried minced onion or onion powder — you can easily swap them.
Fresh Dill Weed – Fresh herbs set the bar, but you can use dried dill instead. Be mindful that it is less than 6 months old, so it's still full of great flavor. This is, after all, a dill dip so we want to go heavy on that note.
Worcestershire Sauce – A heady and full-bodied sauce, this adds a little punch.
Garlic powder – You know I love garlic, but this creamy dip is supposed to be dill-forward. So, for this recipe, I opted for the milder garlic powder. If you opt for fresh garlic, grate it just like the onion.
Coarse kosher salt – To brighten the other natural flavors and balance savory and acidic ingredients.
Ground white pepper – You can use black pepper if you prefer. White is just a milder flavor and doesn't leave behind specks. I really wanted nothing but green wisps in the white.
Dippers – A blend of fresh, raw vegetables, crackers, and even bread. Some people even like to hollow out a round of pumpernickel bread to make a bread bowl. Break the hollowed-out pieces into bite-sized bites for dipping.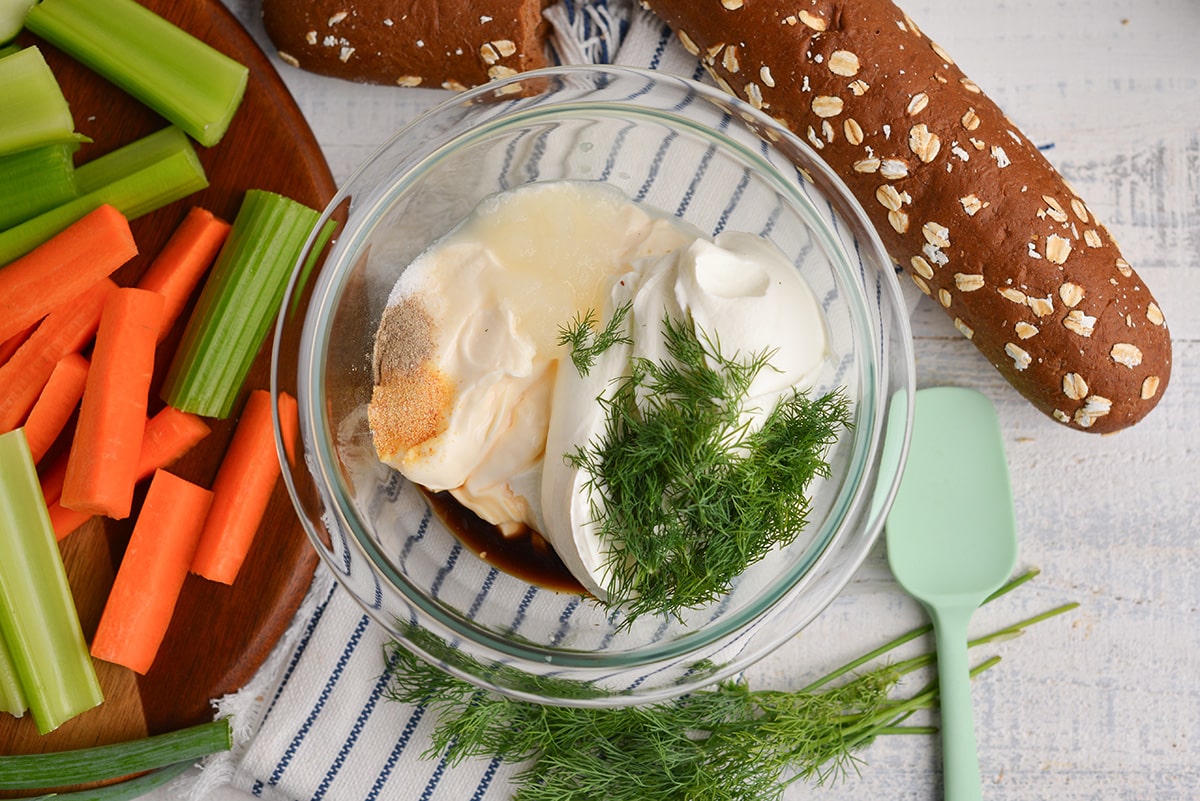 How to Make Fresh Dill Dip
You are going to love how easy it is to make this creamy dip!
Combine ingredients. After removing the dill fronds from the stem, add all ingredients to a medium mixing bowl and give it a good stir until well combined.
Add to serving bowl. Transfer to an airtight container or cover the mixing bowl with plastic and refrigerate.
Serve with dippers. Serve chilled alongside your favorite dippers.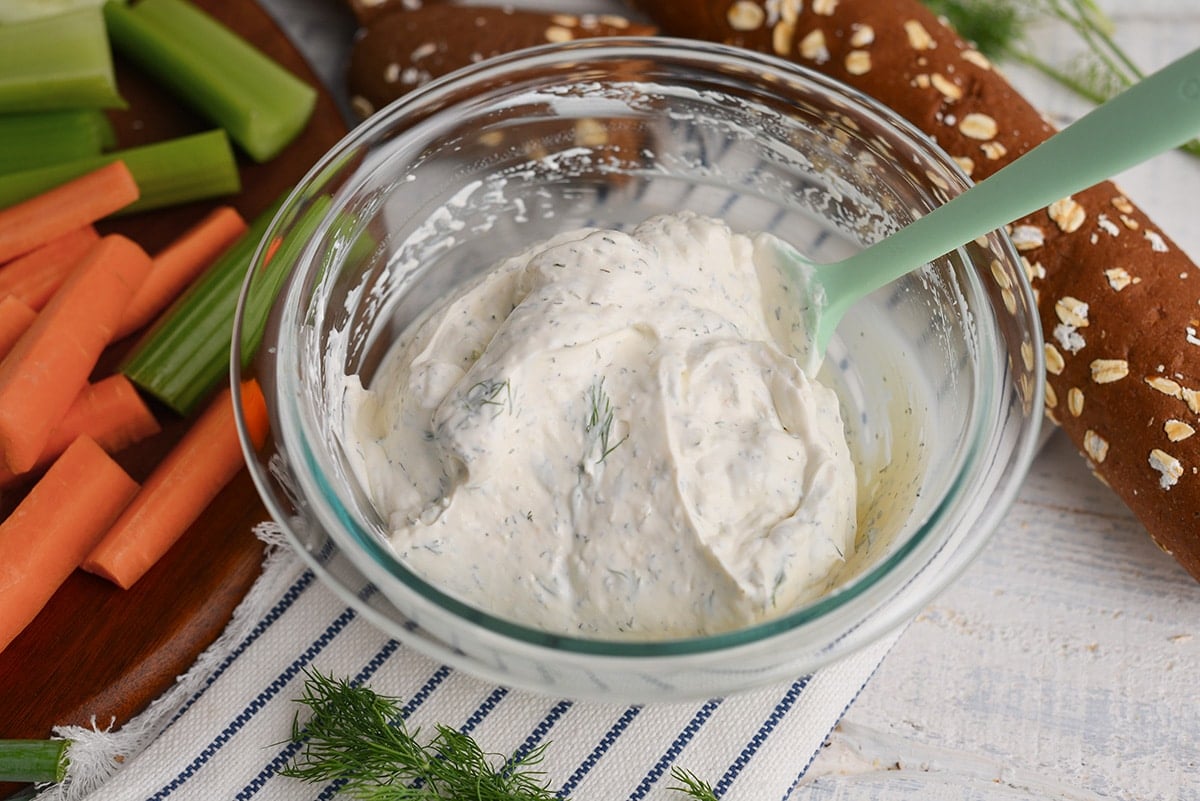 What to Serve With This Dip
You can serve this dip with crunchy fresh veggies (like carrot sticks, bell peppers, celery sticks, or cauliflower), crackers, tortilla chips, potato chips, or kale chips. Or, try dunking fresh focaccia, homemade pita (or pita chips), or garlic breadsticks into it.
It's also great served with smoked salmon on crackers or to dress up anything from baked chicken and grilled pork chops to halibut and turkey breast. You can also use it as a salad dressing, sandwich spread, or base for a pasta salad.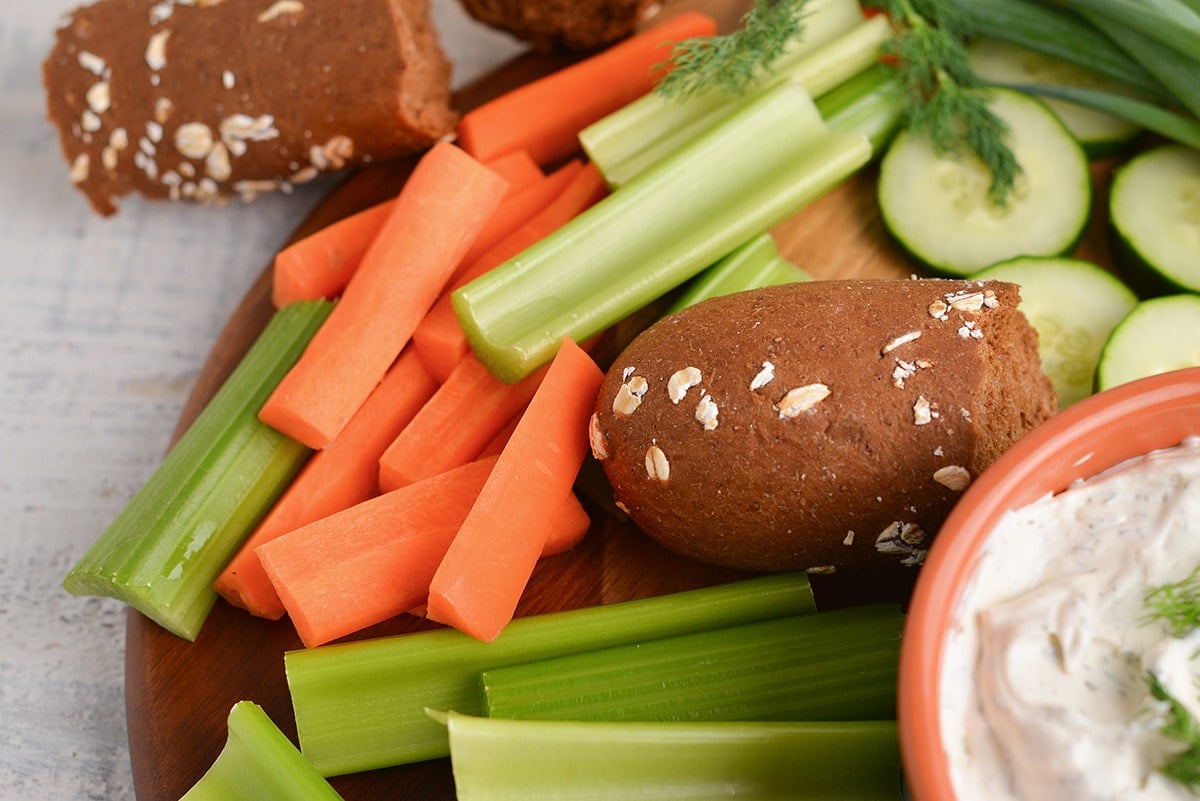 Variations On Homemade Dill Dip
This creamy dip is easy to turn into your own masterpiece by adding all kinds of different flavors.
Citrus – Make a brightly flavored dip by adding a splash of fresh lemon juice.
Avocado – Add some healthy fat and bright color by folding in mashed avocado.
Heat – For a bit of spiciness, add a dash of cayenne or hot sauce.
Creaminess – For a creamier dip, try mixing with cream cheese or whipped cottage cheese.
Garnish – Sprinkle parsley flakes or diced green onions over top for a pretty presentation.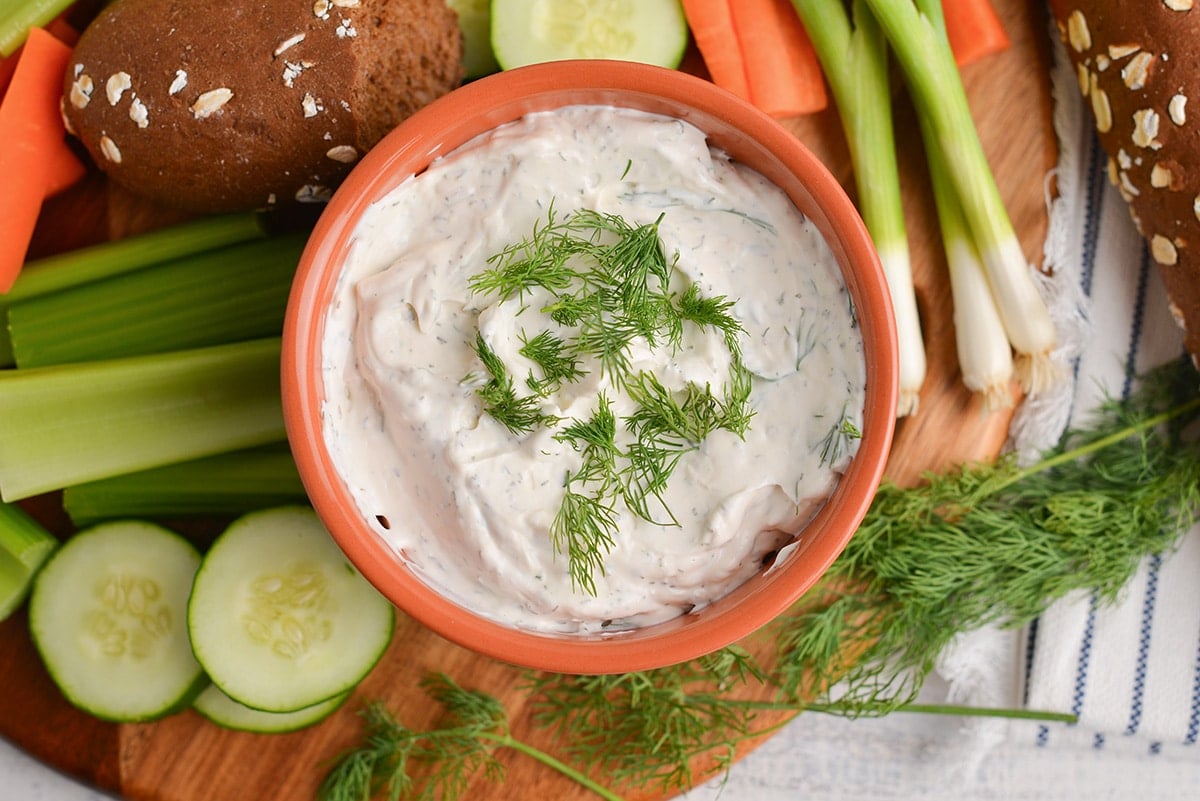 Storage and Make Ahead
This simple dip is easy to store in your refrigerator.
Make-Ahead: The great thing about this versatile dip is that you can make this dip ahead of time. Just keep it in the fridge in a sealed container until you are ready to serve it.
Refrigerator: Keep leftover dill dip in an airtight container in the refrigerator for up to 5 days.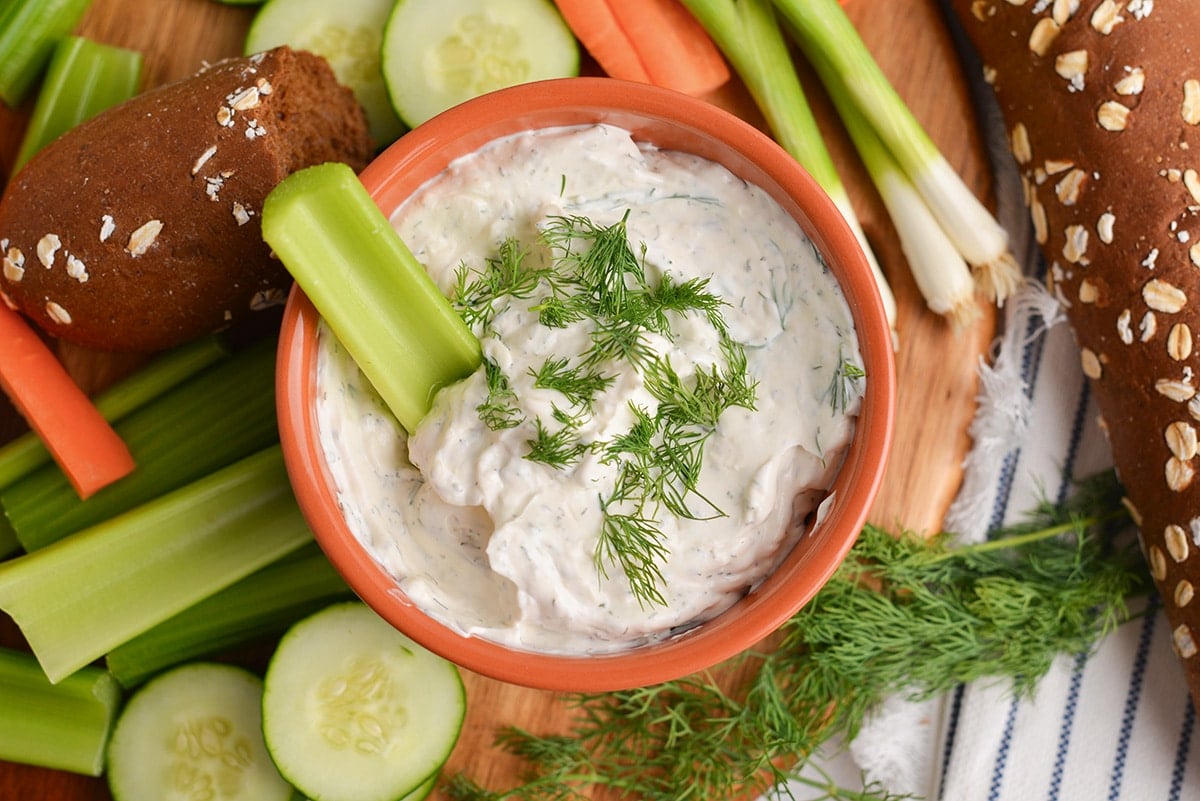 Commonly Asked Questions
Can I use dried dill?
I find the flavor from fresh dill to be unmatched, but feel free to swap it out if that is all you have. The general rule is a ratio of 1 tablespoon fresh herb to 1 teaspoon of dried herb. In this case, you'd use 3 teaspoons of dried dill.
Can I eat raw dill?
Dill is, often used in recipes that require cooking, but you can consume it raw, too, like in this dip.
Does fresh dill need to be washed?
You will want to wash your dill before mixing it with other ingredients. Wait until you are ready to use the dill to rinse it.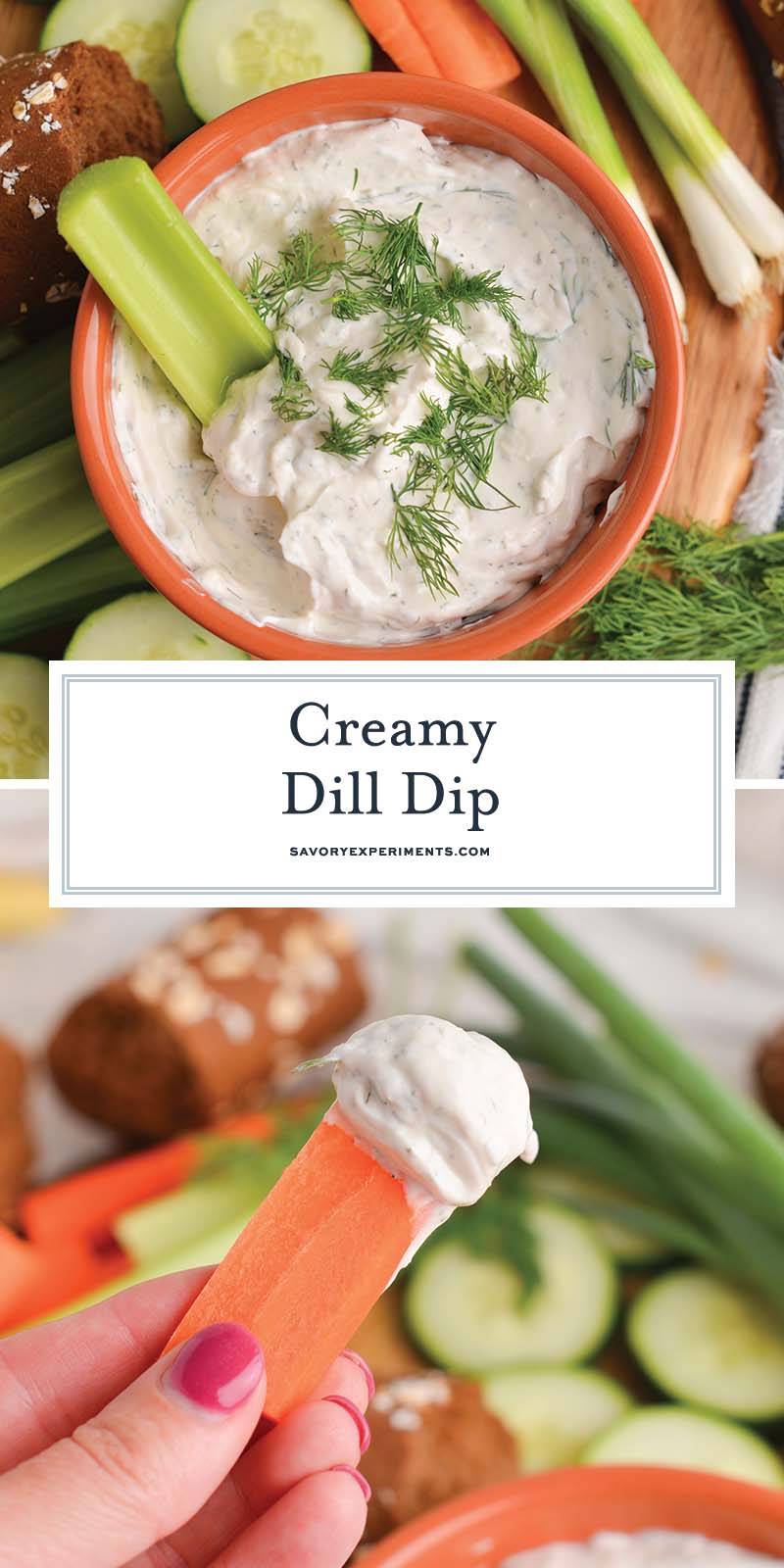 Other Delectable Dips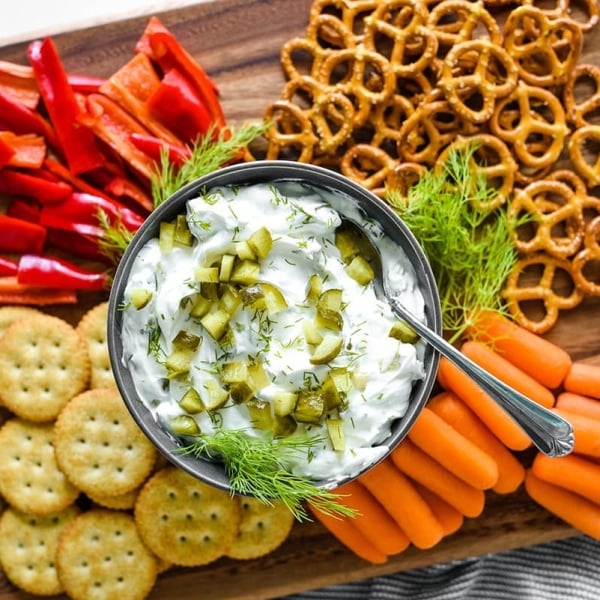 Dill Pickle Dip
This Dill Pickle Dip is a quick and easy appetizer, ready in 5 minutes! Less than 10 ingredients make this creamy dip the BEST!
See The Recipe!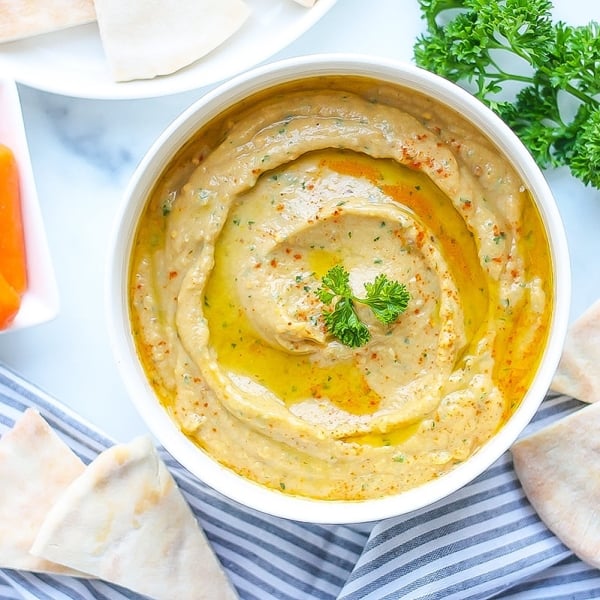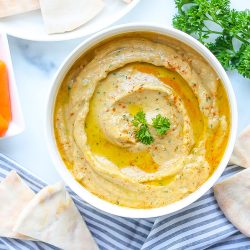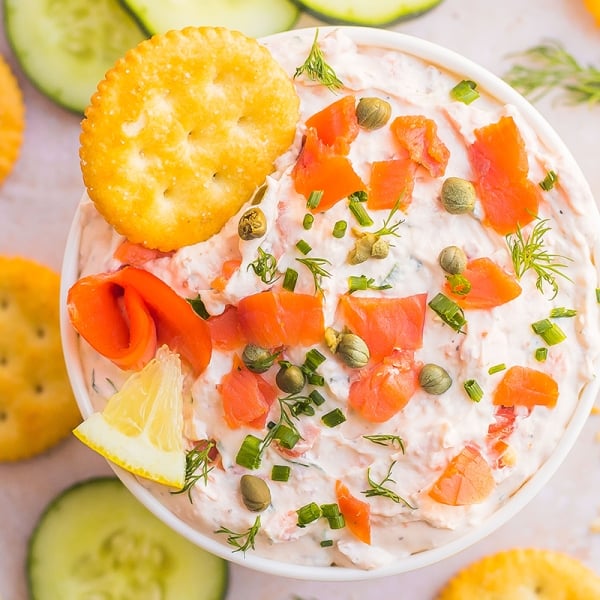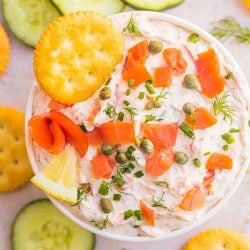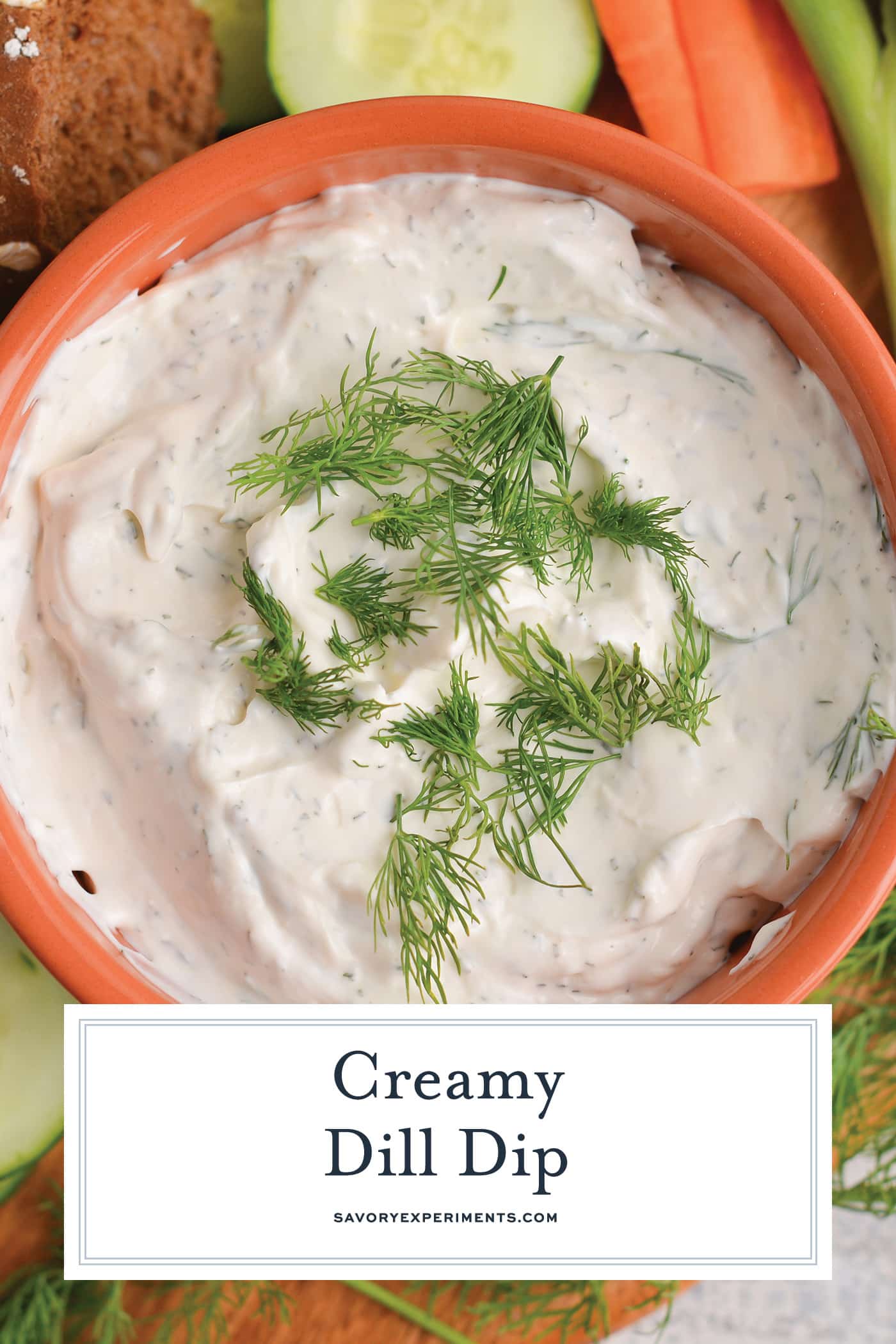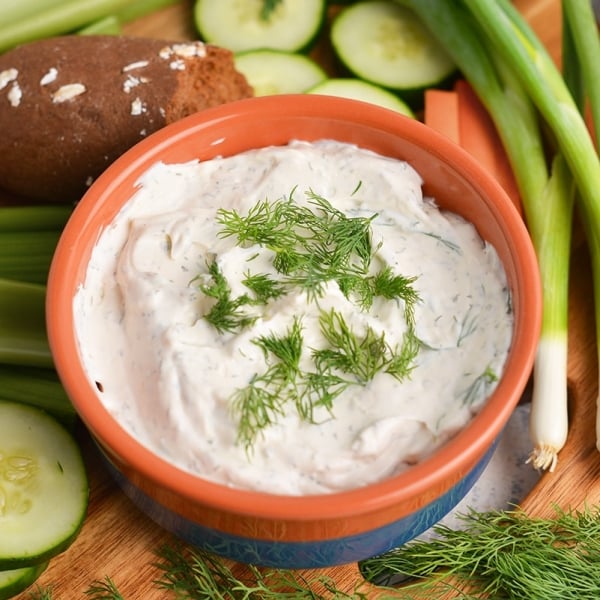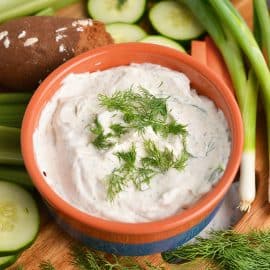 Fresh Dill Dip
This EASY fresh Dill Dip recipe is packed full of bright and tangy flavor from fresh dill and creamy sour cream (or Greek yogurt!)
Instructions
In a medium mixing bowl, combine the mayonnaise, sour cream, white onion, dill, Worcestershire sauce, garlic powder, salt and pepper. Stir well until evenly mixed.

Cover and chill until ready to serve with your favorite crudite, crackers or bread.

If you've tried this recipe, come back and let us know how it was in the comments or star ratings.
Nutrition
Calories:
1001
kcal
,
Carbohydrates:
9
g
,
Protein:
4
g
,
Fat:
106
g
,
Saturated Fat:
25
g
,
Polyunsaturated Fat:
51
g
,
Monounsaturated Fat:
24
g
,
Trans Fat:
0.2
g
,
Cholesterol:
115
mg
,
Sodium:
1575
mg
,
Potassium:
228
mg
,
Fiber:
0.4
g
,
Sugar:
5
g
,
Vitamin A:
823
IU
,
Vitamin C:
3
mg
,
Calcium:
135
mg
,
Iron:
1
mg