Have you ever been to Peter Luger's? Chances are many people haven't seeing there are only two locations, one in Brooklyn and the other Great Neck on Long Island.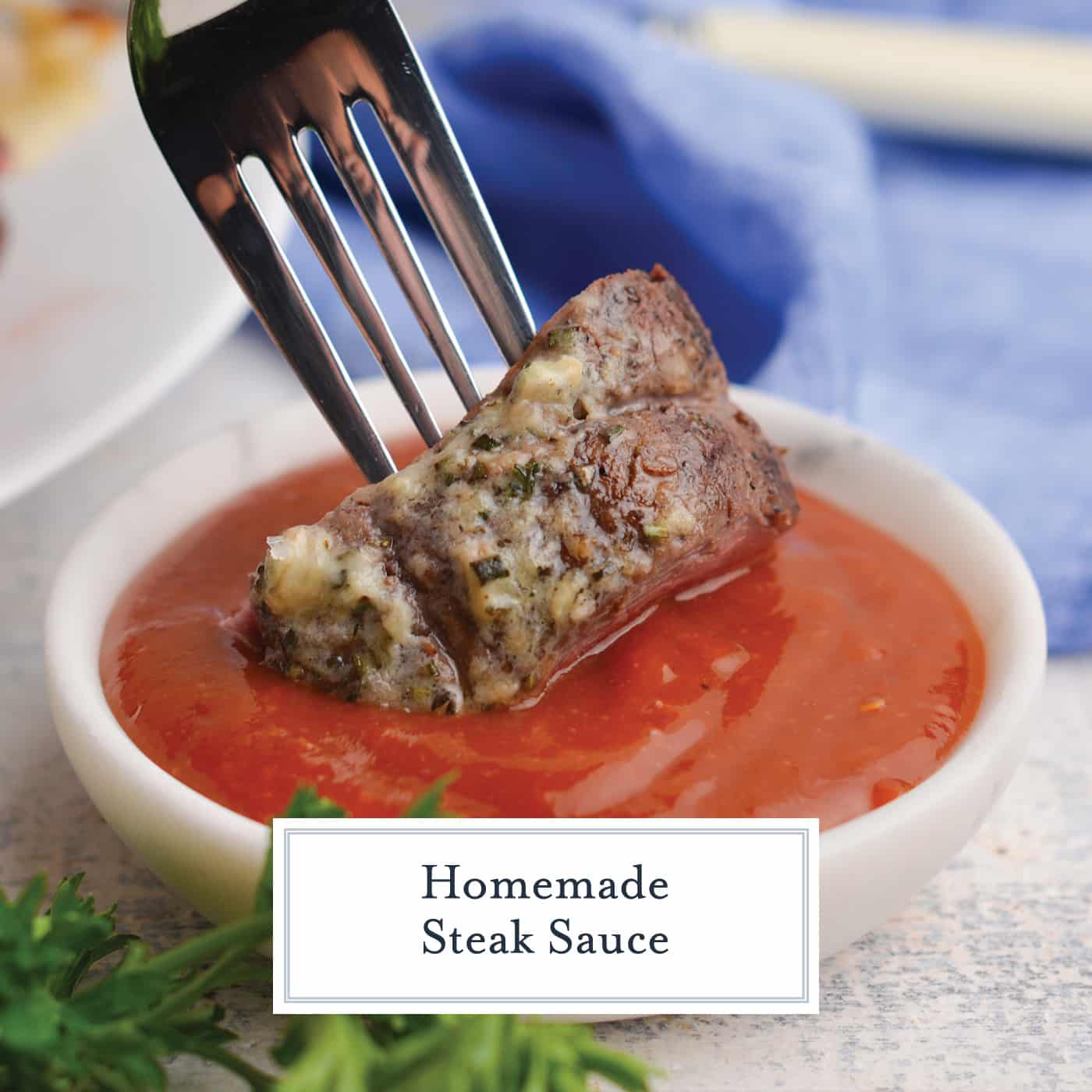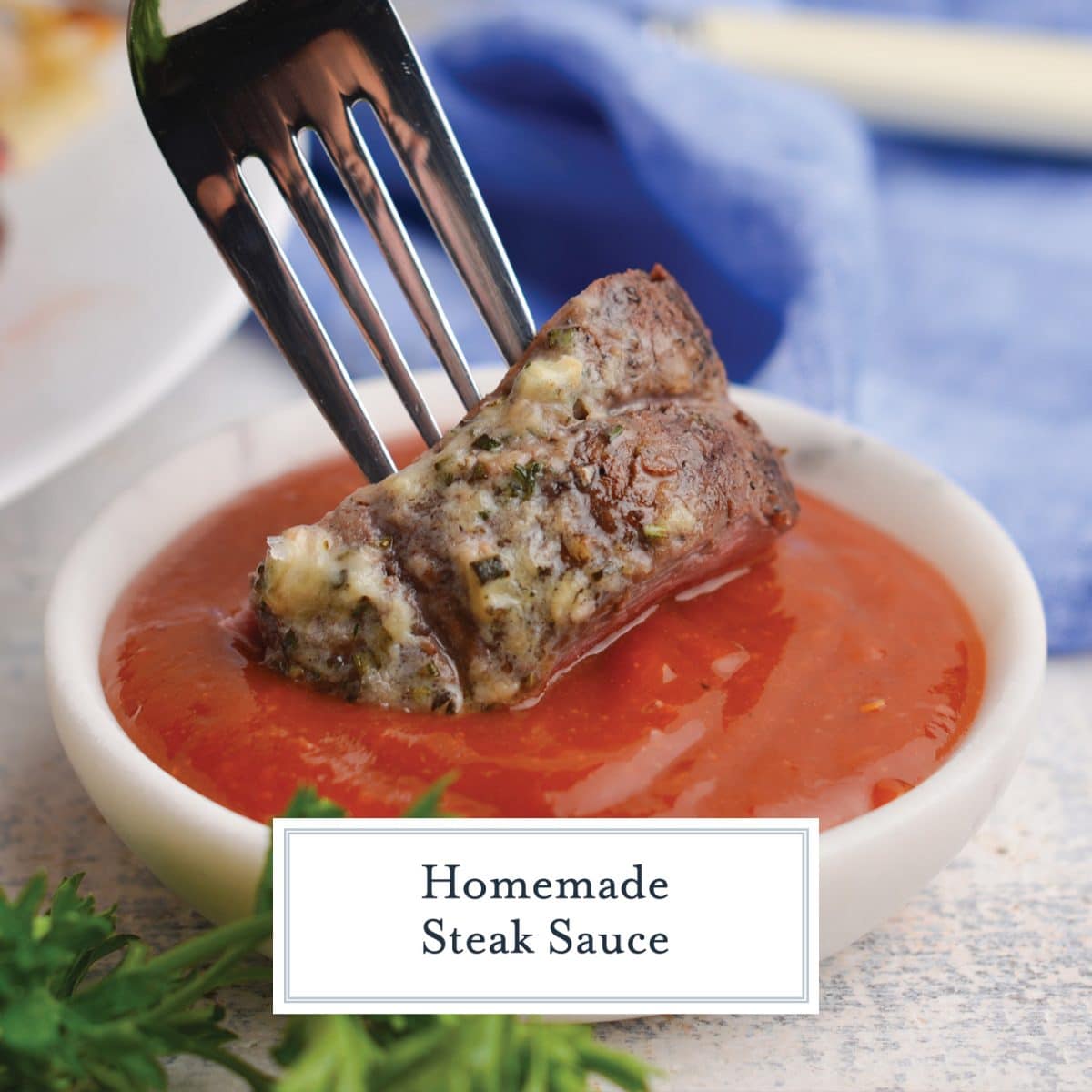 I am here to tell you that even if you haven't been, you will LOVE Peter Luger Steak Sauce.
The best homemade steak sauce is my Copycat Peter Luger Steak Sauce. Sweet and spicy, rich and decadent, it complements even the best piece of meat and even chicken!
It is true that good steaks, cooked perfectly, shouldn't need sauce. However it is also true that the best steakhouses in the country offer house-made steak sauces to accompany their wonderfully aged meat.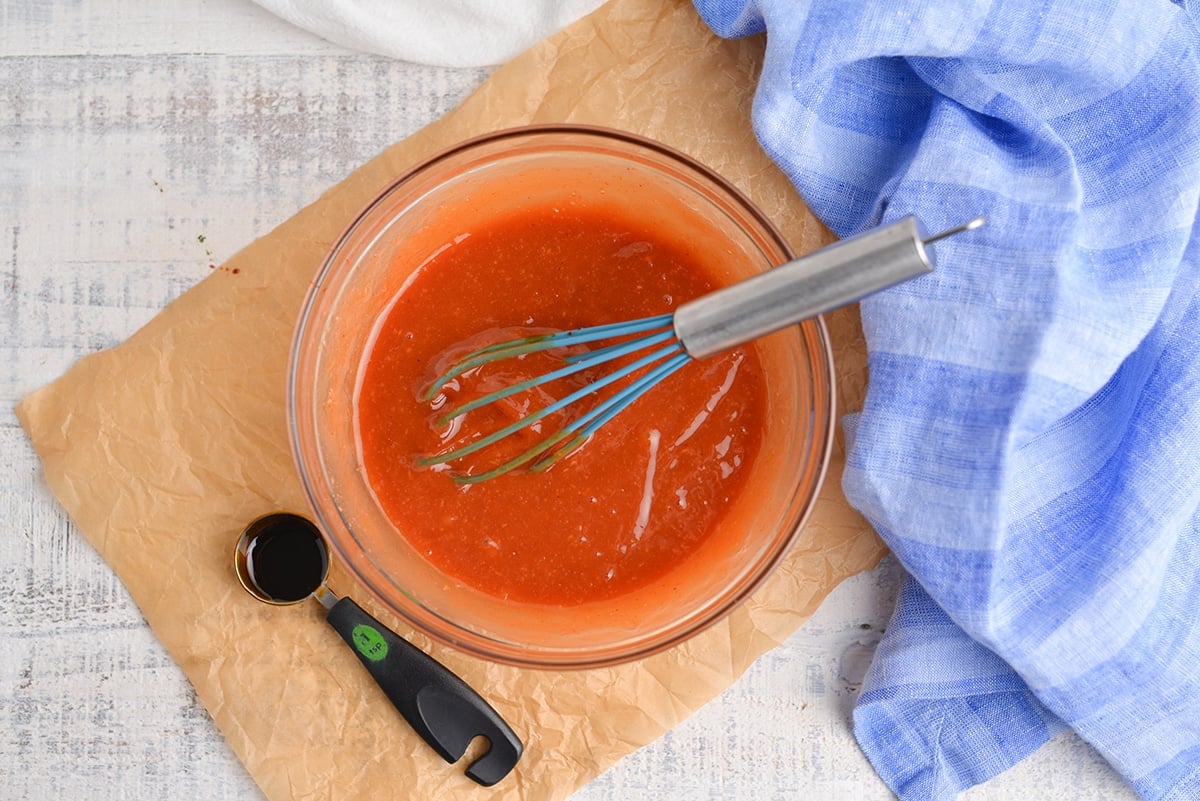 Peter Luger Steak Sauce
This sauce was modeled after the tangy, yet sweet, Peter Luger's steak sauce. It is magical. Things will happen in your mouth that you didn't know were possible.
Truth be told, I've only been to Peter Luger's once. It was in high school and my boyfriend at the time had a friend who was opening up a new location. We were invited to come for the friends and family night.
And twenty (something) years later, the sauce is still a highlight. Well, the whole experience. Did you know you can't use a credit card at Peter Luger? Nope! Only cash or the coveted Peter Luger credit card for the most VIP customers.
Even though none of their locations are in the big food cities (Brooklyn, kinda) it is still one of the most famous steak joints in the whole world. This was before there were even a plethora of "the best food you ever ate" shows on TV. You know it must be good!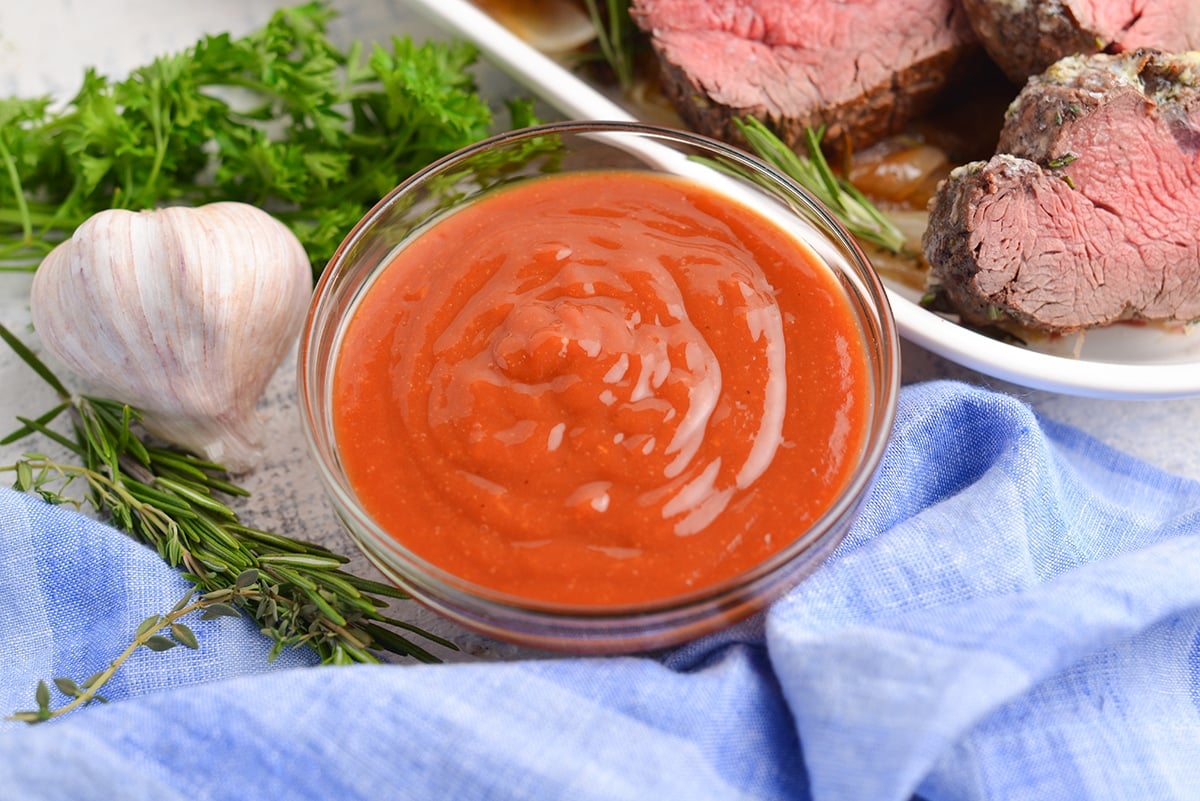 Nowadays you can actually buy premade Peter Luger steak sauce at the grocery store. In fact, that is what I used to taste test against my version seeing I didn't remember the exact flavor profile um-teen years later.
But it is expensive, so you can make your own for a fraction of the cost and still have a restaurant worthy meal.
What You'll Need
The one ingredient that the original has, but we have left out is anchovy paste, which in addition to the horseradish, is what gives the sauce a kick. Stop turning your nose up. I bet you anchovy paste is in SOOOO many things you love and enjoy and you don't even know it. But some foodie friends found it hard to find, so we've made it optional.
Ketchup– Standard ketchup is best. I try to use one with sugar because this is a sweet and spicy sauce, however if you don't like sweet, then opt for a sugar-free ketchup.
Worcestershire sauce– Adds great depth and sophistication to any sauce. A little goes a long way! Soy sauce is the closest swap.
Dark brown sugar– The original uses dark, which means it has more molasses, but most folks only have light brown sugar in their pantry. If this is the case, use the same omit of light brown sugar, but add 1 teaspoon of molasses to the mix.
Hot sauce- A standard vinegar based sauce works great, such as Texas Pete or Franks, not like buffalo wing sauce.
Dijon mustard– Use a smooth mustard or swap it for spicy brown mustard if you are aiming for even more of a little kick.
Apple cider vinegar– Adds tang and zing. White wine vinegar, red wine vinegar and balsamic vinegar are great options for customizing.
Prepared horseradish– For the quick spice and heat. This is one of the ingredients that makes it unique. Like a cocktail sauce, it uses horseradish.
Anchovy Paste- A little spicy, it is the unique taste of things like Caesar dressing. It is the secret ingredient. Of course, it can be omitted, but will truly make your steak sauce one-of-a-kind.
Couple shakes of salt and pepper to taste.
Variations to make this recipe your own include adding a grated garlic cloves or a few shakes of garlic powder, a little bit of lemon zest or fresh lemon juice or a hint of chili powder or cayenne pepper.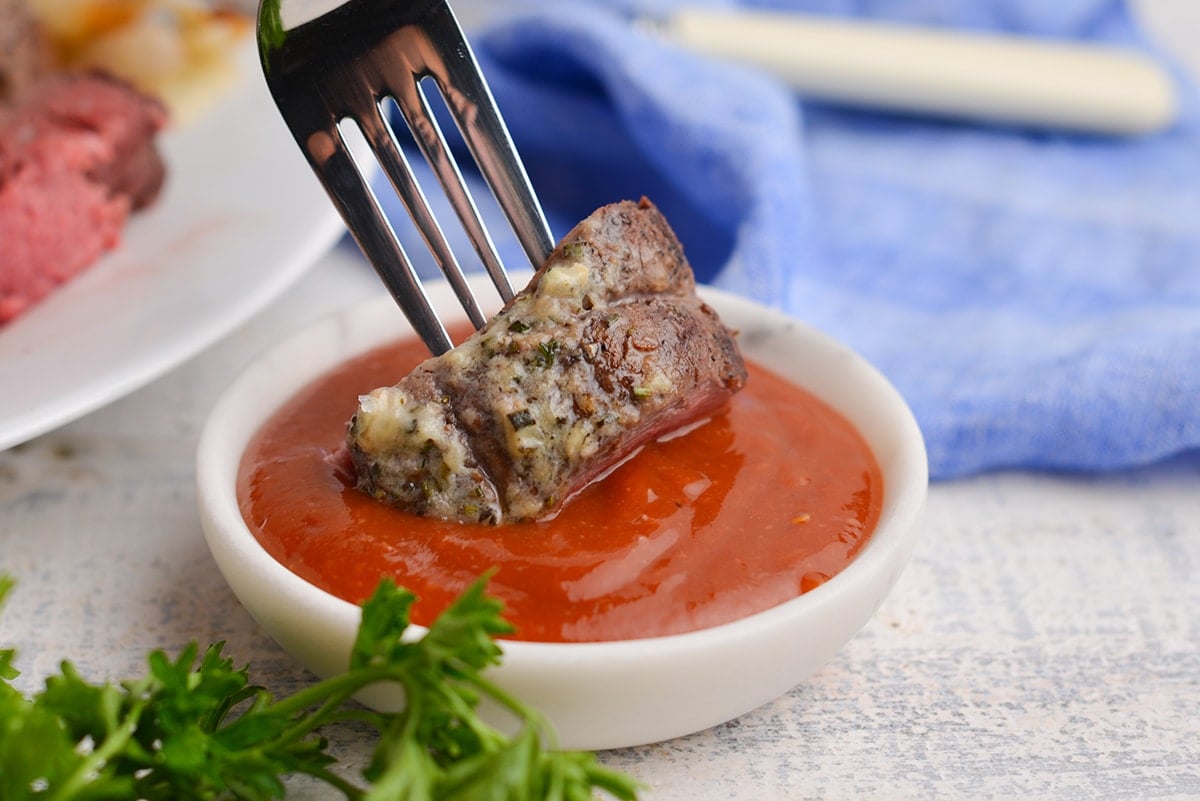 Make It!
Many include heating and food processors, but this recipe just needs a whisk or spoon to stir, stir, stir. Letting it sit is really where the flavor develops.
Combine all of the ingredients in a small bowl, whisking well. If you don't have dark brown sugar, use light brown sugar and a teaspoon of molasses.
Taste and then add fine sea salt and pepper to taste. Salt helps to enhance all of the natural flavors.
Cover and refrigerate for a minimum of 1 hour, or up to 1 week. This is paramount to letting the flavors marry.
The best way to serve it is by stirring well and then leave out at room temperature for at least 15 minutes to take the chill off.

How to Serve
This homemade steak sauce is perfect for steak dinners, but it doesn't stop there. Whether you are serving a pan-fried steak with this sauce and crumbly blue cheese sauce or roasted chicken thighs, it will pair perfectly.
Even use it as a sandwich slather on roast beef or French dip sandwiches. Or a dipping sauce for French fries.
Can I use steak sauce on others things? Yes! Serve it with anything you think needs a little spicing up or sauce. Chicken, fish, seafood, veggies- anything you'd like!
Storage & Freezing
Can I freeze steak sauce? There aren't any components that you can't freeze, but I've never tried it either. If you do, let us know how it went!
How long does it last? Steak sauce, when kept in the refrigerator in an airtight container, should last up to a week. It tastes great made ahead of time!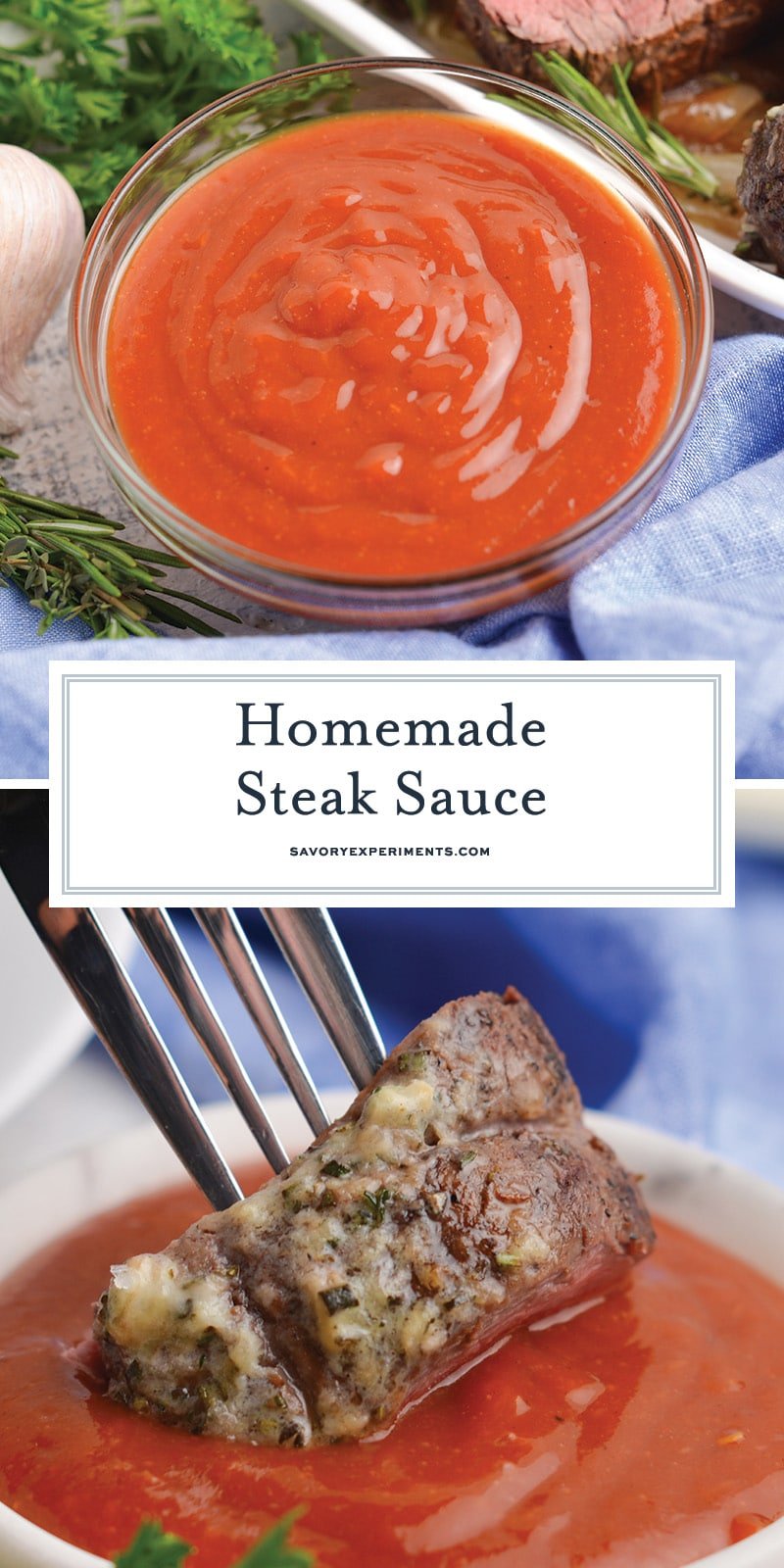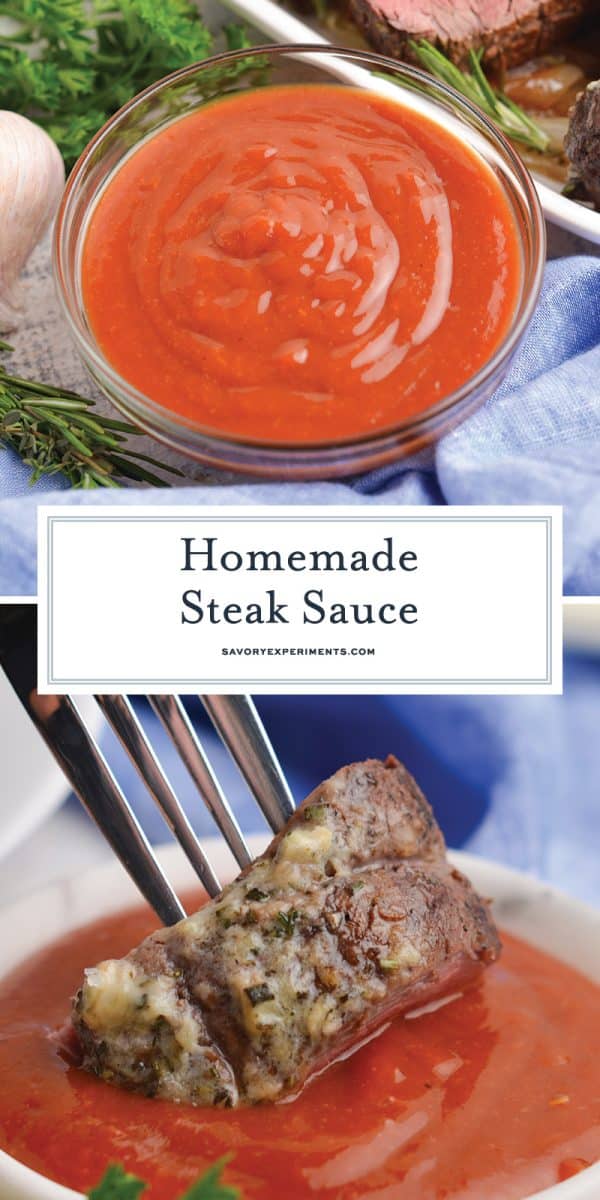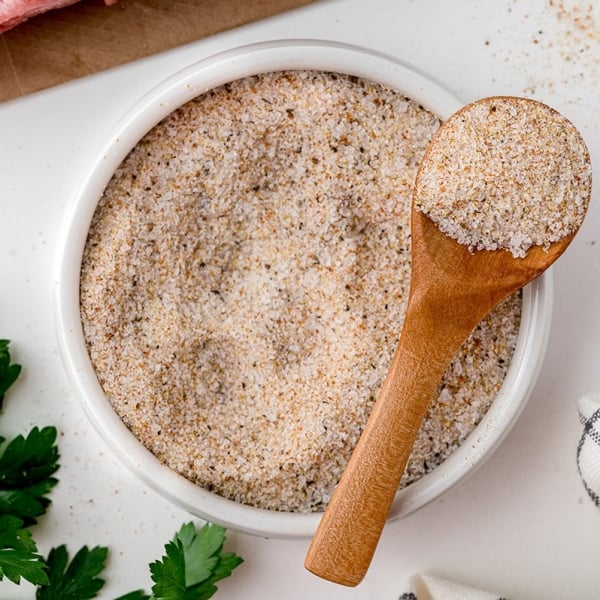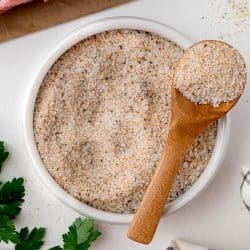 Steakhouse Steak Seasoning Recipe
This Steak Seasoning is a secret recipe that I received from a friend at a 5-star steakhouse- the perfect balance of spices, a hint of a sweet and secret ingredient "you can't quite put your finger on".
See The Recipe!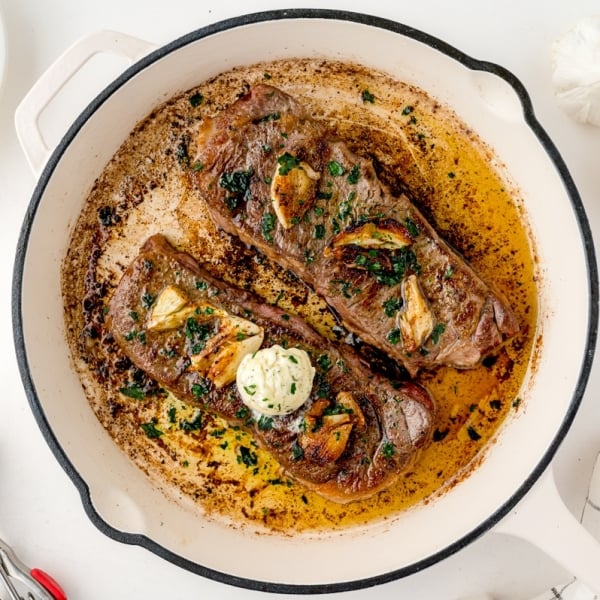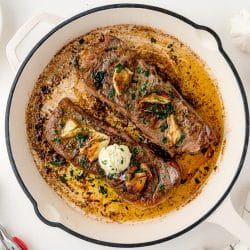 Pan Fried Steak
How to make a Pan Fried Steak at home is easier than you think with my step-by-step instructions and easy steak seasoning!
See The Recipe!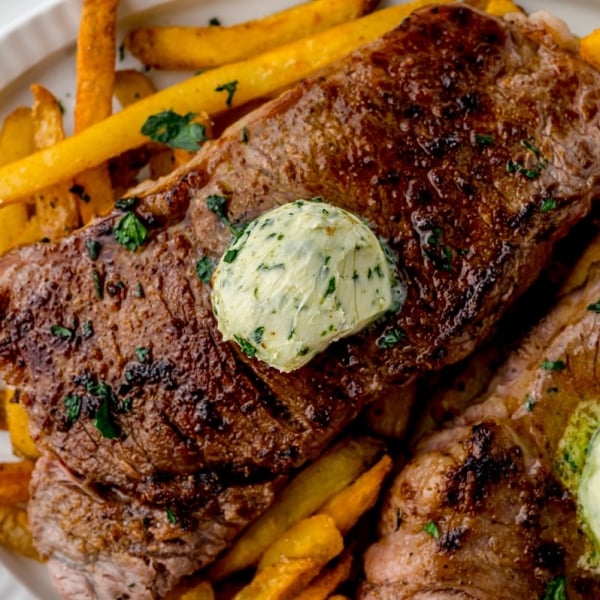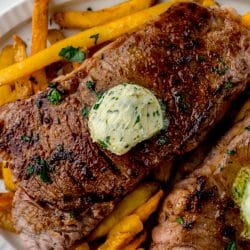 Steak Frites
A juicy seasoned steak over crispy French fried potatoes, topped with tangy maitre d'hotel butter and served with sauteed garlic mushrooms and onions.
See The Recipe!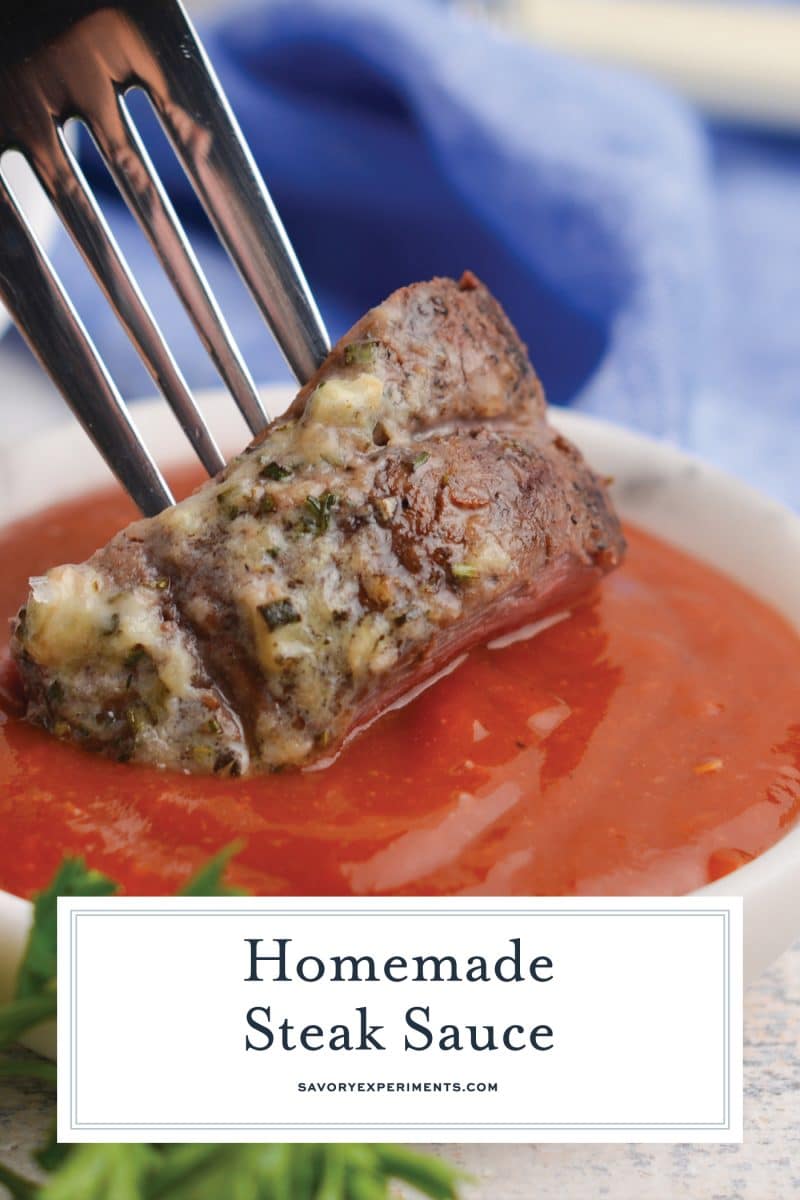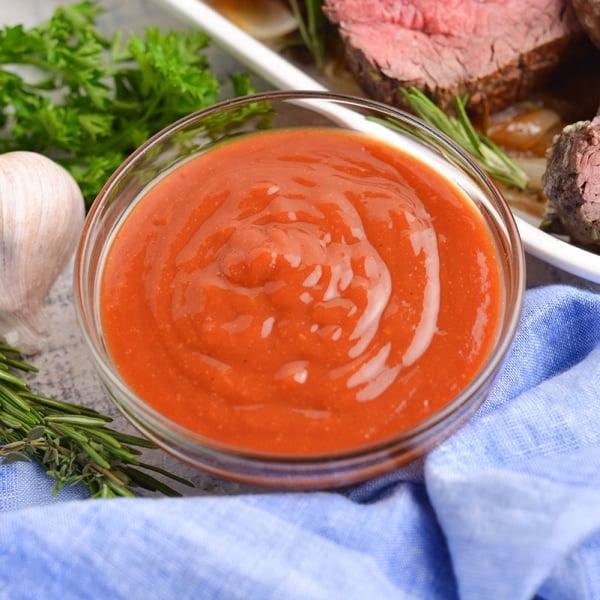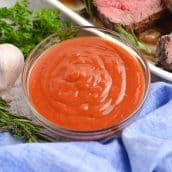 Homemade Steak Sauce Recipe (Peter Luger Steak Sauce)
The best homemade steak sauce is my Copycat Peter Luger Steak Sauce! Sweet and spicy, rich and decadent, it complements even the best piece of meat and even chicken!
Instructions
Combine the ketchup, Worcestershire sauce dark brown sugar, mustard,vinegar, hot sauce, Dijon mustard, cider vinegar, horseradish and anchovy paste in a small bowl.

Mix well, taste and then add fine sea salt and pepper to taste.

Cover and refrigerate for a minimum of 1 hour, or up to 1 week.

Serve with steak or chicken. It also tastes great on sandwiches!

If you've tried this recipe, come back and let us know how you liked it in the comments or star ratings.
Nutrition
Calories:
73
kcal
,
Carbohydrates:
16
g
,
Protein:
1
g
,
Cholesterol:
1
mg
,
Sodium:
528
mg
,
Potassium:
196
mg
,
Sugar:
13
g
,
Vitamin A:
155
IU
,
Vitamin C:
4
mg
,
Calcium:
27
mg
,
Iron:
0.9
mg