If you've ever had smashed potatoes or creamy crab dip, crab smashed potatoes is basically like these two had a baby. Like crab stuffed potatoes, but better.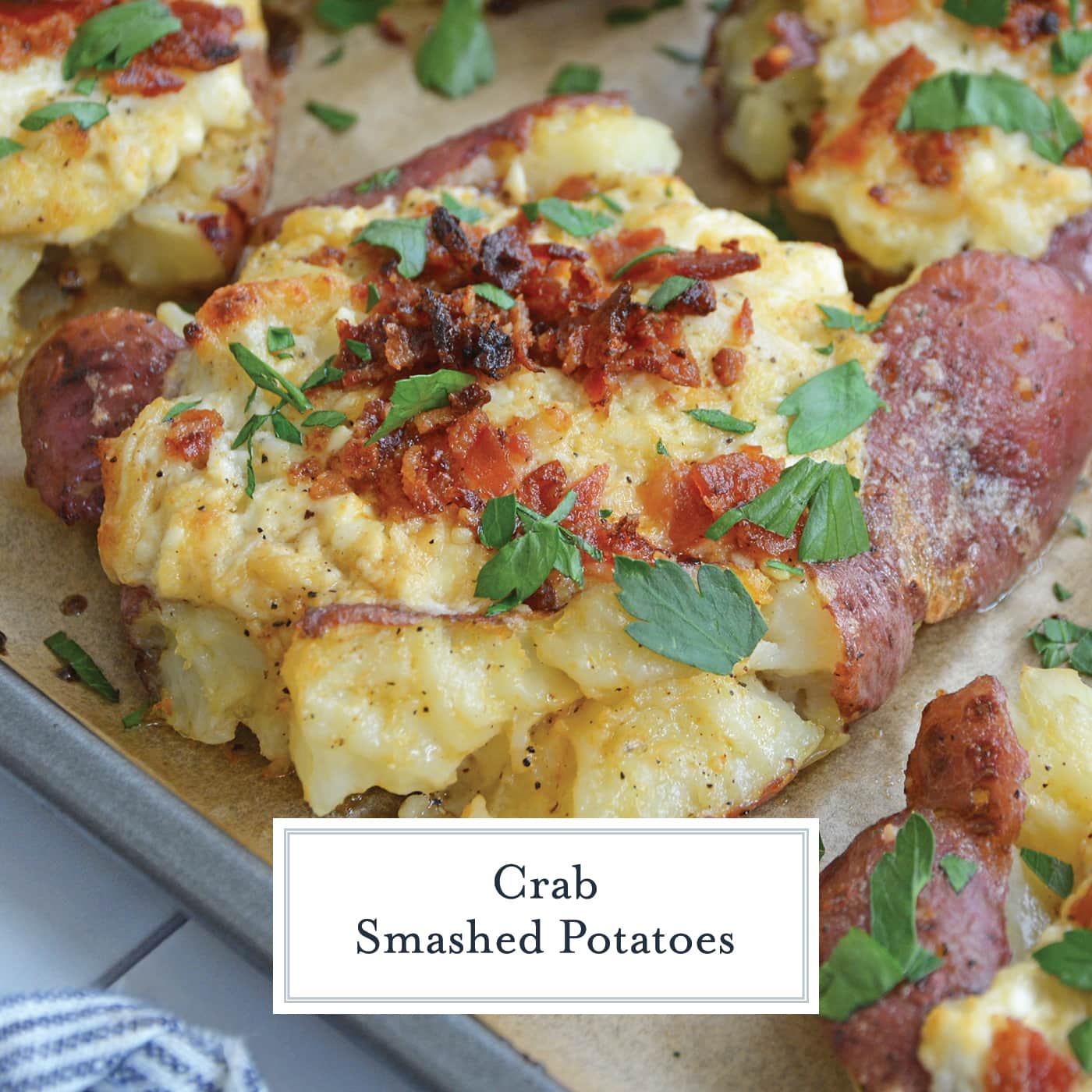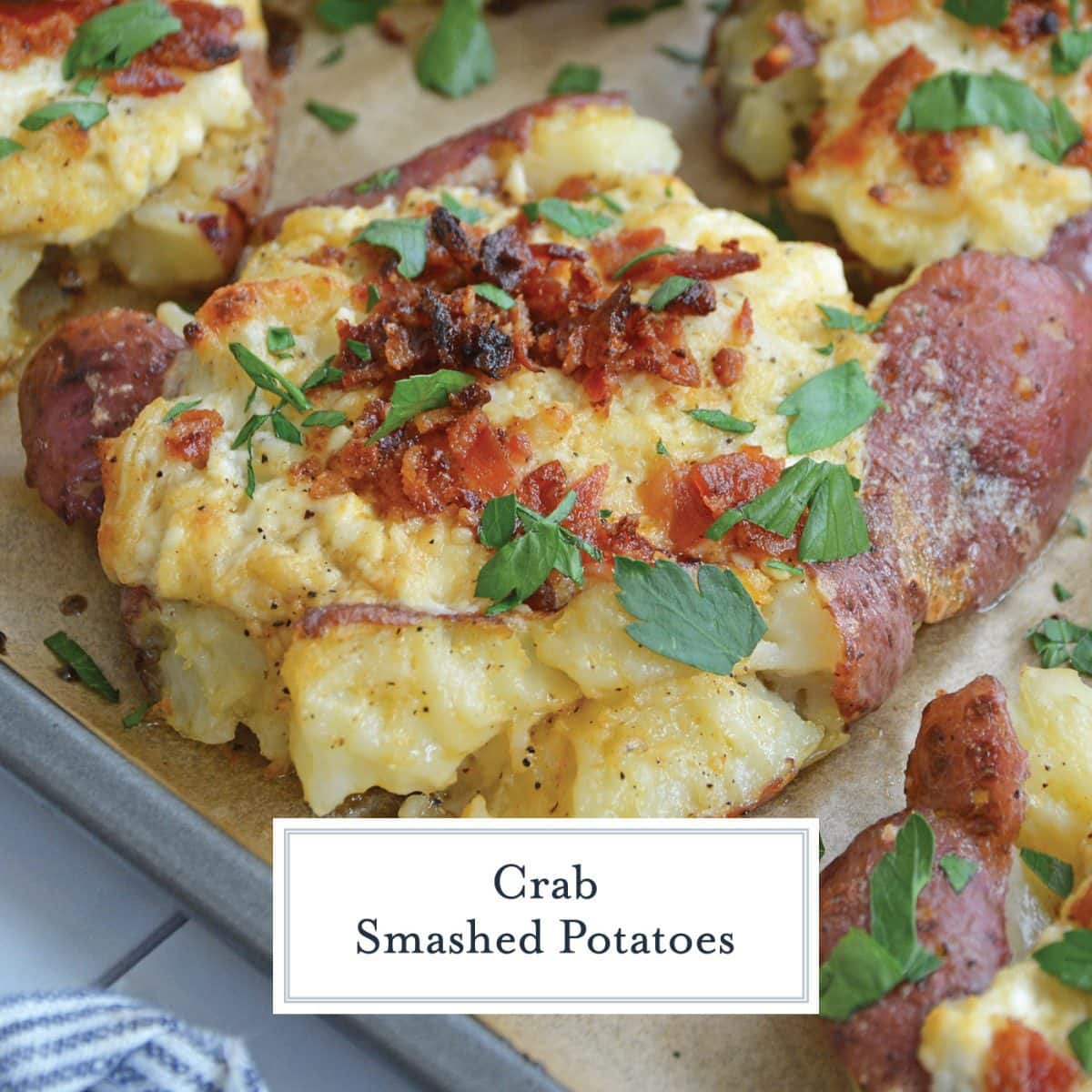 Crispy edges slathered in butter, topped with creamy lump blue crab, given another butter bath before being topped with bacon and baked. Serve as an appetizer, snack, side dish… or if you are like me, eat two as a dinner.
Smashed Potatoes
Smashed potatoes emerged as a food trend a few years back. The concept is to bake or boil potatoes until soft, then smash them flat and bake them.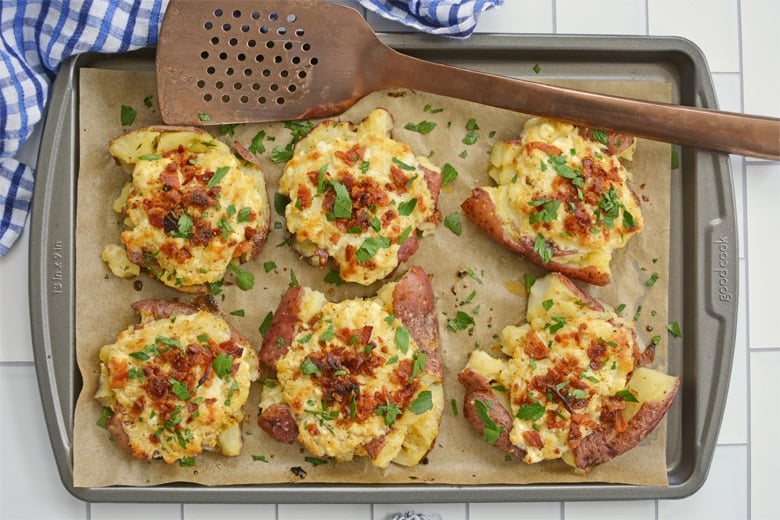 The process results in crispy, crunchy edges with a fluffy inside. I top mine with a zesty garlic butter and generally load them up with sour cream, bacon and scallions.
But not for these…
Crab Topping
I was experimenting with making my crab stuffed mushrooms (which have become an instant hit) and had crab filling leftover. I also had small red potatoes and company visiting, so these became a dish.
Crab topping is a little creamier than a crab cake, more of the consistency of crab dip, which makes it perfect for pairing with potato.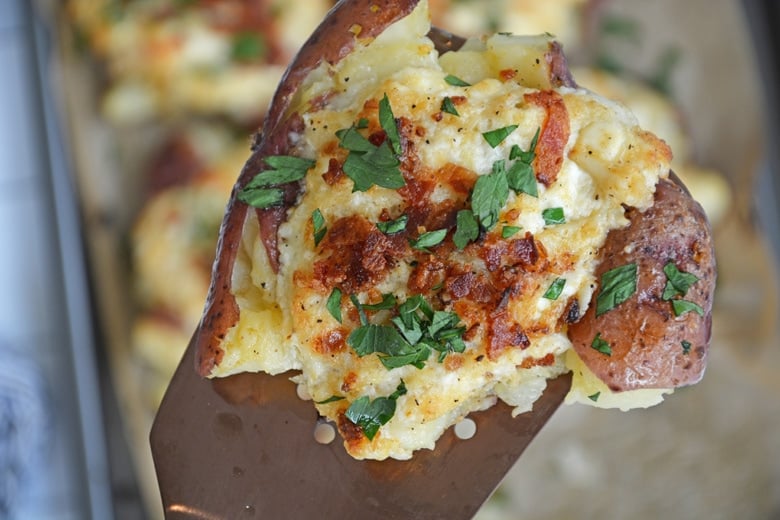 You'll need:
Cream cheese– I use full fat, but low fat is also an option.
Mayonnaise– A binder, mayo is made from oil and eggs so it helps keep things creamy but also holds it all together.
Shredded cheese– I strongly recommend freshly shredding your cheese instead of using pre shredded. Pre shredded is tossed in starch to prevent clumping but that can make for a grainy melt. Use cheddar, pepper jack or colby for best results.
Worcestershire sauce– adds depth and sophistication.
Seasonings– garlic powder, onion powders, Kosher salt, white pepper.
Blue crab meat – see below for lots of details!
Types of Crab Meat
For these, I use special crab meat. You can also use claw, but backfin or lump might be too big.
Claw– dark meat that comes from the claw, a little more stringy than other varieties.
Special– smaller pieces, comes from small little crevices or the "special" sections of the crab, good for flavoring and dips.
Backfin– some larger lumps coming from, you guessed it, the back of the shell, whiter meat, does well in crab cakes, feathery texture.
Jumbo lump– large, lumps of meat, the beauty is the large pieces used for crab meat cocktails or delicious to pop in your mouth plain, very tasty and moist.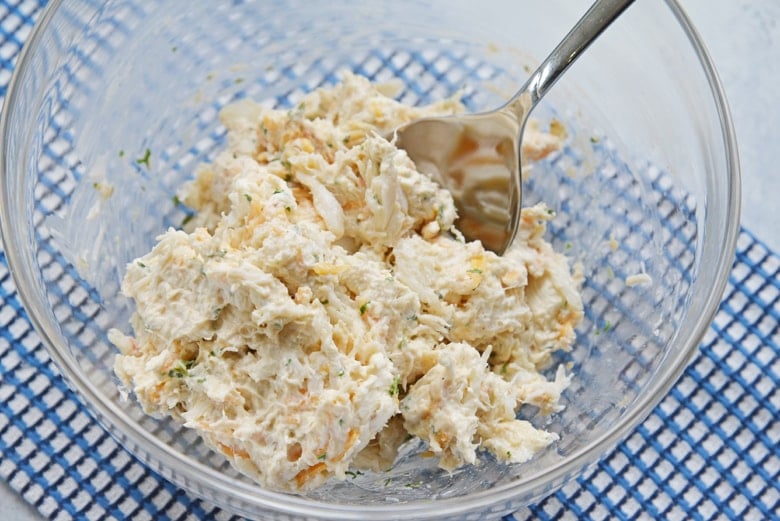 Crab meat is generally located in the fresh seafood section of the grocery store. I would strongly recommend getting one that is not pasteurized, but instead freshly packed and on ice.
I do not suggest using snow crab, king crab or imitation crab. They are different textures and flavors from blue crab.
Zesty Butter
My butter is really what makes these crabby potatoes better than your ordinary crab stuffed potato recipe. I use this magical mix on Cornish hens, pork and my smashed potatoes.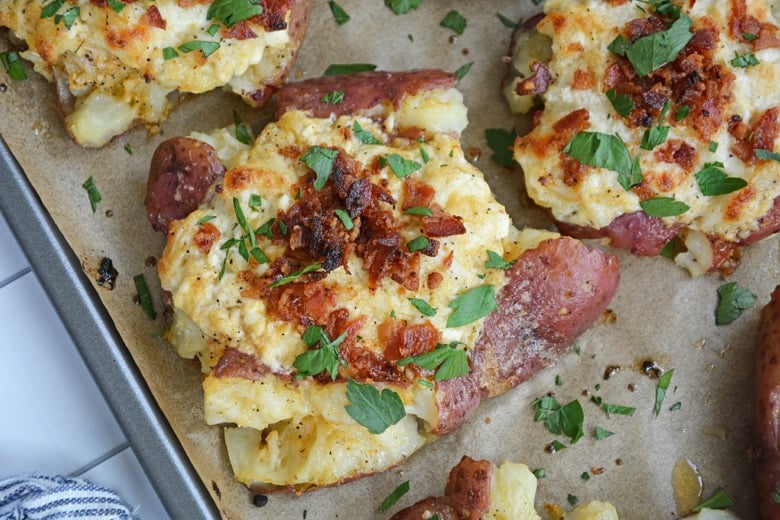 All you need is:
Unsalted Butter – You can use regular butter, just omit the Kosher salt.
Coarse Kosher Salt – I like being able to add my own salt and Kosher salt gives a less salty flavor while still enhancing other flavors.
Hot Sauce– Don't worry, they aren't spicy. This is just a hint of zest that elevates these bad boys to a new level.
Garlic – If you want a strong garlic flavor, use finely minced or crushed fresh garlic, but if you want a sweet garlicky taste, use the jarred minced garlic.
Pepper – Freshly ground gives you the most peppery flavor.
Crab Smashed Potatoes
Next, make the potatoes and then assemble. You can boil small red potatoes, which will take about 30 minutes, or microwave them for around 8-10. They need to be soft enough to smash easily with the bottom of a glass.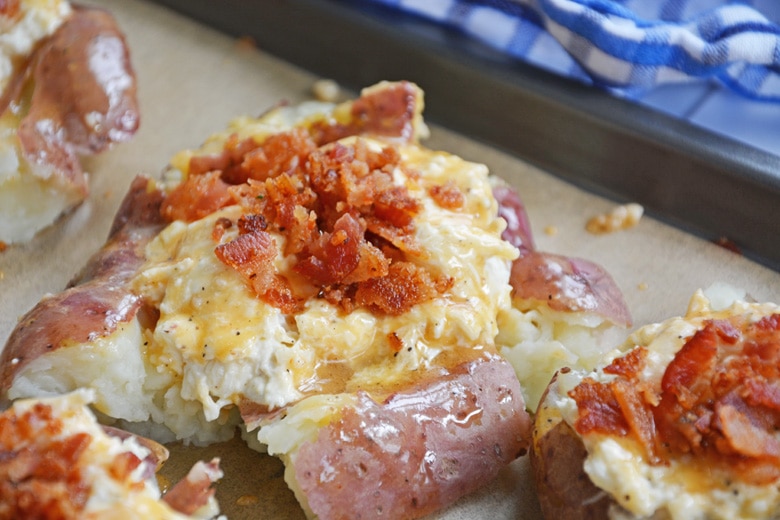 Baste well with garlic butter, then add a hefty dollop of crab topping before basting with garlic butter again and finally sprinkling with chopped bacon.
Bake until the edges are nice and crispy, remove and top with chopped parsley, chives or scallions. You can also add sour cream or additional salt and pepper, if you desire.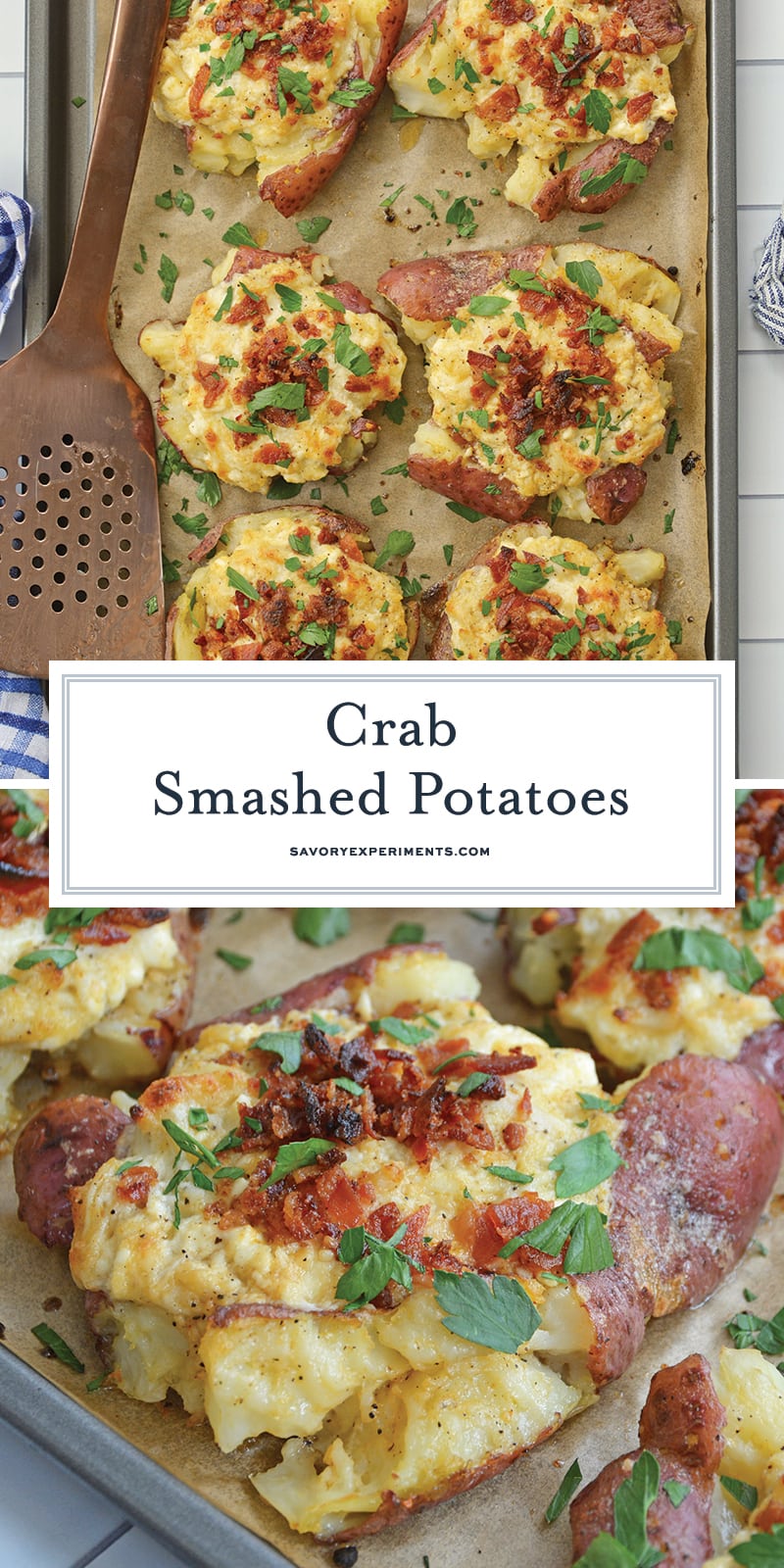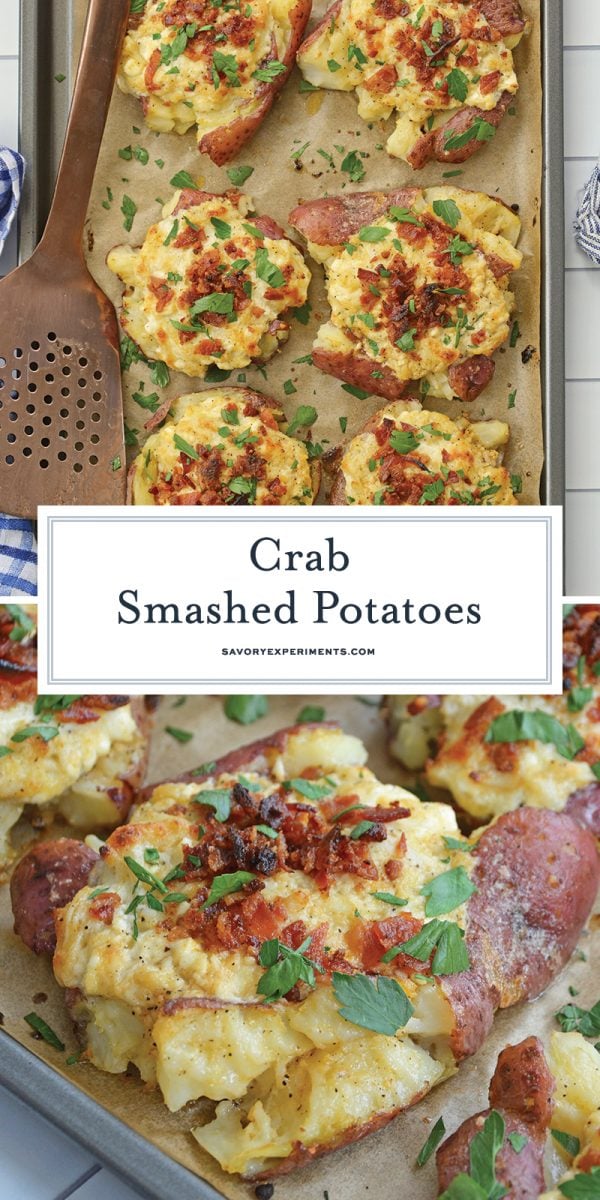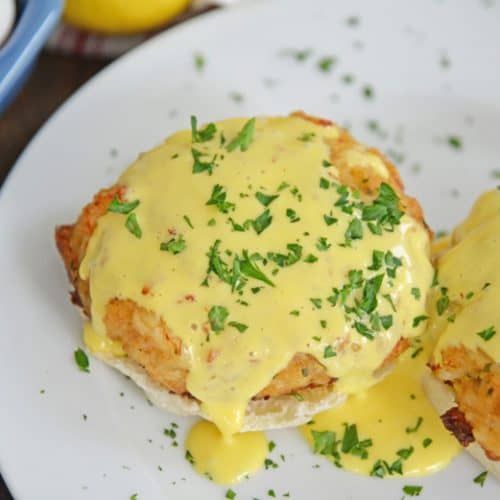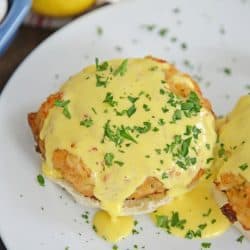 Crab Cakes Hollandaise
Crab Cakes Hollandaise is a decadently delicious dish that is perfect as an entree or as an appetizer. It is certain to wow your guests.
View this recipe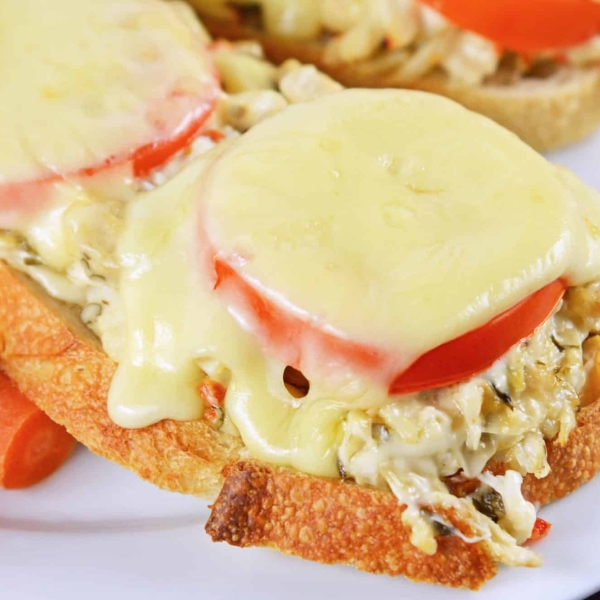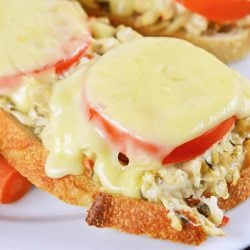 Crab Melt
This Crab Melt will become your favorite open faced sandwich recipe! Deliciously cheesy and easy to make!
View this recipe
Oscar Style Steak (Crab oscar)
Fork tender beef tenderloin filets topped with crab oscar and buttery sauce! Ready in under 30 minutes and the perfect romantic dinner idea.
View this recipe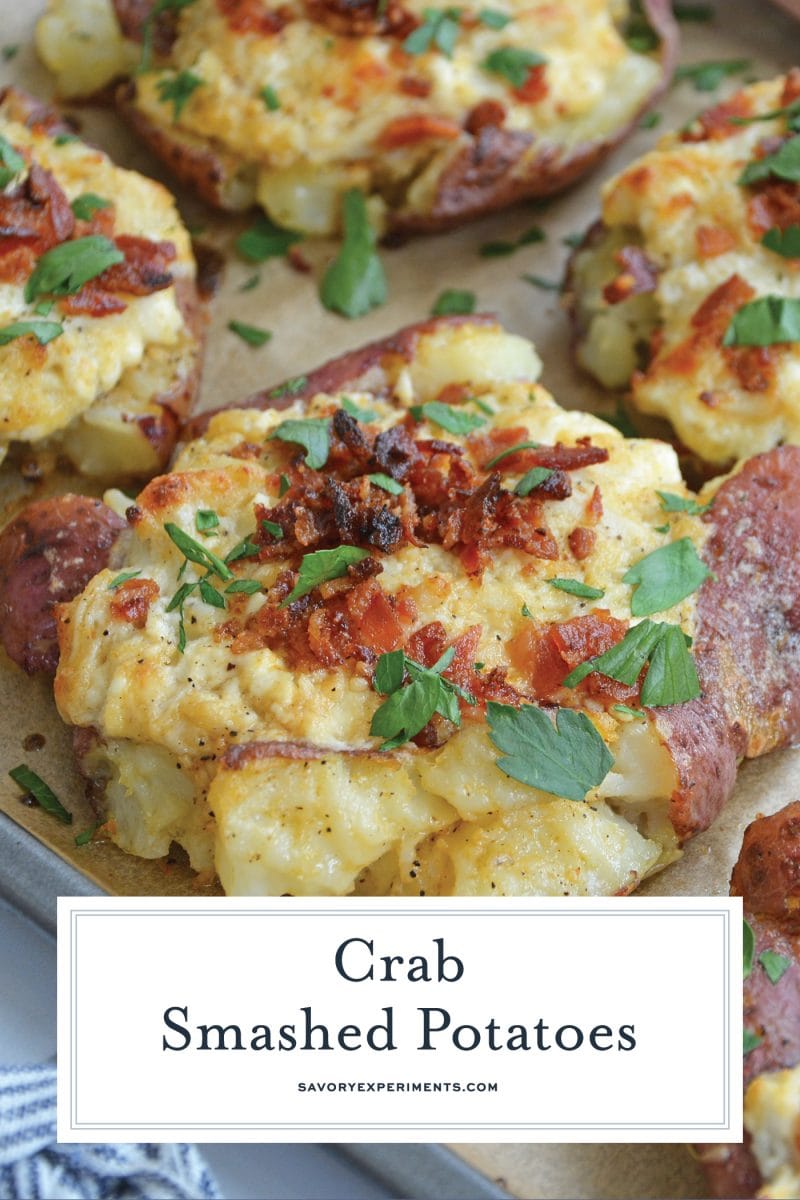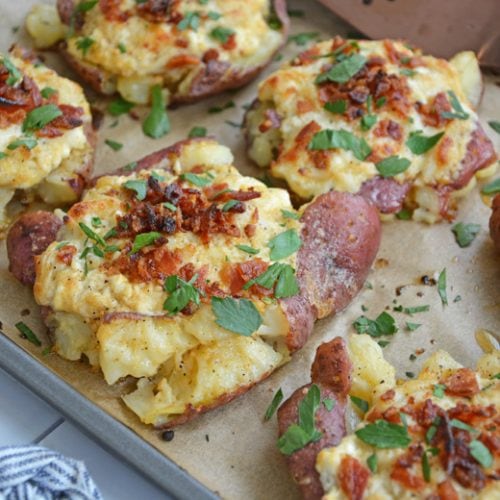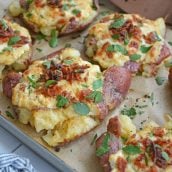 Crab Smashed Potatoes
Crispy smashed potatoes slathered in butter, topped with creamy crab, given another butter bath before being topped with bacon and baked.
Ingredients
Instructions
Prep potatoes:
Preheat oven to 400 degrees. Line a baking sheet with parchment paper (for easy clean up).

Pierce potatoes well and place in a large microwave safe bowl. Add 1 1/2 cups water. Microwave on high for 8-10 minutes or until potatoes are soft when pricked with a fork.

Place potatoes on a lined baking sheet, smash each with the bottom of a glass. Set aside.
Make Garlic Butter:
In a small microwave safe bowl, combine unsalted butter, hot sauce, coarse Kosher salt, black pepper and garlic.

Heat for 30 seconds on high heat in microwave, stirring well until butter fully melts. Set aside until ready to assemble.
Make Crab Topping:
In a small bowl, combine cream cheese, mayonnaise, cheddar cheese, Worcestershire sauce, garlic powder, onion powder, Kosher salt and white pepper. Mix until well combined. You can use an electric mixer or stand mixer for this portion.

Fold in crab meat.
Assemble:
Baste each potato with melted butter. Evenly divide crab topping onto each potato. Baste crab topping with remaining butter. Evenly divide chopped bacon.

Bake for 12-15 minutes or until potato edges are browned and bubbly.

Remove and garnish with parsley, chives or scallions.

If you've tried this recipe, come back and let us know how it was in the comments or ratings!
Nutrition
Calories:
266
kcal
,
Carbohydrates:
27
g
,
Protein:
8
g
,
Fat:
15
g
,
Saturated Fat:
7
g
,
Cholesterol:
40
mg
,
Sodium:
720
mg
,
Potassium:
781
mg
,
Fiber:
3
g
,
Sugar:
3
g
,
Vitamin A:
366
IU
,
Vitamin C:
15
mg
,
Calcium:
61
mg
,
Iron:
1
mg