This is one of the best BBQ sauce recipes out there! You can use this simple yet delicious Homemade BBQ Sauce as a marinade, condiment, sauce, or even for basting!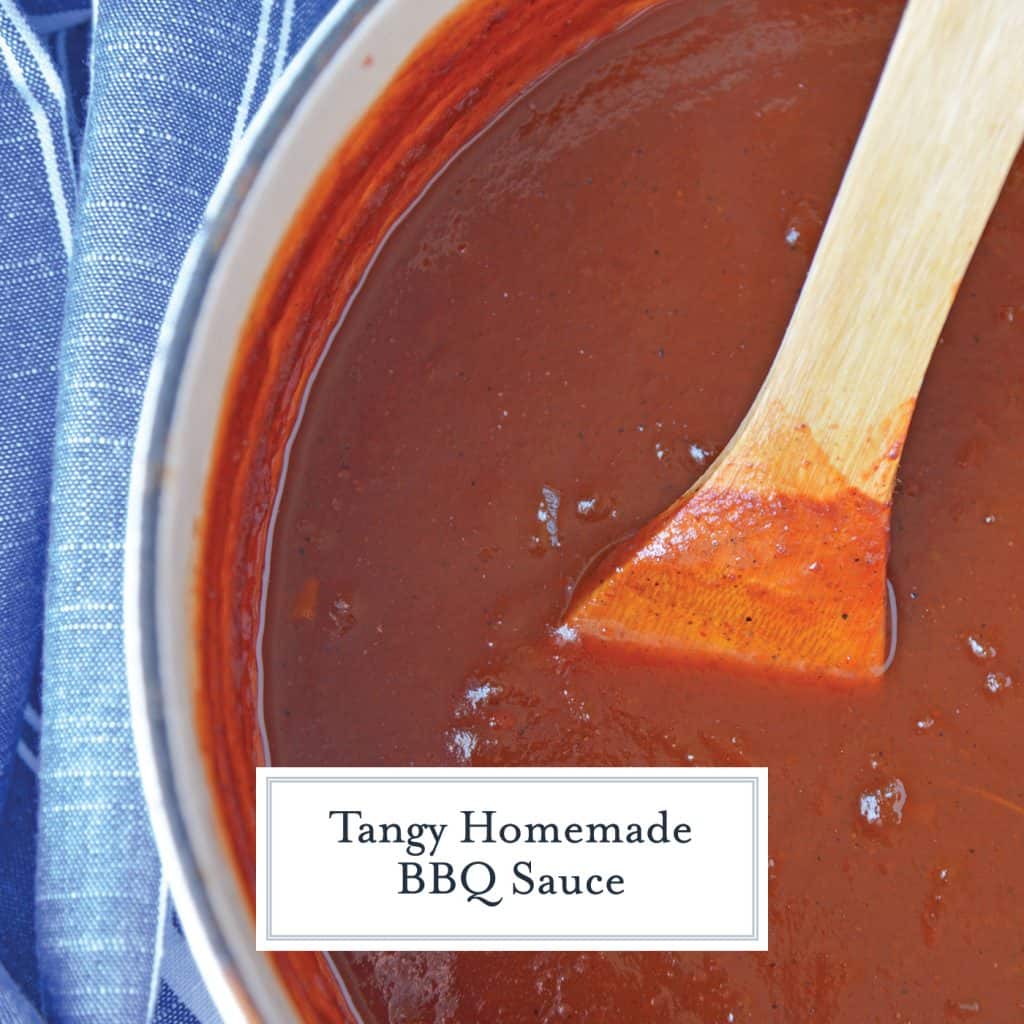 Homemade BBQ Sauce is an easy recipe that you can make at home! All you need is some ketchup, onion, lemon juice, Worcestershire sauce, vinegar, and spices!
Since having my Homemade BBQ Sauce, recipe courtesy of my mother, hubby has vowed to never eat bottled BBQ sauce again. Hands on time is minimal and it can be made in large batches and frozen.
There is nothing like making your own homemade sauces and dressings right in your own kitchen. It not only saves you money, but you most likely already have all the ingredients in your pantry ready to go!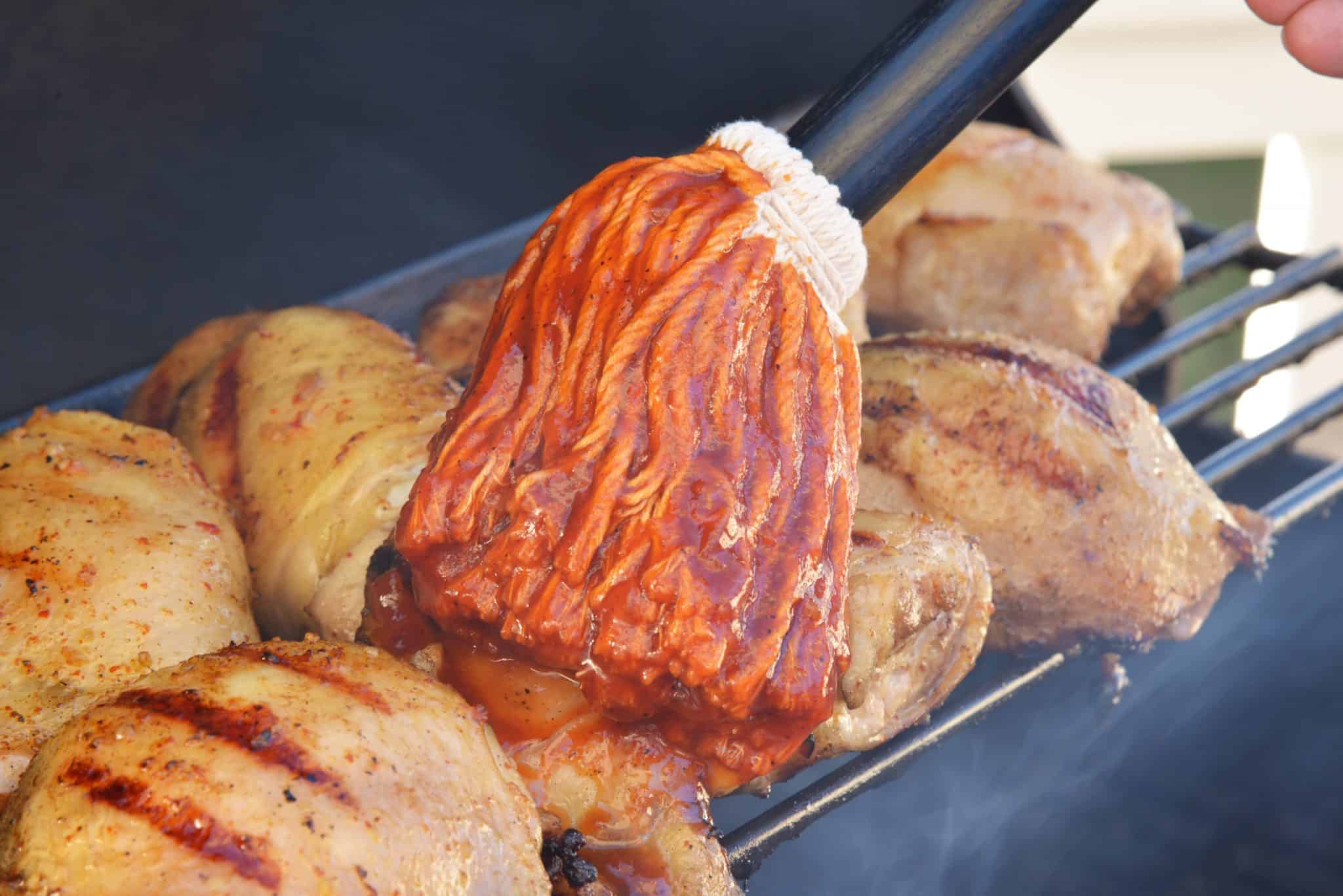 Ketchup, lemon juice, Worcestershire sauce, cider vinegar, white onion, ancho chili powder, chipotle powder, salt, brown sugar, and water. 10 ingredients to make the best Homemade BBQ Sauce ever! What more could you ask for?
Serve on seafood, chicken or beef. Add it to pork or chicken in the slow cooker for 4 hours for a mind blowing pulled pork or chicken. Always make a little extra so you have some on hand ready to go!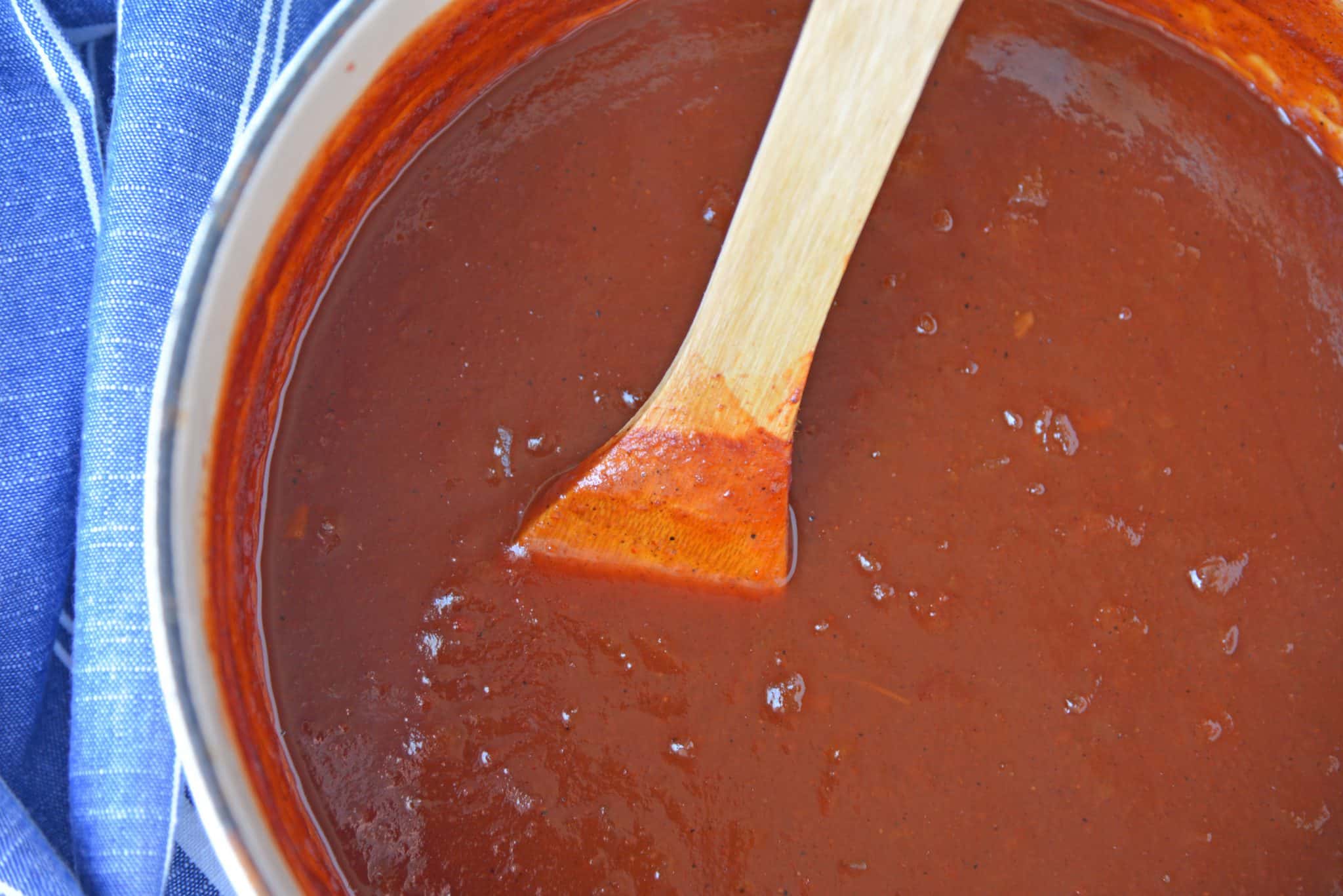 Did you know that the origin of BBQ sauce could potentially be from when the first American colonies started to come together in the 17th century? Amazing right, I had no idea!
They say that there are two states, North and South Carolina, that the source of two original sauces can be traced back for most of the BBQ sauces that you will find in America today.
Now most states have their own versions of BBQ sauce that vary in different tastes.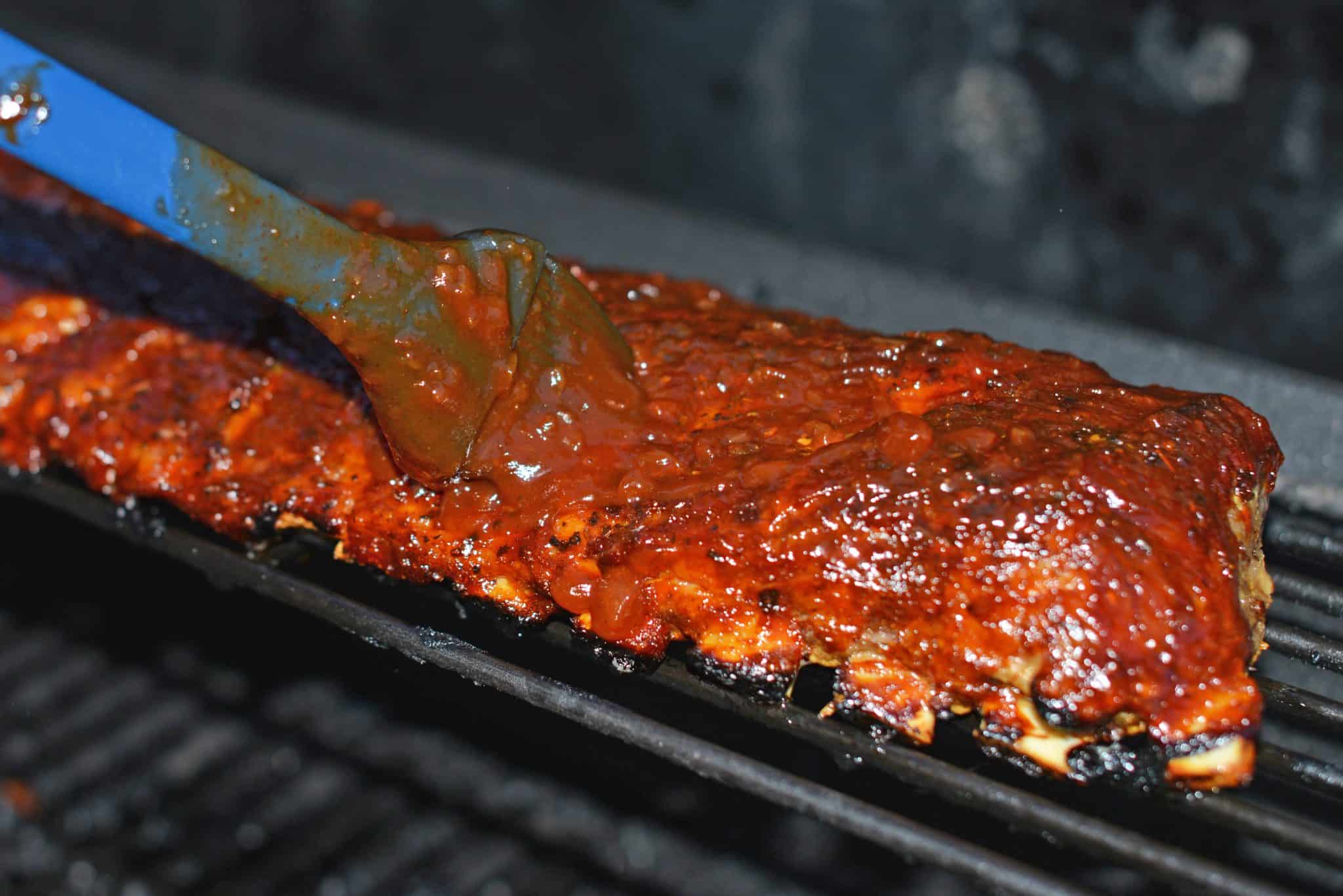 Even going from northern and southern states in America, you will find a different style of sauces. In the north they use a tomato base, and in the south you'll find that they use mustard or vinegar.
All around the world you will find different variations of flavor! It's what makes each countries food unique.
If you enjoyed this BBQ sauce recipe, check out these easy sauce recipes: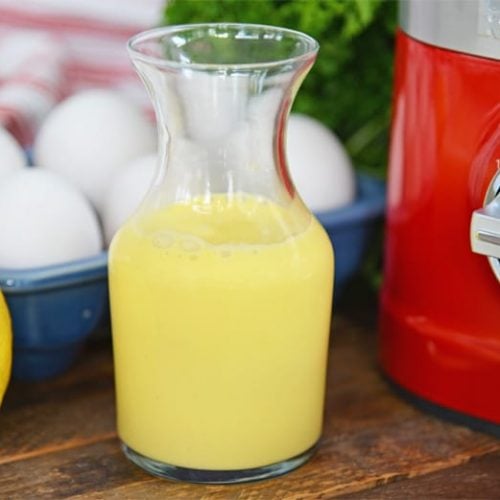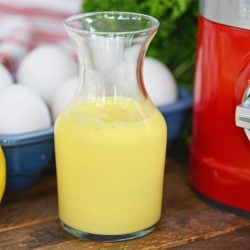 Blender Hollandaise Sauce
Make this super easy Blender Hollandaise Sauce in just 5 minutes! Perfect for benedict, Béarnaise sauce bases and vegetables.
View this recipe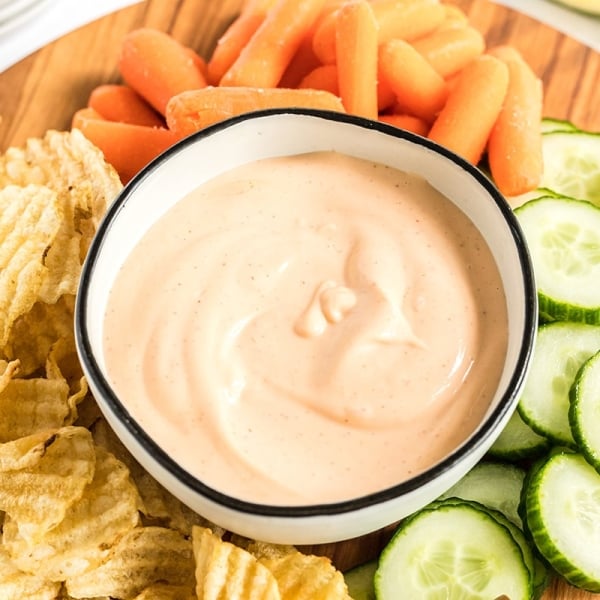 Sriracha Aioli Recipe (Spicy Aioli)
With only 4 ingredients and a few minutes, you can have a spicy sauce that is amazing! Sriracha Aioli is great on sandwiches or as a dipping sauce!
View this recipe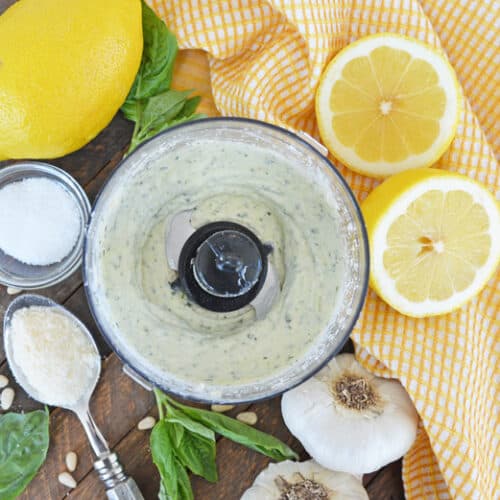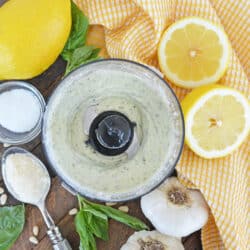 Pesto Aioli (Pesto Mayo)
Pesto aioli is the perfect condiment for so many different foods. With fresh flavors of basil and garlic, slather it on sandwiches, paninis or just use it to dip French fries.
View this recipe
Questions you might have about how to make your own BBQ Sauce:
Can I freeze BBQ sauce? You sure can! In fact, I usually make a double or triple batch just so I can freeze some of it.
Can I make BBQ ahead of time? Yes! By all means, make it in advance and let is sit so the flavors marry.
How long is BBQ sauce good for in the refrigerator? Since this sauce isn't full of additives and preservatives, it will only last about 1 week in the fridge.
What if I want smooth BBQ sauce? I like the bits of onion, but if you prefer a silky smooth sauce, use an immersion blender to smooth it out or run it through a sieve to get all the little bits out.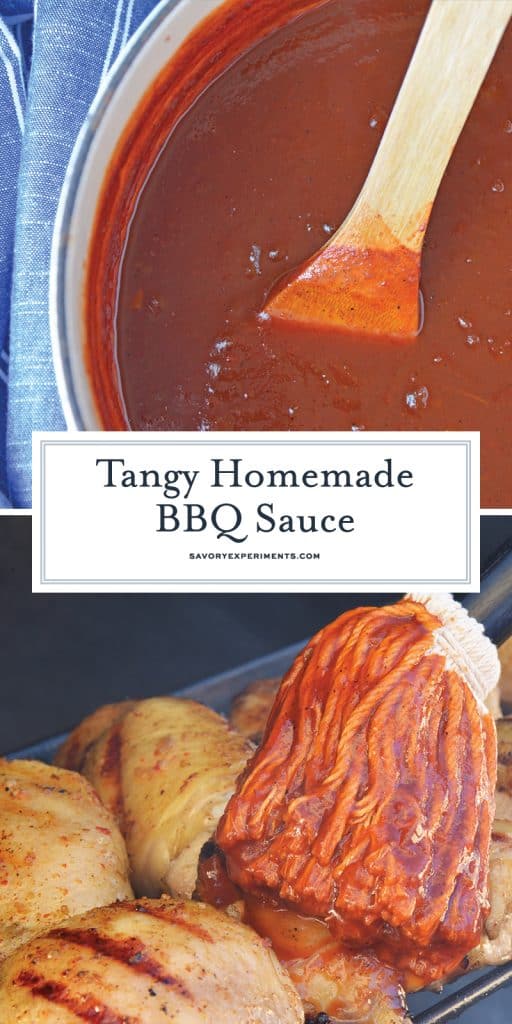 Tools for making this Homemade BBQ Sauce:
Dutch Oven– every kitchen should have one! They are heavy. They are expensive. They are worth it!
Wood cutting board – wood won't dull your knives like plastic and if treated properly, has natural antimicrobial properties.
Good knife – Global is my favorite! They are worth the price, I promise. I am kind of obsessed with them and store them tucked away so no one else can use them. Including hubby. Hands off my good stuff!
Fine Mesh Sieve– The perfect way to strain liquids with very small bits and pieces.
Immersion Blender– If you want super smooth BBQ sauce, use this immersion blender, sometimes known as a stick blender, right in the sauce!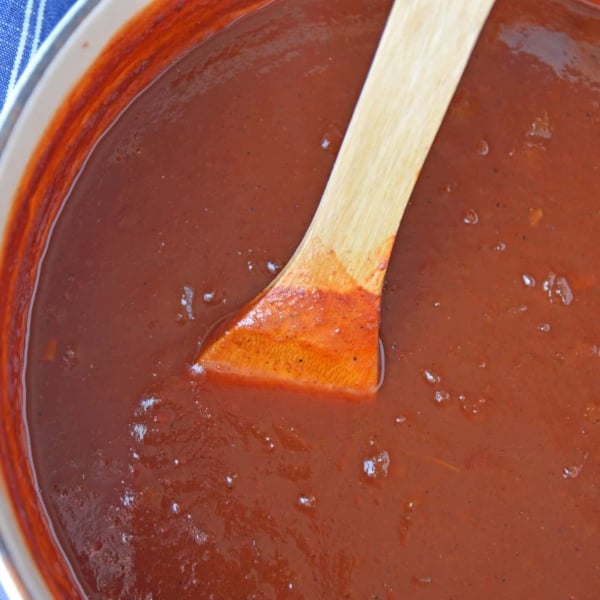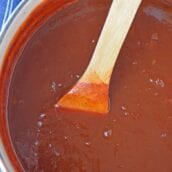 Homemade BBQ Sauce Recipe
Instructions
Place all ingredients in enameled pot or Dutch oven. Place over low heat. Bring to a simmer.

Continue to cook at a low simmer for 2 1/2 hours, stirring every 15-20 minutes to prevent scorching. Mixture should significantly reduce, darken in color and thicken.

Remove from heat and serve or use immediately.* Enjoy your Homemade BBQ Sauce!
Notes
*If you prefer a smooth BBQ sauce, use an immersion blender to blend it out.
Nutrition
Calories:
219
kcal
,
Carbohydrates:
52
g
,
Protein:
2
g
,
Fat:
1
g
,
Sodium:
1279
mg
,
Potassium:
528
mg
,
Fiber:
2
g
,
Sugar:
43
g
,
Vitamin A:
2325
IU
,
Vitamin C:
9.6
mg
,
Calcium:
61
mg
,
Iron:
2
mg