Grilled Dijon Pork Chop Recipe
Dijon Pork Chops are another one of my fond childhood recipes. Zesty Dijon mustard, lemon juice and Worcestershire sauce add so much flavor to the meat, you won't even need to baste or add more sauce when eating.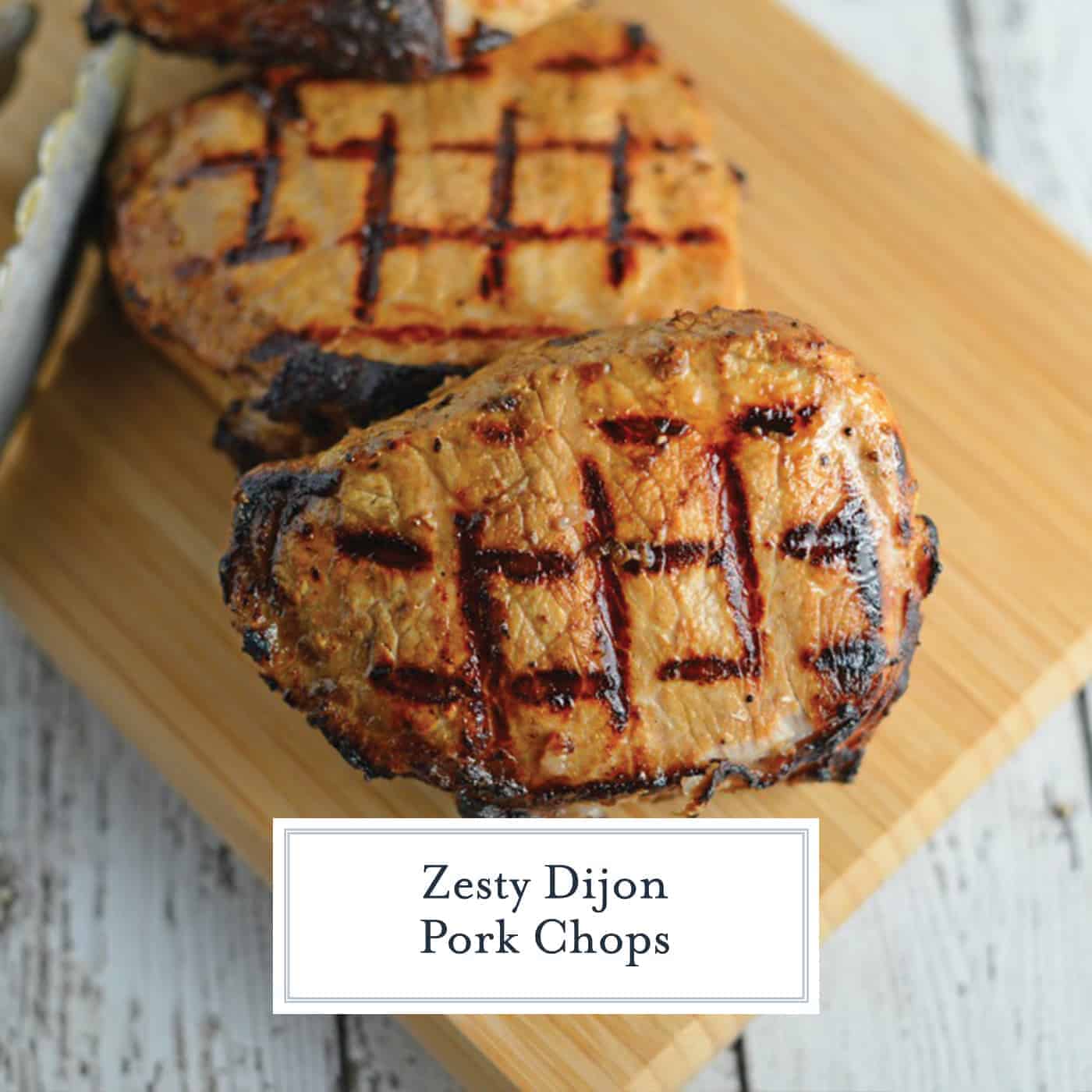 Grilled Dijon Pork Chops are a favorite for pork on the grill. A zesty and easy pork marinade recipes perfect for grilled or baked pork chops!
The Dijon mustard marinade is super simple and ready in less than 5 minutes. I generally prepare it in an airtight plastic bag or shallow dish
and add the meat directly, saving me at least one dish to wash!
One of the most commonly asked questions (or gripes) about making pork at home is that is turns out dry. The number one cause of this is that people overcook their pork out of hear and thus, dry it out.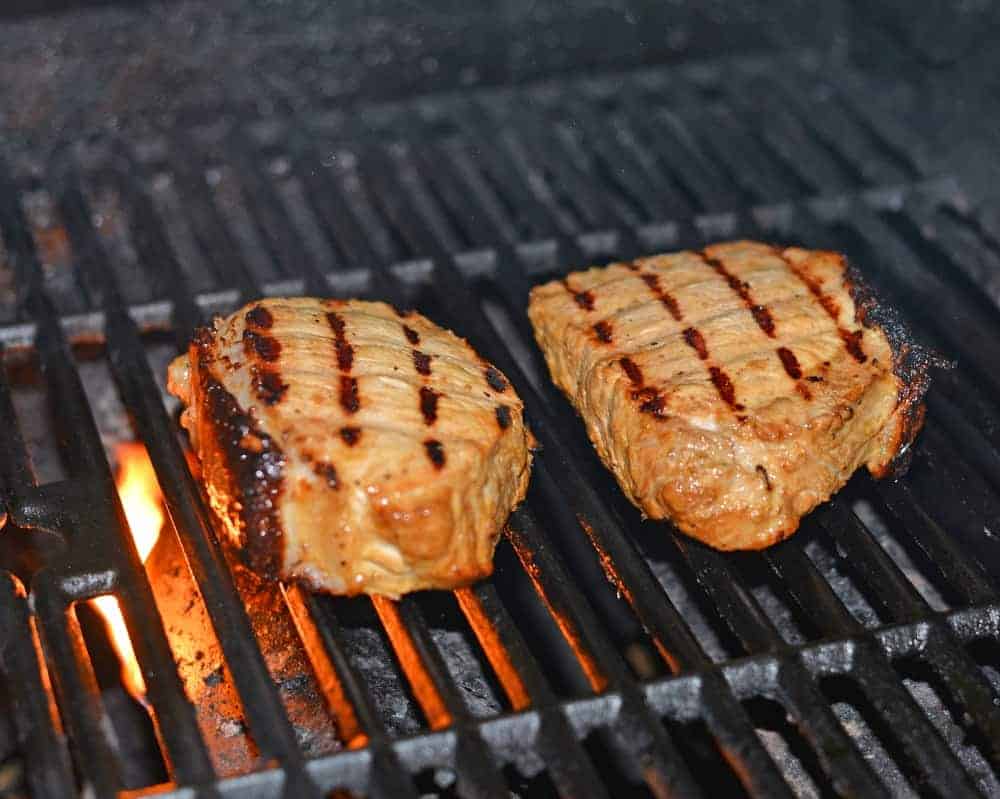 Don't be afraid to use a meat thermometer. It isn't cheating. The best chefs in the world always have a thermometer attached to their lapel. Better to have perfectly cooked meat than dried out leather.
The other trick is to remove your pork right before it reaches the correct temperture. The inside will continue to rise and cook while your pork rests.
Which brings me to the last point, let your pork rest! People think it will get cold and yes, the exterior will decrease in temperture only slightly, but it was too hot to eat right off the grill anyhow!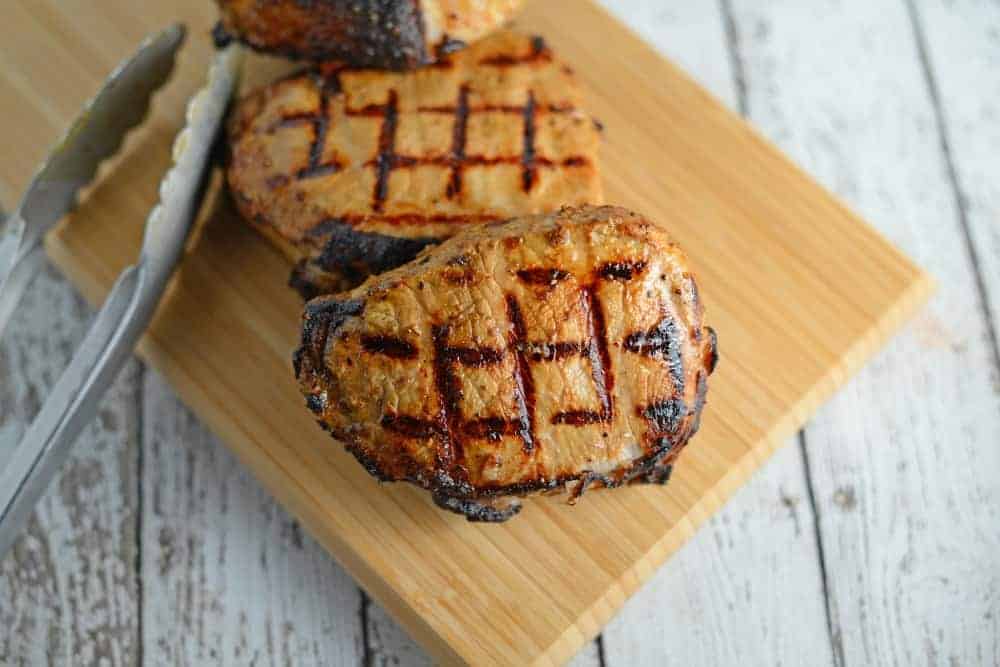 If you are really concerned, tent the platter with aluminum foil to capture heat in. Pork should rest for a minimum of 3 minutes and a maximum of 10 minutes before it does start to get cold.
So what is the correct cooking temperture for pork? The National Pork Board recommends that pork be cooked to an internal temperature of 145 degrees to kill bacteria. This will result in medium-rare pork, like you see below. Slightly pink.
It is a misconception that pork needs to have zero pink. It can have a little blush and still be perfectly fine to eat. The juices should run clear when pieced by the meat thermometer.
Medium would be 150-155 and medium well is 155-16o degrees. I do not recommend going beyond 160 degrees. All bacteria is far gone by then and you are nearing the zone of ridiciously chewy pork.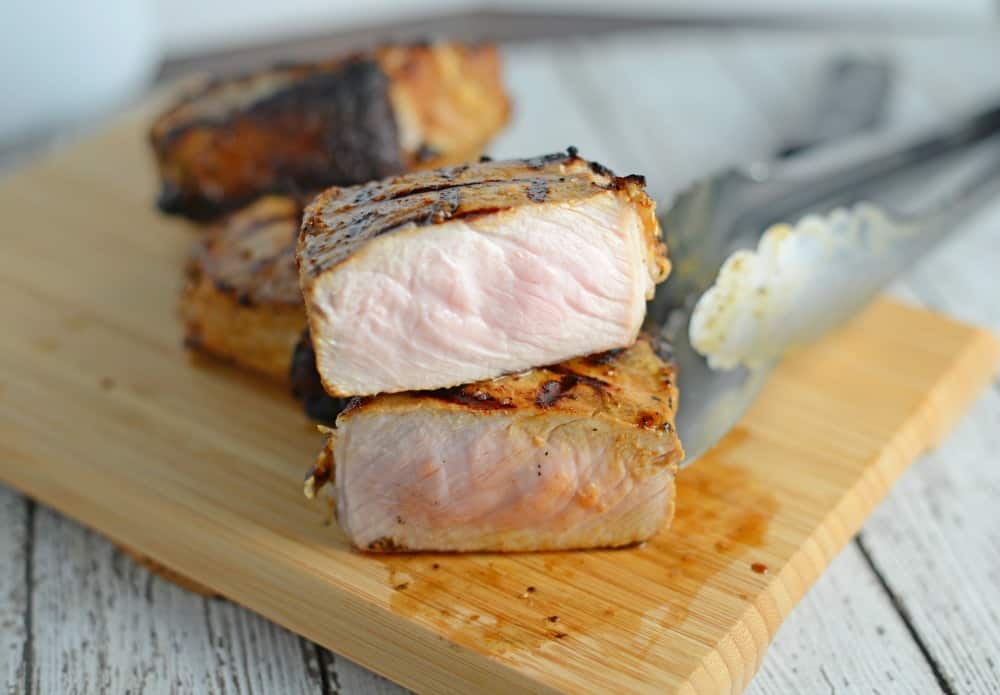 Dijon Pork Chops can be prepared on the grill, oven or stove top. I prefer them on the grill with my Herbed Potato Salad and Shaved Zucchini Salad with Lemon Chive Dressing.
If you liked this easy pork recipe, check these out:
Tools for making Grilled Dijon Pork Chops:
Zester and Juicer– Another kitchen necessity! Whether it be a savory or sweet recipe, every house needs a way to zest and juice citrus. Also great for making cocktails!
Baggy Rack– These gadgets are great. Long gone are the days of your plastic bag, full of marinade, toppling over and leaving a mess. Use these handy dandy gadgets to keep your bags upright while you work.
Grilled Dijon Pork Chops are a favorite for pork on the grill. A zesty and easy pork marinade recipes perfect for grilled or baked pork chops!Click to Tweet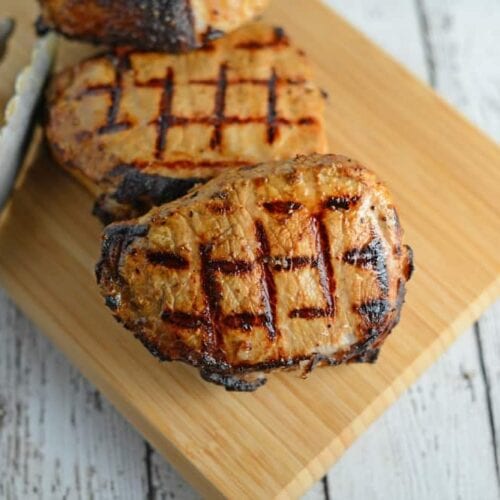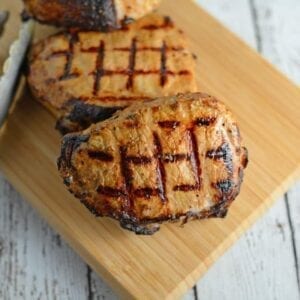 Grilled Dijon Pork Chops
Grilled Dijon Pork Chops are a favorite for pork on the grill. A zesty and easy pork marinade recipes perfect for grilled or baked pork chops!
Course:
Main Course, Main Dish
Keyword:
grilled pork chops, pork marinade
Ingredients
4

boneless pork chops

2

teaspoons

lemon pepper

3

tablespoons

lemon juice

1

tablespoons

Worcestershire sauce

3

tablespoons

Dijon mustard

2

tablespoons

white cooking wine

2

tablespoons

Vegetable oil

1

teaspoon

coarse sea salt
Instructions
Mix all ingredients in an airtight plastic bag or shallow baking dish, coating well.

Marinate for 1 -24 hours. Remove Dijon pork chops from marinade, discarding.

Heat grill to medium-high heat and lightly coat with cooking spray or vegetable oil.

Place pork chops on the grill and cook for 5-6 minutes on each side. Timing will vary greatly. These chops were super thick and took nearly 9 minutes each. Pork can be a little pink in the center, but juices should run clear and the internal temperature should be 140-145 degrees.

Remove and allow to rest for 5 minutes before serving.

If you've tried this recipe, come back and let us know how it was!
Nutrition Facts
Grilled Dijon Pork Chops
Amount Per Serving
Calories 290
Calories from Fat 144
% Daily Value*
Fat 16g25%
Cholesterol 89mg30%
Sodium 815mg35%
Potassium 574mg16%
Carbohydrates 3g1%
Protein 29g58%
Vitamin C 4.9mg6%
Calcium 25mg3%
Iron 1.2mg7%
* Percent Daily Values are based on a 2000 calorie diet.