Your favorite comfort food is turned into three-bite single serve size with these Meatloaf Muffins.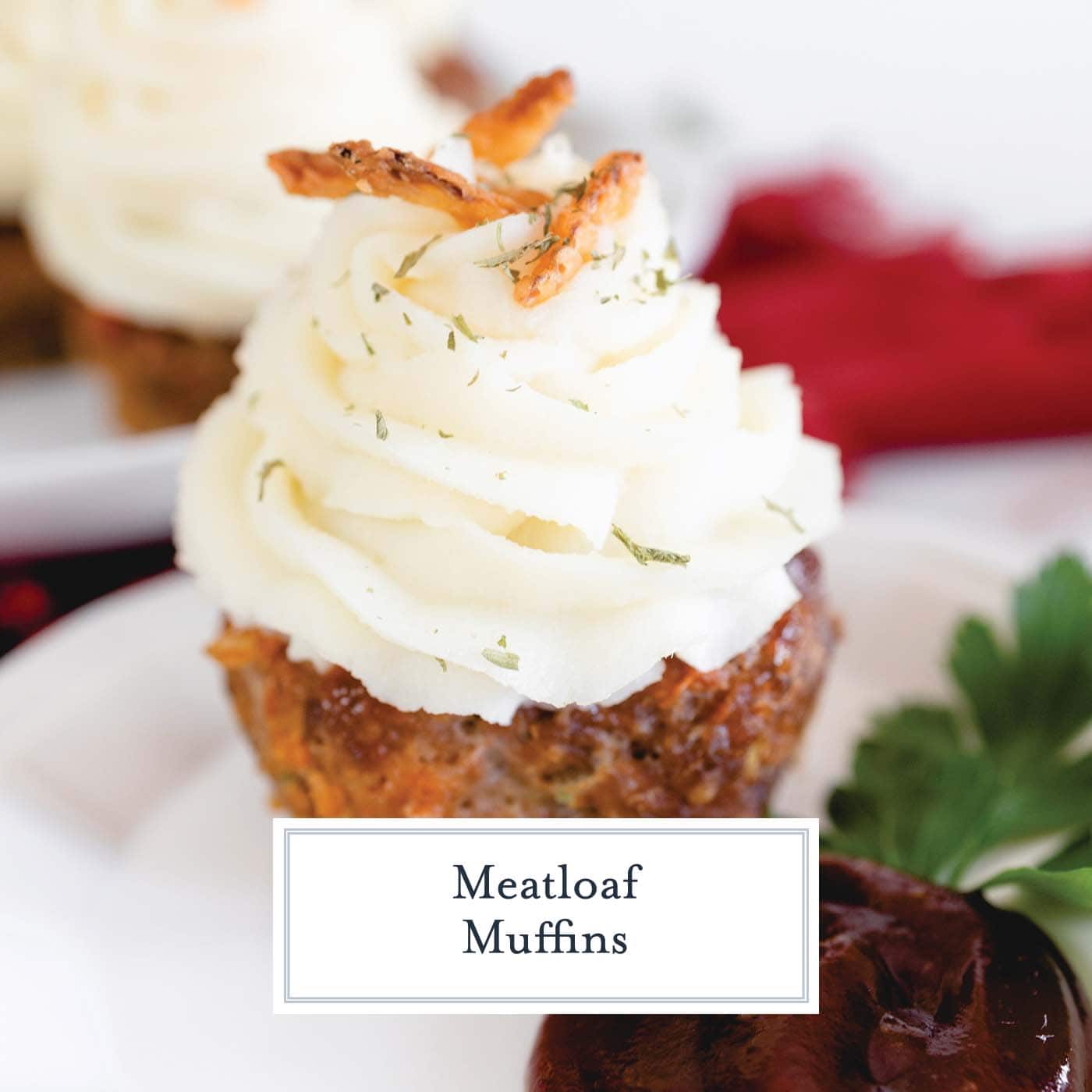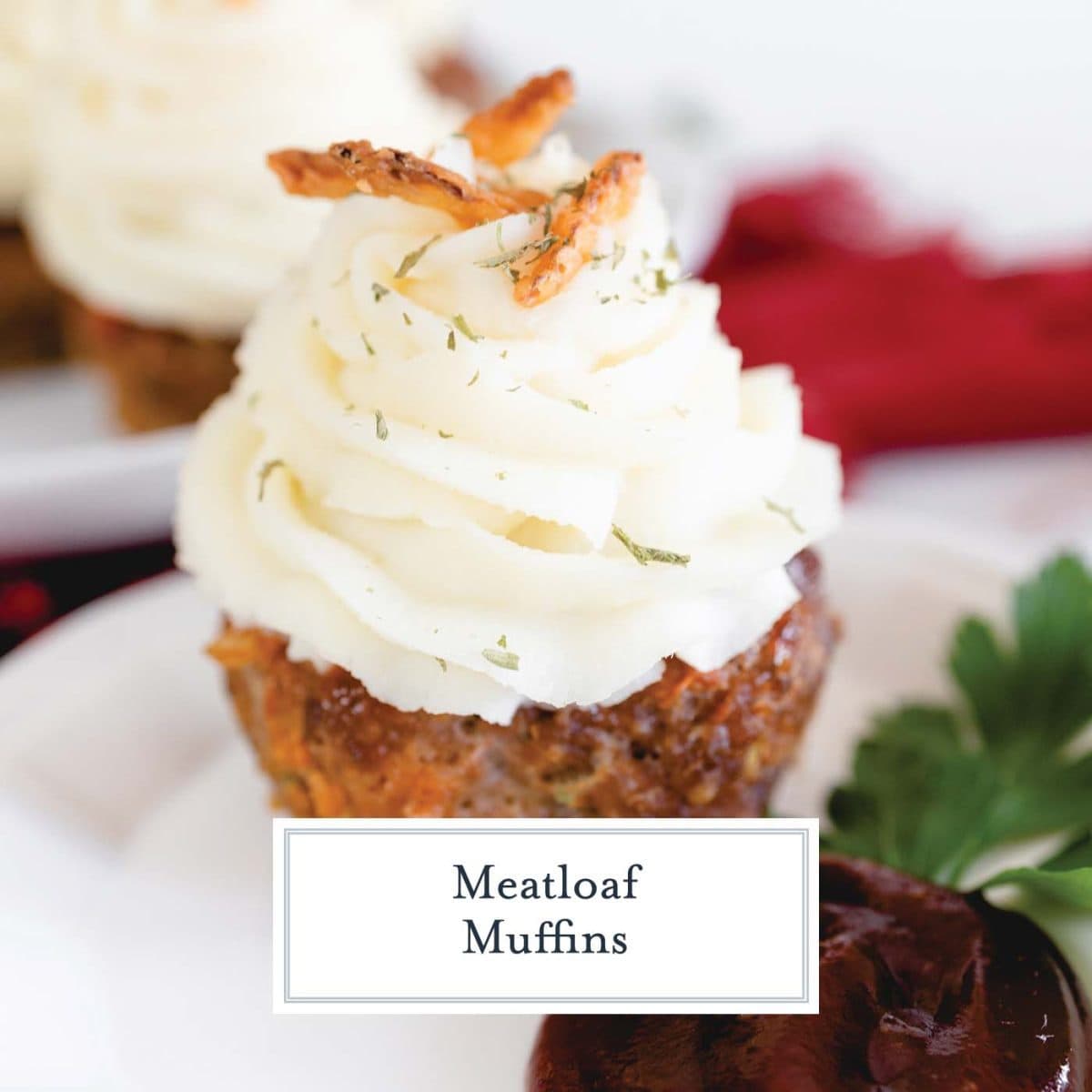 Did you have a favorite meal growing up? I feel like meatloaf is one of those classic recipes that everyone loves. However, I was not a fan of meatloaf until later in life. Gasp.
I used to think of it as just a weird brick of ground beef; but once I started experimenting with my own versions of meatloaf, it became a dish that I absolutely love!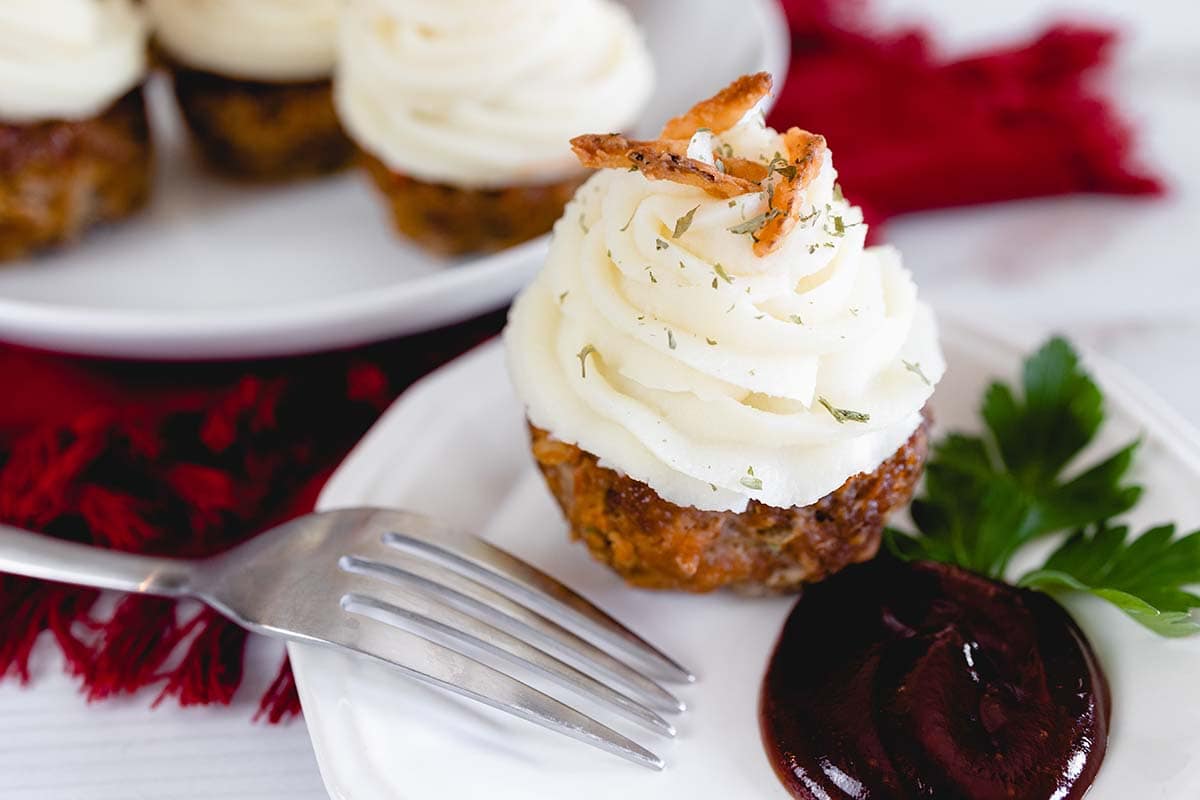 Why Make Meatloaf Muffins?
I know what you are thinking, why mess with a good thing? I'm not messing with it, I'm just modifying the shape slightly.
When you think about it, there isn't really a standard meatloaf recipe anyhow. The flavor variations are endless, so why not make the shape fun too?
You can even stuff it with cheese and extra vegetables like my Stuffed Meatloaf or make my French Onion Meatloaf into muffins.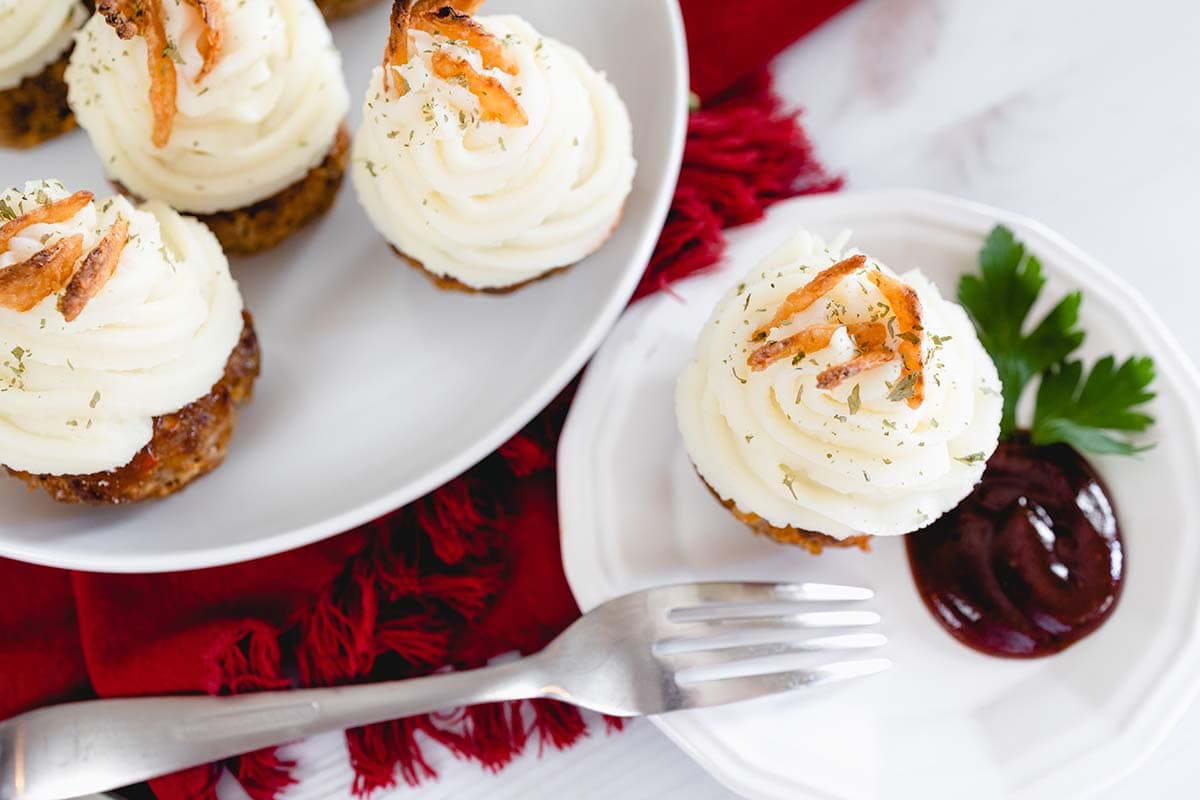 What You Need
Meatloaf is a great way to use up odds and ends, the recipe itself is forgiving, so feel free to add more or less and even omit.
Meat–

This meatloaf recipe calls for a ground meatloaf mix, (pork, beef and veal) but you can use turkey, ground chicken or just ground beef.

The biggest trick is to not go too low fat. Fat helps is congeal and also provides flavor.
Olive oil- Just to sweat the veggies and keep them from sticking, feel free to use any neutral oil or butter.
Onion, Celery and Carrot– Often called the holy trinity, it is the flavor base for countless recipes.
Dried parsley- I generally don't use dried parsley, it doesn't have an extreme flavor profile, but in this case I also didn't want to introduce anything else that had moisture. Instead, it serves the purpose of soaking up releasing moisture while the blend cooks.
Garlic– fresh garlic will give a true garlic zing, while bottled garlic a sweet taste.
Sauce– Made of ketchup, Dijon mustard and Worcestershire sauce it adds an acidic punch and helps to further tenderize the meat. Add grape jelly and you also have a banging topping that tastes like Grape Jelly Meatballs.
White pepper- Slightly more mild than black pepper, it can totally be used as well.
Eggs- Eggs are needed to bind all of the ingredients together.
Bacon– I like the chewy, salty bits that bacon adds to the muffins, however this is optional.
Breadcrumbs– Seasoned or plain, I do use traditional bread crumbs versus panko, which are coarser.
I do make mine into fun cupcakes use mashed potatoes for frosting and french fried onions as the decorative touch. Meatloaf muffins will still be fantastic even without those finishing touches.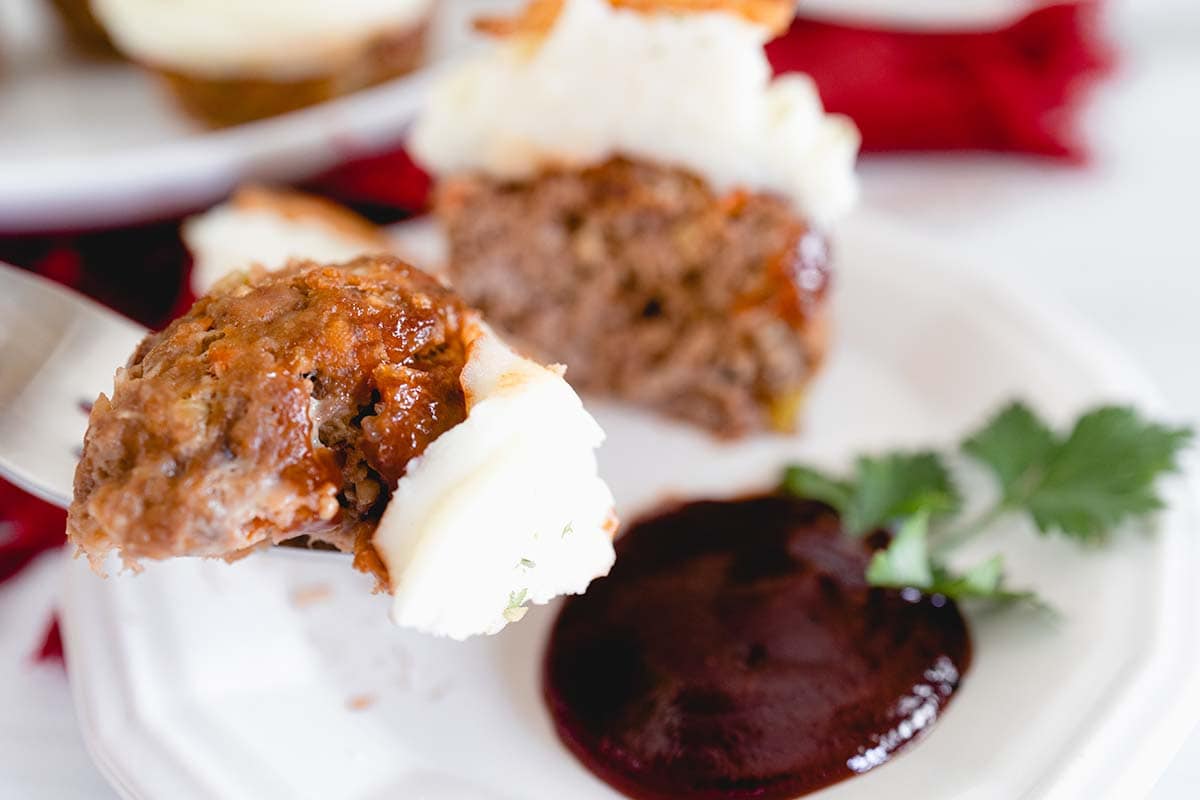 Hot to Make Meatloaf Muffins
The ingredient list seems a little lengthy, but this fun recipe comes together in a jiffy.
Preheat the oven while you get the meatloaf mix put together.
Heat the olive oil in a skillet and saute onions, carrots and celery until soft and fragrant. Add dried parsley and garlic, cooking an additional 1 minute. over medium-high heat. Do not use too much oil, or the mixture will have too much liquid and not hold together well. You can also drain/blot the whole on a paper towel lined plate if you are concerned this has happened.
In a bowl, whisk together the ketchup, Dijon mustard, Worcestershire sauce, white pepper and eggs and then add the sautéed veggie mix. Breaking apart as you go, add the ground meats, bacon and breadcrumbs. Just like making meatballs, avoid overmixing to avoid a tough blend.
Coat a standard size muffin tin with cooking spray and evenly divide the mixture between the wells.
Stir together the ketchup and grape jelly, baste over tops of each meatloaf muffin.
Bake for 25-30 minutes or until internal temperature reaches 160 degrees. Allow to sit for 5 minutes.
Mashed potatoes can be leftover, homemade or instant, no judgement here. They are best stiff. Either get fancy and use a pastry bag to pipe it onto each muffin or slather it on with an offset knife or spoon. If the mashed potatoes are hot, no need to heat, otherwise, pop them in a hot oven or under the broiler to get the edges a little crispy.
Garnish with French fried onions.
PRO TIP: Don't overmix your meatloaf mixture. Overmixing leads to dense, chewy or dry meat.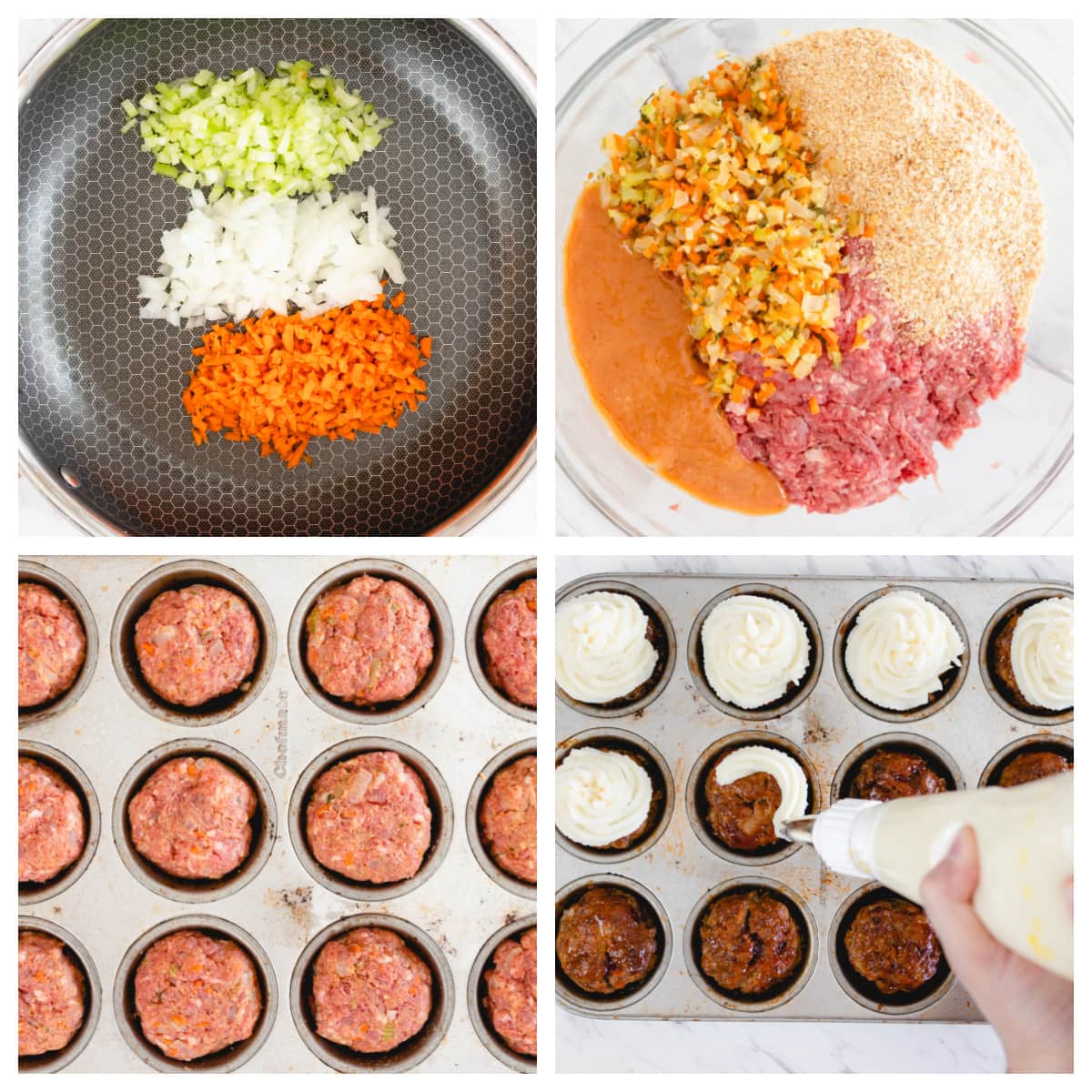 Make Ahead, Storage & Freezing
Meatloaf muffins are excellent as a make ahead dish. Reheat in a warm oven for 10 minutes or give it a zap in the microwave. Store leftovers in an airtight container in the refrigerator.
Muffins can also be frozen in plastic bags. I recommend freezing just the meat portion and "frosting" with mashed potatoes when ready to serve. They don't thaw well-formed. Muffins can be placed directly into an oven while frozen, 350°F for about 20-25 minutes, or thawed and heated in a warm oven for 5 minutes.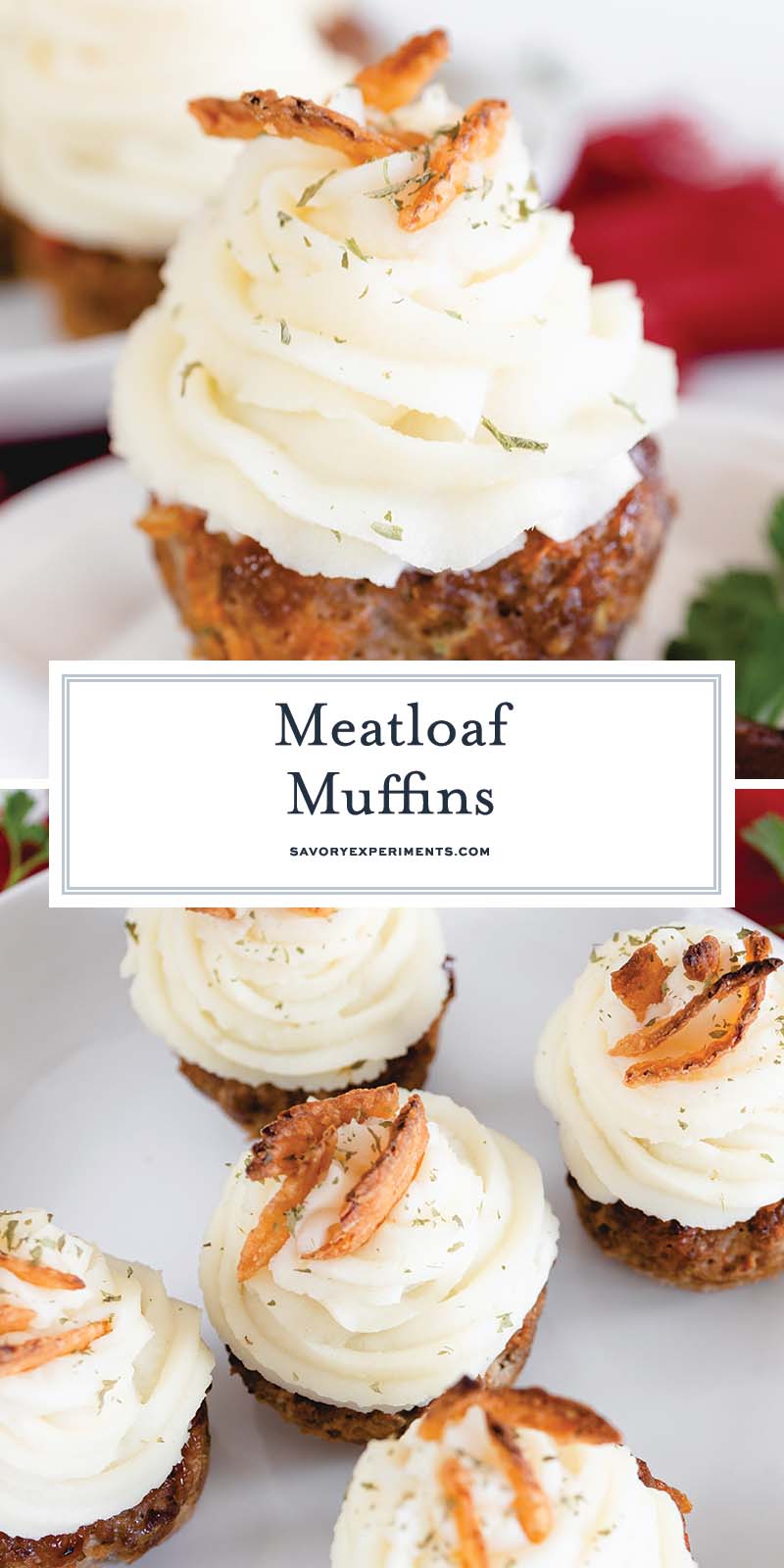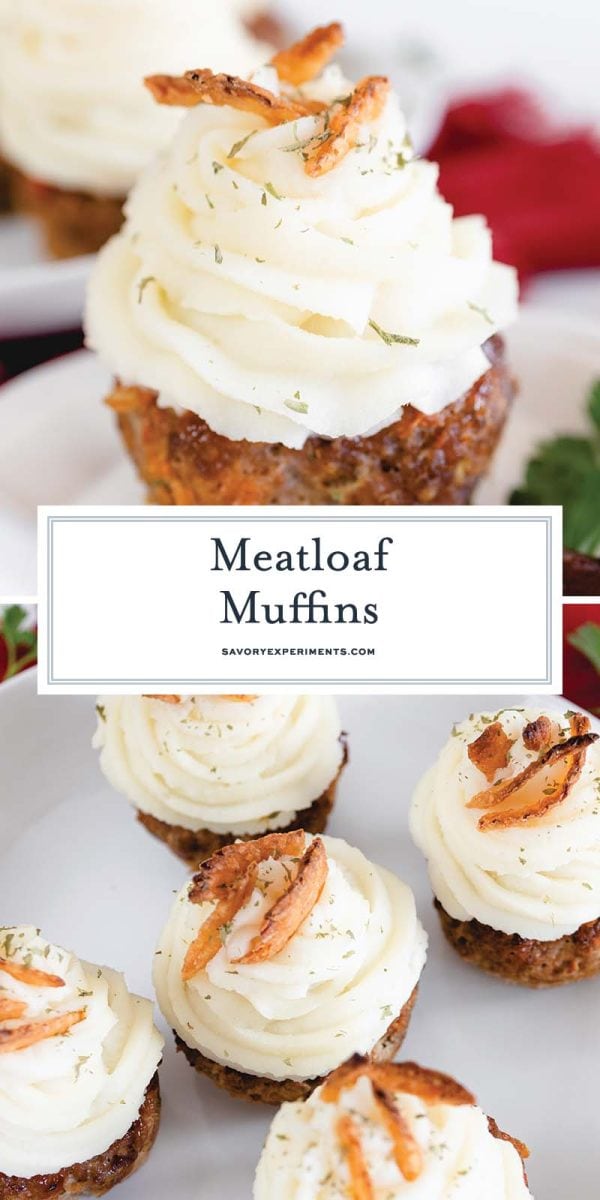 More homemade meatloaf recipes: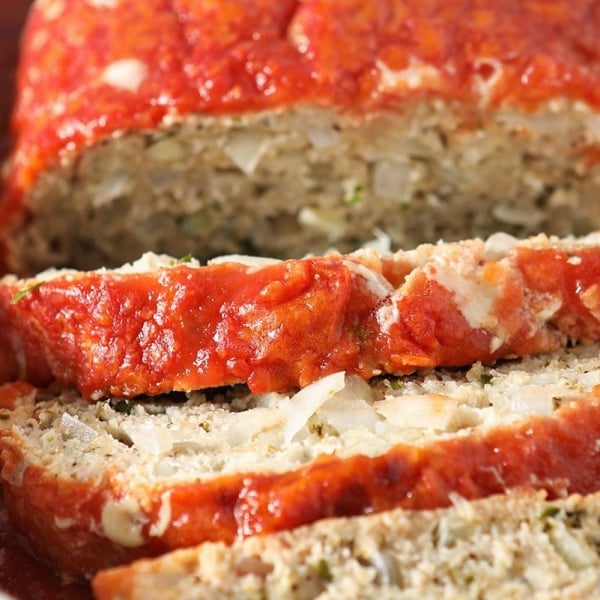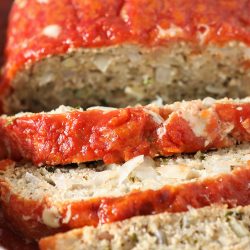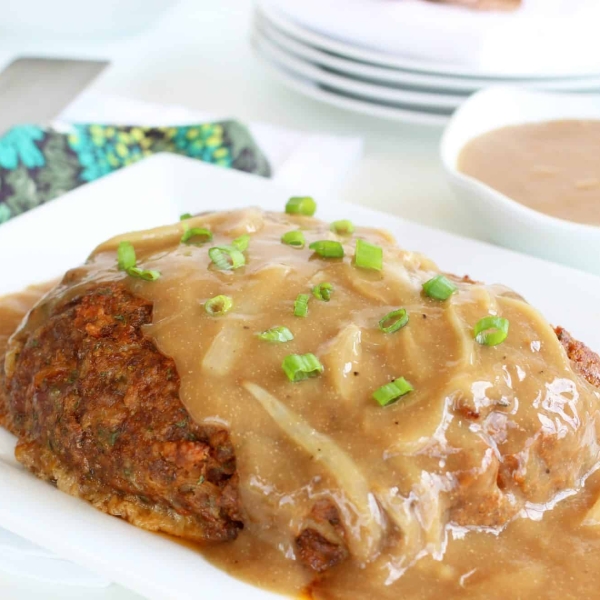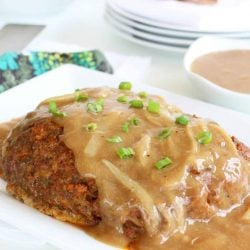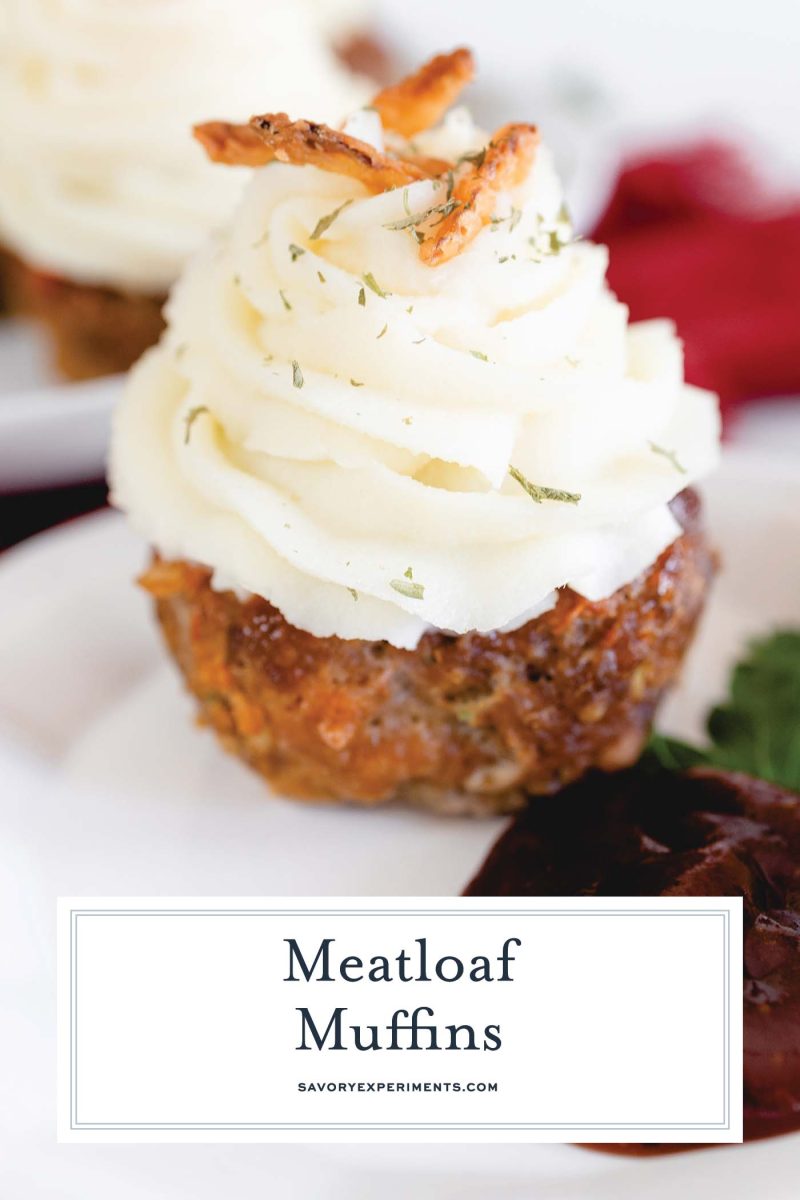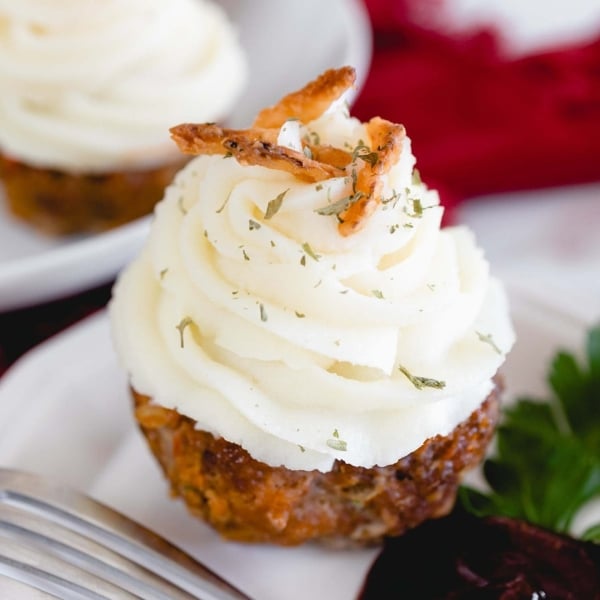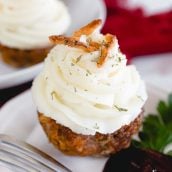 Meatloaf Muffins
Using a simple meatloaf recipe, meatloaf muffins are individual sized servings frosted with mashed potatoes and garnished with French fried onions.
Instructions
Preheat oven to 350°F and coat the wells of a standard muffin tin with cooking spray.

Heat the olive oil in a medium skillet over medium-high heat. Add the onion, carrot and celery until soft and fragrant. Add the dried parsley and garlic, cooking for 1 more minute. Remove and set aside.

In a medium mixing bowl, whisk together the ketchup, Dijon mustard, Worcestershire sauce, white pepper and eggs. Add the sautéed onion mix. Add the meatloaf mix, crumbling as you go. Add bacon. Add bread crumbs. Toss to combine. Do not over mix.

In a small bowl, stir together the ketchup and grape jelly for the sauce. Baste over the top of each meatloaf.

Bake for 25-30 minutes or until internal temperature reaches 160°F. Allow to rest for 5 minutes.

Place the mashed potatoes into a pastry bag, pipe onto the top or slather with a spoon. Place back into the oven for 2-3 minutes to warm. Using the broiler for a brief moment will give browned, crunchy edges.

Top with crispy onion strings and minced parsley.

If you've tried this recipe, come back and let us know how it was in the comments or ratings.
Notes
You can use any ground meat you'd like, but try to get something lean or very lean. Even ground turkey or chicken works.
I use instant mashed potatoes and add a tablespoon or so extra of the flakes. You can also use leftover mashed potatoes and just "frost them" instead of using a pastry bag, in which case you'll only need about 1 cup.
Nutrition
Calories:
311
kcal
,
Carbohydrates:
25
g
,
Protein:
14
g
,
Fat:
17
g
,
Saturated Fat:
6
g
,
Polyunsaturated Fat:
1
g
,
Monounsaturated Fat:
7
g
,
Trans Fat:
1
g
,
Cholesterol:
72
mg
,
Sodium:
339
mg
,
Potassium:
389
mg
,
Fiber:
2
g
,
Sugar:
7
g
,
Vitamin A:
769
IU
,
Vitamin C:
11
mg
,
Calcium:
45
mg
,
Iron:
2
mg