Your favorite comfort food is turned into a fun miniature size using a muffin tin! These individual Mini Meatloaf Cupcakes make the perfect weeknight meal.
Using a simple meatloaf recipe, homemade meatloaf is turned into a mini version that is a fun comfort food meal for the whole family. Mini Meatloaf Cupcakes are a WIN!
Did you have a favorite meal growing up? I feel like meatloaf is one of those classic recipes that everyone loves. However, I was not a fan of meatloaf until later in life. Gasp.
I used to think of it as just a weird brick of ground beef; but once I started experimenting with my own versions of meatloaf, it became a dish that I absolutely love!
There are many different ways to make meatloaf. You can use different seasonings and vegetables for different flavors.
You can even stuff it with cheese and extra vegetables like my Stuffed Meatloaf or make my French Onion Meatloaf into cupcakes. The options are endless!
These Mini Meatloaf Cupcakes are a great way to make dinner fun! A traditional meatloaf in mini form, topped with mashed potatoes- what's not to love? It combines the main entree and the side dish into one delectable "muffin."
This particular recipe calls for ground meatloaf mix, (which is pork, beef and veal) but you can use turkey or even ground chicken if you so prefer. Any ground meat will work perfectly, it's just personal preference.
The meatloaf mixture tends to provide more flavor, which is why I choose that. Just a matter of personal preference.
PRO TIP: Don't overmix your meatloaf mixture. Overmixing leads to dense, chewy or dry meat.
The sauce for these meatloaf muffins is a classic and super easy sauce. It combines equal parts of grape jelly and ketchup for a sweet and delicious sauce to top your meatloaf! It actually comes from my super popular Grape Jelly Meatballs (cocktail meatballs).
Mashed potatoes are used to top these meatloaf cupcakes. The mashed potatoes almost look like icing, which is where the "cupcake" name came from. It is a cupcake with mashed potatoes!
You can use the pre-made frozen mashed potatoes or even instant potatoes for this. It's also a great way to use leftover mashed potatoes, if you have any.
The "sprinkles" are French Fried Onions Straws. Make your own or buy them. A little chopped parsley brightens up this brown dish adds some leafy green. Like how I rationalized that?
Next time you are in the mood for meatloaf, try making these Mini Meatloaf Cupcakes. And if you were a meatloaf-hater like me, give it another try!
More homemade meatloaf recipes:
Tools for making these Mini Meatloaf Cupcakes:
Muffin Tin– I really suggest having two muffin tins. It makes life a lot easier than baking in two batches and double the cook time.
Mixing Bowls– make sure to check out my article on Using the Right Mixing Bowl, you'd be surprised how many people aren't!
Questions you have about how to make meatloaf cupcakes:
Can I freeze meatloaf cupcakes? You sure can! Freeze just the cooked meatloaf and add the mashed potatoes and other toppings after thawing.
Can I use just ketchup for a topping? Be my guest. You can also substitute the grape jelly for barbecue sauce.
Do I have to use a meatloaf mix? You do not. If you are looking for a lighter alternative, you can use lean ground beef, ground turkey or even ground chicken for the your meat mixture.
Can I make this recipe into a loaf of meatloaf? Yes! The cooking time will change though. Form into a loaf shape on a rimmed baking sheet or place into a meatloaf pan, then bake for up to an hour.
You can also make mini meatloaves be shaping them into 4 seperate loaves. This takes about 30 minutes to cook.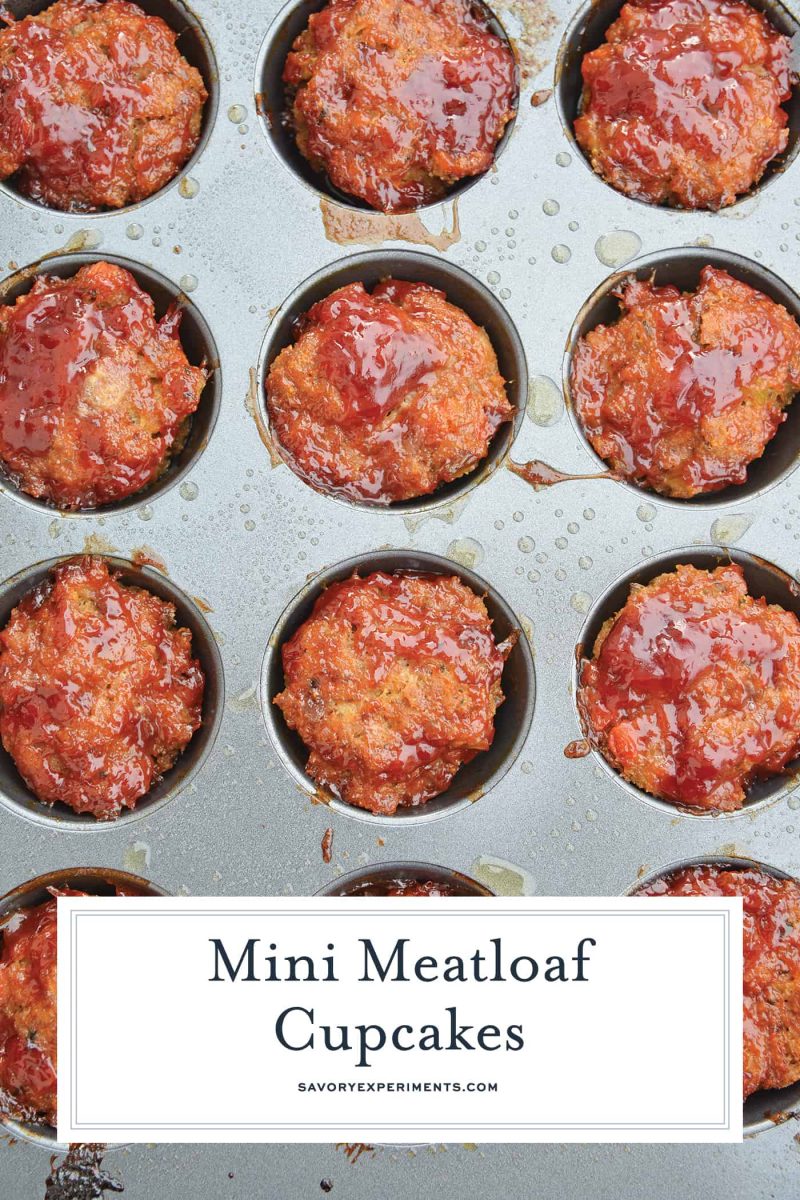 CONNECT WITH SAVORY EXPERIMENTS!

Be sure to follow me on social media, so you never miss a post!

Facebook | Twitter | Youtube
Pinterest | Instagram
Get our FREE 8 Day E-Course on How to Be a Better Home Cook. Sign up HERE!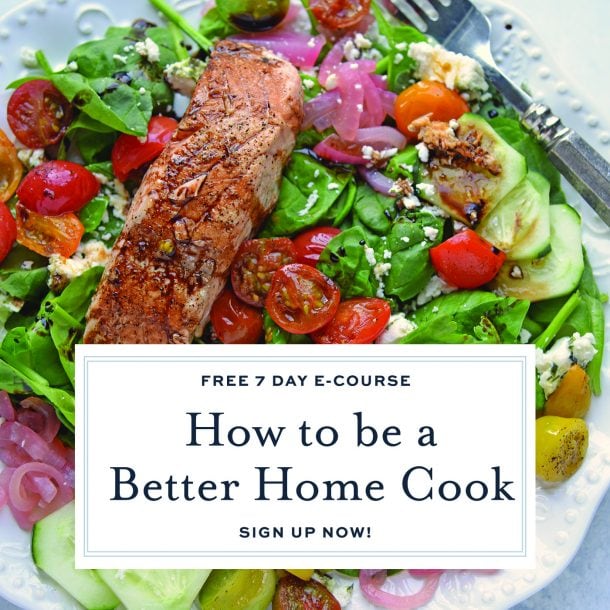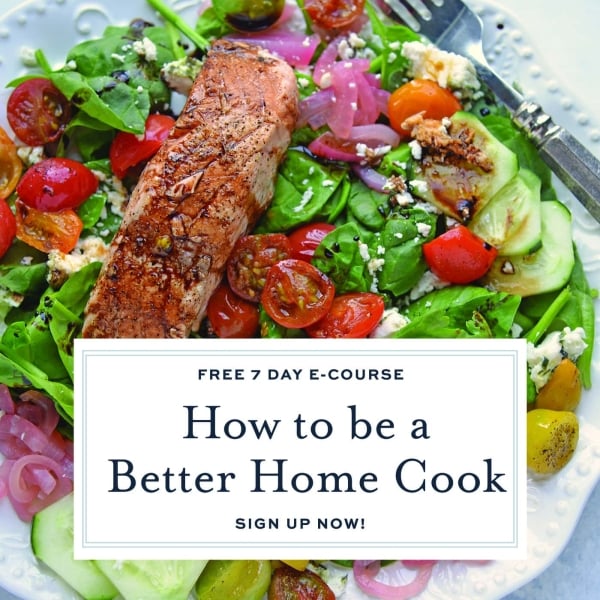 Mini Meatloaf Cupcakes
Using a simple meatloaf recipe, homemade meatloaf is turned into a mini version that is a fun comfort food meal for the whole family. Mini Meatloaf Cupcakes are a WIN!
Instructions
Preheat oven to 350 degrees.

Heat olive oil in a medium skillet over medium-high heat. Add onion, carrot, celery, dried parsley and garlic. Sauté until soft and fragrant, approximately 5 minutes. Do not use too much oil, or the mixture will have too much liquid and not hold together as well in the meatloaf. You can also drain on a paper towel lined plate if you are concerned this has happened. Remove and set aside.

In a medium mixing bowl, whisk together ketchup, Dijon mustard, Worcestershire sauce, white pepper and eggs. Add sautéed onion mix. Add meatloaf mix, crumbling as you go. Add bacon. Add bread crumbs. Toss to combine. Do not over mix.

Coat a 12 well muffin tin with cooking spray. Evenly divide meatloaf mix in the wells.

In a small bowl, stir together ketchup and grape jelly for the sauce. Baste over tops of each mini meatloaf.

Bake for 25-30 minutes or until internal temperature reaches 160 degrees. Allow to sit for 5 minutes.

Place stiff mashed potatoes into a pastry bag, pipe onto the top of each like a cupcake. You can also just spoon on to the top of each meatloaf. Place under broiler for 2-3 minutes or until they start to brown.

Top with crispy onion strings and minced parsley. Enjoy!

If you've tried this recipe, come back and let us know how it was!
Notes
You can use any ground meat you'd like, but try to get something lean or very lean. Even ground turkey or chicken works.
I use instant mashed potatoes and add a tablespoon or so extra of the flakes. You can also use leftover mashed potatoes and just "frost them" instead of using a pastry bag, in which case you'll only need about 1 cup.
Nutrition
Calories:
859
kcal
|
Carbohydrates:
75
g
|
Protein:
39
g
|
Fat:
43
g
|
Saturated Fat:
16
g
|
Cholesterol:
204
mg
|
Sodium:
902
mg
|
Potassium:
1119
mg
|
Fiber:
4
g
|
Sugar:
22
g
|
Vitamin A:
2285
IU
|
Vitamin C:
33
mg
|
Calcium:
131
mg
|
Iron:
6
mg