Consider these the James Bond of finger sandwiches. Crack chicken pinwheels, pinwheel sandwiches, tortilla rolls, chicken roll ups, tortilla pinwheels or cream cheese roll ups; your family probably also has unique name for this crowd-pleasing and easy to make appetizer. They can even be a quick lunch!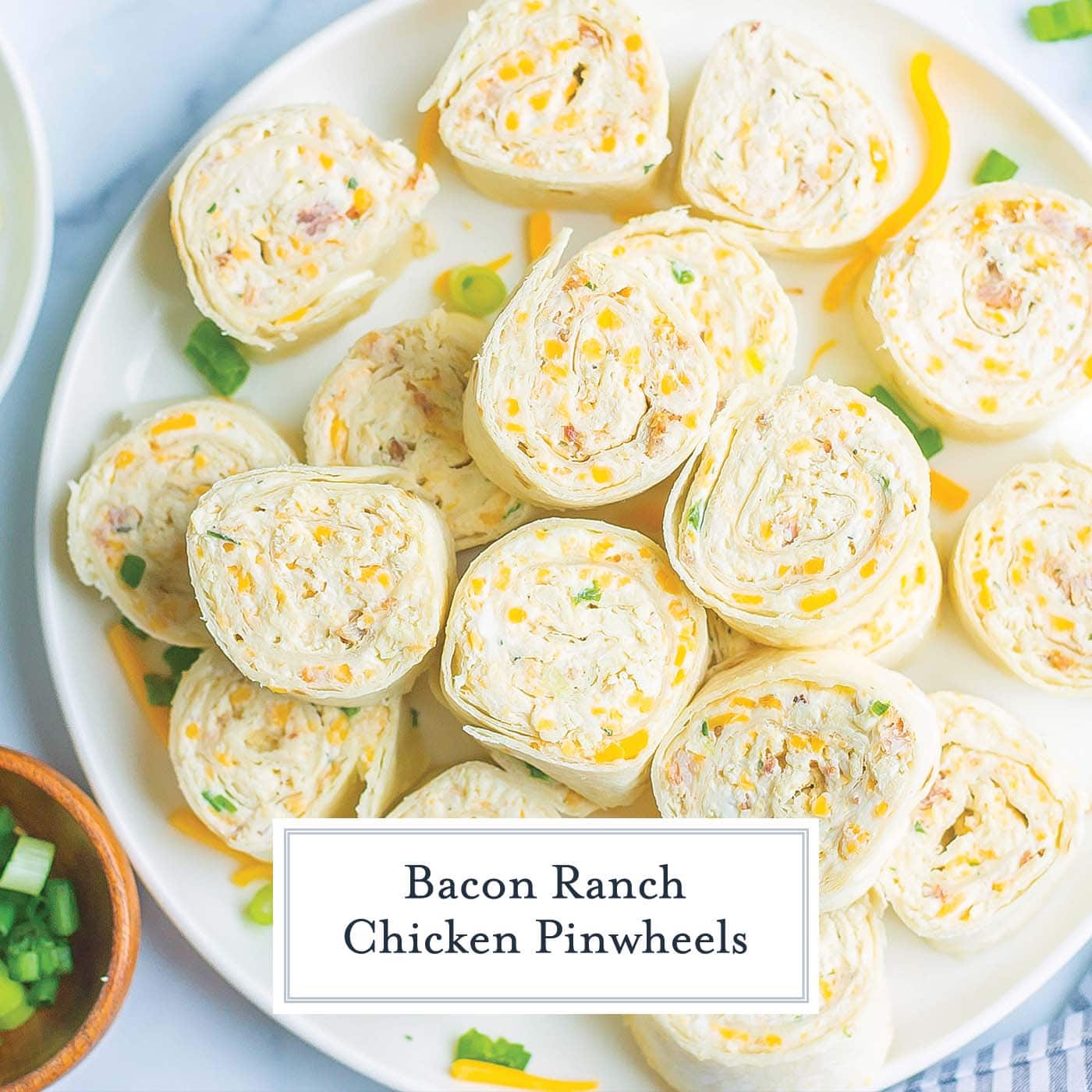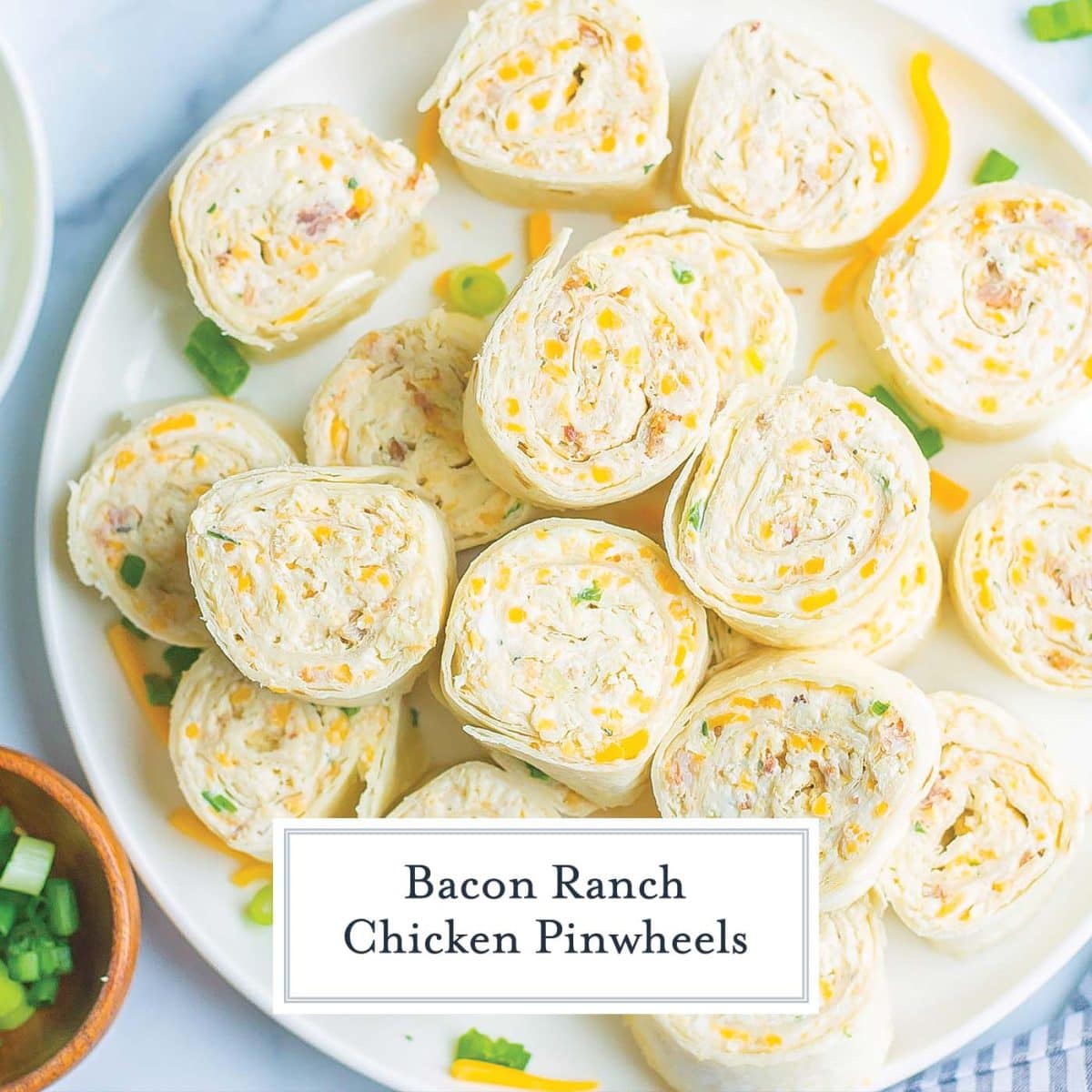 Perfect for game day or your next party, holiday parties or pot lucks, this is a great appetizer to feed a large crowd on a budget, but also make several different varieties for an eye-catching and delicious platter with several flavors of pinwheel appetizers.
Chicken Pinwheels Tips
A zesty no-bake appetizer option, there are a few tricks to making the best colorful and delicious pinwheel.
Make-Ahead: Make them ahead of time, but not too far in advance. Ideally most pinwheel recipes are best enjoyed within 12-24 hours of making, otherwise you risk the tortilla getting soggy.
Roll Tightly. Roll the tortilla as tight as you can. The cream cheese will act as a glue to hold it to together, but if you want a better secure connection, use toothpicks or wrap it in plastic wrap.
Chill. Chill the whole roll before cutting. Letting it congeal and harden a bit will prevent it from collapsing when you cut them.
Cut Using the Right Knife. Use a serrated knife and a sawing motion to cut the rolls without squishing them.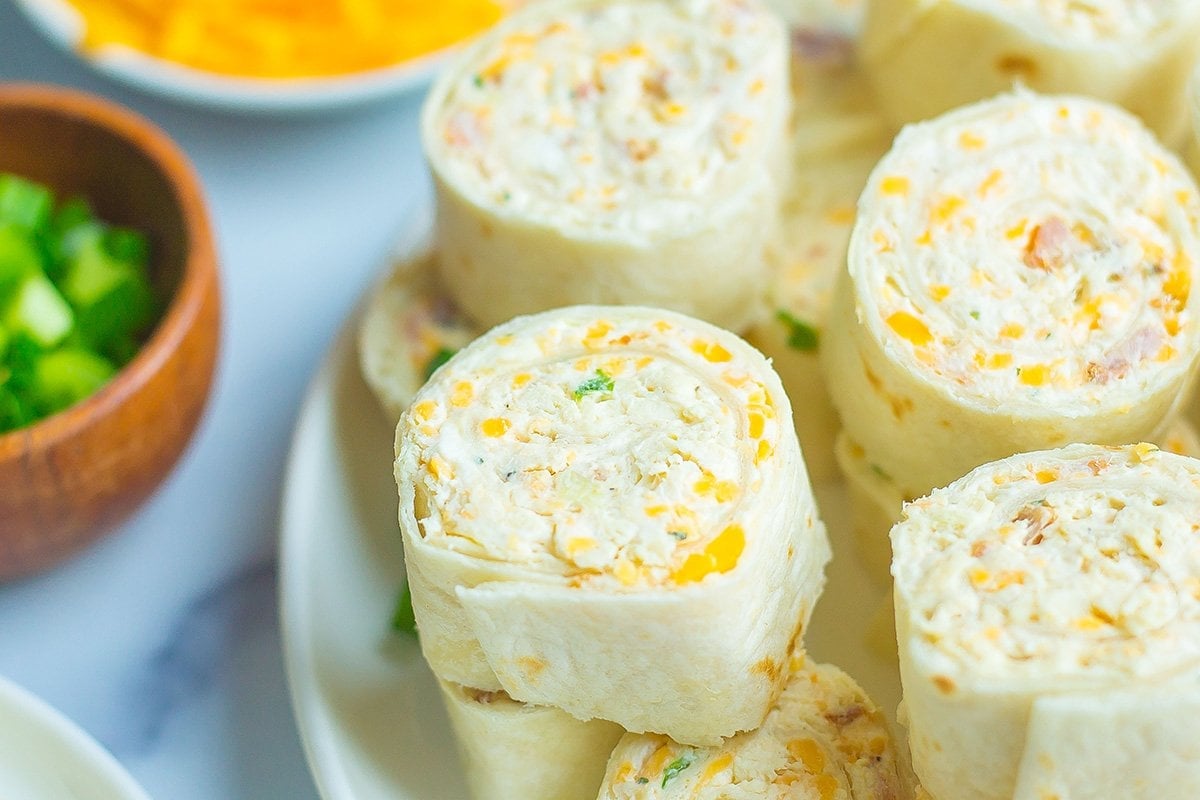 Ingredients for Bacon Ranch Chicken Pin Wheels
There are a couple of items that might not be pantry staples, but all of them are simple ingredients and also budget friendly for the perfect appetizer.
Cream cheese– Any fat percentage will do the trick just make sure it is fully softened so it spreads easily and doesn't rip the tortilla
Dry ranch mix– make your own ranch seasoning or pick up a packet.
Sharp cheddar cheese– As always, I encourage you to pick up a brick versus pre-shredded cheese. Pre-shredded cheese is coated in a light starch to prevent clumping, but surface area and exposure to air also causes it to dry out faster. Bricks are also cheaper, so there you go, win-win.
Milk- Milk helps to loosen the mixture to make it spreadable. Use whatever fat percentage you'd like or a non-dairy alternative. Just water also works in a pinch.
Worcestershire sauce – A complex flavor, this power-packed condiment is what sets our recipe apart from others. A substitute would be soy sauce and while it adds acidity, it won't be as complex and will lack the molasses.
Coarse sea salt- If using fine sea salt, cut the amount in half. Regular table salt often has a grainy texture and metallic aftertaste.
Shredded chicken– Or chopped! Use leftover chicken from another recipe but also feel free to grab a rotisserie chicken at the store, a can of chicken or deli chicken. Make our baked chicken breast for dinner and make an extra.
Bacon– I strongly recommend making your own bacon and crumbling it. Bacon bits are a little chewy and often make up for actual flavor with just salt.
Scallions– Also known as green onions, they add a fresh crunch and color to blend, but can be omitted for our friends that don't like onions. Chives can also be substituted.
Large tortillas- We used 10-inch flour tortillas and honestly, they can be any size for flavor you'd like, we just specify flour to prevent folks from using corn tortillas, which would be rubbery in this circumstance. Next time, we'll use the square flatbread sold for wraps- makes for less waste on the ends since they are a perfect square.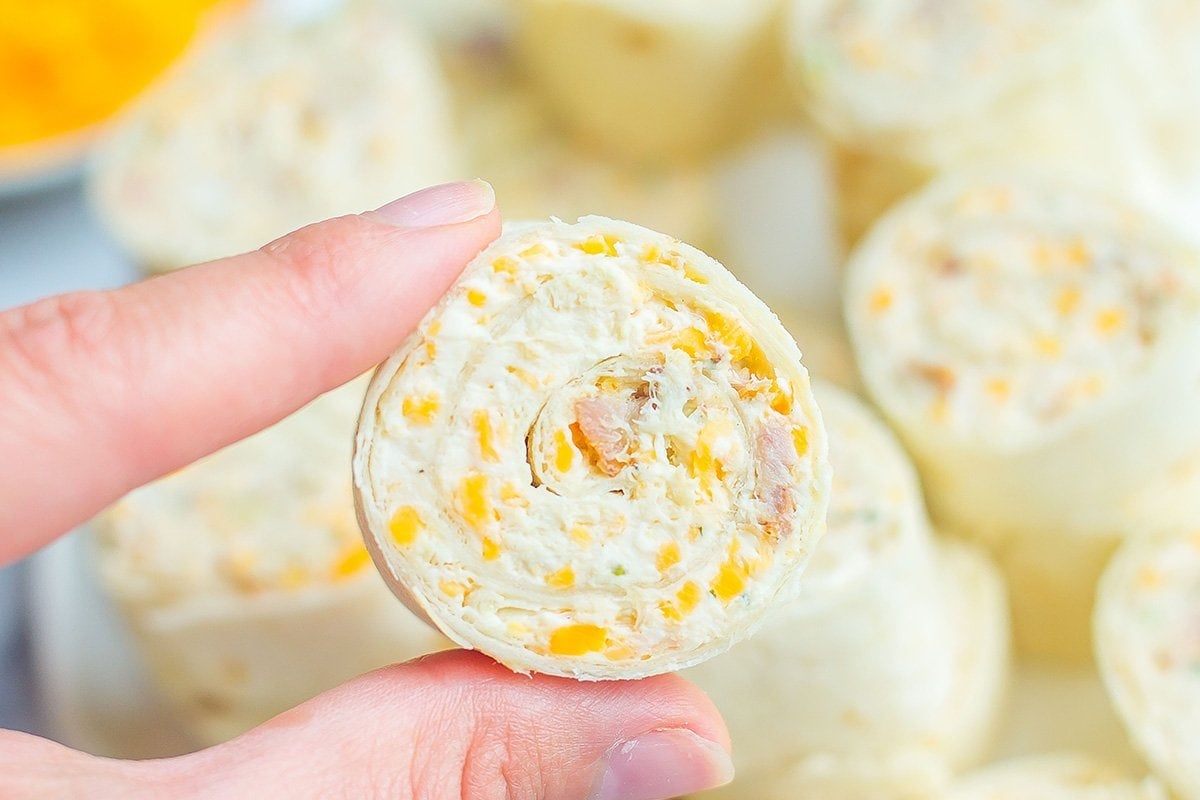 How to make Pinwheels
Did I mention these are an easy appetizer? In my world, that makes all the difference no matter what the delicious recipe.
Soften Cream Cheese. Make sure the cream cheese is good and soft before blending. To soften it faster, cut it into smaller chunks or place it in a stand mixer and let friction from the paddle heat it up a bit. Add the all of the seasonings and mix well so they are evenly distributed.
Blend. By hand, fold in the chicken, bacon and scallions. This prevents them from breaking apart too much so you still get good, visual pieces in the rolls.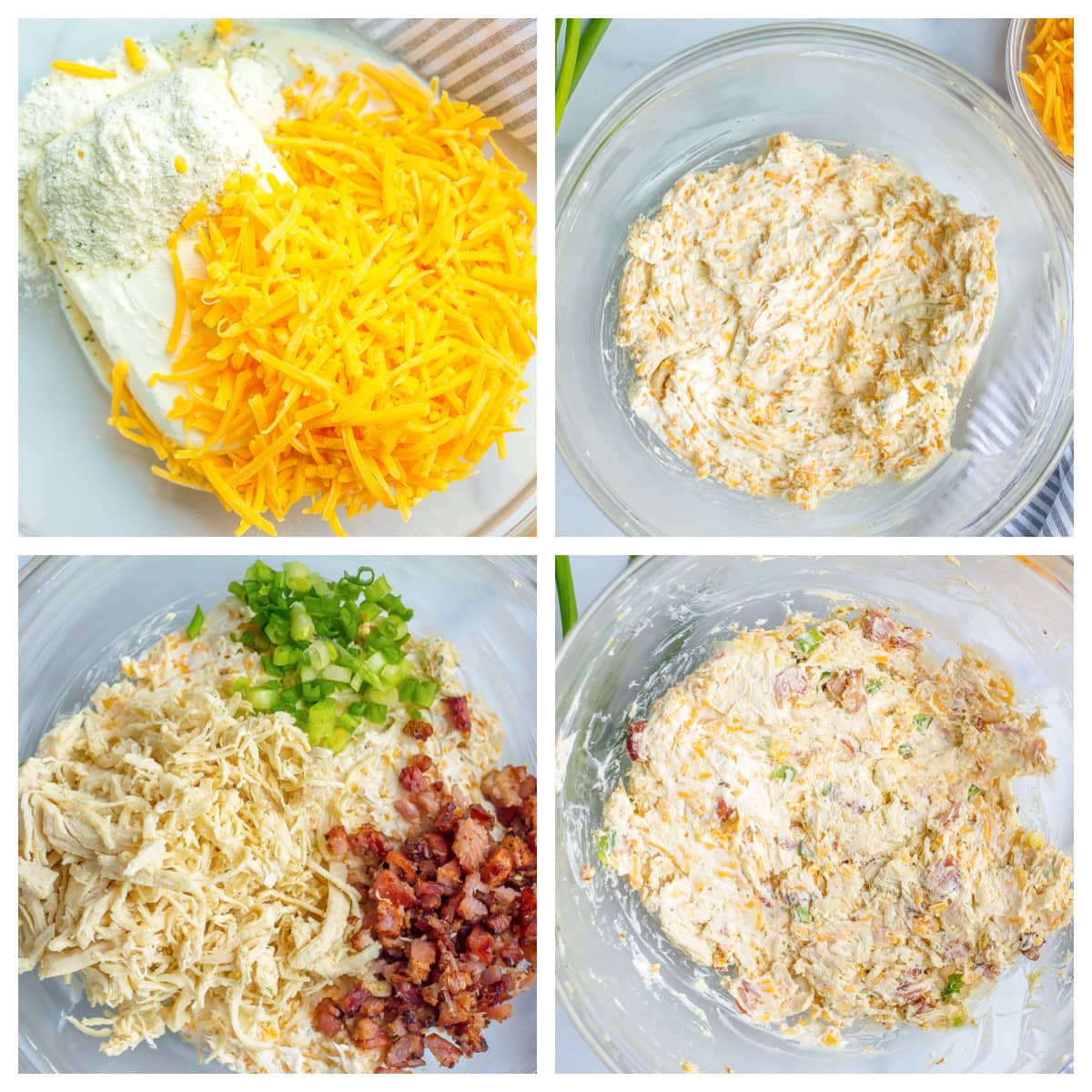 Spread. Evenly divide the spread between your tortillas tortillas, going all the way to edges. With round tortillas there is bound to be some waste, but coming all the way to the edges prevents it from being too much.
Roll. Roll it up super tight and then secure with toothpicks or plastic wrap to hold the shape.
Chill. Refrigerate it to reform and harden the cream cheese mixture and help it keep the form.

Cut. Using a sharp knife or serrated knife, cut each roll into pinwheel slices. Cover and refrigerate until you are ready to serve. If they aren't covered, they will get dry and crumbly.
Pinwheels Recipe Variations
The beauty of any tortilla roll up is the wide variety of customizations. Here are just a few, but we'd love to hear your creative ideas in the comments.
Add green chiles! Just 1-2 tablespoons of canned chopped green chiles gives these a kick. Drain before adding.
Salsa also provides pizazz, use a thick and chunky version and add 1-2 tablespoons. Sun-dried tomatoes are also fun and not as water-filled. Roasted red bell peppers are a good option too.
Swap chicken for turkey. No one said you had to use chicken!
Ranch seems to be the favorite by a landslide, but any dry seasoning mix works as does Italian, Thai, fajita or blackened.
BLT style means you add a few leafy greens, chopped tomato and bacon. Place the lettuce leaves, usually Bibb or butter, right onto the tortilla to create a barrier between the cream cheese and tortilla, this also prevent them from getting soggy. Try to push out as much liquid from the tomatoes as possible.
Change the cheese! Try using provolone cheese, mozzarella or even spicy cheeses like pepper jack or a habanero laced cheese.
Thin the cream cheese. If the cream cheese spread is too thick, try adding a tablespoon or so of sour cream.
Add a different seasoning. Ranch is fantastic- but taco seasoning is great, as is blackened seasoning or thai seasoning.
Heat– A few dabs of hot sauce, crushed red pepper flakes or even jalapenos will make your sweat.
Olives- Briney flavors are also great. Chop up black olives or green olives and fold in to the cream cheese mixture.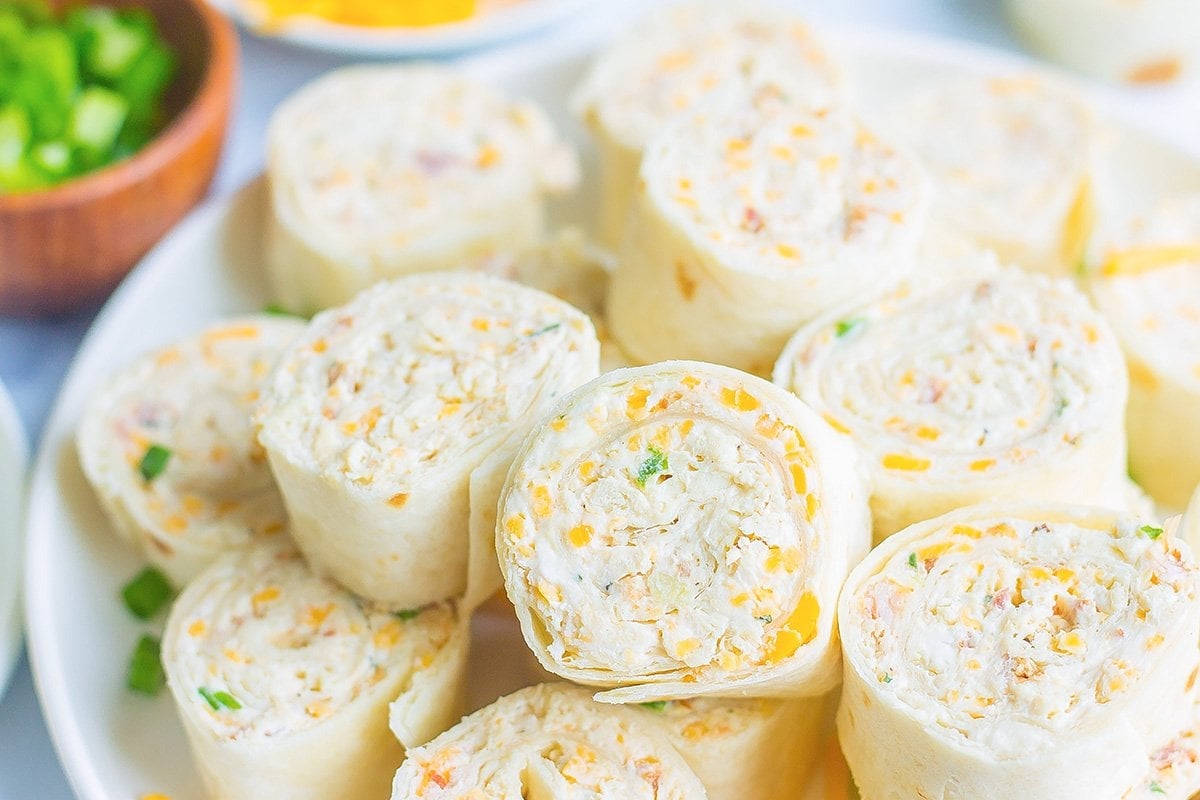 What to serve with Tortilla Pinwheels
Tortilla pinwheels are great as a party appetizer or quick sandwich for kids school lunches or weekend snacks. Serve them with chips, pretzels or a leafy green side salad. Other appetizer recipes we love are: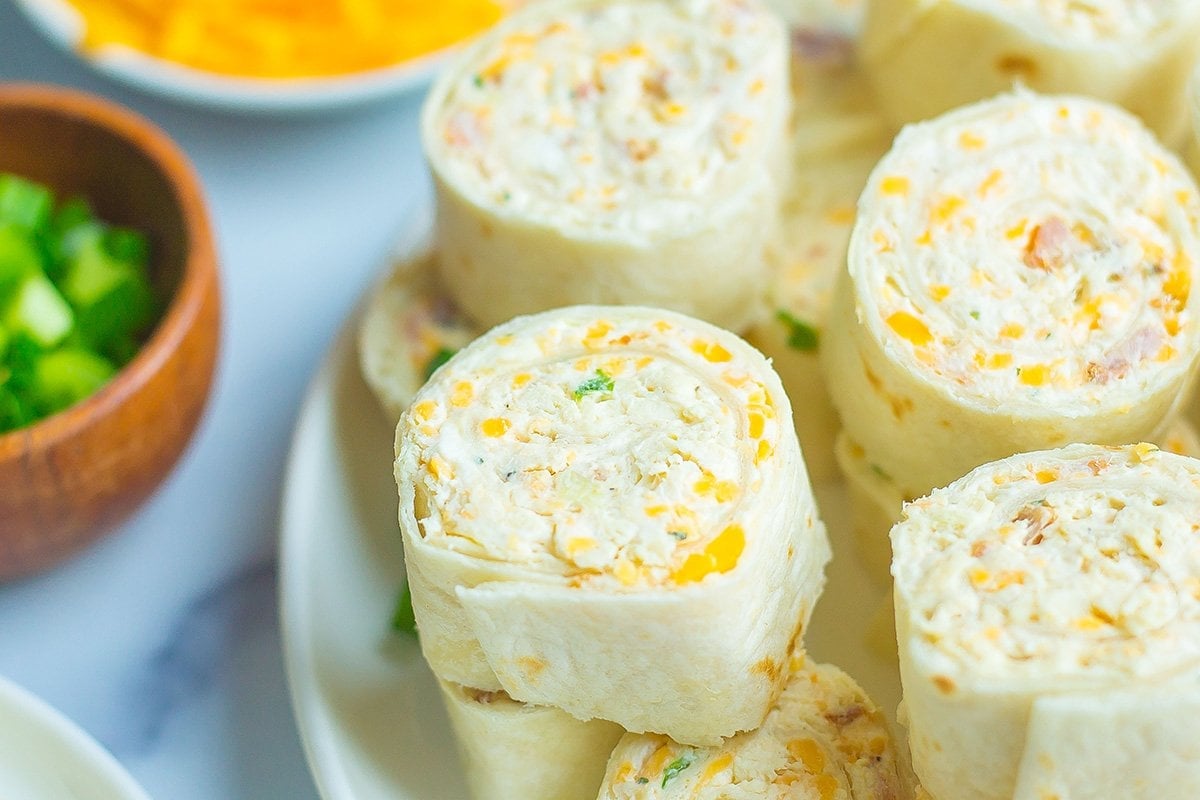 Pinwheel Recipe Tips & FAQs
How to store Chicken Pin Wheels
Store your pinwheels in an airtight container in the refrigerator for up to 5 days. You can also wrap them in aluminum foil or plastic wrap.
Can Pinwheels be made ahead of time?
Pinwheels are great for making ahead of time! In fact, make the large roll and chill until it's time to serve and then slice them. You can make the rolls up to 2 days ahead of time, after that, the filling starts to make the tortilla mushy.
Like we mentioned above, you can make these ahead up to 24 hours, although I strongly suggest not slicing them until you are ready to serve. Anything slices means more air and surface space which leads to them drying out. Store leftovers wrapped or covered in an airtight plastic container in the refrigerator for up to 5 days.
Can Chicken Pinwheels be frozen?
I do not recommend freezing pinwheels. While it can be done, they don't tend to thaw well. Cream cheese gets dry and crumbly and they loose their shape. If you do place to freeze them, freeze as a larger log and thaw overnight in the fridge. Do not freeze individual pinwheels.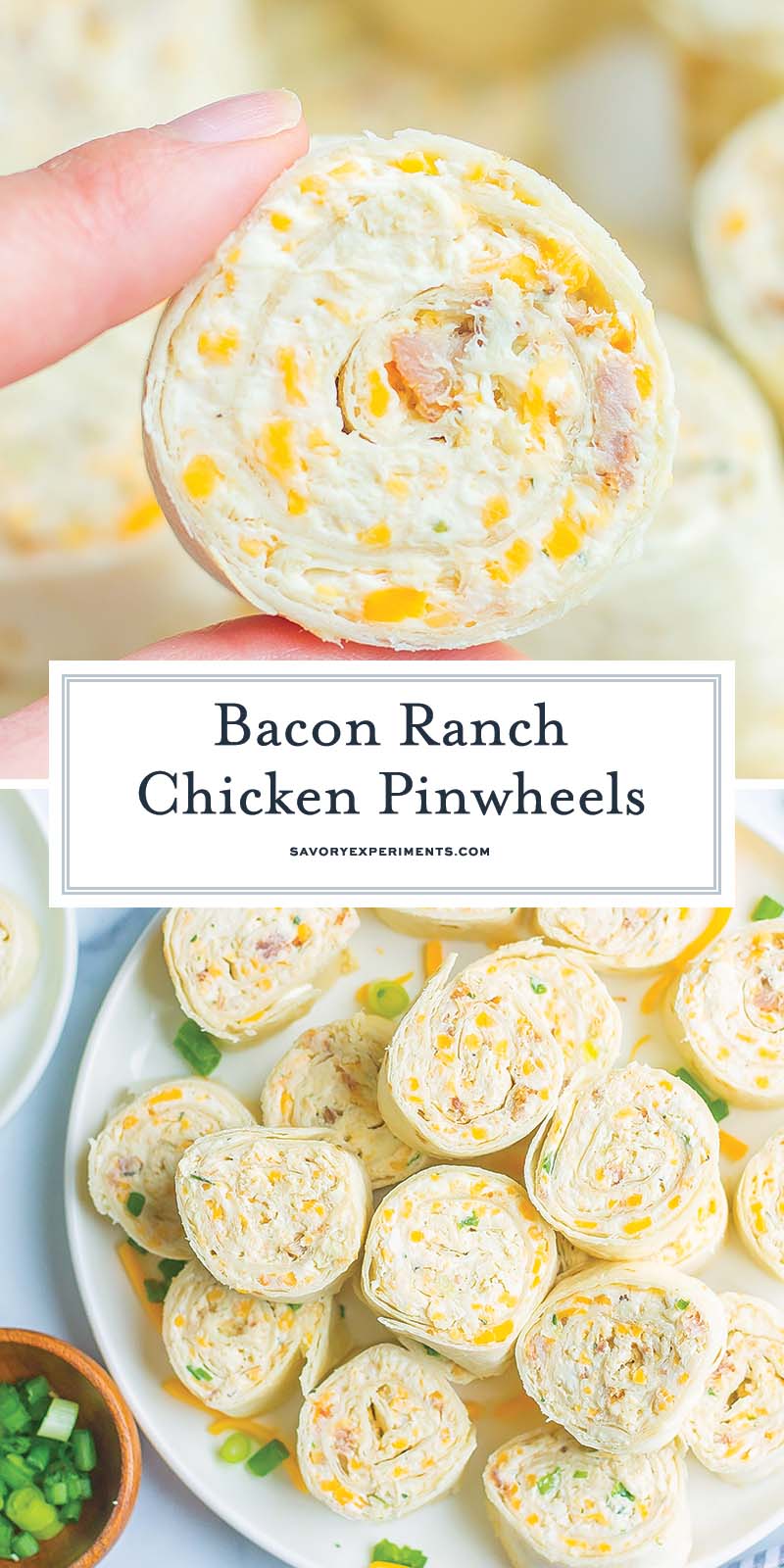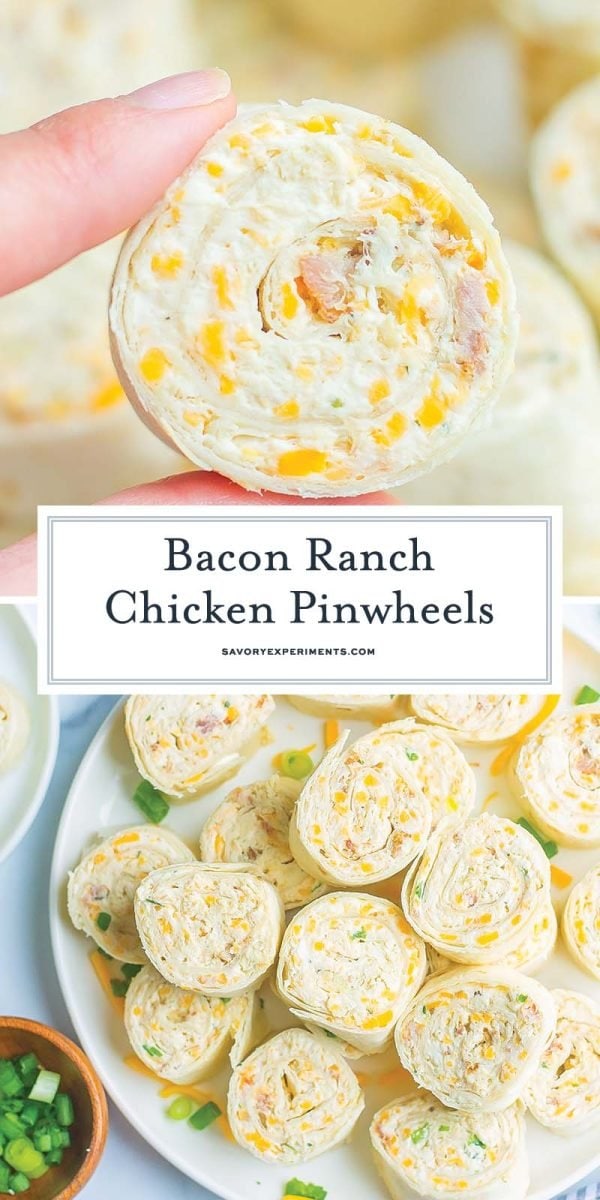 More Easy Pinwheel Recipes
Italian Pinwheels
Mexican Pinwheels
Pizza Pinwheels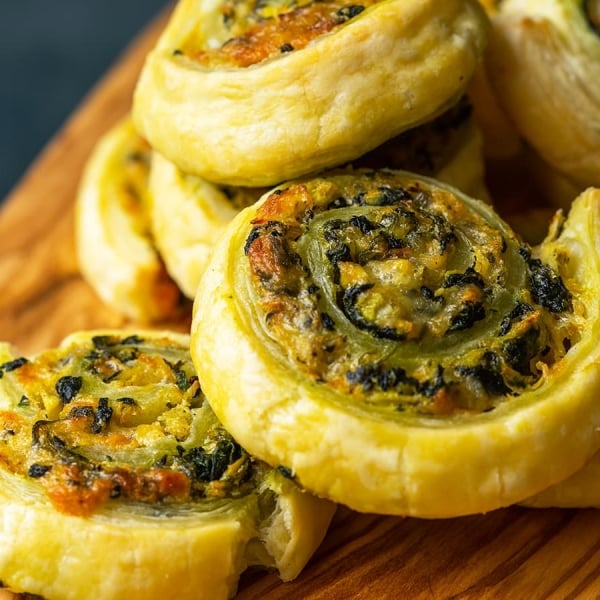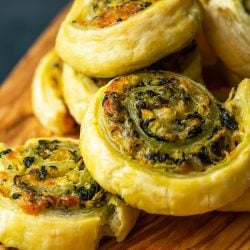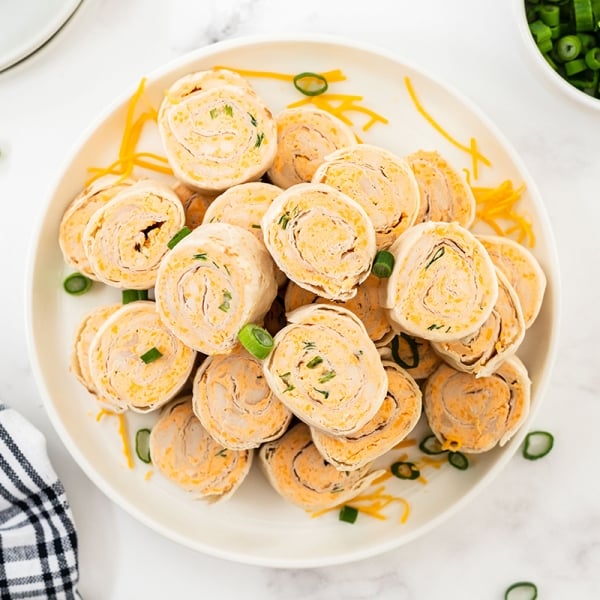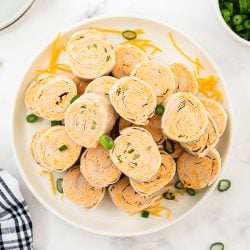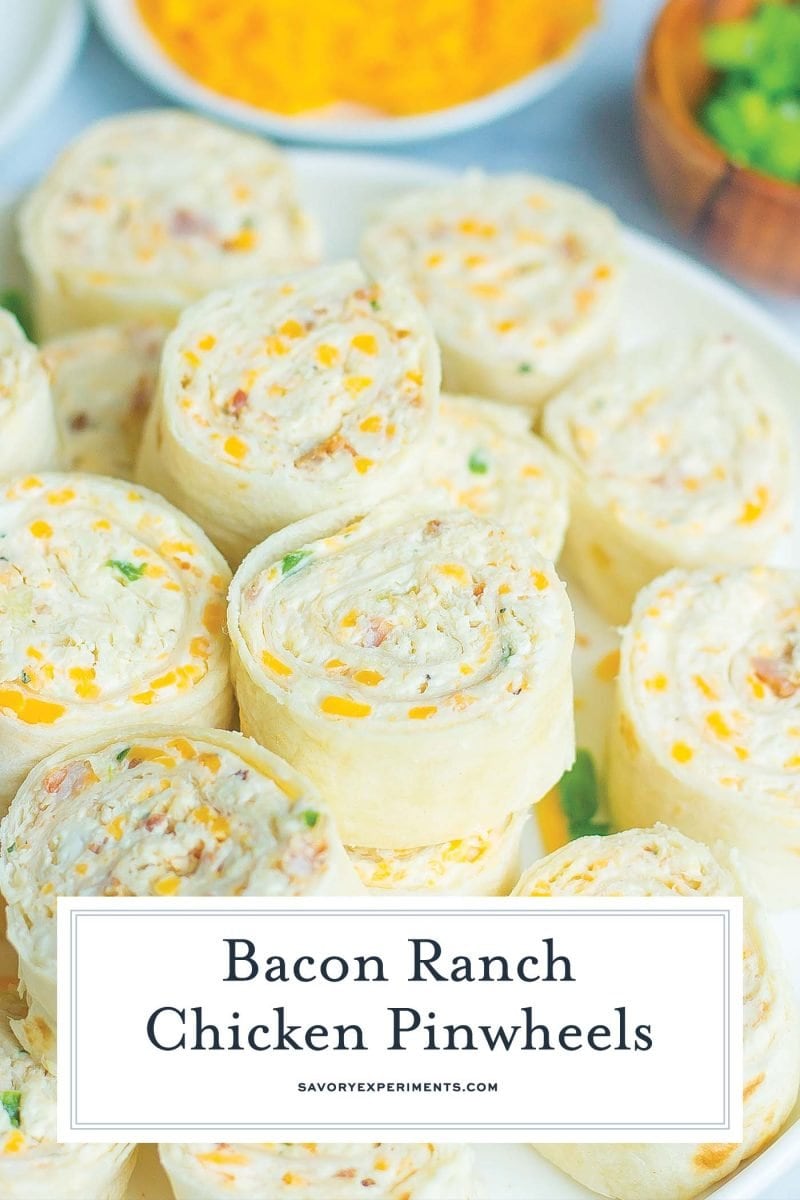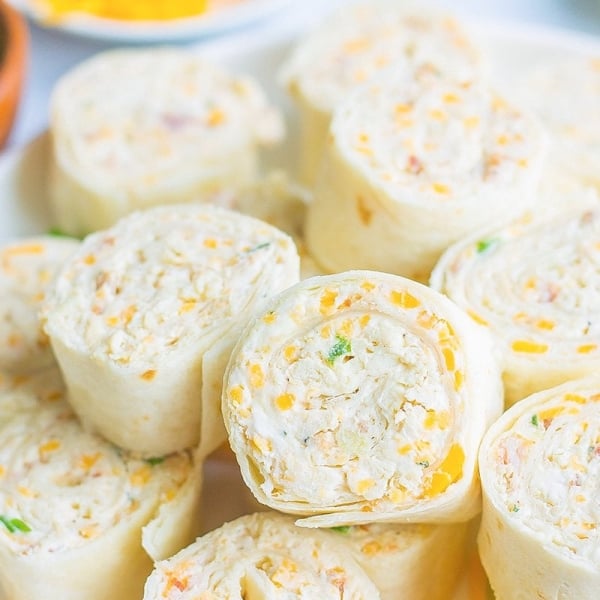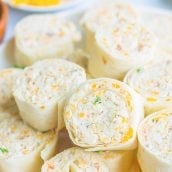 Bacon Ranch Chicken Pinwheels Recipe
This cream cheese chicken pinwheel recipe is the ultimate finger food, tortilla roll ups are perfect for entertaining.
Instructions
Blend together the cream cheese, ranch mix, cheese, milk, Worcestershire sauce and salt until fully mixed.

Add the chicken, bacon and scallions, folding by hand.

Evenly divide the spread between 4 flour tortillas. Spread out evenly all the way to the edges. Roll the tortilla tightly and wrap in plastic wrap to help it keep its shape.

Refrigerate for 30-60 minutes to reform.

Using a sharp knife or a serrated knife, cut into 1-inch slices. Discard the ends with no filling that are uneven.

If you've tried this recipe, come back and let us know how it was in the comments or ratings.
Nutrition
Calories:
139
kcal
,
Carbohydrates:
15
g
,
Protein:
4
g
,
Fat:
7
g
,
Saturated Fat:
3
g
,
Polyunsaturated Fat:
1
g
,
Monounsaturated Fat:
3
g
,
Trans Fat:
1
g
,
Cholesterol:
15
mg
,
Sodium:
347
mg
,
Potassium:
68
mg
,
Fiber:
1
g
,
Sugar:
1
g
,
Vitamin A:
124
IU
,
Vitamin C:
1
mg
,
Calcium:
59
mg
,
Iron:
1
mg