Have you seen the newest rage, butter boards? These are right down my alley, foodie friends, I am obsessed with butter. And salt. My two obsessions come together in one beautifully styled board.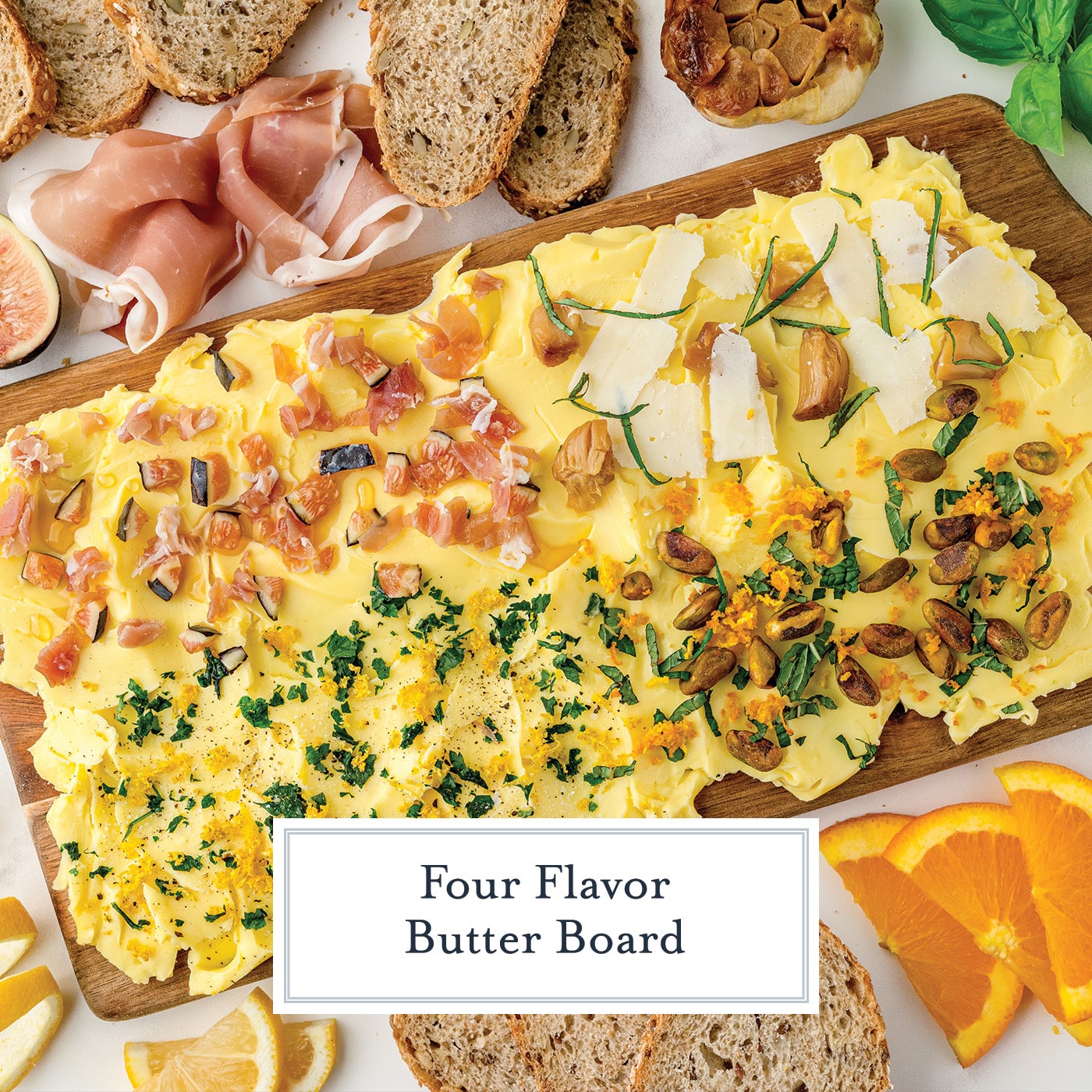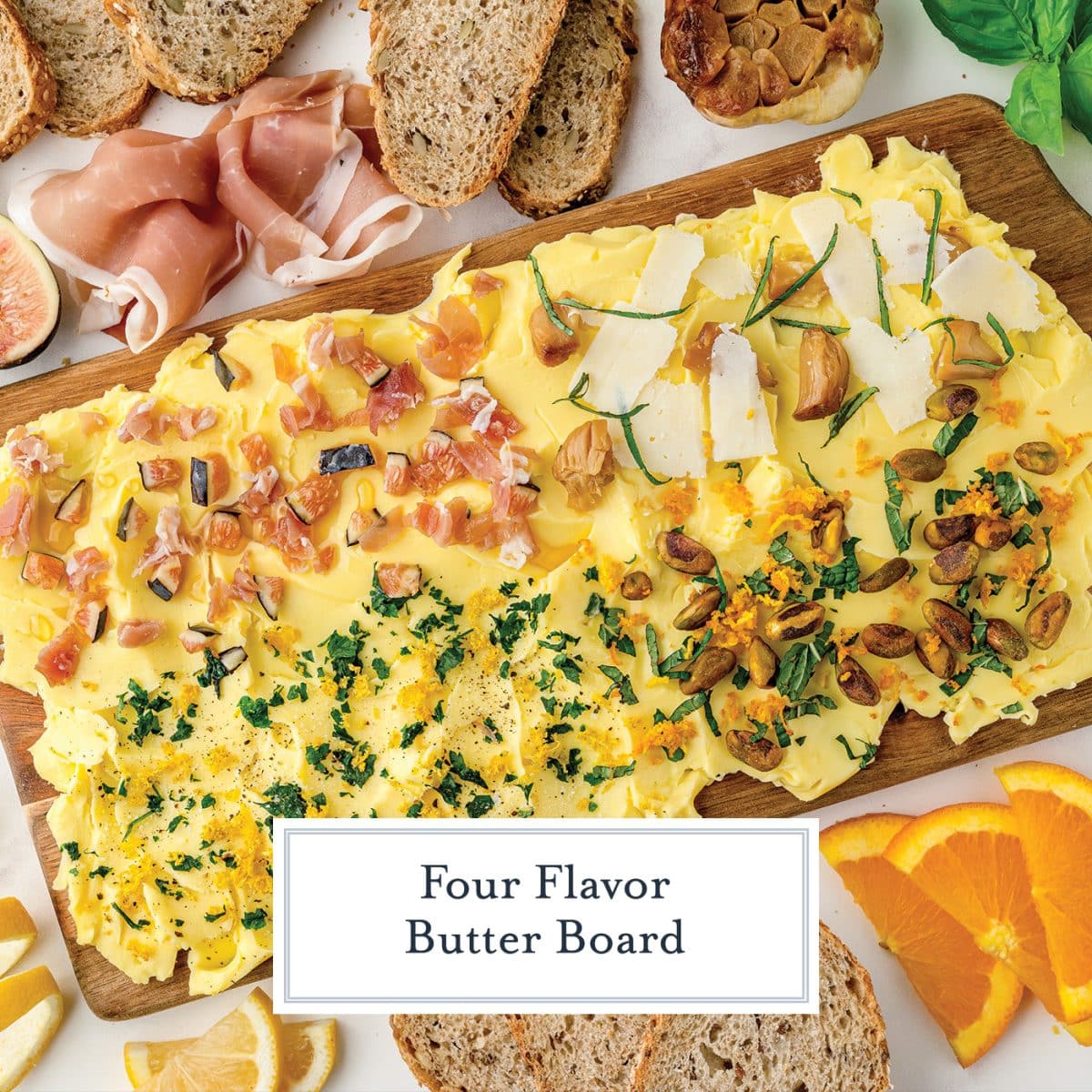 The kind that your friends and family are going to be scared to dive into. A beautiful creation that is Instagram and TikTok worthy. A new way to serve soft butter.
The origin of this food trend comes from one of my all-time favorite cookbooks, Six Seasons by Chef Josh McFadden. You've seen me use it for my favorite food game, recipe roulette when picking dinner ideas.
So the concept is not new, but it was recently revitalized and become viral on TikTok and Instagram. Thank goodness for content creators and a new TikTok food trend. Also check out my Cream Cheese Board!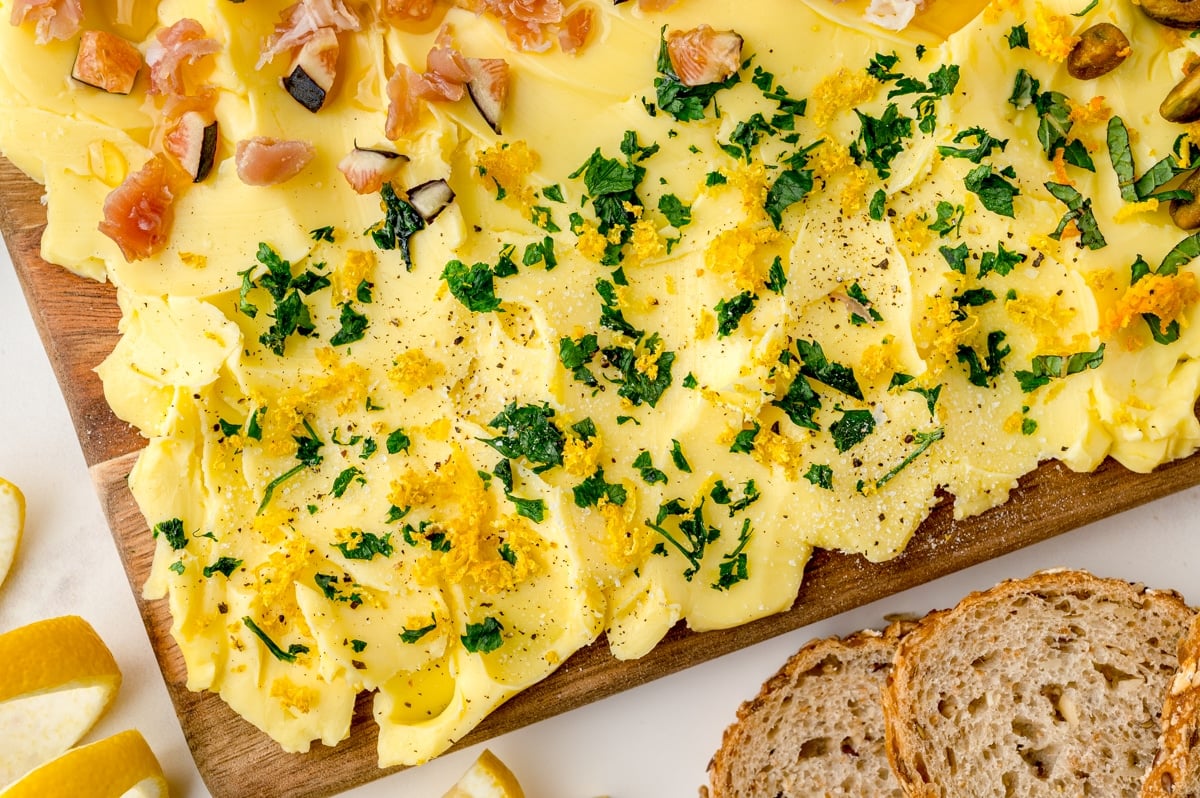 What is a Butter Board?
A butter board is basically the newest type of charcuterie board, grazing table, breakfast boards, dessert board or cheese board, but showcasing softened You can even put a mini butter board on a charcuterie platter surrounded by meat flowers.
It is a commonual butter plate offered deconstructed compound butter. But most of the boards posted so far are just one flavor, mine is FOUR! Variety is the spice of life fellow butter lovers! It can be savory or sweet and while you are welcome to use the options laid out below, you can also pick any of my flavored butters or make your own creation from the list below.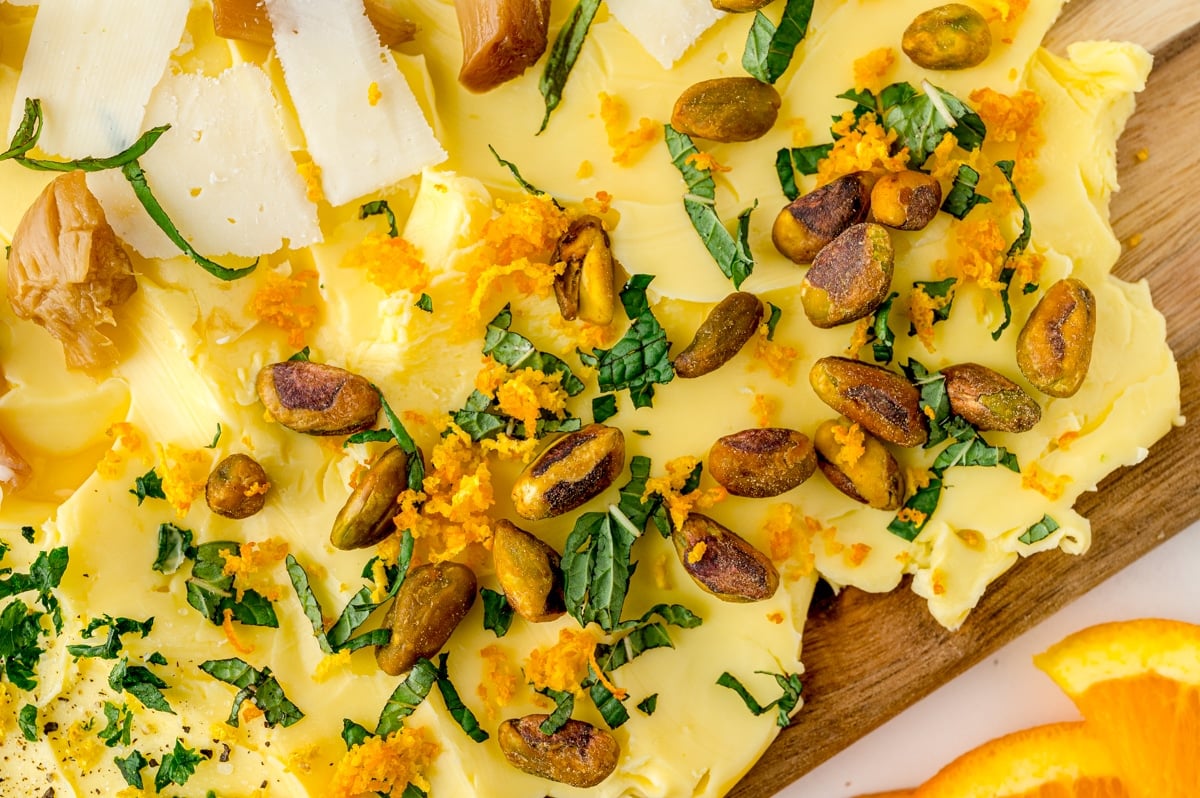 Collage of Butters
But I've taken my butter boards up a notch because I like variety and options. So instead of creating one flavor affinity… I've put together one board with four different options. Yes, FOUR. That means that you are now obliged to have at least 4 pieces of bread or crackers loaded with delicious combinations.
Of course you can just choose to use one or two of our favorite butter board ideas. We've separated ours into clearly lined out sections, but consider creating a pattern with the flavor combos too.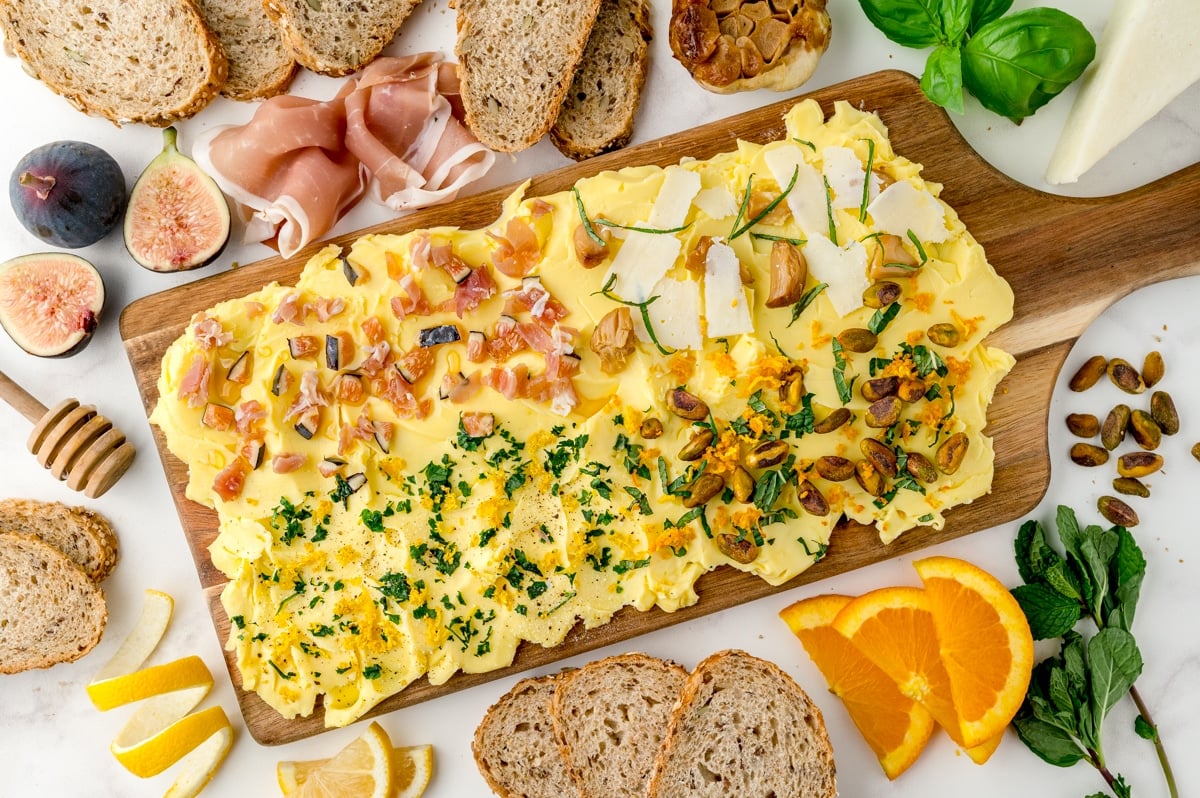 What Type of Butter To Use
Butter is the star of the show, so clearly you'll want to use a high quality product. I also liked the deeply sunny yellow European butters.
All butter sold in the United States must contain a minimum of 80% milkfat, the white, frothy stuff that comes up when it is heated.
Grades, ranging from the best grade AA to grade B, are based on flavor, body, color and salt and water content. European butter will have more fat content and also more flavor with a darker yellow hue. Cultured butter has active cultures and will give it more of a tang, like buttermilk or yogurt.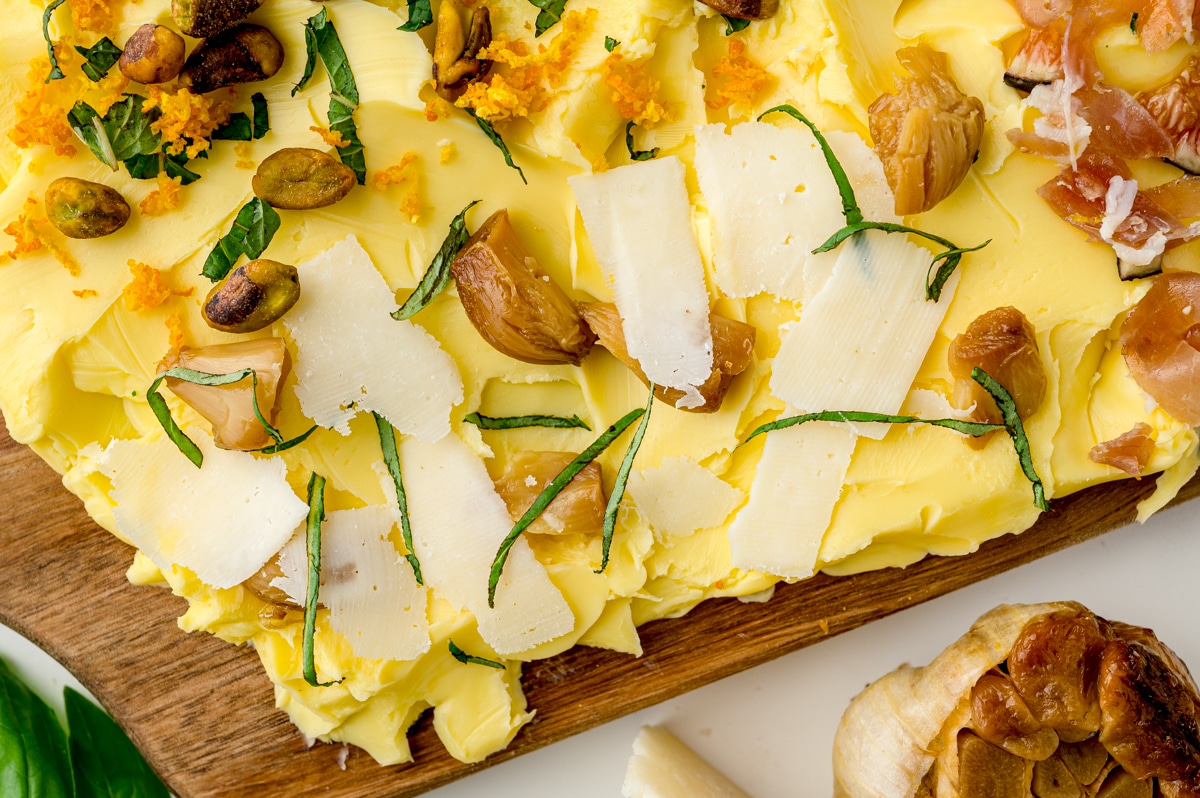 Serve It With
But how are you meant to eat them? What do your serve with a butter board? Throw your socially acceptable ways of getting butter into your mouth to the wind, because you can serve a butter board with nearly anything that dips without guilt, shame or social anxiety. Anything you'd serve on charcuterie boards or cheese boards, really.
The more sophisticated way to serve yourself would be a knife, but these boards come without rules, so feel free to dredge or smoosh your piece of bread right on into that board. No double dipping, please.
Crackers
Warm Bread
Crostini
Broccoli florets
Carrot sticks
Radish slices
Celery sticks
Cauliflower florets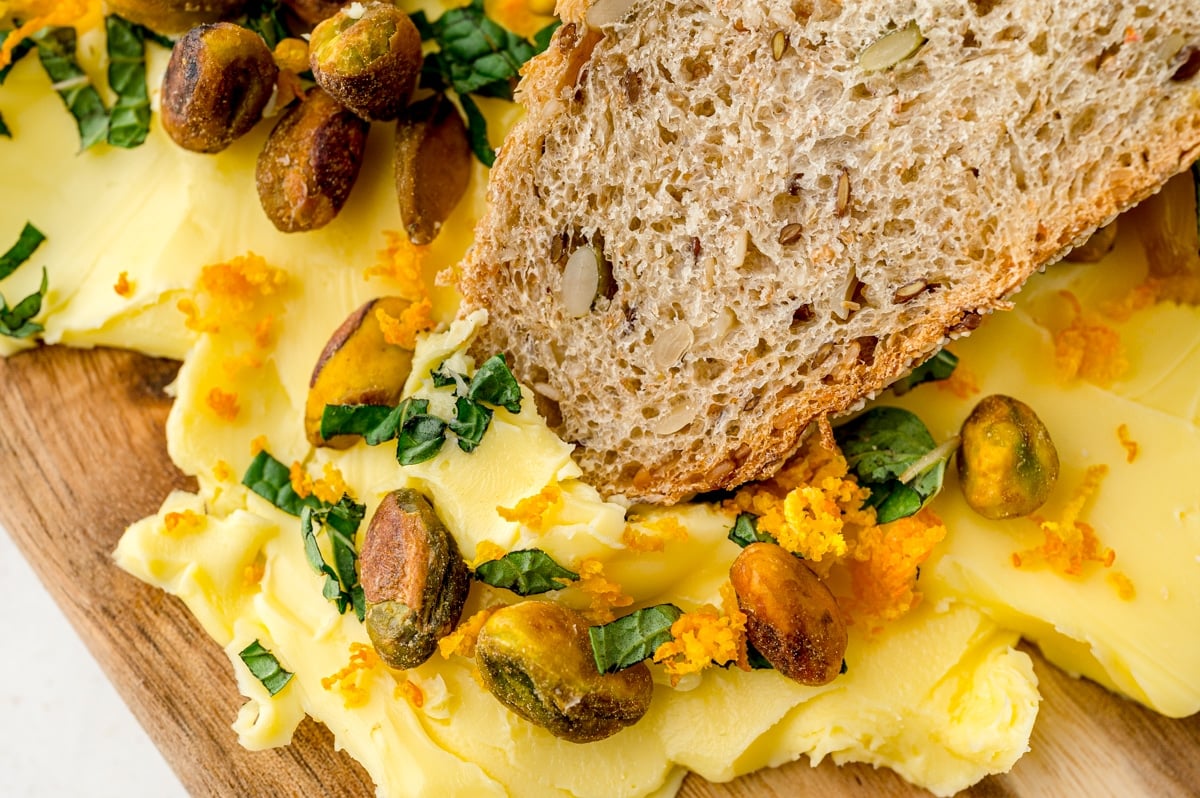 How to Make a Butter Board
Making these boards are easy, but I would highly suggest not topping them until just about to serve. Herbs and other elements can oxidize slightly and you'll lose the allure. If you smear your butter ahead of time or do top it beforehand, make sure to take it out of the fridge at least 20 minutes before serving so it gets to just the right mushy temperature for spreading.
Start by finding a suitable board that is large enough for the party. I like using a wooden board or wooden cutting board, but slate also works. If you are worried about the butter and fats, feel free to pay down a piece of parchment paper to protect it.
Soften your butter to the point where you can easily spread it, but not room temperature, which means it is too malleable. Using the back of a spoon or a butter knife (unserated), smear the butter around the board to form soft peaks and little valleys.
Top with your favorite creations. The pictured board has these four butter blends. After you are done, make sure to share on social media and hashtag #butterboard so all of your friends know you are on the butter board trend.
#1- Chopped Fresh herbs, flaky salt and pepper, lemon zest (or any citrus zest)
#2- Roasted garlic, aged parmesan cheese, fresh basil chiffonade
#3- Fresh fig, prosciutto, honey drizzle
#4- Pistachios, mint, orange zest
Take a slice of bread and dig in! But not before creating your own viral video.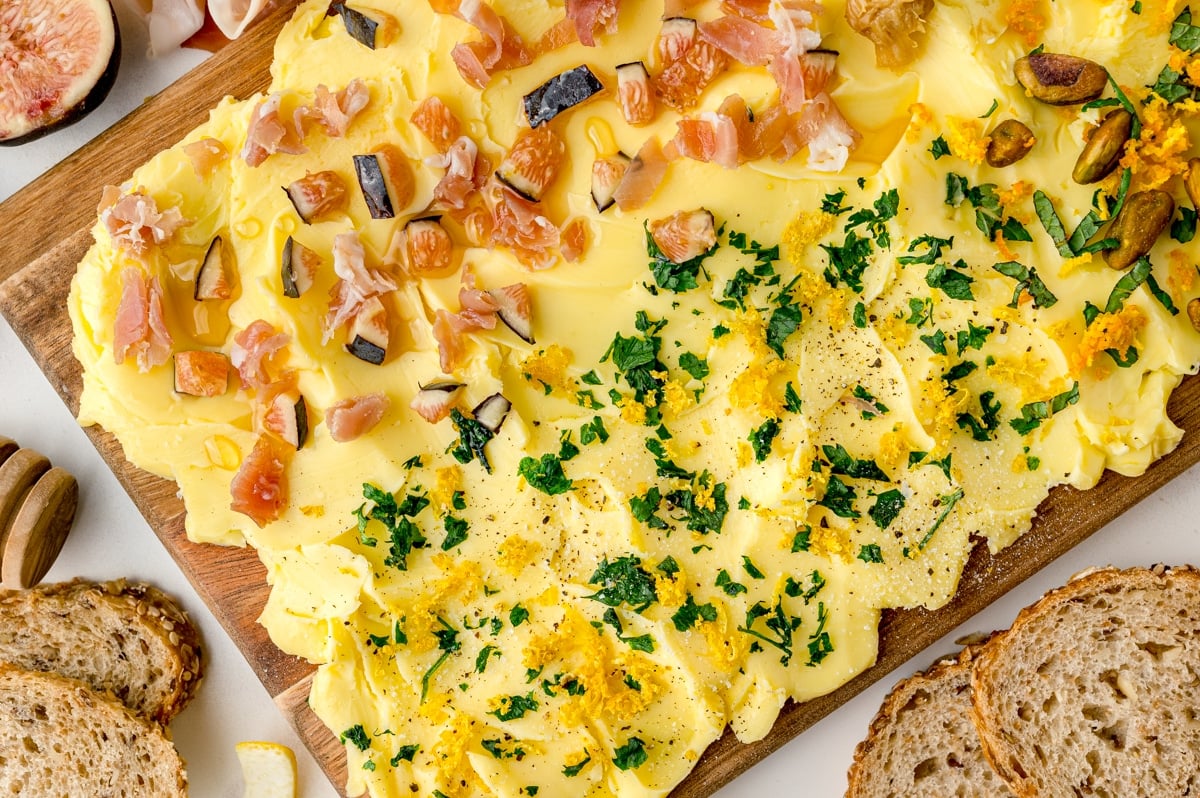 Butter Board Ideas
Here are our favorite flavors to make your own butter board recipes. This is a communal food, so try to encompass several tastes while creating your own butter board. The flavor combinations are endless!
Capers
Sliced red onions
Anchovies or anchovy paste
Fresh herbs
Freshly ground black pepper
Flakey salt
Jams & preserves
Agave nectar
Cherry sauce
Dried cherries
Crumbled blue cheese
Chopped brie
Fresh orange zest
Maple syrup
Fresh fruit
Dates
Dried cranberries
Nuts
Fresh lemon zest
Fresh lime zest
Crushed red pepper flakes
Honey
Pomegranate seeds
Chili oil
Crumbled goat cheese
Olive Oil
Chili flakes
Flaky sea salt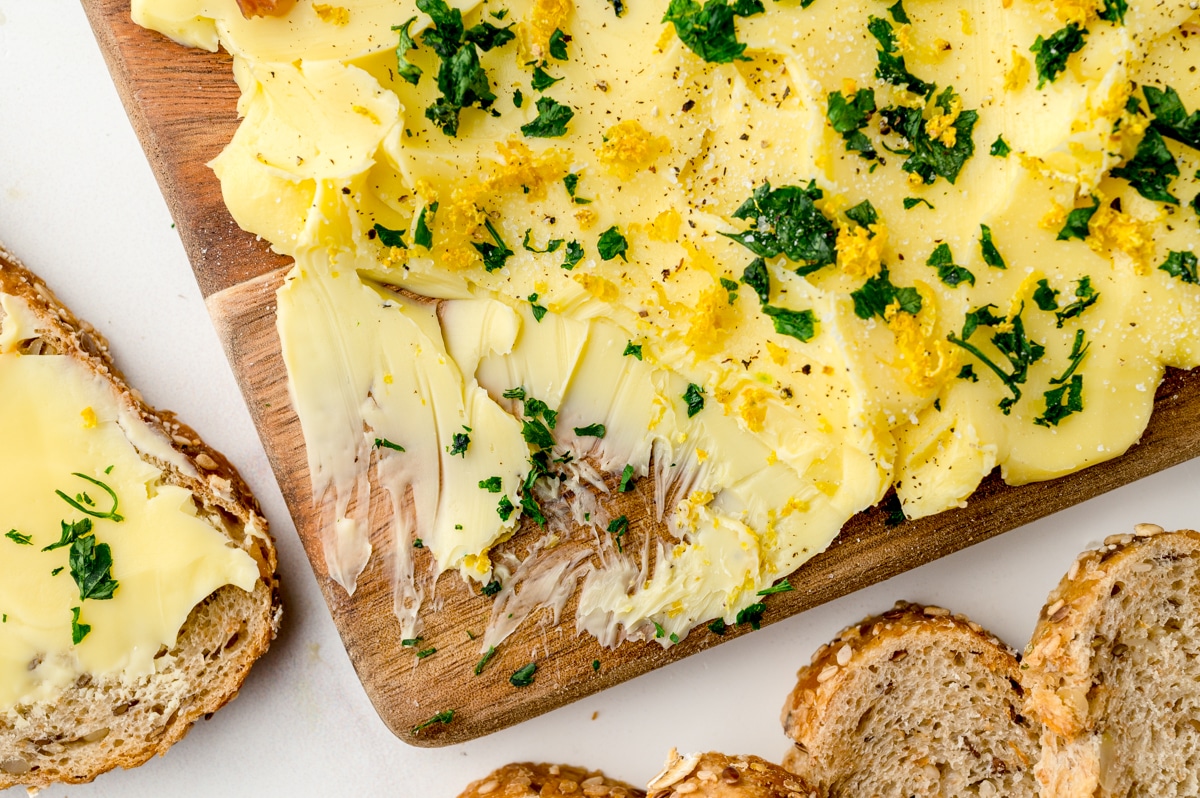 Leftover Butter Boards
If there are any leftovers from this latest food trend… and I doubt there will be, there are several things you can do. Use it the way you would use any compound butter.
Serve it over pan-fried steak or steak frites or make it into a flavored toasted bread, like garlic bread. it can also be used to season roast chicken or even turkey during the holiday season, a fun way to use that leftover butter!
Make Ahead & Storage
Make Ahead- You can spread the butter ahead of time, cover loosely with plastic wrap and refrigerate until ready to serve and prep the topping ahead of time, but I highly recommend waiting until serving time to decorate and top. The zests get dried out, the sauces pool and the cut herb edges get a little browned.
Make sure you cover the board before placing it back into the fridge because butter is little a sponge and will retain any other flavors floating around.
Freezing– Wrap any leftover butter in plastic wrap or place in an airtight container and freeze for another occasion.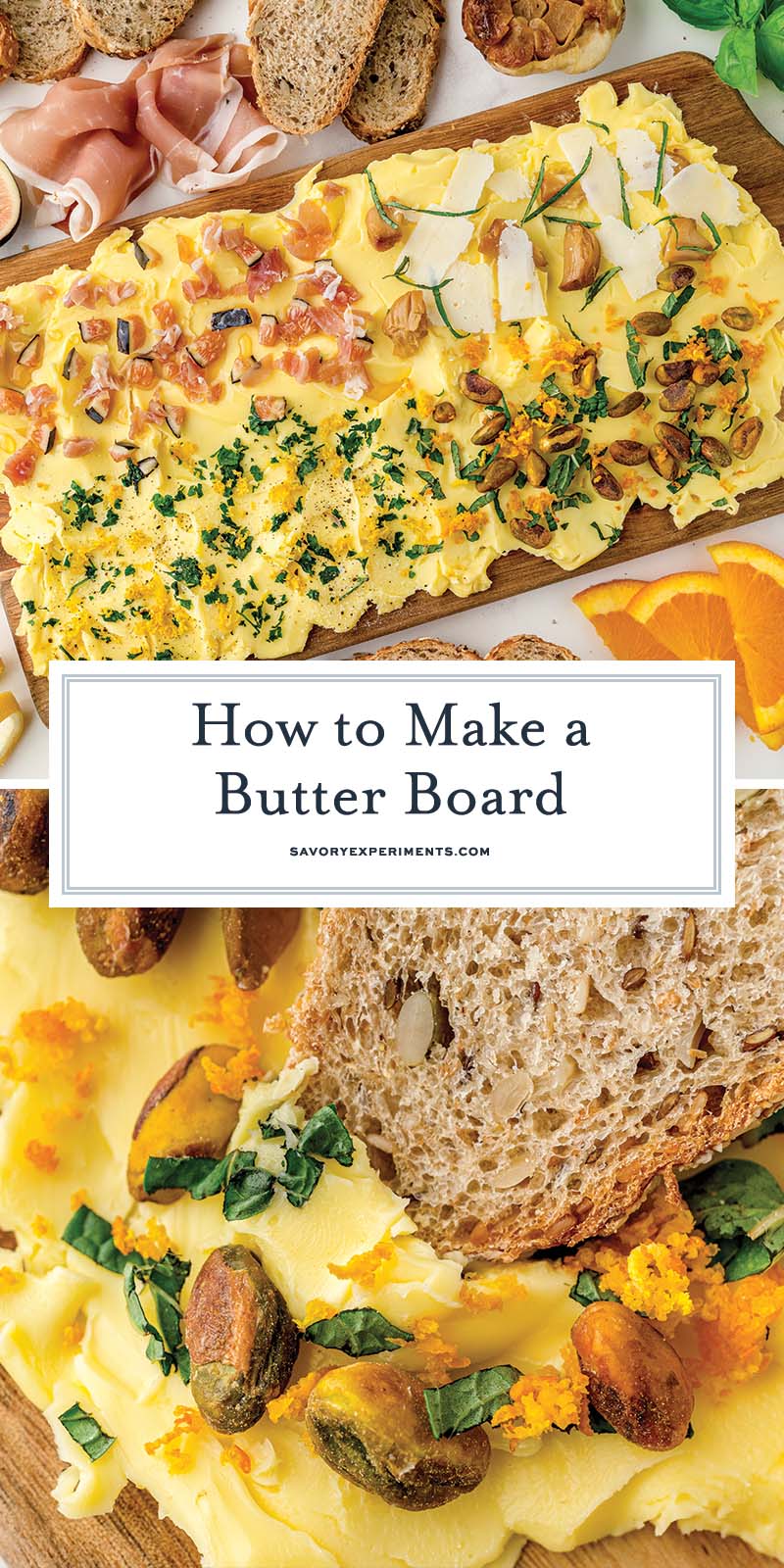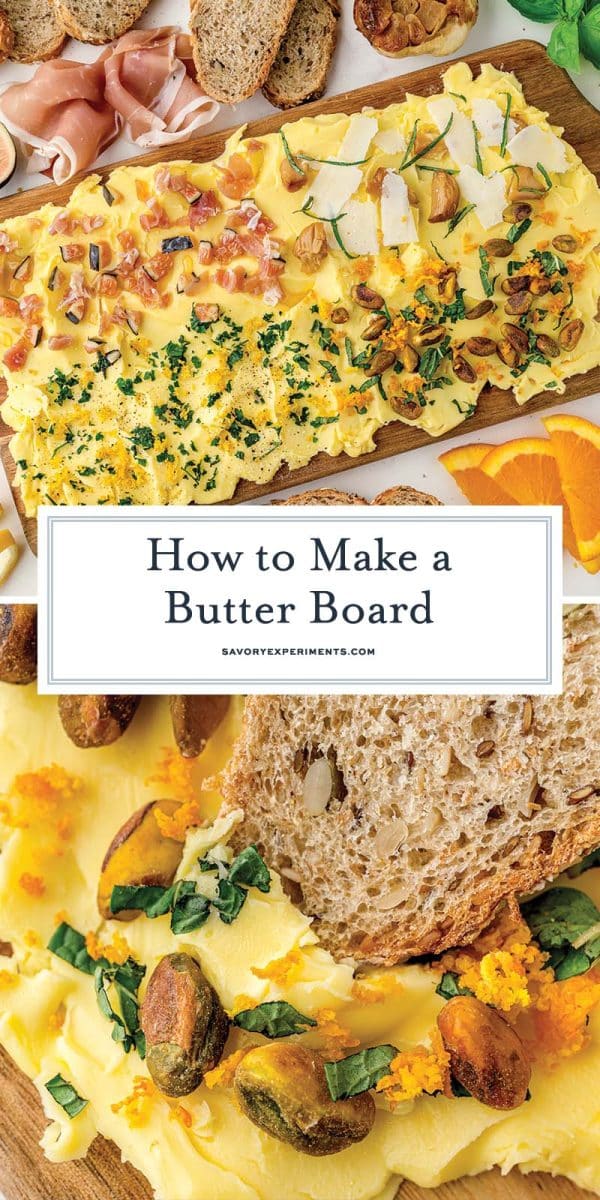 I bet you the next charcuterie board trend will include cream cheese… and I might already be on it.
More Party Food Ideas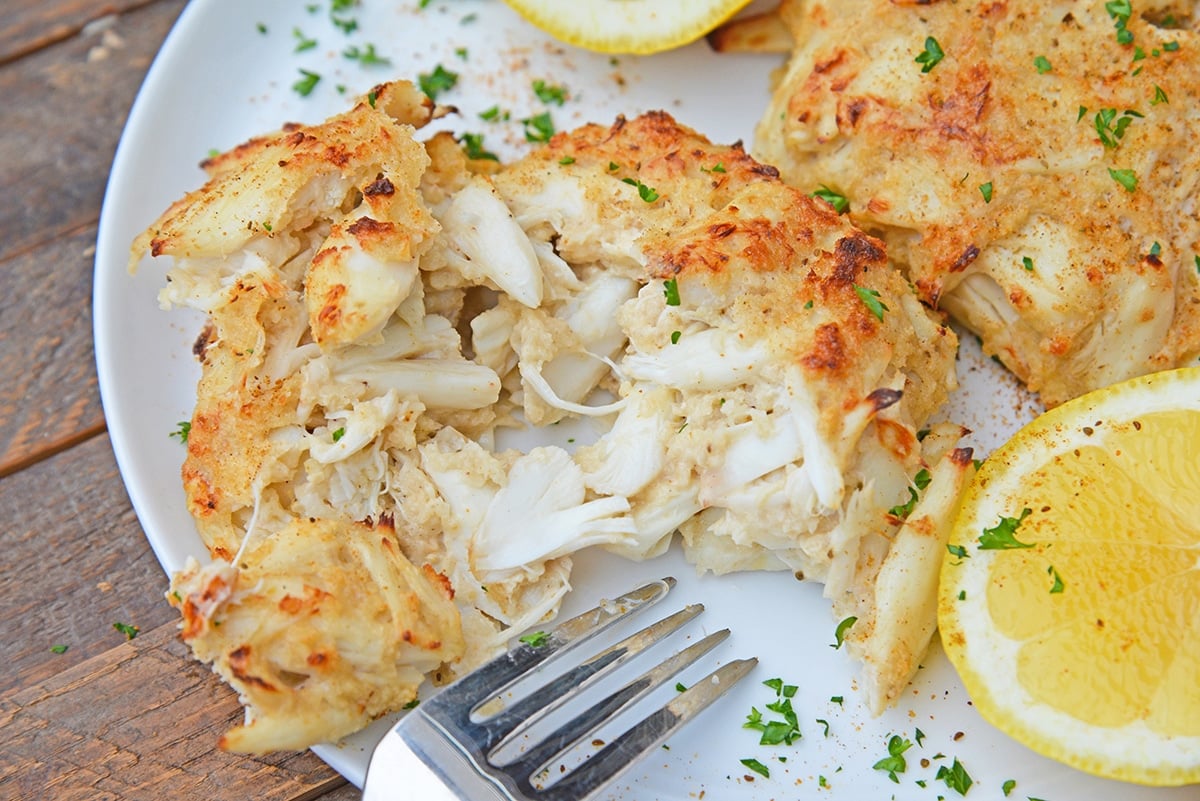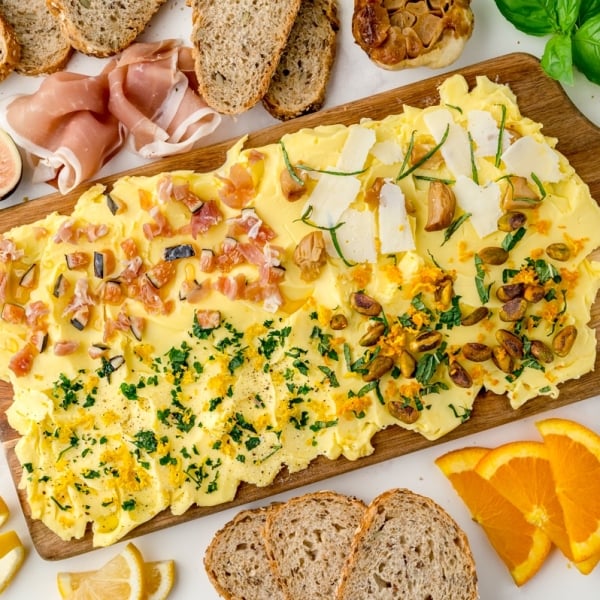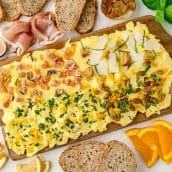 Butter Board Recipe
All the rage for entertaining, a Butter Board will be the talk of your party! Four flavored butters for crackers, bread or crudite.
Ingredients
Instructions
Soften your butter to the point where you can easily spread it. Using the back of a spoon or a butter knife (unserated), smear the butter around the board to form soft peaks and little valleys.

Mentally divide the board into quarters (or however many sections you plan to make).

Top the first section with fresh herbs herbs, flaky sea salt, freshly ground black pepper, lemon zest

Top the second section with smashed roasted garlic, aged parmesan cheese and fresh basil chiffonade

The third section is fresh fig, prosciutto and then drizzled with honey drizzle.

The last section is topped with pistachios, mint and orange zest.

Serve with crackers, bread or crudites.

If you've tried this recipe, please consider leaving a comment or star rating!
Notes
We used a grass fed European butter, but you can also make your own butter.
Nutrition
Calories:
253
kcal
,
Carbohydrates:
1
g
,
Protein:
1
g
,
Fat:
28
g
,
Saturated Fat:
18
g
,
Polyunsaturated Fat:
1
g
,
Monounsaturated Fat:
7
g
,
Trans Fat:
1
g
,
Cholesterol:
73
mg
,
Sodium:
223
mg
,
Potassium:
28
mg
,
Fiber:
0.2
g
,
Sugar:
0.5
g
,
Vitamin A:
875
IU
,
Vitamin C:
0.4
mg
,
Calcium:
14
mg
,
Iron:
0.1
mg