Who doesn't love a good beef marinade? Whether you broil, pan sear or grill, a good marinade only enhances the natural flavors and juiciness of an excellent cut of beef. Making a Skirt Steak Marinade is as easy as 1-2-3 with a few kitchen staples.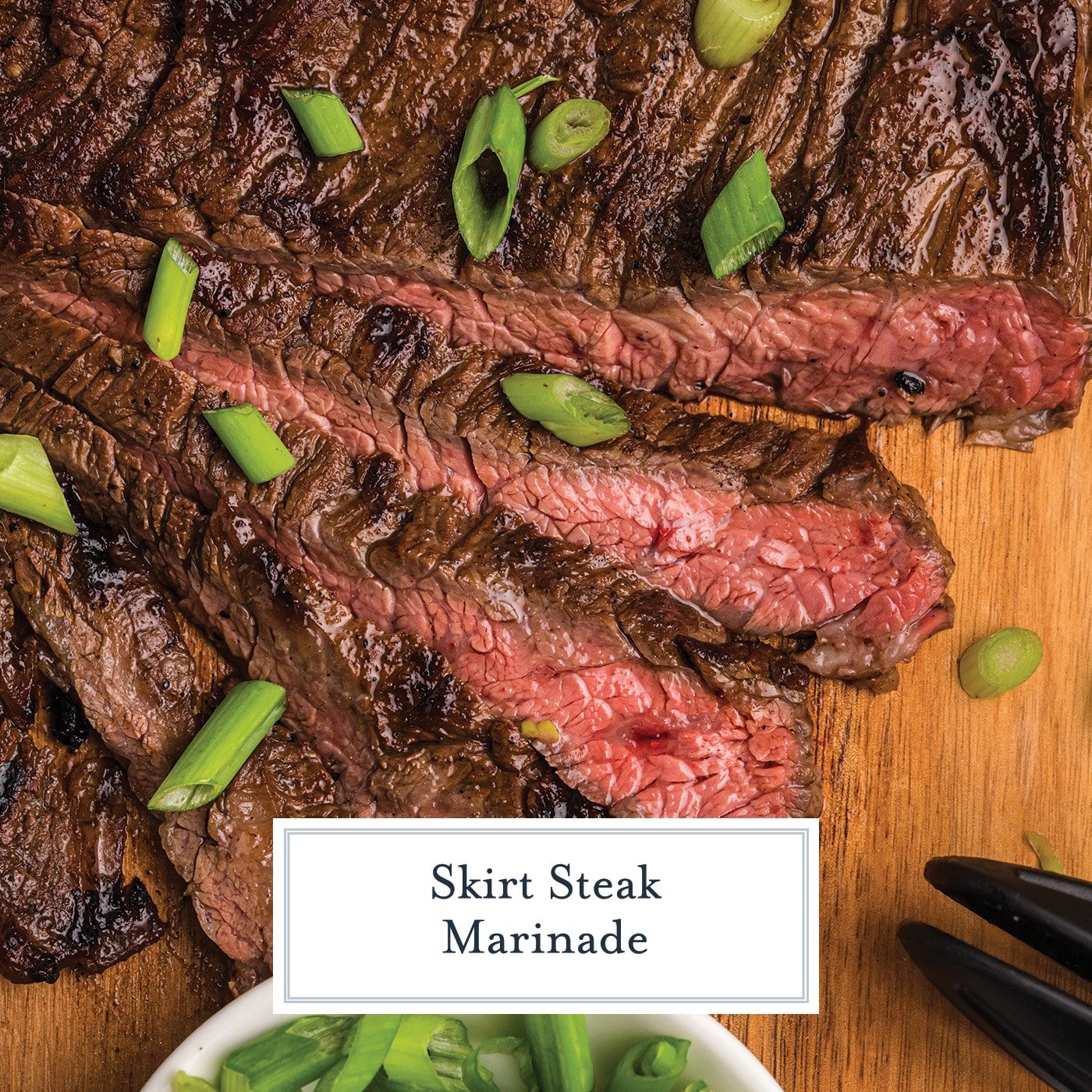 There are certain cuts of meat that don't need much seasoning or prep work at all. But there are, however some cuts that need some tenderizing.
My favorite way to do this is with a good marinade. Not only does it add lots of flavor, but it also tenderizes the meat and makes it unbelievably juicy.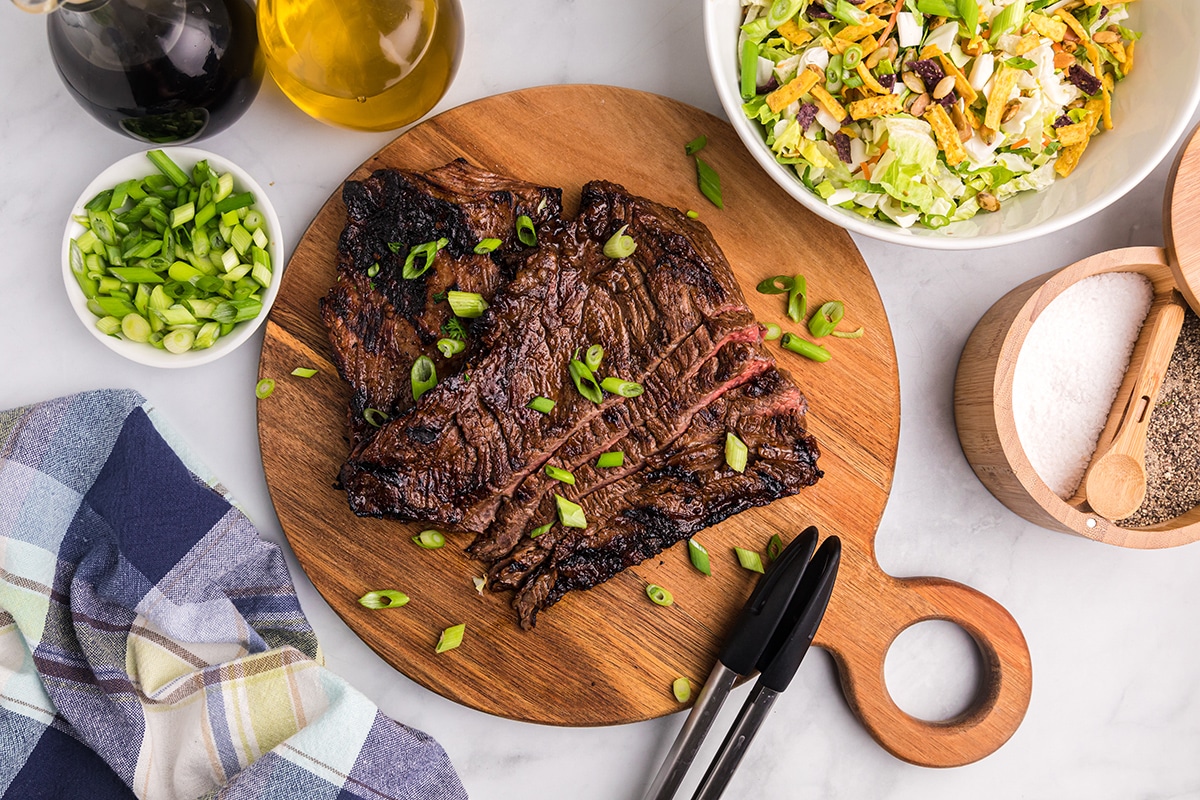 Why You'll Love This Skirt Steak Marinade
A simple marinade that makes the juiciest, most delicious steak ever- what's not to love??
Simple ingredients – All of these ingredients can easily be found at your local grocery store. You might even have some on hand already.
Easy to make – The marinade itself is ready in no time at all! And this cut of steak is super quick and easy too!
Customizable – Not only can you customize the flavors of this marinade, but you can also choose which way you'd like to cook it.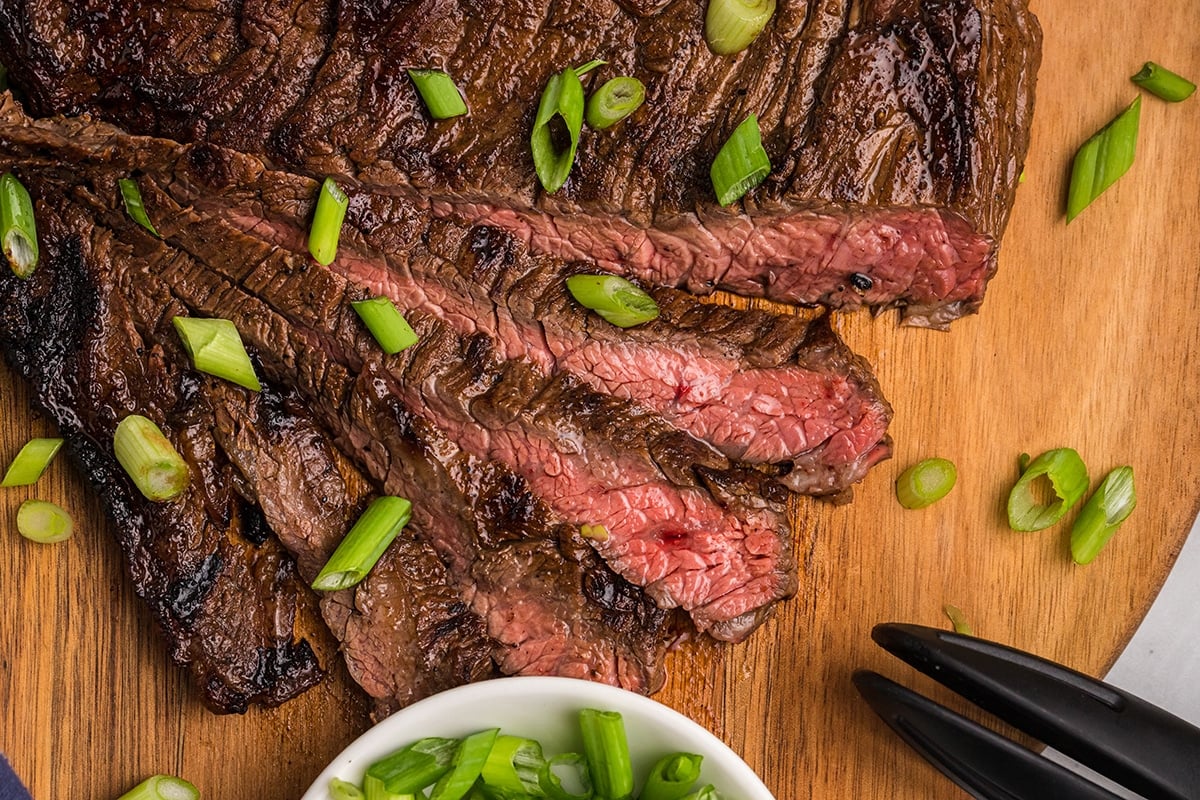 Juicy Steak Marinade Ingredients
When it comes to a marinade this quick and easy recipe will be your go to from now on for all cuts of beef, not just skirt steak. Here is what you'll need:
soy sauce
olive oil
balsamic vinegar
Worcestershire sauce
spicy brown mustard
fresh minced garlic
fresh ground pepper
coarse Kosher salt
These ingredients in this skirt steak marinade recipe works to infuse flavor into every fiber, tenderize the meat and the salt also brines. A technique used with many proteins to maximize juiciness.
Grilling meat introduces it to a super high heat, very fast and it has the tendency to dry out. Plumping up all of the fibers before throwing it on the grill gives it to the best chance to stay juicy.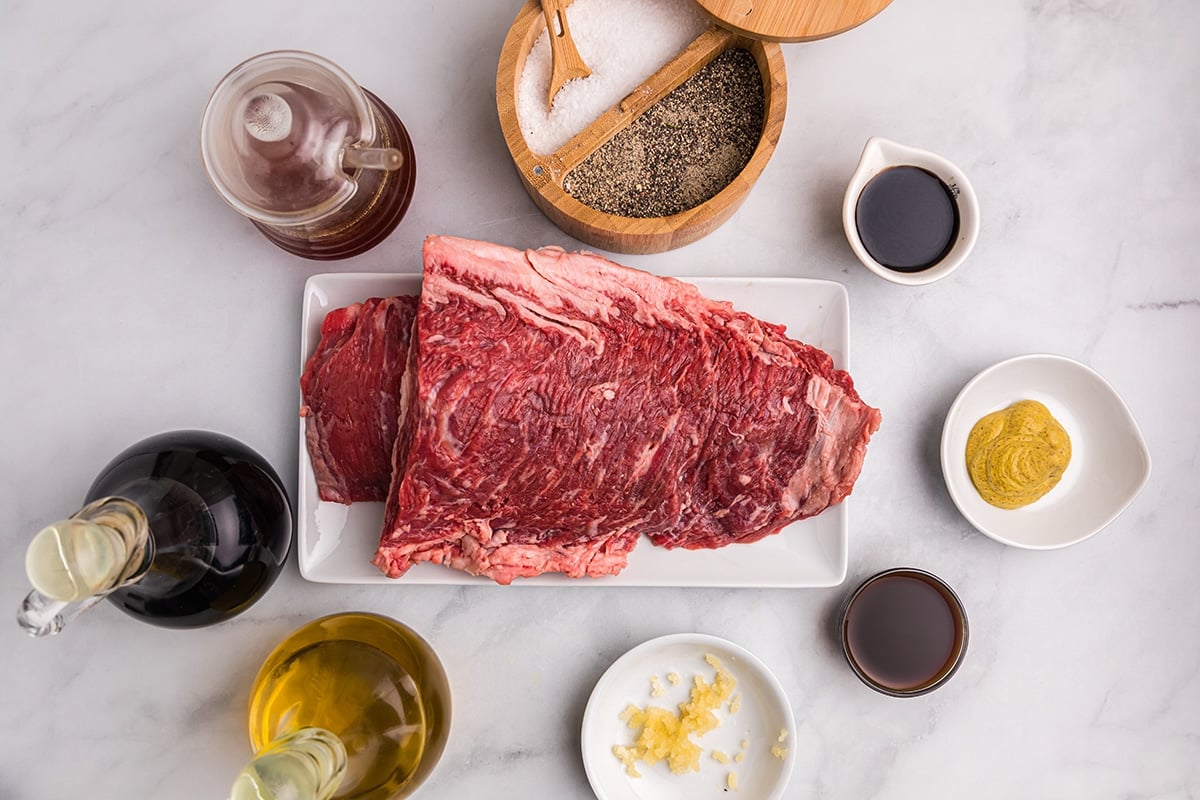 How to Make Skirt Steak Marinade
You are going to love how easy it is to make this marinade.
Make Marinade. Now that you have all your ingredients you can mix them all together in a shallow bowl or even a large gallon size Ziploc bag. I find it easiest to marinate the steak in a Ziploc back and it reduces the amount of dirty dishes.
Marinate. Marinate skirt steak for 2-4 hours. Keep in mind that with some cuts of beef marinating longer is not always better. I like to marinate for 3-4 hours personally but in a pinch will do less when needed. Trust me, it's delicious! Don't worry if you don't have everything exactly in your cupboards. I have a few substitutions and this recipe is so versatile, you can toy with amounts and still get great flavor. Read on…
Grill. Grill your beef to perfection!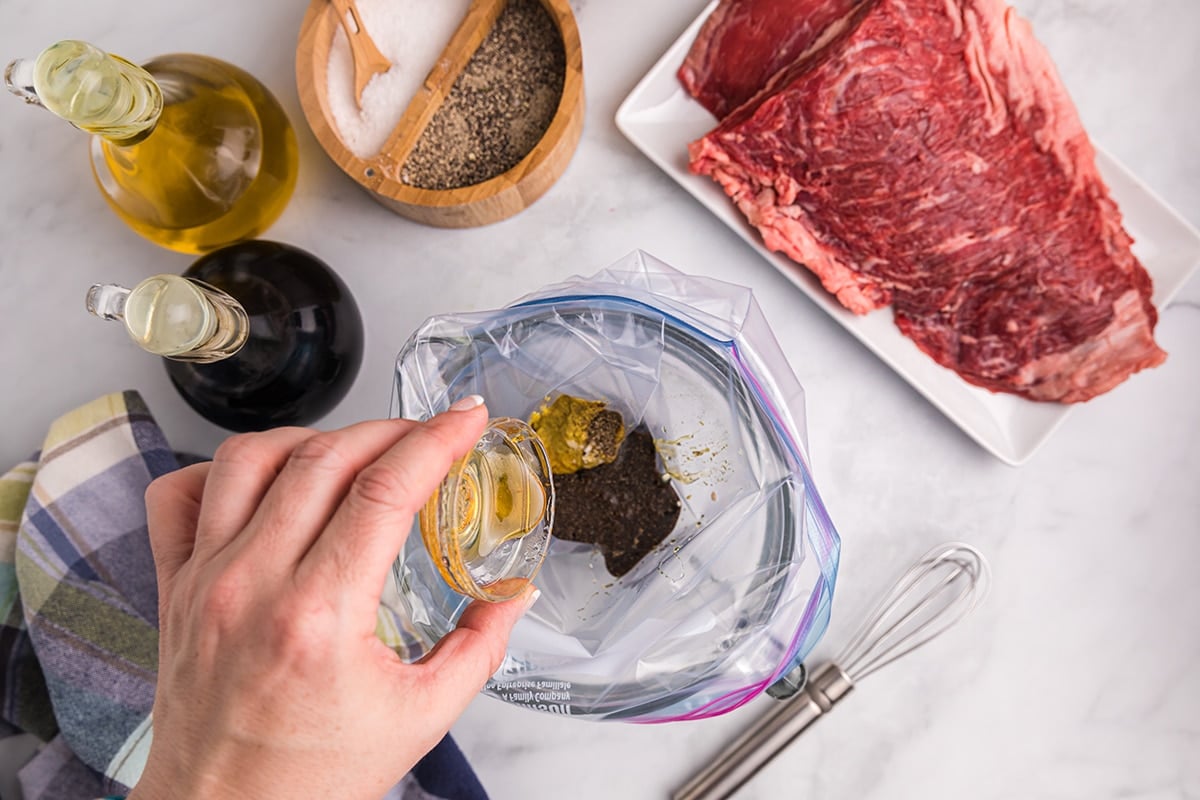 Variations
We love a good customization. Make sure to tell us how you made yours in the comments.
Spicy Brown Mustard gives excellent flavor in this recipe, but do does Dijon Mustard or even other flavored mustards.
Fresh garlic is always best for a true garlic flavor. Using a pre minced bottled garlic will give you a subtle garlic flavor with a hint of sweetness. You can easily substitute a teaspoon of powdered garlic or even dried garlic from the spice cabinet too.
Freshly ground pepper is the first pick, but don't hesitate to use a pre-ground pepper or white pepper to get a more mild peppery flavor.
HEAT! If you want a little heat on your meat, add 1 teaspoon of crushed red pepper flakes or aleppo pepper flakes.
Honey can be omitted if you don't want the deliciously sweet aftertaste, but also swap it for agave nectar or brown sugar.
Herbs– Fresh or dried herbs can complement these flavors perfectly. Rosemary, thyme and basil are my favorites. Even a dash of Italian seasoning can amp it up.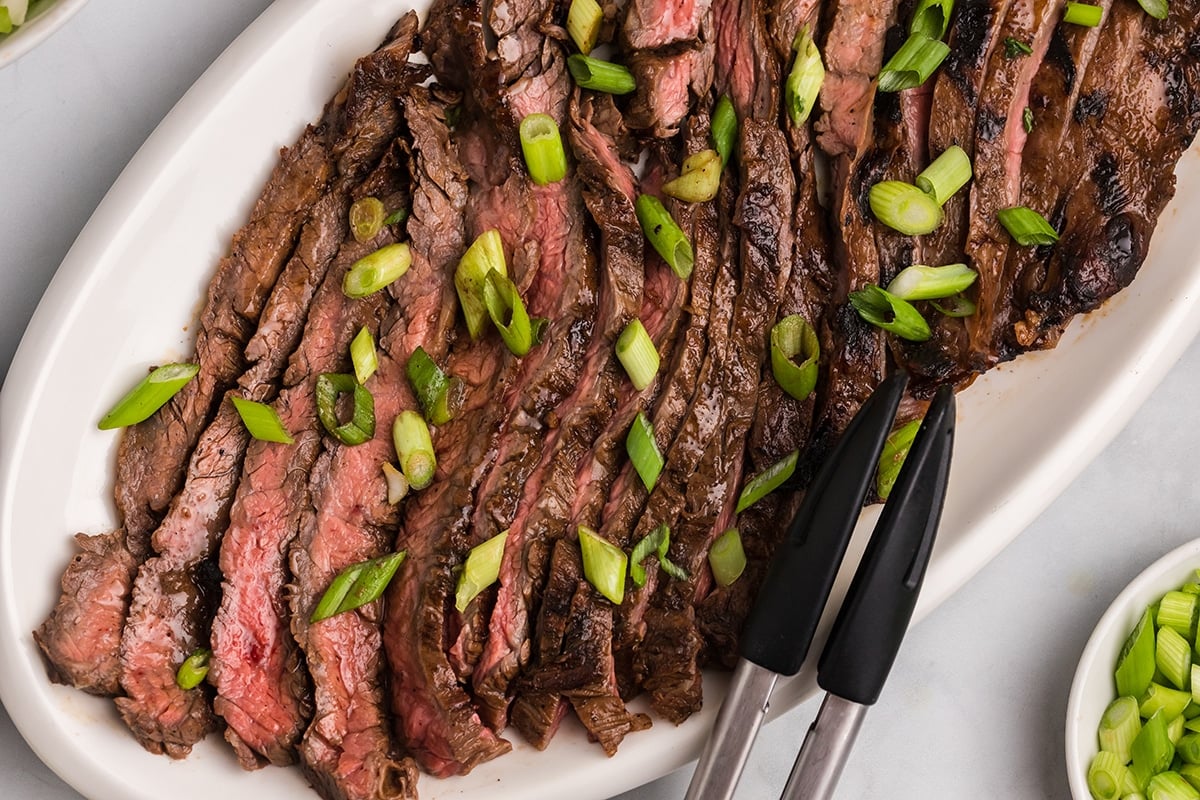 Tips and Tricks for Perfect Skirt Steak Marinade
It's not always possible to grill year round, fortunately you can easily pan sear or broil steak and still be able to use this Skirt Steak Marinade. Here are a few tips to follow.
Right Temperature. Get a good internal thermometer! Skirt Steak should be cooked from Rare to Medium but no more as it will become tough. Testing with an internal thermometer will give you excellent results and takes the guessing out of the cooking process.
Grill or Cast Iron. Cook over medium to medium/high heat. And allow pan to preheat when pan searing. I prefer to use cast iron when possible as it gives a great sear.
Resting. Allow steak to rest for 3-5 minutes after cooking. This allows the juices to stay put! Nothing worse than cutting a steak too soon and all the juices run out.
Cut against the grain and into very thin slices. Slicing any protein against the grain shortens the fibers, making it easier to chew and more tender.
Set aside a small amount of marinade for dipping or drizzling after the meat is cooked. Nothing better than an amplified sauce to finish it off.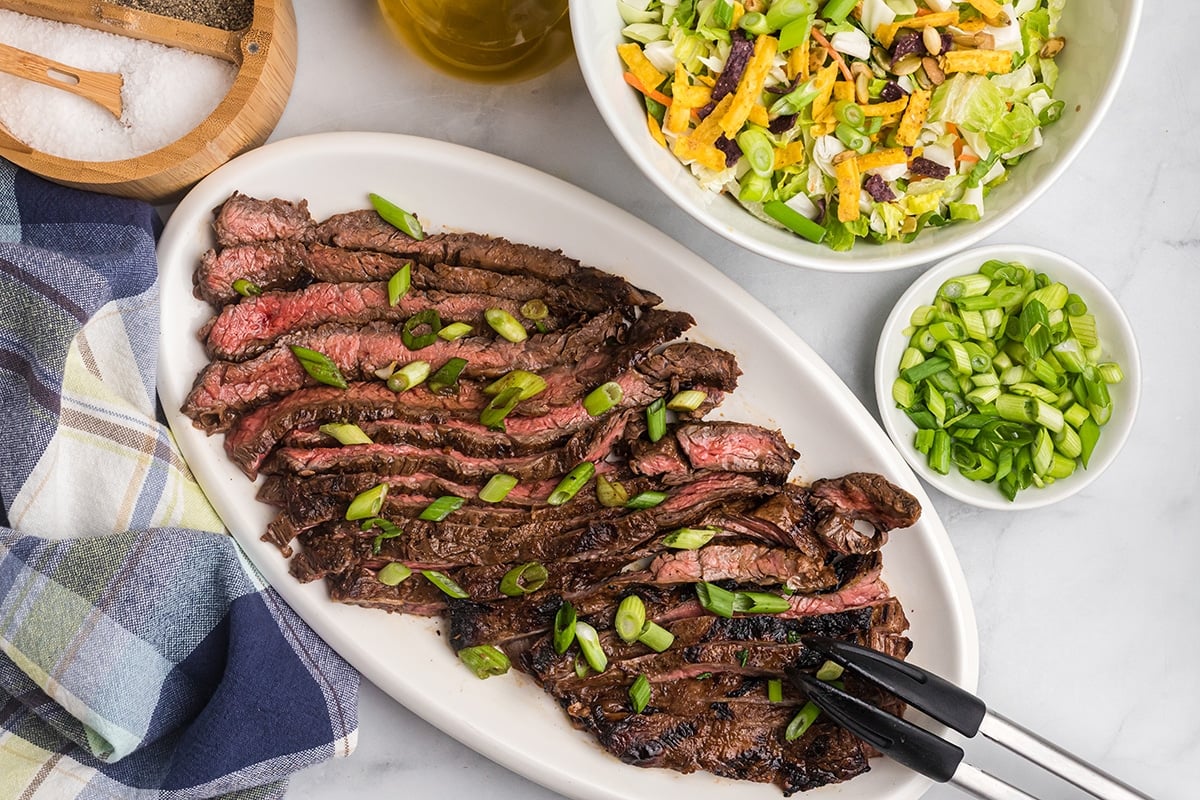 Cooking Temperatures
I recommend you cook your Skirt Steak Marinade no more than to Medium which means 145°F. For a more rare steak cook to 135°F. As all heat surfaces vary this can take 3-4 minutes per side to reach the perfect internal temperature.
This is where your heat source is a big deal. Always allow time for an oven to preheat when broiling, a pan to heat up when pan searing, or a grill to heat prior to cooking. It really does make a difference and only takes a few minutes to accomplish.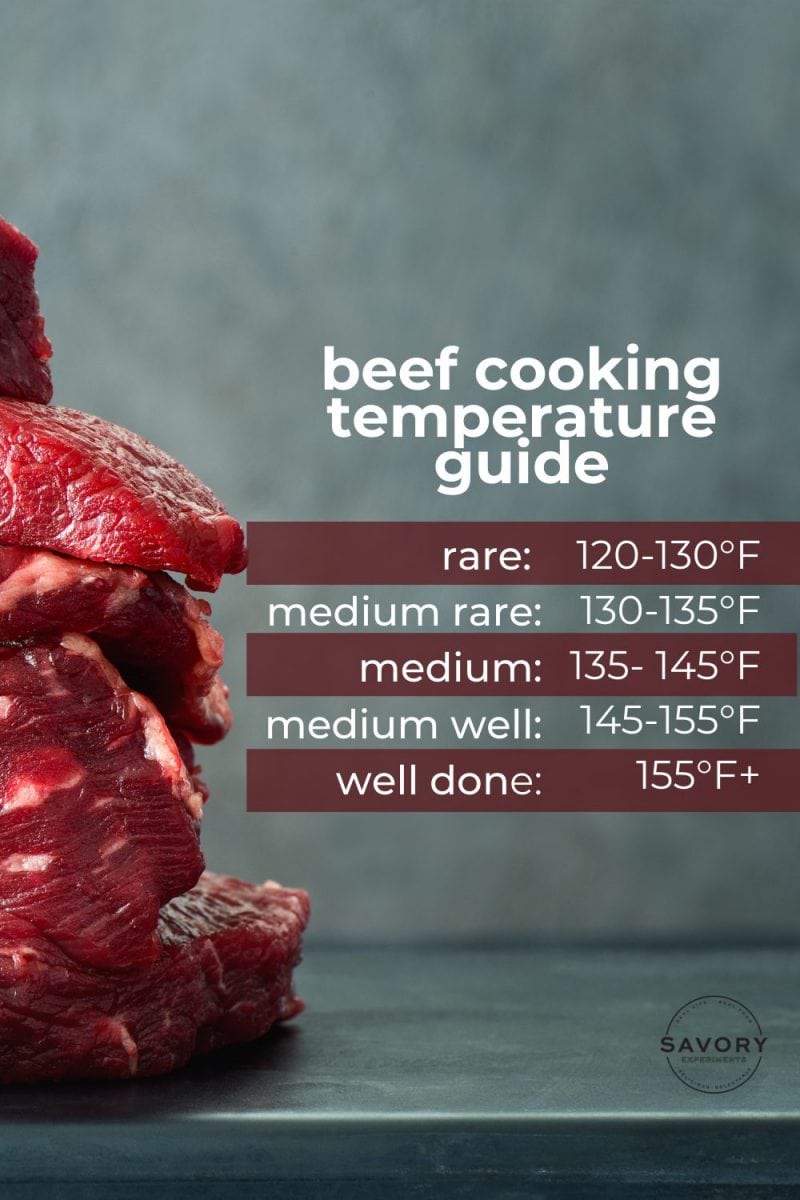 Broiling
Preheat oven and move cooking rack to the 2nd notch from the top. I find dropping the rack a notch really helps in cooking and is a little less forgiving when it comes to broiling. Make sure to set yourself a timer and stay close.
Broil steak for 2-3 minutes before checking to see how it's doing. Broil for an additional 1-2 minutes before turning over and repeat.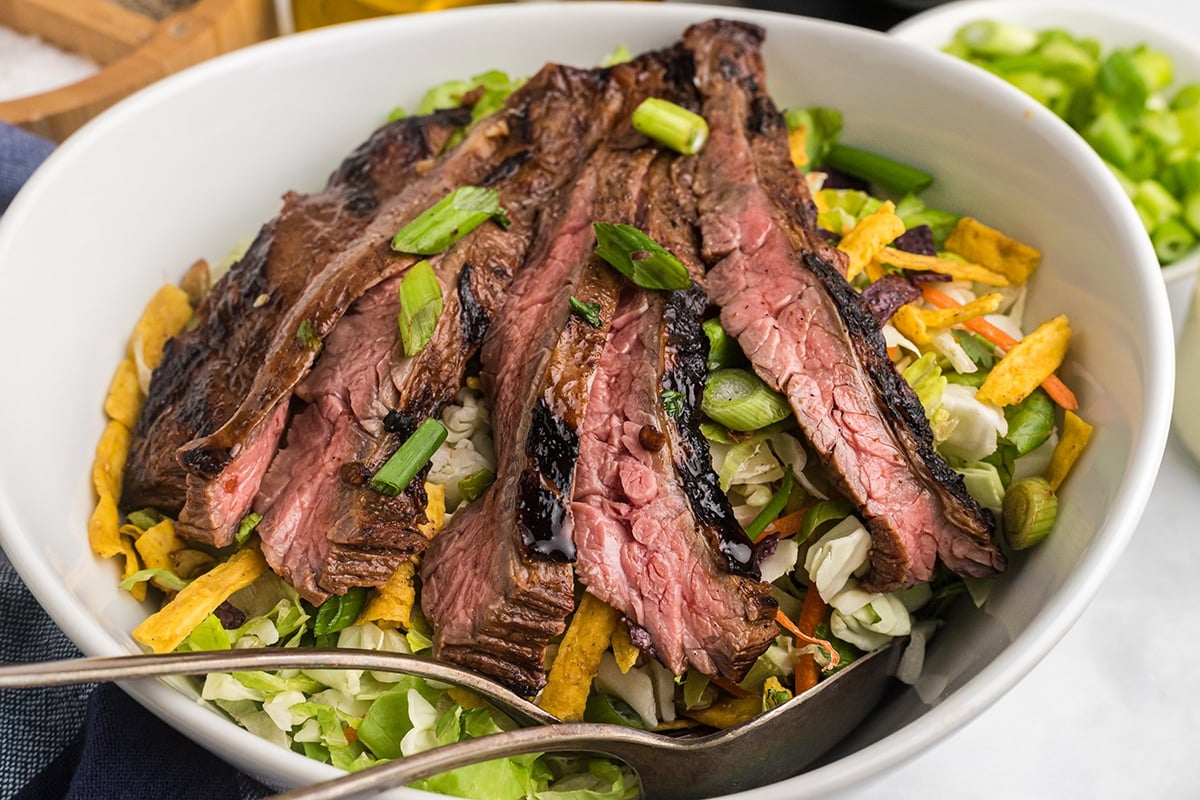 Pan Searing
Heat pan over Medium to Medium/High Heat and once pan is hot add 1-2 tablespoons olive oil. Steak can be cut into 4-6 inch servings or cooked whole. Steak will sizzle as it touches the pan, isn't that sound fantastic? I think so! Don't move the steak. It will adhere to the bottom of the pan. This will form a delicious sear. Be patient and let it cook for 3-4 minutes before flipping over.
Flip steak over and cook for an additional 3-4 minutes or until you reach the desired temperature. Always allow a 3-5 minute rest before cutting.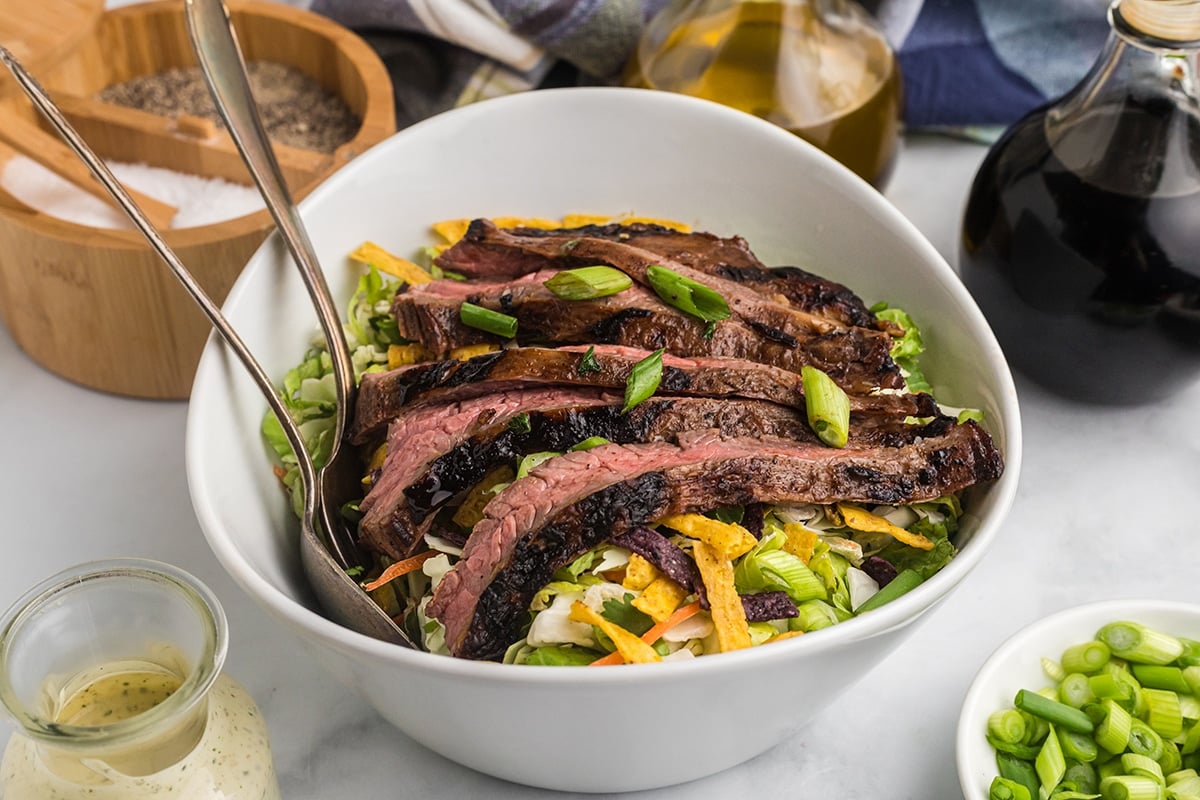 Grilling
Grilling is my favorite way to use this Skirt Steak Marinade but can also be a bit trickier especially if you have a temperamental grill. Take the time to heat grill to 450°F. This could take about 15 minutes. Often times you will want to brush the racks with oil or olive oil but please do not do that. Oiling the grill will cause smoke. There is no need to add additional oil to the grilling racks.
Place steak on grilling rack and close BBQ lid to hold in the heat. Again, allow steak to cook for 3-4 minutes per side and test steak for desired temperature. Grill temperatures can change quickly with the weather and wind which may mean additional time is needed. A thermometer is the best and easiest way to monitor cooking process.
Skirt Steak vs Flank Steak
What is the difference between a skirt steak and flank steak? Both are fairly thin and long, but they come from two different areas on the cow. This impacts the toughness of the fibers, marbling, and thus, best ways to cook and eat the meat.
Because they are thin and the fibers tend to separate naturally, both take well to marinades and have a naturally intense beefy flavor. They also do best not cooked past medium, otherwise the fibers seize and become tough.
Skirt steak is slightly more tender and used most frequently in fajitas, tacos and salads. All of which you can use this recipe for if you aren't just intended to eat it straight off the grill. This can also serve as a flank steak marinade.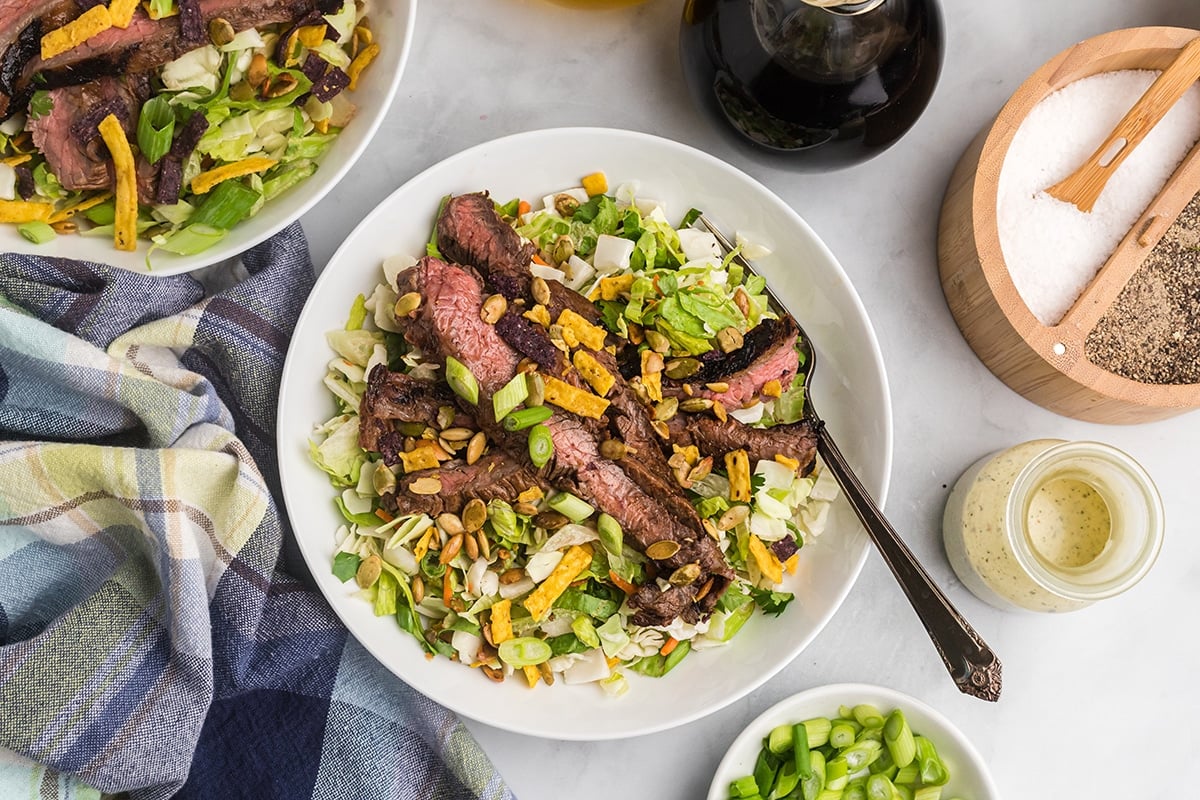 Sauces
While this steak doesn't need a dipping sauce, I like being saucey. Here are a few fan favorites to ponder.
What to Serve with Skirt Steak
Anything you normally serve with steak dinners, you can serve your skirt steak recipe with. For sides we like to serve with potato salad, baked beans, corn on the cob, macaroni salad, squash casserole or a nice kale salad!
If you want everything to be on the grill, do grilled potatoes or my spicy honey grilled vegetables.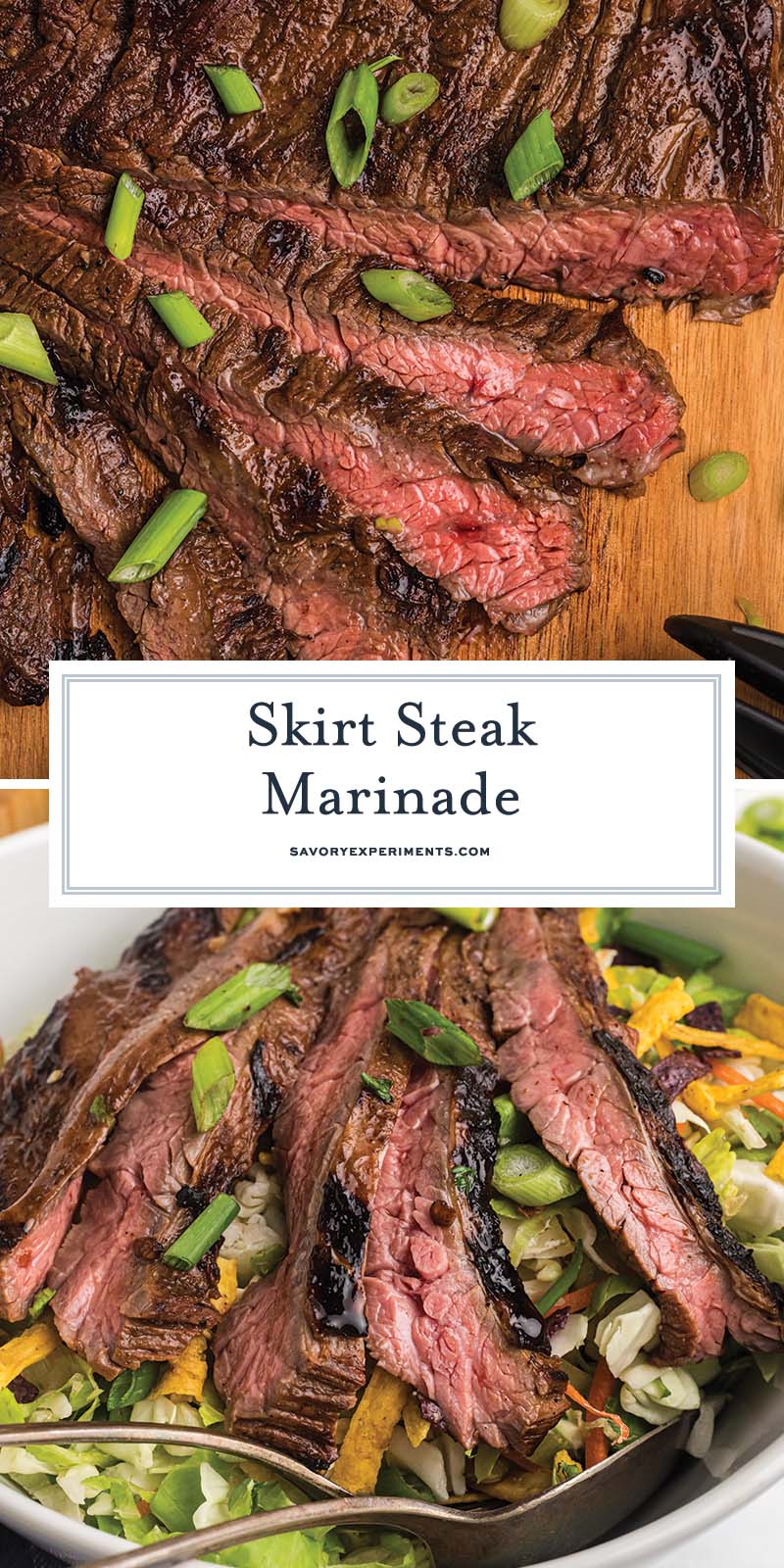 More Steak Recipes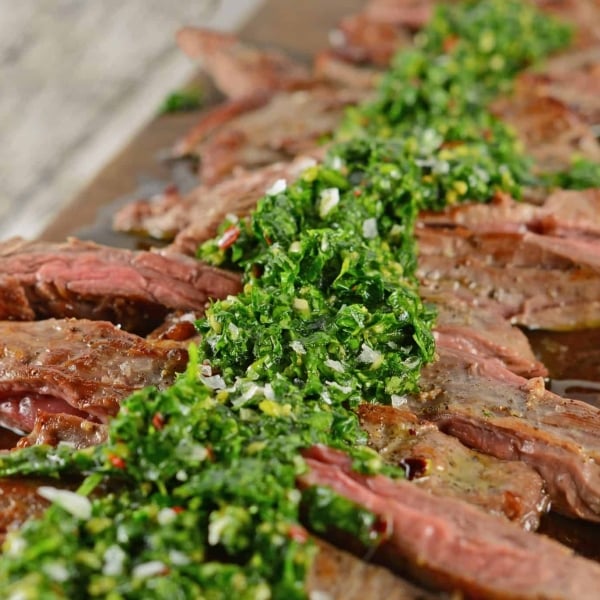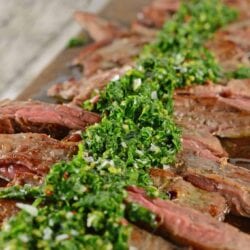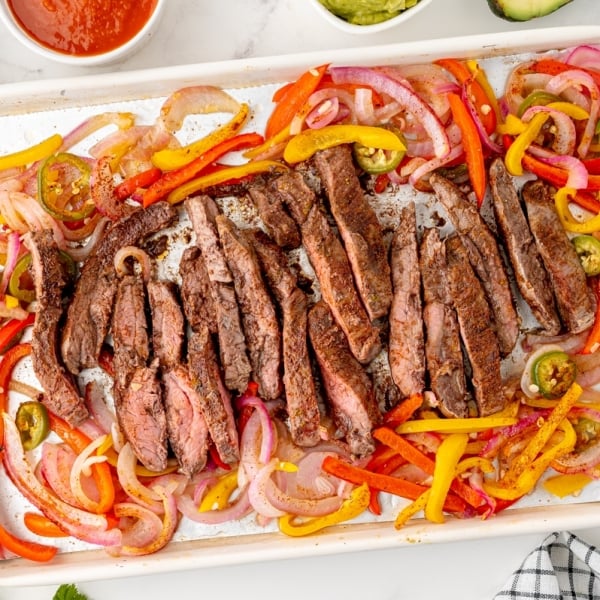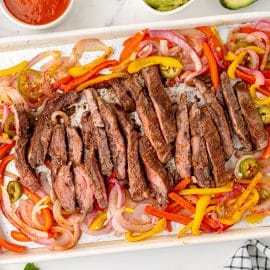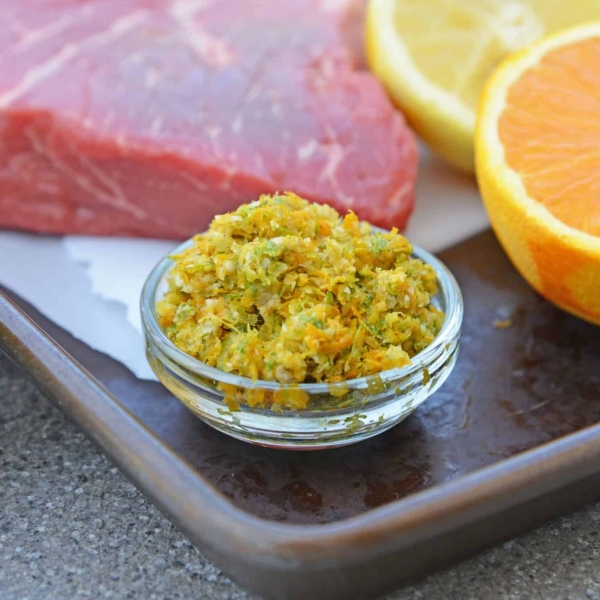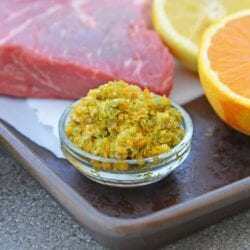 Citrus Steak Rub
This Citrus Steak Rub makes the best steak seasoning! With lemon, lime and orange zests, this is a dry rub that you will use over and over again.
See The Recipe!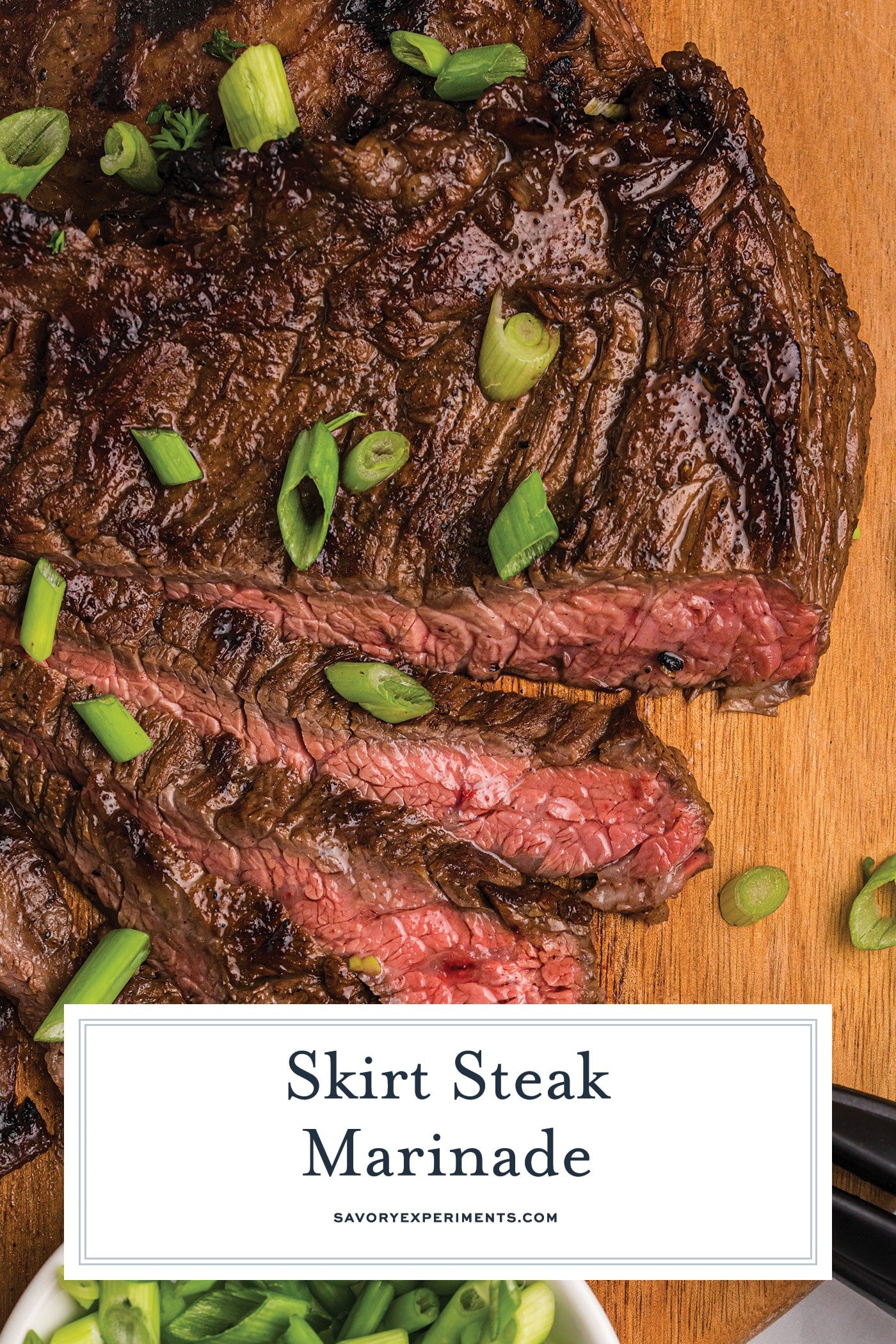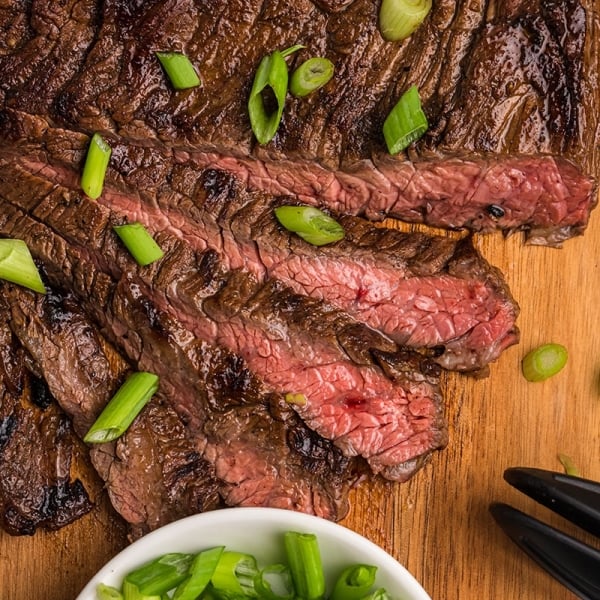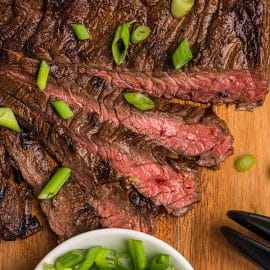 Skirt Steak Marinade
This skirt steak marinade is sure to infuse maximum flavor and give you the juiciest steak ever. Throw it on the grill or cook it stovetop, oven or even smoker.
Instructions
Whisk together the soy sauce, oil, vinegar, Worcestershire sauce, mustard, honey, salt, pepper and garlic in a bowl.

Pour over skirt steak in a shallow dish or a large plastic bag.

Seal and refrigerate for 3-4 hours.

Remove steak from marinade, discarding any leftover liquid. Cook your desired way and let rest for 3-5 minutes before slicing against the grain.

If you've tried this recipe, come back and let us know how it was in the comments or ratings.
Nutrition
Calories:
644
kcal
,
Carbohydrates:
38
g
,
Protein:
5
g
,
Fat:
55
g
,
Saturated Fat:
44
g
,
Sodium:
4963
mg
,
Potassium:
492
mg
,
Fiber:
1
g
,
Sugar:
27
g
,
Vitamin A:
44
IU
,
Vitamin C:
7
mg
,
Calcium:
83
mg
,
Iron:
4
mg