If you don't live in Baltimore, then you probably aren't aware of the newest food trend. In fact, it really isn't new, but finally being recognized. And now it is spreading like wildfire. They are Crab Cake Egg Rolls.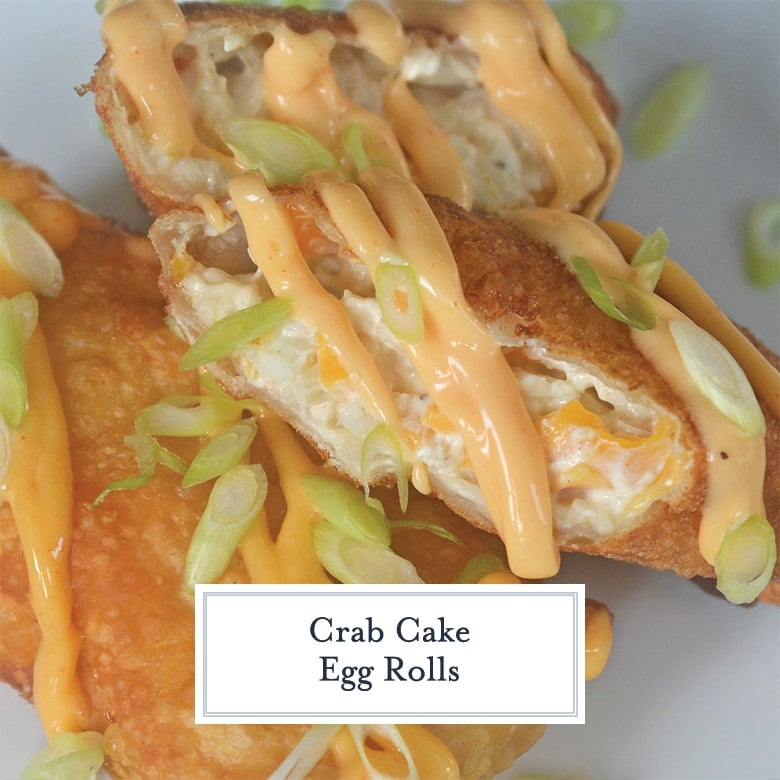 Any restaurant that has any stakes in crab cakes or crab dip now also has an investment in Crab Cake Egg Rolls. One of Baltimore's best Instagramers posted a wildly popular image of crab cake egg rolls from AJ's on Hanover and then the Baltimore Sun picked it up.
Papi's in Fells and now the iconic Jimmy's Seafood, everyone is jumping on the bandwagon.
If you don't live here and wondering what they are, it is basically a Maryland spin on a crab rangoon, but packaged like an egg roll but with a lot more crab.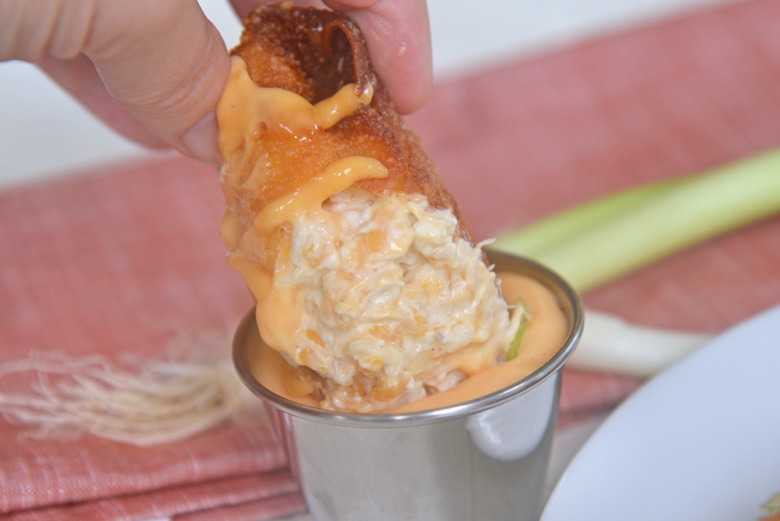 Crab Cake Egg Rolls
Here I am, stuck in the burbs and wanting a gosh darn egg roll! So what do I do? I make my own!
Recipe testing anything with crab is certainly a perk of my job. And here is what I learned.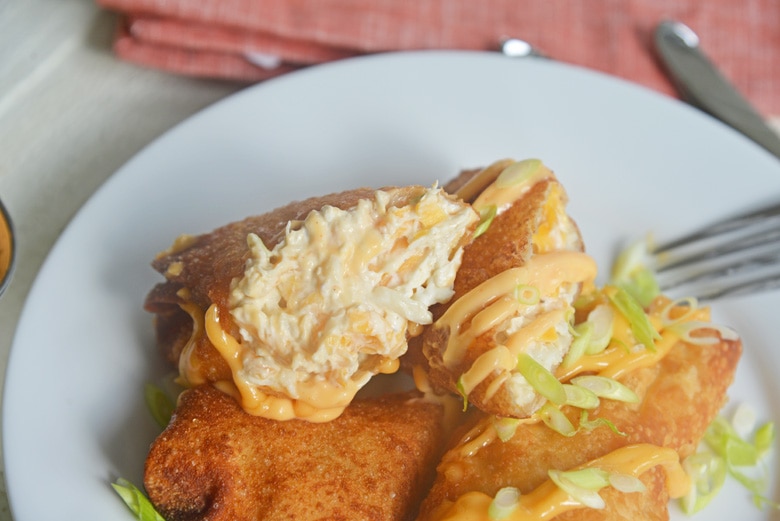 Merely taking a cooked crab cake and stuffing it into an egg roll wrapper is a little dry. And since the crab meat is now being cooked three times (one to steam, another to make the crab cake and a third to fry), it gets a little rubbery.
You can also take an uncooked crab cake and stuff it in the wrapper. I know I am a total weirdo here, but this is also why I don't care for crab cake sandwiches- too much bread and meat and it needs more creaminess.
To get a totally decadent crab cake egg roll, you are better off using a blend of crab cake and crab dip.
While I don't generally use lump crab in my dip, I would suggest it for an egg roll. Or a special blend like backfin and lump.
Freezing is essential. If you fry before freezing, you run a really real risk of losing precious cheese or crab. No one wants that.
Dipping sauce is not necessary, but totally delicious and worth the few extra minutes it takes to whip it up.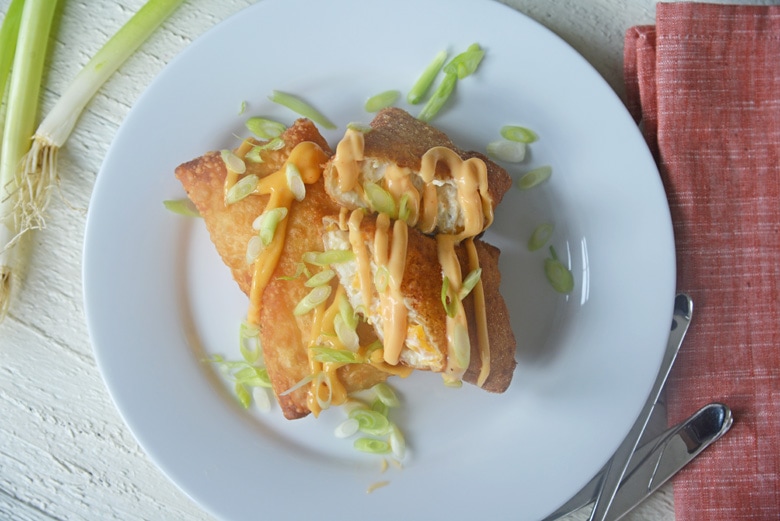 How to Make Crab Cake Egg Rolls
Gather your ingredients, including:
Crab meat (see section below)
Cream cheese, softened
Mayonnaise
Sour cream
Worcestershire sauce
Hot sauce
Old Bay
White pepper
Shredded cheese
ONE. Make the filling by creaming together cream cheese, mayo and sour cream.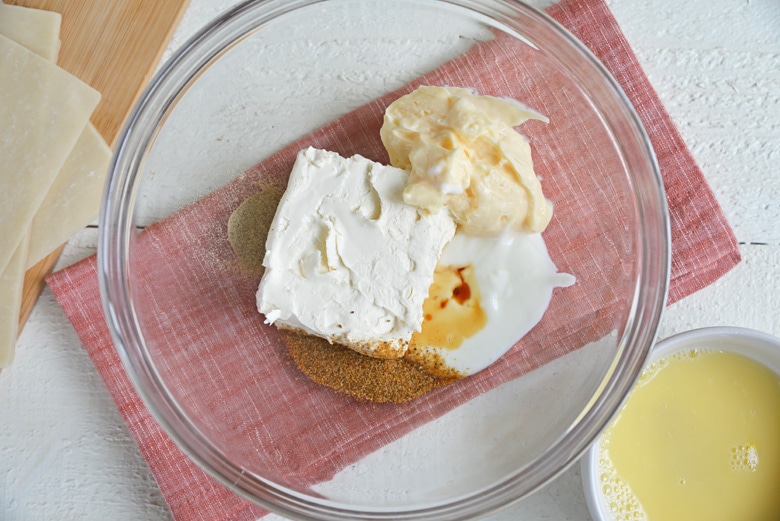 TWO. Add Worcestershire sauce, hot sauce, Old Bay and white pepper.
THREE. Finally, fold in crab meat and cheeses.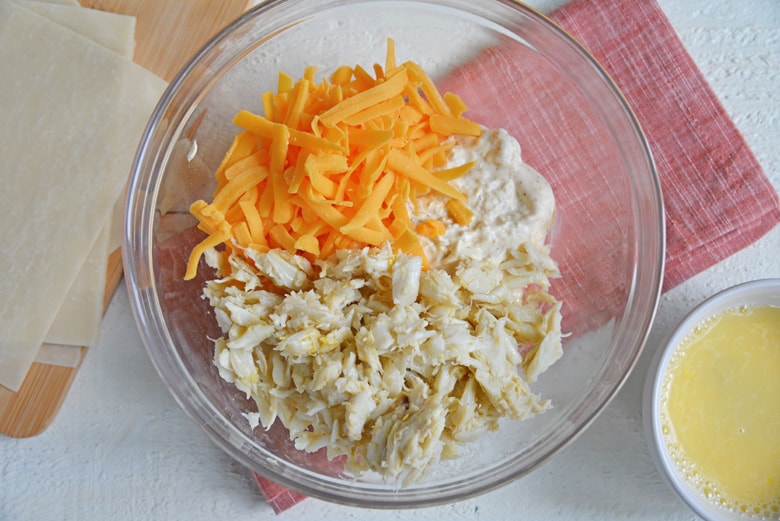 FOUR. Fill the egg rolls! Keep unused wrappers under a damp towel while you are working. Full with about 1/2 cup of filling each.
FIVE. Fold up like an envelope.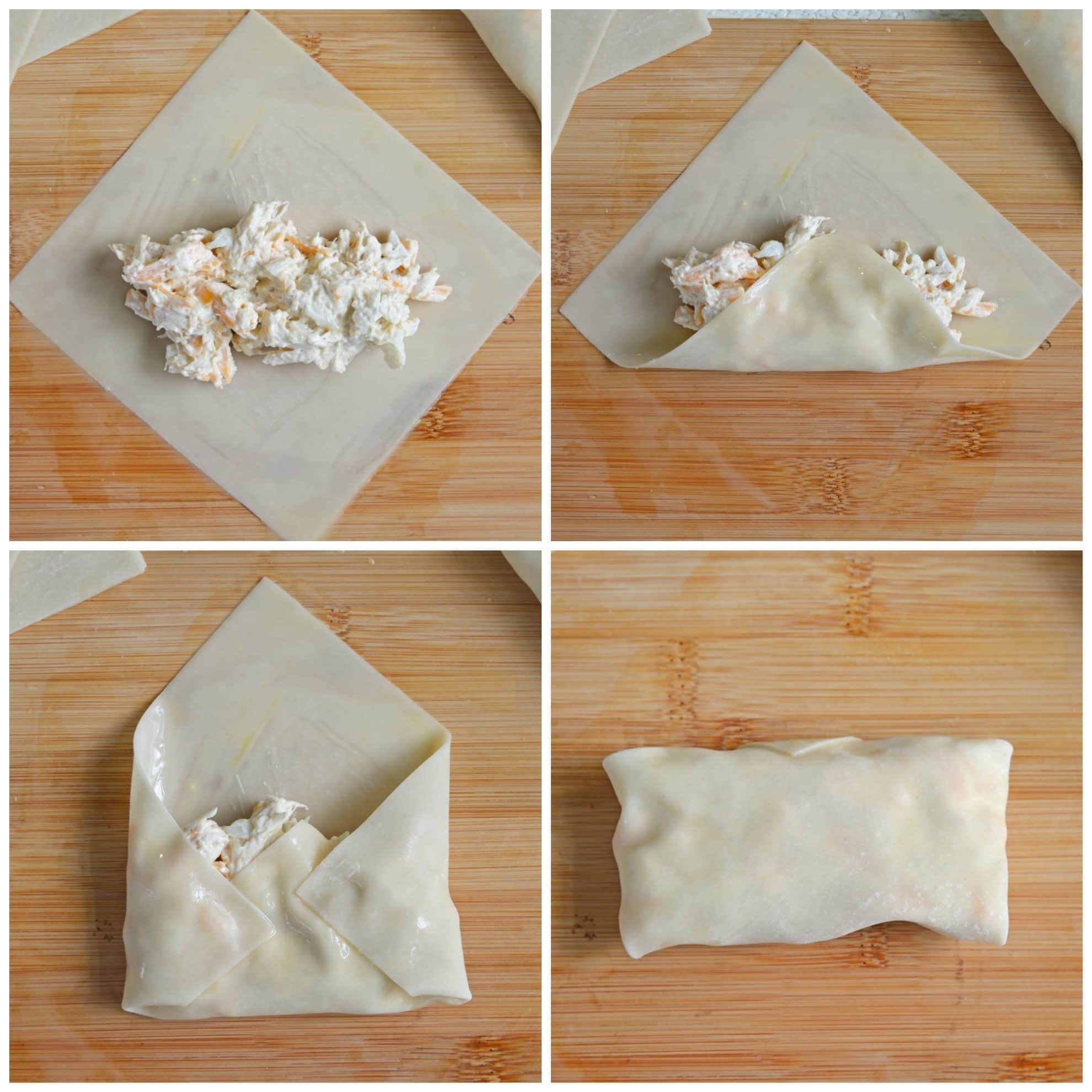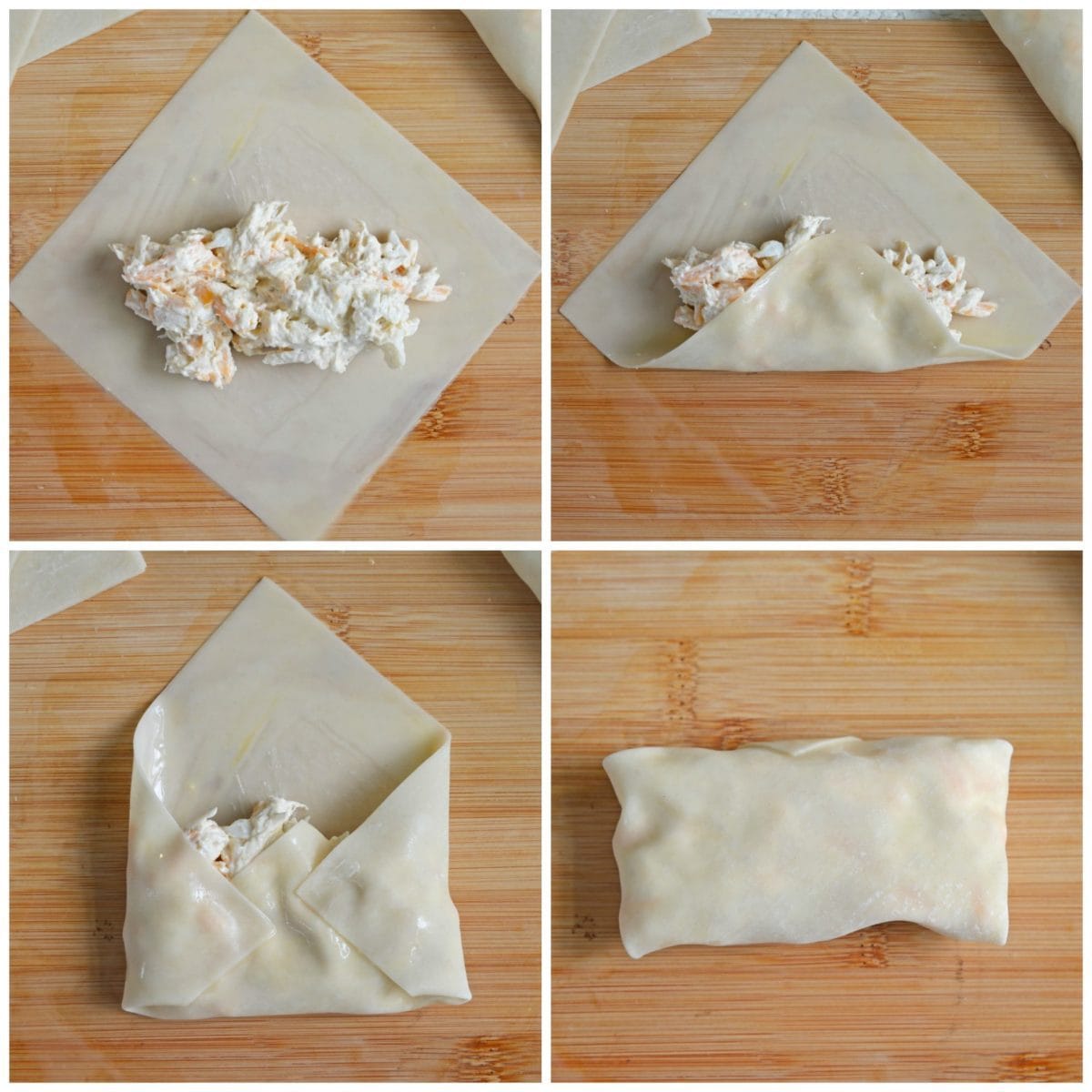 SIX. Freeze. They don't need to be 100% solid, but the filling needs to be near solid to make sure it doesn't melt and leak while deep frying.
SEVEN. Deep fry. Heat oil and fry to a golden brown.
EIGHT. Remove to a wire rack above a paper towel lined plate. Keeping them suspending prevents the bottom from getting soggy.
NINE. Make the dipping sauce. If the crab cake egg rolls weren't totally delicious, I'd claim this was the star of the show. One of my testers even used this as their pizza dipping sauce. It is an Old Bay Chipotle Aioli and it is fantastic.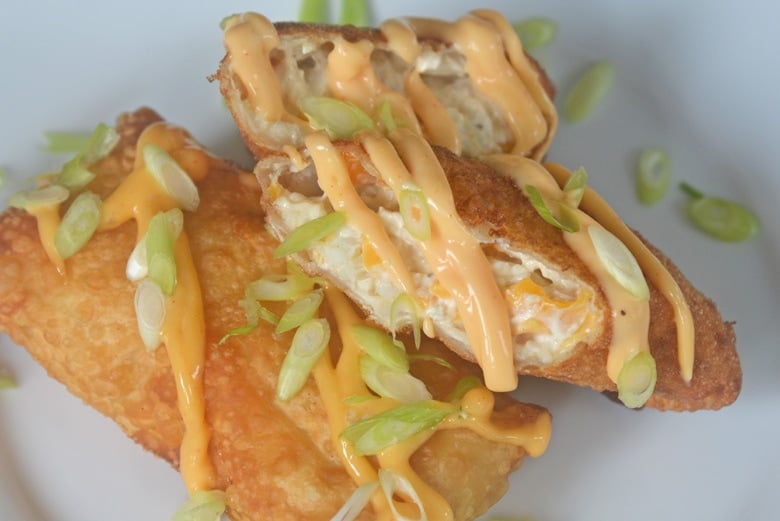 Crab Meat
In case you aren't familiar with buying blue crab meat, here is a quick tutorial on the names and what exactly they mean.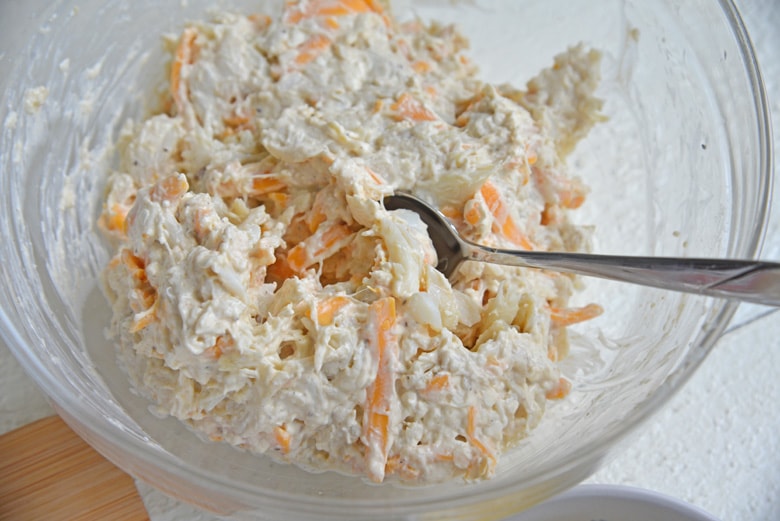 Claw– dark meat that comes from the claw, a little more stringy than other varieties.
Special– smaller pieces, comes from small little crevices or the "special" sections of the crab, good for flavoring and dips.
Backfin– some larger lumps coming from, you guessed it, the back of the shell, whiter meat, does well in crab cakes, feathery texture.
Jumbo lump– large, lumps of meat, the beauty is the large pieces used for crab meat cocktails or delicious to pop in your mouth plain, very tasty and moist.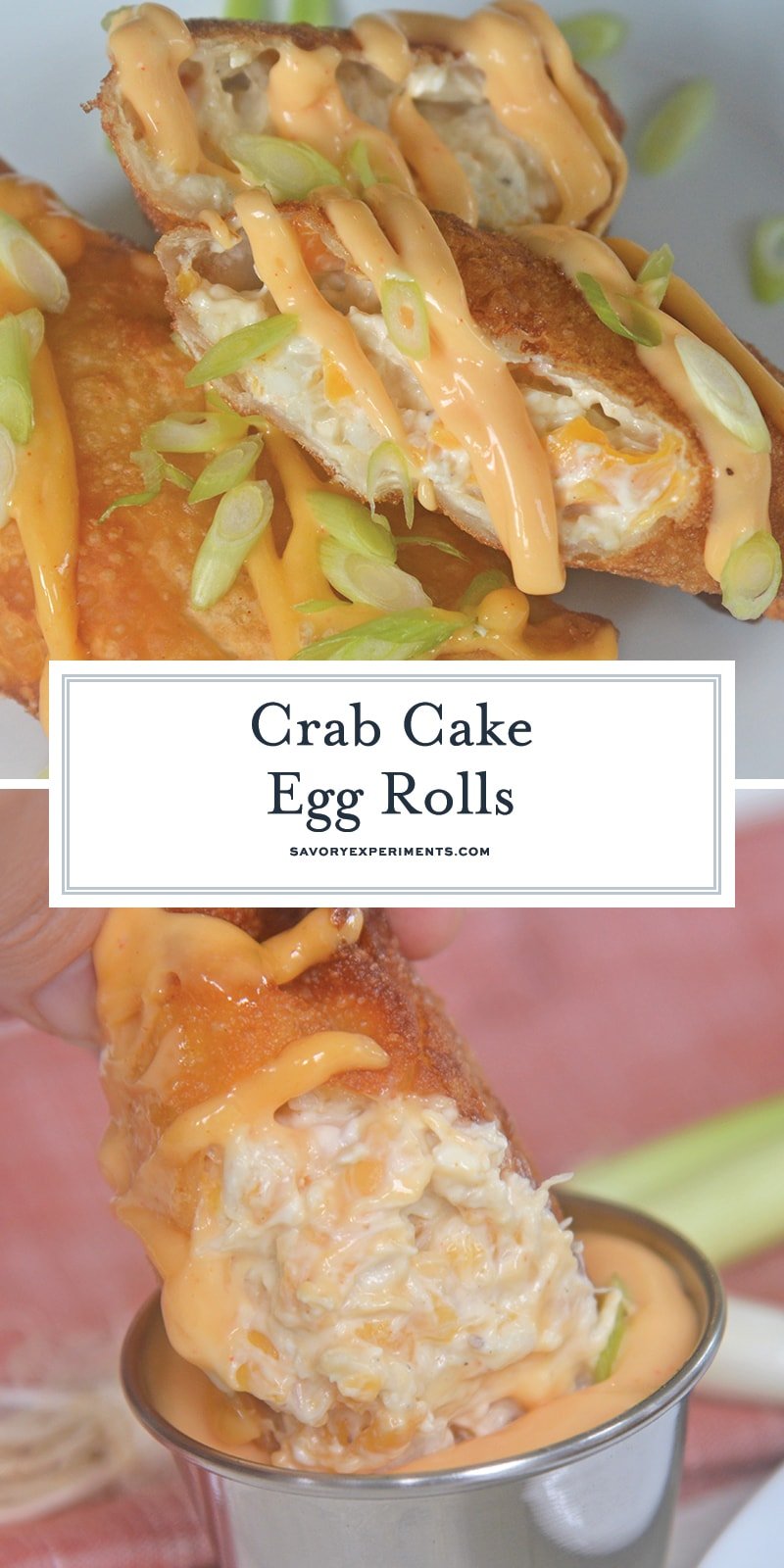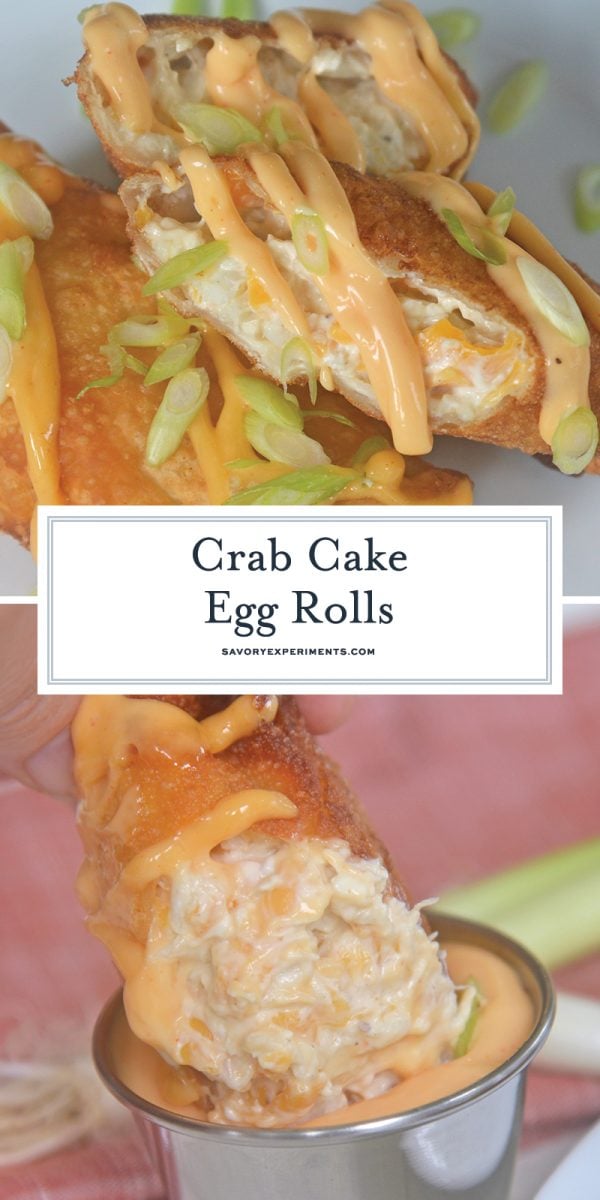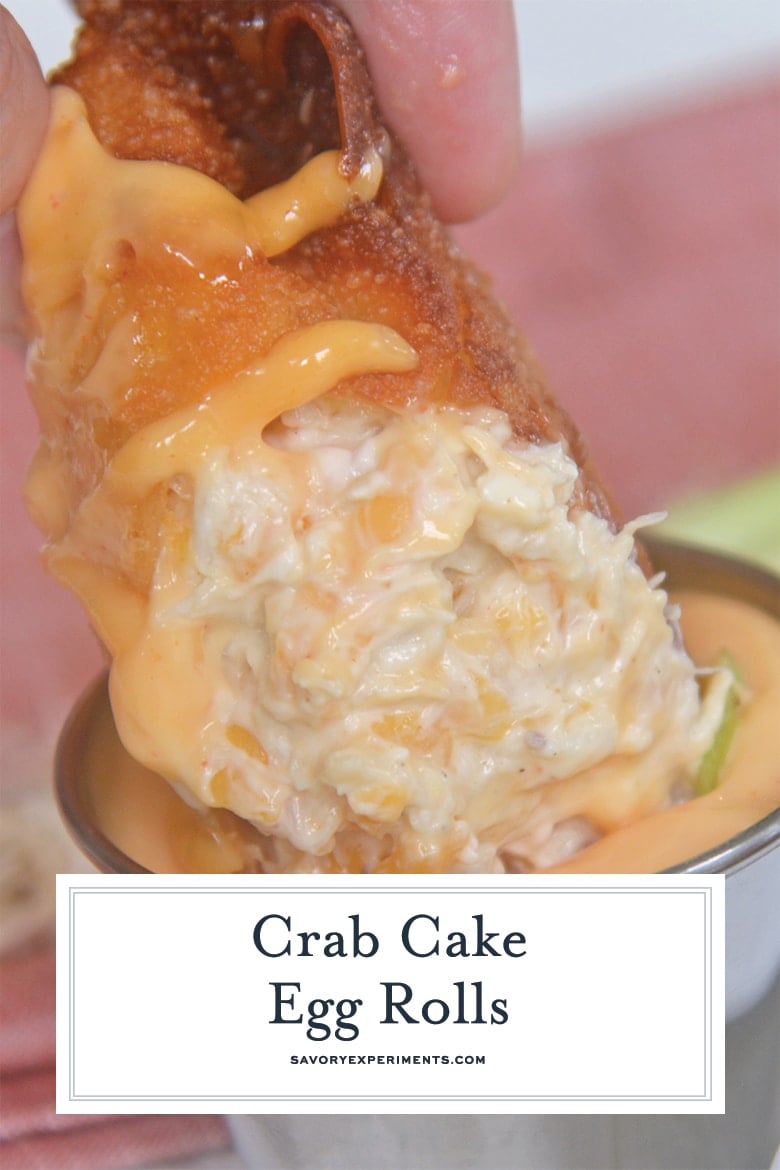 CONNECT WITH SAVORY EXPERIMENTS!

Be sure to follow me on social media, so you never miss a post!

Facebook | Twitter | Youtube
Pinterest | Instagram

Get our FREE 8 Day E-Course on How to Be a Better Home Cook. Sign up HERE!