Franks and Beans, beanie weenies, hot dog beans… no matter what you call this dish, it brings back fond memories of childhood for almost all of us.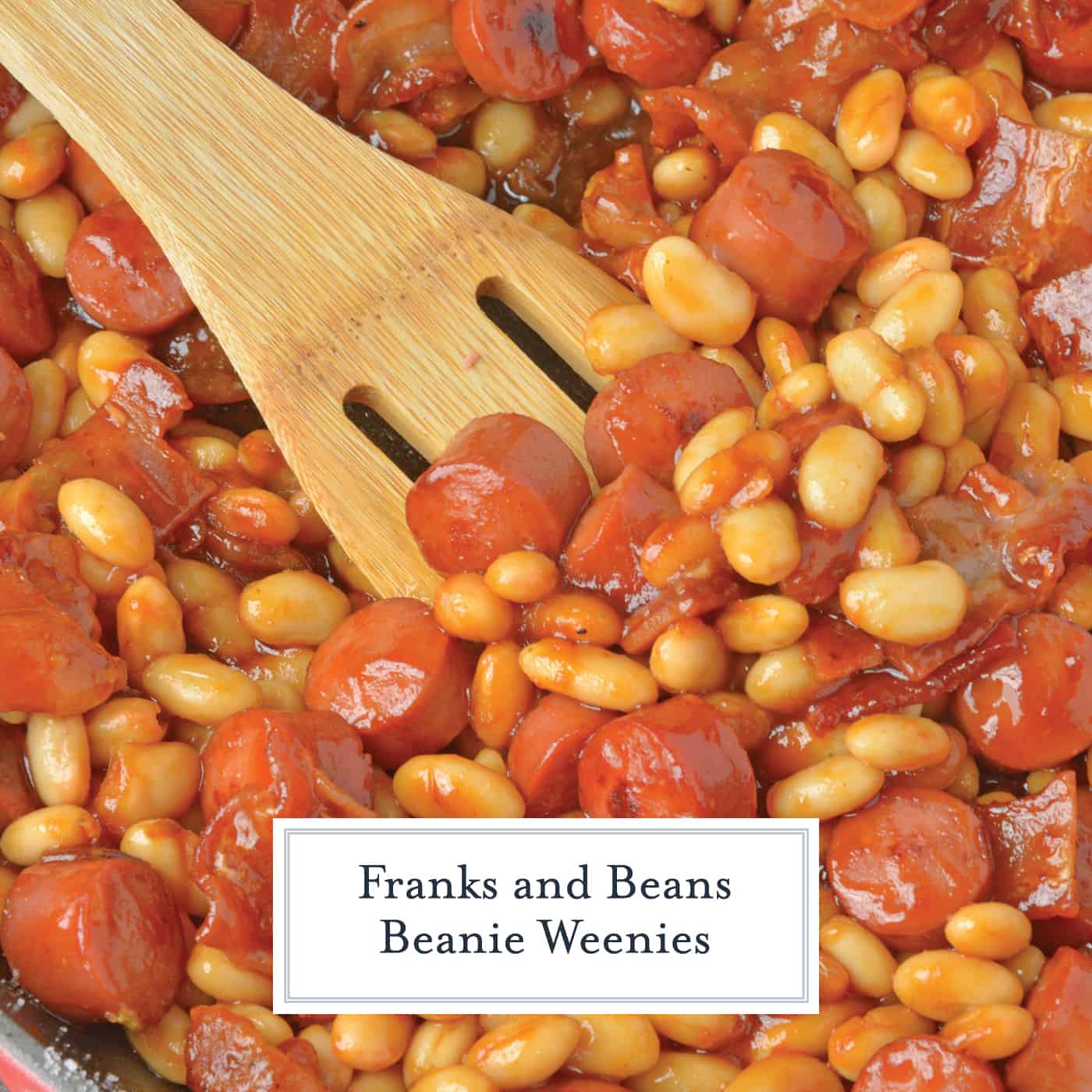 Franks and Beans are a homemade beanie weenies recipe made with real beef hot dogs and less sugar than the canned version.
Beanie Weenies Recipe
When I was growing up, we went camping as a family every summer. Popping popcorn over the open fire, roasting marshmallows for s'mores, and making franks and beans were always classic camping food staples for us.
Before we get started, can we get something out of the way? I keep seeing people refer to this recipe as frank and beans (singular on frank). Why? Clearly we are using more than one frank! At least I hope you are…
A one dog frank and beans wouldn't be very beefy, would it? Franks and Beans (or Beanie Weenies) it is!
Beth G. says: "I still love hot dogs at my advanced age! ???? I love that you just use great northern beans for your franks and beans. Less preservatives than the baked beans you buy in a can!"
Franks and Beans
This franks and beans recipe is still one of my easy dinner recipes. There is something nostalgic about using a cast iron skillet over an open fire to prepare simple beanie weenies.
A family favorite for many, this dish is made from sliced hot dogs in a sweet and savory sauce with lots of beans. Some people refer to it as pork and beans because of the addition of bacon.
Others add BBQ sauce, bell peppers and maple syrup for a delicious twisty beanie weenie dinner.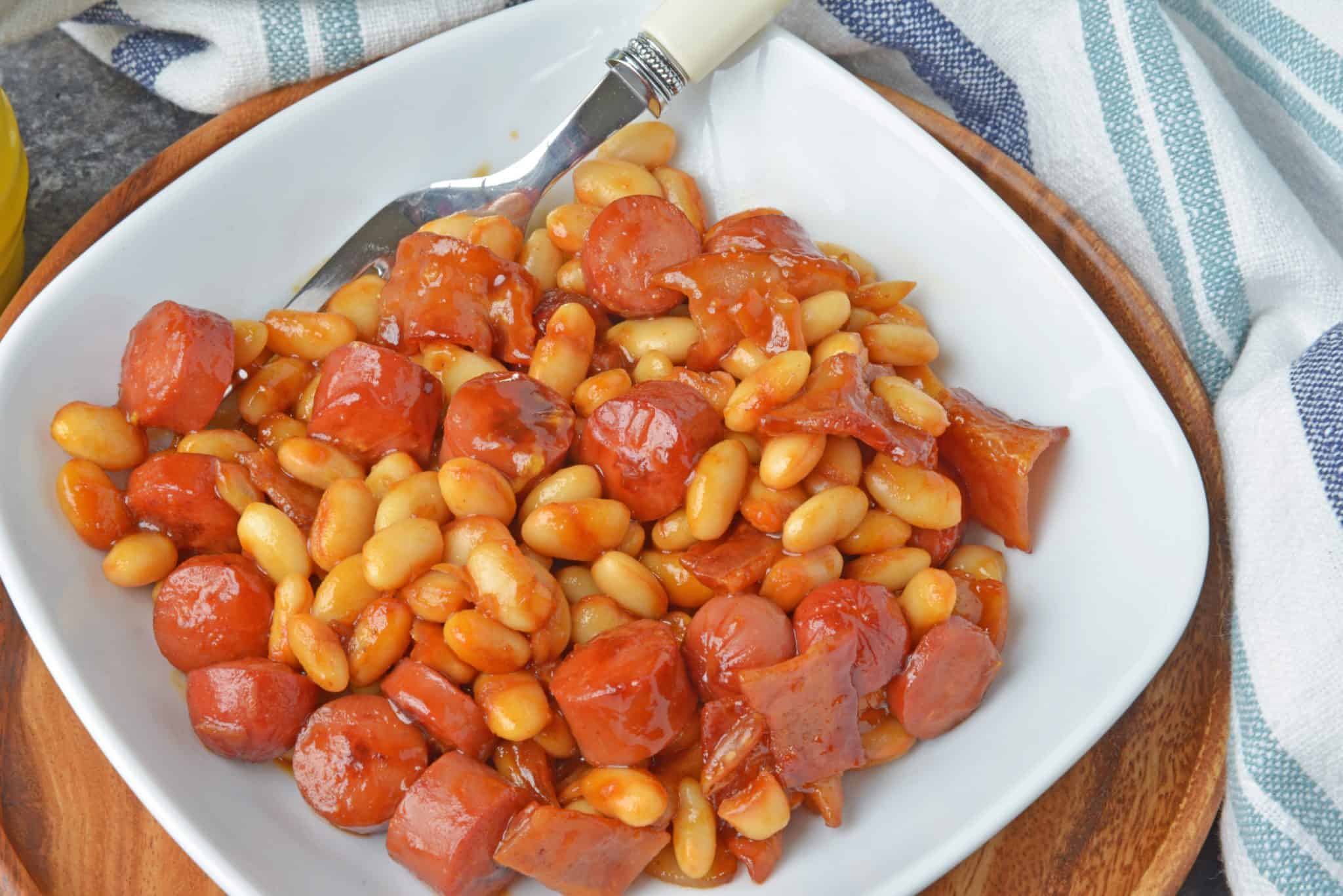 Of course, we make this at home, too, and it is just as delicious on the stove! If you don't already have one, I highly recommend investing in a cast iron skillet. I use it for so many recipes, including this one.
To Add Bacon or Not
This specific franks and beans recipe calls for four strips of cooked bacon. The salty crispness of the bacon pairs nicely with sweet brown sugar.
PRO TIP: Don't skimp on the hot dogs. But the big, juicy all-beef dogs for maximum flavor.
Plus, it adds a nice crunch to an otherwise soft textured dish. Salty and sweet is one of those flavor combinations that can't be beat.
Before everyone leaves comments about the amount of sugar in this dish, I am very aware. And even though this homemade beanie weenies has a lot of sugar, the canned version has even more. Just take a look next time you are at the store!
PRO TIP: To serve at a party, transfer to a crock pot and set to "keep warm".
Homemade is Best!
In fact, I had one of those moms that was all about the healthy foods. Most items were 100% home cooked. We weren't allowed to have sugar cereals or soda and certainly not the treats kids loved like HoHos or Ding Dongs.
When I saw the ingredients on a can, I was the most surprised to see she let us eat… these. Sugared beans and cut hot dogs!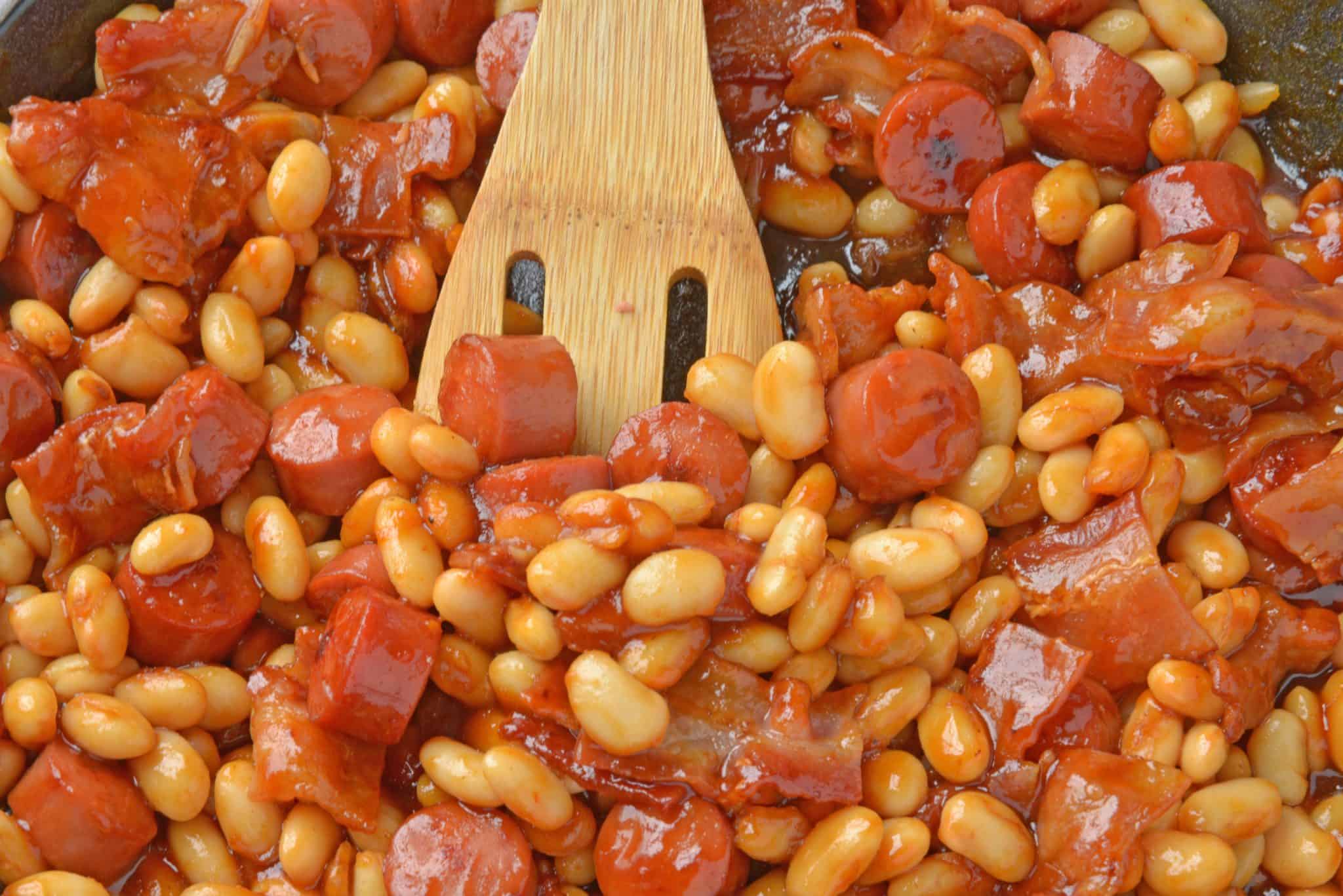 I am by no means calling it healthy, but I do use less sugar. But I am a glass-half-full type of person, so I am going to focus on the positive. So less sugar, protein from real beef hot dogs and lots of fiber from those beans!
If you need something to cut some of the sweetness, you can pair these beanie weenies with a leafy green salad and you've got yourself a meal!
PRO TIP: This dish can be served as a main dish or a side dish.
Different Types of Dogs
Also, if you don't care for all-beef hot dogs, you can certainly use tofu or pork instead. There are so many different options to really make this meal your own. I've even heard some folks use sausage.
Omit the hot dogs altogether and have a fabulous homemade baked bean recipe!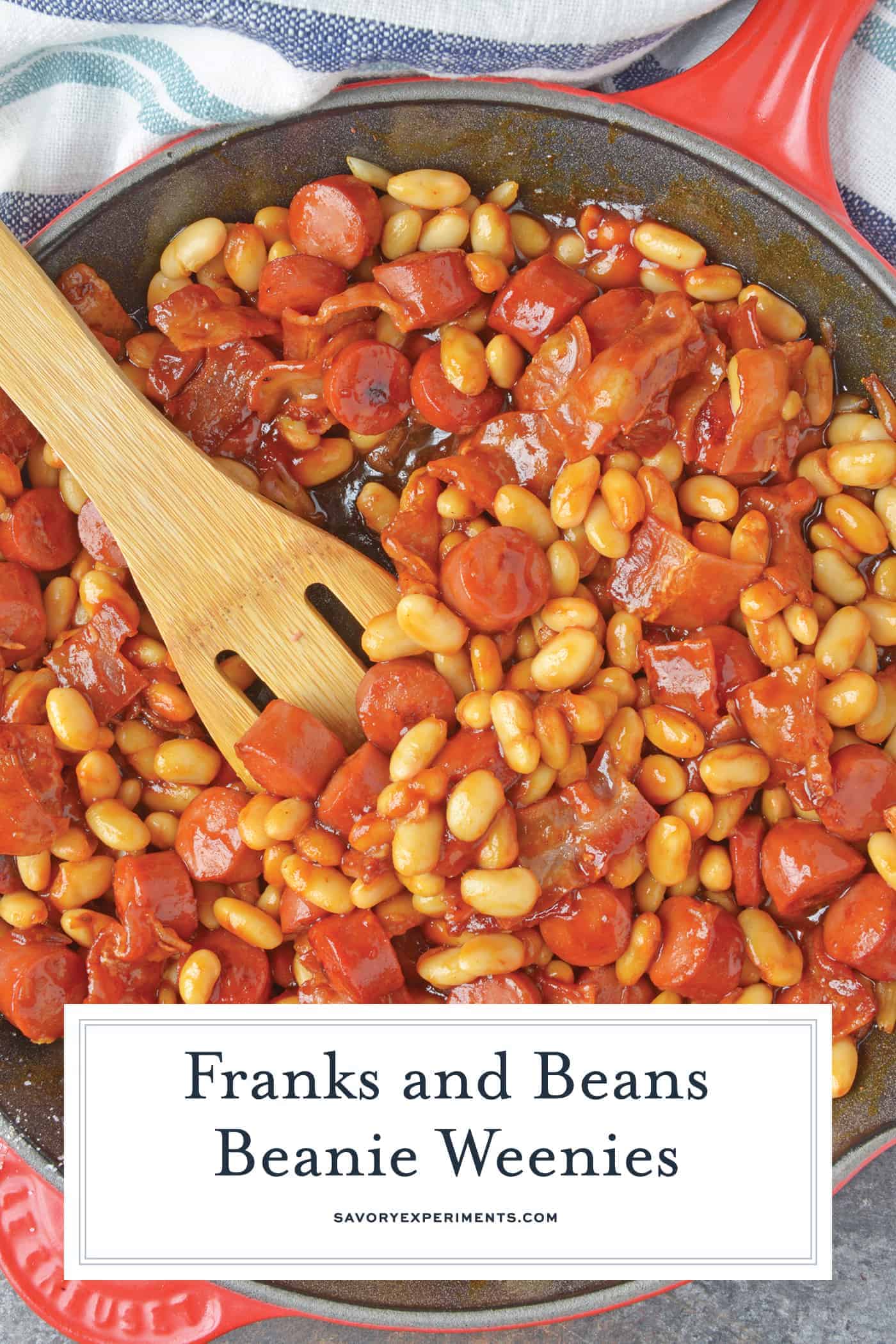 Because you liked this recipe, you are going to love these other camping recipes: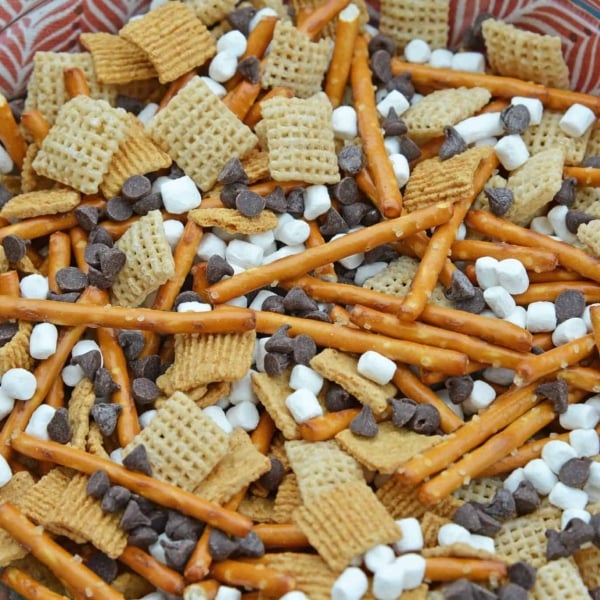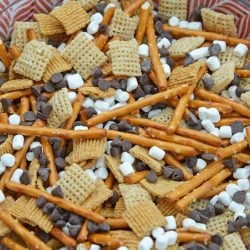 S'Mores Trail Mix
S'mores Trail Mix uses just 5 ingredient to make a sweet, salty and crunchy snack that is perfect for on-the-go and anytime of day!
See The Recipe!
Tools for make homemade Beanie Weenies:
Heavy Bottom Frying Pan– this will be one of your most used kitchen tools. Having something that is heavy bottom will distribute heat better and prevent burning whether you are using an electric or gas range.
Wood cutting board – wood won't dull your knives like plastic and if treated properly, has natural antimicrobial properties.
Good knife – Global is my favorite! They are worth the price, I promise. I am kind of obsessed with them and store them tucked away so no one else can use them. Including hubby. Hands off my good stuff!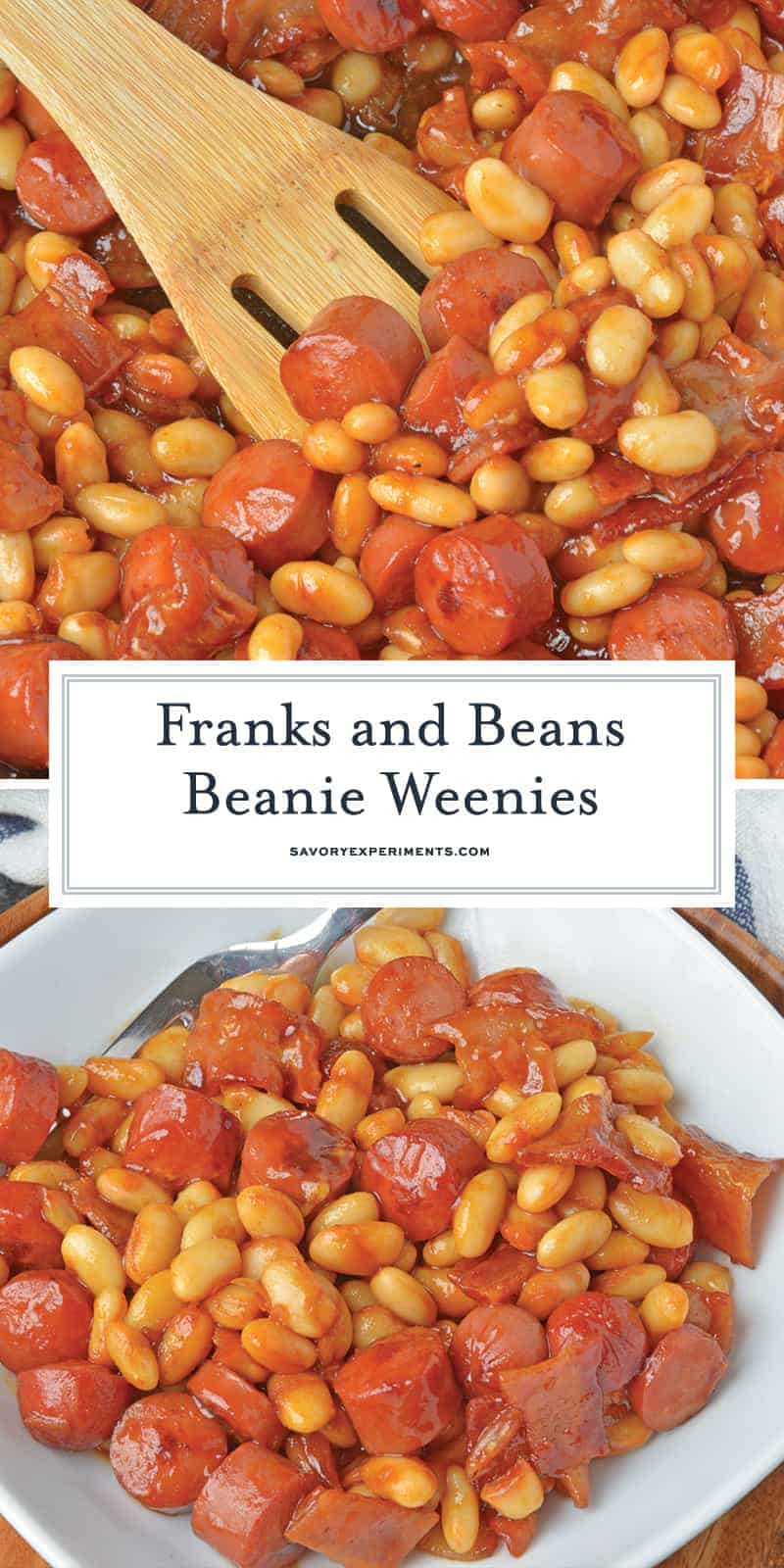 Before you get started, make sure you know how to properly season your cast iron and how to clean your cast iron!
Questions you might have about how to make franks and beans:
Can I make this in advance? Sure you can! Although it doesn't take too long to make it in the first place, you are more than welcome to make it ahead and reheat it in on the stovetop over medium heat, stirring occasionally, or in the microwave.
How long do franks and beans last? Franks and beans will stay good covered and refrigerated for up to 5 days.
Can I freeze Beanie Weenies? You sure can! Package well with little air, the best way is in airtight plastic bags. It wills stay good for up to 4 months.
What should I serve with franks and beans? I like to serve something green. Here are my favorites:
We hope this stovetop franks and beans brings back all of those good feels from your childhood. Let us know how it was!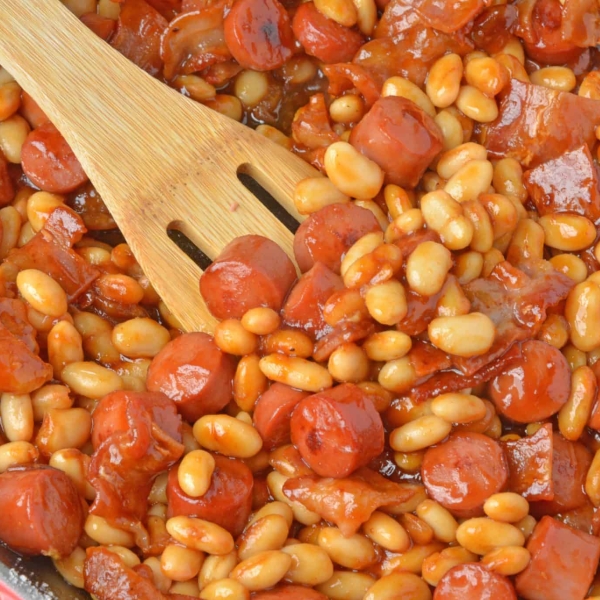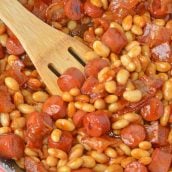 Franks and Beans
This Franks and Beans recipe is made with real beef hot dogs and less sugar than the canned version. Perfect as a quick and easy lunch or a classic camping food!
Ingredients
4

hot dogs

, sliced

30

ounces

great Northern beans

, rinsed and drained

1

tablespoon

spicy mustard

1/4

cup

ketchup

3

tablespoons

molasses

1

teaspoon

salt

4

bacon strips

, cooked and cut into 1 inch pieces

3

tablespoons

brown sugar
Instructions
Heat a large skillet or cast iron pan over medium heat.

Add cut hot dogs, stirring until browned.

Add great Northern beans, spicy mustard, ketchup, molasses, salt, bacon and brown sugar. Continue to heat and stir until all ingredients have combined and sugar has fully dissolved.

Serve hot.

If you've tried this recipe, come back and let us know how it was!
Nutrition
Calories:
550
kcal
,
Carbohydrates:
77
g
,
Protein:
25
g
,
Fat:
16
g
,
Saturated Fat:
5
g
,
Cholesterol:
34
mg
,
Sodium:
1225
mg
,
Potassium:
1219
mg
,
Fiber:
15
g
,
Sugar:
23
g
,
Vitamin A:
75
IU
,
Vitamin C:
3.4
mg
,
Calcium:
194
mg
,
Iron:
6.6
mg