When I was growing up, I loved having stuffed peppers for dinner but now that I'm the cook sometimes I don't have the time (or energy!) that it takes to make them at the end of a long day. That's why I came up with this easy stuffed pepper casserole recipe.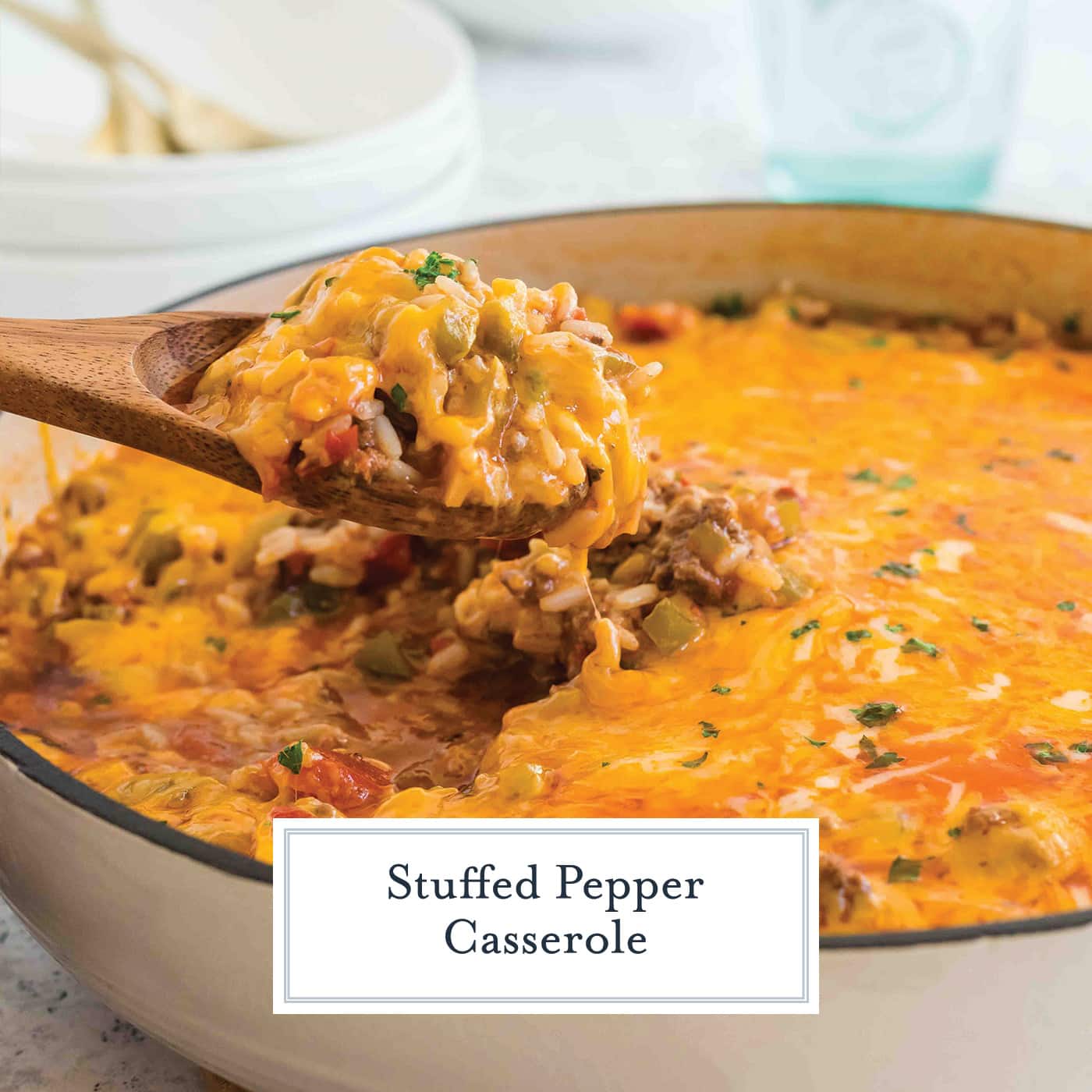 I'm always looking for ways to quickly get a healthy dinner on the table during the week. This is one of my favorite recipes that achieves just that.
With tomatoes, onions, peppers and plenty of protein, this dish is as healthy as it is delicious. Plus, it's topped with melted cheese which makes everything better, of course.
This casserole is also a great make ahead meal. If you like to prepare for the week you can make it on Sunday and quickly heat it up on a busy weeknight.
The next time you're craving traditional stuffed peppers but don't want to put in the work, try this quick and easy recipe.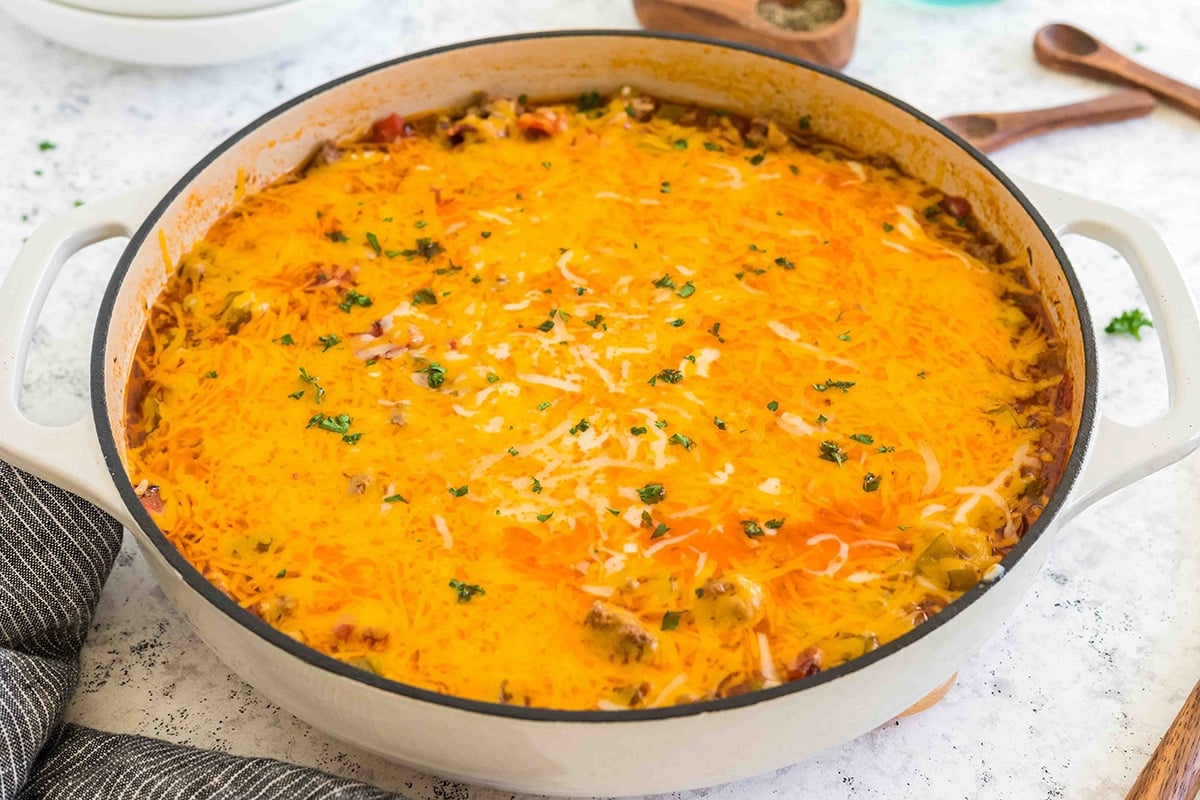 Why You'll Love Stuffed Pepper Casserole
This recipe is easy to love — it's one the whole family can enjoy!
Easy – This recipe is quick to make and allows you time to get a side dish together (or pack lunches for tomorrow) while the rice cooks.
One pot – This one pot casserole makes for quick and easy cleanup.
Customizable – You can easily add flavors that you like to change it up.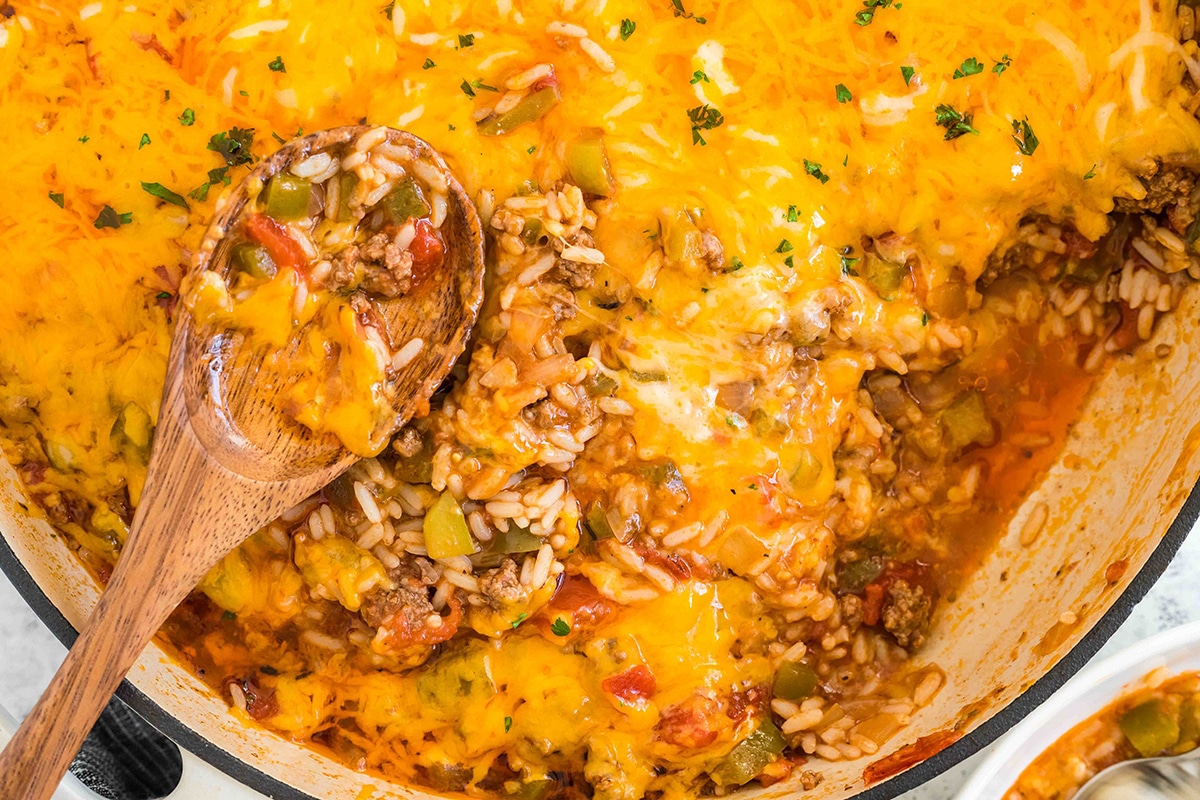 Ingredients
This casserole only requires some simple ingredients to get dinner on the table fast.
Lean ground beef – Using lean beef lowers the fat and calories in the casserole.
Sweet onion – Dice a medium sized onion into small pieces.
Green bell peppers – Make sure to seed the green peppers before you dice them into pieces similar in size to the onion.
Italian seasoning – You can mix up your Italian style seasonings or buy the store-bought version.
Salt – I like to use Kosher salt but your typical shaker of table salt will work, too.
Black Pepper – Grind it so that it's fresh or just sprinkle in some ground pepper.
Garlic – Mince the garlic so that it's fine.
Fire roasted diced tomatoes – The fire roasted variety adds extra flavor but if you don't have it on hand you can use plain diced tomatoes.
Tomato sauce – Plain tomato sauce will work well. Since you're adding seasoning, you'll want to avoid a sauce that's already been seasoned.
Worcestershire sauce – This adds some depth to the flavor of the casserole.
Long grain white rice – Make sure the rice is uncooked — the water and other moisture in the casserole will help it to cook up just right with all of the other ingredients.
Water – This is a timesaver — it helps the rice to cook properly in the dish so that you don't have to make it separately.
Cheddar cheese – Either grate a block of cheddar or use the shredded store-bought variety.
Parsley – This is optional but it makes a great garnish.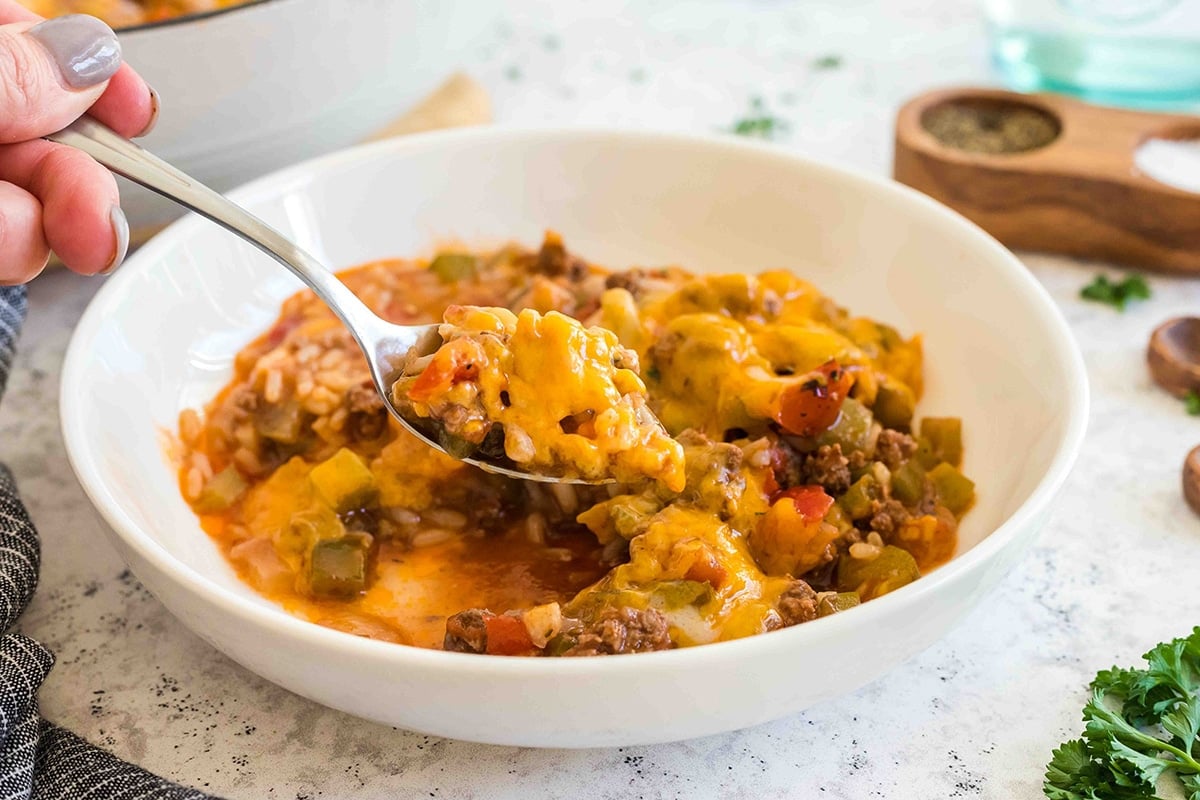 How to Make Stuffed Pepper Casserole
Add the ground beef and diced onion to a large skillet that has been preheated at medium heat.
Using a wooden spoon, move the beef and onion around so that it cooks evenly.
Once the onions are softened and the beef is entirely cooked, add the bell peppers, garlic, Italian seasoning, salt, and pepper to the pan.
Continue to cook, incorporating all ingredients.
Pour in the diced tomatoes, Worcestershire sauce, tomato sauce, and water.

Stir occasionally while you bring the entire mixture to a boil.
Once the meat mixture has reached a boil, stir in the uncooked rice and lower the heat so that the mixture can continue to simmer. Cover the skillet.
Continue to stir occasionally.
When the rice is completely cooked and tender, remove the pan from the heat.
Top the dish with the shredded cheese and cover again until the cheese has completely melted.
Once the cheese melts, garnish with the fresh parsley if desired.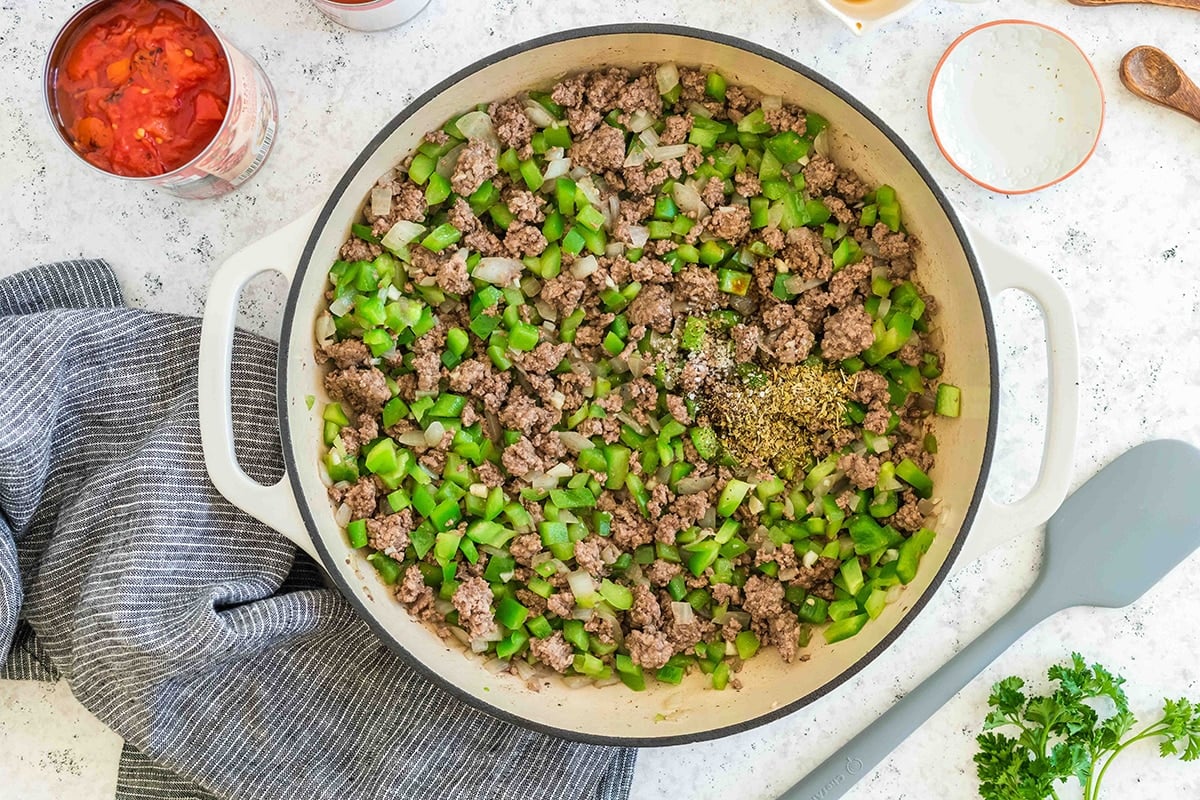 Variations
This recipe is simple and easy the way it is, but you can add or swap ingredients, too.
Meat – Instead of beef, you can use ground turkey, ground chicken, ground pork, or a meatless substitute. You can also try using Italian sausage.
Powders – While fresh ingredients are best, you can swap the garlic or onion out for garlic powder or onion powder.
Green onions – Instead of parsley try garnishing with sliced green onions.
Rice – Swap out the white rice for brown rice or another variety. You can also use cauliflower rice though you may want to cook it separately and add it at the end.
Heat – Spice this dish up with diced jalapeno peppers or green chilies. You can also try hot sauce, cayenne pepper, red pepper flakes, or chili powder.
Broth – Instead of water try using beef broth or chicken broth. You can use vegetable broth as well.
Oil – If you want to add some healthy fat and flavor try drizzling a bit of olive oil into the pan.
Soy sauce – Up the umami in this dish by adding a little bit of soy sauce.
Slow cooking – Instead of cooking this on the stove add the ingredients to your slow cooker in the morning and have a delicious meal ready for dinner.
Cheese – Try swapping out some or all of the cheddar for pepper jack cheese or monterey jack.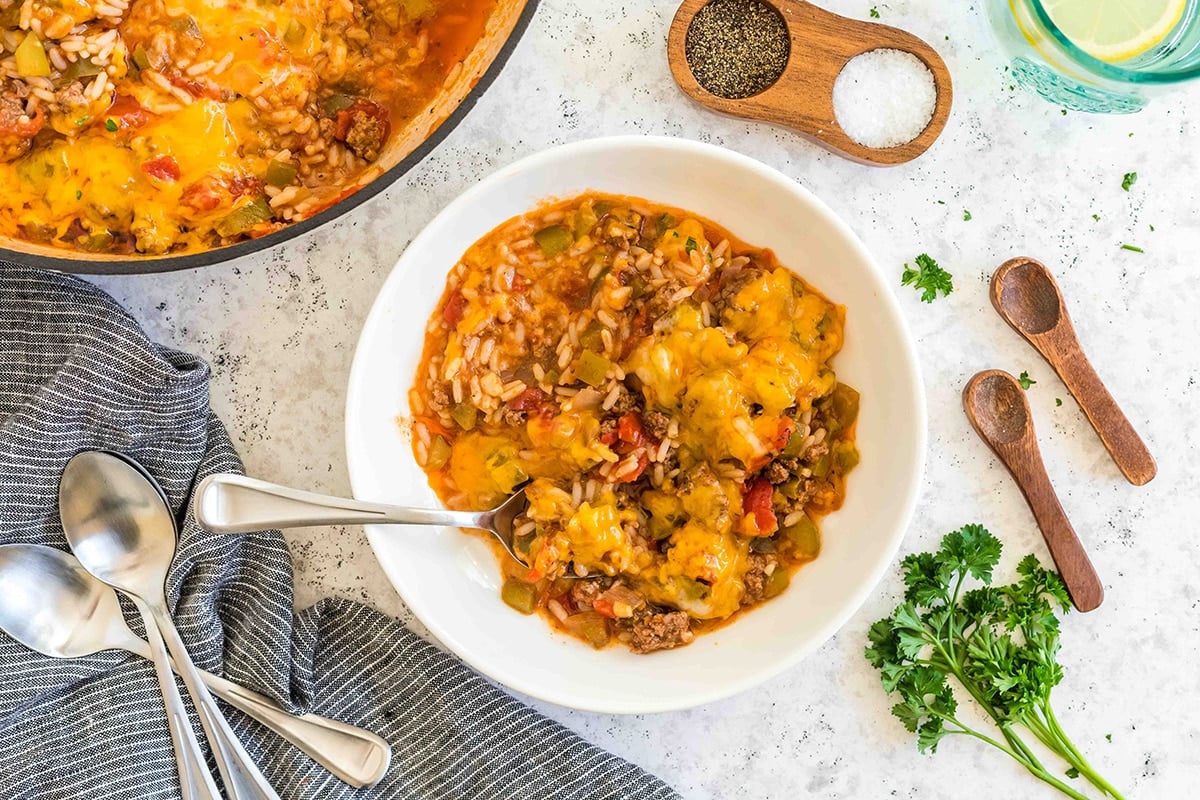 Storage, Make Ahead and Freezing
You can store the whole casserole in its pan (covered with aluminum foil) or you can wrap up individual pieces.
Make-Ahead: Make this casserole up to 24 hours before baking.
Refrigerator: You can keep stuffed pepper casserole in the fridge in an airtight container or covered with plastic wrap for 3-4 days.
Freezer: Freeze the whole casserole, or individual slices, in a freezer-safe container.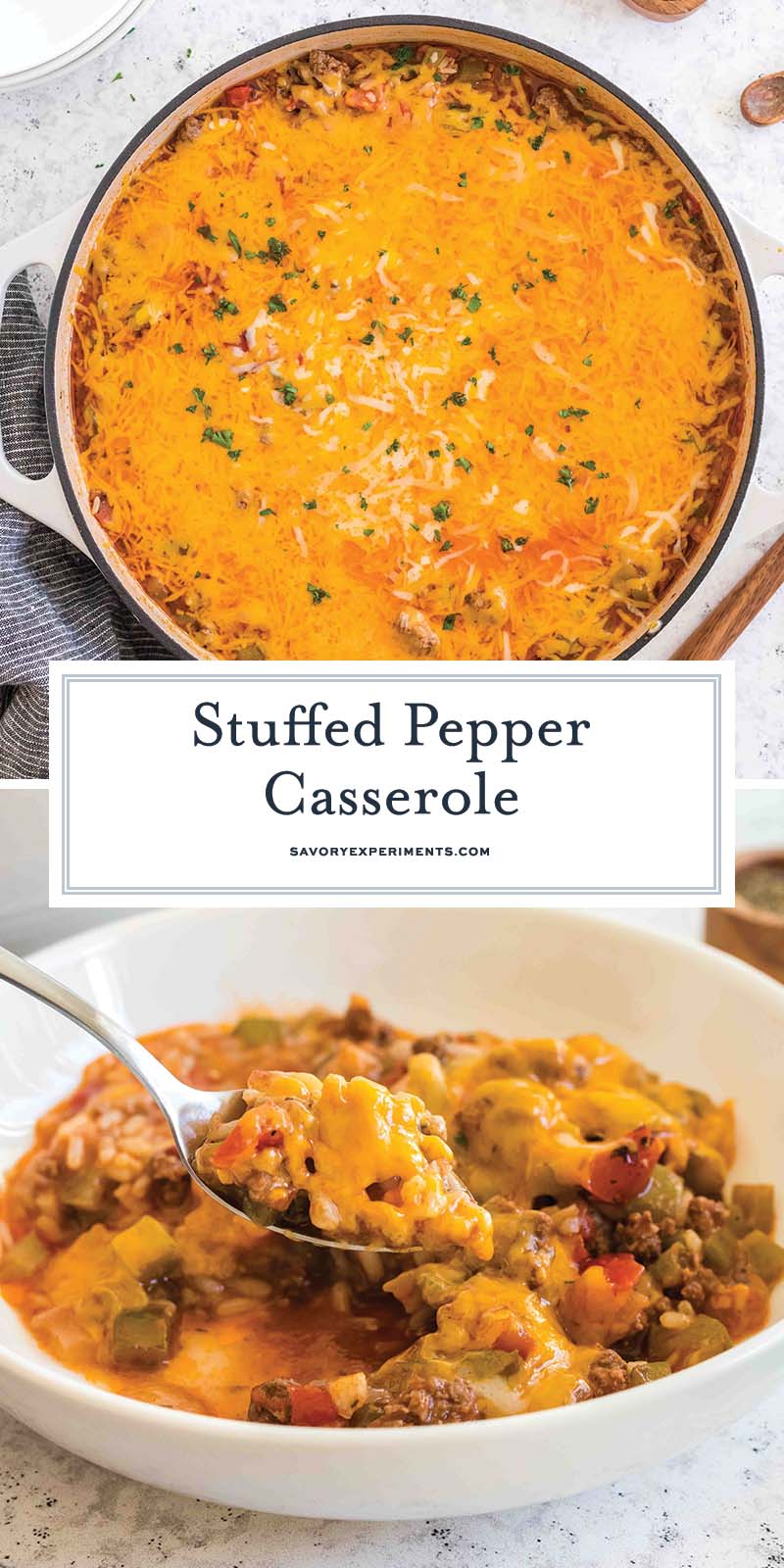 More Easy Casseroles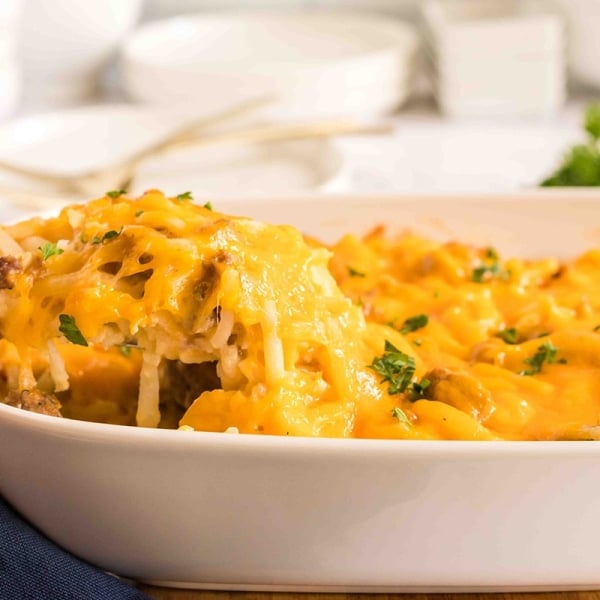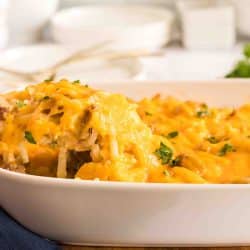 Sausage Hash Brown Breakfast Casserole Recipe
This Sausage Hash Brown Breakfast Casserole is loaded with delicious breakfast sausage, hash browns, and lots of cheese. One of the best breakfast casserole recipes for holiday breakfasts, Sunday brunch, or any other occasion.
View this recipe
Cheesy Chicken Noodle Casserole
This Cheesy Chicken Noodle Casserole is quick and easy to prepare. With diced chicken, egg noodles, bacon and a creamy cheese sauce this dish will have you reaching for more!
View this recipe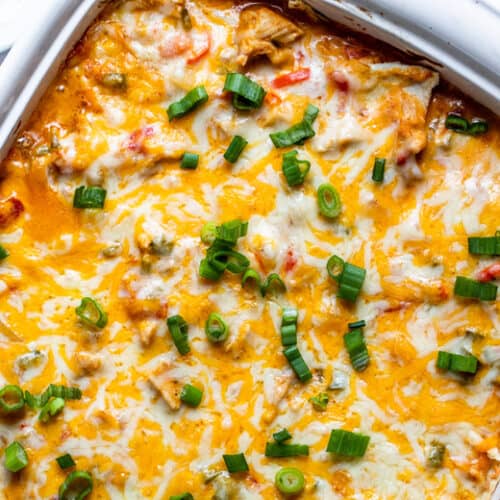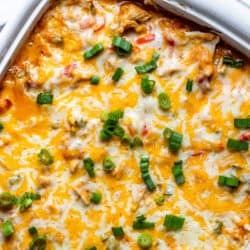 King Ranch Chicken Casserole
This King Ranch Chicken Casserole is packed with incredible Tex-Mex flavors and of course loads of cheesy goodness. This simple recipe is perfect for a family dinner and can be made ahead of time.
View this recipe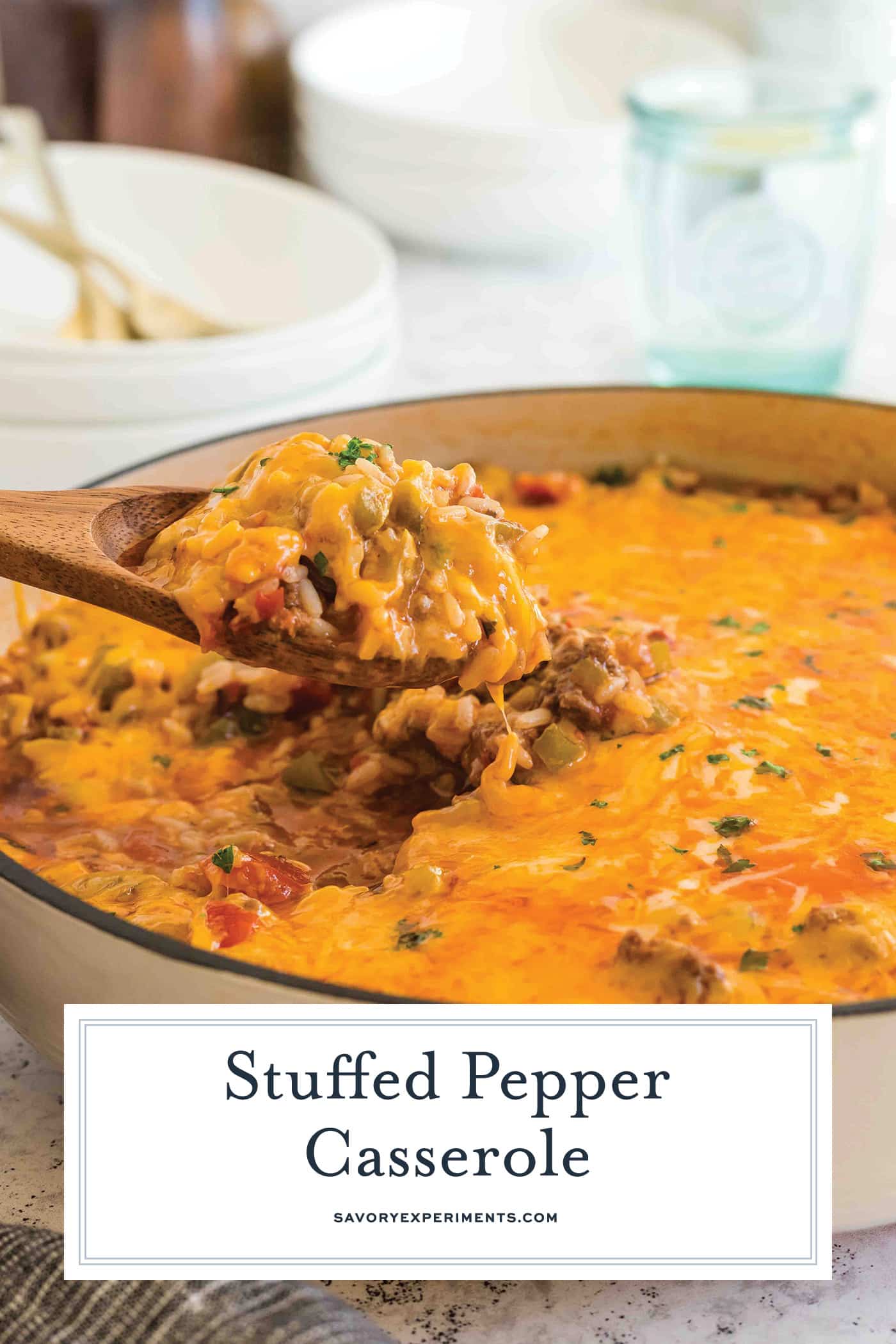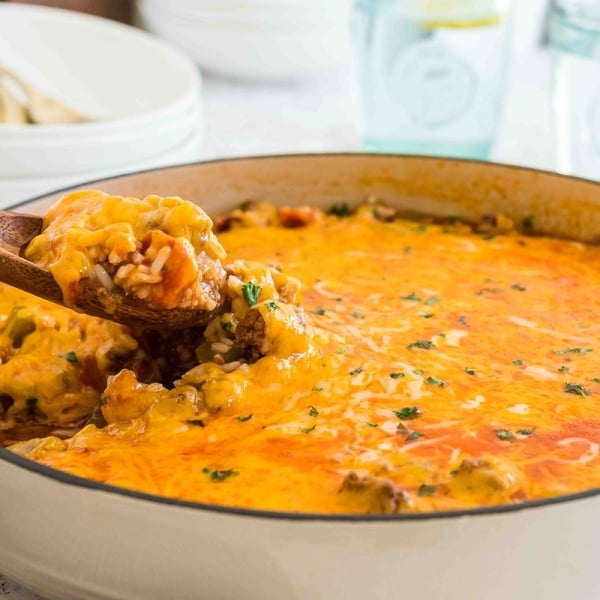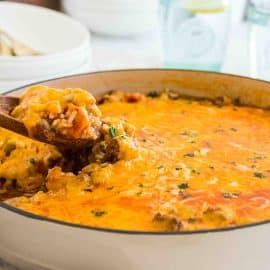 Stuffed Pepper Casserole
If you're craving traditional stuffed peppers but don't want to put in the work, try this quick and EASY Stuffed Pepper Casserole recipe!
Instructions
In a large skillet or dutch oven, over medium heat, cook the ground beef and diced onion until onion starts to soften and the ground beef is almost cooked through.

Add in the bell peppers, garlic, Italian seasoning, salt, and pepper.

Stir and cook for an additional 2 minutes.

Add the diced tomatoes, tomato sauce, Worcestershire sauce, and water.

Bring to a boil.

Stir in the rice.

Lower heat to simmer and cover.

Cook for 20 minutes, stirring occasionally, or until the rice is tender.

Remove from heat.

Uncover and top with cheddar cheese.

Cover and let sit for 3-5 minutes or until the cheese is melted.

Garnish with chopped parsley and serve warm.
Nutrition
Calories:
401
kcal
,
Carbohydrates:
33
g
,
Protein:
28
g
,
Fat:
17
g
,
Saturated Fat:
9
g
,
Polyunsaturated Fat:
1
g
,
Monounsaturated Fat:
5
g
,
Trans Fat:
0.3
g
,
Cholesterol:
85
mg
,
Sodium:
908
mg
,
Potassium:
574
mg
,
Fiber:
2
g
,
Sugar:
4
g
,
Vitamin A:
704
IU
,
Vitamin C:
37
mg
,
Calcium:
315
mg
,
Iron:
3
mg