This post originally appeared on Real Housemoms, where I am a contributor.
What is Yum Yum sauce?
It is a Japanese Steakhouse Shrimp Sauce with a mayo base, tomato and other spices.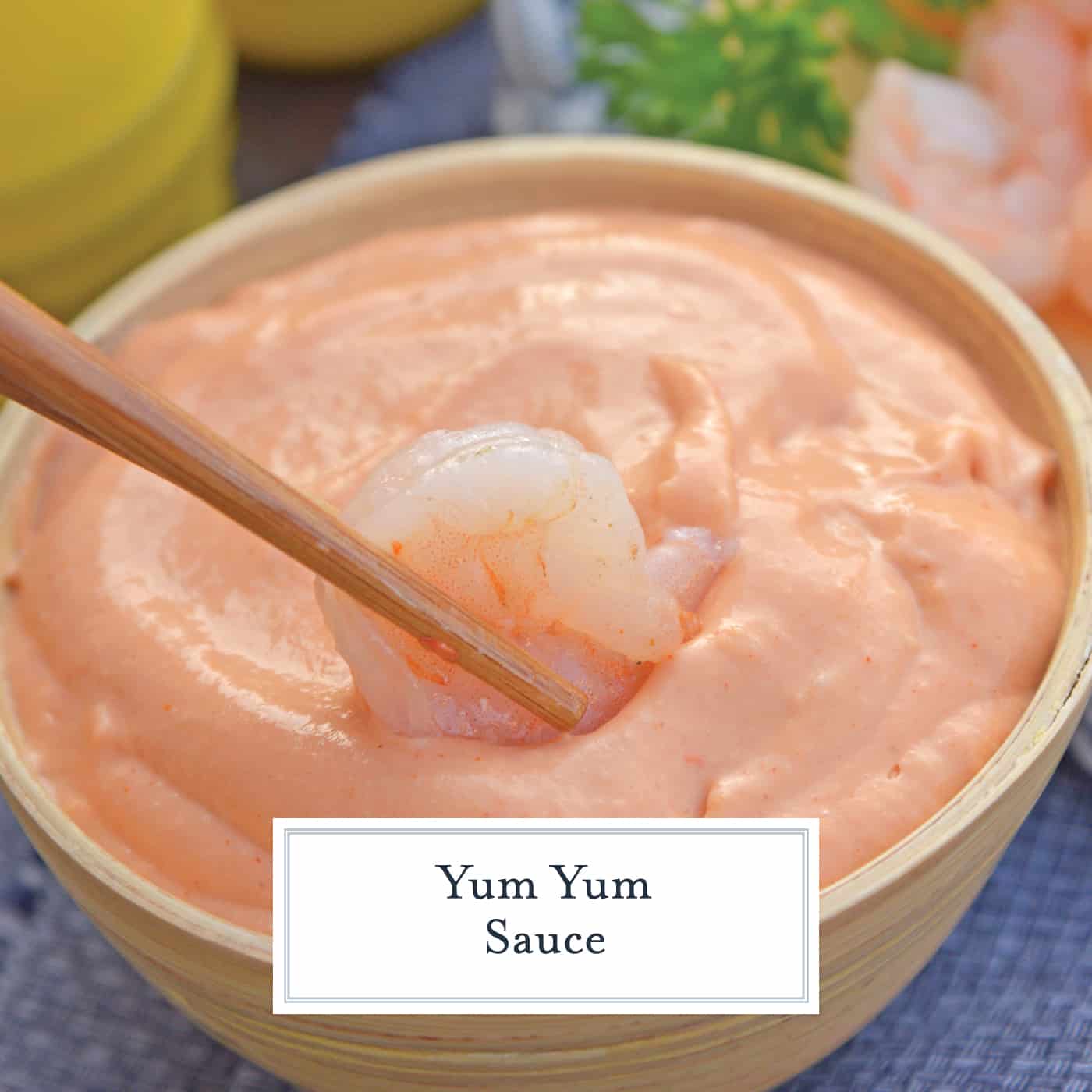 If you have ever been to a hibachi grill, you've had the pale pink sauce, or as some call it white sauce and others just plain Japanese sauce.
Some refer to it as Yum Yum Sauce, others the seafood sauce and sometimes just the Japanese vegetable sauce, pink sauce or hibachi shrimp sauce.
Whatever you call it, this hibachi sauce can be quite addictive and end up on much more of your food than just seafood. I happen to like it on chicken, too!
In fact, some folks swear by it, blending it with fried rice and dipping everything on their dish in it. Honestly, I think some people crave the sauce, more than the actual meal.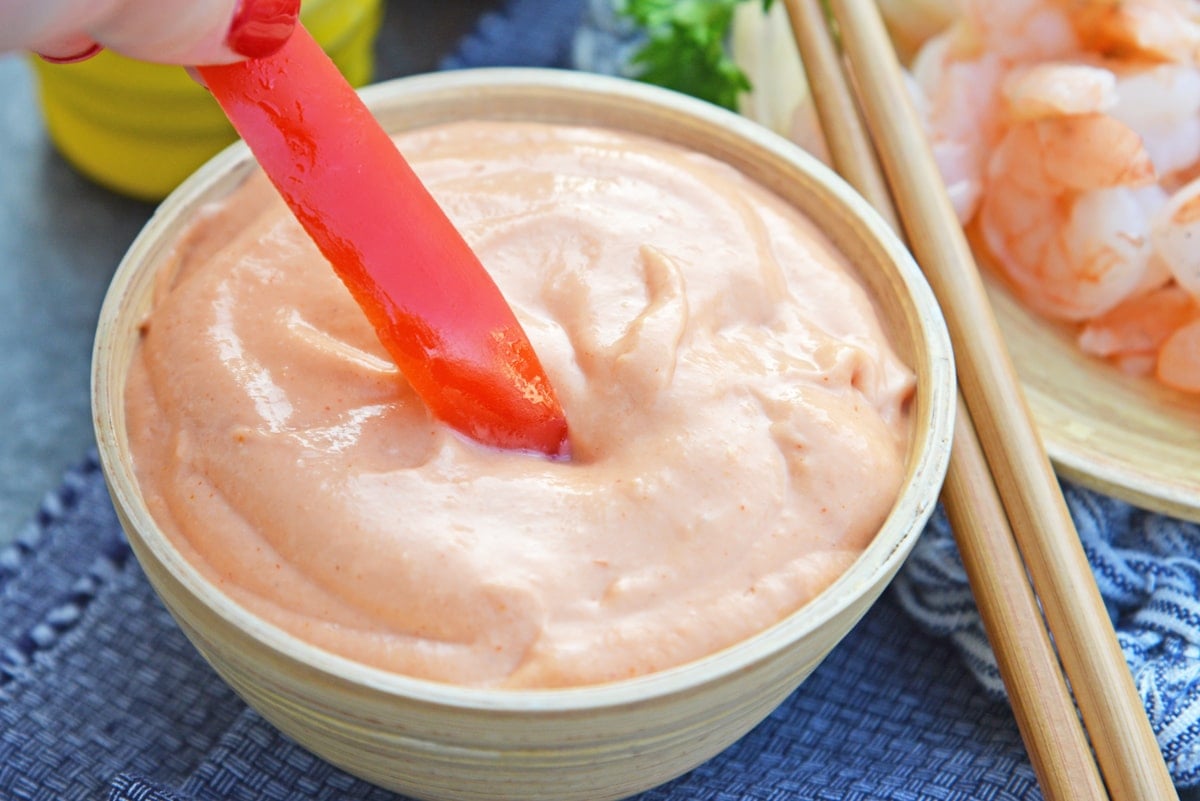 How to Make Yum Yum Sauce
The truth is, it is so simple to make at home that now you can eat it on everything you want.
There are many imitation sauces out there and depending on which hibachi steakhouse you go to, ingredients will vary slightly.
What is yum yum sauce made of?
mayonnaise
tomato paste or tomato sauce
butter
garlic powder
onion powder
smoked paprika
sugar
hot sauce
The base is almost always mayonnaise. For this, I highly suggest using a crappy mayo. Yep. I just said it.
DO NOT USE GOOD MAYONNAISE.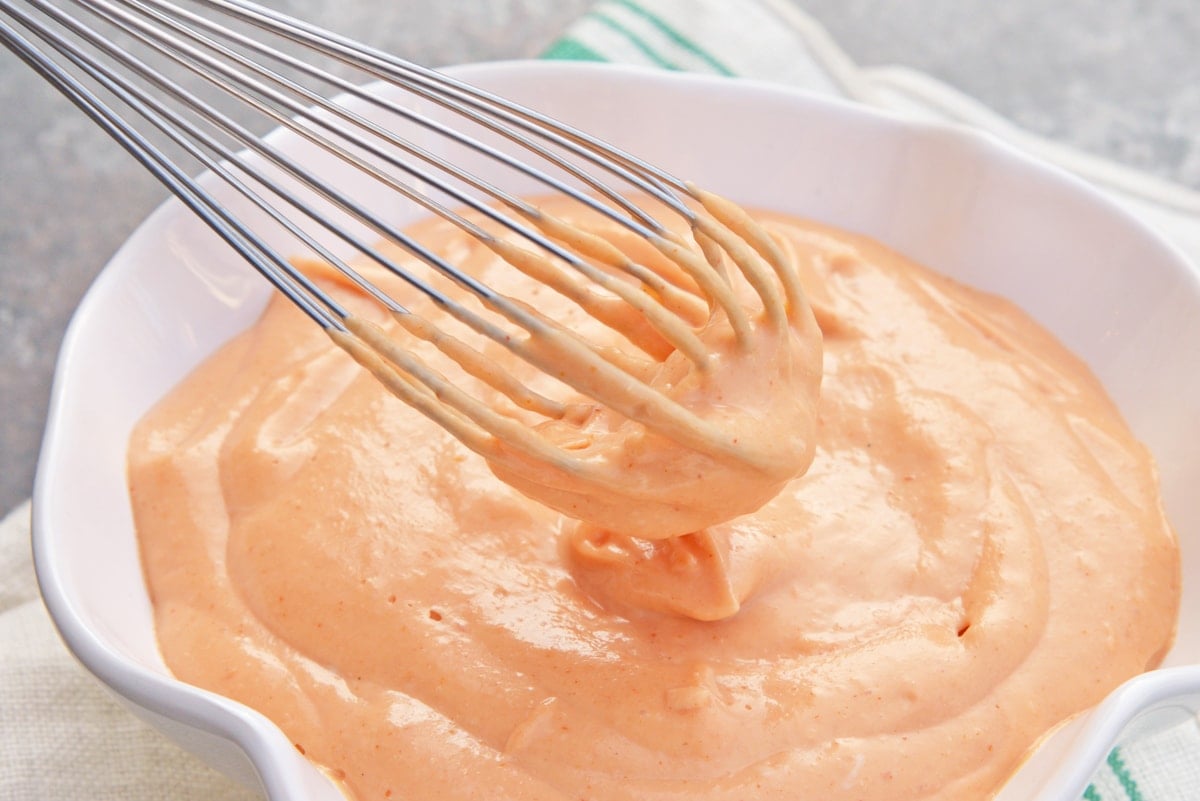 Good mayo has too much flavor and pizzazz by itself. For this homemade yum yum sauce recipe, you need a bland mayo. A blank slate, if you will.
From there the next big step is either ketchup or tomato paste and how much. I've even seen people use a sweet chili sauce, but that isn't my jam.
I personally prefer tomato paste and being able to add additional sugar, as ketchup is mostly just sugar anyhow.
But, if you don't want to buy a whole can just for 2 tablespoons (or less,) use ketchup and add sugar slowly, tasting along the way.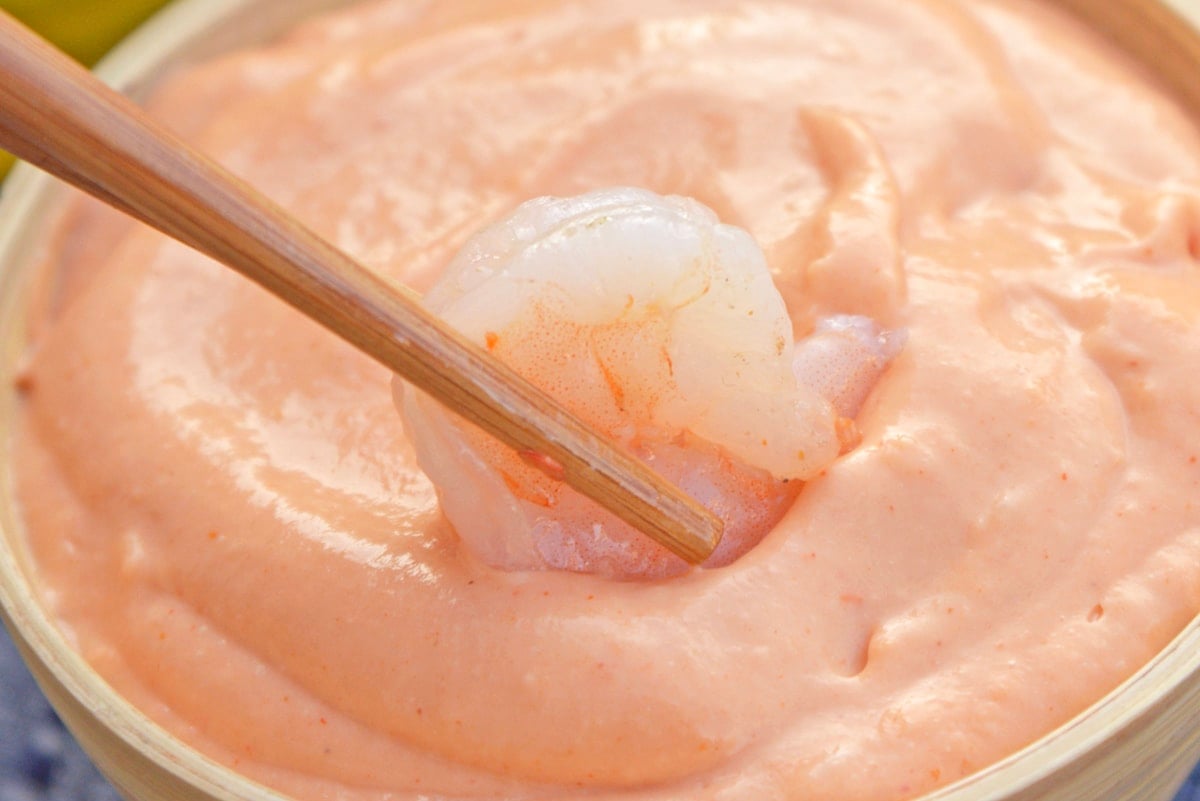 Tomato paste and smoked paprika are what take this from white sauce to pink sauce. If your dream yum yum sauce is on the whiter end, chances are that your restaurant doesn't use as much (or either) of these ingredients, so omit them.
Some recipes call for cayenne, but I prefer mine to be smoky and sweet, not spicy. If you like the heat, go ahead and add it! Also taste it and season to your preference for salt and pepper.
I like my sauce creamy, so it really sticks to my shrimp, rice or steak. To watery and it just drips right off.
Others might be a little more runny and that is usually because of the addition of rice vinegar, which also adds flavor. Like I said previously, every restaurant has their own version, so you might have a little trial and error before getting yours right.
But you prefer a looser version, by all means add more water or rice vinegar! Some folks want theirs to be a pourable consistency.
Some also use more oil, like olive oil, but I find there is enough in the mayo and it is overkill with the butter. If you don't have butter, use olive oil as a substitute.
You can also use margarine, but remember that is just vegetable oil with butter flavoring.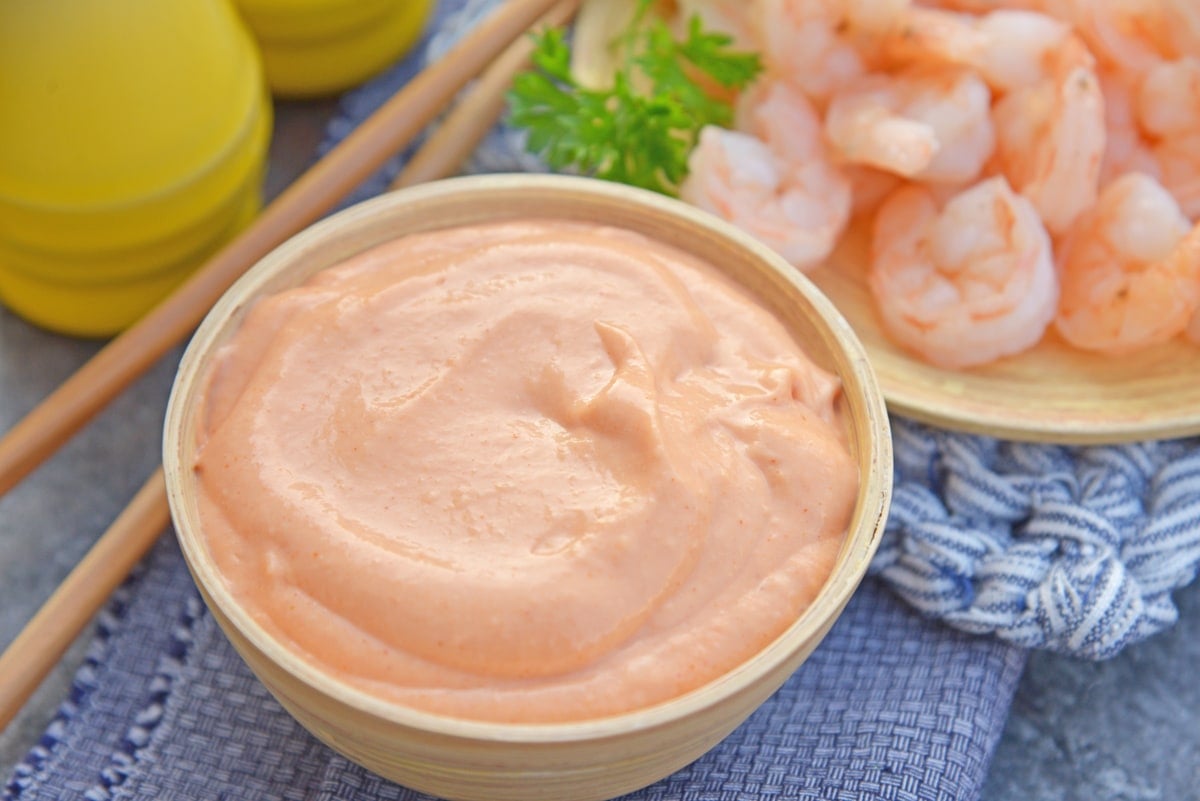 Other folks will even double the amount of spices so it really packs a punch. My advice is to make the basic dipping sauce recipe and then modify from there to match your ideal Homemade Yum Yum Sauce or to match your local hibachi style grill.
You can easily whisk the sauce together, but I prefer to really emulsify it in a small food processor. It tastes best when left at room temperture for about 30 minutes to let the flavors meld.
Joanne says: "Just made this and it tastes awesome! I used ketchup, and no sugar."
Then refrigerate it overnight. If you don't let it sit long enough, it will just taste like flavored mayo. No one wants that, yuck!
Lastly, I want everyone to know that Japanese seafood sauce is not really all that Japanese.
You will not find it in Japan. It is a very Americanized "Japanese" recipe. I've been there. There is NO Yum Yum sauce in Japanese cuisine!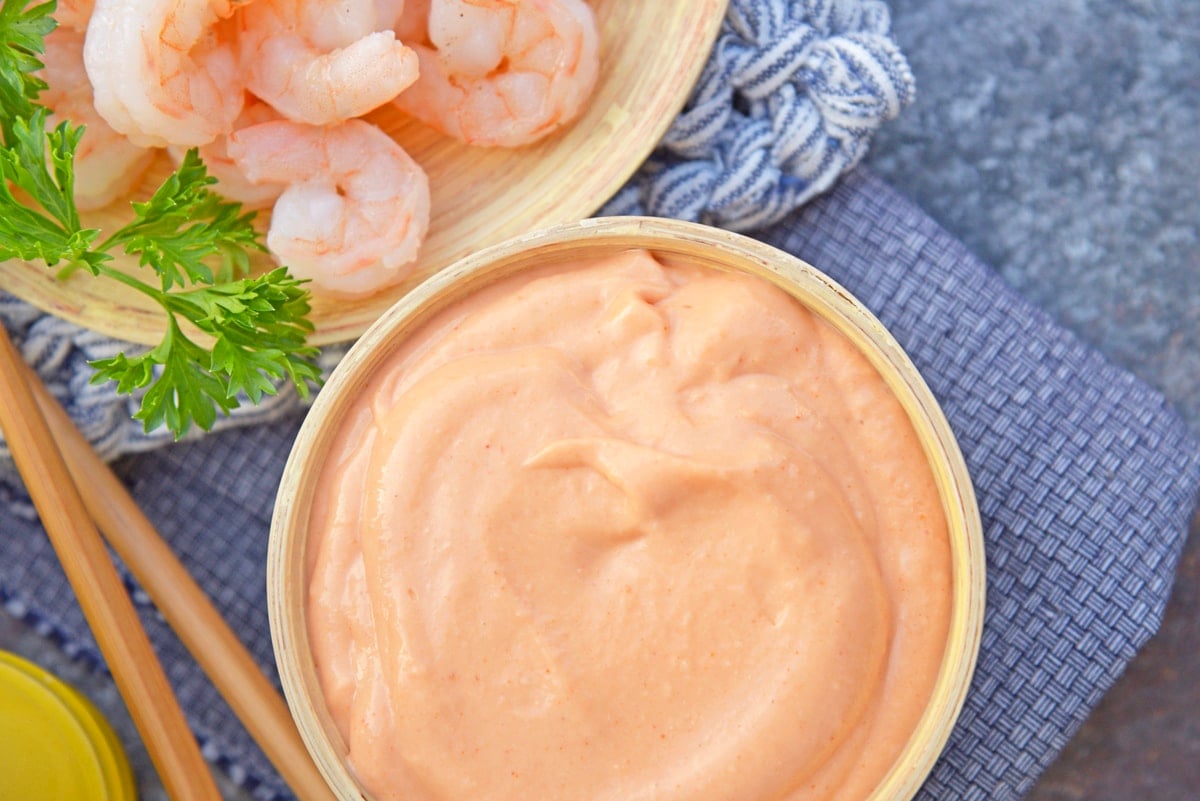 Tools for making this sauce:
Mini Food Processor– I use this thing daily! It is by far my most used kitchen appliance, it is small and I throw all the parts into the dishwasher, well except the base and cord, of course! It is really all you need for homemade yum yum sauce.
Whisks– I buy whisks in multiple sizes. You never know which one you will need. If you don't use a food processor, a whisk is the next best thing!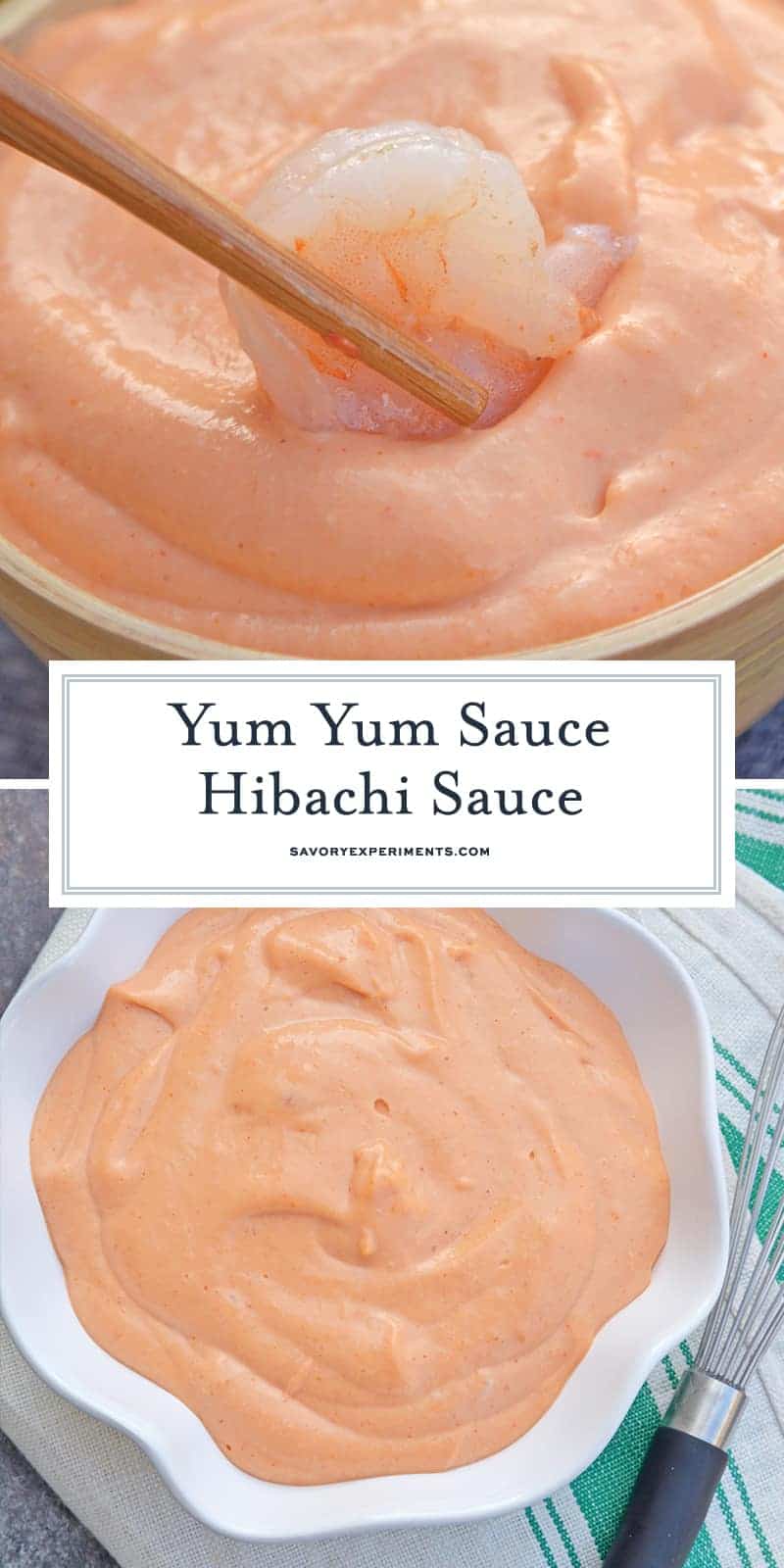 Questions you might have about how to make Yum Yum sauce?
Mine doesn't taste right. What did I do wrong? You probably did nothing wrong! Every single Japanese Hibachi joint has its own recipe for their white sauce, seafood sauce or yum yum sauce depending on what they call it.
Yours is probably just a little different than mine. Play with the amounts of ingredients to get the right flavor.
Is yours more white? Cut back on the ketchup or tomato sauce.
Less spicy? Omit hot sauce or chili flakes.
Sweeter? Add a tiny bit more sugar.
Can I make it ahead of time? Yes! Please do. In fact, making it at least 24 hours in advance helps the flavors to marry and blend so it tastes more cohesive and really penetrates the mayonnaise base.
How long does it stay good? You can keep it in the refrigerator in an airtight container for up to 1 week.
Can I freeze yum yum sauce? I do not suggest freezing anything with a mayonnaise base. Mayo is made from egg and olive, neither which freeze well.
Is yum yum sauce gluten free? I am not a gluten free expert, nor a trained professional, however to my knowledge, all of these ingredients are gluten free.
Does yum yum sauce have dairy? Yes. Butter is dairy.
Does yum yum sauce have raw eggs? The majority of yum yum sauce, including my recipe, has mayonnaise, which is made with raw egg. If you are cool with mayonnaise, you'll be cool with yum yum sauce.
What does yum yum sauce go on? Anything you want! Most restaurants recommend it for seafood, chicken and vegetables, but I like to toss it in my fried rice and dip my steak in it.
You can also use it as a salad dressing.
What is yum yum sauce called in Japan? News flash…. this seafood sauce is a purely American thing. There is no yum yum in Japan.
What is the real name for Yum Yum Sauce? It is kinda a made-up sauce, so it really doesn't have a real name. But other names is goes by are yummy sauce, seafood sauce, hibachi sauce and sometimes sakura sauce.
I want to make mine fancy, how do I do that? I would garnish with a few sesame seeds, either regular or black and serve your dipping sauce as a duo with either a good quality soy sauce or tonkatsu sauce.
Do I have to use smoked paprika? I prefer smoked paprika because of the subtle smoked flavor, but if you just have regular paprika, that is fine too.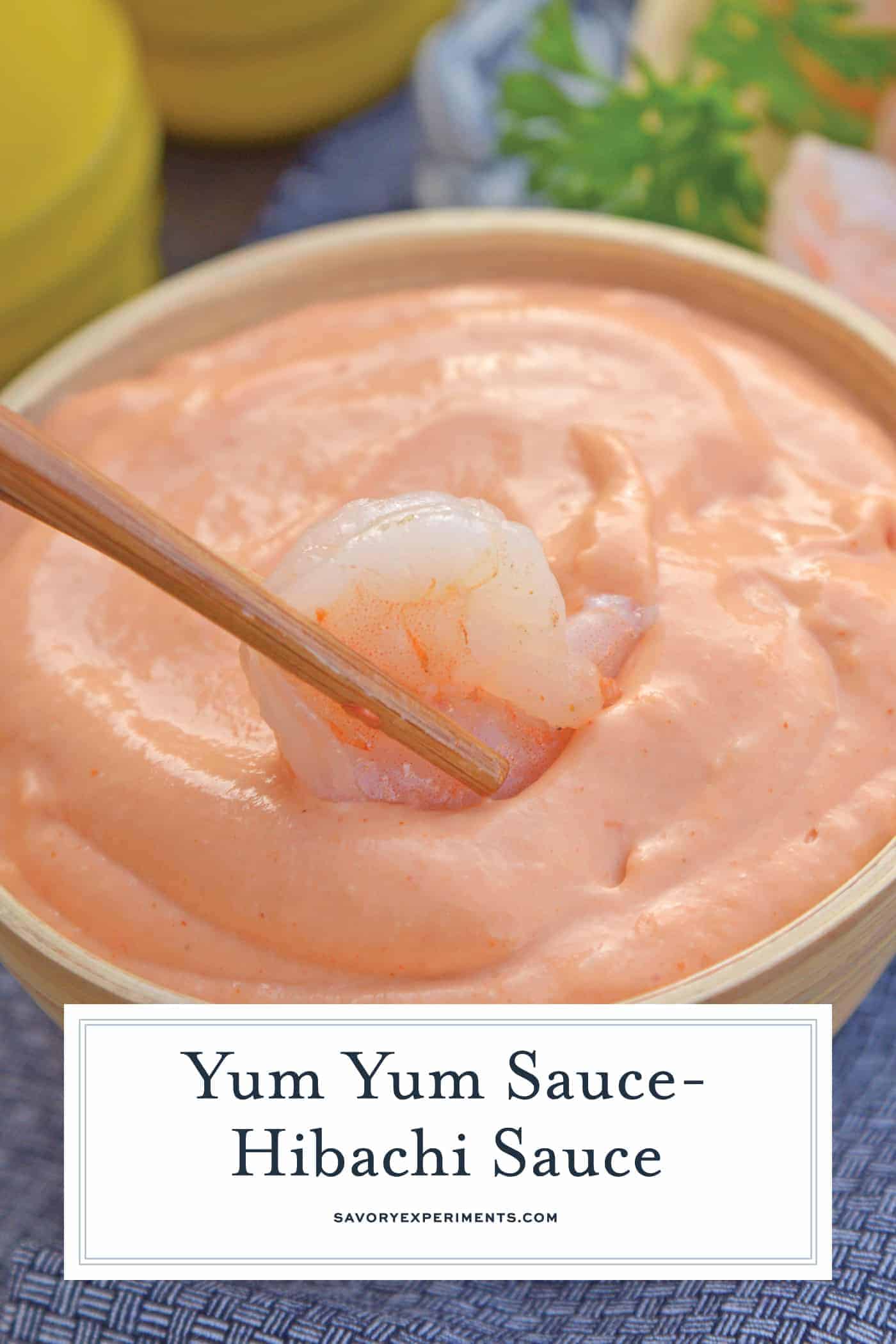 CONNECT WITH SAVORY EXPERIMENTS!

Be sure to follow me on social media, so you never miss a post!

Facebook | Twitter | Youtube
Pinterest | Instagram

Get our FREE 8 Day E-Course on How to Be a Better Home Cook. Sign up HERE!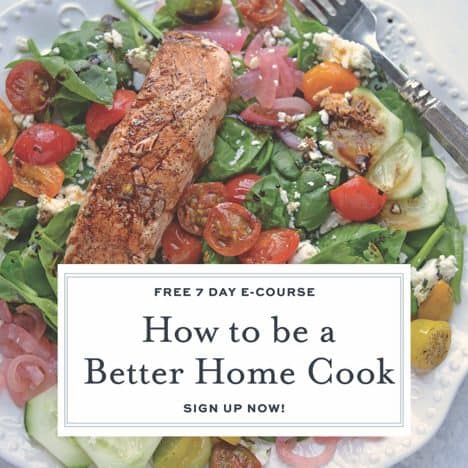 Also check out our Sweet Sriracha Sour Cream- a Mexican Yum Yum Sauce!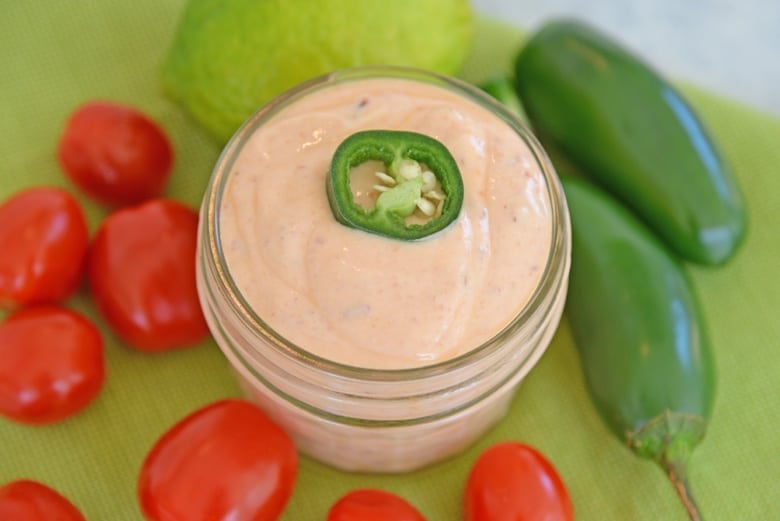 Listen, this yum yum sauce might not be exactly like the one you are dreaming of, but over 100,000 people love it and use it regularly. You should be one of them!
Yum Yum Sauce Recipe
Yum Yum Sauce is an easy sauce for seafood and vegetables. Now you can make your favorite pink sauce at home!
Instructions
Combine mayonnaise, tomato paste, melted butter, garlic powder, onion powder, smoked paprika, water, sugar and hot sauce in a small food processor. Blend well.

For best results, allow sauce to chill and flavors to marry for at least 1 hour.

If you've tried this recipe, come back and let us know how it was in the comments or ratings.
Notes
Yum Yum Sauce taste and ingredients changes from restaurant to restaurant. Some are pink, others white, some sweet and others spicy. Feel free to modify this recipe so it tastes like YOUR yum yum sauce. 
Use bottled ketchup or our homemade ketchup recipe!
Nutrition
Calories:
578
kcal
|
Carbohydrates:
9
g
|
Protein:
1
g
|
Fat:
59
g
|
Saturated Fat:
11
g
|
Cholesterol:
41
mg
|
Sodium:
552
mg
|
Potassium:
118
mg
|
Sugar:
8
g
|
Vitamin A:
820
IU
|
Vitamin C:
1.3
mg
|
Calcium:
13
mg
|
Iron:
0.6
mg