This post originally appeared on Real Housemoms, where I am a contributor. 
What is Yum Yum sauce? It is a Japanese Steakhouse Shrimp Sauce with a mayo base, tomato and other spices.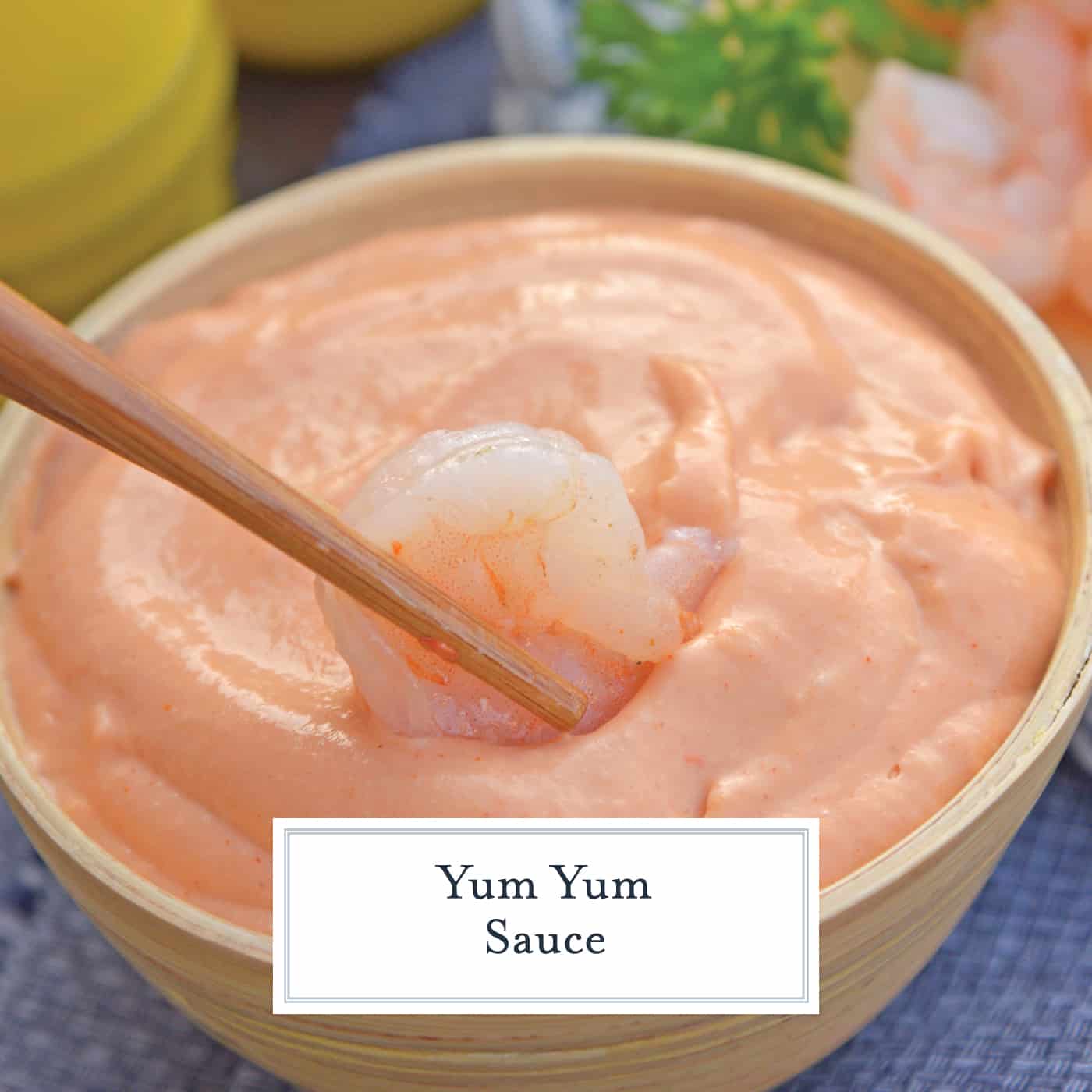 Yum Yum Sauce is an easy hibachi sauce for seafood and vegetables. Homemade yum yum sauce is so easy!
If you have ever been to a hibachi grill, you've had the pale pink sauce, or as some call it white sauce. Some refer to it as Yum Yum Sauce, others the seafood sauce and sometimes just the Japanese vegetable sauce or pink sauce.
Whatever you call it, the is hibachi sauce can be quite addictive and end up on much more of your food than just seafood. I happen to like it on chicken, too!
In fact, some folks swear by Yum Yum Sauce, blending it with fried rice and dipping everything on their dish in it. Honestly, I think some people crave the sauce, more than the actual meal!
You are wondering how to yum yum sauce? The truth is, it is so simple to make at home that now you can eat Yum Yum Sauce on everything you want. This Yum Yum sauce recipe is even great as a salad dressing or with your next vegetable platter.
There are many imitation sauces out there and depending on which hibachi steakhouse you go to, yum yum sauce ingredients will vary slightly. The base is almost always mayonnaise.
For this, I highly suggest using a crappy mayo. Yep. I just said it. DO NOT USE GOOD MAYONNAISE.
Good mayo has too much flavor and pizzazz by itself. For homemade yum yum sauce recipe, you need a bland mayo. A blank slate, if you will.
From there the next big step is either ketchup or tomato paste and how much.
I personally prefer tomato paste and being able to add additional sugar, as ketchup is mostly just sugar anyhow.
But, if you don't want to buy a whole can just for 2 tablespoons (or less,) use ketchup and add sugar slowly, tasting along the way.
Tomato paste and paprika are what take this from white sauce to pink sauce, so if your dream yum yum sauce is on the whiter end, chances are that your restaurant doesn't use as much (or either) of these ingredients.
Some yum yum sauce recipes call for cayenne, but I prefer mine to be smoky, not spicy. If you like the heat, go ahead and add it!
I like my homemade yum yum sauce creamy, so it really sticks to my shrimp, rice or steak. But you prefer a looser version, by all means add more water! Some folks want theirs to be a pourable consistency. Go for it!
Other folks will even double the amount of spices so it really packs a punch. My advice is to make the basic sauce recipe and then modify from there to match your ideal Homemade Yum Yum Sauce.
You can easily whisk the sauce together, but I prefer to really emulsify it in a small food processor. It tastes best when left at room temperture for about 30 minutes to let the flavors meld.
Then refrigerate it overnight. If you don't let it sit long enough, it will just taste like flavored mayo. No one wants that, yuck!
Lastly, I want everyone to know that Japanese seafood sauce is not really all that Japanese. You will not find it in Japan. It is a very Americanized "Japanese" recipe.

If you liked our Yum Yum Sauce Recipe, you'll also love these Japanese recipes:
Tools for making homemade yum yum sauce:
Mini Food Processor– I use this thing daily! It is by far my most used kitchen appliance, it is small and I throw all the parts into the dishwasher, well except the base and cord, of course! It is really all you need for homemade yum yum sauce.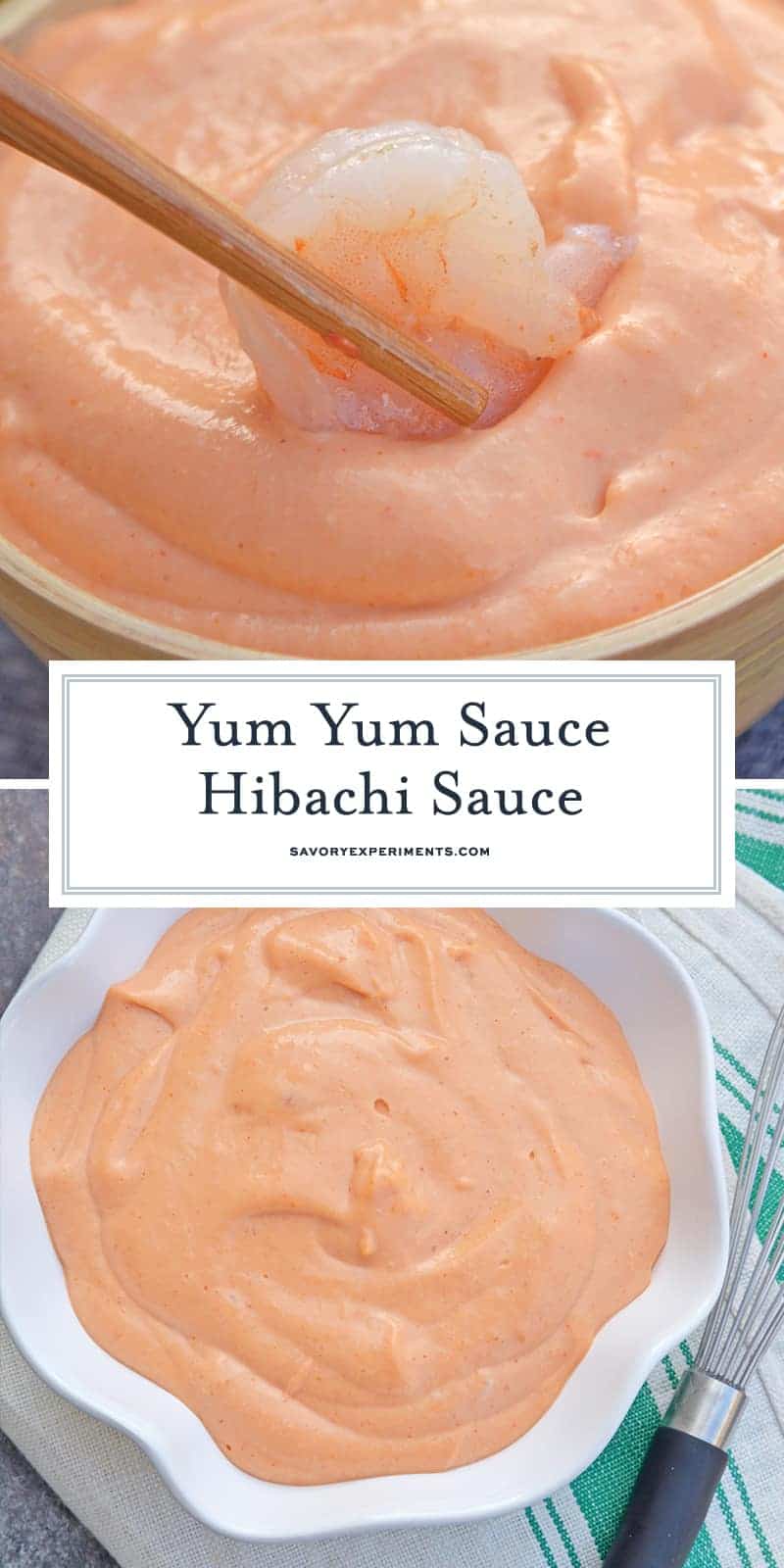 Yum Yum Sauce
Yum Yum Sauce is an easy sauce for seafood and vegetables. Now you can make your favorite pink sauce at home!
Keyword:
hibachi sauce, japanese shrimp sauce, pink sauce, Yum yum sauce
Ingredients
2

cups

mayonnaise

2

tablespoons

tomato paste (or ketchup)

2

tablespoons

butter

, melted

1

tablespoons

garlic powder

2

teaspoons

onion powder

1

tablespoon

smoked paprika

¼

cup

water

3

tablespoons

sugar (less if you use ketchup)

Hot sauce

, cayenne, dried red pepper flakes, optional
Instructions
Combine mayonnaise, tomato paste, melted butter, garlic powder, onion powder, smoked paprika, water, sugar and hot sauce in a small food processor. Blend well.

If you've tried this recipe, come back and let us know how it was!
Recipe Video
Recipe Notes
Yum Yum Sauce taste and ingredients changes from restaurant to restaurant. Some are pink, others white, some sweet and others spicy. Feel free to modify this recipe so it tastes like YOUR yum yum sauce. 
Nutrition Facts
Yum Yum Sauce
Amount Per Serving
Calories 578
Calories from Fat 531
% Daily Value*
Total Fat 59g 91%
Cholesterol 41mg 14%
Sodium 552mg 23%
Potassium 118mg 3%
Total Carbohydrates 9g 3%
Protein 1g 2%
* Percent Daily Values are based on a 2000 calorie diet.