These easy ham and cheese pinwheel appetizers steal the show every time they're served. Crusty, flaky dough envelops hot ham and a melty combination of cheeses for the most delectable savory treat that everyone dives back into.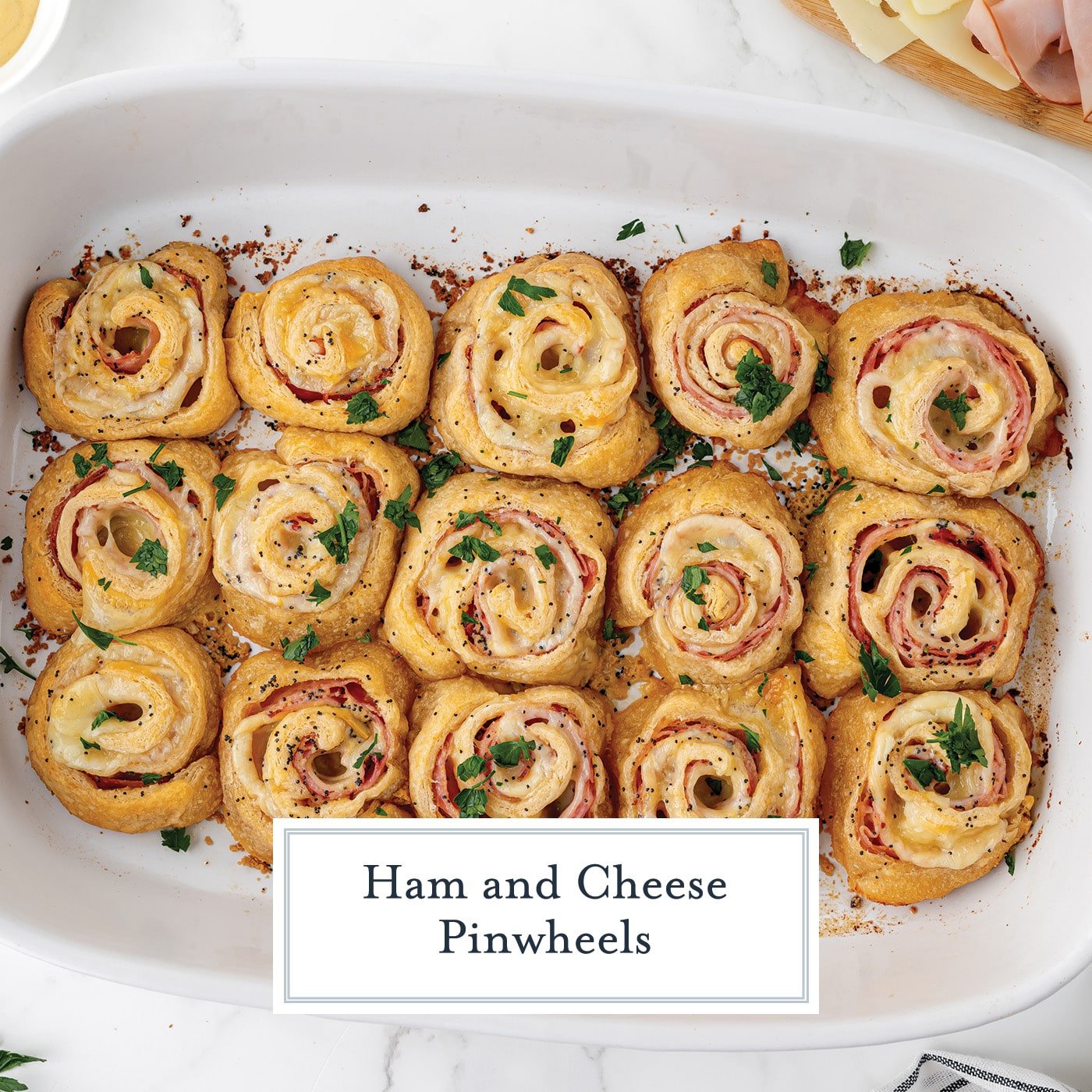 Whether it's a holiday or game day, whenever you make this appetizer (or super simple weeknight dinner) it's a winner. The combination of buttery, bready goodness with salty ham and creamy cheese is a show-stopper.
Inspired by my ham and cheese sliders and jalapeno popper crescent rolls, these were the perfect match!
Why You'll Love Delicious Ham and Cheese Pinwheels
Who can't love a flaky crust with an ooey-gooey cheesy, salty, and creamy filling?
Easy: This recipe rates at the top of the list of easy-peasy appetizers that may make a crowd swoon. Yet, it takes only a few minutes to prepare. Plus, all of the ingredients are a cinch to get at the grocery store.
Versatile: Make this as a super easy snack, a wildly-easy dinner, or an amazingly easy appetizer.
Customizable: There are tons of ways to swap ingredients or add to this delectable dish.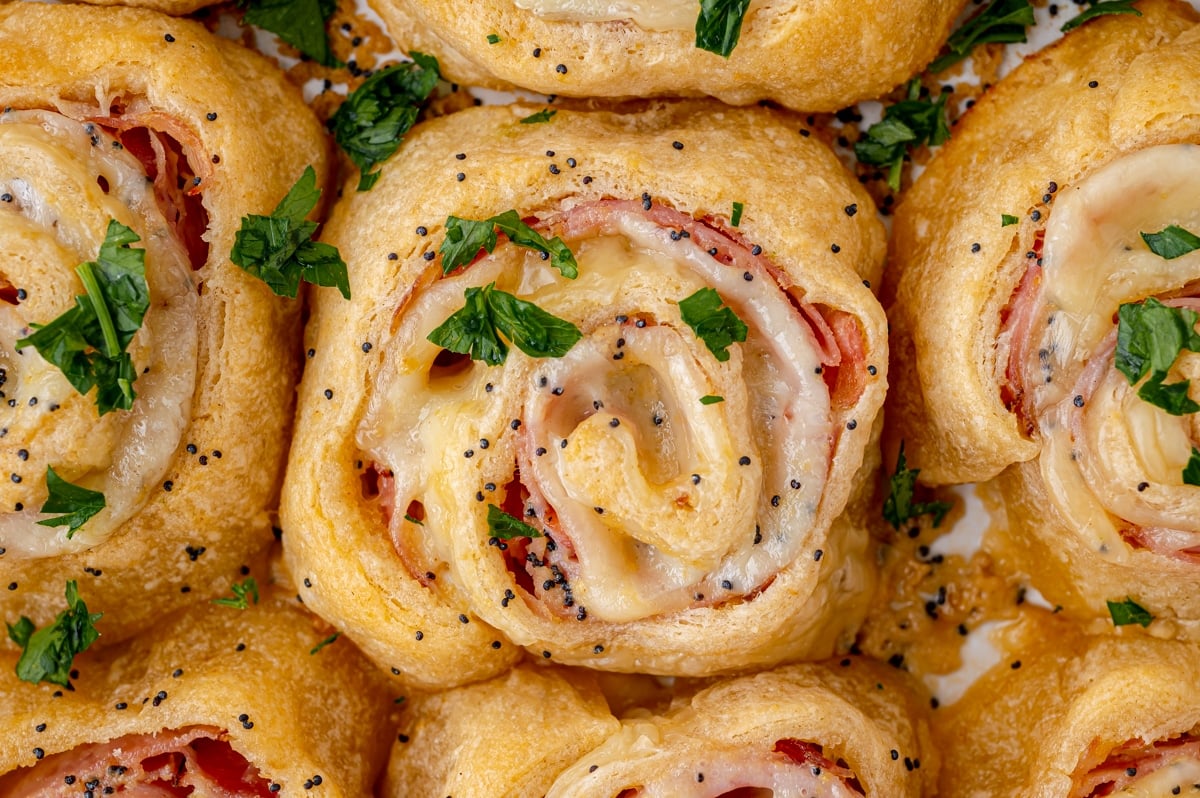 Ingredients
These simple ingredients are the keys to the most incredible appetizer, snack, or main dish paired with amazing sides.
Crescent dough – Grab the crescent rolls you find in the refrigerated aisle — it cuts down on prep time and is super flaky and delicious.
Honey ham – Grab it from the deli or get it pre-packaged, but make sure it's a thinly sliced version – that works best for this recipe.
Swiss cheese – Just like the ham, the cheese is best thin-sliced.
White American cheese – While, admittedly, those pre-packaged wrapped slices are super-melty, aim for deli-sliced or a packaged version that isn't the singles.
Unsalted butter – There's enough salt in the cheese and ham — stick with unsalted butter for this.
Dijon mustard – Add some tangy earthiness with this mustard.
Poppy seeds – Poppy seeds bring all of the texture and flavor.
Garlic powder – There's nearly no savory recipe that won't benefit from garlic, and this is no exception. You can add onion powder, too, if you like.
Worcestershire sauce – This hard-to-say sauce brings all of the umami to this simple dish.
Fine sea salt – This delicate salt rounds out all of the ingredients.
Chopped parsley – This garnish is entirely optional but brings a fresh contrast to the salty, creamy richness in this wrapped goodness.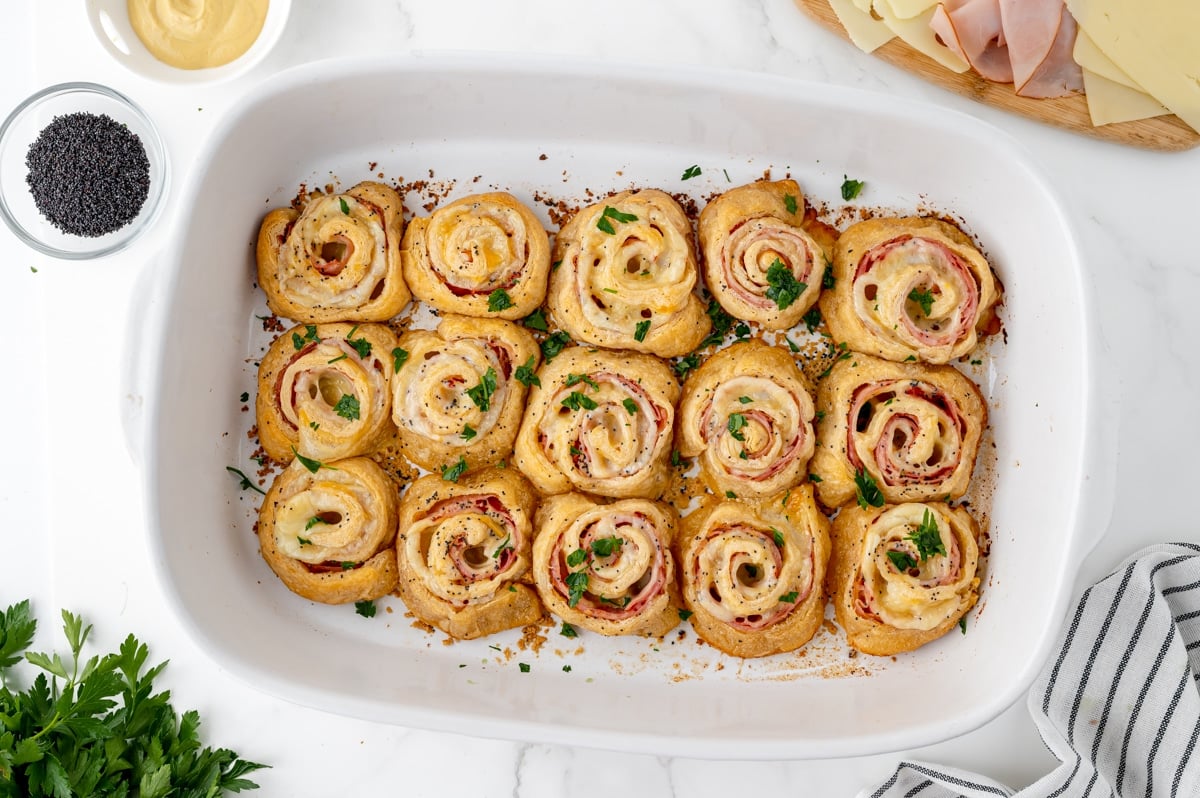 How to Make this Ham and Cheese Pinwheels Recipe
This dish only takes a few minutes of time to prepare. Let the oven do the rest to create this melty, cheesy goodness.
Unroll and pinch dough. Once the crescent dough sheet has been unrolled onto a flat surface, pinch together the seams and roll to the recommended size.
Add ham and cheese. First, place the honey ham slices on the dough before topping with Swiss and white American cheese.
Roll it up. Roll the dough up over the fillings from the short side and slice evenly into 16 slices using a serrated knife.
Add to baking sheet. Place the pieces onto a prepared baking sheet lined with parchment paper and set aside.
Make poppy seed topping. Microwave the butter until it's melted, then mix the melted butter with the mustard, poppy seeds, garlic powder, Worcestershire sauce, and salt.
Baste and bake. Use a pastry brush to cover the pinwheels before baking. Place the pinwheels into the oven and bake until lightly golden brown and slightly puffy.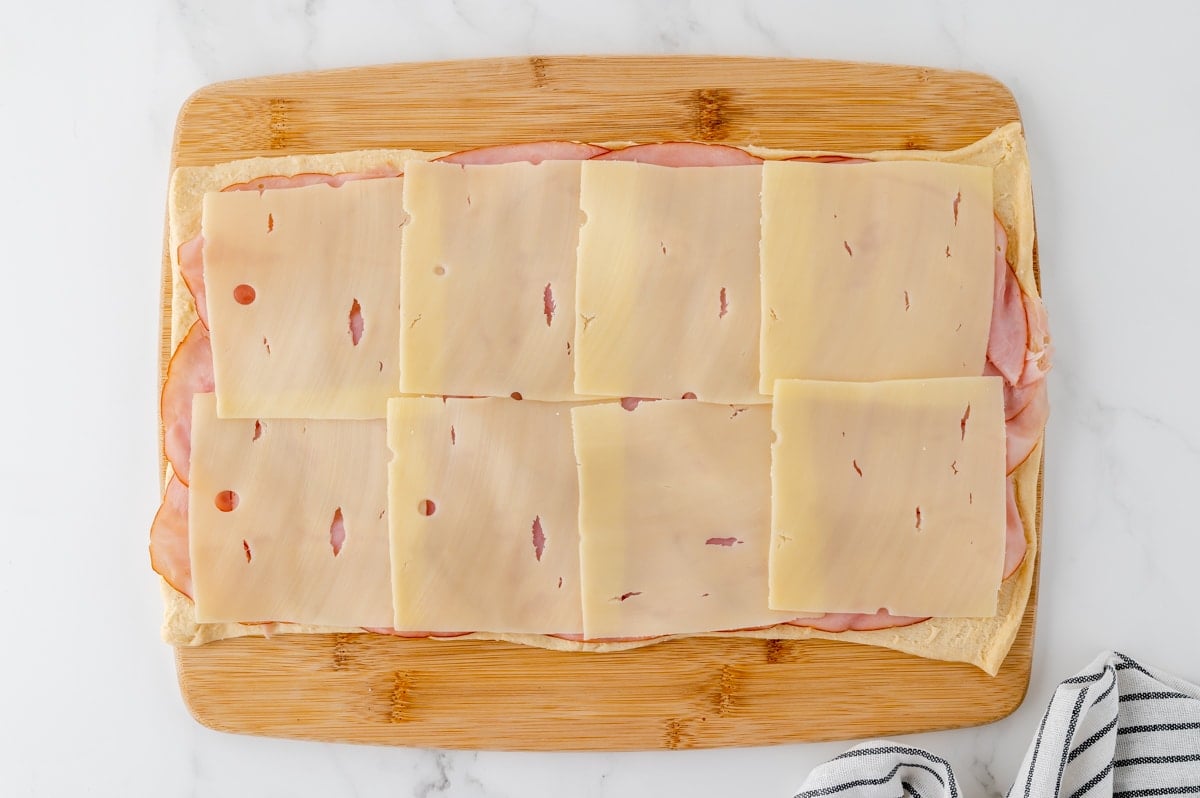 What to Serve with Cheese and Ham Pinwheels
These pinwheels are so good all on their own, but you can also dip them in dressing or sauces like Red Robin Campfire Sauce, cilantro sauce, or honey mustard sauce. You can also serve them alongside a spread of other apps like wings, crab dip, or loaded tots.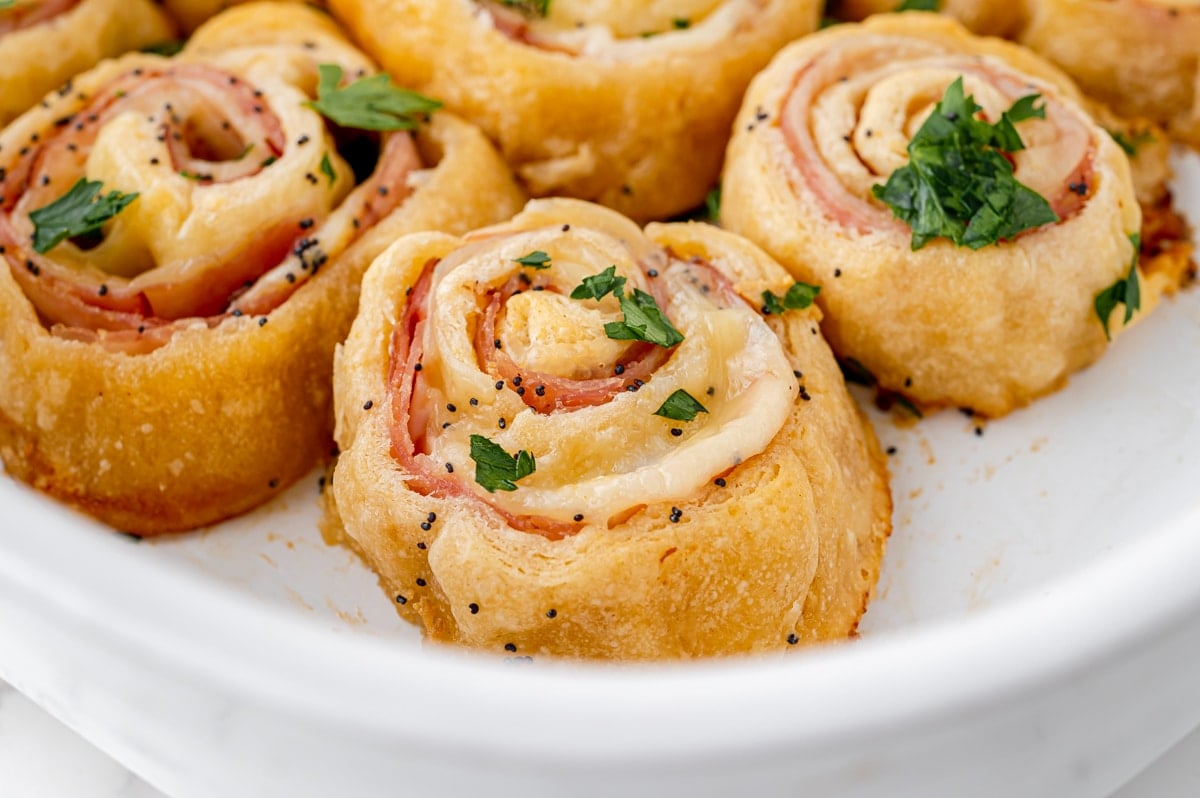 Variations on Ham and Cheese Roll Ups
Switch this easy recipe up to accommodate palates, or just create fun new twists.
Cheeses – Instead of Swiss and cheddar cheese, try other great melty cheese like provolone cheese, Monterey jack, muenster, asiago, fontina, or mozzarella cheese. Or make it even cheesier by making a cream cheese mixture to spread with shredded versions of the other cheese mixed in.
Mustard – Instead of Dijon, try stone ground mustard, yellow mustard, or your own favorite variety.
Pickles – Add sliced pickles or relish for a tangy twist.
Meats – Try using other deli meats like roast beef, turkey, or chicken.
Seasoning – Spice it up with a little bit of taco seasoning, or add your own favorites like ranch seasoning or a special blend.
Dough – Use pizza dough instead of crescent dough.
Storage
These savory treats are best eaten fresh, but if you have leftovers there are a few options.
Make-Ahead: While you can wrap these ahead and store them for up to 24 hours, we do not recommend baking them until ready to serve.
Refrigerator: Store leftovers in the fridge for up to 3 days in an airtight container or wrapped in plastic wrap.
Freezer: While freezing isn't necessarily recommended, if you choose to do so, store in resealable freezer-safe bags for up to 3 months.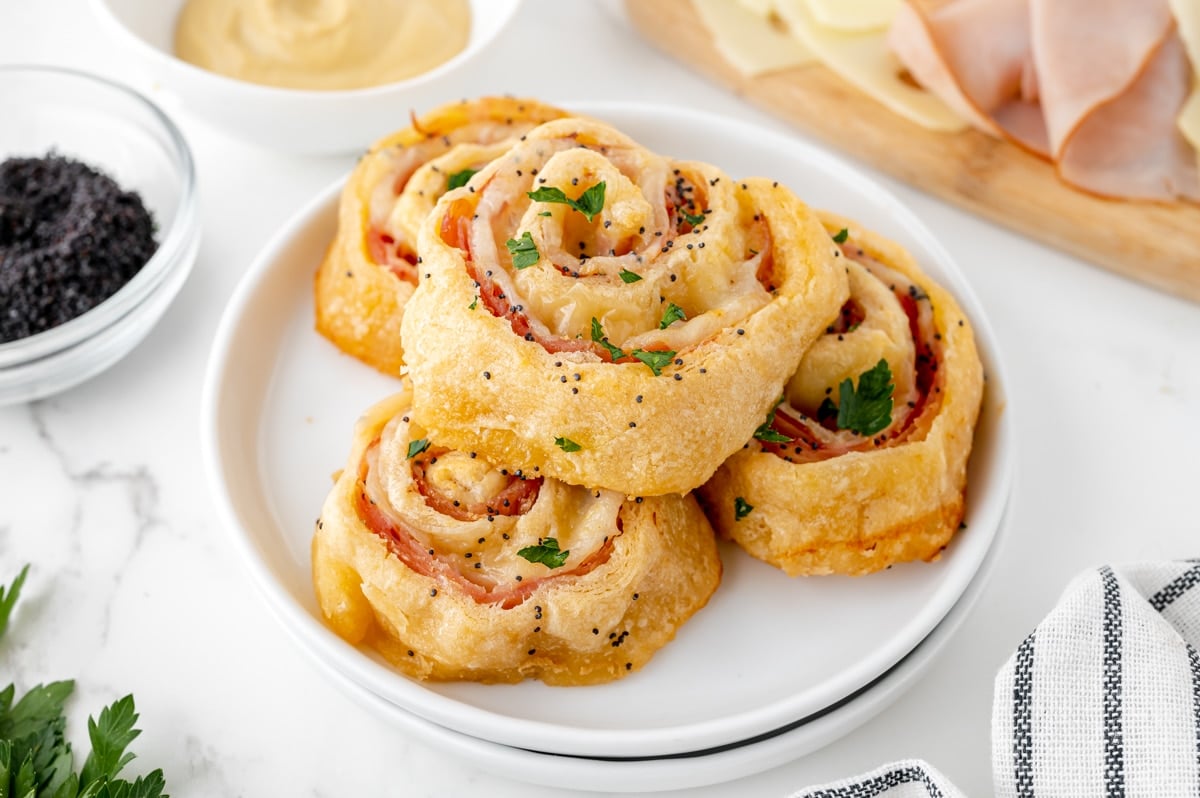 Common Questions About Ham and Cheese Pinwheels
Can pinwheels be made a day ahead?
Some versions of pinwheels, like those made with tortillas that are not heated, are fine to be made a day ahead of time. Since these are heated and use crescent dough, we recommend preparing and baking directly before serving.
How many pinwheels per person?
Prepare for people to love these pinwheels! Depending on the other appetizers on the main dishes you're offering, you may want to make up to 6 pinwheels per person.
Will pinwheels get soggy overnight?
These do have the potential for that, which is why we do not recommend baking them ahead of time. If you are going to wrap them ahead, place any wet ingredients within the meat and cheese rather than against the dough.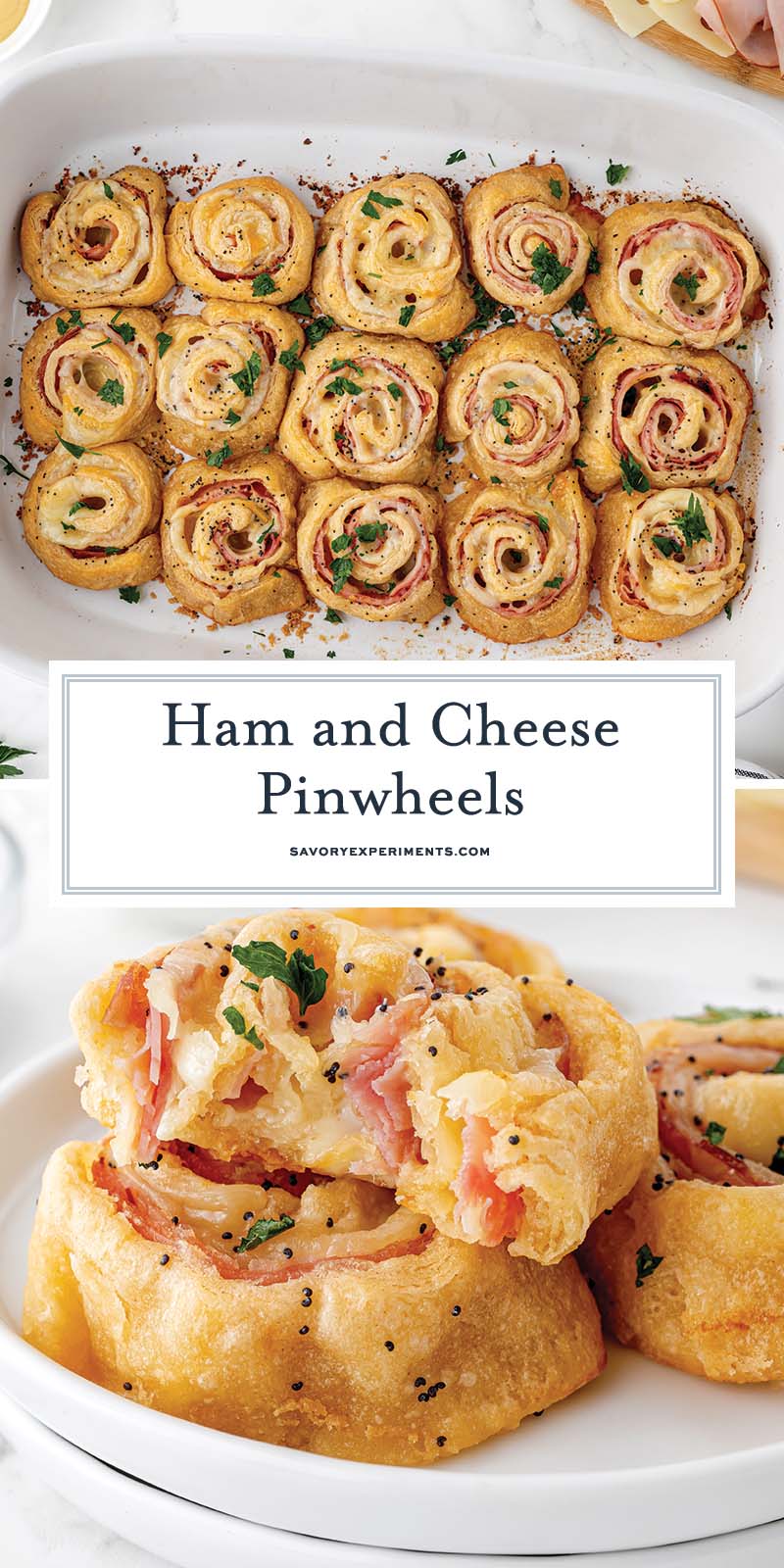 Other Easy Appetizers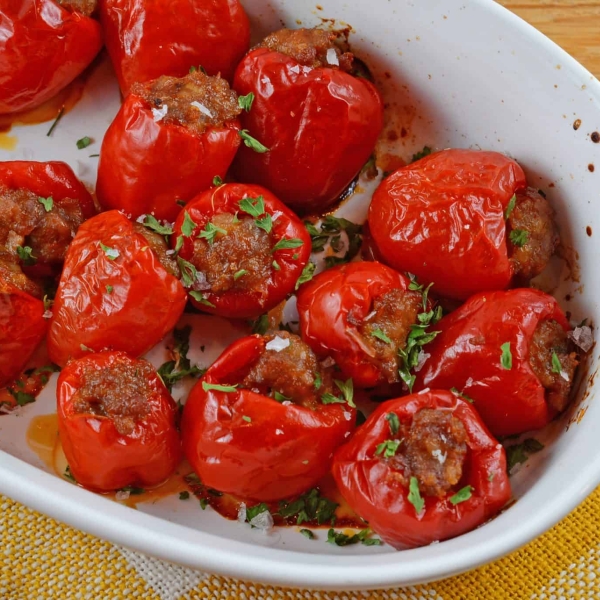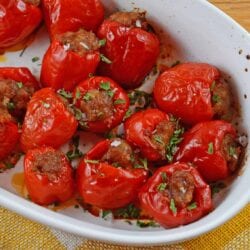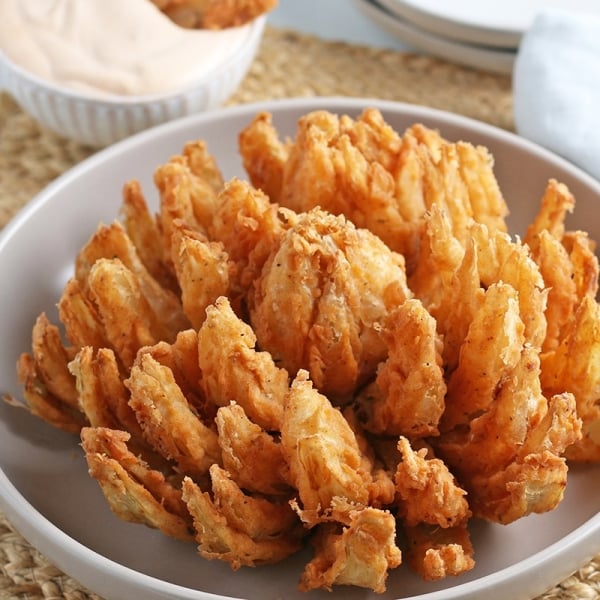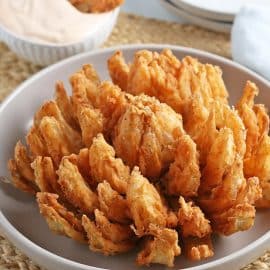 Bloomin Onion Recipe
Coated with a crispy, flavorful breading, this EASY Blooming Onion recipe can't be beat- just like Outback! Complete with a Bloomin' Onion sauce, too!
See The Recipe!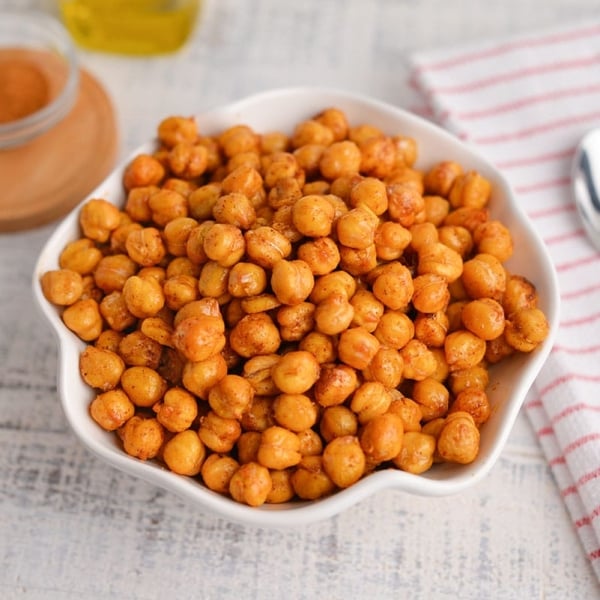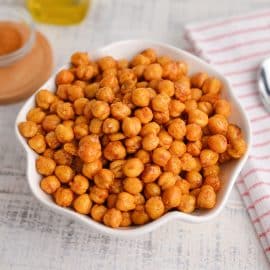 Air Fryer Chickpeas
Crispy and crunchy, and so customizable, these Air Fryer Chickpeas are done in an instant and can be combined with any seasoning blends!
See The Recipe!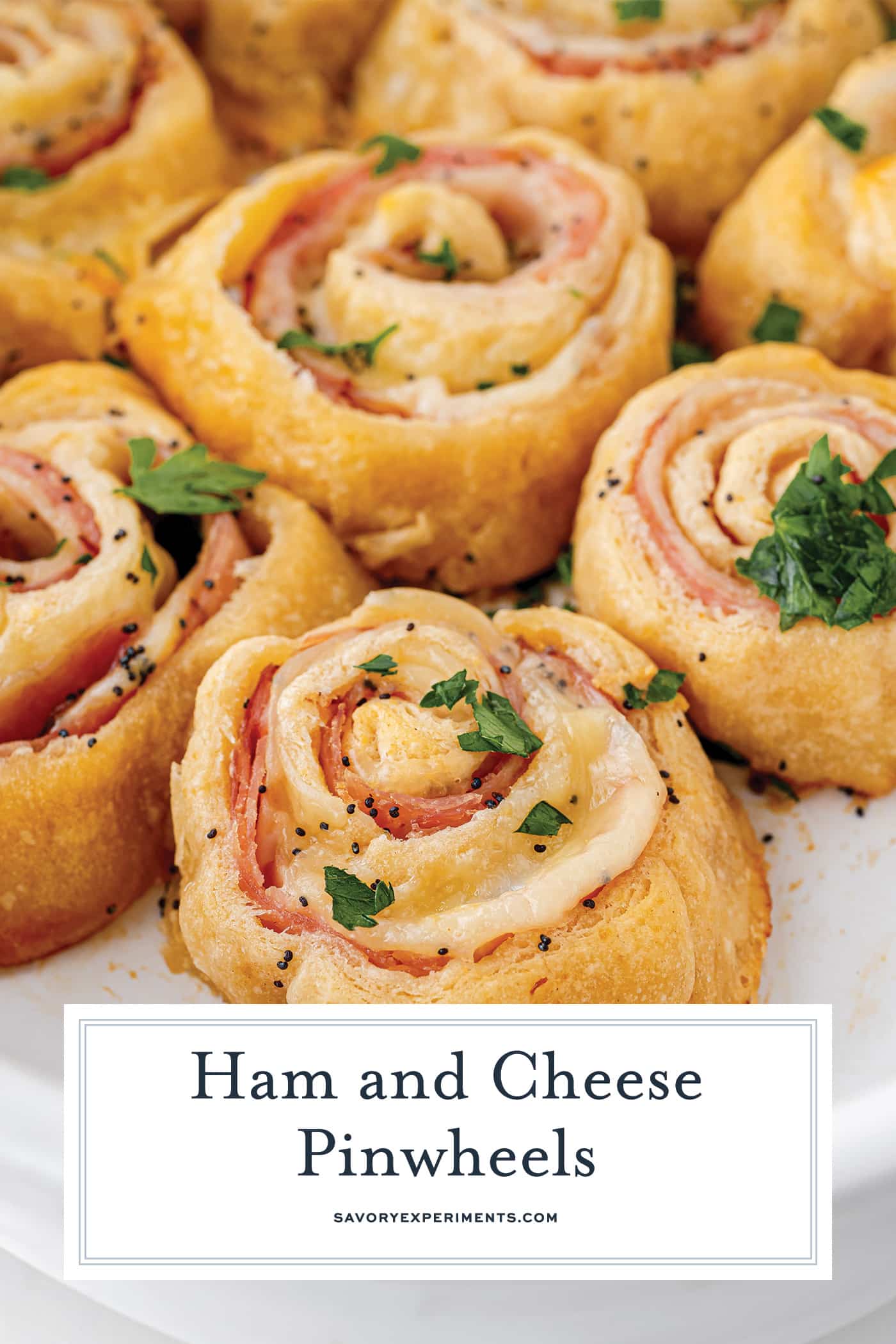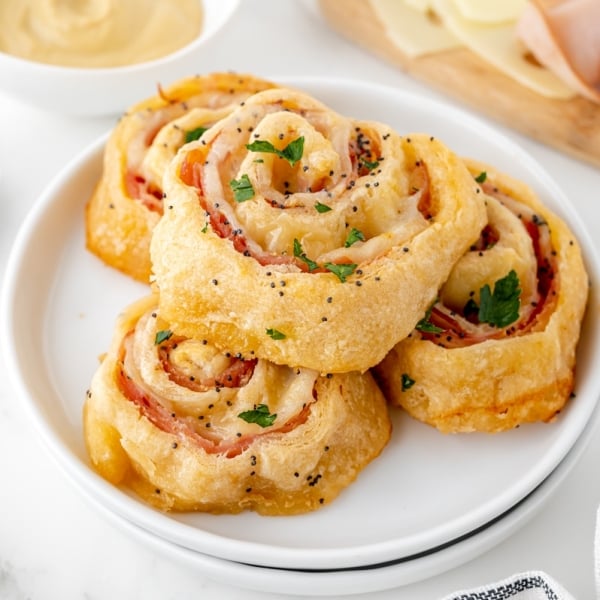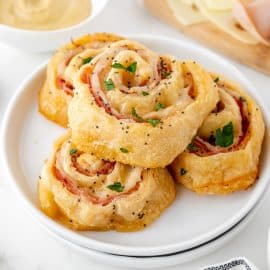 Ham and Cheese Pinwheels
These EASY Ham and Cheese Pinwheels have crusty, flaky dough that envelops hot ham and a melty combination of cheese! The perfect appetizer!
Instructions
Preheat the oven to 350°F and coat a 9×13 baking dish liberally with cooking spray. Set aside.

Unroll the crescent dough into one sheet on a cutting board. Pinch together any seams that are separating and roll to a 10×13 dimension.

Evenly lay the honey ham over the dough, leaving a ½ inch margin at each edge. Continue with Swiss cheese and white American cheese.

Tightly roll up the dough from the short side. Using a serrated knife, cut into 16 even slices. They will be thin. To do this evenly, make a cut in the middle, then the middle of those two pieces and so on until you have 16.

Place the rolls into the prepared baking sheet. Set aside.

In a microwave safe bowl, melt the butter. Whisk in the mustard, poppy seeds, garlic powder, Worcestershire sauce and salt. Baste over the tops of the pinwheels.

Bake, uncovered, for 20-24 minutes or until the tops are lightly browned and the dough has puffed.

Remove and allow to cool before serving.

If you've tried this recipe, come back and let us know how it was in the comments or star ratings!
Nutrition
Calories:
160
kcal
,
Carbohydrates:
2
g
,
Protein:
7
g
,
Fat:
14
g
,
Saturated Fat:
8
g
,
Polyunsaturated Fat:
1
g
,
Monounsaturated Fat:
4
g
,
Trans Fat:
0.3
g
,
Cholesterol:
40
mg
,
Sodium:
403
mg
,
Potassium:
72
mg
,
Fiber:
0.2
g
,
Sugar:
0.5
g
,
Vitamin A:
326
IU
,
Vitamin C:
0.1
mg
,
Calcium:
161
mg
,
Iron:
0.3
mg