Crab Stuffed Mushrooms are an excellent appetizer option for parties small and large. Or in my case, for a nice lunch or light dinner.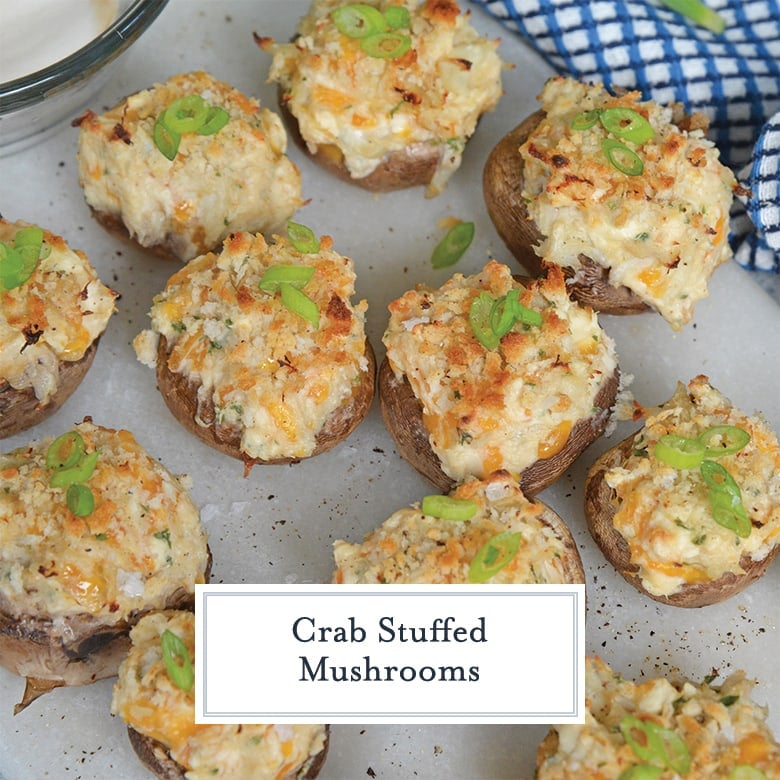 BEST Crab Stuffed Mushrooms
I live in crab country. Yep, right in the middle of Maryland where blue crabs are a way of life. There are very strict rules for making crab cakes, crab balls, crab dip, crab cake egg rolls (yes, those are a thing) and basically anything crab. Even crab smashed potatoes.
The largest rule: DON'T SKIMP ON THE CRAB. Too many recipes claim to be crab recipes and then put more seafood seasoning, like Old Bay, in the recipe than they do actual crab. Thumbs down.
But in a recipe like this Crab Stuffed Mushrooms recipe, we actually don't want to use a jumbo lump crab meat like we would in other crab recipes. We need something with fresh crab meat flavor, but small enough to stuff into a mushroom cap.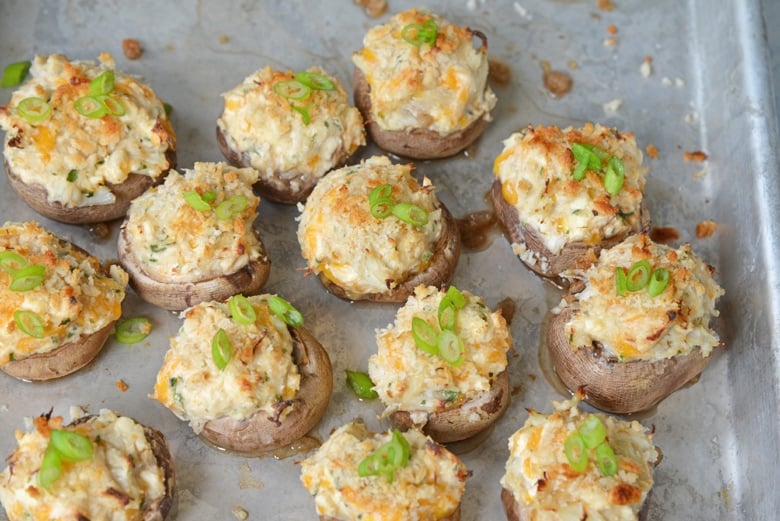 Types of Crab Meat
For these, I use special crab meat. You can also use claw, but backfin or lump might be too big.
Claw – dark meat that comes from the claw, a little more stringy than other varieties.
Special – smaller pieces, comes from small little crevices or the "special" sections of the crab, good for flavoring and dips.
Backfin – some larger lumps coming from, you guessed it, the back of the shell, whiter meat, does well in crab cakes, feathery texture.
Jumbo lump crabmeat – large, lumps of meat, the beauty is the large pieces used for crab meat cocktails or delicious to pop in your mouth plain, very tasty and moist.
Crab meat is generally located in the fresh seafood section of the grocery store. I would strongly recommend getting one that is not pasteurized, but instead freshly packed and on ice.
If that is all you can find, go for it, but these crab stuffed mushrooms will taste best using freshly picked meat.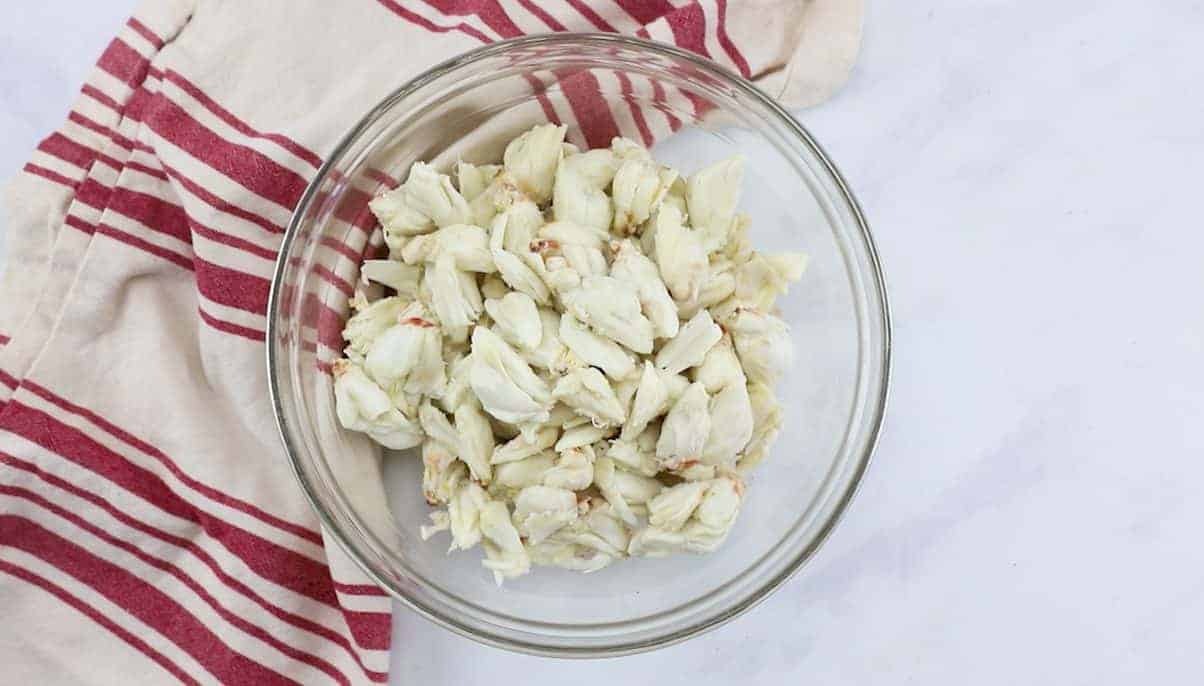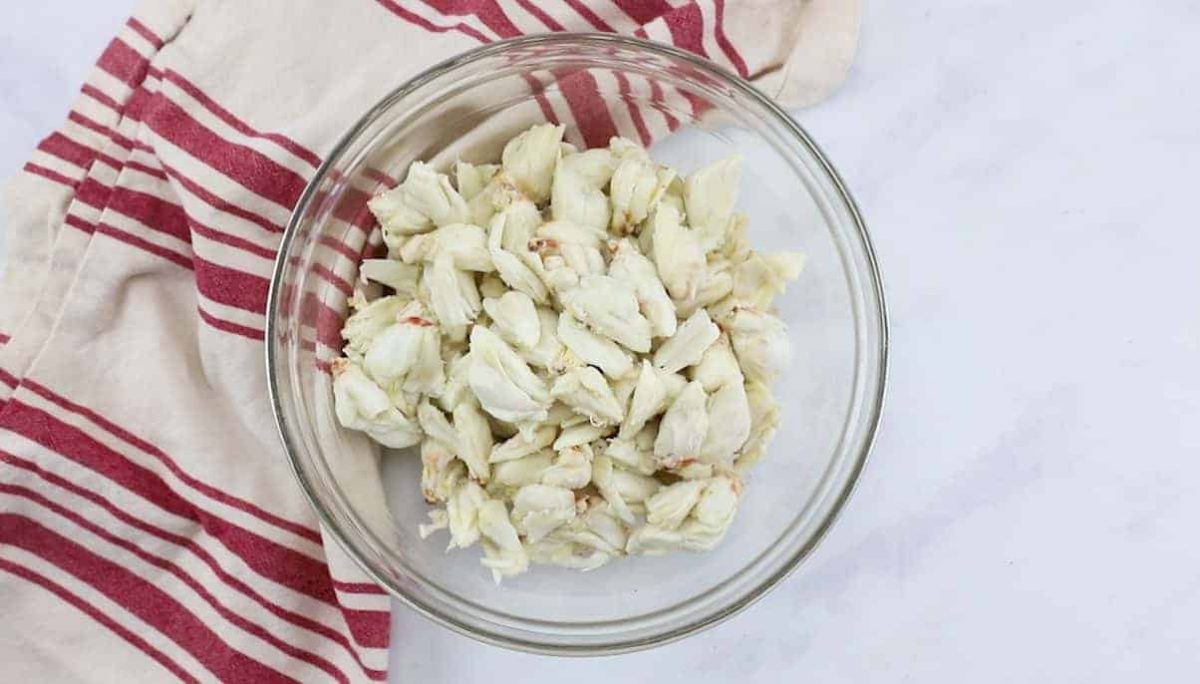 How to Clean Mushrooms
Mushrooms are delicate little things. You don't want to soak them because they will turn to mush but they generally come with a layer of dirt that needs to be cleaned.
For these, white button mushrooms work best.
Rinse them under cold water, do not submerge them.
Dry gently with a paper towel.
Set aside to further air dry.
To remove the stems, most will pop off easily.
If not, use a paring knife to carefully cut around the bottom and then pop it off.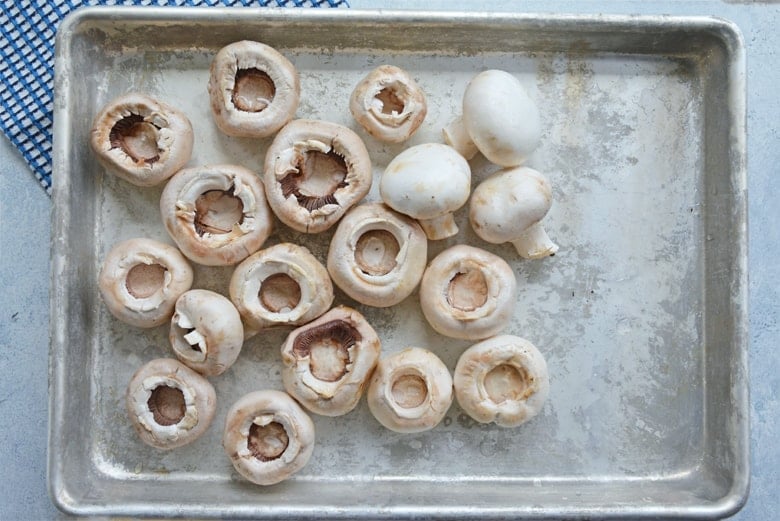 Ingredients
These crab-stuffed mushrooms are filled with a deliciously creamy filling. It is a little more creamy than crab dip and much more so than a crab imperial.
Here are the ingredients.
Mushrooms– I like using white button mushrooms for appetizers.
Cream cheese– I use full fat, but low fat is also an option.
Mayonnaise– A binder, mayo is made from oil and eggs so it helps keep things creamy but also holds it all together.
Shredded cheese– I strongly recommend freshly shredding your cheese instead of using pre shredded. Pre shredded is tossed in starch to prevent clumping but that can make for a grainy melt. Use cheddar, pepper jack or colby for best results. You can also use parmesan cheese.
Worcestershire sauce– adds depth and sophistication.
Seasonings– garlic powder, onion powders, Kosher salt, white pepper.
Blue crab meat – see above for lots of details! I highly recommend real crab and not imitation crab meat.
Panko bread crumbs– regular bread crumbs or crumbs from croutons or saltine crackers also work.
Scallions or chives– Also known as green onions, these are optional, but I like giving them a little color.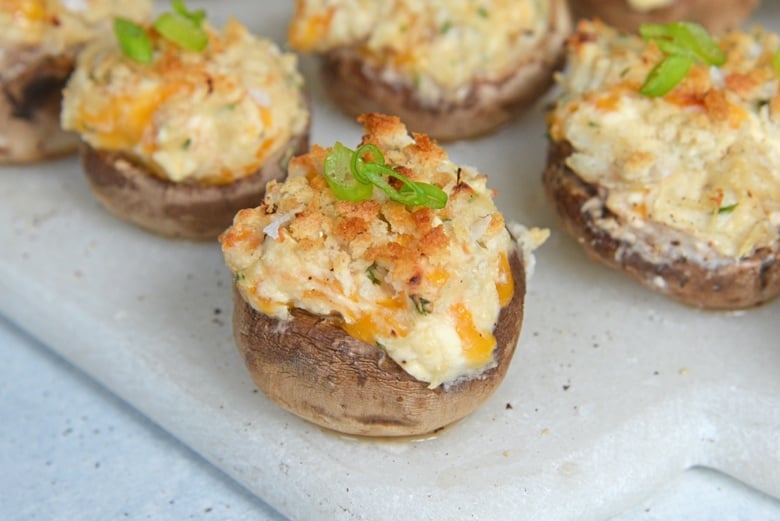 How to Make Crab Stuffed Mushrooms
Cream cheese mixture. In a small bowl, combine cream cheese, mayonnaise, cheddar cheese, Worcestershire sauce, garlic powder, onion powder, Kosher salt and white pepper. Mix until well combined.
Add crab. Fold in tender crab meat.
Add to mushrooms. Fill each mushroom cap with a heaping portion of crab mixture.
Top with breadcrumbs. Top each with a pinch of panko bread crumbs, tapping them down into the crab filling to stick.
Bake. Bake until panko starts to brown.
Garnish. Remove and top with chopped scallions or chives. Serve hot.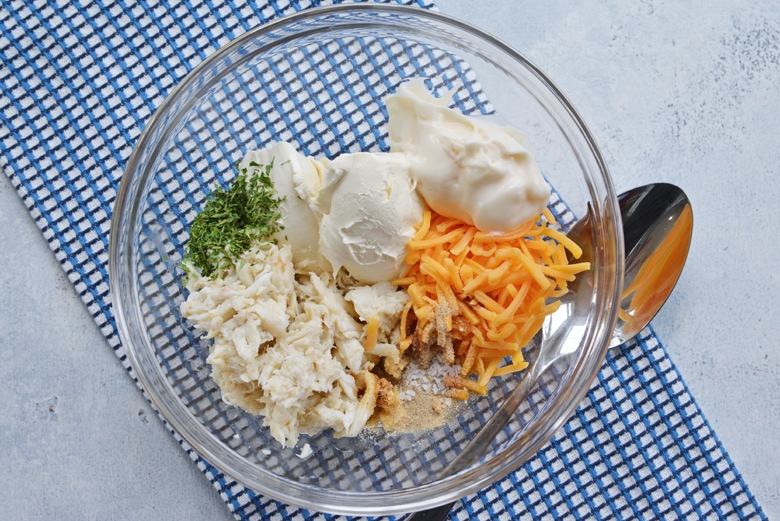 More Crab Stuffed Mushrooms Variations
This is a really forgiving recipe and therefore there are a lot of variations you add to personalize. Here are a few of my favorites:
Change the mushrooms – You can also make this same dip in 2-3 large portobello mushroom caps and serve them as an entrée.
Jalapenos – Add 1 tablespoon of finely chopped jalapeno for a fun kick!
Extra veggies – Add 1 tablespoons finely chopped artichokes or hearts of palm.
Spice it up – Dust tops with smoked paprika or cayenne pepper for a color pop and hint of heat.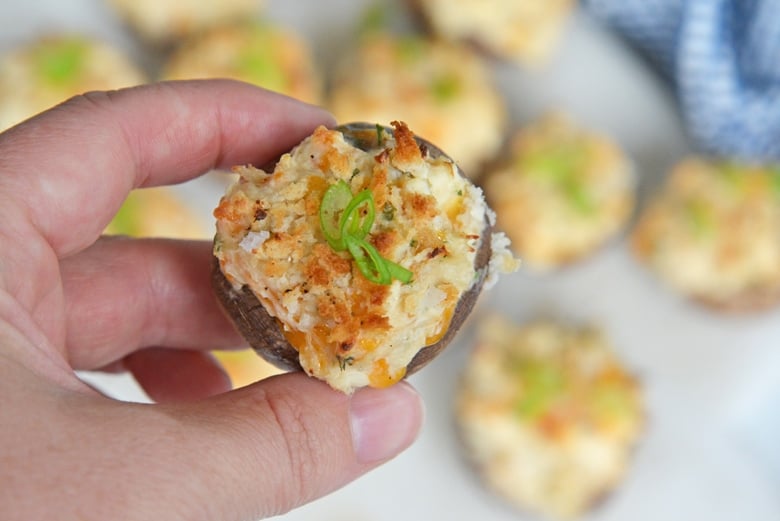 Storage, Make Ahead and Freezing
Storage: To store this stuffed mushroom recipe, place them in an airtight container the refrigerator. They will last up to three days.
Make Ahead: You can pre them ahead of time, however don't bake them until you are ready to serve.
Freezing: Freezing these mushrooms is also an option. However just like with prepping them ahead of time, don't bake them yet. They don't hold up very well in the freezer after bring baked.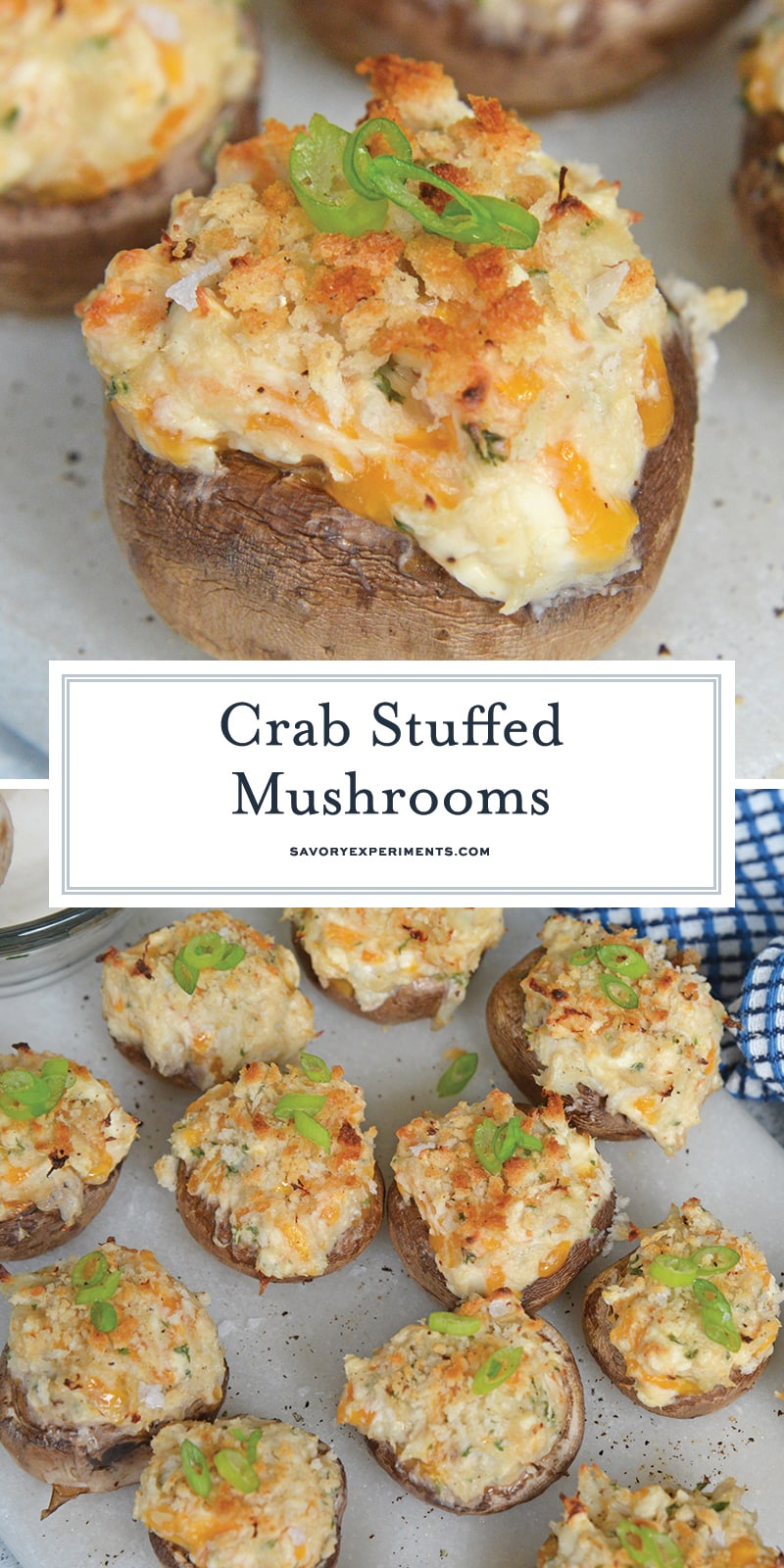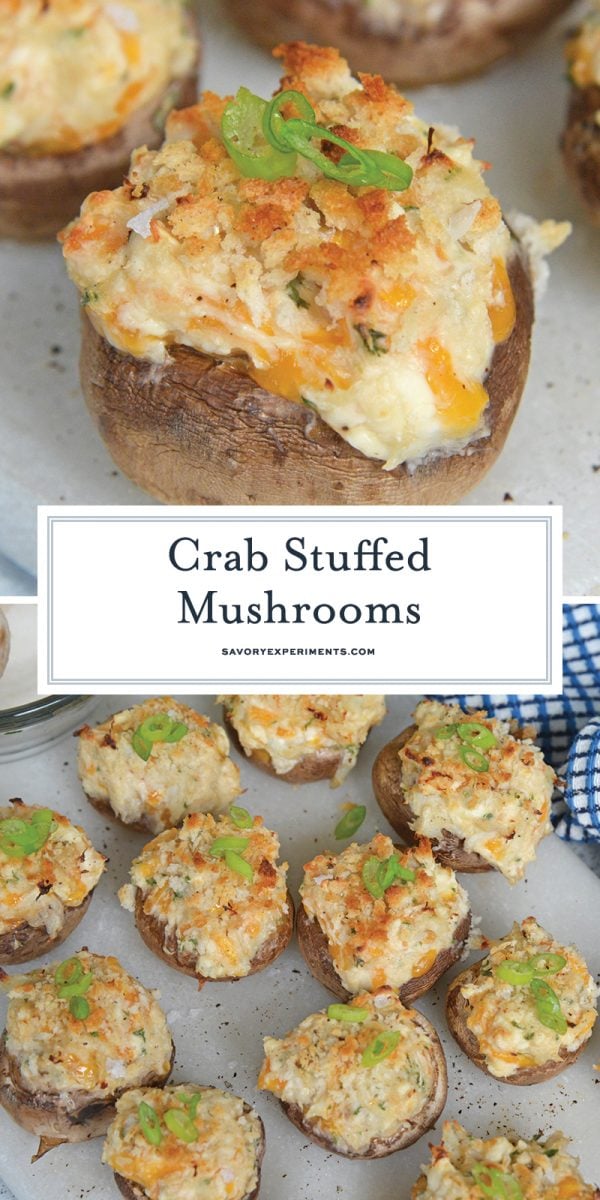 More Stuffed Vegetable Recipes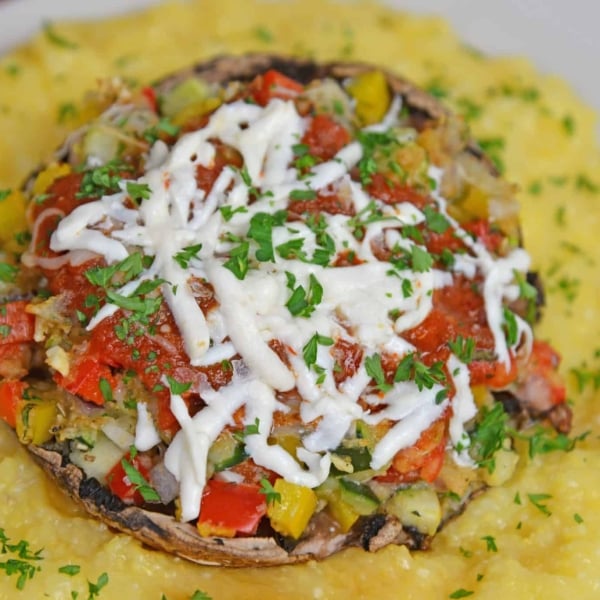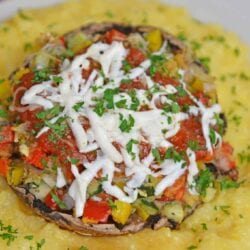 Stuffed Portabella Mushrooms
One of the best easy vegetarian recipes are Stuffed Portabella Mushrooms. A great vegetarian dinner idea perfect for meatless Monday!
View this recipe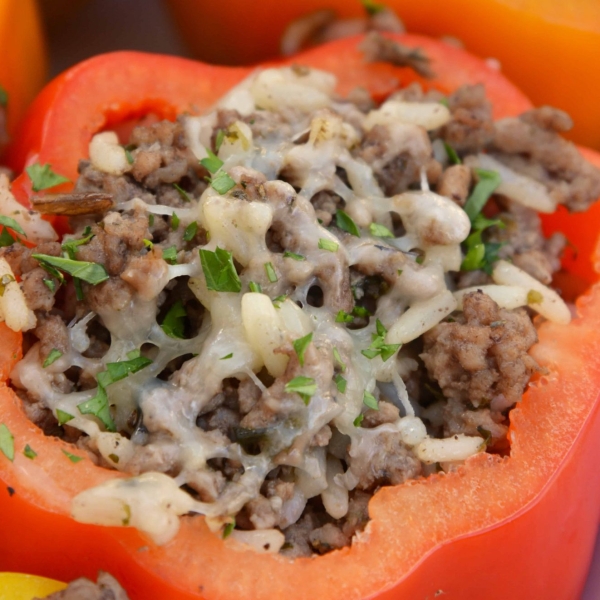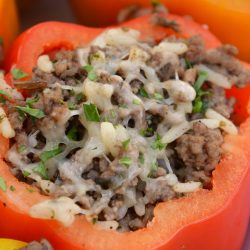 Classic Stuffed Peppers
Classic Stuffed Peppers are bell peppers stuffed with ground beef, rice, cheese and spices. A timeless meal ready in 30 minutes and easily made ahead.
View this recipe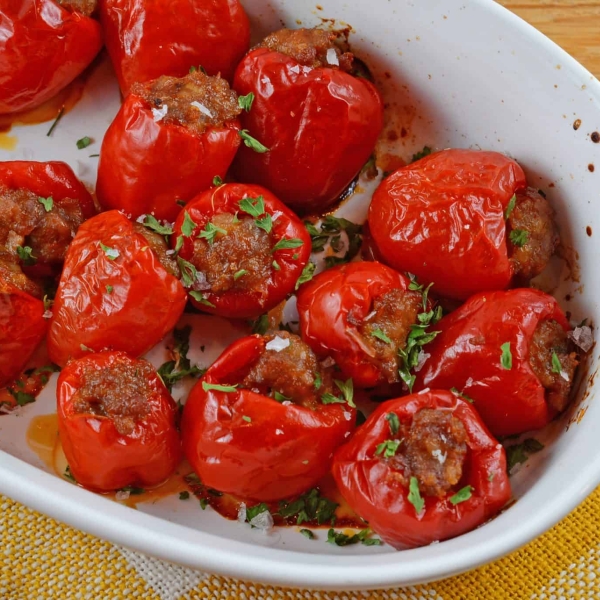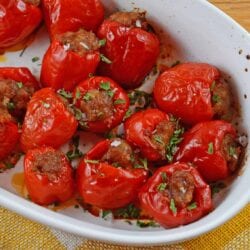 Sausage Stuffed Cherry Peppers
Sausage Stuffed Cherry Peppers are a tasty and easy appetizer recipe using only 5 ingredients. The perfect party food for any occasion!
View this recipe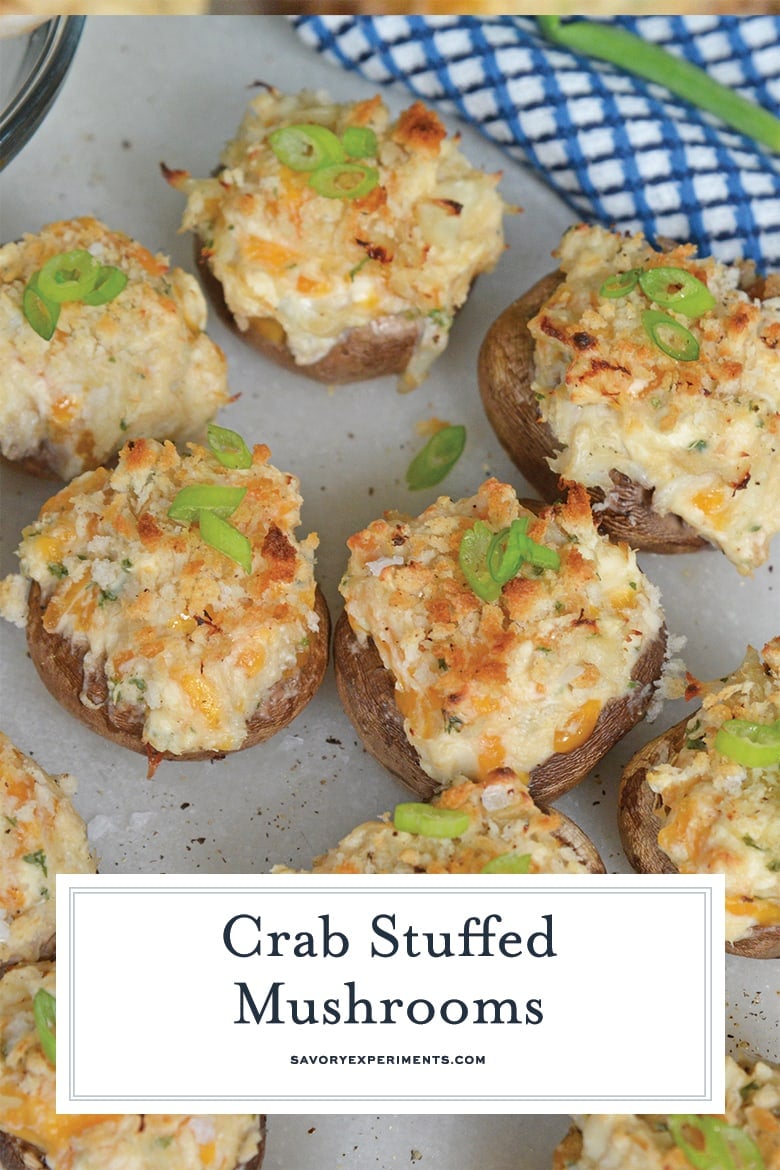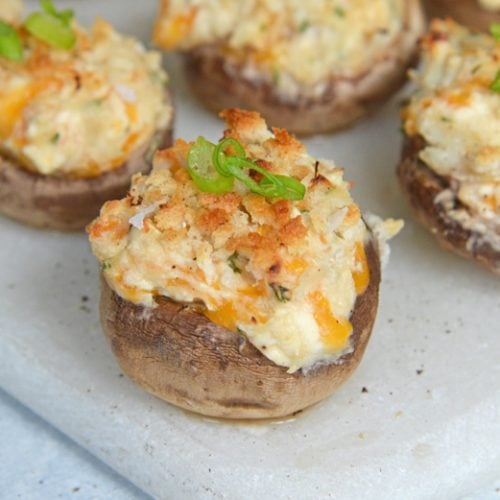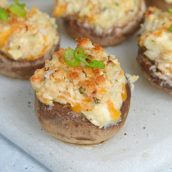 Crab Stuffed Mushrooms
With a delicious creamy crab filling, these Crab Stuffed Mushrooms are the BEST! Great for dinner parties, or even a light lunch or dinner!
Instructions
Preheat oven to 350 degrees.

In a small bowl, combine cream cheese, mayonnaise, cheddar cheese, Worcestershire sauce, garlic powder, onion powder, Kosher salt and white pepper. Mix until well combined. You can use an electric mixer or stand mixer for this portion.

Fold in crab meat.

Top each with a pinch of panko bread crumbs, tapping them down into the filling to stick.

Bake for 12-13 minutes or until panko start to brown.

Remove and top with chopped scallions or chives. Serve hot.

If you've tried this recipe, come back and let us know how it was in the comments and ratings!
Nutrition
Calories:
52
kcal
,
Carbohydrates:
2
g
,
Protein:
2
g
,
Fat:
4
g
,
Saturated Fat:
2
g
,
Cholesterol:
11
mg
,
Sodium:
167
mg
,
Potassium:
58
mg
,
Fiber:
1
g
,
Sugar:
1
g
,
Vitamin A:
90
IU
,
Vitamin C:
1
mg
,
Calcium:
23
mg
,
Iron:
1
mg