Now you can make hibachi at home complete with an onion volcano, shrimp toss and yum yum sauce! LIterally the best hibachi express at affordable prices using fresh ingredients, making it at home is the natural choice! The best hibachi grill… at home!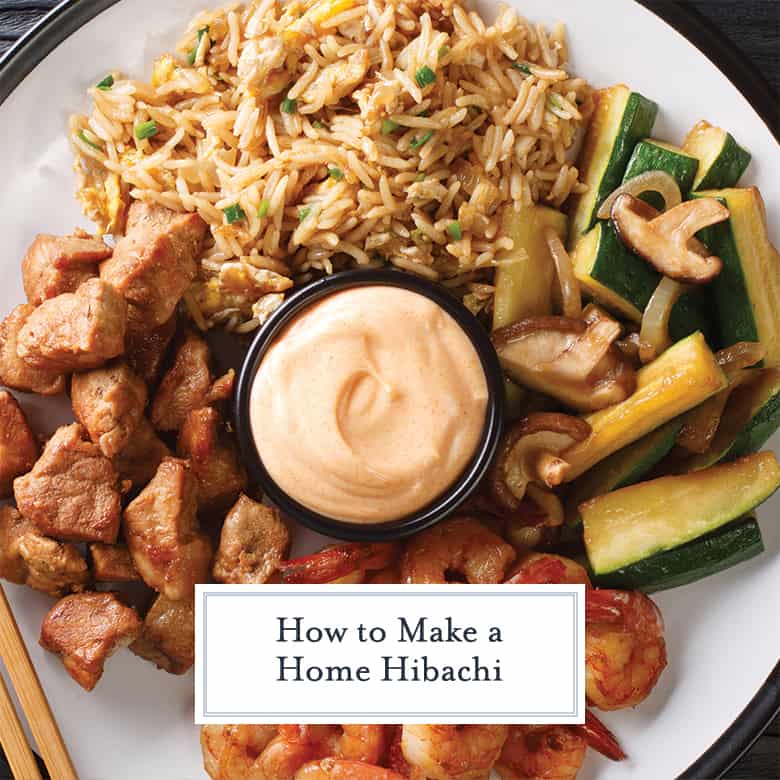 The times, they are a changing and with that change comes a few adaptations. Many of us are trying to find new ways to occupy our time, and for me, it also to entertain my children and maintain some normalcy.
About a week ago a got a creative spark- it was probably fueled by boxed red wine- but a spark nonetheless and I decided to put on a full hibachi dinner for my family. It came complete with a onion volcano and flying shrimp.
The only thing we were missing was a flaming fire bowl cocktail. Maybe that will be next…
I won't lie, it was a little bit of work to get it all prepped and ready to go, but it was also loads of fun and something none of us will ever forgot. The idea went viral and now I am being flooded with emails about how to make a hibachi dinner at home.
Hibachi at Home
What is hibachi? Well, most people just think of their favorite Japanese cuisine steakhouse or sushi restaurant, but hibachi is actually more of a charcoal grilling. Teppanyaki cooking is actually what you experience there.
Next, you'll need to plan what you plan to include in your hibachi dinner at home. These are the most common elements for delicious food and all laid out in the paragraphs below, as are the recipes (scroll to the end!)
My advice is to just choose one or two items to make on the griddle since you have limited space. I made the sauces ahead of time and the rice on the stove. Some of these items can also be prepared in cast iron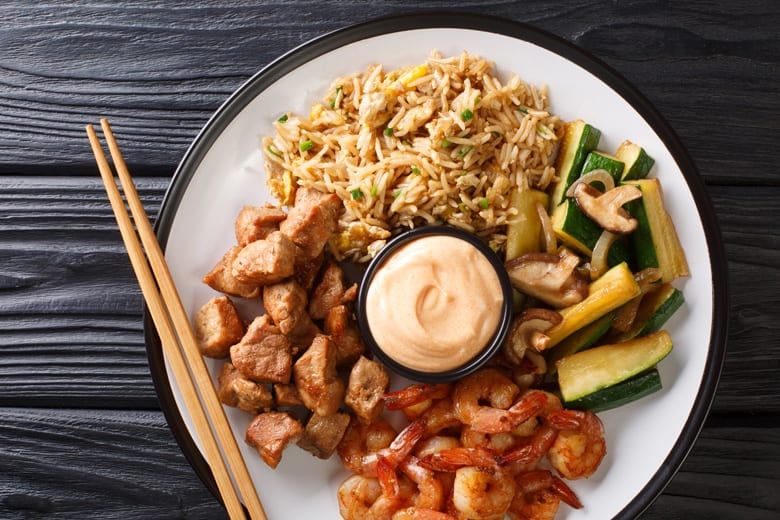 What You'll Need
The biggest thing you will need is of course, the grill. No worries, you won't need to remodel the kitchen. All you need is an electric pancake griddle!
Mine was little small, so I highly recommend using a larger version around 24 inches. If you have a smaller one or just feeding a large (or super hungry) family, feel free to make some of the other items, like the rice, on the stove and just serve them instead of doing all the prep on the griddle.
You'll also need utensils. I used a hamburger flipper (stainless steel spatula) and large serving fork. You can also use a standard spatula. While they tend to cut pieces of meat and seafood right on the griddle, they are also working with stainless steel and not a coated, nonstick surface. I recommend pre cutting all your items before starting.
If you plan to do the volcano, you'll need a squeeze bottle for the alcohol. This is the safest way to do it because you don't want to be too close to the open flame. If you have picnic ketchup/mustard bottles lying around or small ones for crafts lying around, those work too.
Lastly, have a small fire extinguisher ready. You know, just in case. You are playing with fire here…
To review:
Sauce, Salad and Soup
If you ask most people what they associate with going to a hibachi grill it will probably be the onion volcano or train and of course, the yum yum sauce. Whatever you do, MAKE THE SAUCE!!!!!!
I use this Yum Yum Sauce Recipe and it never disappoints and it easy to make. My homemade teriyaki sauce is also pretty magical and easy to put together.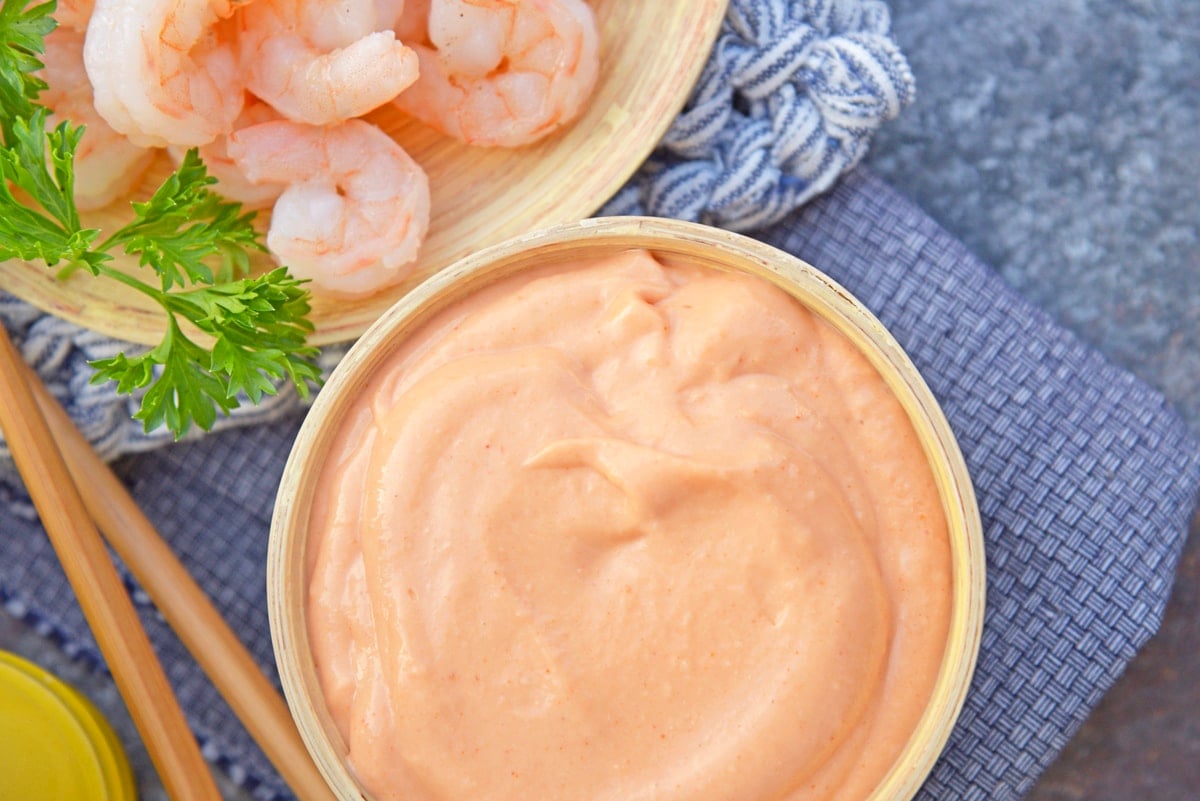 If you want to make a salad, simply cut iceberg lettuce coarsely and add a few grape tomatoes and carrots. Miso Ginger Dressing is what they serve at mine local joint.
Miso soup is also a favorite and super simple. It is sold in small powdered packets and all you need it hot water. If you want something a little more substantial, give my Egg Drop Soup a whirl. You can make the broth ahead of time and then add egg, mushrooms and scallions right before serving.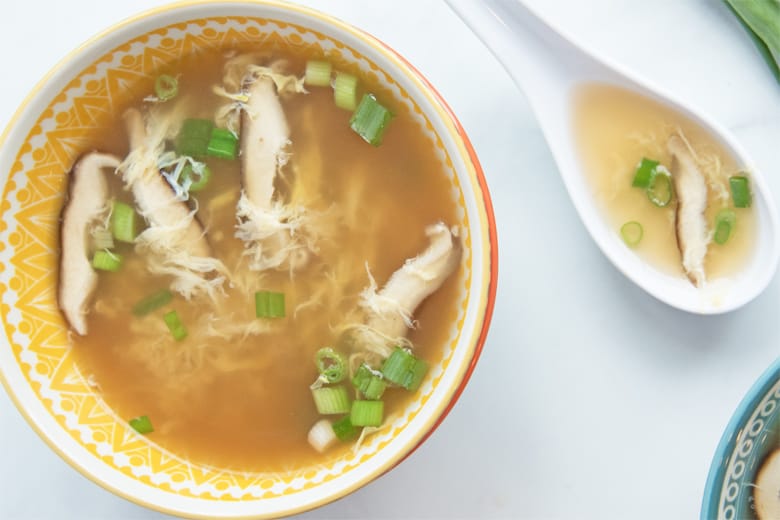 Throwing Shrimp
Some also throw shrimp into your mouth as an appetizer. Plan for 2 shrimp per guest. Simply cook with 1/2 tablespoon of butter for 2-3 minutes on each side or until pink and curled.
Cut shrimp in half using the edge of your spatula, then using the back, flatten them. Flat shrimp tends to toss better than round. Physics, I suppose. Throw food at your family and have fun!
The Starch
Hibachi rice is no more than fried rice made on the griddle instead of in a wok or skillet. Use my recipe for fried rice and then customize the veggies (if you want any).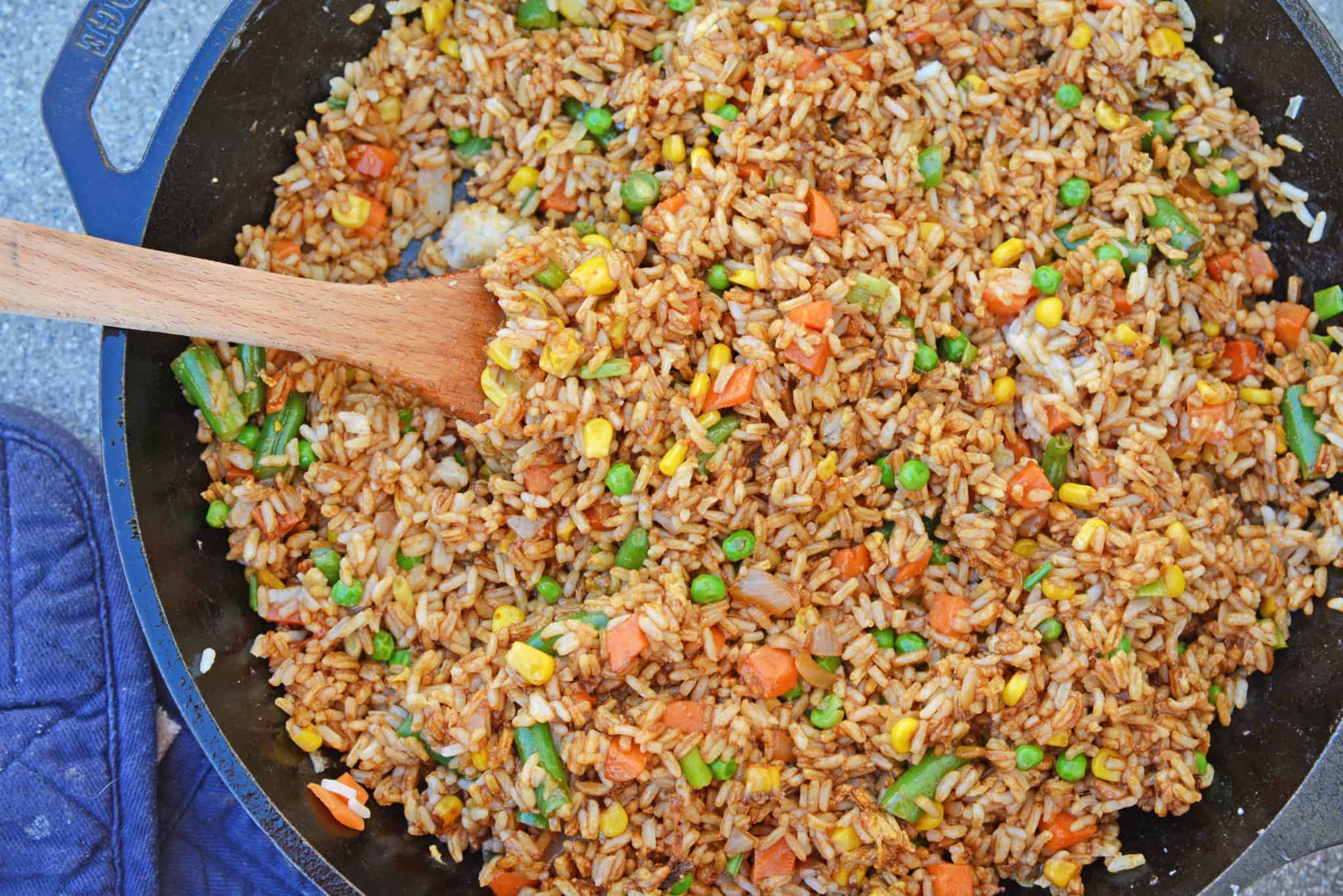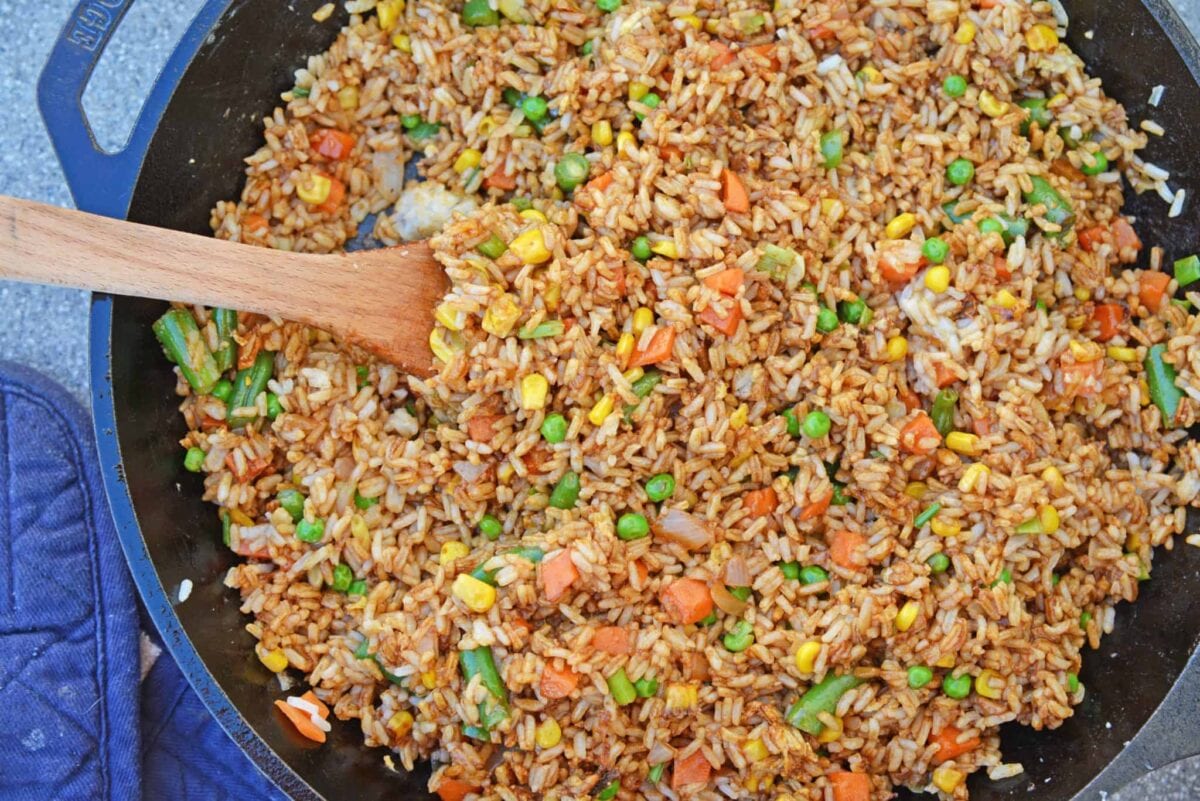 There really isn't a need to add protein since it isn't the main dish, but you can always add some ham or shredded pork like they do in the restaurant. White sticky rice is also totally acceptable. You can even use an ice cream scoop to place it into little bowls.
Lo mein and cauliflower fried rice are other good options. Use sauces like eel sauce, spicy sauce, ginger sauce or brown stir fry sauce to jazz them up.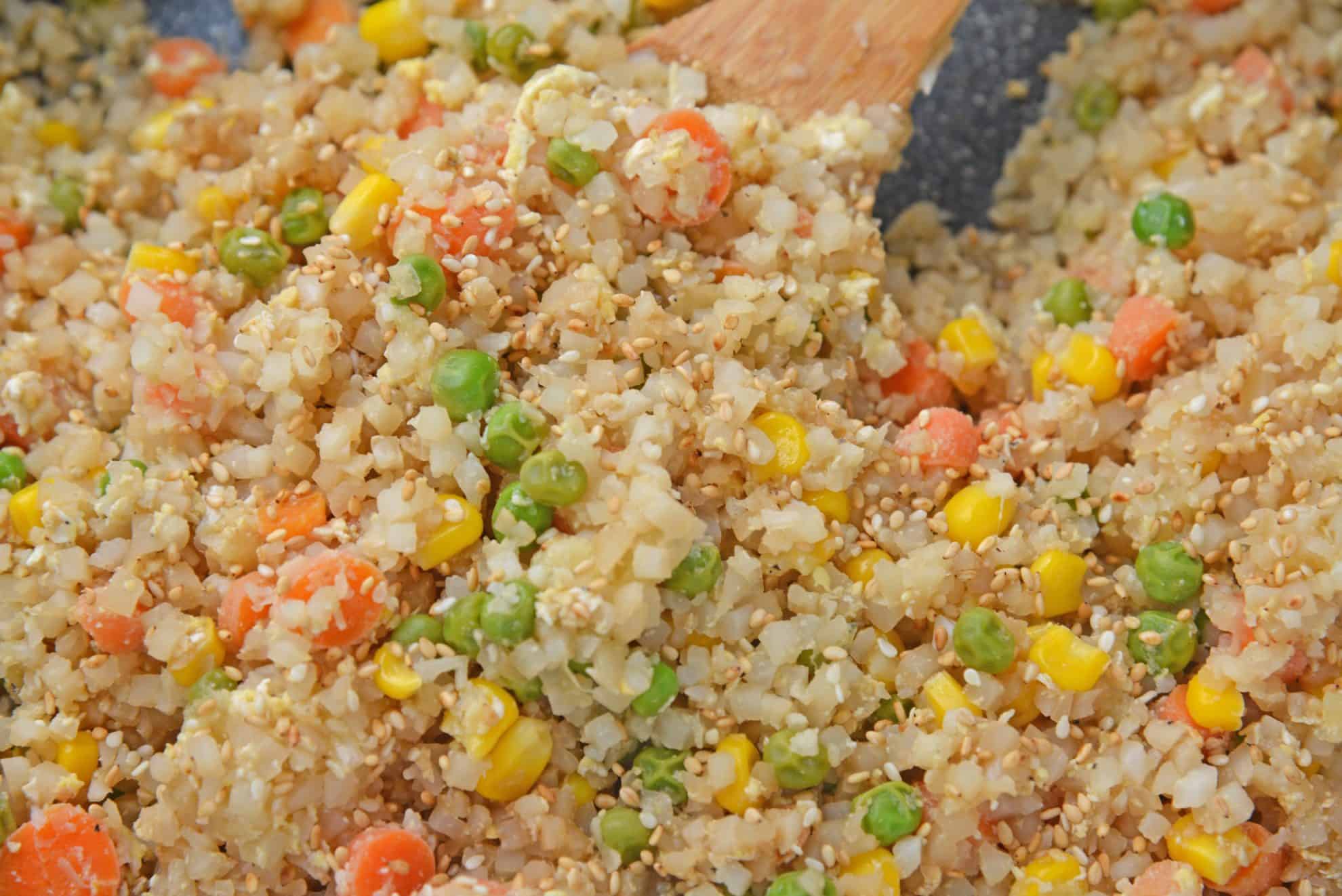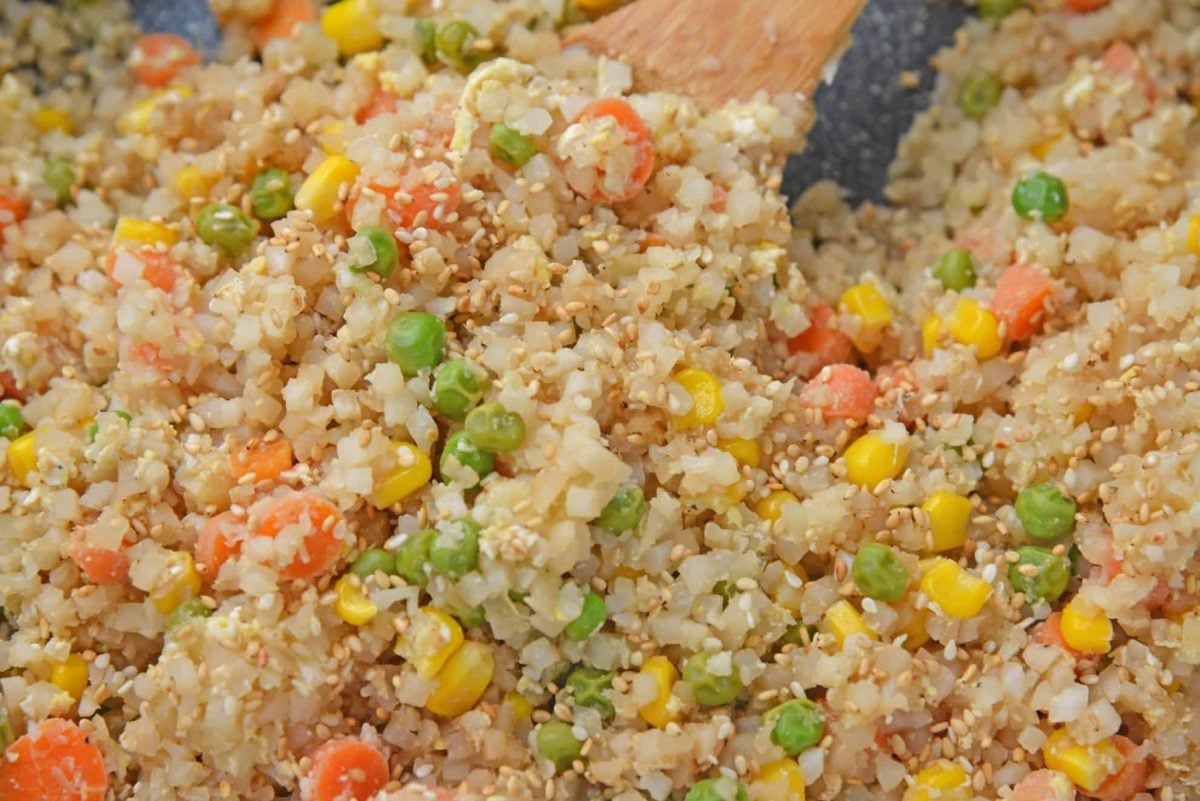 The Proteins
Hibachi Chicken
If you plan to make hibachi chicken, you'll need some sort of fat. The resturants use a seasoned butter (that giant pale yellow pound on a plate).
I used unsalted butter. You can use salted, but be careful with further seasoning so things don't get too salty. Of course, soy sauce is also a little salty. Boneless skin chicken breasts or boneless thighs fillets cut into 1-inch pieces are all you need. There is no need to marinate ahead of time. Make sure to check the internal temp of the chicken, as breasts and thighs have different degrees of doneness.
Hibachi Steak
For hibachi steak, you'll also need a fat, such as butter. Again, unsalted is the best bet, but salted work fine too.
No need to season or marinate the beef either. The restaurant usually gives you a choice of these cuts, you can use the same ones at home.
Beef tenderloin (chateaubriand)
New York Strip
Skirt Steak
Most are cut into bite-sized pieces and I recommend doing this before adding to the griddle so you don't ruin the coating.
Hibachi Seafood
There is typically a lengthy list of seafood options.
Shrimp -Use large peeled and deveined shrimp, account for about 1/2 pound per person.
Scallops- Clean scallops and dry with a paper towel to dry. Make sure the side muscle is removed. If using large scallops, cut in half. Smaller, bay scallops, don't need to be cut.
Lobster– Remove meat from lobster tail and cut into 1 inch pieces.
Vegetables
Every restaurant has their own mix of hibachi vegetables, but they usually consist of a julienne cut mix.
Zucchini
Carrots
Onion
Eggplant
Broccoli
Mushrooms
Don't mix all your veggies together at once because some take more time to cook than others. Broccoli carrots go on first, then add zucchini and eggplant, followed by onion and mushrooms.
How to Make an Onion Volcano
Disclaimer: Try this trick at your own risk and have a fire extinguisher close by.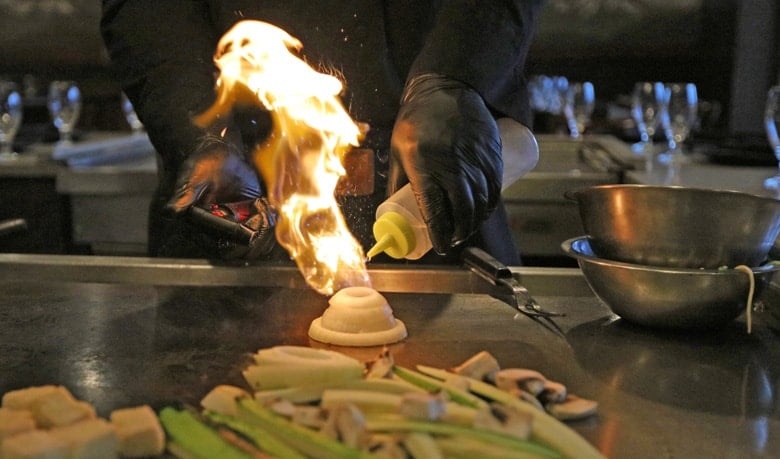 Gather your tools ahead of time. Here is what you'll need:
Onion
Small squeeze bottle of 8- proof vodka or other 80+ proof alcohol
Small squeeze bottle of vegetable oil
Cut onion into thick slices (about 1/2 inch). Using the largest piece, build a tower from the largest up to the smallest, leaving the last one off so you have a large enough hole to squirt the liquids.
Do this trick at the very beginning or the very end because you'll need to crank the heat on your griddle up as high as it goes.
Stack the slices before you put them on the griddle (to avoid getting burned or messing it up). Transfer them using a flat spatula.
You'll need to work quicky to make the rest of it work correctly.
Squirt oil into the center of your onion for 2 seconds.
Squirt the alcohol into the center for 3-4 seconds. Be careful not to drip it any place else or it can also light fire (sometimes the chef will make a smiley face doing just this).
Hold your long lighter or butane torch close to the top of the volcano and then light it or after the flame is lit, wave it over the top. This needs to happen briskly after you put the alcohol in so it doesn't simply seep out the bottom. Some even do the fire at the same time as squirting the alcohol. Stand as far back as you can to avoid getting burned. It should flame up and then die down to just smoke in a few minutes.
Sushi
While this is plenty (almost too much) for me, my husband would disagree and also wants sushi. Not just any sushi, he craves the delicious rolls with cream cheese and spicy tuna topped with crunchy tempura flake and spicy mayo. Delicious!
Sometimes I make these elements into a bowl, sometimes I grab fresh sushi at the Sushi Restaurant to save myself a little bit of time and other times I tell him we'll have a sushi another night.
Or you can do something else like one of these other delicious options.
Seawood salad
Miso soup (clear soup)
Spare ribs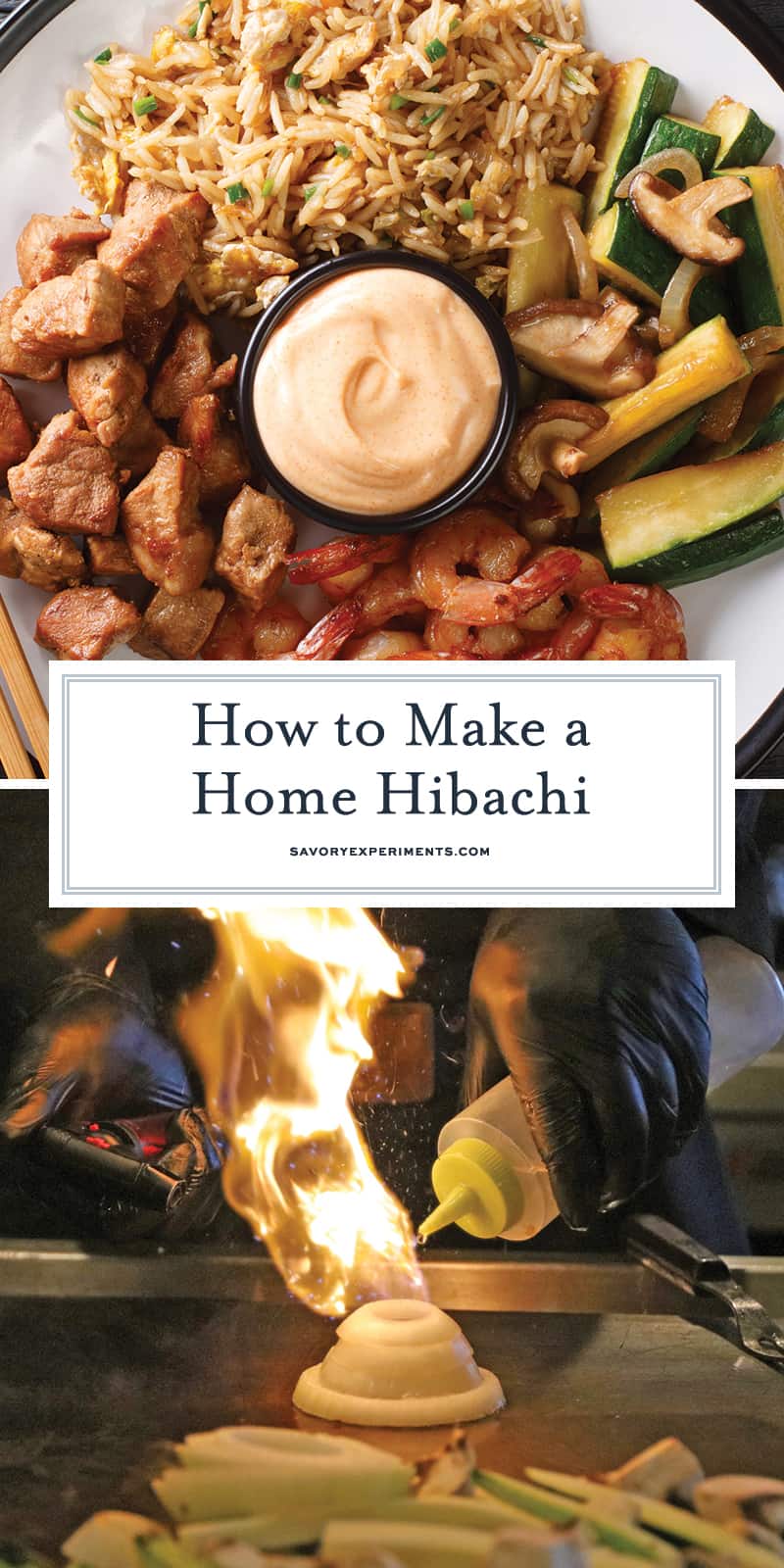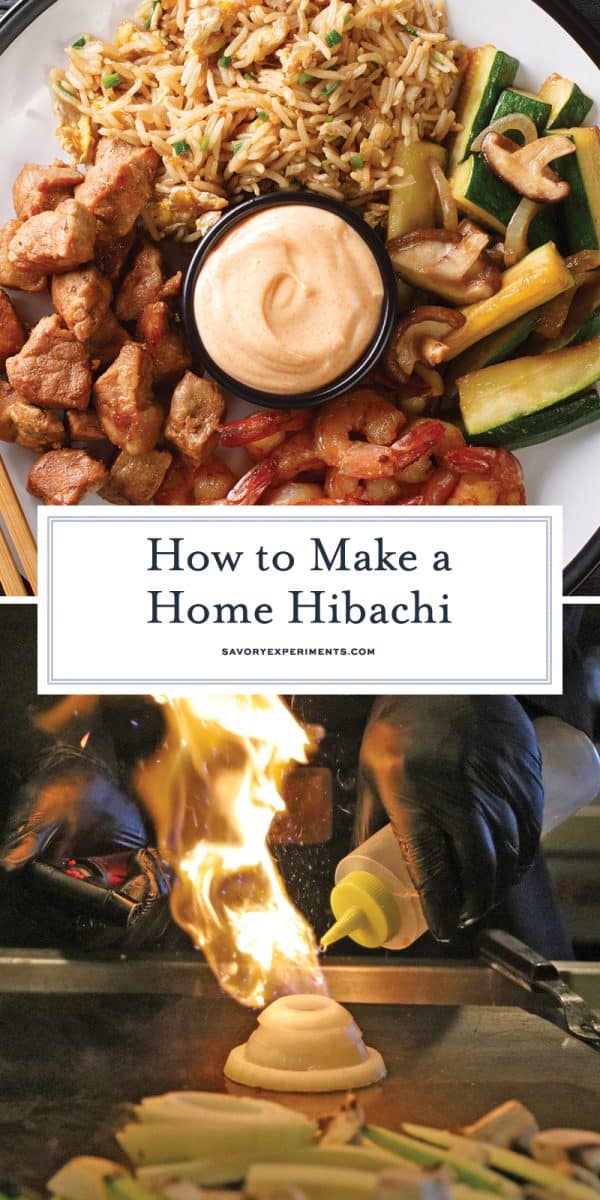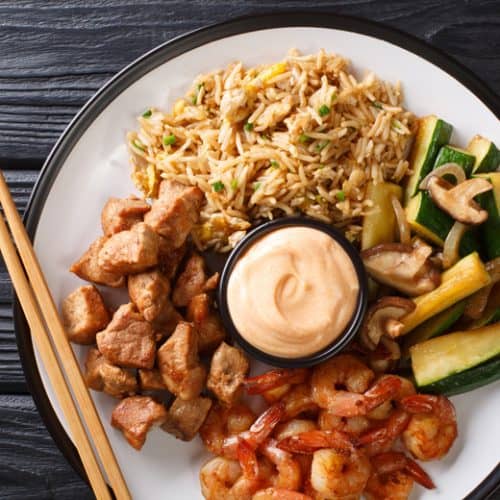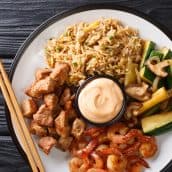 Hibachi at Home Recipes
Make your favorite hibachi dinner, complete with an onion volcano and shrimp toss, at home!
Ingredients
Instructions
For the Hibachi Chicken:
Heat the griddle to 350°F and then heat the vegetable oil. When hot, add the chicken or beef, laying out into a flat layer. Flip when browned, about 2-3 minutes. For rarer beef, sear on all side, about 1-2 minutes.

When cooked to desired temperature, pile it together and then make a little well in the center. Add the butter, soy sauce, sesame oil, ginger and garlic. Toss it together until the meat is fully coated.

Right before serving, spritz with fresh lemon juice and season with salt and pepper, if desired.
For the Hibachi Seafood:
Heat the griddle to 350°F and then heat the vegetable oil. When hot, add the seafood. Sear for 3-4 minute total. Do not overcook.

Pile in the center and add the butter and soy sauce, tossing to coat. Right before serving, spritz with lemon juice.
For the Hibachi Vegetables:
Heat the griddle to 350°F and then heat the vegetable oil. When hot, add the zucchini and onion. Allow to brown on all sides, approximately 4-5 minutes.

Add the mushrooms and continue to cook for another 3-4 minutes, or until mushrooms start to shrink.

Pile in the center and toss with butter and soy sauce. Spritz with lemon juice right before serving.

If you've tried this recipe, come back and let us know how it was in the comments or ratings!
Notes
For the hibachi chicken, feel free to omit the included own sauce and instead toss with 1-2 tablespoons of teriyaki sauce.
This recipe can be made on a flat top grill or in skillets.
All three components can be made at the same time if space allows.
Nutrition
Calories:
371
kcal
,
Carbohydrates:
6
g
,
Protein:
32
g
,
Fat:
25
g
,
Saturated Fat:
13
g
,
Polyunsaturated Fat:
3
g
,
Monounsaturated Fat:
7
g
,
Trans Fat:
1
g
,
Cholesterol:
193
mg
,
Sodium:
593
mg
,
Potassium:
608
mg
,
Fiber:
1
g
,
Sugar:
3
g
,
Vitamin A:
347
IU
,
Vitamin C:
11
mg
,
Calcium:
72
mg
,
Iron:
2
mg
What is hibachi style food?
Typically meat, seafood and vegetables prepared on a super high heat metal griddle. Traditionally these are heated with coals or wood, but in the states they are mostly propane. Hibachi is also very fast and interactive and has been entertainment in the US. Most US "hibachi" is actually closer to teppanyaki style cooking.
Hibachi vs Teriyaki
Hibachi is a style of cooking and preparation whereas teriyaki is a sauce, but also more of a skewer and grilled preparation than griddle. However, many hibachi restaurants serve a teriyaki sauce with the food.
What gives hibachi unique flavor?
If truly being cooked with fire, the coals or wood, but in the US, sesame oil, good quality dark soy sauce and butter with salt give it flavor.