Have you ever been in the mood for something different? It's in the middle of grilling season, but sometimes I want a home-cooked, down home comfort meal. Here I am sharing the best meatloaf!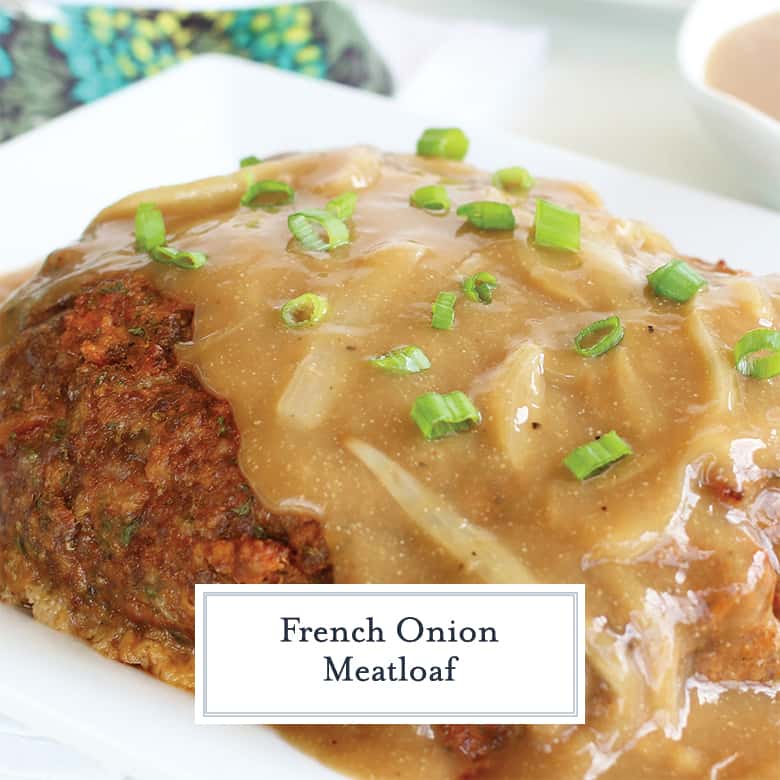 French Onion Meatloaf uses a blend of spices with caramelized onions and a savory onion gravy. The ultimate comfort meal and sometimes known as just Lipton Onion Soup Meatloaf.
First of all, meatloaf hasn't always been one of my go-to meals. For years I turned my nose up to it and then hubby requested I make him one. But I do enjoy my famous French Onion Chicken Bake so I tried to combine meatloaf with something I do enjoy.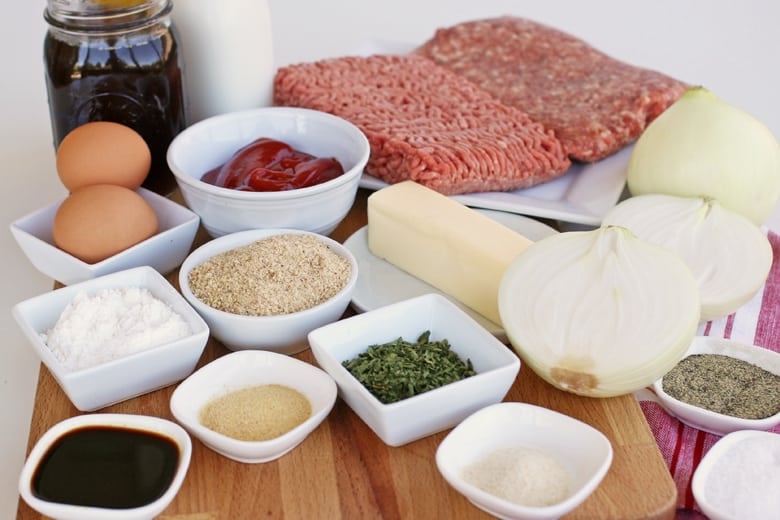 The first time I made a classic meatloaf recipe, I actually made myself an entirely different dinner. It was a brick of meat with sauce on top served with mashed potatoes. I snuck a bite while cleaning the kitchen.
To my surprise, I actually liked it and when I thought about it, didn't really have a solid reason why I didn't like it. I started on a meatloaf loving-spree to make the best of different varieties.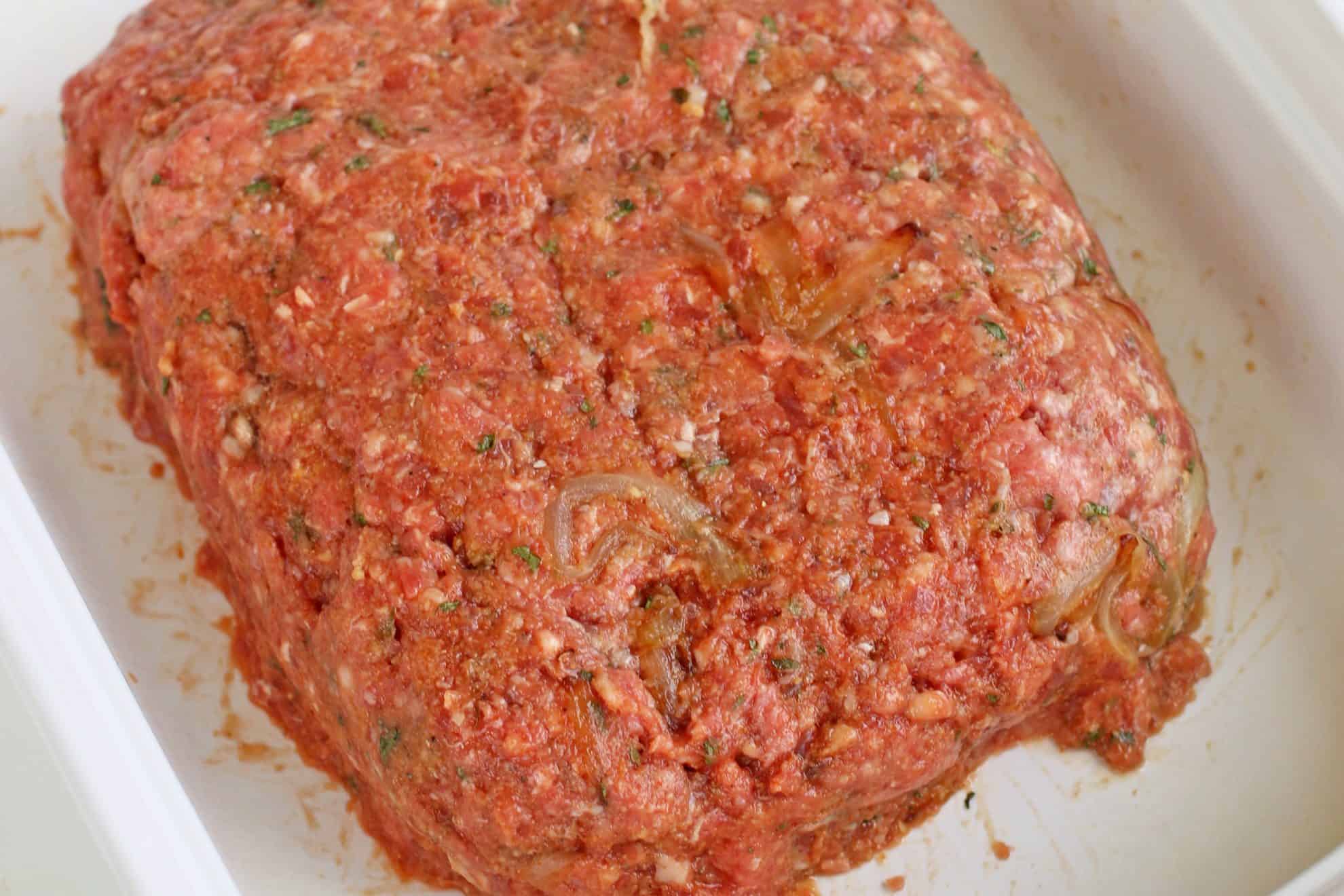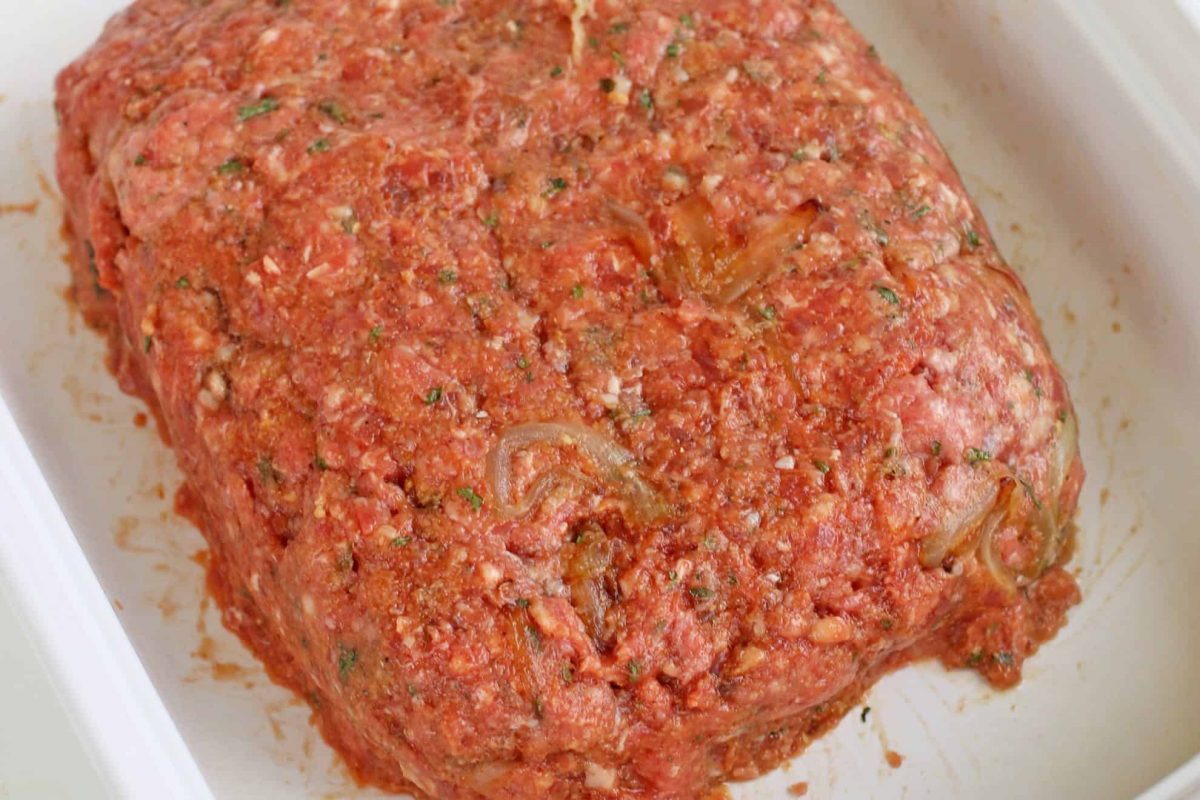 French Onion Meatloaf uses onion soup mix along with caramelized onions for a double whammy of flavors and texture. Use a store bought onion soup mix or make your own (I bet you already have the ingredients in your pantry!)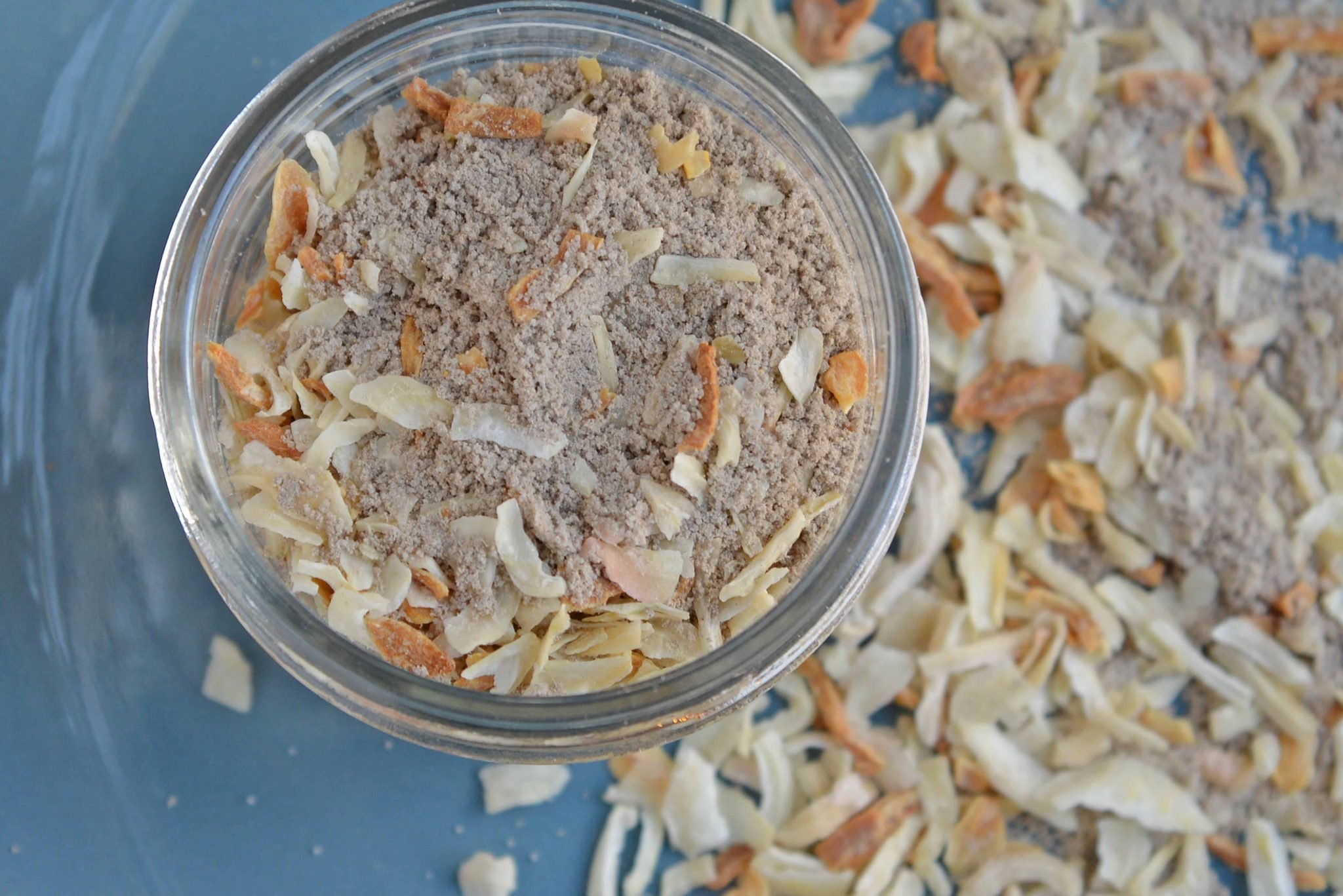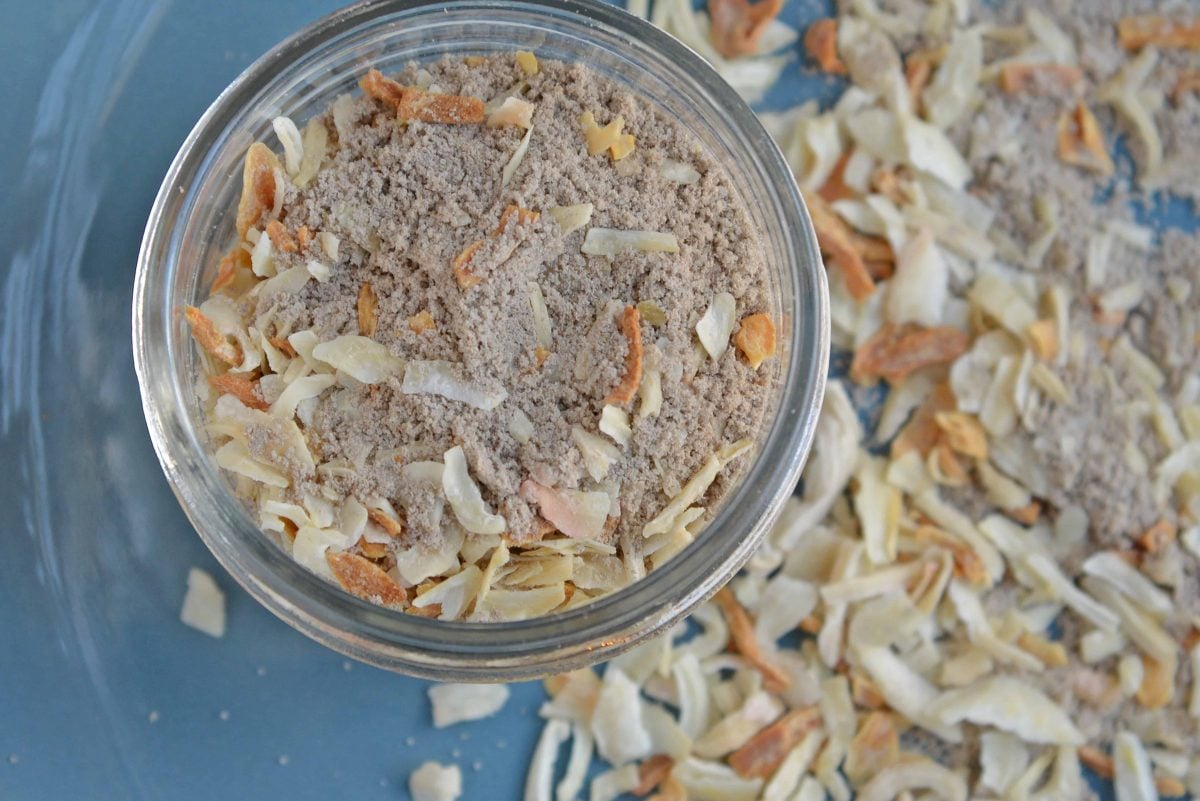 While I love the traditional toppings of ketchup and brown sugar caramelized over a meat mixture, wait until you get ahold of onion gravy part of this recipe. It truly helps to bring this dish to life.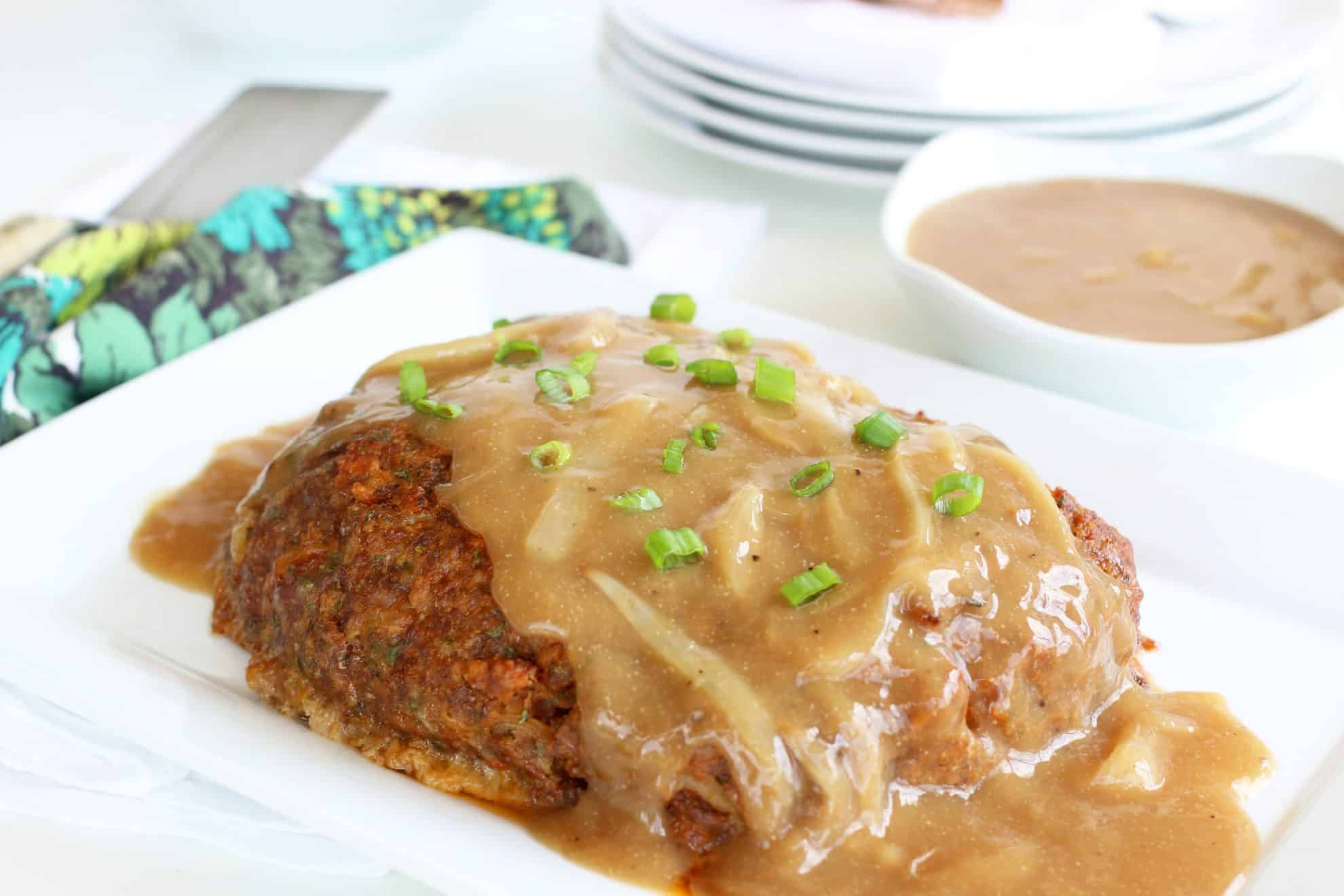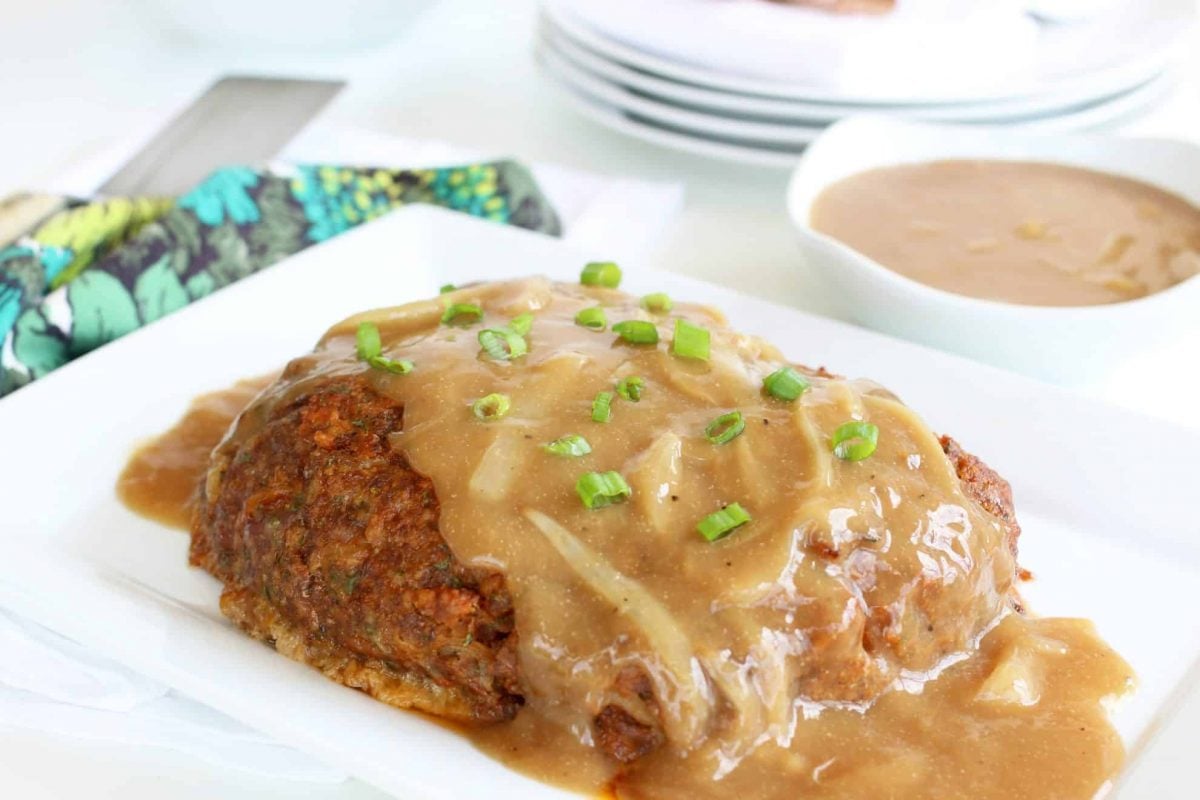 I would also say that this is a family friendly meal. When we eat it around our table, no one leaves a drop behind. In fact, I usually double the recipe, so there are leftovers!
French onion meatloaf also freezes well, so if you do decide to make a double batch, stick one in an airtight container and save it for another night. Freeze onion gravy separately and check out my tips and tricks for freezing all your foods!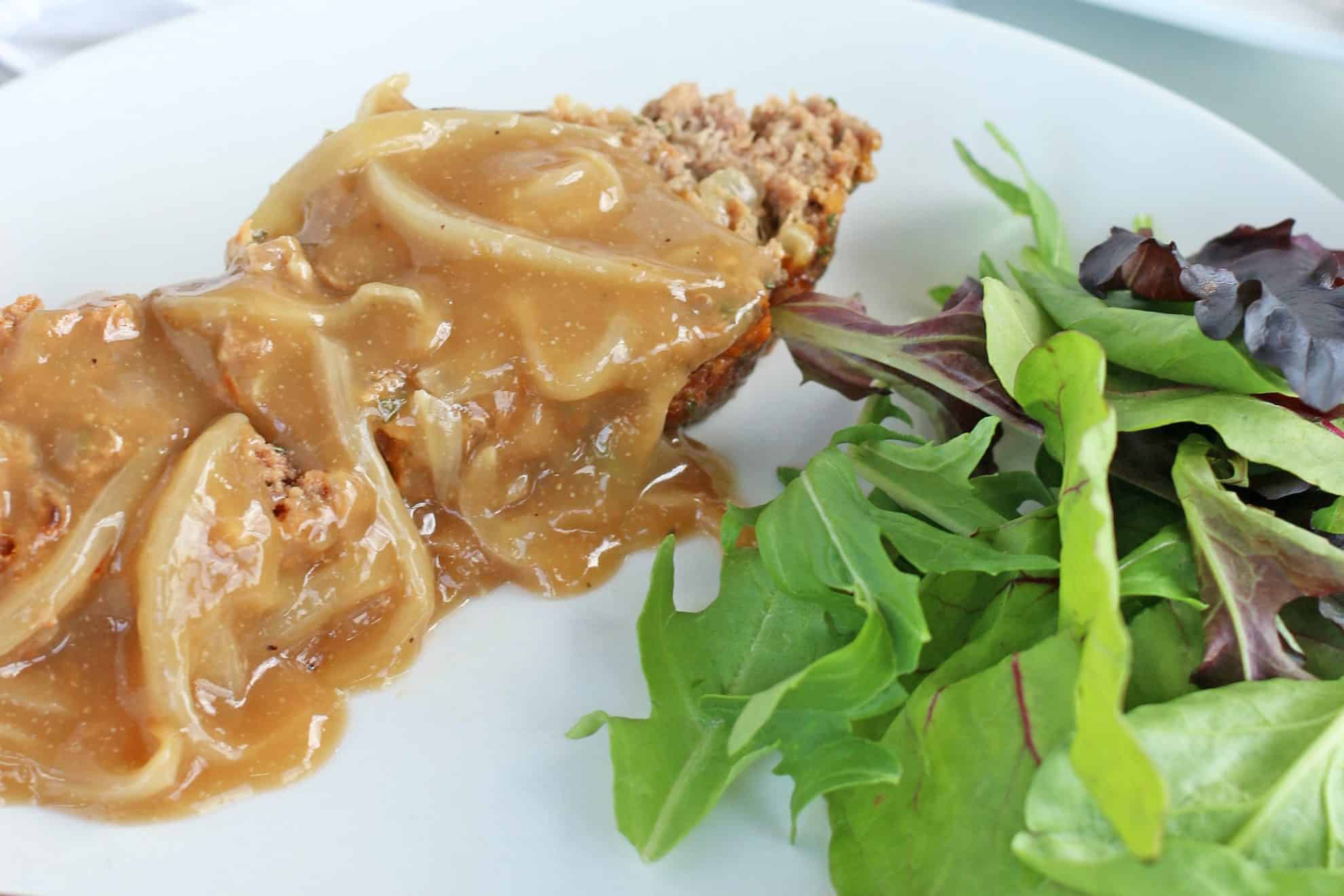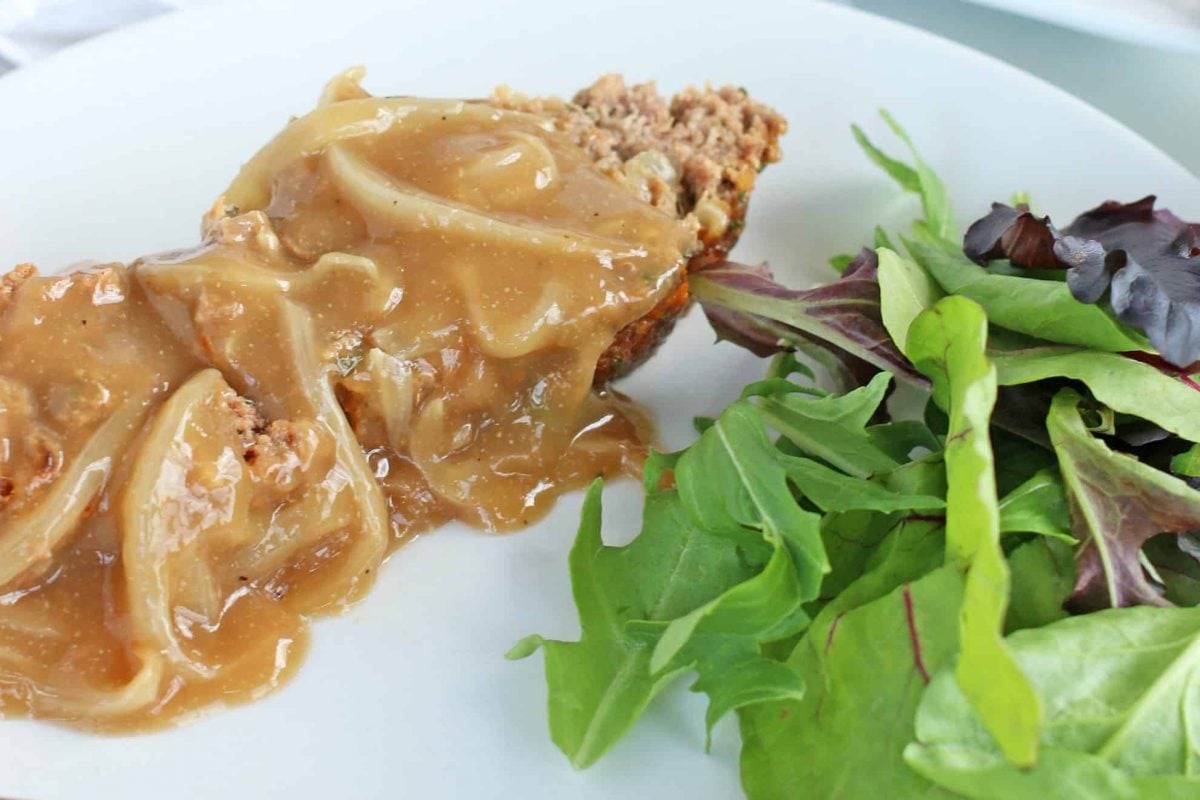 Tools you might use for making this meatloaf recipe:
Cast Iron Pan – If you don't have one of these, make the investment. It's one of the best things I have in my kitchen. Onion soup meatloaf is the bomb.com and you'll need a cast iron pan to make this dish a reality.
Meatloaf Pan – This is the day you have every single type of pan you'll need in the kitchen. You can make all sorts of recipes with loaf pans.
You can free form your meatloaf on rimmed baking sheets or use a special meatloaf pan to easily form it and pull it back out, leaving all of the oils in the bottom.
Measuring Cups – You are going to need a good set of measuring cups to help you get through this recipe.
Rimmed Baking Sheet– another kitchen staple! You'll use this for prep work, roasting and much more. I have 7 at my house.
If you go free form, make sure to use a rimmed baking sheet to catch all the grease and save yourself from a big mess in the oven.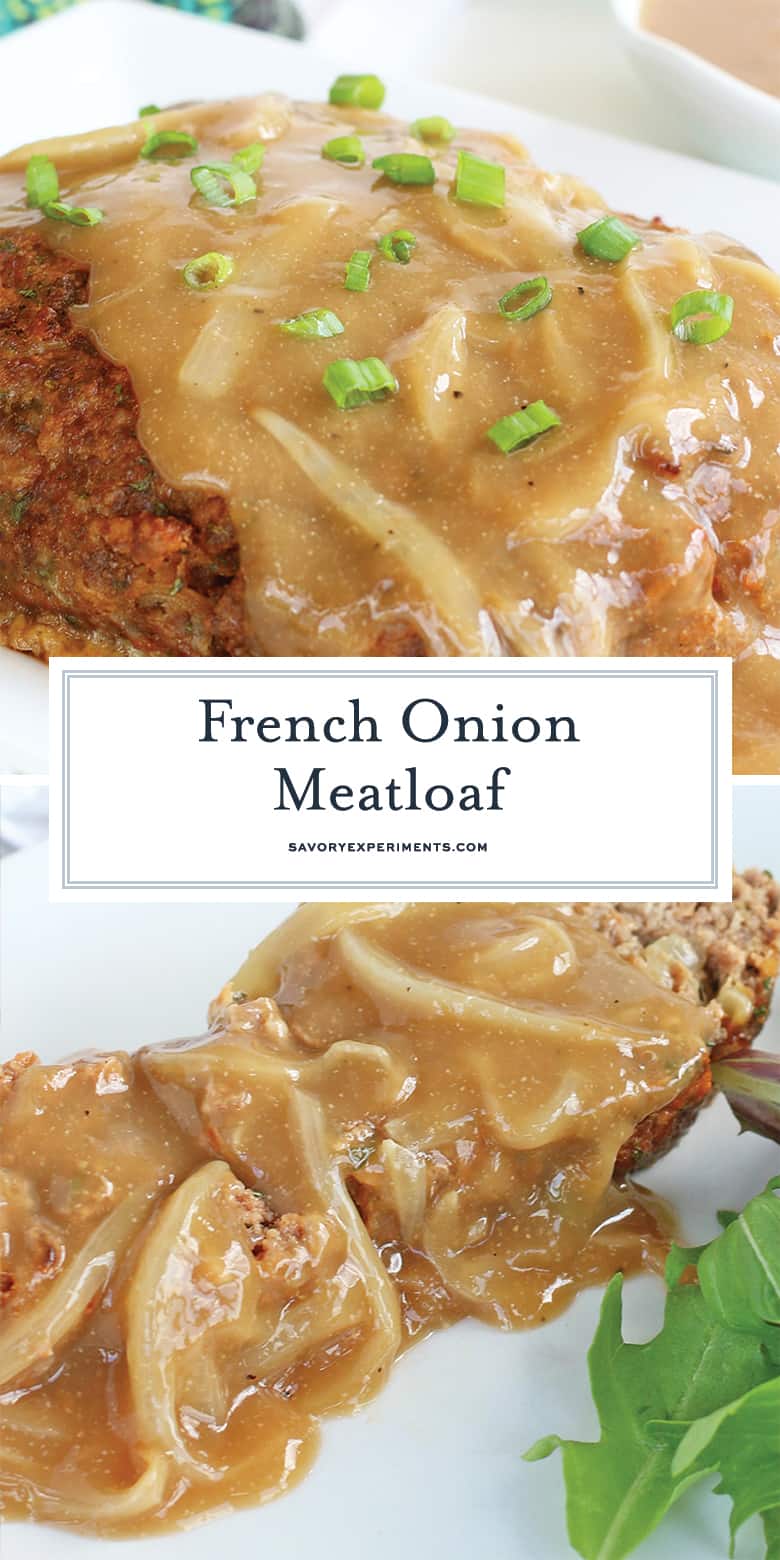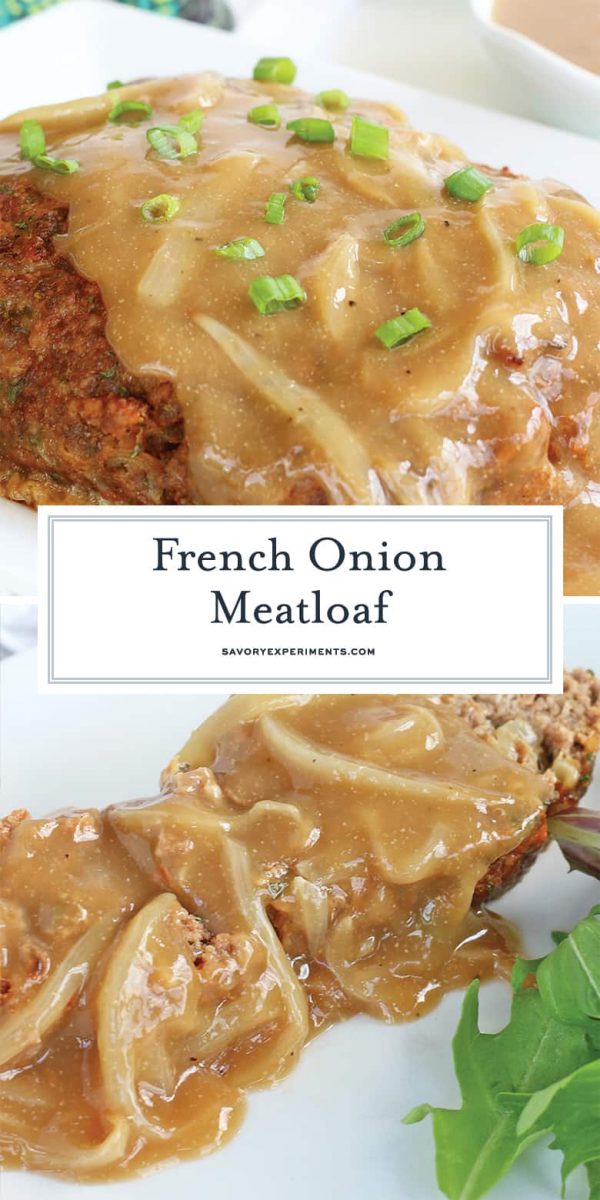 Questions you might have about how to make french onion meatloaf with brown gravy:
When was meatloaf first invented? Some would say that meatloaf has been around since the 5th century. A cousin to the Dutch meatball, meatloaf is a traditional German dish. It is also a popular Belgian and Scandinavian dish.
Is meatloaf healthy to eat? Obviously, making anything yourself is healthier than buying the store bought processed version. Meatloaf is also very calorie rich. So, if you have intentions of eating healthy, you will want to watch your portion sizes.
You can also substitute ground turkey or chicken for beef and pork to save a few calories, but for maximum flavor, grab a meatloaf mix.
Is meatloaf tasty? I wouldn't be sharing if it wasn't! Regular meatloaf is good, but the additional flavors and onion gravy amplify this dish. I'm all for creating traditional dishes, but I also like to switch them up a bit.
How long is meatloaf good for in the fridge? Leftovers might happen with this dish. If that's the case, you will want to be able to store the meatloaf in the fridge. Storing meatloaf in the fridge only works for 3-4 days and it has to be stored in an airtight container.
Is it easy to caramelize onions? It's not too hard to caramelize onions. In fact, if you follow the right recipe *ours*, you'll have excellent caramelized onions. You'll want to coat the bottom of a pan with olive oil and butter. The pan should be put on medium heat.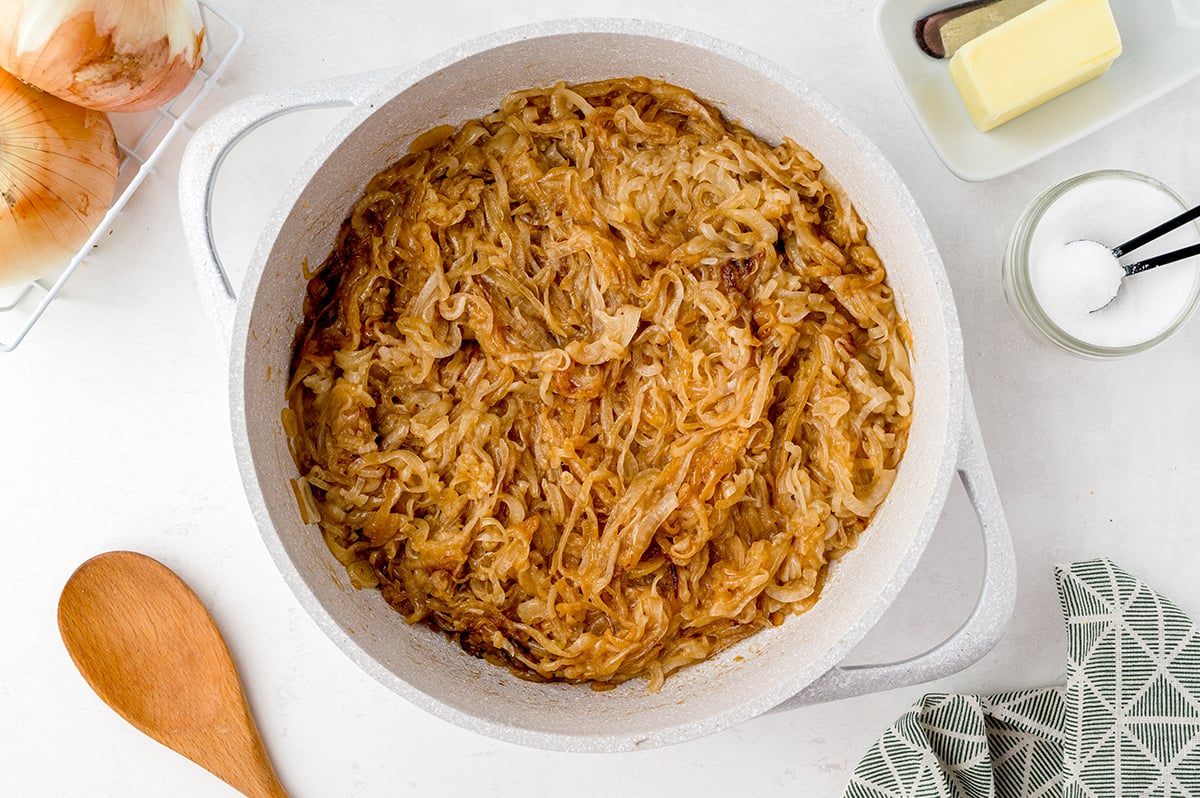 When your oil and butter starts to glisten, you are getting somewhere. You will then add the onions and make sure they're coating in the oil and butter. You will want the pan to cook the onions until they're caramelized. You don't need to stir the whole time. Occasionally is okay.
How dark should caramelized onions be? While you cook those onions, keep in mind that they shouldn't be golden brown. They should be a much darker brown.
Sometimes onion caramelization can take up to 40-50 minutes. This is why some people caramelize their onions, while they prepare other food.
What do caramelized onions taste like? One of my favorite flavors in the world is caramelized onions. They taste savory and tender. Caramelized onions have the power to make anything taste amazing.
Can you freeze caramelized onions? The answer is yes, you can! Thankfully! You don't want any of these going to waste. Just make sure you have a freezer bag big enough for all of the onions you want to freeze.
Can you cook caramelized onions ahead of time? Yes, you can. Shew. You can actually make caramelized onions up to 5 days in advance. Just make sure you cover and store them properly.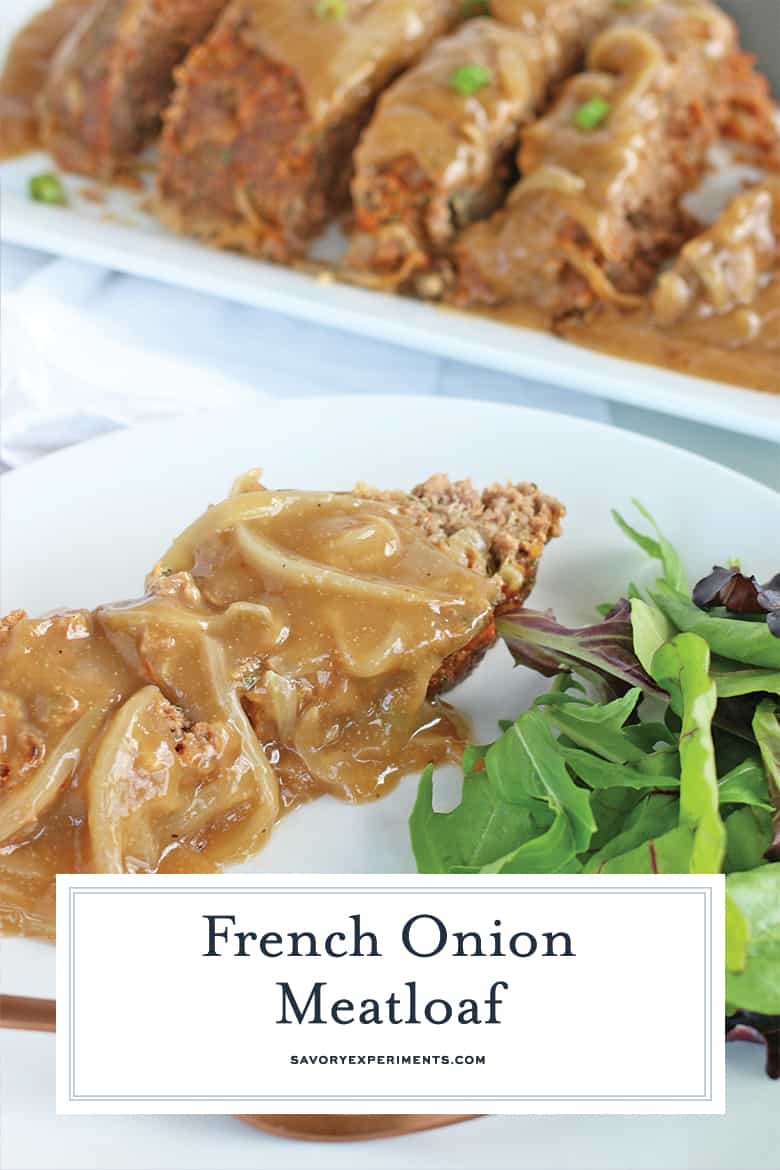 If you liked this meatloaf recipe, check these out: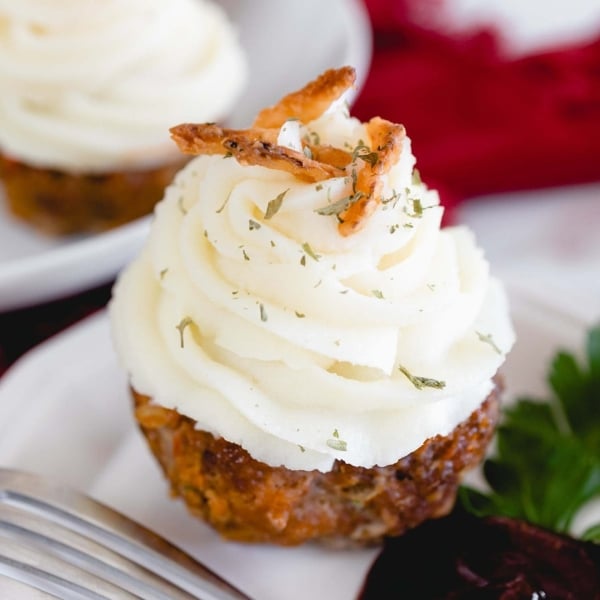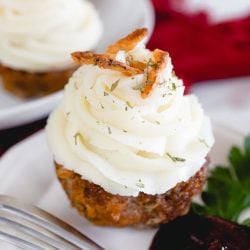 Meatloaf Muffins
Using a simple meatloaf recipe, meatloaf muffins are individual sized servings frosted with mashed potatoes and garnished with French fried onions.
See The Recipe!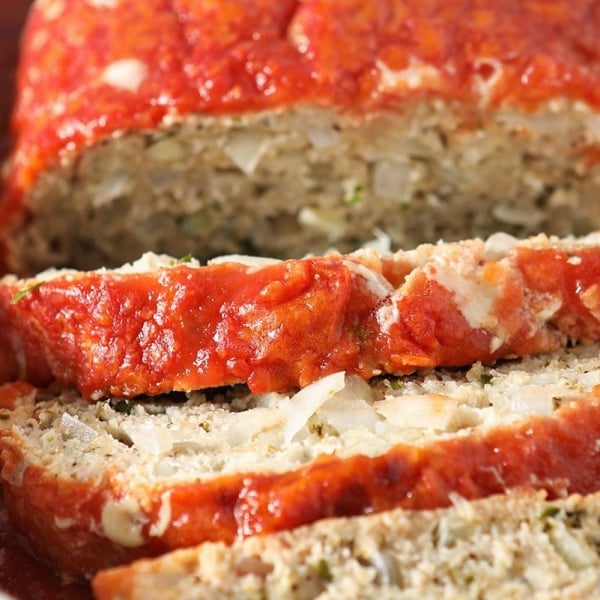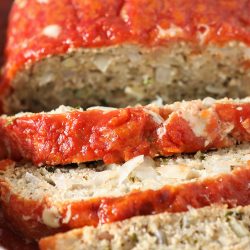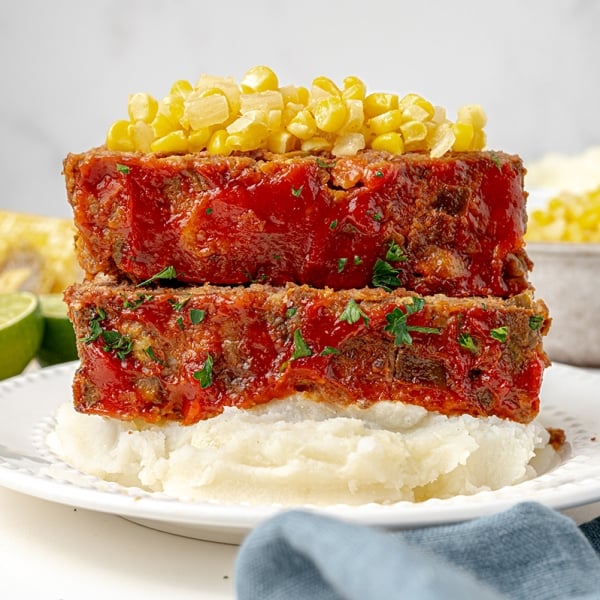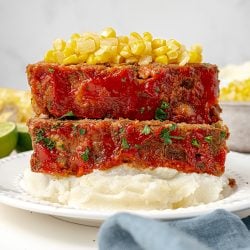 Southwest Meatloaf
Southwest Meatloaf is a classic meatloaf recipe with a southwestern spin. Crushed tortilla chips and bottled salsa give this easy meatloaf a zesty edge.
See The Recipe!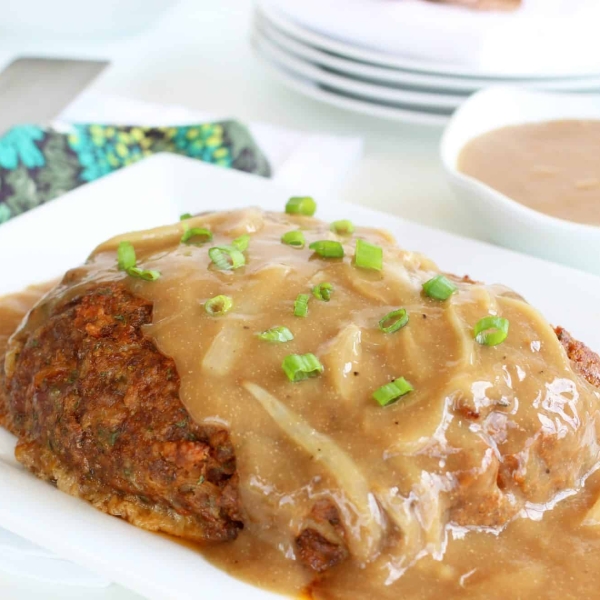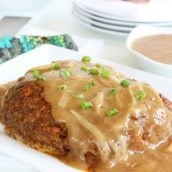 French Onion Meatloaf with Onion Gravy
French Onion Meatloaf uses a blend of spices with caramelized onions and a savory onion gravy. The ultimate comfort meal.
Instructions
Meatloaf:
Preheat oven to 350 degrees.

Combine ground beef, bread crumbs, 2 eggs, ketchup, Worcestershire Sauce, parsley, Onion Soup Mix and caramelized onions.

Shape into a loaf and place on a rimmed baking sheet or form into a meatloaf pan.

Bake at 350 degrees for 45-60 minutes or until cooked through. Meatloaf should have an internal temperature of 155 degrees.

Let stand 5 minutes before serving.

Add gravy to top or serve on the side.
Gravy:
Add beef stock, milk, garlic powder and Worcestershire Sauce to heavy saucepan over medium heat.

Whisk together and bring to a low boil.

Add caramelized onions and stir for an additional minute.

Whisk together water and cornstarch until very smooth.

Slowly pour into gravy mixture, whisking constantly to prevent lumps.

Bring to a low boil and then simmer for 4-5 minutes

Add salt and pepper to taste.

If you've tried this recipe, come back and let us know how it was!
Notes
Use one store bought onion soup packet or a scant 3 tablespoons homemade onion soup mix.
Nutrition
Calories:
522
kcal
,
Carbohydrates:
23
g
,
Protein:
32
g
,
Fat:
33
g
,
Saturated Fat:
12
g
,
Cholesterol:
163
mg
,
Sodium:
576
mg
,
Potassium:
782
mg
,
Fiber:
1
g
,
Sugar:
8
g
,
Vitamin A:
211
IU
,
Vitamin C:
5
mg
,
Calcium:
93
mg
,
Iron:
4
mg