I love learning new kitchen tricks from friends and family and today I learned how to make Grandma's BBQ Meatballs. Well, not my grandma, but Darren's grandma!
Grandma's BBQ Meatballs are a tasty and unique take on a classic. Perfect for game day, as an appetizer, or as a main course.
I first had BBQ meatballs a few years back while watching football at my friend Darren's house. Turns out, it wasn't his recipe at all. It was one he got from his grandma.
They were the most tender meatballs I have ever sunk my teeth into. It was embarrassing, but I couldn't stop myself. The whole slow cooker was gone.
I had to ask him what his secret was: evaporated milk. I've always used regular milk but as it turns out evaporated milk not only adds flavor but also gives it an amazing texture.
Another tip: never overwork your meat mixture. If you do, they will be tough and springy after they are cooked.
Last but not least: always allow meatballs to simmer in whatever sauce you are serving them with. They will absorb flavor and stay moist while lending flavor to the sauce.
You can use bottled BBQ sauce for Grandma's BBQ Meatballs, but I recommend the super simple recipe below. It's great for these meatballs but also on anything from grilled meats to veggies.
We are super lucky to have Darren staying with us for a few weeks this summer while he works. He has been a great house guest- cooking, putting away dishes… he even vacuumed!!!!
I may ask him to stay forever (however I'm sure his wife wants him back)! Hubby has also enjoyed having a buddy here to watch countless hours of baseball and drink a few beers with.
Grandma's BBQ Meatballs can be made large to serve as an entree, but also small for an appetizer. We like to serve them over instant boxed mashed potatoes.
Why I have boxed mashed potatoes is another story in and of itself that I will share during another post.
You'll love these other meatball recipes:
Ranch Meatballs
With simple ingredients and 35 minutes, you can make these delicious EASY Ranch Meatballs for dinner! A great way to spice up your spaghetti and meatballs!
Instant Pot Cranberry Meatballs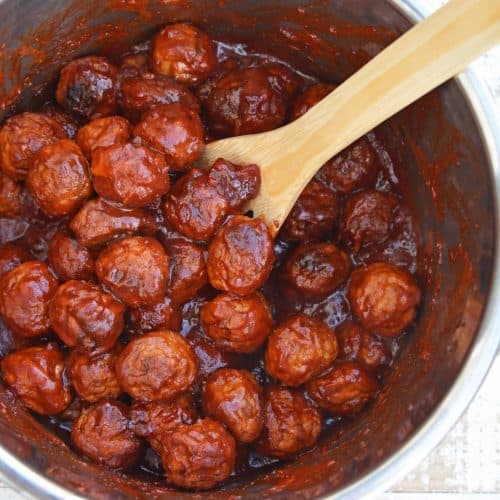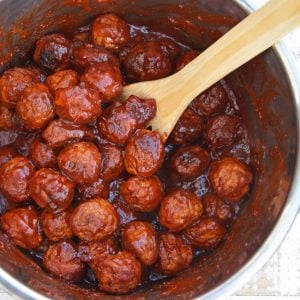 Cranberry Chili Meatballs are always a party appetizer favorite, especially around the holidays. Party meatballs don't get easier than these Instant Pot meatballs made with cranberry sauce and sweet chili sauce. Yum!
Homemade Spaghetti and Meatballs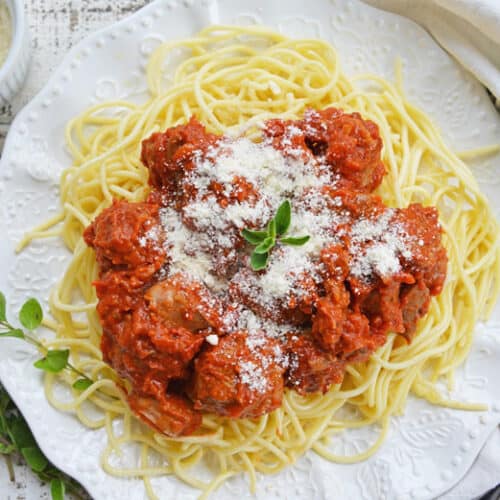 Homemade Spaghetti and Meatballs just the way mom makes them. Just a handful of ingredients makes the perfect sauce.
---
---
Grandma's BBQ Meatballs
The best darn BBQ meatballs you'll ever sink your teeth into!
Instructions
Start by making your BBQ sauce. In a large pot, heat light extra virgin olive oil over medium-high heat, add onion and saute for 3 minutes, or until soft. Add remaining ingredients and stir well. Continue to simmer over medium heat, uncovered so BBQ sauce can reduce to a thick, deep burgundy deliciousness.

Next, make your meatballs. Heat your oven to 350 degrees, line a baking sheet with aluminum foil and lightly coat with cooking spray.

Mix all ingredients for meatballs in a large mixing bowl and combine using your hands.

Form meatballs into 2-3 inch large meatballs or 1 inch small meatballs. Bake for 15 minutes.

Remove and transfer directly to sauce, discard any grease that came off the meatballs.

Continue to cook at a low simmer for 60-90 minutes, or until sauce has reduced by a fourth.

If you've tried this recipe, come back and let us know how they were!
Notes
Serving suggestion: Serve over mashed potatoes!
Nutrition
Calories:
1914
kcal
|
Carbohydrates:
293
g
|
Protein:
55
g
|
Fat:
57
g
|
Saturated Fat:
21
g
|
Cholesterol:
254
mg
|
Sodium:
8169
mg
|
Potassium:
3119
mg
|
Fiber:
4
g
|
Sugar:
247
g
|
Vitamin A:
3045
IU
|
Vitamin C:
29.1
mg
|
Calcium:
446
mg
|
Iron:
9.6
mg