This quick Shepherd's Pie is a casserole-style dish made with frozen vegetables like peas, corn, carrots, and green beans and is perfect for an easy dinner.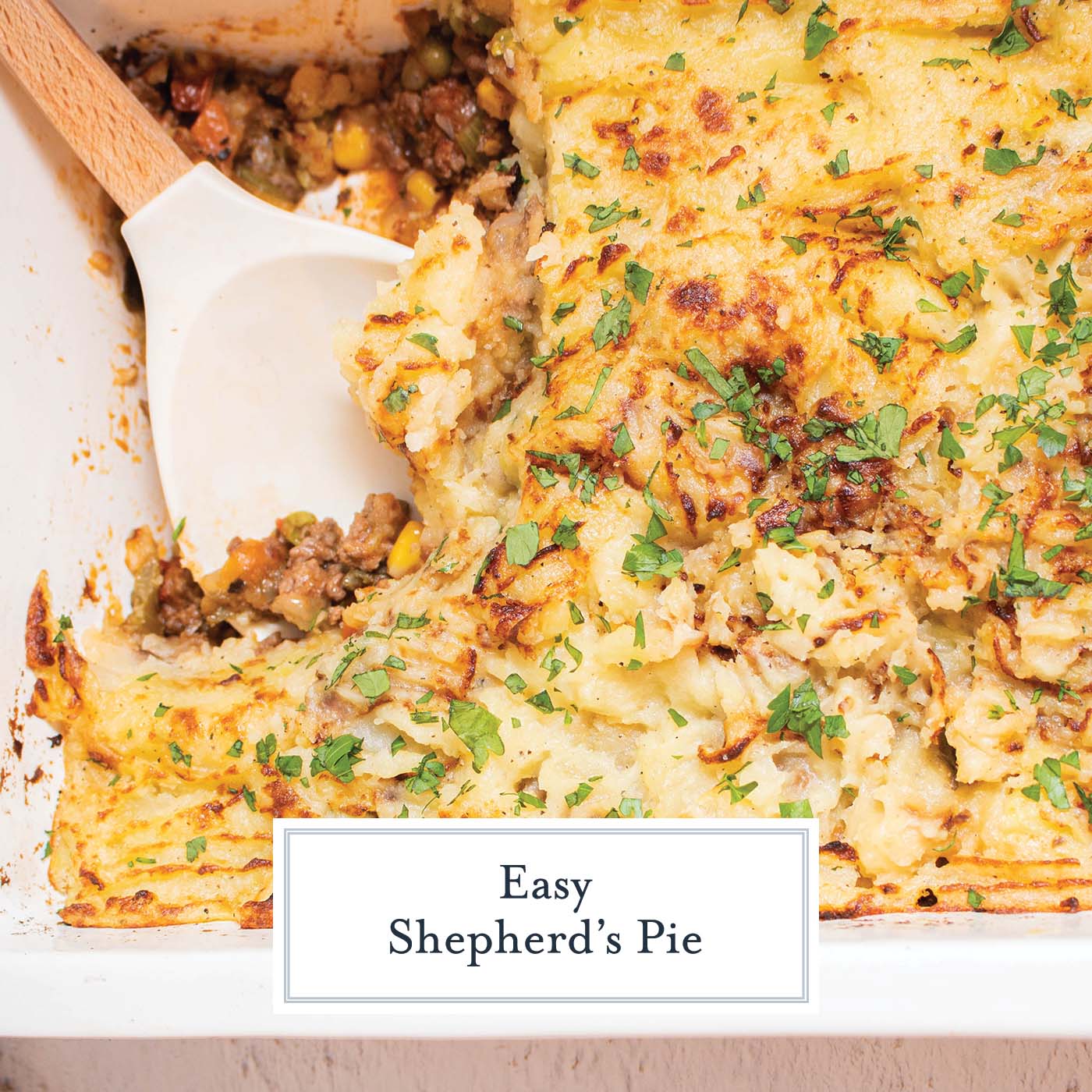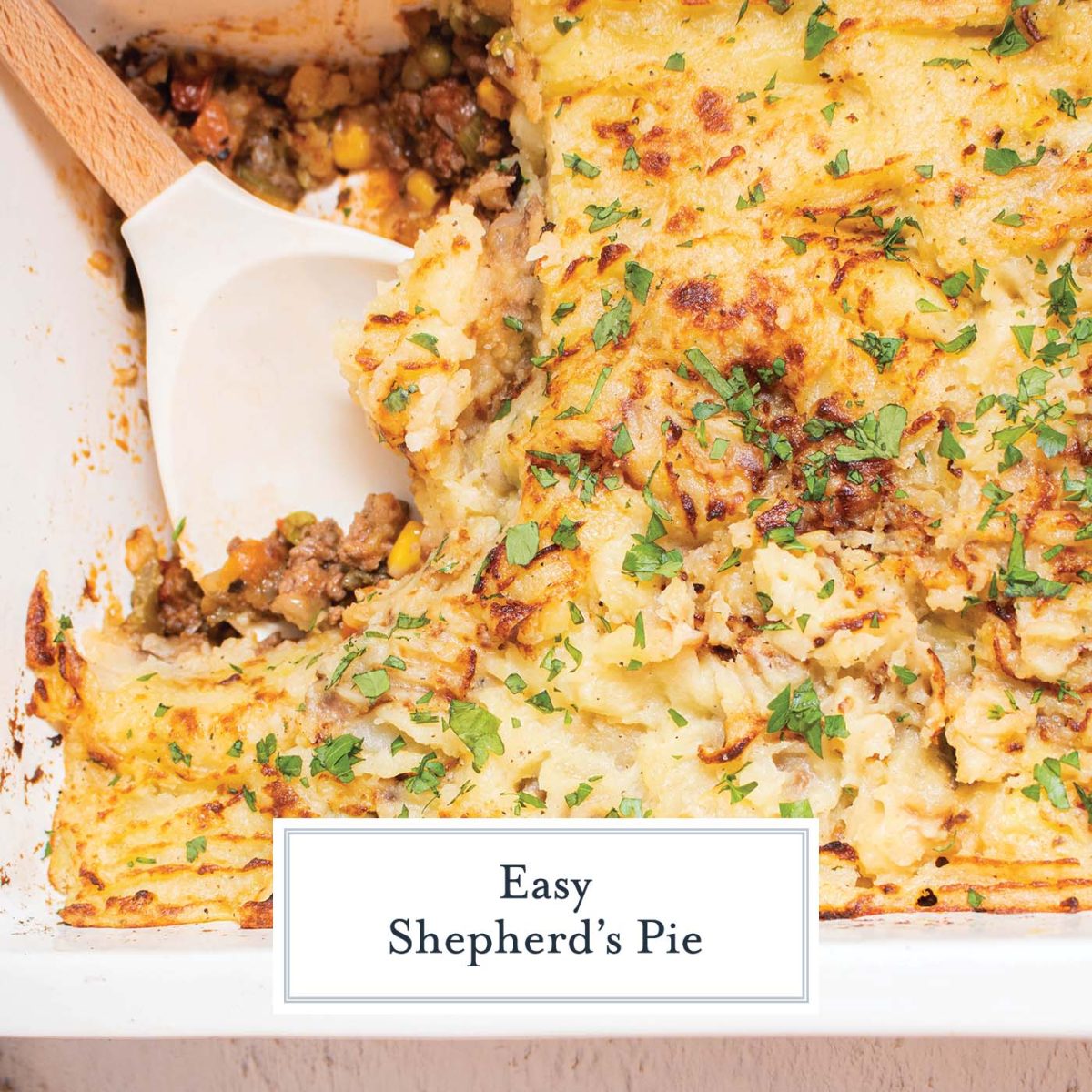 Classic warm casseroles are the best–especially when they are made with a meaty savory mixture mixed with frozen vegetables, Worcestershire sauce, onions, and more. This easy shepherd's pie recipe is made with all of the above plus a creamy layer of fluffy buttery mashed potatoes. Perfect, right?
Made in very few steps, this classic and perfectly tasty recipe is the best for whenever you want something comforting, filling, and so full of flavor. Serve this shepherd's pie with your choice of cheese and extra corn if you prefer!
This easy dinner recipe is made in the oven and great for the whole family! We love to eat easy shepherd's pie for Sunday nights or just whenever we need something a little extra warm and cozy.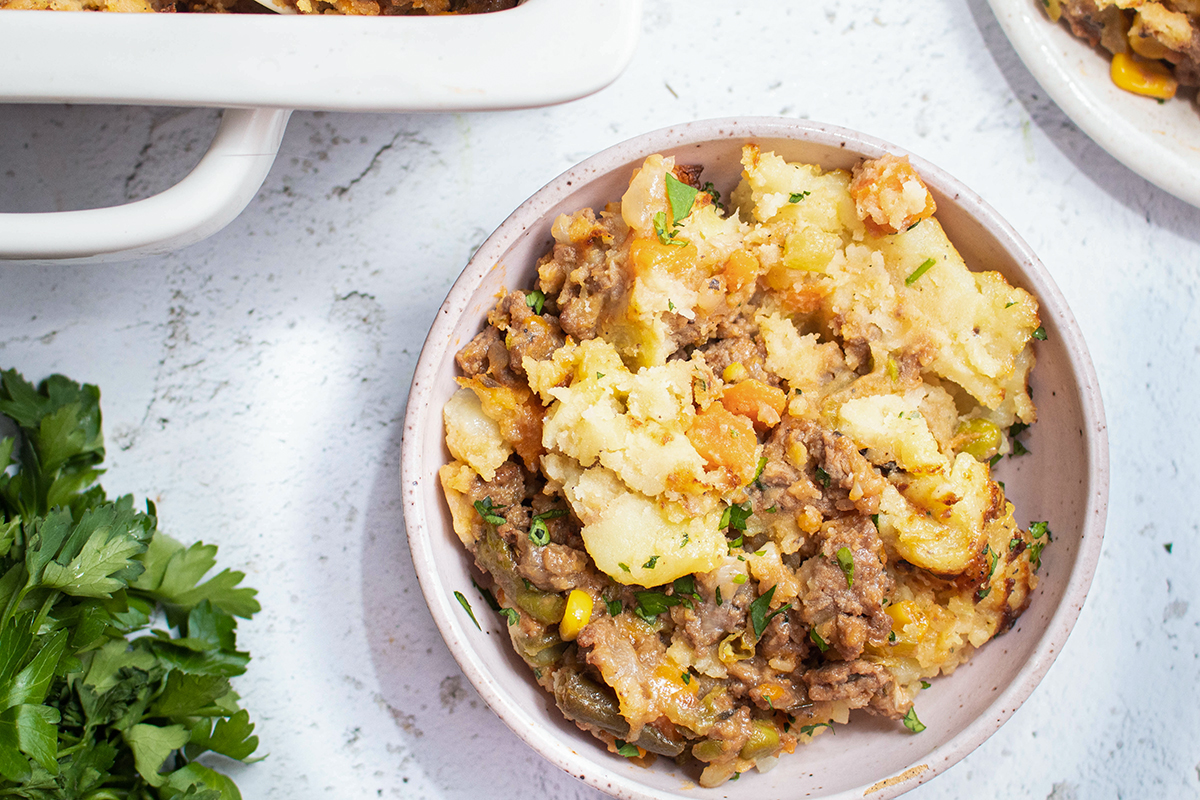 Classic Shepherd's Pie Recipe
The serving of vegetables in this shepherd's pie ensures you are getting some crisp veggies in your meal!
You can easily leave the meat out of this recipe and replace it with something else that is plant-based like extra vegetables or meatless crumbles.
This recipe is easy to serve with a variety of other dishes like salads, soups, colorful vegetables, and more.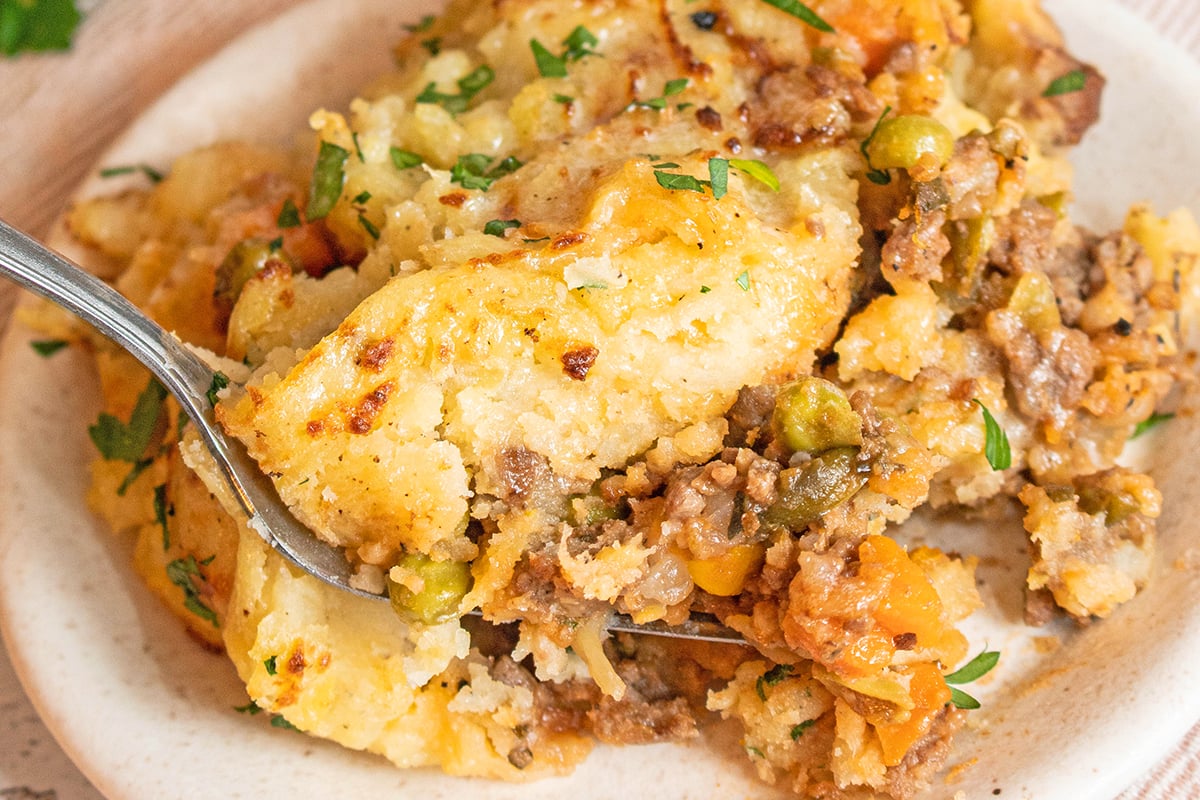 Once all of the vegetables and meat are cooked, this recipe is ready in no more than thirty minutes! If you are looking for a recipe that is effortless and does not require a lot of work, then you will love this easy dish!
Ingredients
You will love the handful of ingredients in this recipe. Seriously, the ingredients list is so easy and straightforward!
Mashed Potatoes: Fluffy mashed potatoes is what makes this such a classic recipe. Either make your own mashed potatoes or use any leftover mashed potatoes you may need to use! Either way, they are the crust that gets all brown and crispy.
Butter: Salted or unsalted butter is a savory rich base that allows this pie to have flavor. An alternative to butter is any kind of neutral cooking oil with a high smoke point.
Onion: One medium-sized yellow or white onion is cooked until fragrant as a base.
Celery: Crunchy celery is cooked with the onion until soft and adds extra texture.
Garlic: Freshly minced garlic is what we like to use because it is so robust and fresh. Garlic provides aromatic qualities to this recipe!
Frozen Vegetables: One ten-ounce bag of frozen vegetables is used for this pie. We like to use a simple blend of classic vegetables that is usually found in the frozen aisle at grocery stores. You can also use canned mixed vegetables.
Ground Beef: Savory ground beef is used as the base for this casserole and gives it so much protein and comforting qualities. Ground chicken, pork, turkey or a blend are all great options too.
Tomato Paste: Pungent, rich tomato paste is mixed with the ground beef to create a homemade gravy that makes the ground beef moist and flavorful.
Flour: All-purpose flour is used to help make the gravy!
Worcestershire Sauce: You will definitely want to make sure you have this sauce for this recipe because it is a key element. This sauce is what makes the gravy so delicious.
Beef or Chicken Broth: Homemade or store-bought broth is used for the gravy and tastes wonderful in the meat mixture. You can also use vegetable broth. Opt for low sodium so you can control the salt.
Salt and Pepper: Classic sea salt and black pepper are used to season this easy shepherd's pie to perfection!
For Serving: If you would like, serve this recipe with freshly chopped parsley or shredded cheddar cheese on top.
How to Make Shepherd's Pie
Make mashed potatoes. If you are preparing mashed potatoes, then you will need a grab a medium saucepan and fill it up with water. Dice four medium to large peeled potatoes and place them into the pot to boil. Boil the potatoes until they are fork tender so they are easy to mash and eat. Turn off the heat, then drain the potatoes with a colander. Place four tablespoons of butter into the pot with the potatoes and mash with a potato masher or wooden spoon until fluffy and soft. Season to taste with salt and pepper.
Sauté the veggies. Preheat the oven, and then melt the butter over medium-high heat in a pan on the stove. Place the diced onion into the pan along with the celery. Since celery takes longer to cook, it is good to cook it with the onion. Cook until fragrant which is about five minutes. Add the minced garlic and cook for an additional couple of minutes until fragrant being careful not to burn it.
Cook the beef. Next, add the ground beef and break it up into smaller pieces among the onion and celery so it is easier to cook. Cook the beef for a few minutes, then add the frozen vegetables to the meat mixture. Season the beef with salt, pepper, and Italian seasoning for extra flavor.
Add in the seasoning. Place a tablespoon of tomato paste into the meat mixture along with the flour and Worcestershire sauce and stir until everything is mixed. Pour the broth into the beef and stir again until it has been absorbed.
Add to casserole dish. Turn the heat off and pour the ground beef and vegetable mixture into a nine by thirteen inch casserole dish. Be sure the meat mixture is in an even layer so you get a delicious bite every time.
Top with potatoes. Next, spread the mashed potatoes over the top of the ground beef with a wooden spoon. Make sure the potatoes are in a nice even layer and a little rough in texture.
Bake. Bake the shepherd's pie in the preheated oven for thirty minutes until the top of the potatoes are light brown. Carefully, remove the pie from the oven and allow it to rest for five to ten minutes before serving to give the meat and vegetables more time to absorb the gravy flavors.
Enjoy with freshly chopped parsley or shredded cheddar cheese!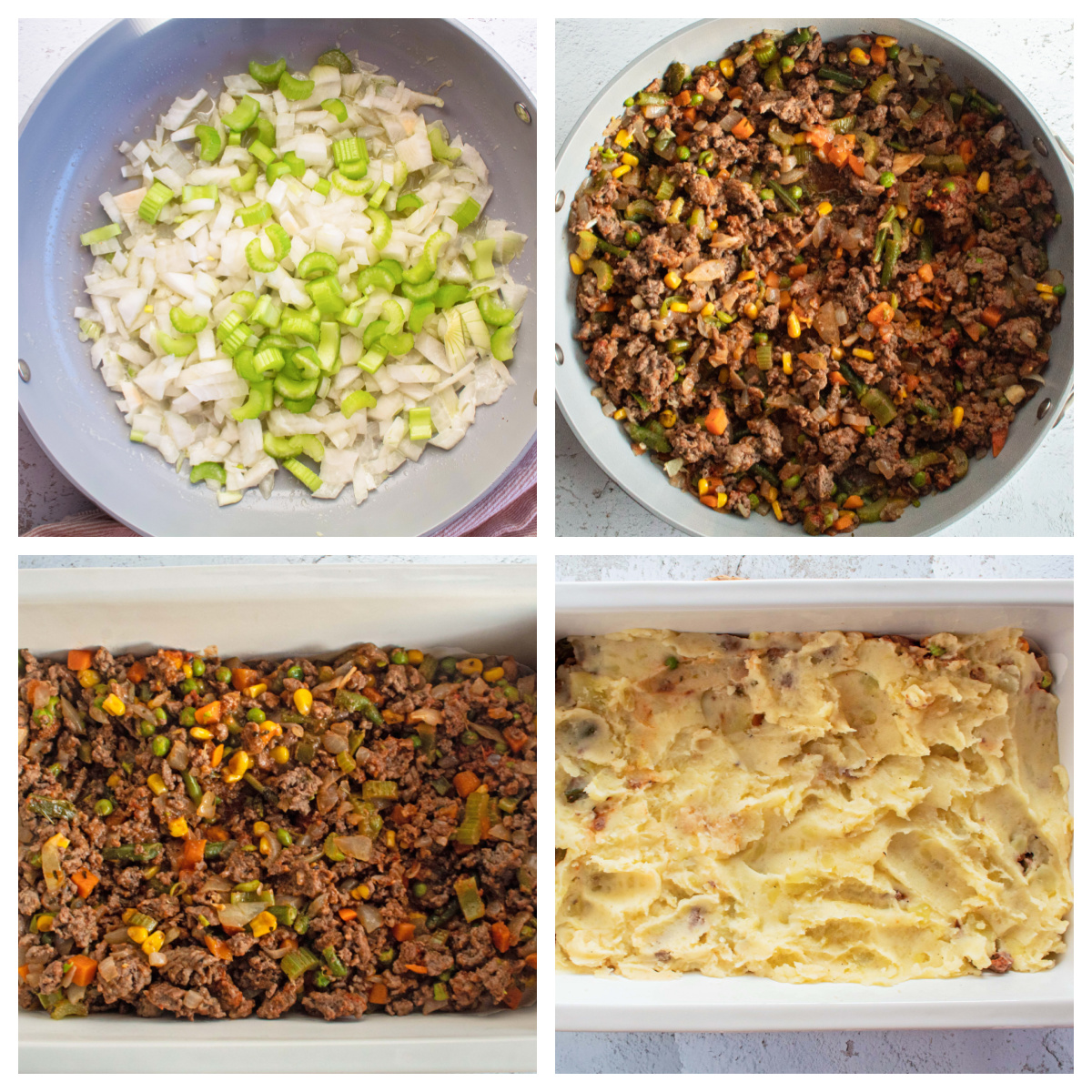 Variations
Instead of ground beef, use ground turkey or chicken for a leaner option. You could also use chorizo for a spicy shepherd's pie, mmm.
For a vegetarian shepherd's pie, omit the meat and use sliced mushrooms and extra vegetables and ingredients like zucchini, potatoes, canned beans, extra peas, etc. A bag of frozen meatless crumbles which are usually made out of soy protein will work in place of meat, too.
For vegan shepherd's pie, omit the meat and use vegan butter with vegetable broth. Use the same vegetables and mix as mentioned above.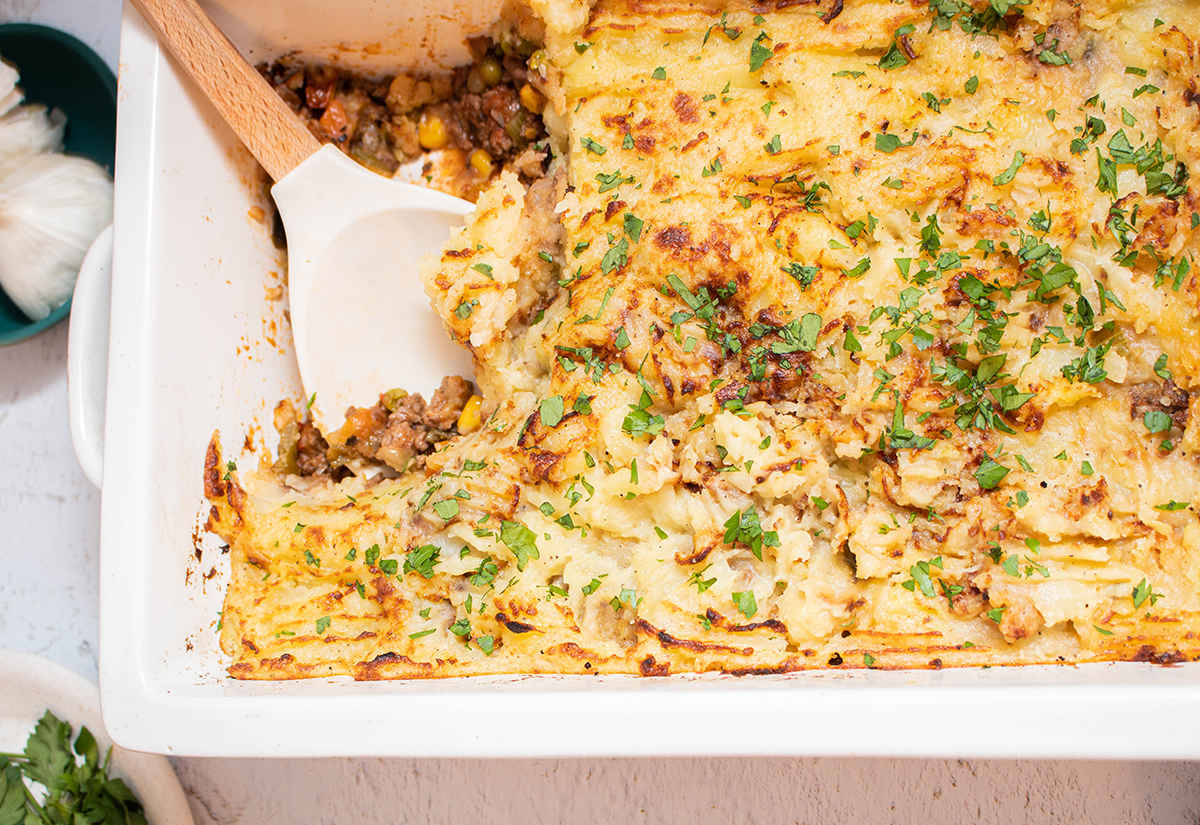 You can easily add grated or shredded cheese to the top of shepherd's pie! Adding cheese to the casserole before serving is a common variety. Get creative with your cheeses!
Enjoy dairy-free shepherd's pie by using vegan butter instead of dairy butter or use vegetable oil.
Tips for the Best Shepherd's Pie
Store the leftovers in an airtight container in the refrigerator for up to four days. Reheat in the microwave or oven before serving.
For extra flavor, add fresh herbs to the meat mixture while cooking like fresh thyme, rosemary, parsley, oregano, etc.
Use gluten-free all-purpose flour for a gluten-free shepherd's pie.
Use Russet or golden potatoes for this recipe. Honestly, any kind of potatoes will work so use what you have! Keep a close eye on the shepherd's pie while it bakes so the top does not get too crisp.
For extra crisp on top, broil the shepherd's pie for a few minutes.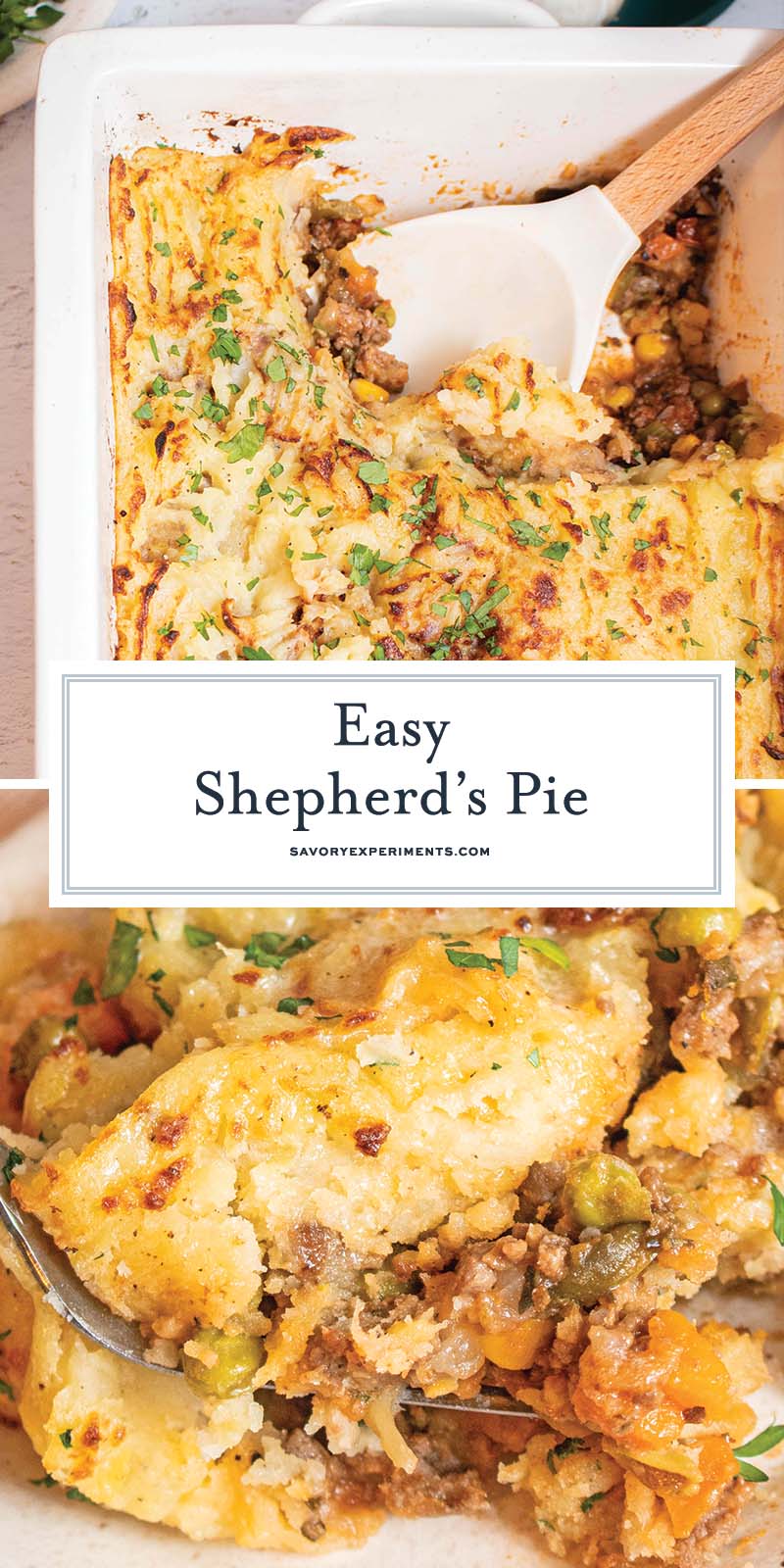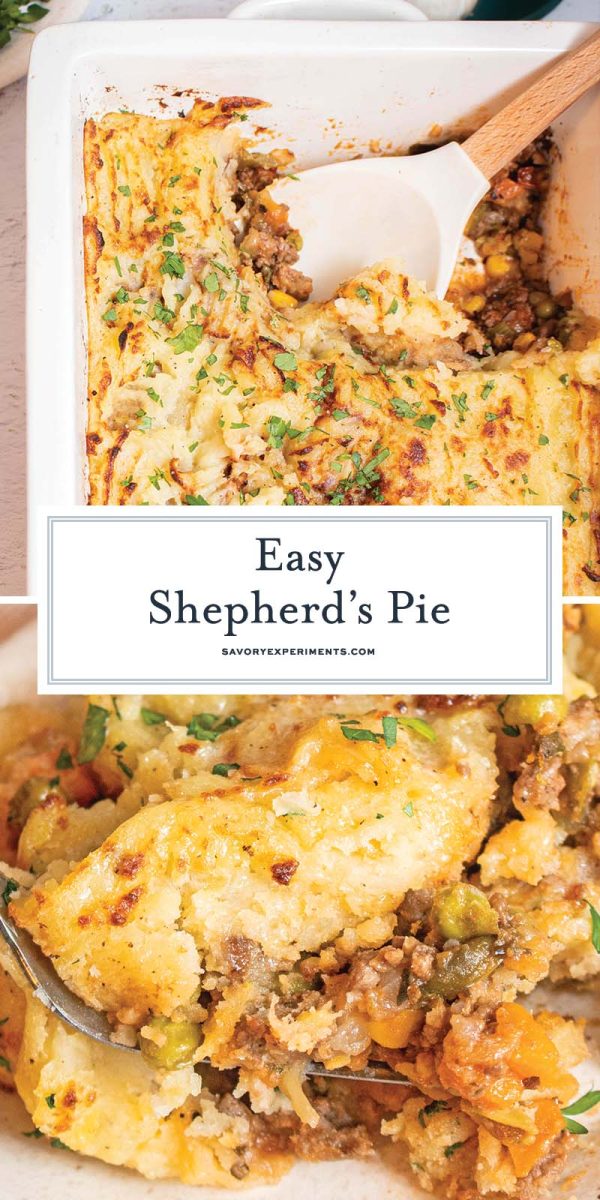 More beef recipes to try: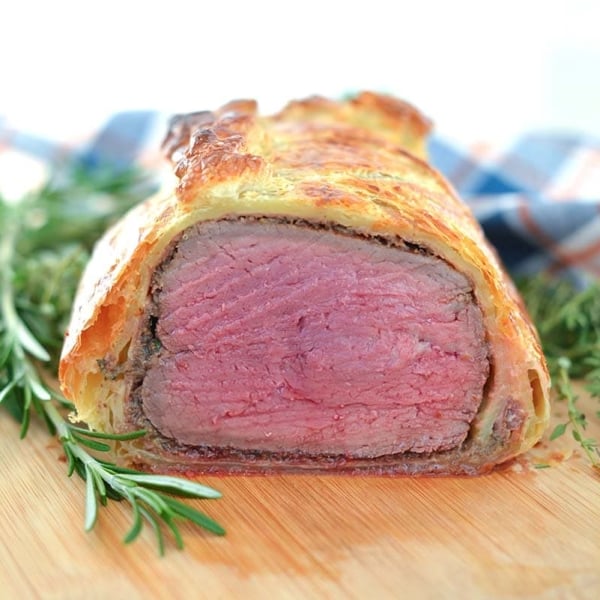 Easy Beef Wellington
Beef Wellington a classic dish for a special occasion. Tender beef tenderloin is smothered in Dijon mustard, mushroom, shallot and proscuitto before being baked in a delicate puff pastry.
See The Recipe!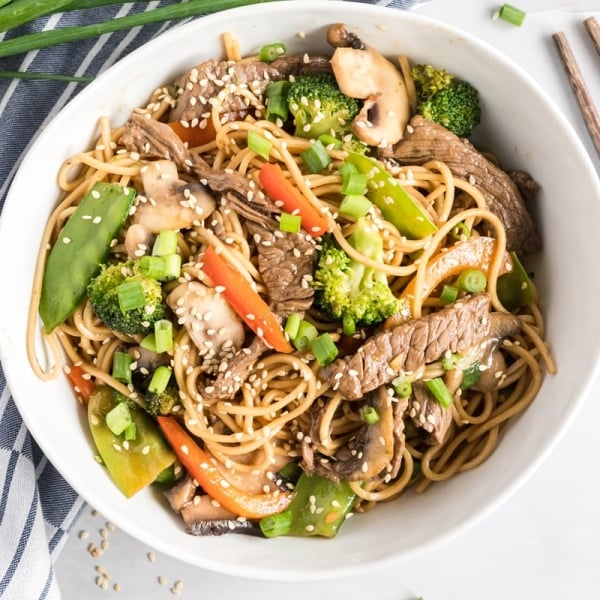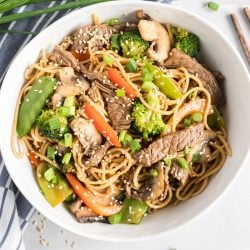 Beef Lo Mein Recipe
Noodles, vegetables & tender beef are tossed in a slightly sweet and spicy sesame sauce to make this easy Beef Lo Mein! Ready in 30 minutes!
See The Recipe!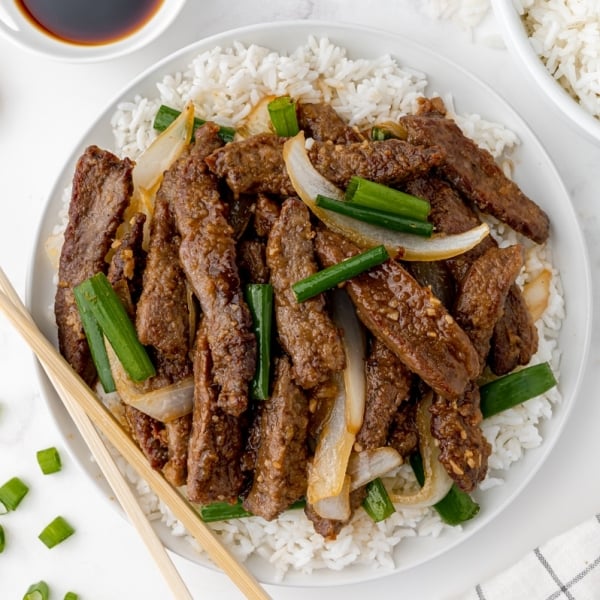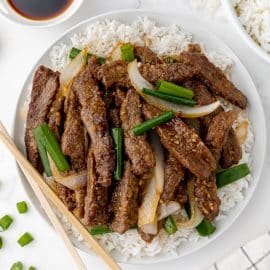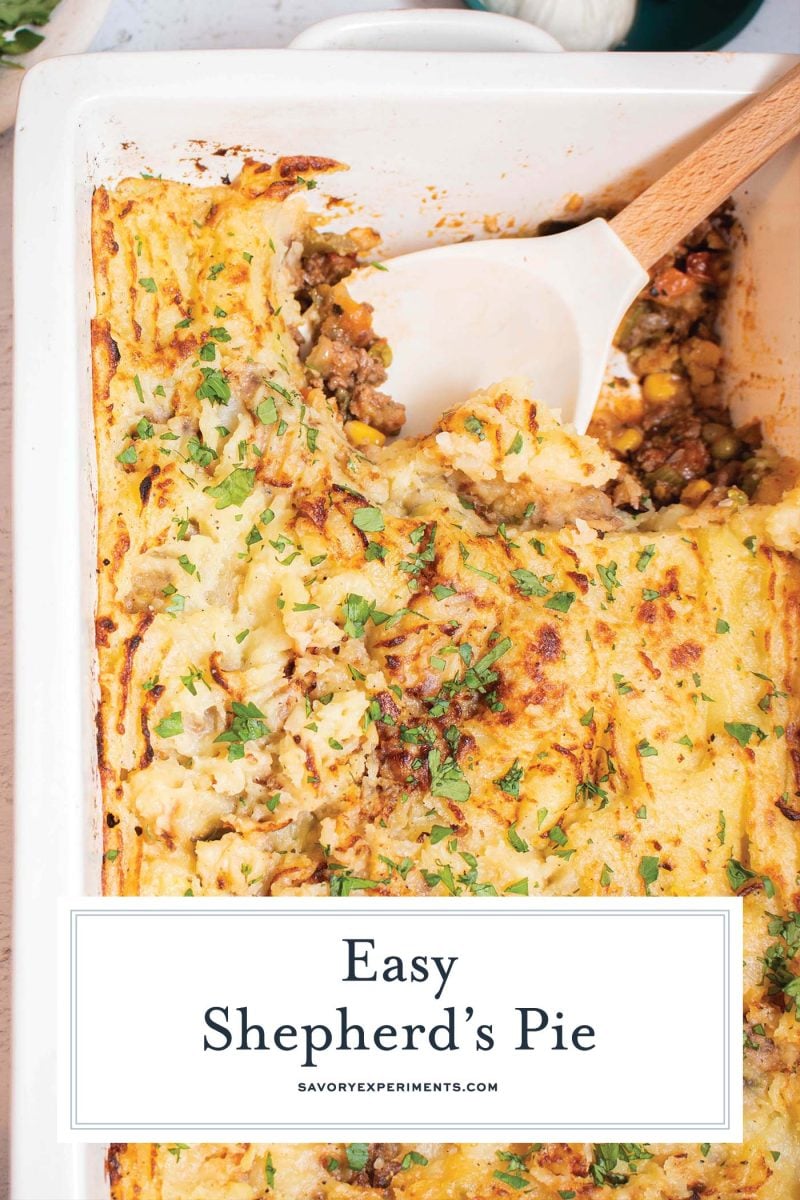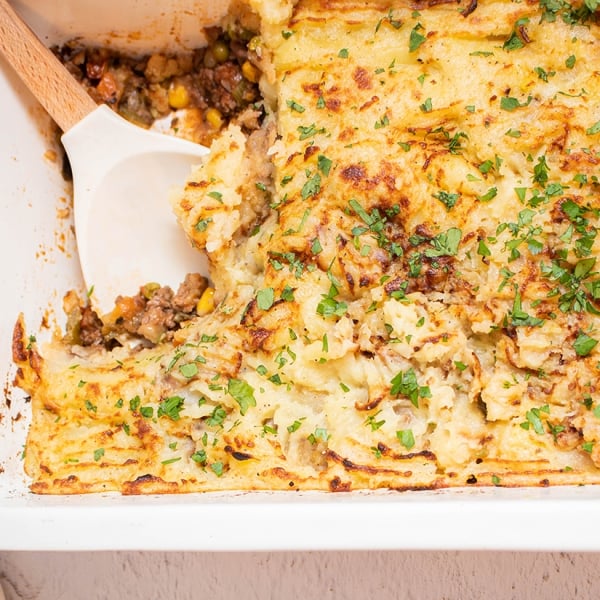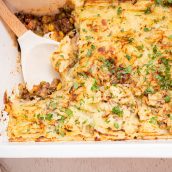 Shepherd's Pie
The BEST Shepherd's Pie is made with frozen vegetables like peas, corn, carrots, and green beans and is perfect for an easy dinner!
Instructions
Mashed Potatoes:
Place the potatoes in medium pot with boiling water. Boil until soft, approximately 15 minutes. Drain.

transfer the potatoes to a mixing bowl and using a ricer or potato masher, blend with the butter and season with the salt and pepper. Set aside.
Meat Base:
Preheat the oven to 400°F. Coat a 9×13 casserole dish with cooking spray.

Melt the butter in large skillet over medium-high heat. Add onion and celery and cook for 3 minutes.

Add the garlic to the pan and cook for one minute. Place the ground beef in pan along with frozen vegetables. Cook for an additional 5-7 minutes until meat is brown. Stir in the tomato paste, flour, Worcestershire sauce, Italian seasoning, salt, and pepper. Pour the broth into the beef and stir again until it has been absorbed.

Transfer the beef mixture to the prepared casserole dish. Top the beef with mashed potatoes.

Bake for 30 minutes. Remove from oven and cool for 10 minutes.

Top with cheese or parsley, if desired.

If you've tried this recipe, come back and let us know how it was in the comments or ratings.
Nutrition
Calories:
441
kcal
,
Carbohydrates:
28
g
,
Protein:
19
g
,
Fat:
29
g
,
Saturated Fat:
14
g
,
Polyunsaturated Fat:
1
g
,
Monounsaturated Fat:
10
g
,
Trans Fat:
2
g
,
Cholesterol:
90
mg
,
Sodium:
195
mg
,
Potassium:
862
mg
,
Fiber:
3
g
,
Sugar:
2
g
,
Vitamin A:
2269
IU
,
Vitamin C:
13
mg
,
Calcium:
62
mg
,
Iron:
4
mg