Skyline Chili is a popular regional cuisine from Cincinnati, Ohio. It's known for its unique preparation and serving style, and it's served at — you guessed it — a restaurant called Skyline Chili. It has become a midwestern family favorite, and it's sometimes also called a hot dish.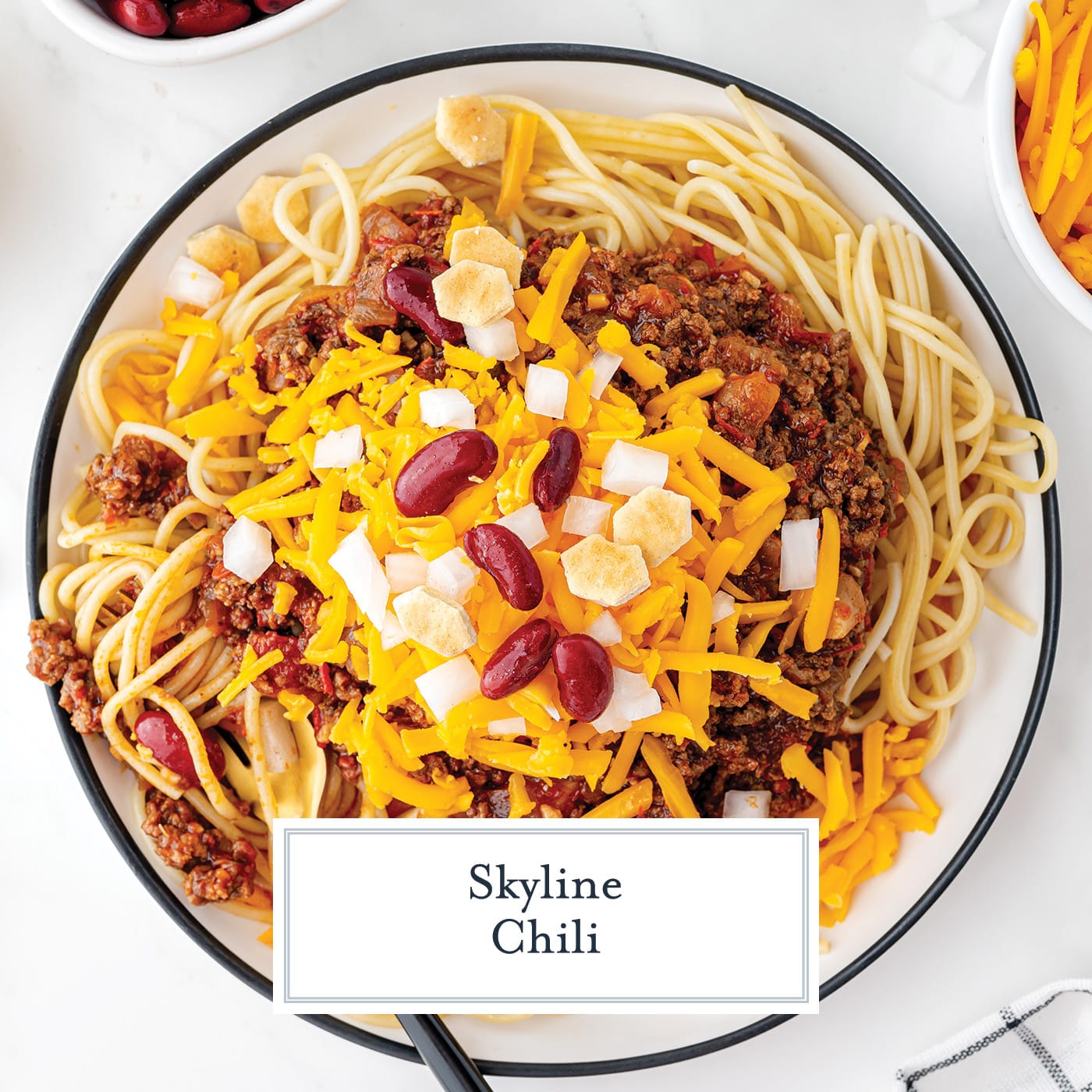 It is also a type of chili mac, served on top of spaghetti noodles with piles of freshly shredded cheddar cheese. Locals also often add chopped raw onion and kidney beans.
What is Skyline Chili?
Skyline Chili is a popular regional cuisine from Ohio, known for its unique preparation and serving style. It is sometimes called Cincinnati chili because it originated at a restaurant in Cincinnati overlooking the spectacular skyline.
This chili is unique because it uses a blend of warm spices like cinnamon, allspice, cumin, and cloves. It is a common misconception that this chili also uses chocolate, but the owners assure us that it does not.
It's also listed as being chocolate-free as a potential allergen. It does, however, have a signature sweet aftertaste.
Cincinnati chili is a chili without beans, and the sauce is much like a Rochester hot sauce used on garbage plates. It isn't terribly spicy, but it is served hot. It is also not as thick as traditional chili, so don't expect a stew-type consistency.
The warm spice blend is thought to have been inspired by Greek contributions. This gives it a flair of Mediterranean flavor, too.
This variety of chili has actually been deemed one of the "20 Most Iconic Foods in America." Make it and see if you agree.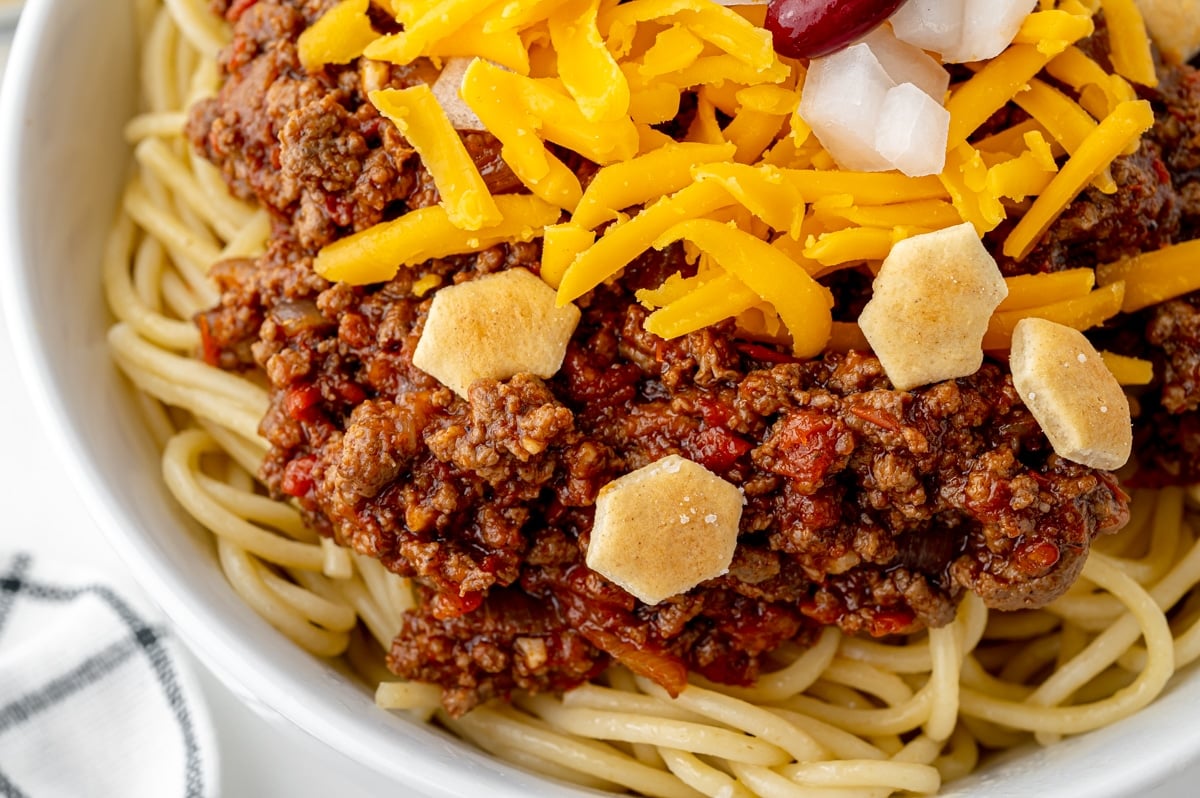 What Does 5-Way, 4-Way and 3- Way Mean?
Get your head out of the gutter. In the context of Skyline Chili, the terms "5-way," "4-way," and "3-way" refer to specific variations of their signature dish called "Cincinnati-style chili."
3-Way: A 3-way dish consists of three components: spaghetti, chili and cheese.
4-Way: A 4-way dish includes four components: spaghetti, chili, beans (usually kidney beans) and cheese.
5-Way: A 5-way dish incorporates all the elements: spaghetti, chili, beans, raw chopped onions, cheese.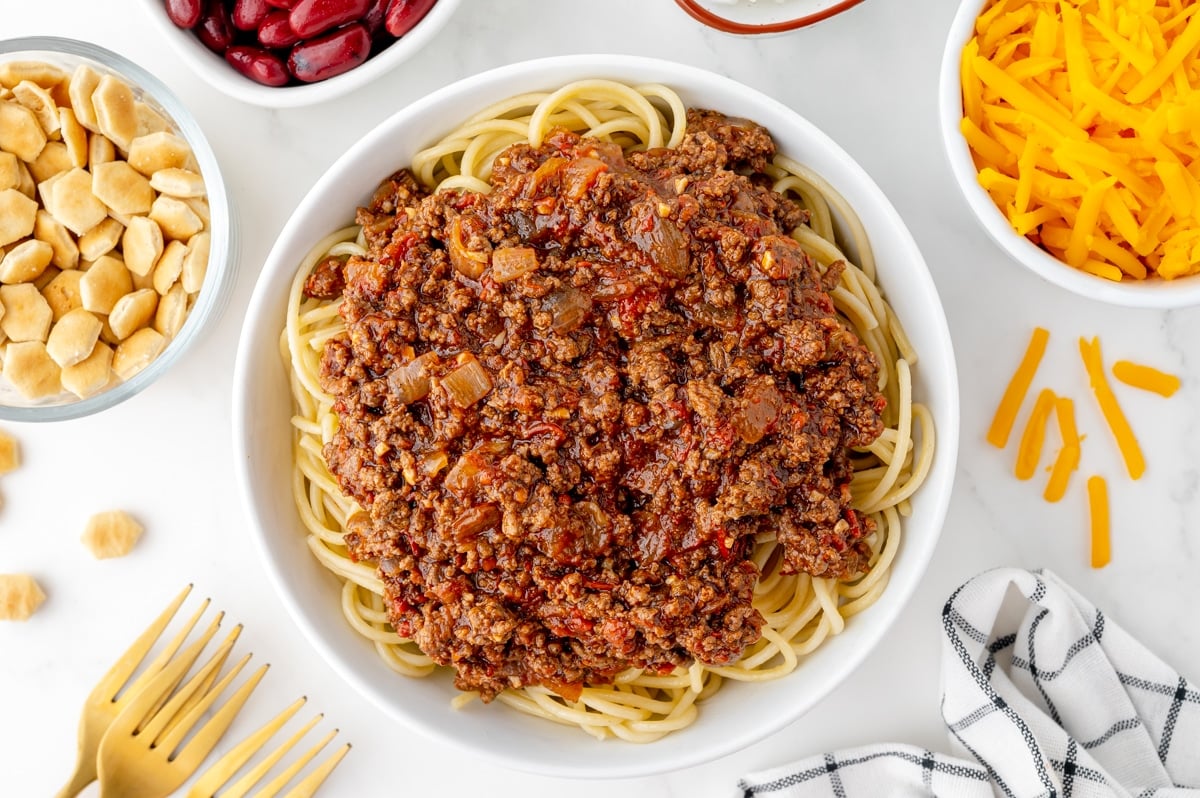 Does Skyline Chili Use Chocolate?
Many copycat Skyline Chili recipes claim that chocolate or unsweetened cocoa powder are the secret ingredients to make the unique complex flavors, but the owners have gone on record saying THERE IS NO CHOCOLATE IN SKYLINE CHILI.
Our version of a Cincinnati chili recipe does use sugar to balance the acidic and spicy flavors. If you feel strongly about the chocolate undertones, go ahead and add in 2-3 tablespoons of grated unsweetened chocolate or cocoa powder.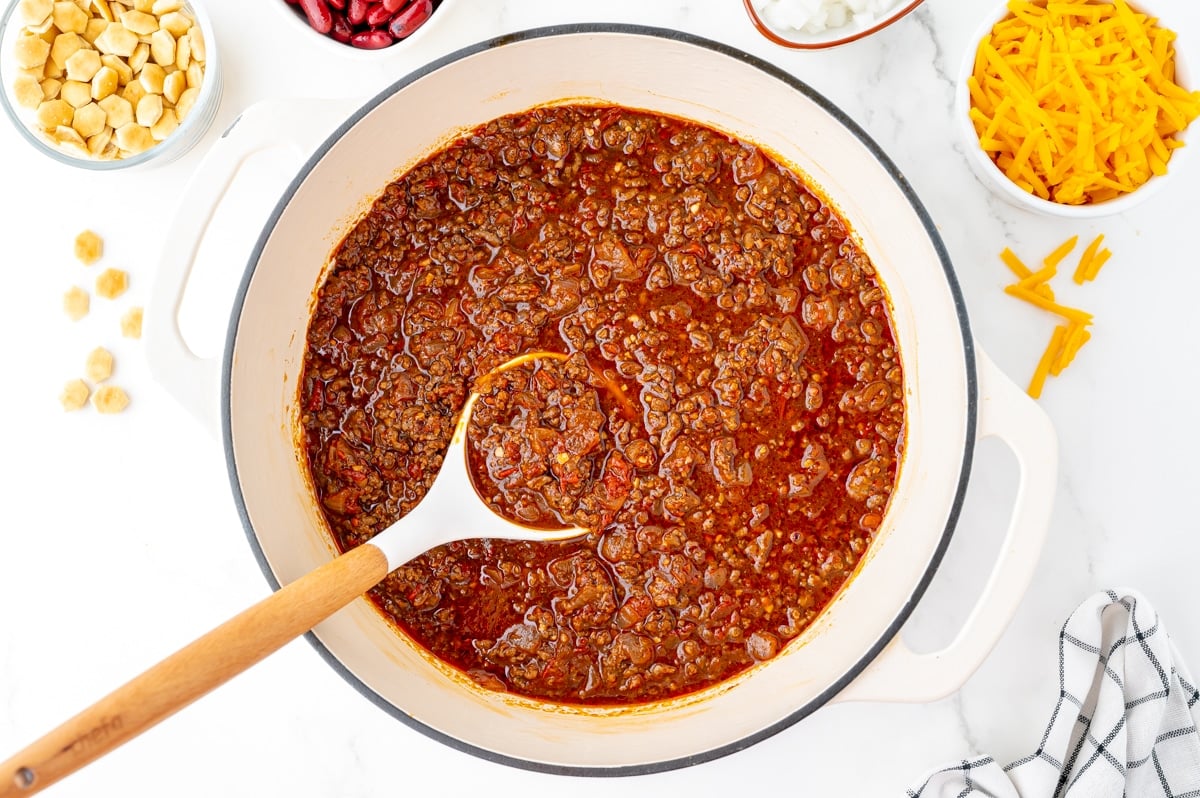 Why You'll Love Skyline Chili
Once you try this chili, you may never go back to other recipes. This version is the real deal.
Easy – You can make this recipe on the stovetop or use a slow cooker. You can even adapt it to a high pressure cooking method using an Instant Pot.
Customizable – While it has its own unique blend of spices, you can adjust the flavors for what works for your taste buds. Increase or decrease the heat as necessary, and serve it over whatever you choose.
Delicious – The complex flavor profile of this sauce makes it an incredible chili on its own, or it can be spooned over anything from the top of a hot dog to a bed of spaghetti.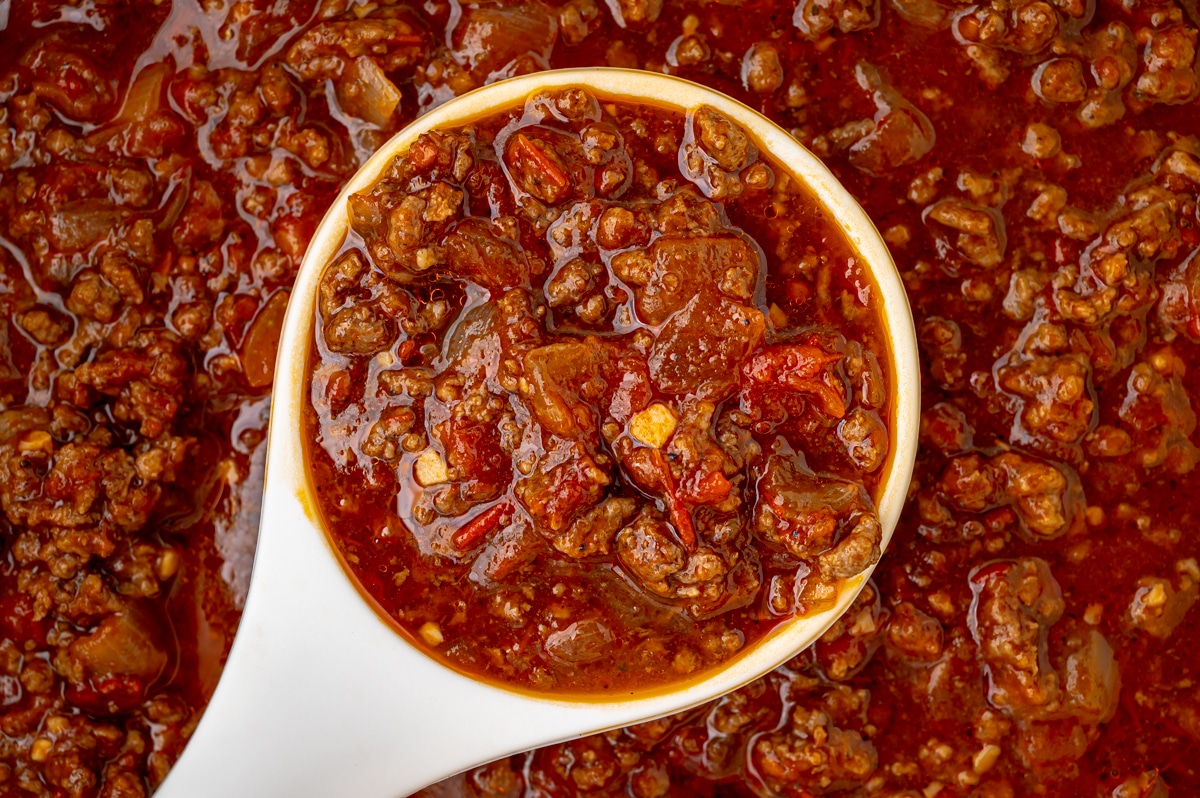 Ingredients
This authentic Cincinnati chili is out of this world. And the simple ingredients are so easy to find at the grocery store.
Ingredients for Chili
Ground beef – Using lean meat translates to little or no need to drain the fat off. Of course you can swap this with lean turkey, chicken or venison.
Yellow onion – Chop onions uniformly so that they cook evenly.
Garlic – Fresh garlic is always best, but you can also use a jarred version.
Low-sodium beef broth – Use low-sodium so that you can adjust the salt to your palate.
Plain crushed tomatoes – Using canned tomatoes saves time. Be sure to drain them.
Chili powder – An essential ingredient for chili, this powder adds fiery heat to the chili.
Apple cider vinegar – ACV balances the chili with its acidity.
Sugar – An optional ingredient, sugar adds some sweetness.
Worcestershire sauce – Bring irresistible umami into the chili with this hard-to-say sauce.
Cayenne – Bring on the heat with cayenne pepper powder.
Ground cinnamon – The unique addition of cinnamon imparts a warmth to the chili.
Ground cumin – Cumin is an essential ingredient that brings earthiness to the dish.
Coarse kosher salt – Bring out the flavors of the spices and other ingredients with a bit of salt.
Ground black pepper – Pepper brings mild heat that rounds out the dish.
Ground allspice – Allspice is an amazing aromatic to add to the chili.
Ground cloves – Cloves also add warm flavor.
Bay leaf – A bay leaf rounds out the flavors of the chili.
Serving Chili
Cooked spaghetti – Always cook to al dente per package instructions, no matter what shape of pasta you use.
Kidney beans – You don't need to use beans, but if you do, make sure they are drained and rinsed.
Shredded sharp cheddar cheese – We love to top our chili with sharp cheddar, but you can top it however you like.
Chopped white onion – To be authentic, use white onion. But feel free to substitute green onions, red onion, or other varieties.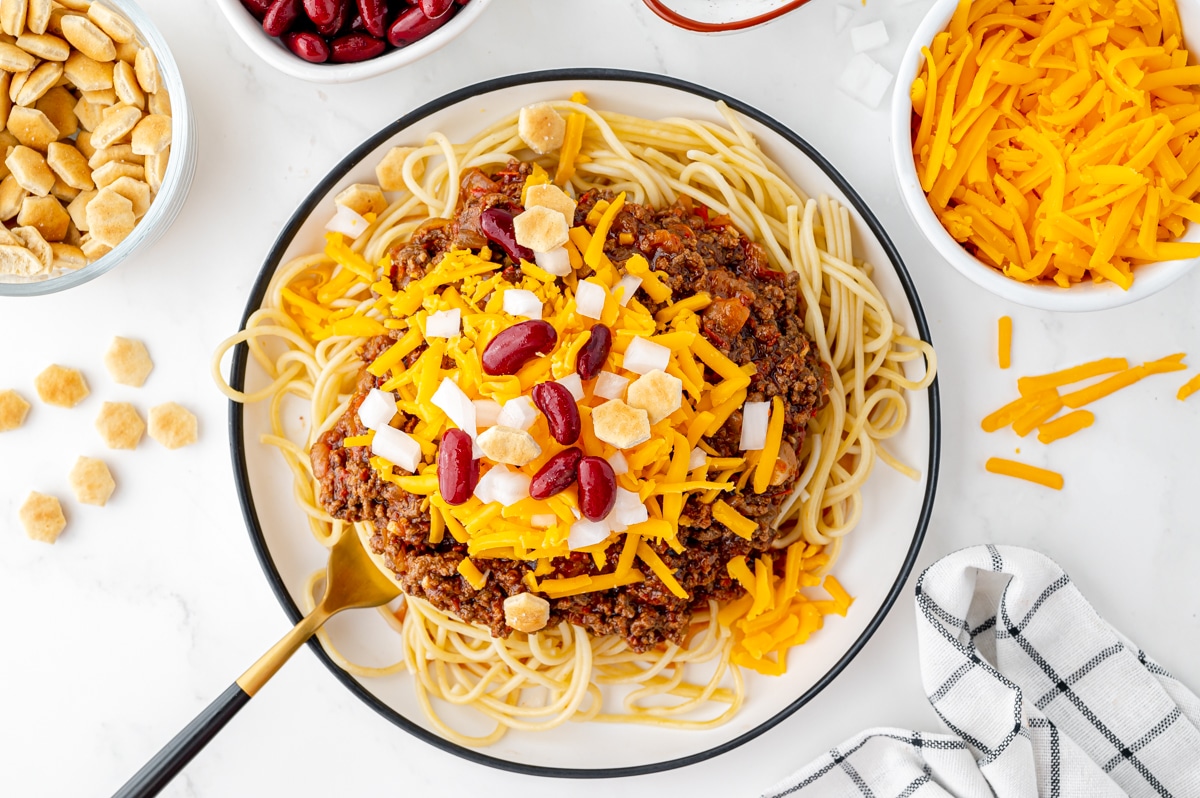 How to Make Skyline Chili
What makes this such a great recipe is how easy it is to make. This may be the best chili you'll ever try.
Brown Meat. Brown the ground beef in a preheated large skillet with olive oil or another neutral flavored oil.
Saute. Add the onion and garlic. Saute the onion and garlic briefly before draining the fat.
Cook. Transfer the beef mixture to a Dutch oven. You can also use a large pot. Pour in the remaining ingredients and simmer for the recommended time.
Serve. Remove the bay leaf and serve.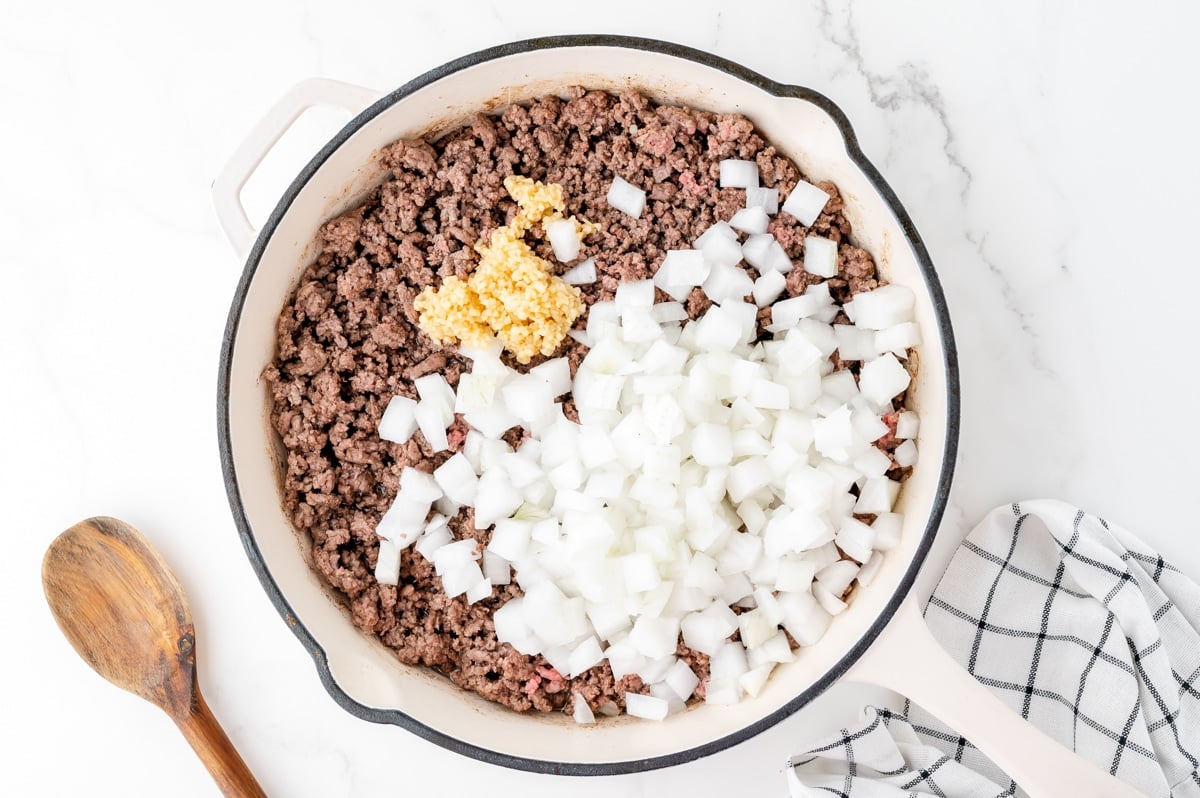 Slow Cooker Skyline Chili Instructions
Most chilis are ideal for a slow cooker, and Skyline Chili is no exception! Here is how to make Skyline Chili in the slow cooker:
In a large skillet, cook the ground beef over medium-high heat until browned. Drain any excess fat.
Transfer the cooked ground beef to the slow cooker.
Add the onions, garlic, only 2 cups of beef broth, tomatoes, chili powder, apple cider vinegar, sugar, Worcestershire sauce, cayenne, cinnamon, cumin, salt, pepper, allspice, cloves and a bay leaf to the slow cooker.
Stir all the ingredients together until well combined.
Cover the slow cooker with a lid and cook on low heat for 6-8 hours or on high heat for 3-4 hours. The longer cooking time allows the flavors to meld together.
Once the cooking time is complete, fish out the bay leaf and plate it up as desired.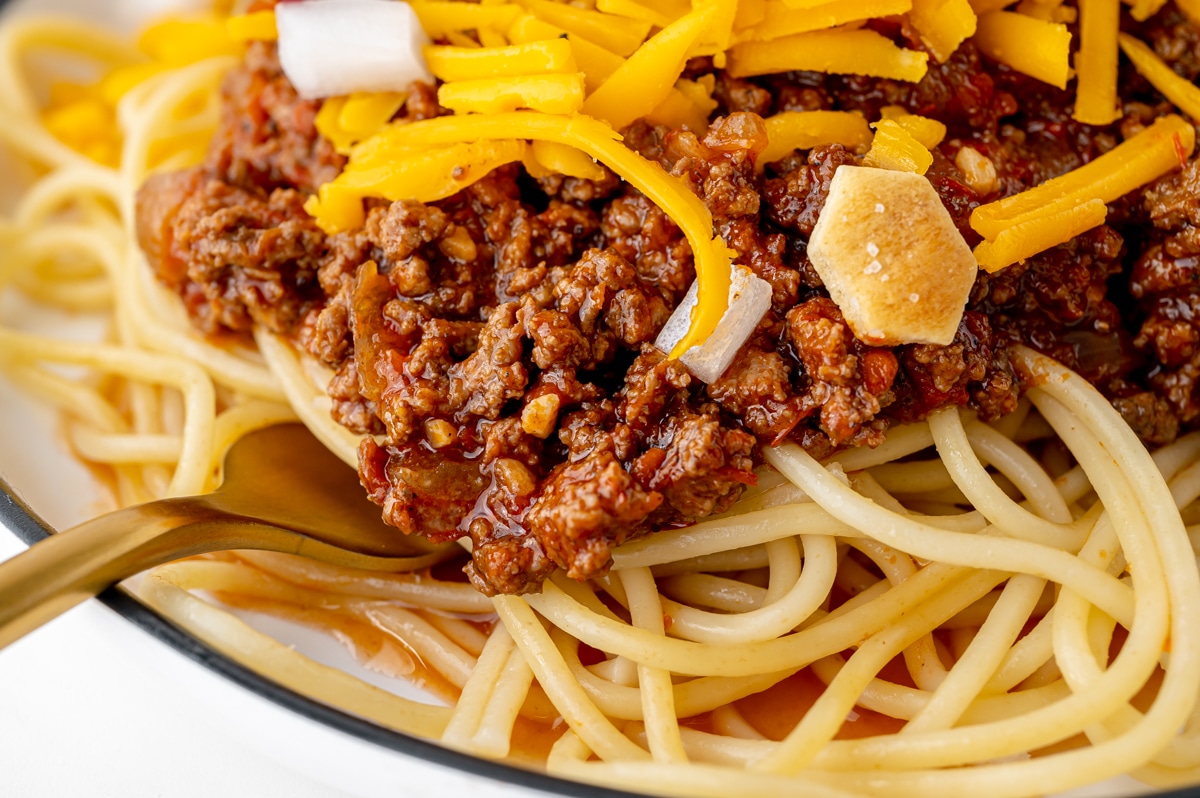 How to Serve Skyline Chili
The most popular way is over spaghetti noodles, but you can also serve it as a hot dog sauce over top of a hot dog in a bun (who doesn't love hot dogs with chili?), making it more of a Texas-style chili (meaning without beans, although this version does use tomatoes).
​Use it as pasta sauce, too. Spoon the saucy ground beef over your favorite pasta and sprinkle cheese over top.
You can also eat it in a bowl by itself with a big dollop of sour cream. Or, serve it over hamburgers or cheeseburger patties or even on fried chicken or grilled chicken. Spoon it over mashed potatoes or baked potatoes, or smother your french fries with it. Use it any way you'd use a chili sauce.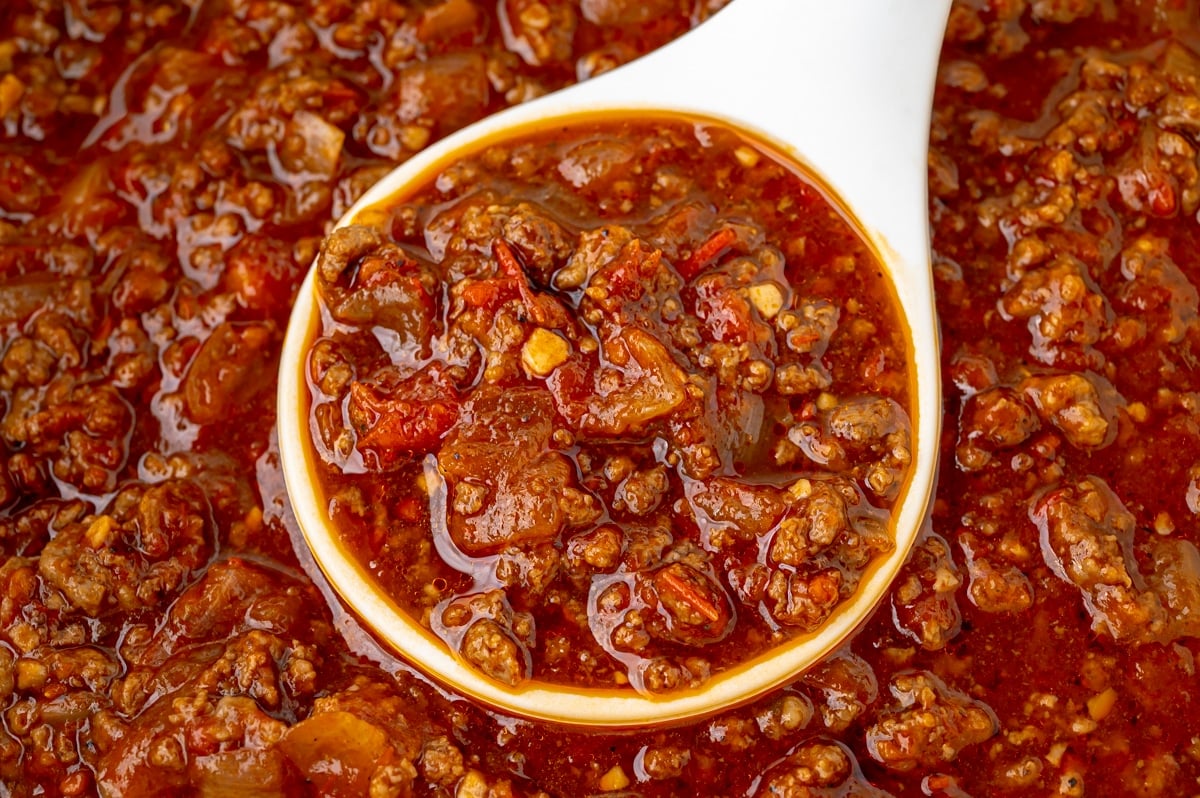 Variations
There are plenty of ways you can make this skyline chili recipe your own!
Spicy– Although this chili recipe has zing to it, you can certainly take it up a notch further by increasing the amount of chili powder or cayenne, or by adding 1-2 teaspoons of crushed red pepper flakes. A dash of hot sauce always works, too!
Diced Tomatoes– I like adding a little more texture with a can of drained diced tomatoes. Add heat here, too, by using tomatoes packed with chiles.
Add the Beans to the Pot– If your family likes the kidney beans, you can add them directly to the chili. Or, use other types of beans like pinto beans or black beans.
Turkey, Pork, or Chicken– Try swapping out the ground beef with ground turkey, ground pork (even spicy hot Italian sausage), ground chicken, or any combination of them. Or, use a plant-based alternative.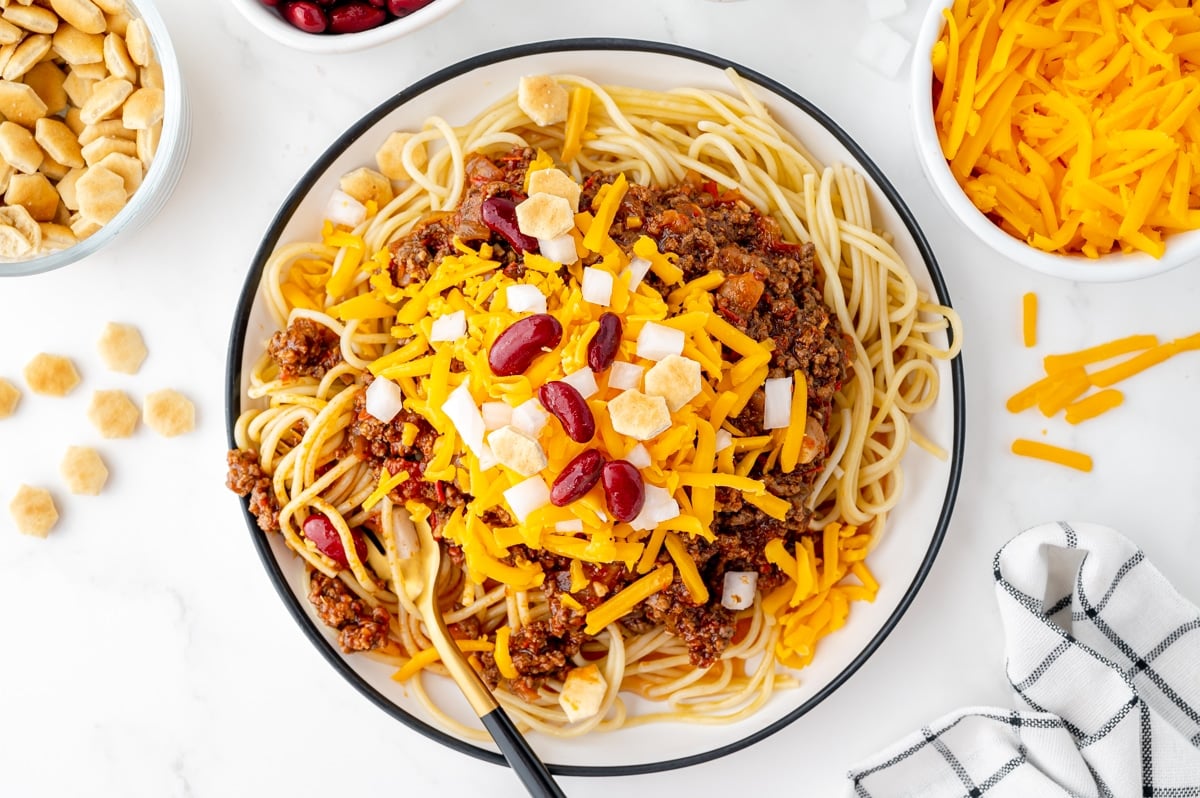 Make Ahead & Freezing
In my book, chili is almost always better the next day. That allows for extra time for all of the flavors to marry. Make a double, or even triple, batch and freeze it.
Refrigerate: Refrigerate this chili for 3-4 days in an airtight container.
Freezing: Freeze chili for up to 3 months in a freezer-safe container or a resealable freezer bag.
How to Reheat Frozen Chili
To reheat frozen chili, you have a few options. In any of them, you might need to add more beef broth or water to prevent it from getting too thick or scalding.
How to Reheat Frozen Chili on the Stove
Transfer the frozen chili from the freezer to a saucepan or pot.
Place the pot on the stove over low to medium heat.
Stir the chili occasionally to prevent sticking or burning.
Allow the chili to heat gradually until it reaches a simmer.
Continue simmering for about 10-15 minutes, or until the chili is thoroughly heated.
Stir occasionally to ensure even heating.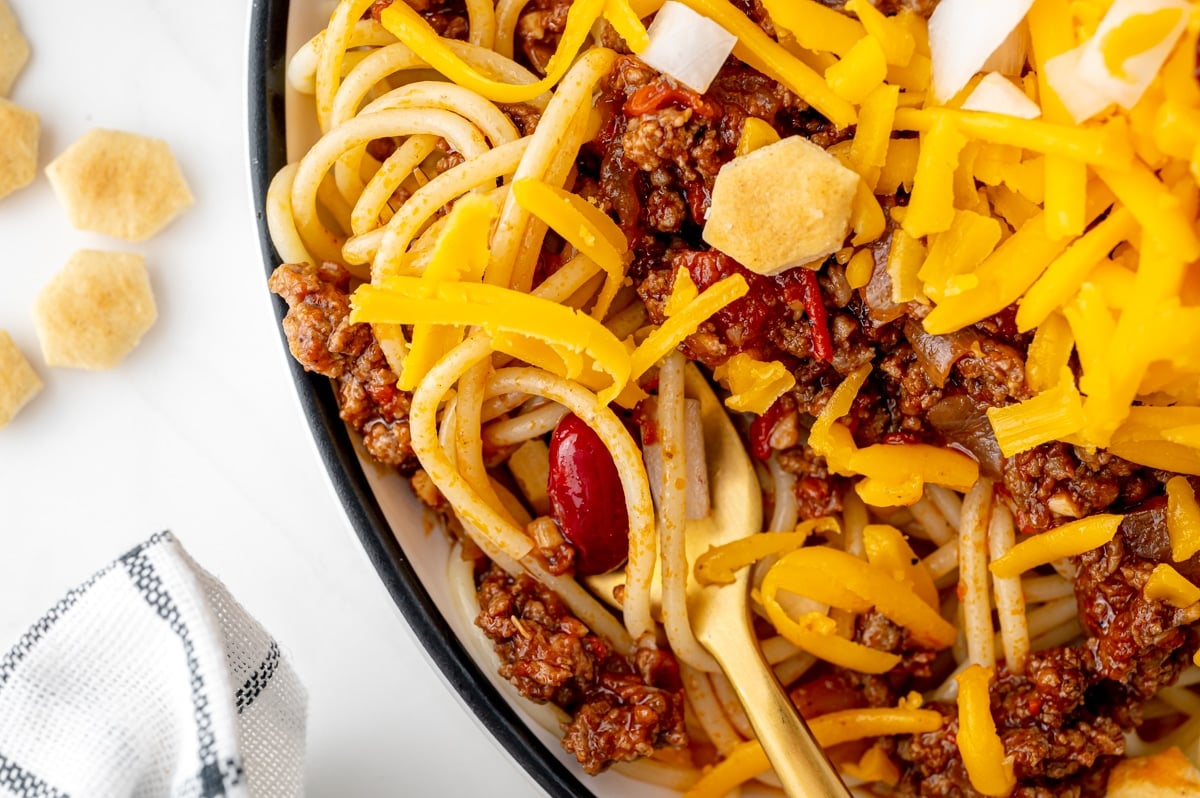 Reheat Frozen Chili in the Microwave
Transfer the frozen chili into a microwave-safe container or bowl.
Cover the container partially with a microwave-safe lid or microwave-safe plastic wrap, leaving a small vent for steam to escape.
Microwave the chili on medium power or using the defrost setting if available.
Heat the chili in intervals of 2-3 minutes.
Pause after each interval to stir the chili and distribute the heat evenly.
Repeat the process until the chili is heated throughout.
How to Reheat Frozen Chili in the Slow Cooker
Place the frozen chili in a slow cooker.
Set the slow cooker to low heat.
Cover the slow cooker with a lid.
Allow the chili to cook for several hours, typically 4-6 hours, until it is heated thoroughly.
Stir occasionally to promote even heating and prevent sticking.
Regardless of the method you choose, it's important to ensure that the chili reaches 165°F using a digital thermometer before consuming. Additionally, stirring the chili during reheating helps to distribute heat evenly and prevent burning.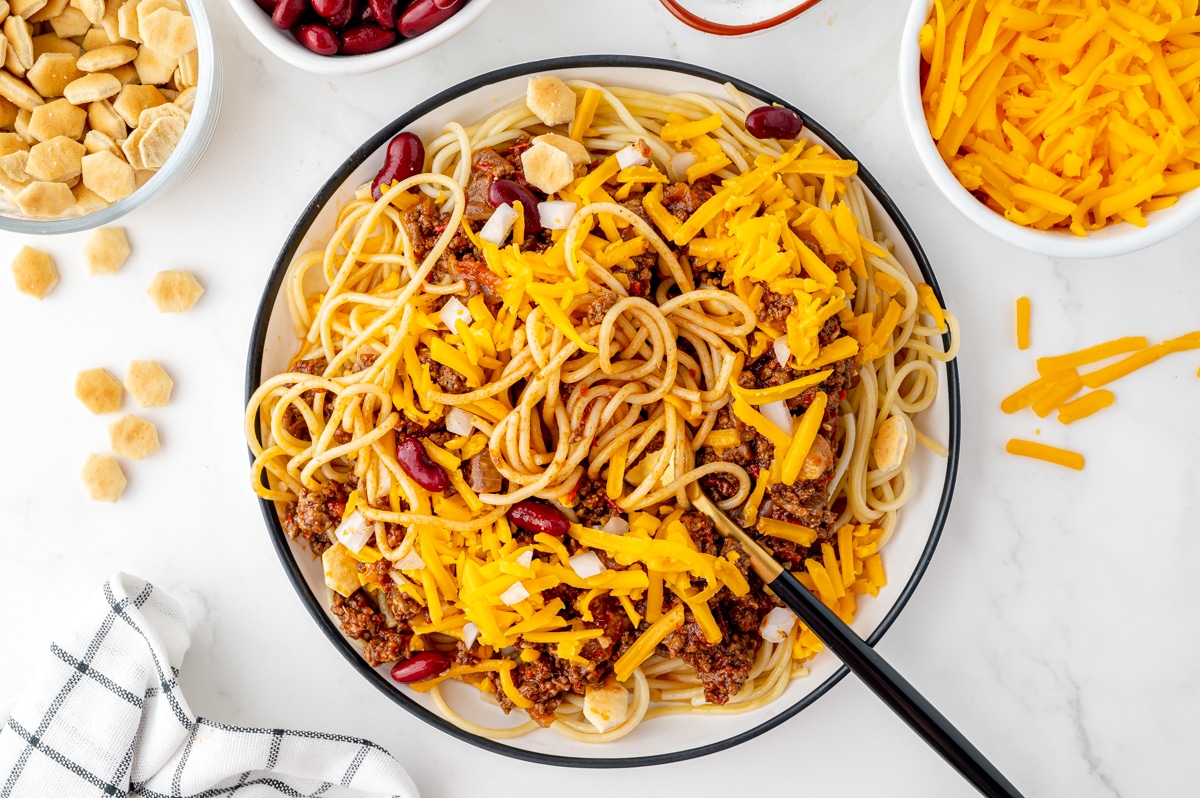 Questions About Skyline Chili
Why is my chili thin?
Skyline chili is not supposed to be a thick stew-style; it is more of a spaghetti sauce. If you want to thicken yours for a stew, simply stir in 2-3 tablespoons of cornstarch slurry.
What makes Skyline chili different?
Skyline chili is a step above the rest because of the inclusion of warm spices that create an incredible flavor profile.
What kind of cheese is on Skyline chili?
Skyline chili is amazing on its own but the best part of it is its heaping topping of shredded cheddar.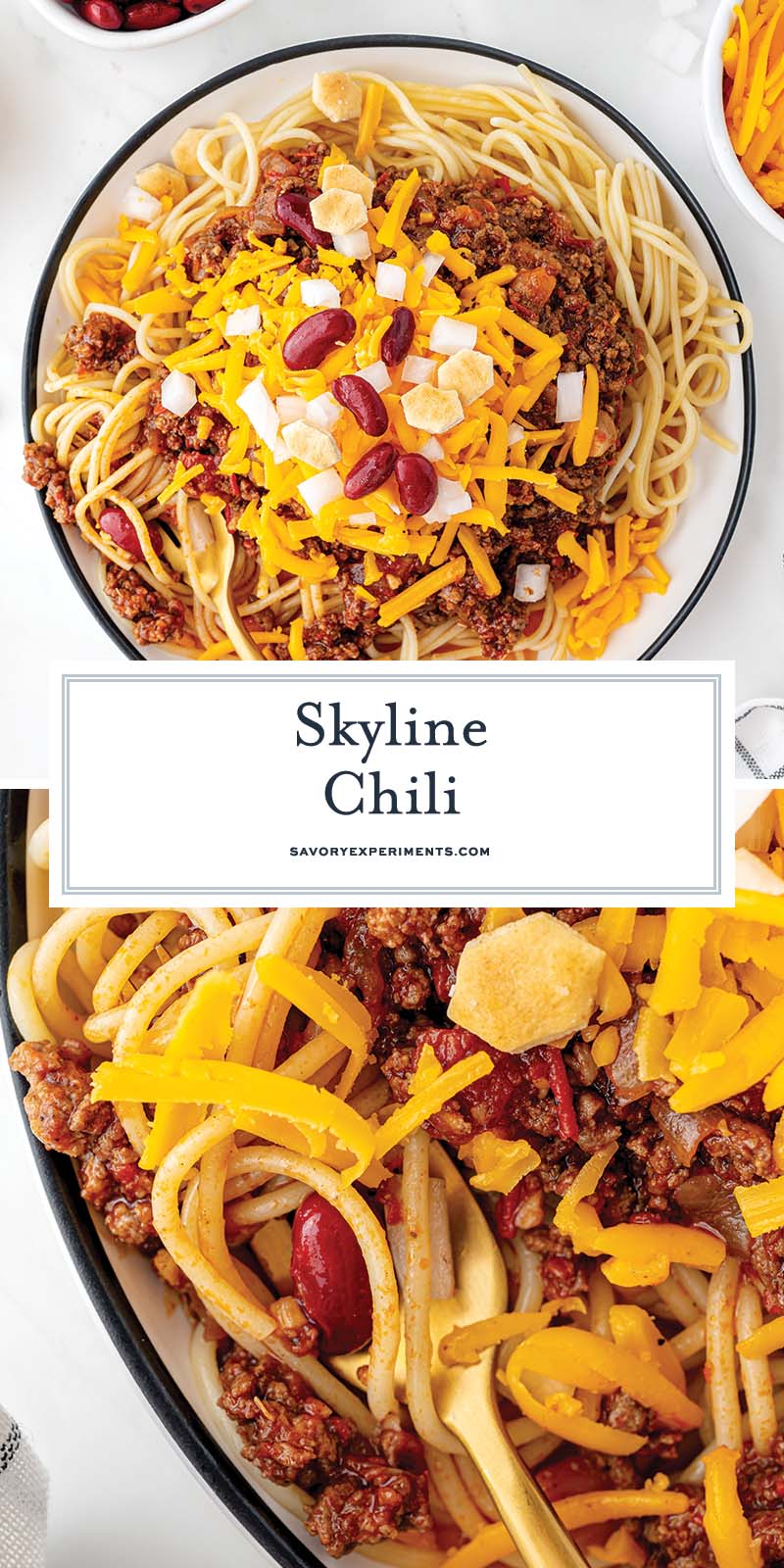 Other Chili Recipes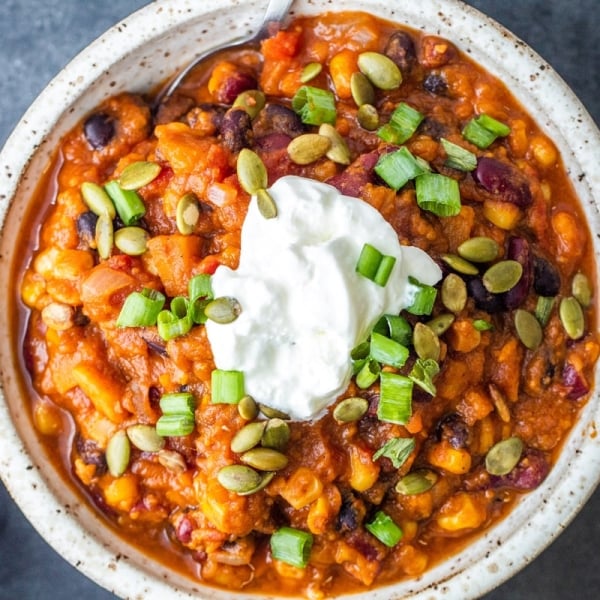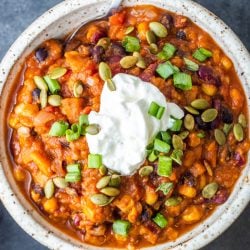 Chili Cheese Dip
If you are a fan of dips you need to make this 3 ingredient Chili Cheese Dip, whips up in under 10 minutes and is fool-proof!
See The Recipe!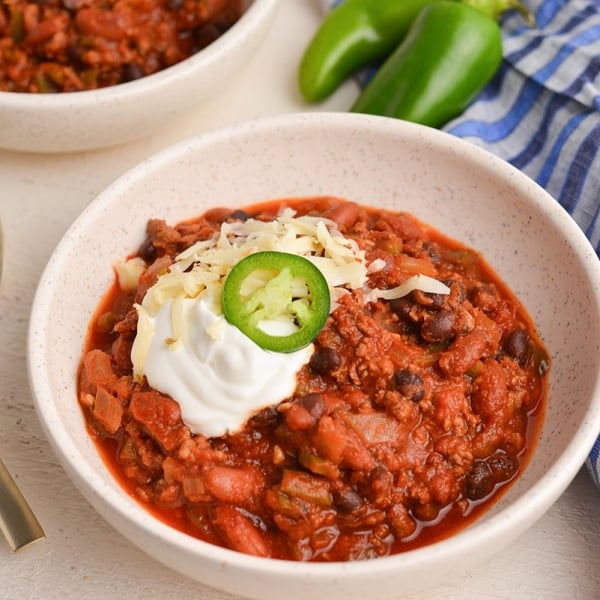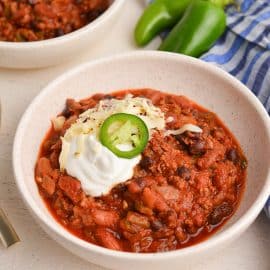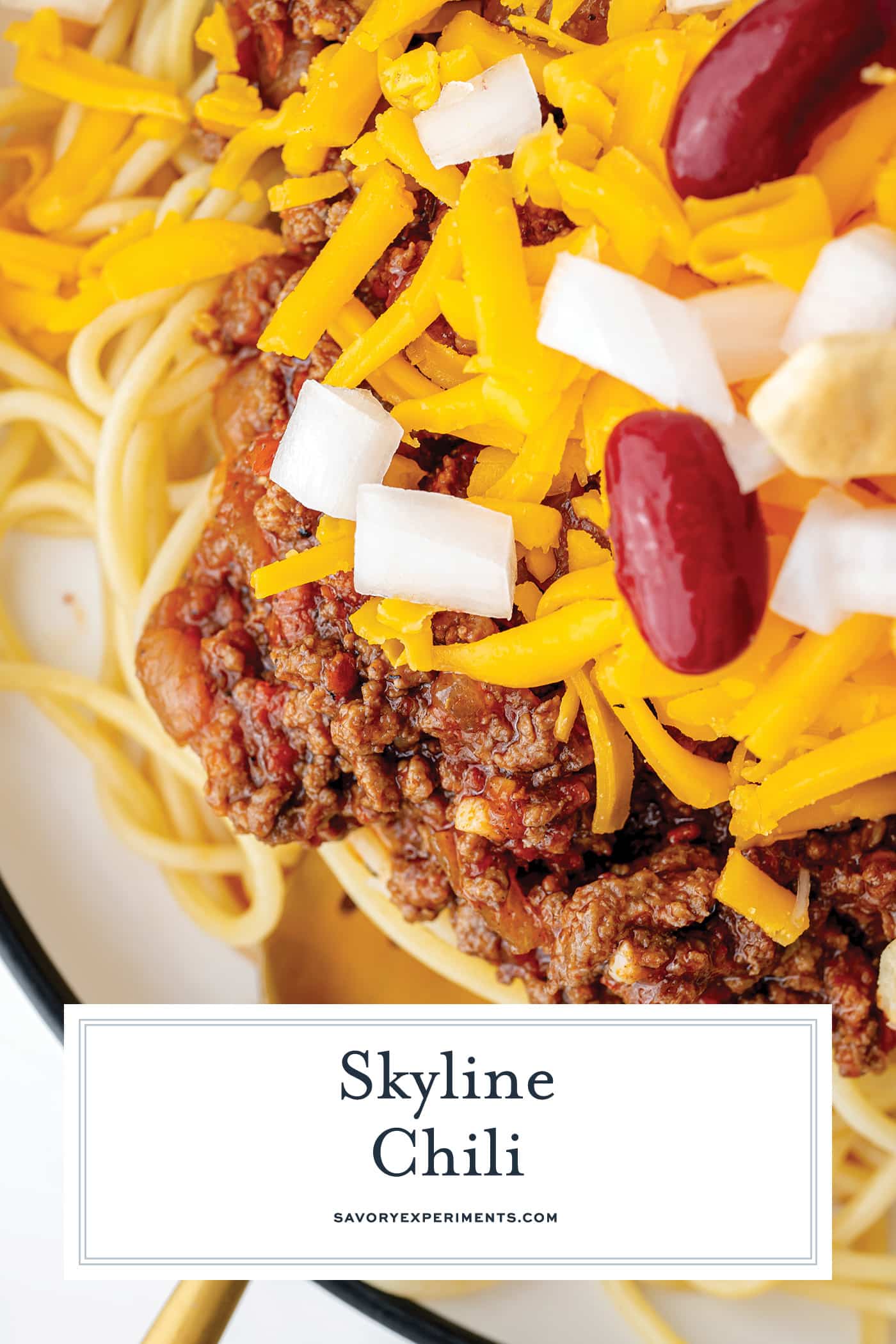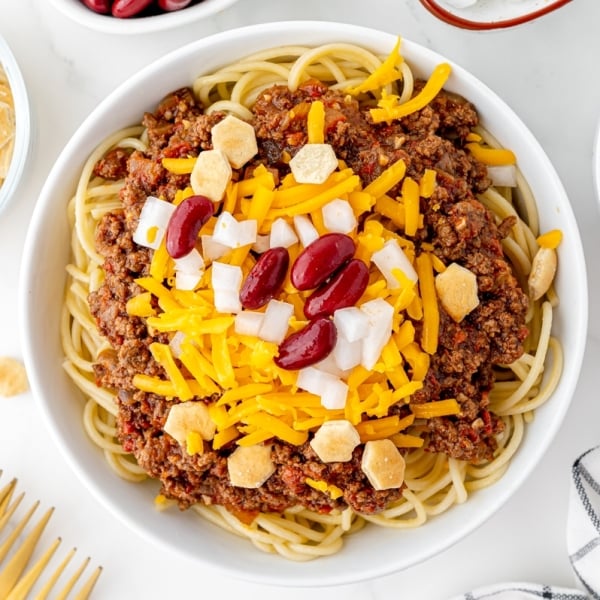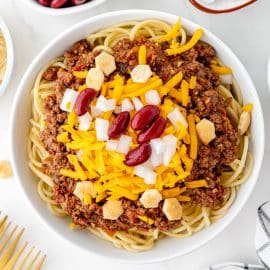 Skyline Chili Recipe (Cincinnati Chili)
A Cincinnati favorite, This EASY Skyline Chili is easy to make and can be served over noodles and with piles of cheddar cheese on top!
Instructions
Heat a large skillet over medium-high heat. Add the ground beef, breaking apart and browning well for 4-5 minutes. Add the onion and garlic, sauteing for another 2-3 minutes or until onions start to soften. Drain any excess fats and transfer to a large pot or Dutch oven.

Add the beef broth, tomatoes, chili powder, apple cider vinegar, sugar, Worcestershire sauce, cayenne, cinnamon, cumin, salt, pepper, allspice, cloves and a bay leaf to the pot and stir to combine.

Heat over low heat uncovered for 1 hour, stirring occasionally.

When ready to serve, remove the bay leaf.

Serve over cooked spaghetti and top with your choice of shredded cheddar cheese, kidney beans and chopped white onion.

If you've tried this recipe, come back and let us know how it was in the comments or star ratings.
Notes
The owners of Skyline Chili are on the record that there is NO chocolate in the chili and it is not listed as a possible allergen. If you do want to use chocolate (it is delicious!), here is how.
Omit the sugar and instead add 2-3 tablespoons of grated unsweetened chocolate or cocoa powder.
Nutrition
Calories:
347
kcal
,
Carbohydrates:
12
g
,
Protein:
23
g
,
Fat:
23
g
,
Saturated Fat:
9
g
,
Polyunsaturated Fat:
1
g
,
Monounsaturated Fat:
10
g
,
Trans Fat:
1
g
,
Cholesterol:
81
mg
,
Sodium:
740
mg
,
Potassium:
831
mg
,
Fiber:
3
g
,
Sugar:
7
g
,
Vitamin A:
1124
IU
,
Vitamin C:
7
mg
,
Calcium:
65
mg
,
Iron:
4
mg