This Garlic Parmesan Linguine recipe is on the insanely easy side, so it easily tops my list for dinner ideas. So easy that Nonnas everywhere might give me the stink eye and I'm okay with that.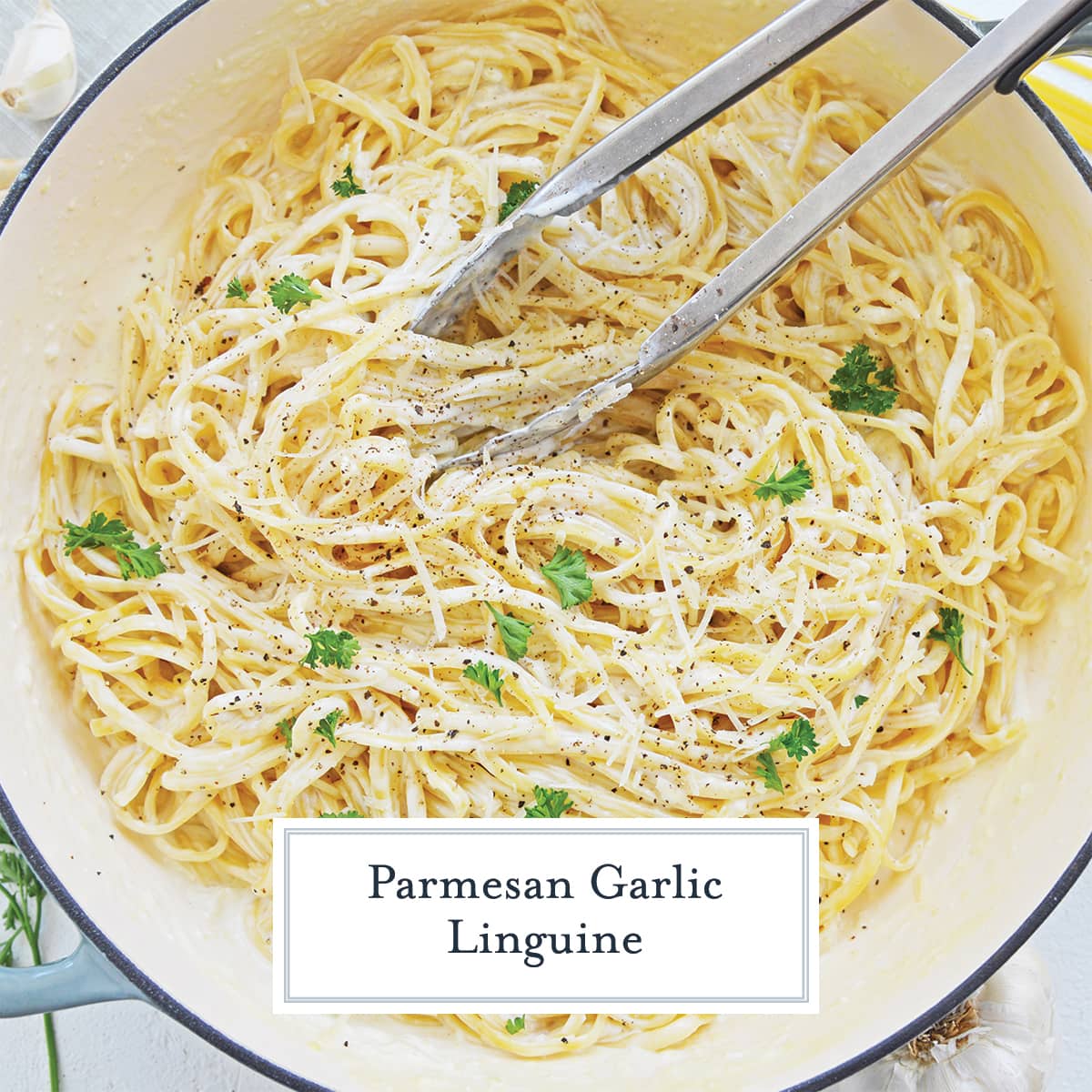 Oh, pasta. I love you so. One of things I learned from our time in Italy was that pasta can be super involved, but also insanely easy.
Difference Between Carbonara, Alfredo, Cacio e Pepe?
You see, I know how to make a classic carbonara, alfredo and cacio e pepe, but sometimes life calls for time saving (and error reducing) hacks. Let me introduce you to what is commonly called cream cheese spaghetti, but here we used linguine.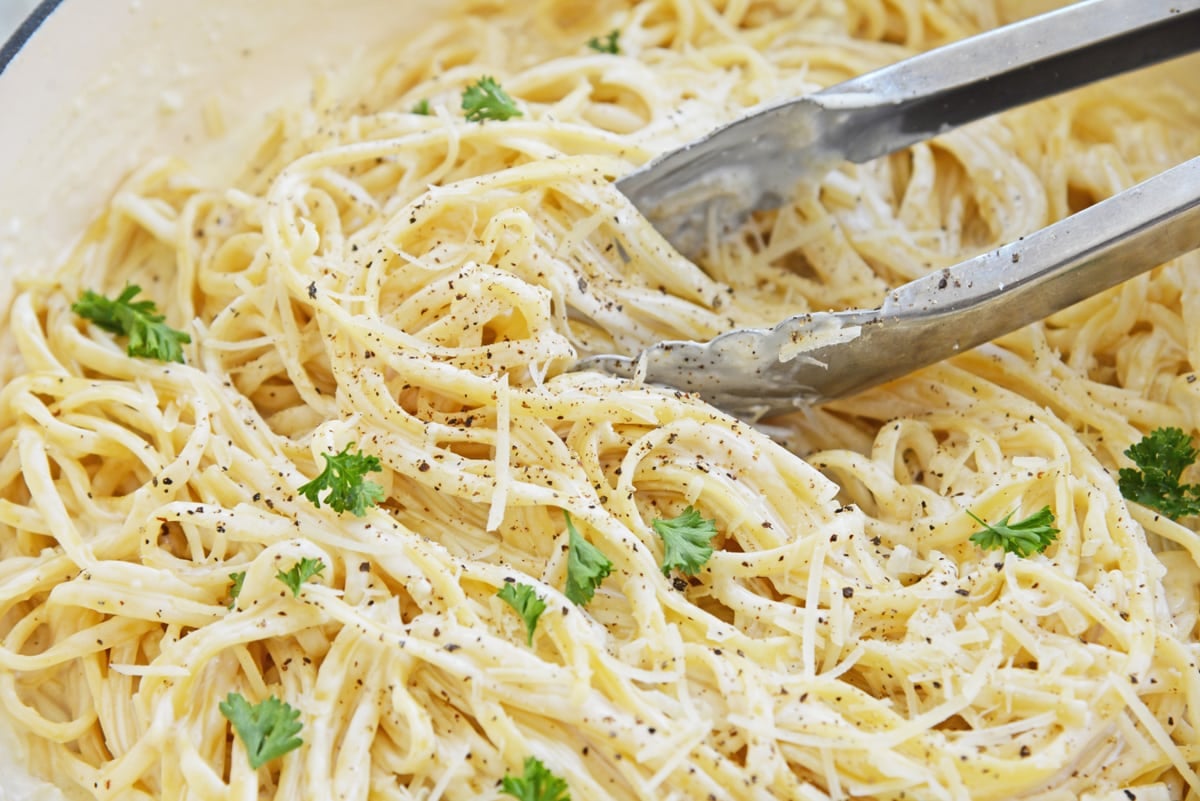 Before we get into the easy recipe, let's discuss the difference so we are all on the same page.
Carbonara– The most common pasta dish in Rome is rarely seen here in the states and it is such a shame. Sometimes called spaghetti carbonara, the traditional pasta of choice is actually bucatini, a long, round pasta with a little hole through the center.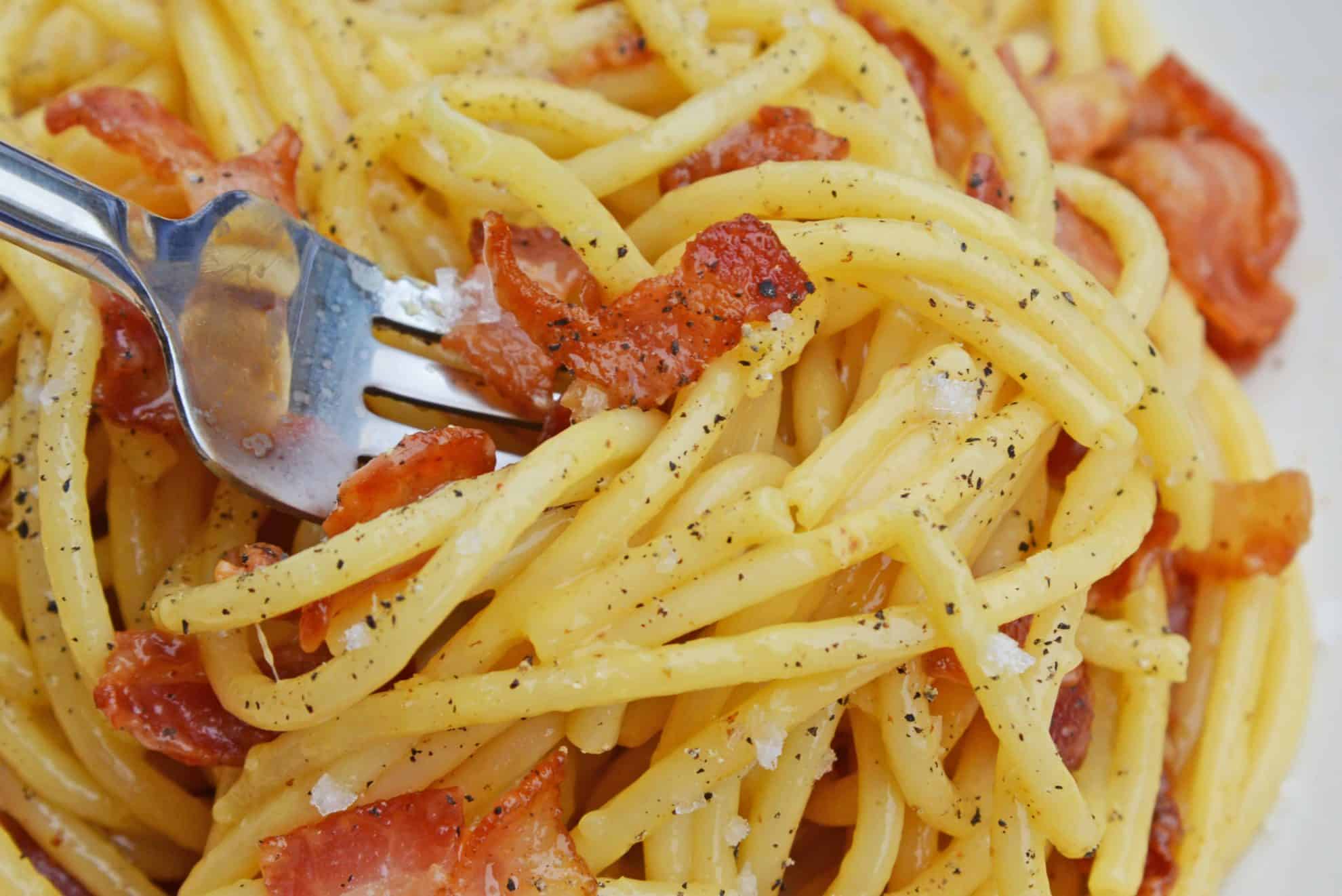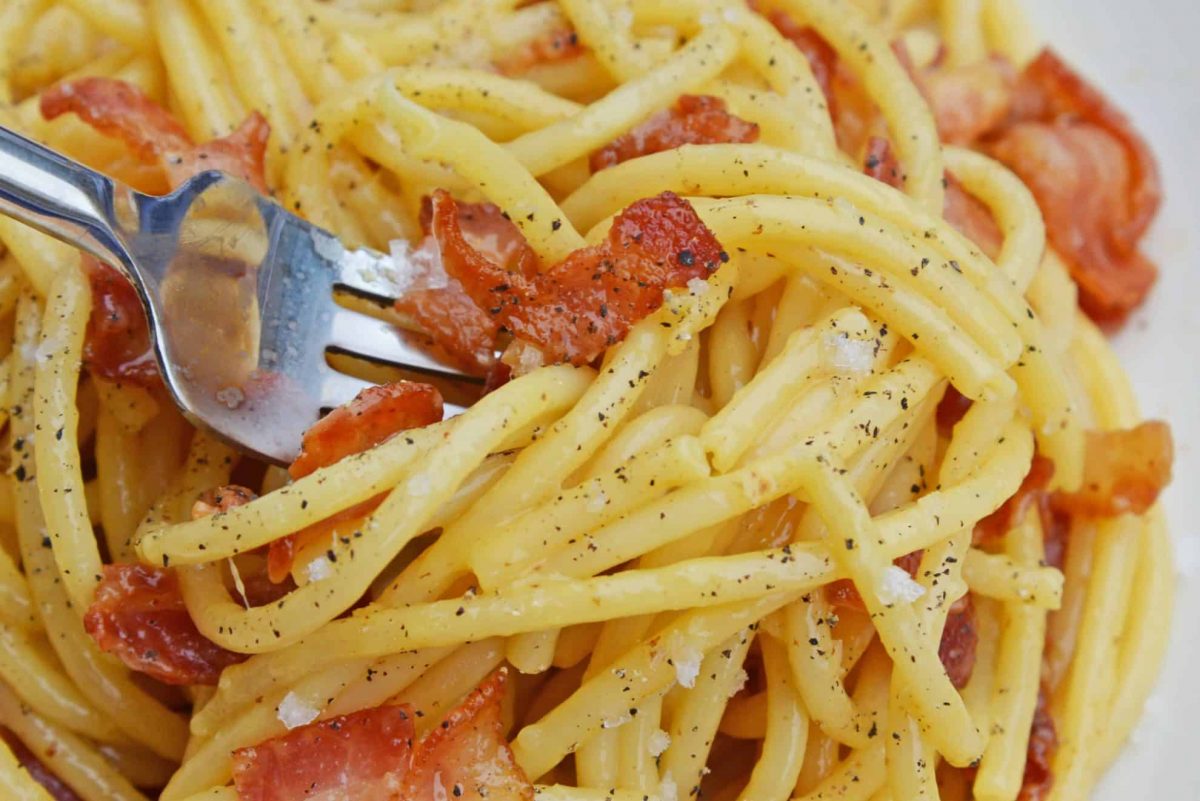 Carbonara is made from egg yolks whisked with hot pasta water and grated cheese. This results in an super rich and creamy sauce that essentially cooks on the hot pasta. Timing and speed is the name of this game.
Alfredo– Traditionalists will go gaga over debating "real alfredo". It isn't even an authentic Italian recipe, it is very much Italian American.
The majority of alfredo recipes (including my own) use cream with cheese to make a velvety cheese sauce, but the real alfredo uses grated parmigiano-reggiano cheese and butter. Similar to carbonara, the hot pasta helps to melt and create the silky sauce.
Cacio e Pepe– Literally translating to cheese and pepper, this dish leaves out the binder of eggs, cream or butter and just uses black pepper and grated Pecorino Romano cheese.
Also of Roman descent, it is most frequently served with spaghetti, tonnarelli or bucatini. I'm am also realizing I don't have one on my site and maybe I should get cracking on that!
Cream Cheese Spaghetti – Ha! Even the name doesn't sound as sophisticated, which is why I've changed mine to Garlic Parmesan Linguine. Creating a sauce with pasta is what sounds intimidating to most home cooks.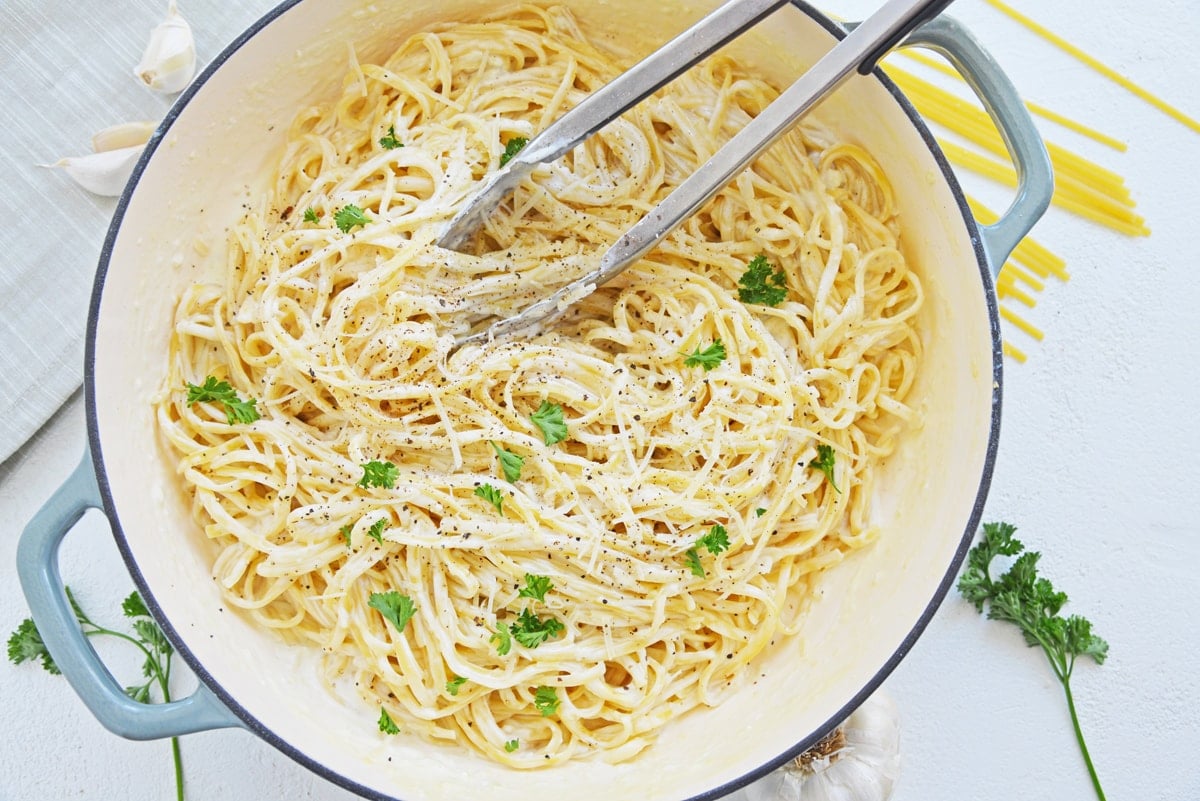 Or they just plain need something quick and easy so plopping in a brick of cream cheese was born and even though it is in no way shape or form authentic, it still tastes amazing. Don't dis it until you try it!
Linguine versus Fettuccine (& Other Types of Pasta)
To many folks pasta is just pasta and the type of for any recipe just depends on personal preference. There are over 300 shapes and types of pasta in the world in nearly every single culture.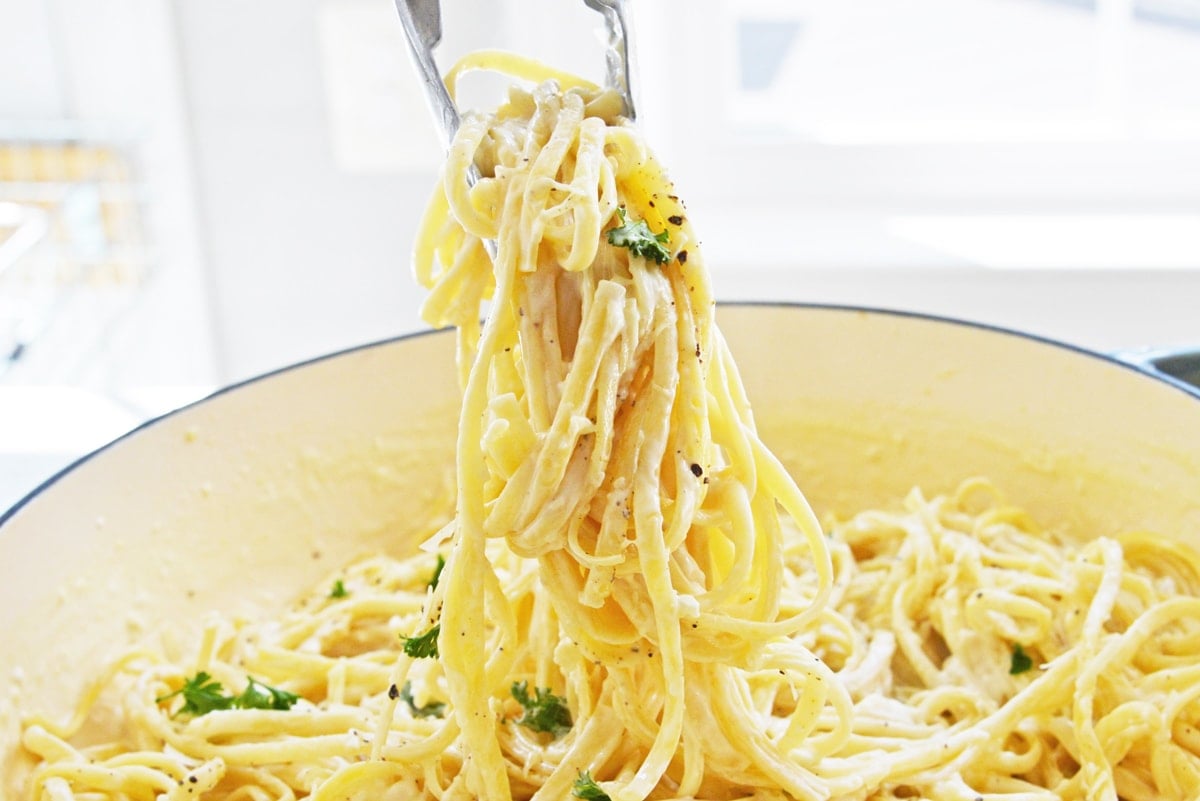 Each was developed for a specific reason and to accompany a sauce or topping, as complicated or minimal as it might be. There is this fabulous book called The Geometry of Pasta that will tell you all about it along with great recipes.
I choose linguine for this Parmesan Garlic Linguine dish because I needed something hearty and strong. Something angle hair or capellini would be too delicate. Something smaller like elbows or ditalini would just get lost.
Although I choose linguine, there are several shapes of pasta that would be ideal and they include:
Spaghetti – by far the most popular world wide, it translates to "length of a cord" and is long and thin. Perfect for delicate and thick sauces and just about any type of protein or vegetable. The most verstile, for sure.
Bucatini – Long like spaghetti, but thicker, bucatini has a hollow center to allow it to cook to a perfect al dente without the exterior getting soggy before the interior softens at all. In Italian, the name bucatini translates to "hole" or "pierced".
Linguine – Long and narrow, linguine is liked if a strand of spaghetti was flattened. It is great for substantial, heavy sauces. It translates to "little tongues". It is great for this type of sauce, coating to it and carrying it all the way to your mouth!
Fettuccine – Also long and narrow, it is thinner than lingue, but not as wide tagliatelle. It translates to "small ribbons".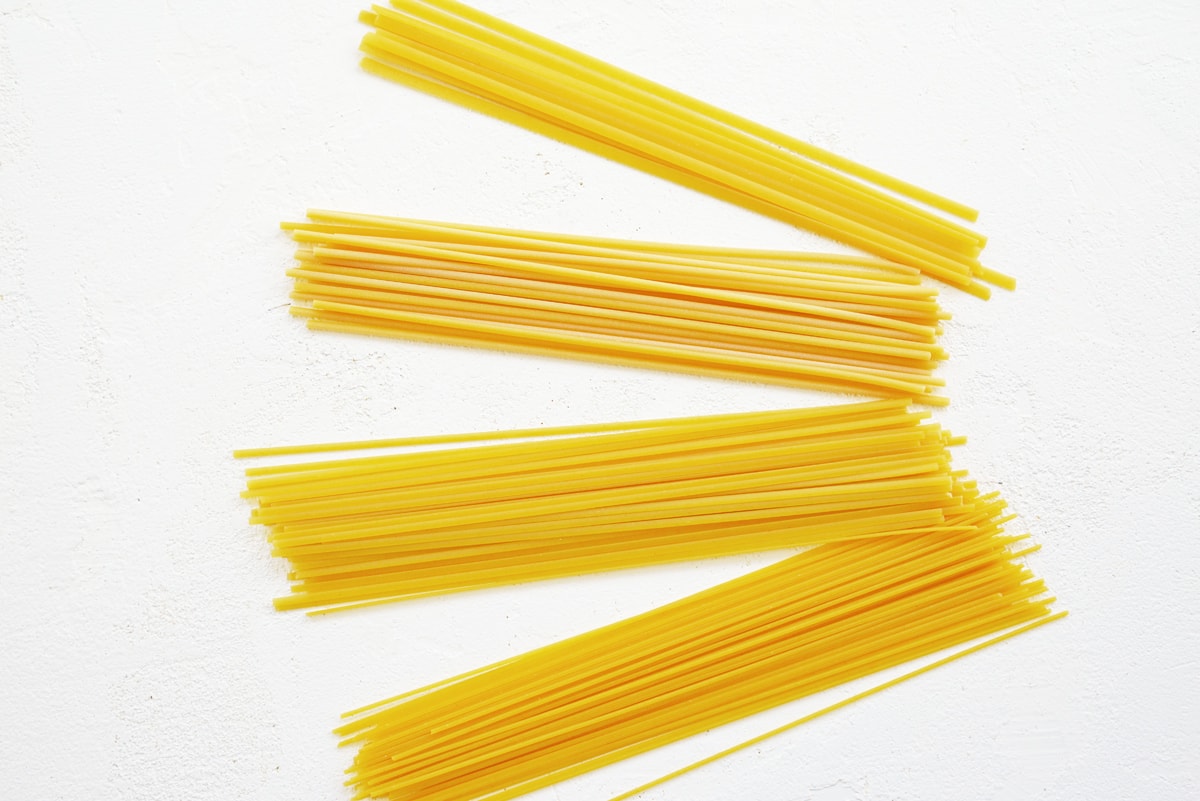 Linguine Pasta Ingredients
Now that you have way more information than you bargained for to make parmesan garlic linguine, here are the simple ingredients you'll need and how you make it.
Linguine Pasta – or other type of long pasta strand.
Cream cheese – full fat works best, reduced will be okay, I don't recommend using fat free.
Fresh garlic – don't cut corners with jarred garlic. You need to use fresh to get the signature garlicky flavor.
Parmesan cheese – you can also use parmesan reggiano or even pecorino romano. Whatever you do, I highly recommend freshly grated versus the canned stuff which can be dry and grainy.
Heavy Cream – you can also use milk or omit this all together. I find the cream cheese melts easier with it.
Pasta water – Like carbonara, the pasta water helps to thin the sauce for your Parmesan Garlic Linguine and coat the pasta evenly. Pasta water is a little starchy, so it works best to not thin too much and also have a tiny bit of flavor. It is also, presumably hot. if you forget to ladle this out, use the hottest water from that tap with 1 teaspoon of flour whisked in.
Olive Oil – To cook the garlic and offer subtle undertones. Use a good flavored olive oil since this is a simple dish. Prime ingredients will really shine through.
Coarse or Flaky Salt – Maldon and Jacobson are my favorites. Both will add the least salty flavor and a crunchy texture to bites.
Freshly Ground Pepper – Black pepper is fine, but a tri-colored blend straight from the peppermill is my absolute favorite!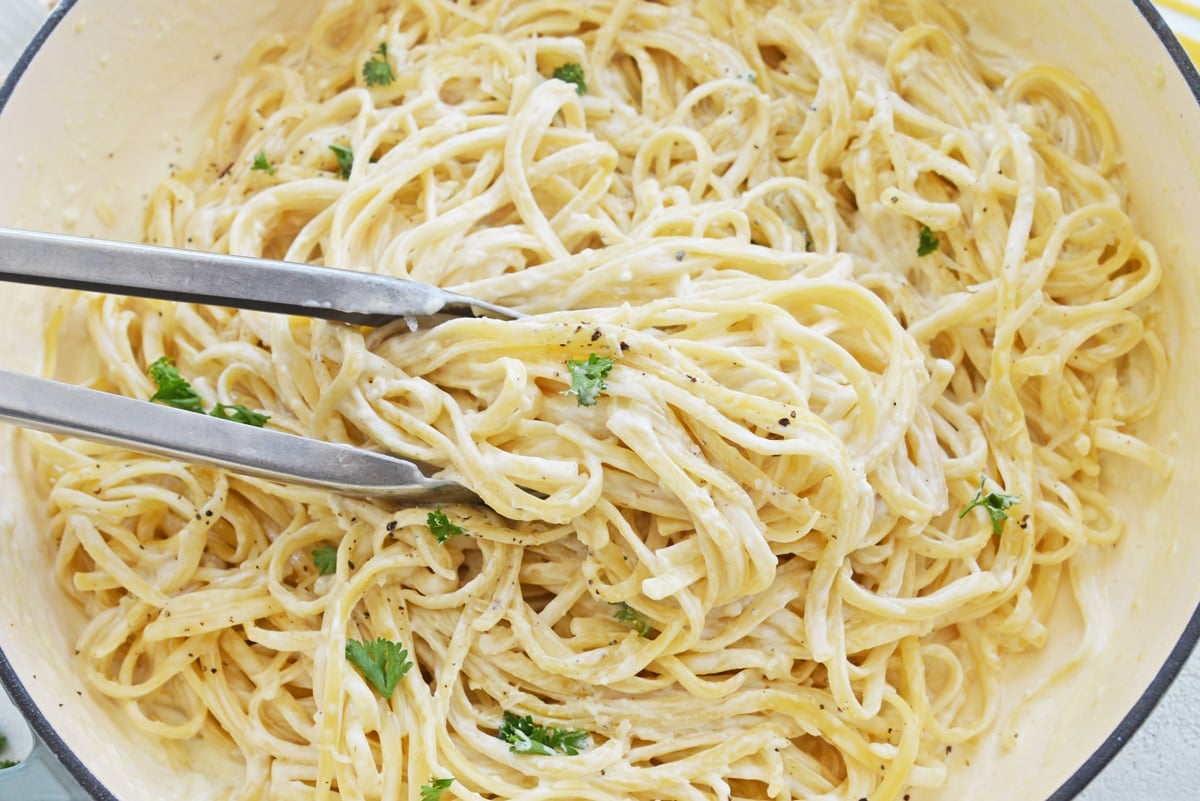 How to make Linguine Garlic Pasta
It couldn't be easier to make this delicious pasta sauce.
Cook linguine. Next, cook the linguine to al dente, or softer if you desire.
Cook garlic and cream cheese. After straining the pasta, let us sit in the strainer while you lightly brown fresh garlic in olive oil in the still hot pan. Next, add cubed cream cheese, stirring while it melts.
Whisk in water and heavy cream. When nearly melted, about 3-4 minutes on medium heat, whisk in heavy cream and pasta water to thin it out a tad.
Toss in cheese and pasta. Lastly, toss with parmesan cheese and hot pasta.
Garnish. When plated, top with freshly grated pepper and flakey or coarse sea salt and fresh parsley.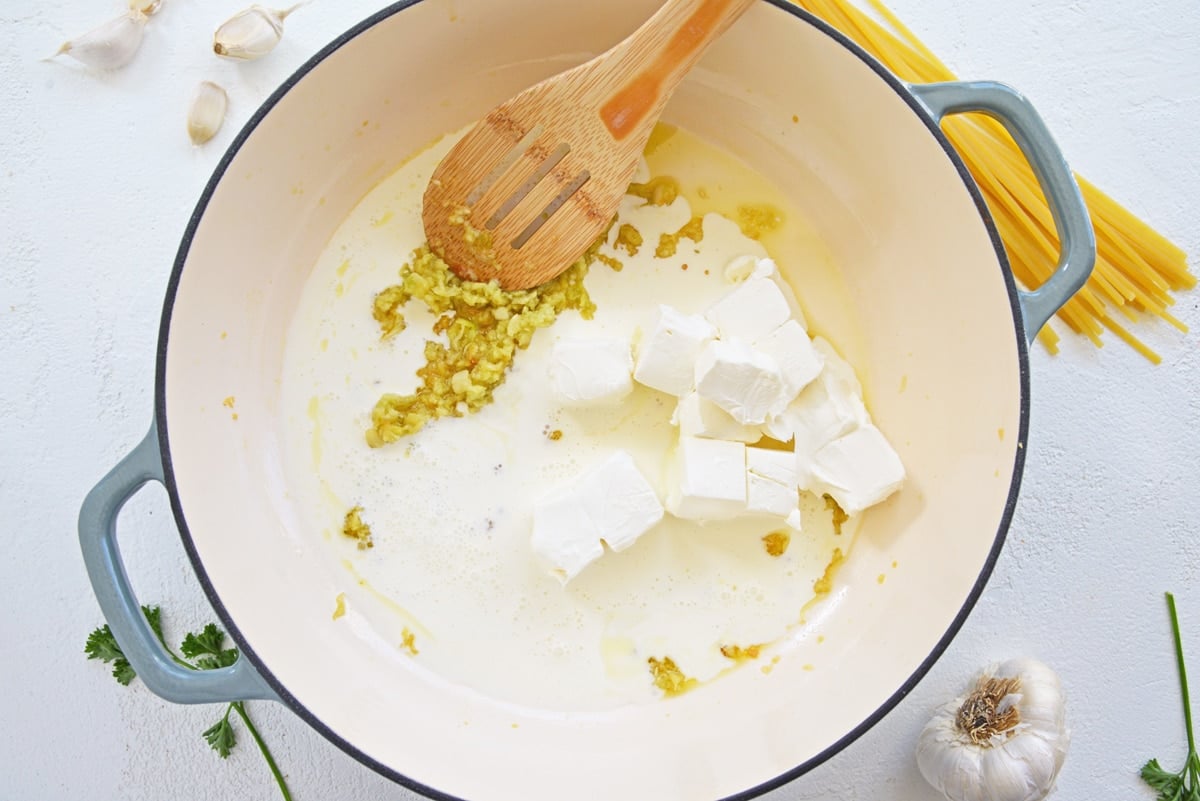 What to serve with Garlic Parmesan Pasta
Serve it with a leafy green salad, cheesy bread sticks, buttery homemade garlic knots and a big glass of wine. Crusty bread or a side of your favorite veggies is always a great way to serve this pasta.
Of course, you can always serve it as a main dish too! Check the section below for some of our favorite ways to top this pasta.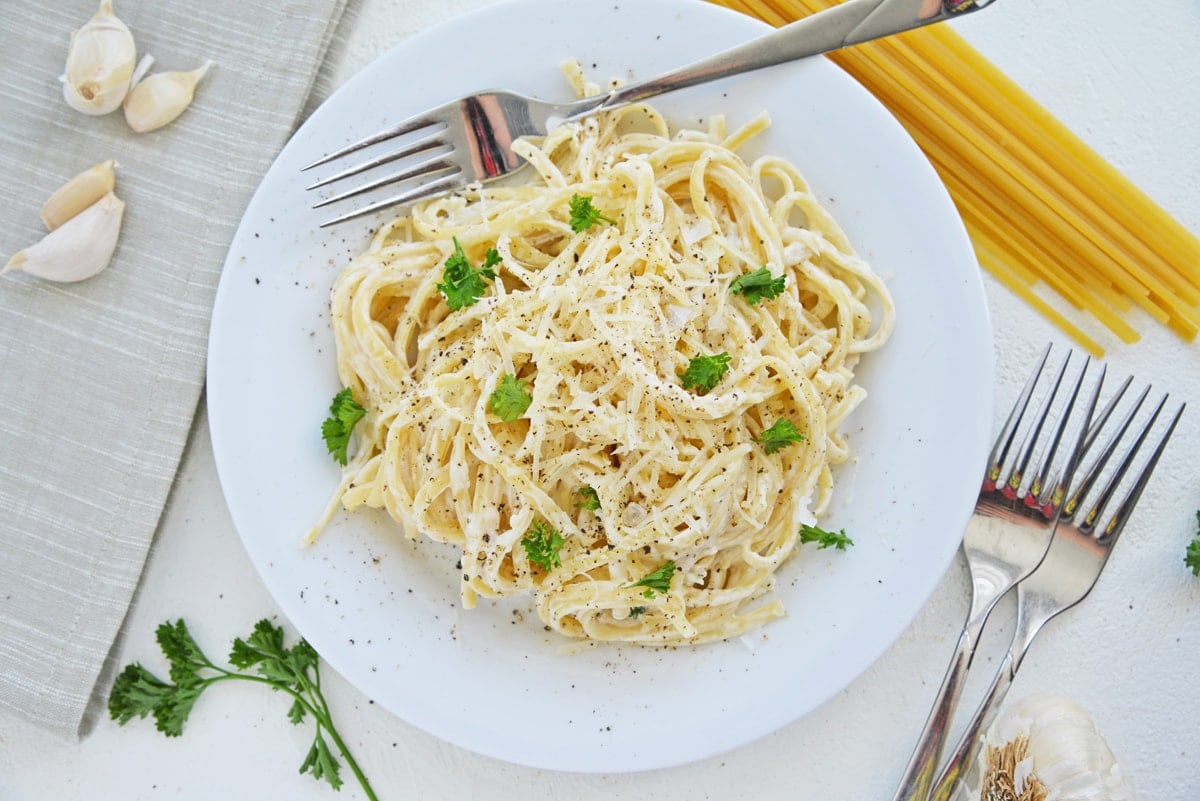 Topping Options for Linguine Noodles
I generally make this pasta as a stand alone dish- it is that good, but you can also use it as a side dish to add protein and veggies.
Here are my favorites:
Grilled or roast chicken – There's nothing like topping a cheesy pasta with some juicy chicken thighs or grilled chicken breast. And then you have a chicken linguine recipe.
Seared Scallops – Similar to a shrimp scampi pasta, try adding some scallops to elevate this already fantastic dish.
Shrimp – Turn this into a simple shrimp linguine with the addition of plump, juicy shrimp.
Sun dried tomatoes – top with julienne tomatoes when plating
Spinach – toss fresh spinach with the pasta right before serving
Mushrooms – Cook raw sliced mushrooms with cream cheese while it melts
Crab or Lobster Meat – Next time you make this pasta, try adding some seafood like crab or lobster.
Crushed red pepper flakes or aleppo – The easiest thing to do to take this ribbon pasta up a notch it to add some spice.
Preserved Lemons – Lemon zest, lemon slices or even some fresh lemon juice can take linguine recipes to the next level
Cherry tomatoes – Extra veggies like tomatoes or even red peppers can make simple sauces a little more elegant
You can also use any of our 40+ ways to make jarred alfredo sauce better in this homemade version.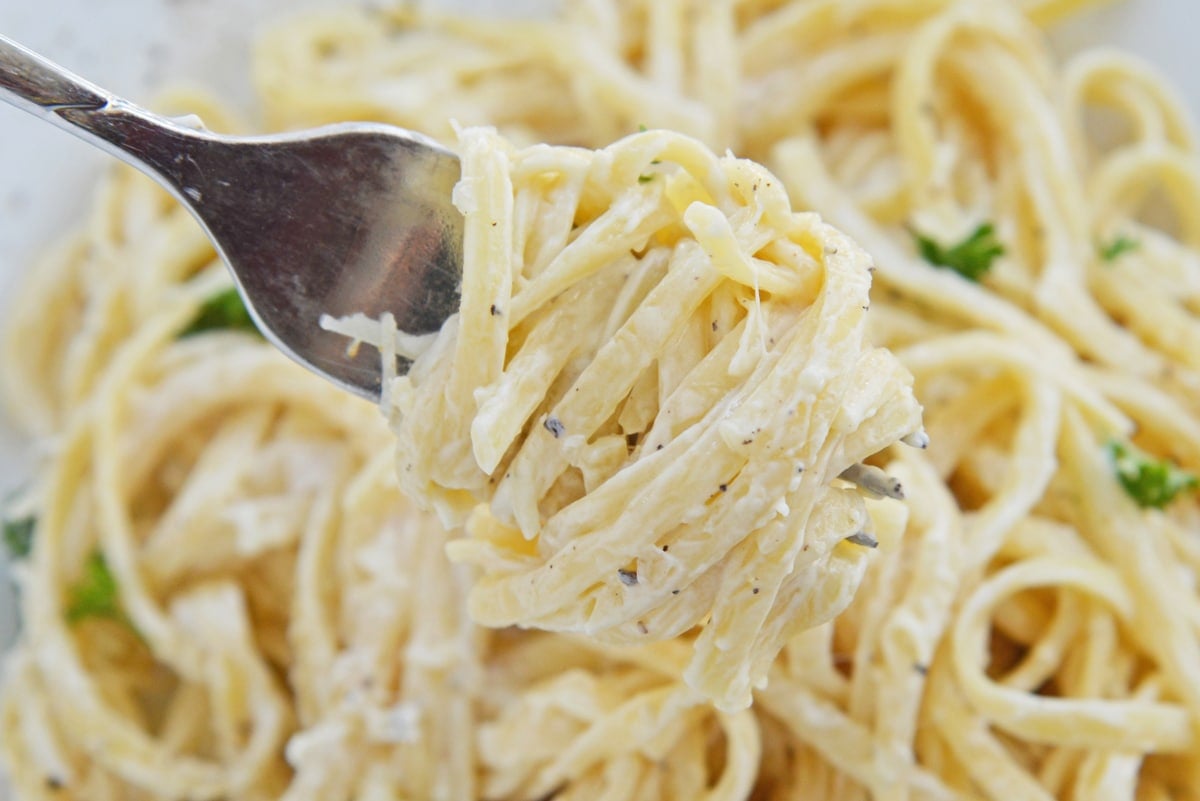 Linguine Pasta Storage & Freezing
Storage: You can store any leftovers of this linguine pasta recipe in an airtight container in the refrigerator. It should last up to 3-5 days.
Freezing: This pasta is also a great recipe for freezing. You can either freeze the pasta and sauce together, or you can freeze them separately in two different containers.
Garlic Parmesan Linguine Pasta FAQs
What is linguine?
Linguine is a type of pasta that is long, flat, and narrow, similar to fettuccine but slightly thinner. It is often served with a variety of sauces, such as tomato-based sauces, seafood, or creamy cheese-based sauce.
How to cook linguine?
Check the manufacturer's box for exact cooking times. make sure to adequately salt the water and then boil to al dente, typically 9 minutes. Remember the pasta will continue to cook a bit while being tossed in the sauce. Drain immediately and do not rinse.
How much garlic to use in pasta?
We measure garlic with our heart! This recipe calls for 4-5 large cloves of garlic. Use more or less based on personal preference.
Can you put raw garlic in pasta?
Yes! It will be more garlicky!
Can I use garlic powder instead of garlic for pasta sauce?
You can use garlic powder instead of fresh garlic in a pinch. When substituting garlic powder for fresh garlic, a common rule of thumb is to use 1/8 teaspoon of garlic powder for every clove of fresh garlic. So, if a recipe calls for 4 cloves of fresh garlic, you can use 1/2 teaspoon of garlic powder as a substitute. However, this is a general guideline, and you can adjust the amount to your taste preferences since the intensity of garlic flavor can vary between fresh and powdered forms.
What is the secret to perfect pasta?
Cooking pasta in well salted water, cooking it to al dente and draining it well, without rinsing, are all keys to perfect pasta. All choose a good pasta brand. Not all are made with the same quality flour and ingredients.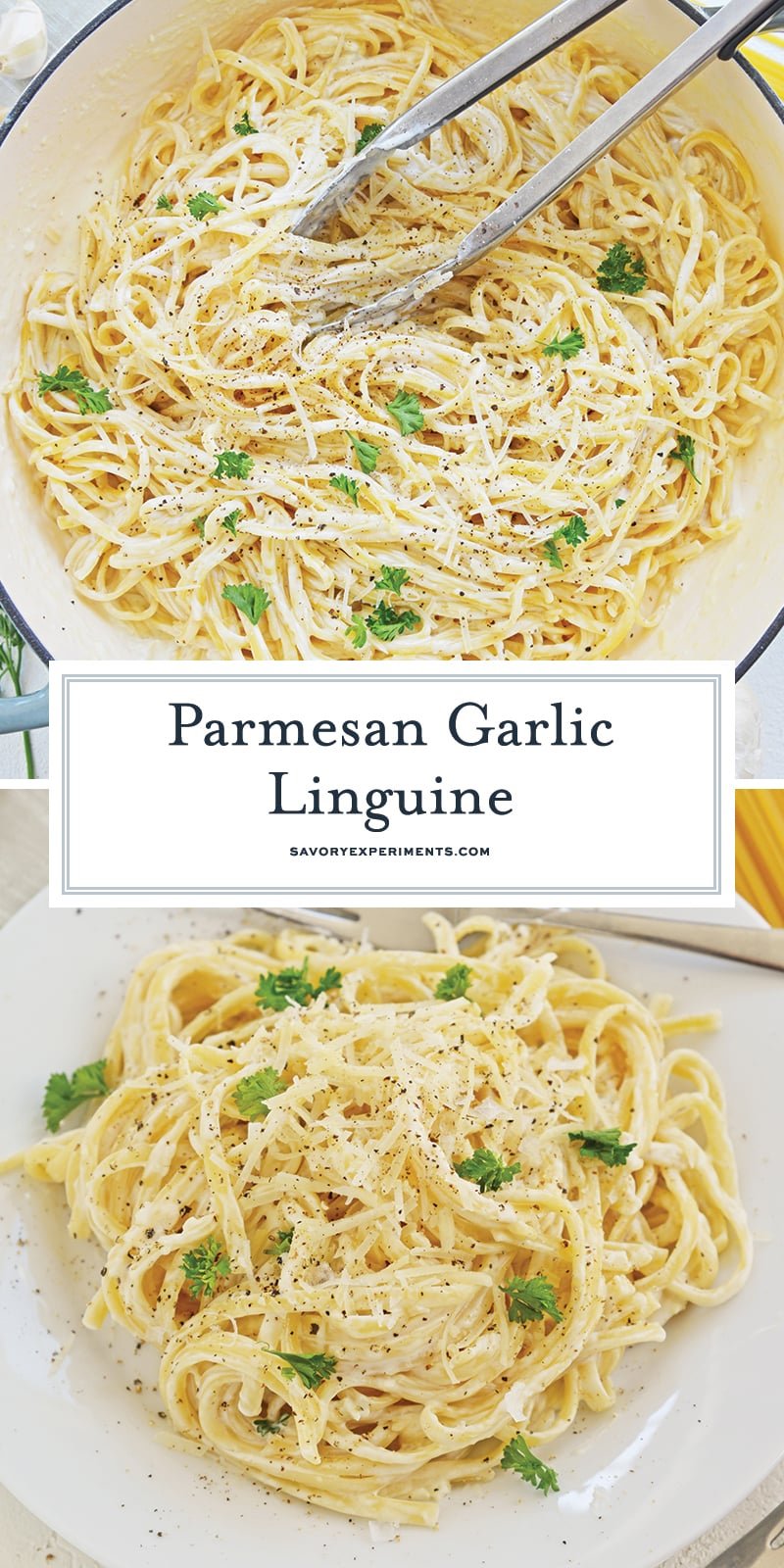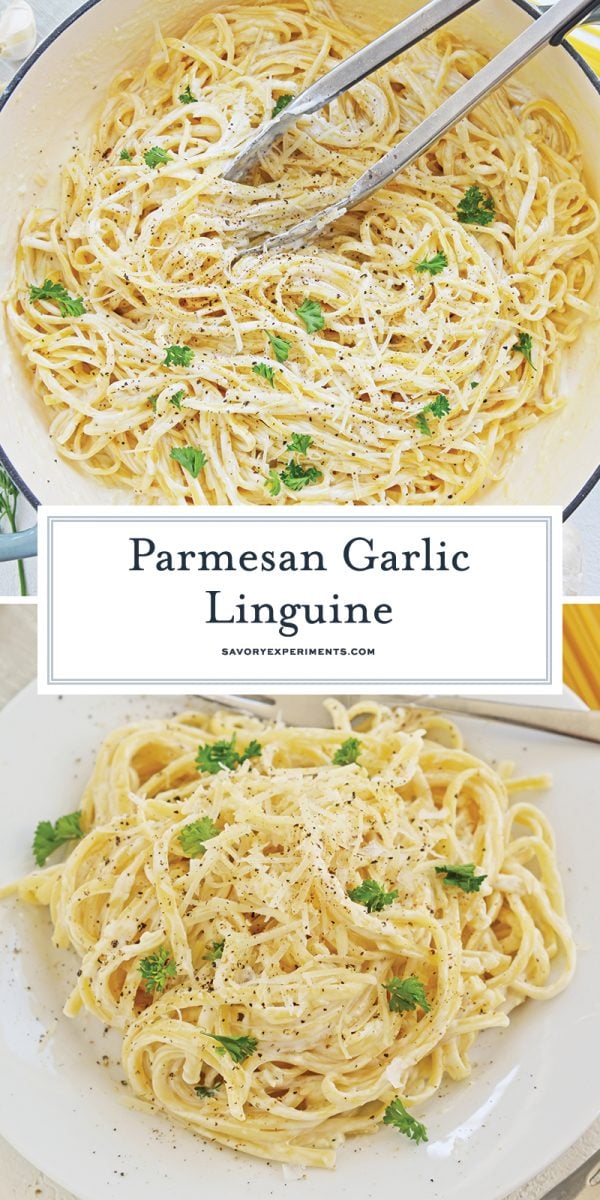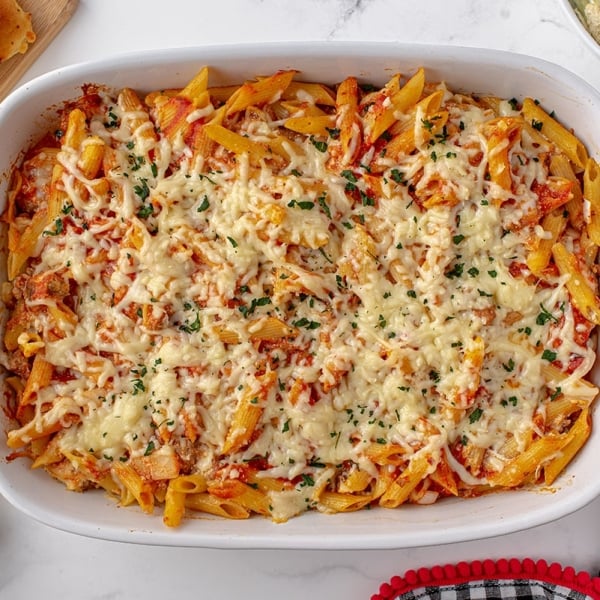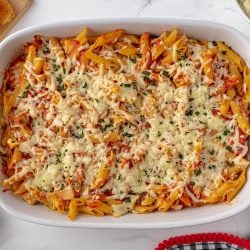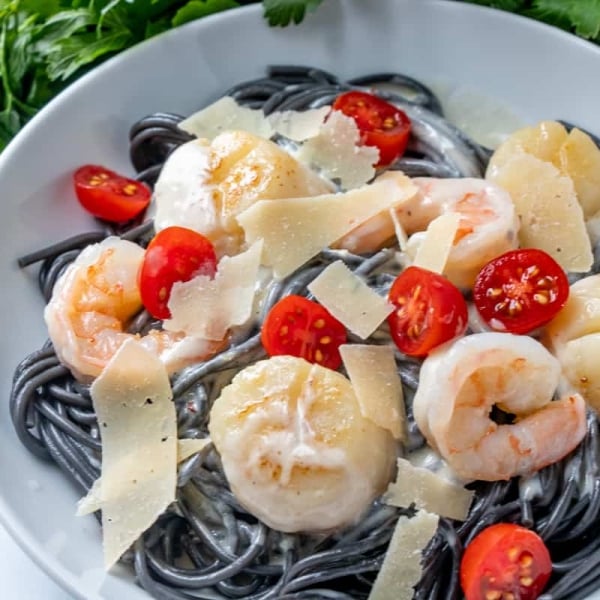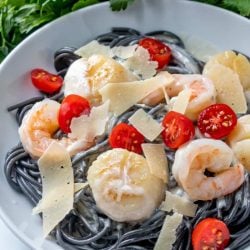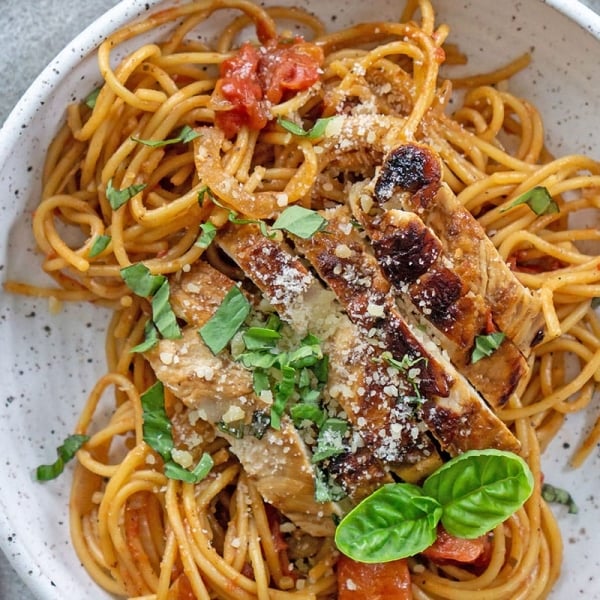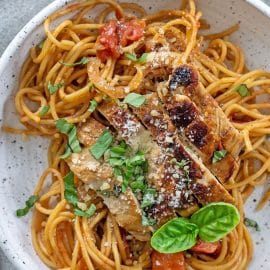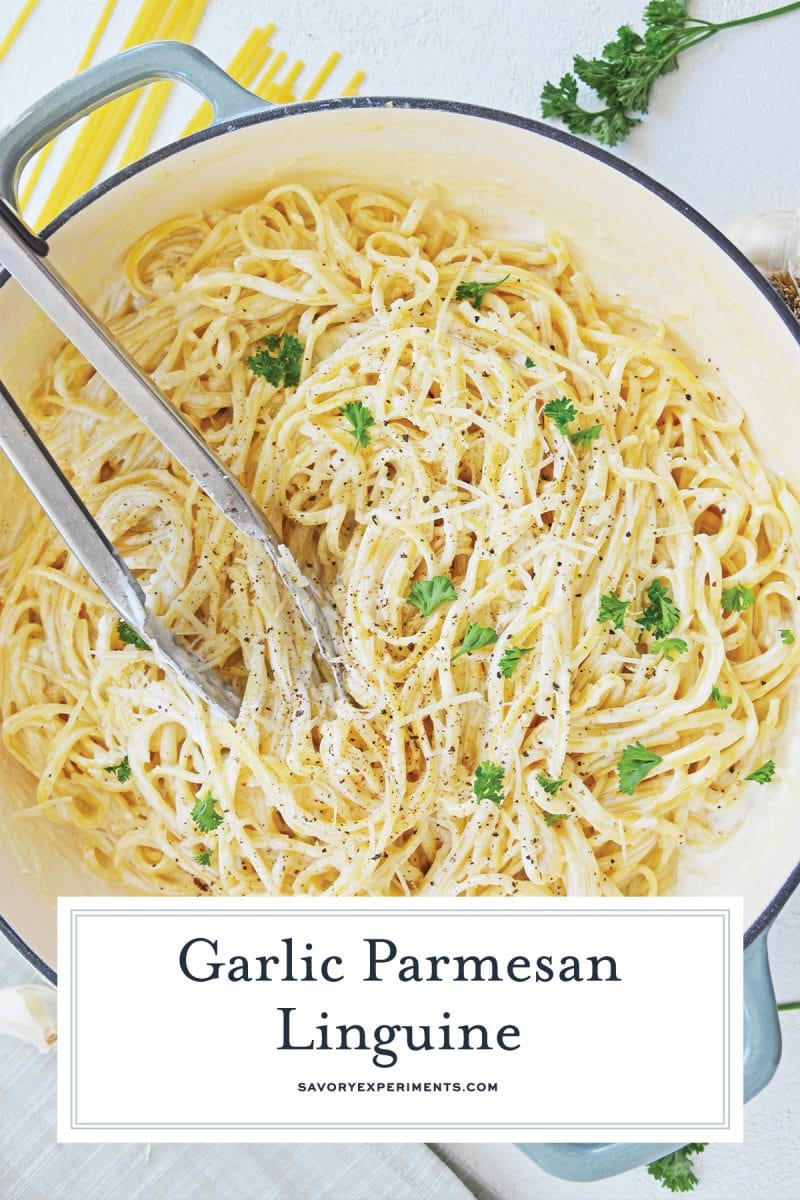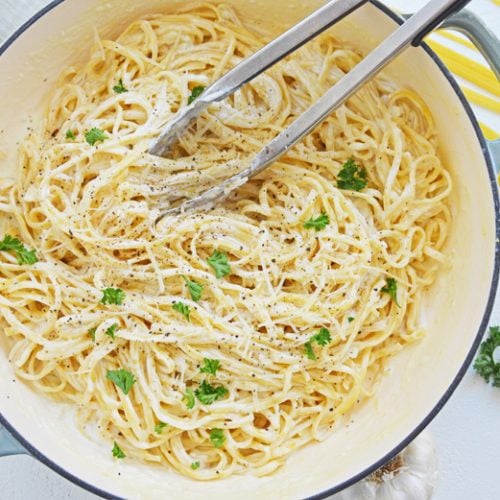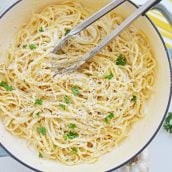 Parmesan Garlic Pasta
Creamy, cheesy & delicious, this EASY Parmesan Garlic Linguine pasta recipe is perfect for a quick weeknight dinner! With simple ingredients!
Instructions
Cook pasta according to package directions. Cook to al dente, or preferred softness. Drain and then return hot pan to stovetop over medium heat.

Add olive oil and garlic. Cook for 3-4 minutes or until garlic starts to brown and becomes fragrant.

Add cream cheese, stirring while it heats and melts, approximately 3-4 minutes.

When melted, whisk in Parmesan cheese, heavy cream and pasta water until blended.

Toss with hot pasta.

Plate and top with freshly grated Parmesan cheese, flakey or coarse sea salt and freshly ground pepper.

If you've tried this recipe, come back and let us know how it was in the comments or ratings!
Notes
*You can also use milk or omit this all together. I find the cream cheese melts easier with it.
**Pasta water helps to thin the sauce and coat the pasta evenly. Pasta water is a little starchy, so it works best to not thin too much and also have a tiny bit of flavor. It is also, presumably hot. if you forget to ladle this out, use the hottest water from that tap with 1 teaspoon of flour whisked in.
Nutrition
Calories:
756
kcal
,
Carbohydrates:
89
g
,
Protein:
23
g
,
Fat:
34
g
,
Saturated Fat:
16
g
,
Cholesterol:
81
mg
,
Sodium:
393
mg
,
Potassium:
355
mg
,
Fiber:
4
g
,
Sugar:
5
g
,
Vitamin A:
969
IU
,
Vitamin C:
1
mg
,
Calcium:
238
mg
,
Iron:
2
mg
More Favorites from Savory Experiments