Before we get to this Pan Fried Steak, let us start by talking about one misbelief. People often think that steak is best on the grill. They can't even imagine it being prepared any other way.
Best Steak at Home
How to make a Pan Fried Steak at home is easier than you think with my step-by-step instructions and easy steak seasoning.
Well, your favorite 5 star steak house doesn't have the chef de cuisine out back on a Charbroil flipping steaks. They are either under a flaming hot broiler or searing in a ridiculously hot pan.
At home, your broiler probably doesn't reach the 800 degrees temps that a commercial broiler will, but you CAN achieve that perfect pan fried steak.
Pan Fried Steak
The magic of steak in a frying pan is from the Maillard reaction. A chemical reaction that occurs when food is seared at a high temperature when amino acids and reducing sugars give food a nice brown crust and develop a different flavor.
While it is most prominently seen in meat recipes, the maillard reaction also occurs in other foods like a charred marshmallow, fried dumplings or dough or any other recipe that requires browning before or after (the reverse sear method) cooking.
I know sometimes it seems like a skippable step, but recipes that call for browning should be followed or you risk not achieving the intended flavor. However, when they claims this "seals in the juices" they are lying. Nothing seals in the juice.
Pan fried steaks have a crispy crust, also known to avid steak eaters as "bark" with a tender and juicy interior. Since they produce a wildly tasty flavor by themselves, you won't need a terrible amount of seasoning. But if you insist, they tend to pair well with a nice steak sauce or compound butter.
Let's go through what you need to make the best pan fried steak.
Steak Pan
What pan should I use to fry steak?
I find the best type of pan for a fried steak is cast iron. The benefits of cast iron are a high heat threshold and even heating.
If seasoned well and properly, a cast iron pan will also be relatively stick free without a ton of extra oil and also add seasoning when seared. Here are instructions on how to season and clean your cast iron.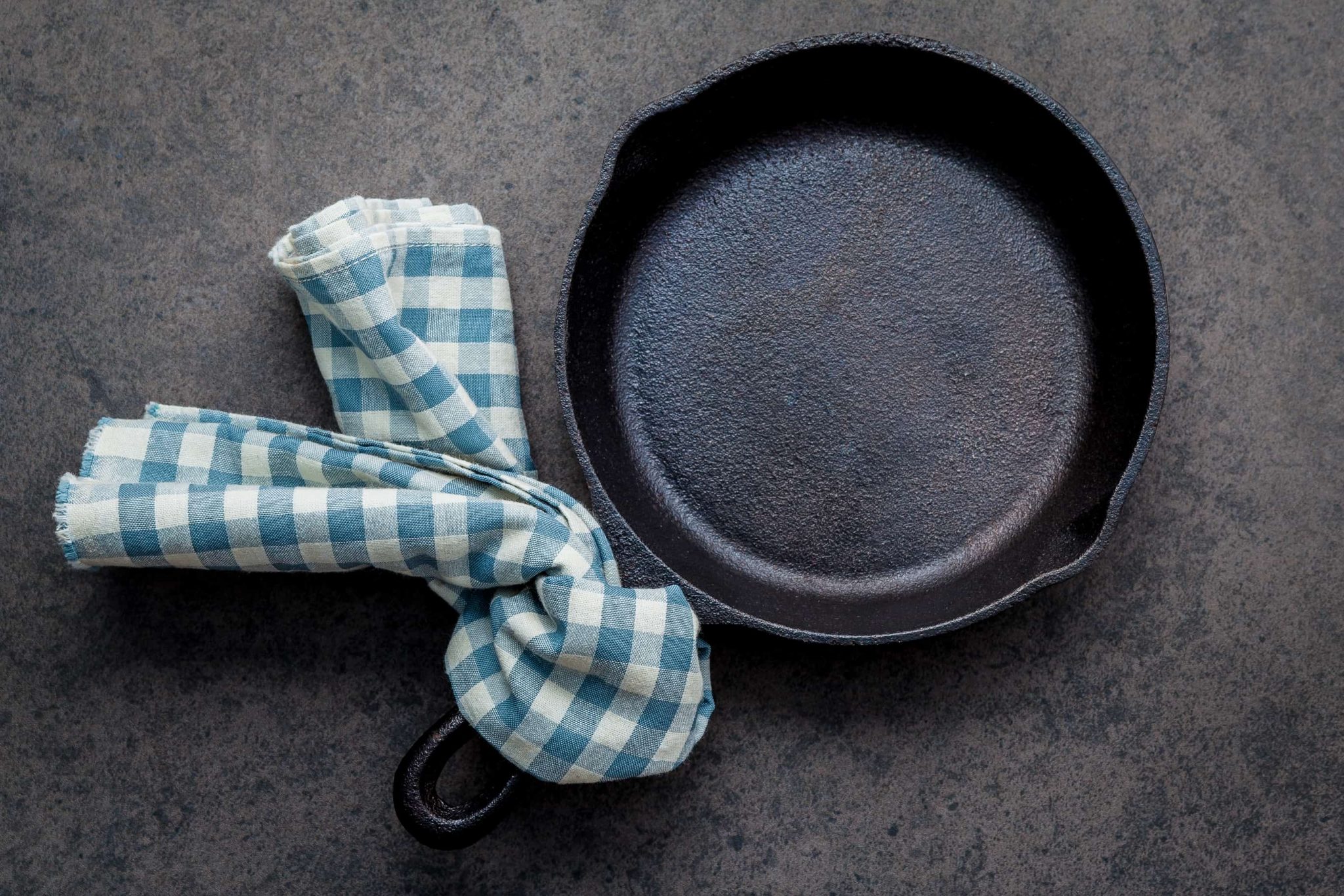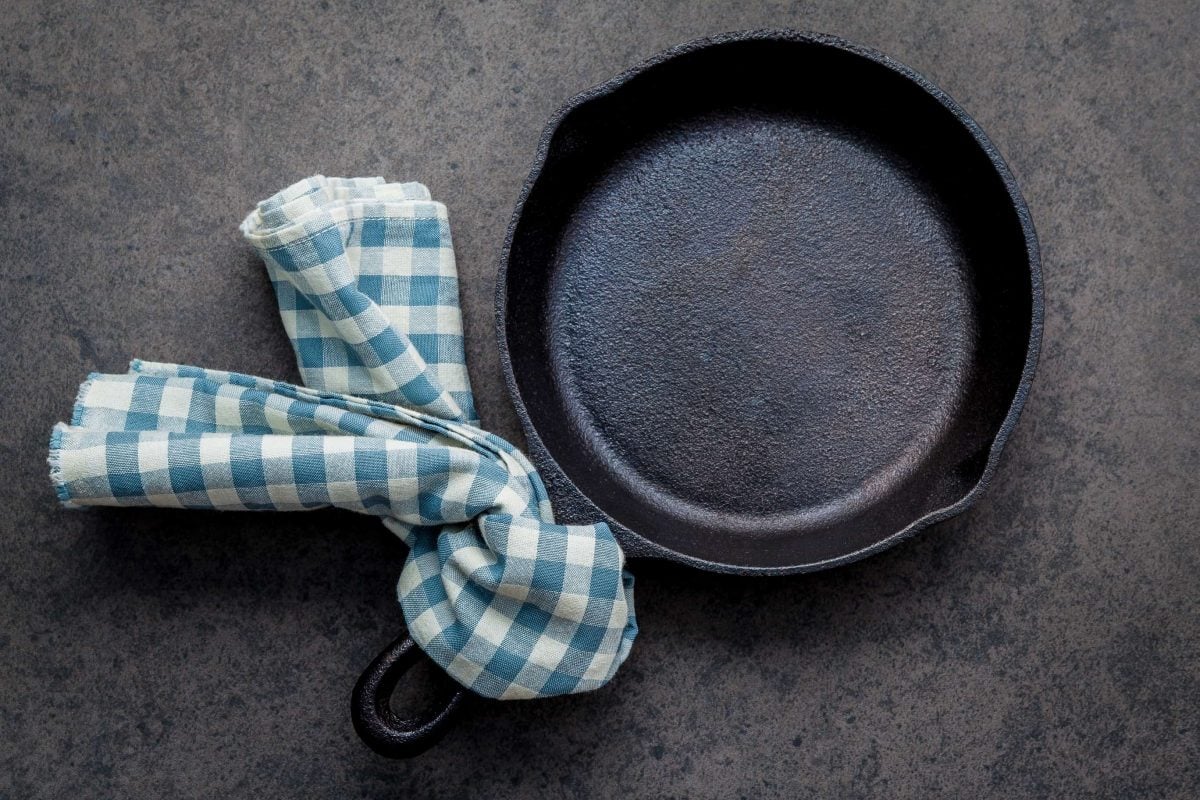 You can also use a stainless steel pan. In order for this to work you will absolutely need a thin layer of oil and very hot heat. Make sure it is a heavy bottom skillet to evenly distribute heat.
What type of oil should I use to sear steak?
Most novice steak searers think they should be using butter because many times the end results is topped with a melty slab of flavored butter. But regular butter is probably one of the worst things you can use because the smoke point isn't very high.
What is a smoke point? The smoke point is the temperature at which a particular substance will start to burn, produce smoke and cause fire.
Butter has a smoke point of 350 degrees. That isn't very hot considering what you are trying to achieve. The reason is the milk solids start to burn. However, clarified butter, also known as ghee, has a smoke point of 470 degrees, much higher.
FACT: Oils with the lowest smoke points are butter, coconut oil, lard, shortening, olive oil and canola oil.
The best oils to fry with have the highest smoke points which are all 450 or above. These include peanut oil, sunflower oil, corn oil, palm oil and avocado oil. I generally use peanut or sunflower oil.
PRO TIP: To sear a steak, your pan should reach a temperature of 400-450 degrees. If using cast iron, you can also place you pan in a preheated oven to ensure it is exactly the correct temperature before setting it on the stove.
Keep in mind that to sear a steak you aren't deep fat frying, you'll only need a very thin layer of oil to prevent sticking and only in a non-stick pan. Literally just a teaspoon for a 12 inch pan. Another trick is to heat the pan before you add the oil.
What should I season my pan fried steak with?
Because of the maillard reaction, your steak will develop deep, rich flavor without any seasoning at all, but I do like to add just a little.
Kosher salt and freshly ground pepper are probably the most widely used. I like to blend mine with a little garlic powder and onion powder. I let it sit on my meat before searing so it flavors the exterior and when it falls off in the pan, it still leaves behind the essence.
Some feel like this burns too much, but I like it brings out a deep caramel flavor and tastes delicious. I also make my steaks rare to medium rare, so it isn't in the pan for as long to burn as it might be for a well done piece of meat.
So here it is, how to make pan fried steak…
ONE. Choose your meat wisely. For a technique like this, a thick cut of quality steak is best. This way you can develope a nice bark, but still have a red inside. A thin cut will cook too fast to allow it to have any pink on the inside.
PRO TIP: Ribeyes are usually a thick steak and are one of the only cuts that actually tastes better when cooked longer so the fibers have more time to break down. It is best at medium.
Look for a well marbled piece of meat. The fat will also help prevent sticking and develop flavor. Ribeyes, strip steaks and T-bones are all good choices. Thick cut filets also work well, but have less fat.
TWO. Seasoning pan fried steaks has two theories. The first that you should wait until ready to cook to season because the salt draws liquid out and then they aren't dry enough to brown.
The second that it adds flavor and when done in advance, the liquid has enough time to reabsorb back into the meat.
I like the later of the options because I think it gives the most flavor. Also, I only use powdered herbs and spices. I find that fresh aromatics tend to burn off and taste ashy. Salt and pepper are by far the most popular for any cast iron skillet steak. Whatever you do, generously season.
You can finish your steak off with any of my 15+ compound butters, creamy horseradish sauce, steak sauce or my mushroom sauce for steak (pictured) or balsamic caramelized mushrooms to add in those fresh flavors. It is also good on its own and doesn't really need any of these.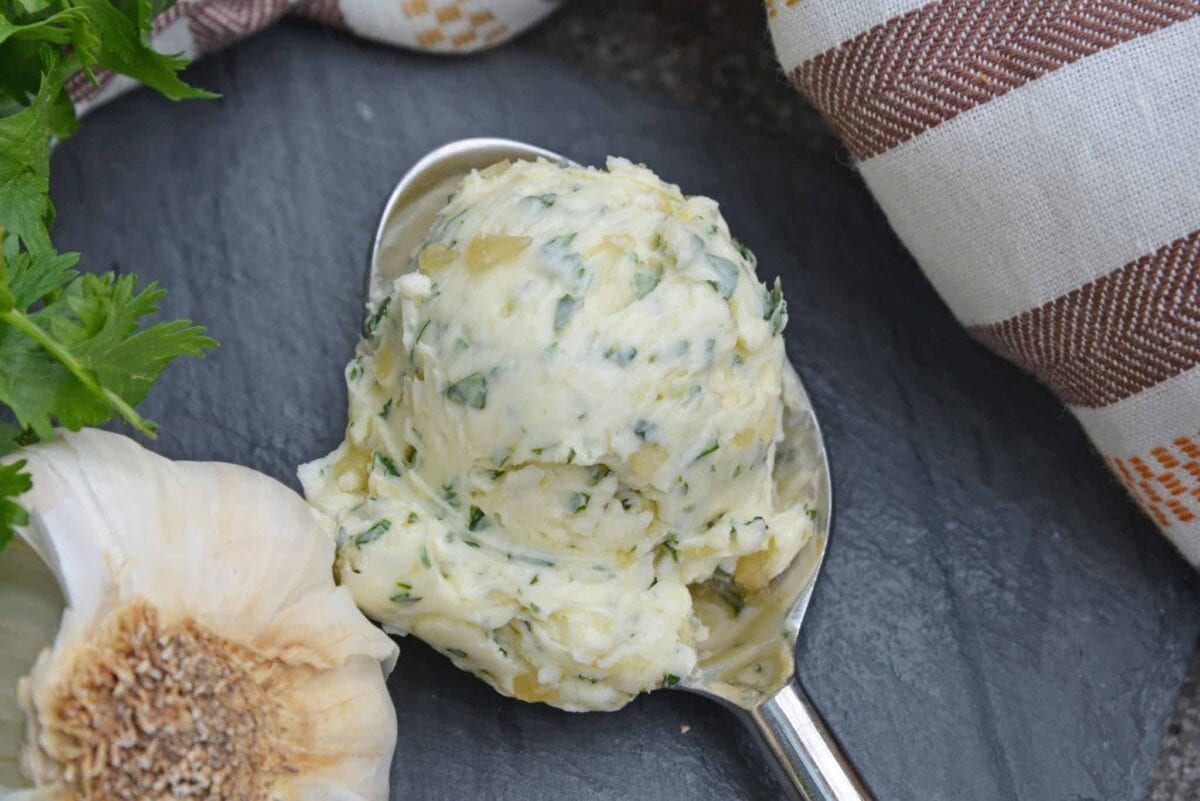 Make sure you dab your piece of meat dry with a paper towel before seasoning.
THREE. Get the pan smoking hot! HOT is the name of the game. Heat it with a small amount of oil to 400-450 degrees.
Make sure you are using a pan large enough to not crowd the pan fried steak. There should be a minimum of 1-2 inches between each piece of meat and the sides of the pan.
FOUR. Cook it! Now is the hardest part of the whole recipe: you must resist the urge to touch, move or check your steak. It needs to hit heat uninterrupted for the maillard reaction to work properly.
PRO TIP: For the perfect steak, always use an instant read thermometer.
The time will vary greatly depending on the cut of meat. For a 2-inch steak to reach an internal temperature of 125 degrees (rare) it will take about 8 minutes total, 4 minutes on each side.
Please use a digital meat thermometer, it is the only reliable way to test your pan fried steak, and it sucks to ruin such a glorious piece of meat by over cooking it.
Remove the meat from the pan about 3-5 degrees before your desired doneness because it will continue to cook slightly while resting from residual heat.
Beef Degrees of Doneness
Rare – 125 degrees (cool red center)
Medium Rare- 135 degrees (warm red center)
Medium- 145 degrees (rosy pink center)
Medium Well- 150 degrees (slightly pink center)
Well Done- 160 degrees (little to no pink)
FIVE. If you are planning to use a flavored compound butter, wait until the steak is almost done cooking, turn off the heat and then top it in the last minute, spooning the flavors over the steak.
You can also add butter while resting or right before serving for maximum wow effect. You can use fresh herbs or a garlic butter.
SIX. Allow your pan fried steak to rest. Not allowing a piece of meat to rest means the juices won't distribute and when you cut into it, they will just all flow away.
SEVEN. Enjoy and eat hot! This isn't the type of meal you can make ahead. Make everything that goes with your meal ahead of time and do the meat last.
In summary, how to sear a steak at home:
Using the right pan.
Use the right temperature.
Only use a thin layer of oil with a high smoke point.
Make sure you meat is dry.
Don't crowd the pan.
Don't move the meat!
Allow it to rest.
And make sure you serve it with my savory Mushroom Sauce!
If you liked this pan seared steak, check out these other delicious steak recipes:
More questions:
What flavors does it develop? Every meat will have its own distinct set of flavors, but many describe the flavors that come from beef as being savory, nutty and caramelized.
What goes with pan seared steak? What doesn't is the question? I am a meat and potatoes type of girl, so I usually do a potato as a starch and then something green, either a salad or veggies. Here are some of my favorite pairings:
Can I make this ahead of time? I don't recommend this. Of course you can reheat it in the oven or with another quick sear, but this type of meal is best served freshly prepared.
Can I make these from frozen steaks? If your steaks are thawed, yes, but do not try to make this recipe with frozen solid beef.
Won't the meat get cold if it rests for the that long? You just cooked it in a 400 degree skillet and it is a good conductor of heat. I promise you, it will be fine.
If it makes you feel better, tent it with aluminum foil, but I honestly don't think it makes much of a difference.
---
---
Pan Seared Steaks
How to make a Pan Fried Steak at home is easier than you think with my step-by-step instructions and easy steak seasoning!
Instructions
In a small bowl, mix together Kosher salt, ground black pepper, garlic powder and onion powder. Set aside.

Pat steaks dry with a paper towel. Season steaks with salt mixture. Allow to sit, uncovered, on the counter for 30 minute prior to searing.

When ready to cook, heat a large cast iron pan over high heat. Place peanut oil into the pan.

When oil looks slick and glimmers, add steaks, being careful to not allow them to touch.

If the correct thickness, cook 3-4 minutes on each side to reach an internal temperature of 125 degrees (or desired doneness). Half way through, add smashed garlic cloves. Remove from heat and place butter in the pan. Allow it to melt and spoon over steaks.

Remove to cutting board to rest. Do not allow to rest in the pan because they will just continue to cook.

Rest for 5 a minimum of 5 minutes, but maximum of 10 minutes.

Serve immediately and enjoy!

If you have tried this recipe, come back and let us know how it was!
Nutrition
Calories:
649
kcal
|
Carbohydrates:
2
g
|
Protein:
47
g
|
Fat:
49
g
|
Saturated Fat:
22
g
|
Cholesterol:
211
mg
|
Sodium:
3608
mg
|
Potassium:
707
mg
|
Fiber:
1
g
|
Sugar:
1
g
|
Vitamin A:
350
IU
|
Calcium:
52
mg
|
Iron:
3
mg