Crab imperial filet mignon is a sponsored post on behalf of Certified Angus Beef ® brand. All opinions and statements are 100% my own.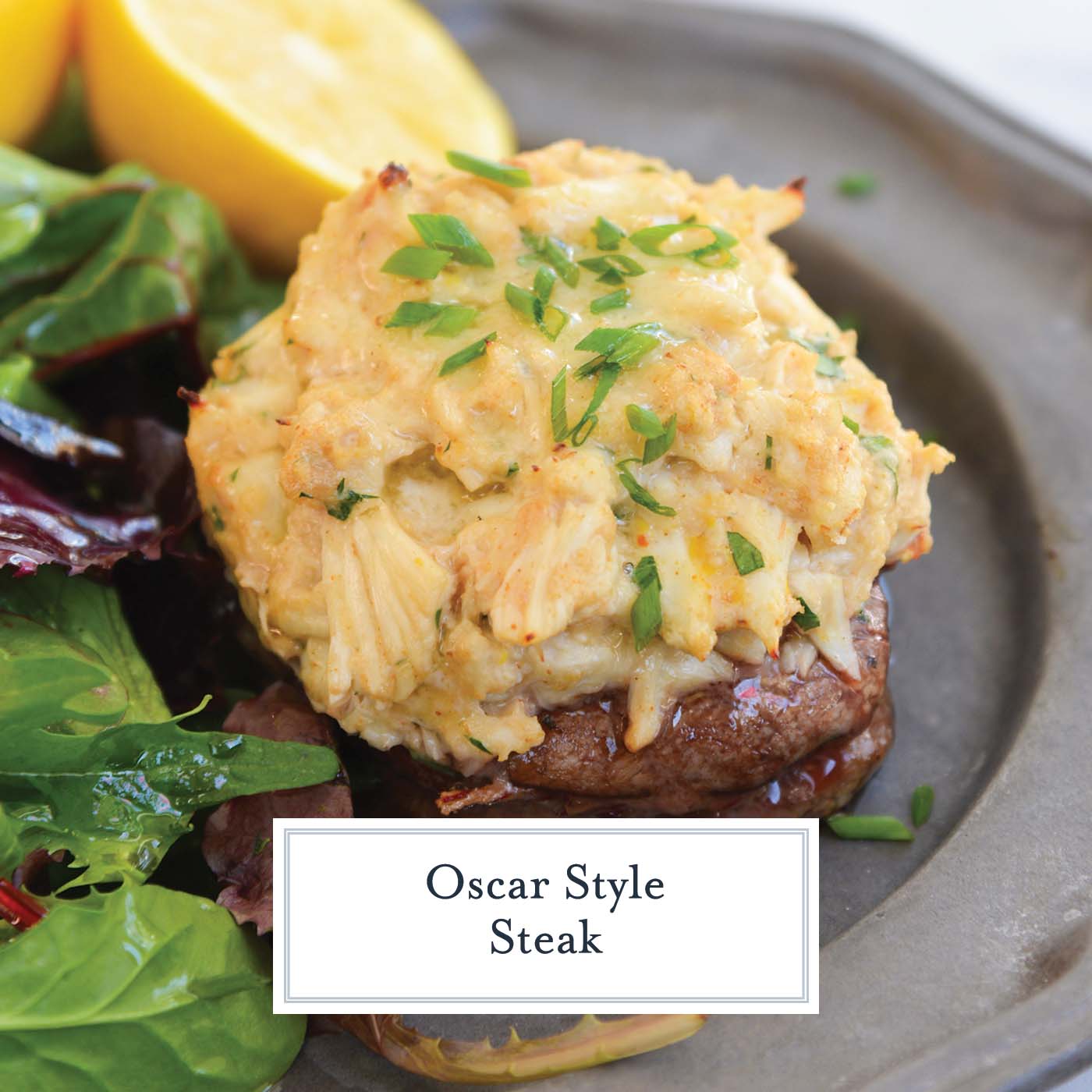 Looking for a way to spice up a special dinner or even just feel like switching it up and making something nice? Filet mignon served Oscar style is an excellent way to do just that.
This beef with crab imperial recipe is the perfect surf and turf combination that everyone will love! A fancy meal that is actually pretty easy to prepare and always garners a few jaw drops.
Filet Mignon with Crab Topping (Oscar Style)
I really struggled naming this dish. In a nutshell it is filet mignon topped with a crab imperial, but so many restaurants use so many different names for this "style" of serving that you aren't quite sure what people expect.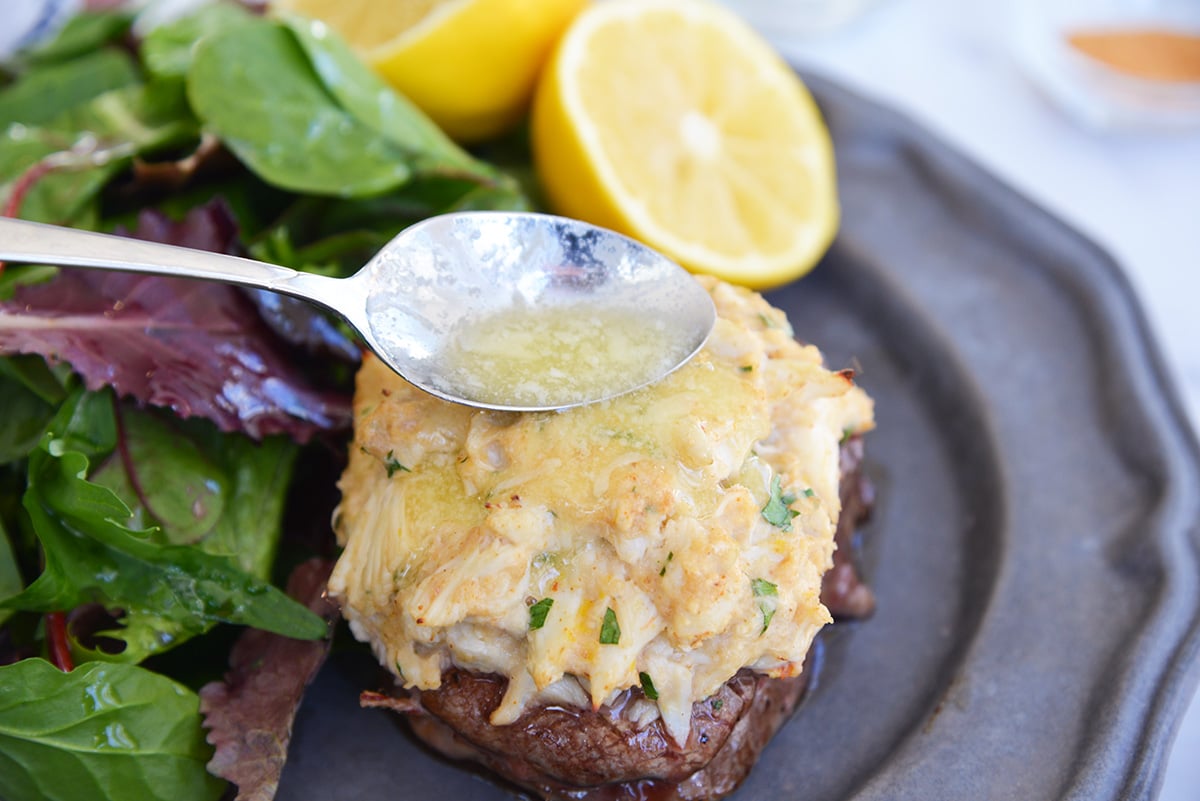 Steak Oscar (Filet Oscar or Oscar Style Steak) filet mignon topped with shrimp, crab or lobster, many times asparagus and smothered in a sauce, usually hollandaise sauce or béarnaise sauce. For mine, I find these both to be too overpowering with so much egg yolk especially if made with fresh tarragon, so I opt for a lighter Beurre Blanc, just plain melted butter or even lemon juice.
Asparagus spears are also customary for Oscar-style steak. They can be served either on the side or on top, but isn't necessary. If you want them on top, simply pan fry tender asparagus tips and spoon them over after baking the crab imperial. Bacon wrapped asparagus and garlic parmesan asparagus are my favorites.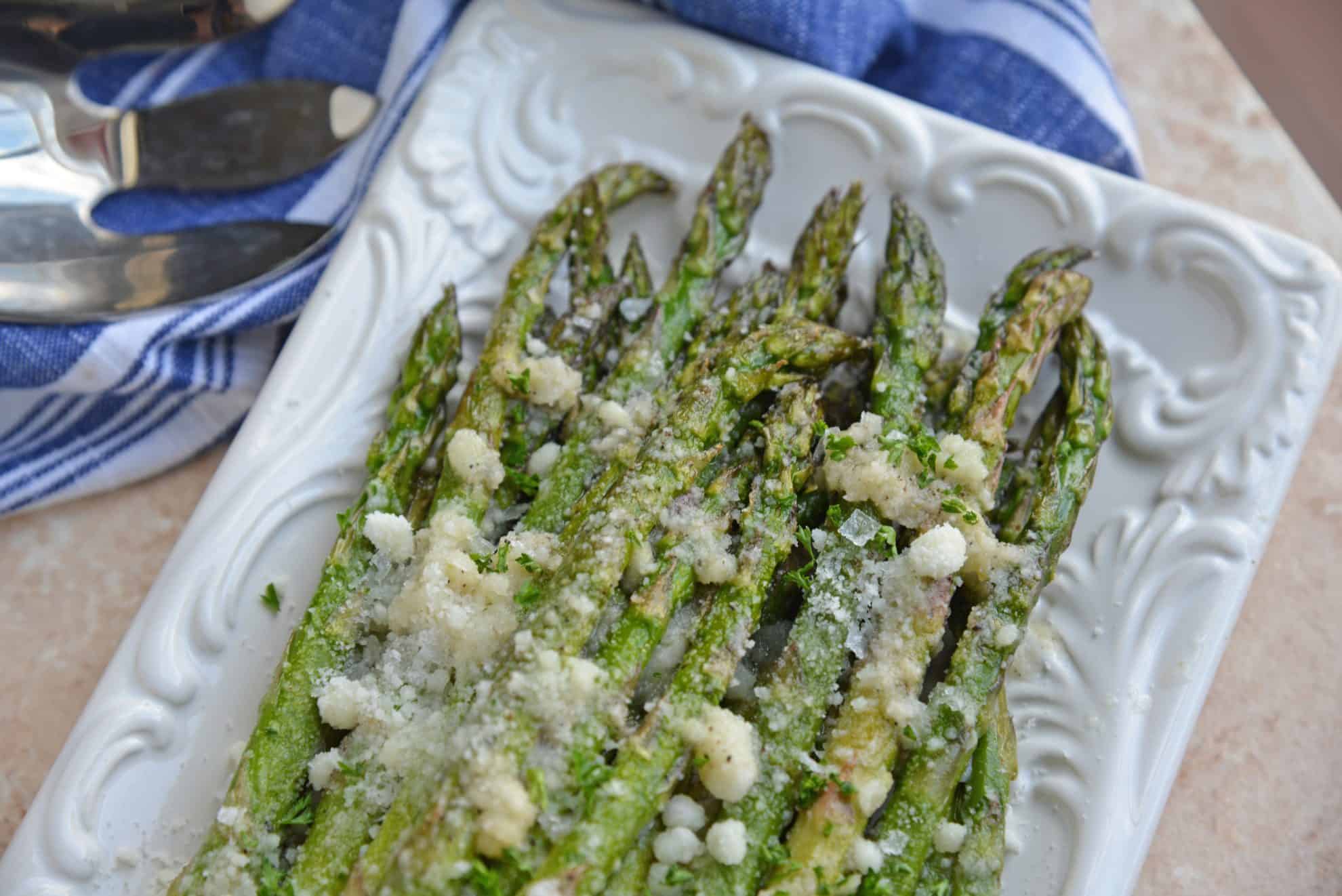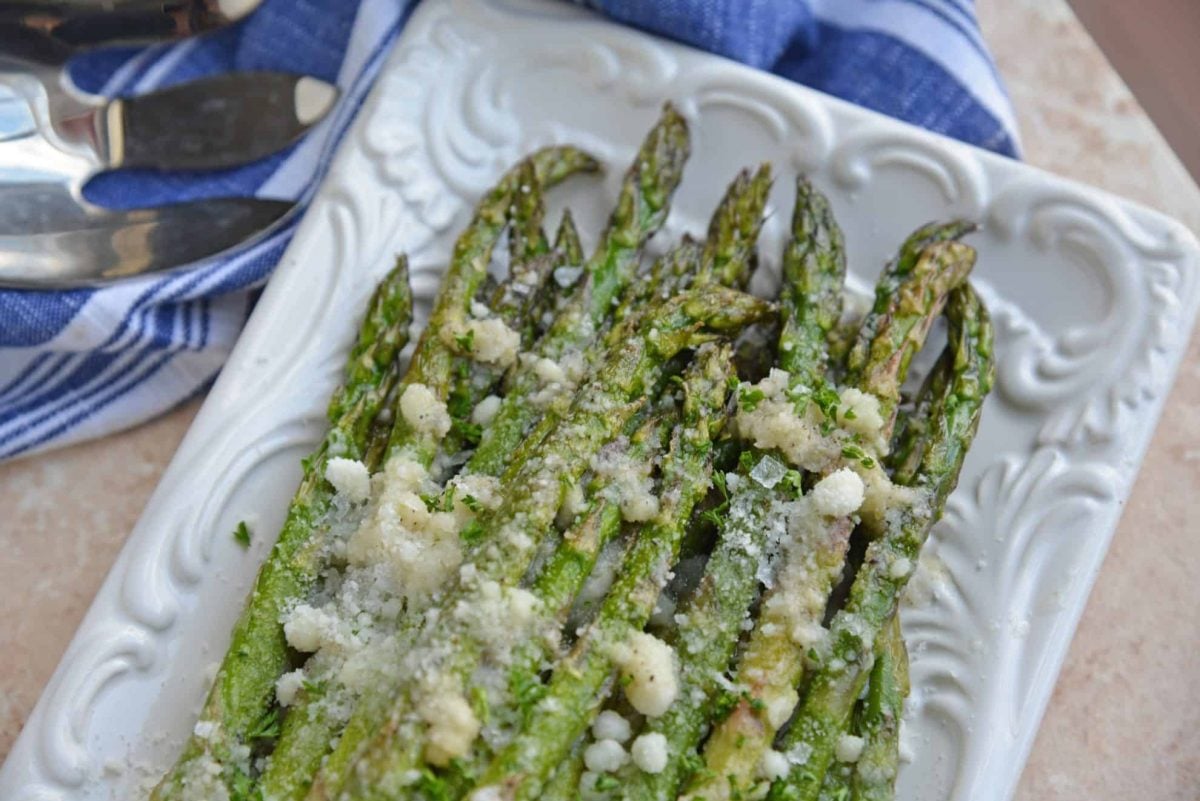 Filet Mignon
What is filet mignon? Filet mignon means "tender filet", "delicate filet", or "fine filet". It comes from the smaller end of the beef tenderloin, sometimes referred to as "tenderloin steaks" or the "short loin".
I was making Mini Beef Wellington for New Year's Eve and had tenderloin leftover that I didn't want to go to waste. It was just hubby and I on a Friday night, so I decided, what the heck!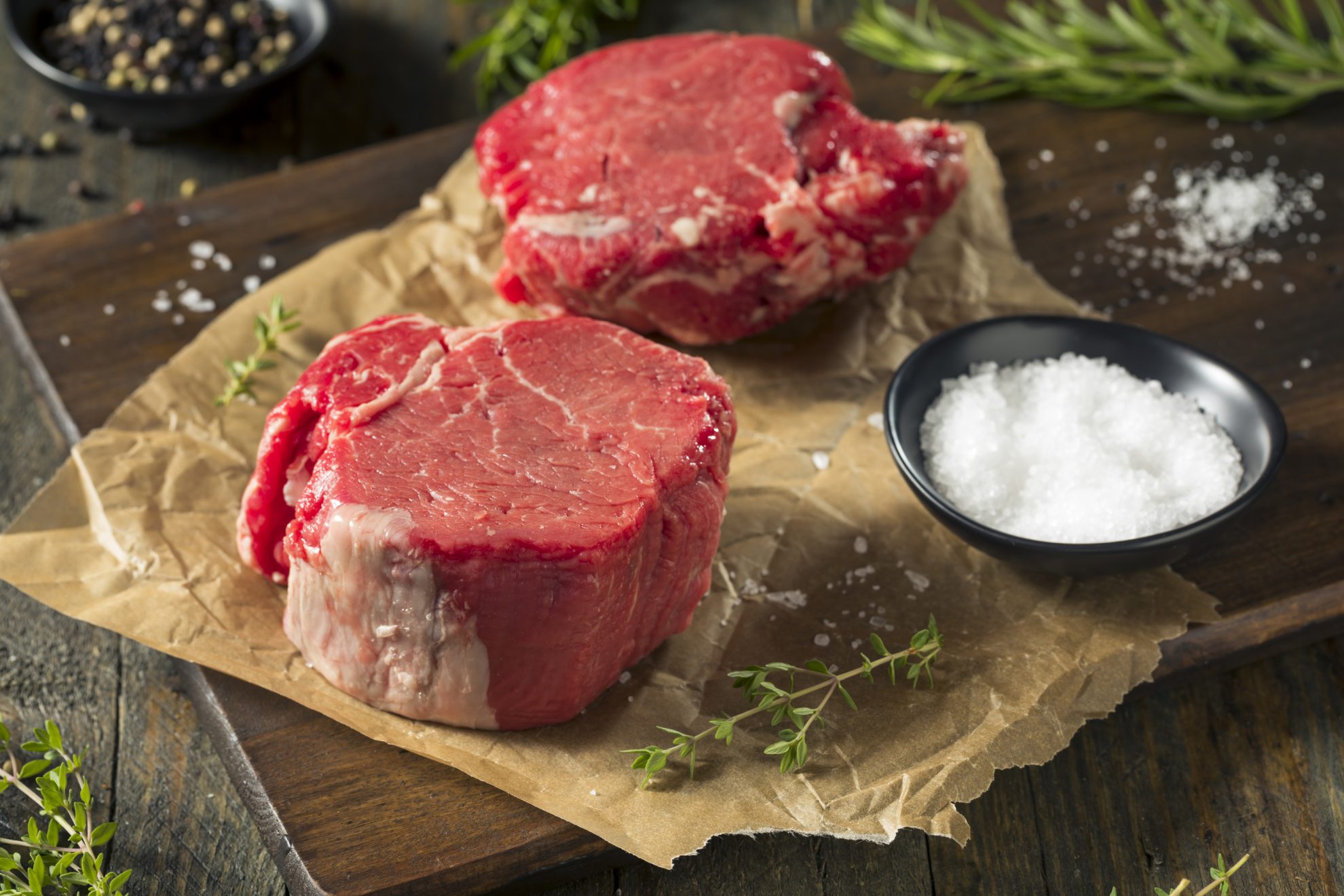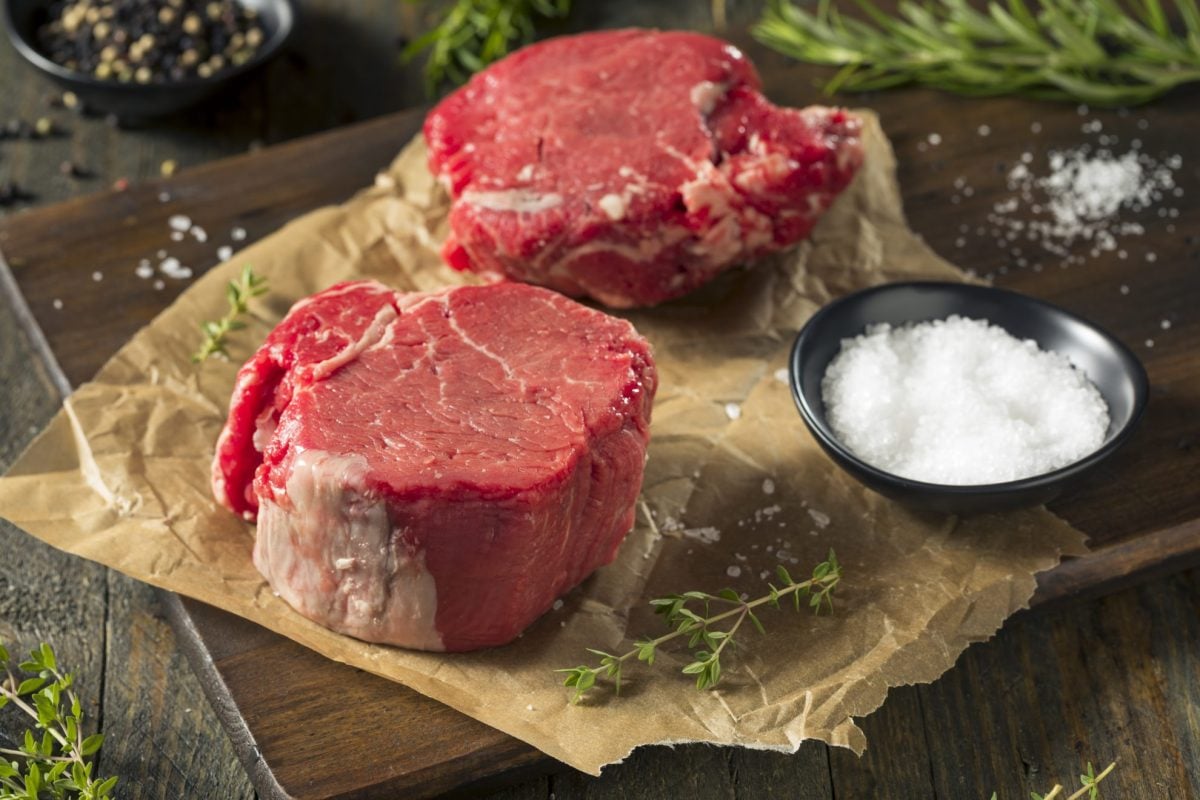 Let's have a fancy dinner… in our pajamas… while we binge watch Netflix. I mean, who doesn't want an excuse to eat filet mignon? Edited: this was long before we had kids!
My choice for beef is always Certified Angus Beef ® brand. I don't have to mess around with checking out the texture and marbling, just seeing the label means it has already been scrutinized and presumed worthy by the brand itself. Being the author of a beef cookbook, I am kind of an expert.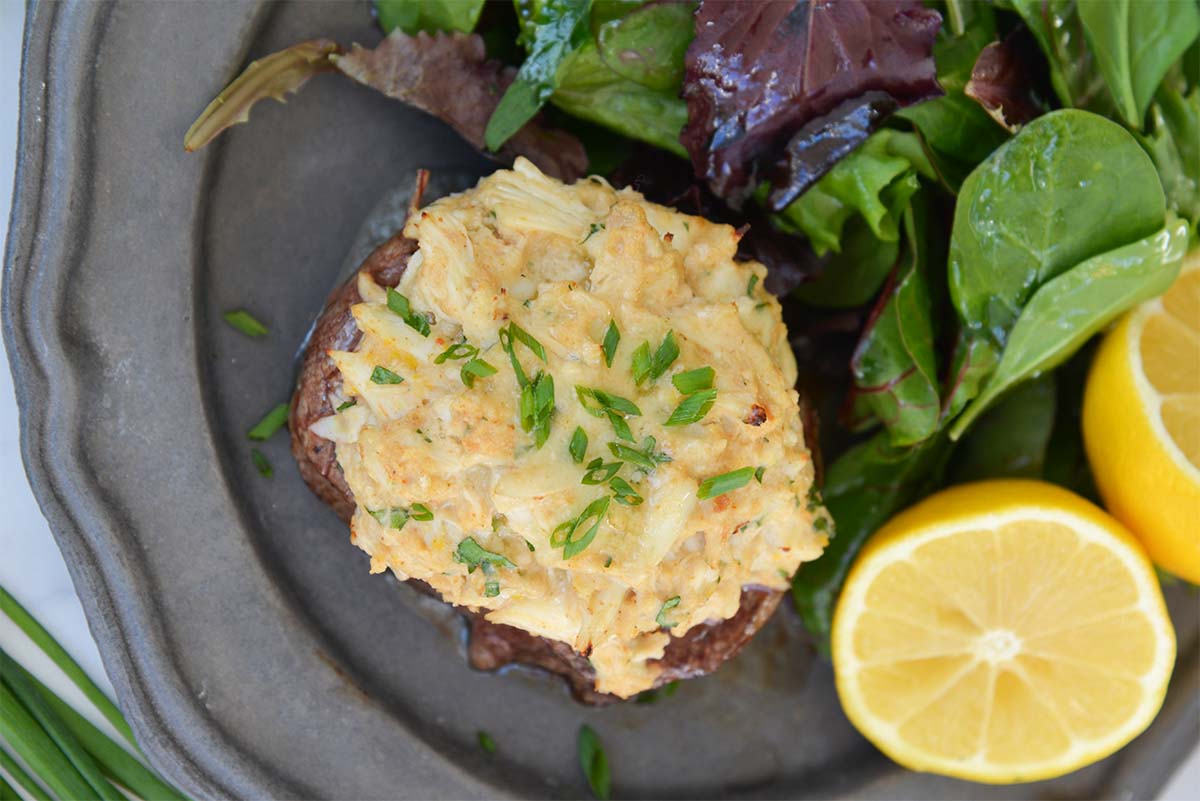 Guide to Blue Crab Meat
One thing you might want to stop and spend a few more minutes on is shopping for crab meat. Aim to get a non-pasteurized meat, but if that isn't available, no worries.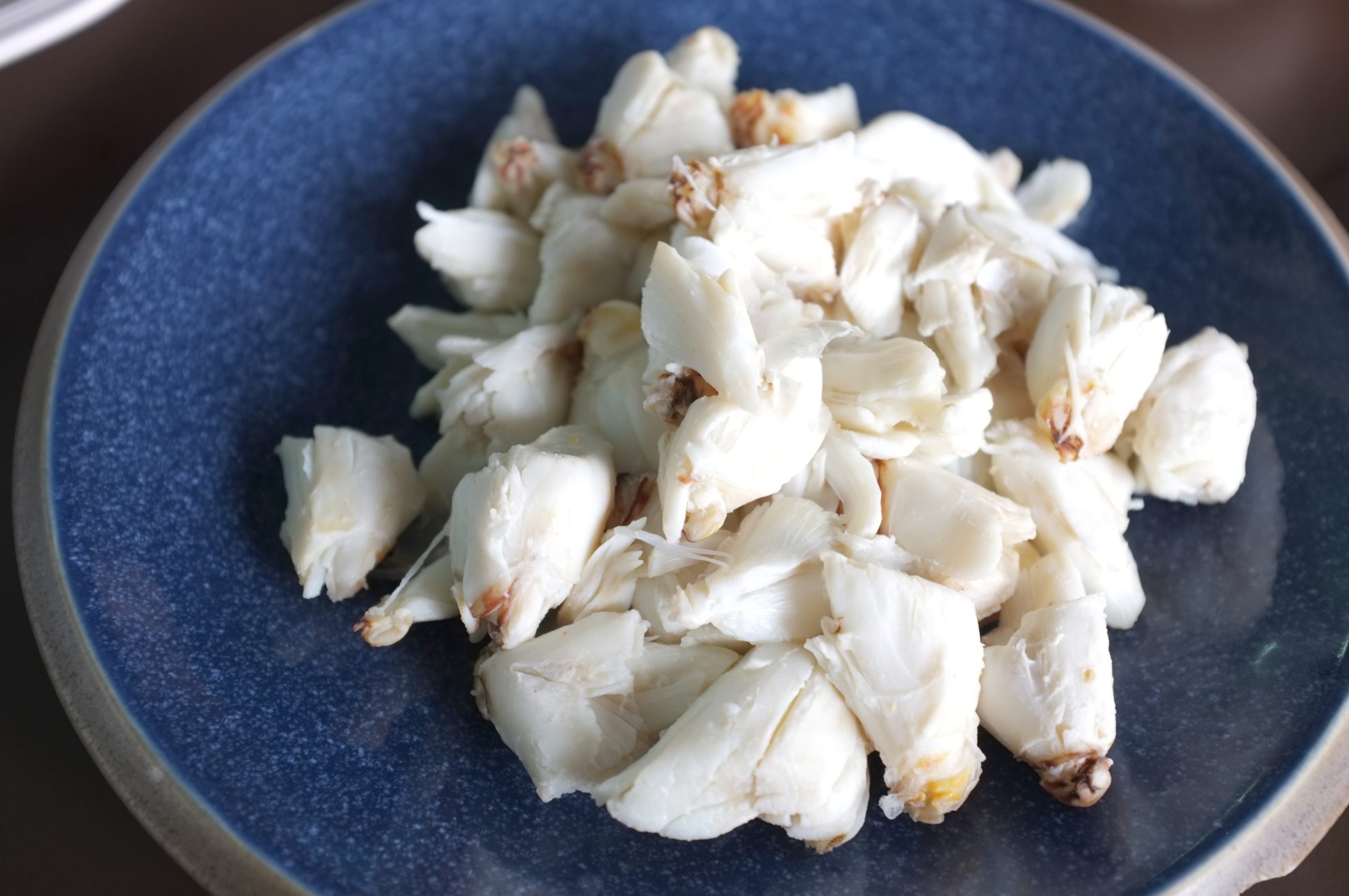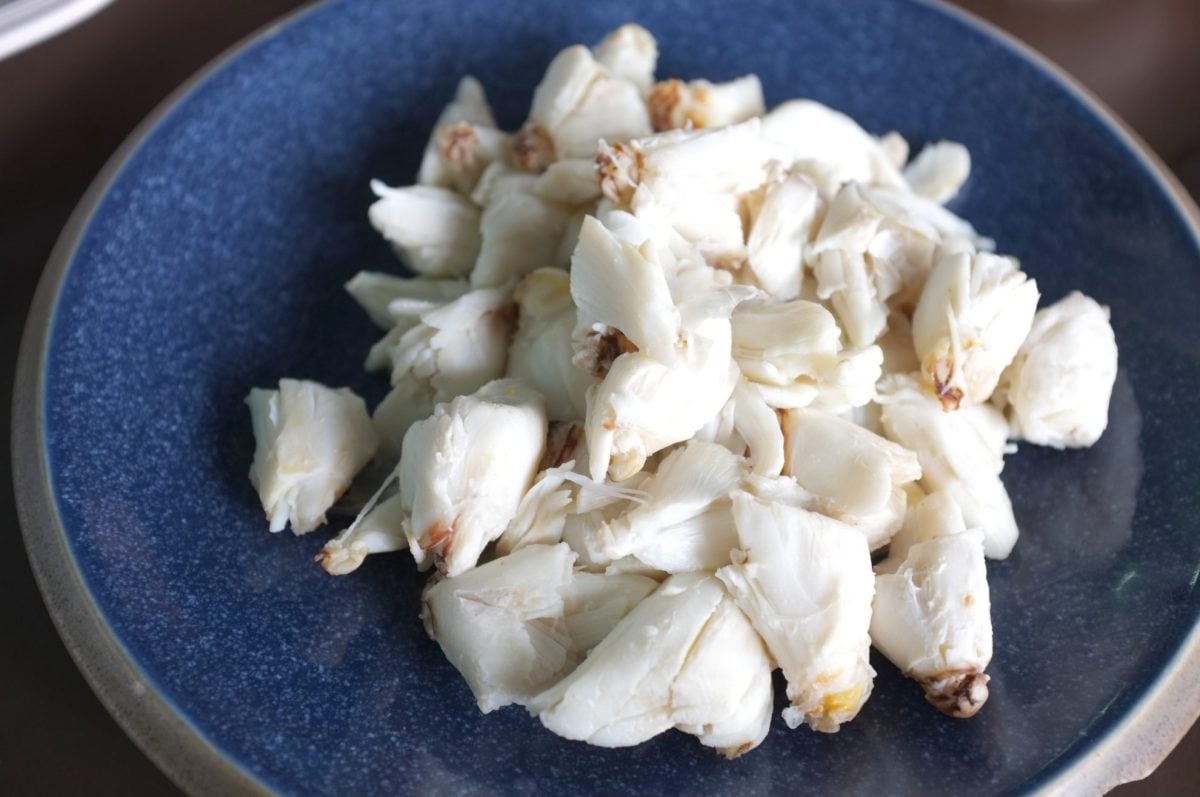 For crab imperials, most people use a blue crab as opposed to King or snow crab. The little lumps are perfect for this type of recipe. Lump or jumbo lump are ideal, but more expensive.
You can also opt for a backfin or claw, but it won't be in chunks. You don't need much, so you can either freeze the rest or buy it from the seafood section in ounces instead of in a can.
What Else You'll Need
In addition to the two big ones: beef and crab, these are the other items you'll need to make your amazing meal.
Can I make the same crab topping for other cuts of beef? Sure! Any cut of seared beef like a NY strip steak or even veal (veal oscar), can be made oscar style. You can even put it on chicken, which is called Chicken Chesapeake. You can even use salmon or other fish.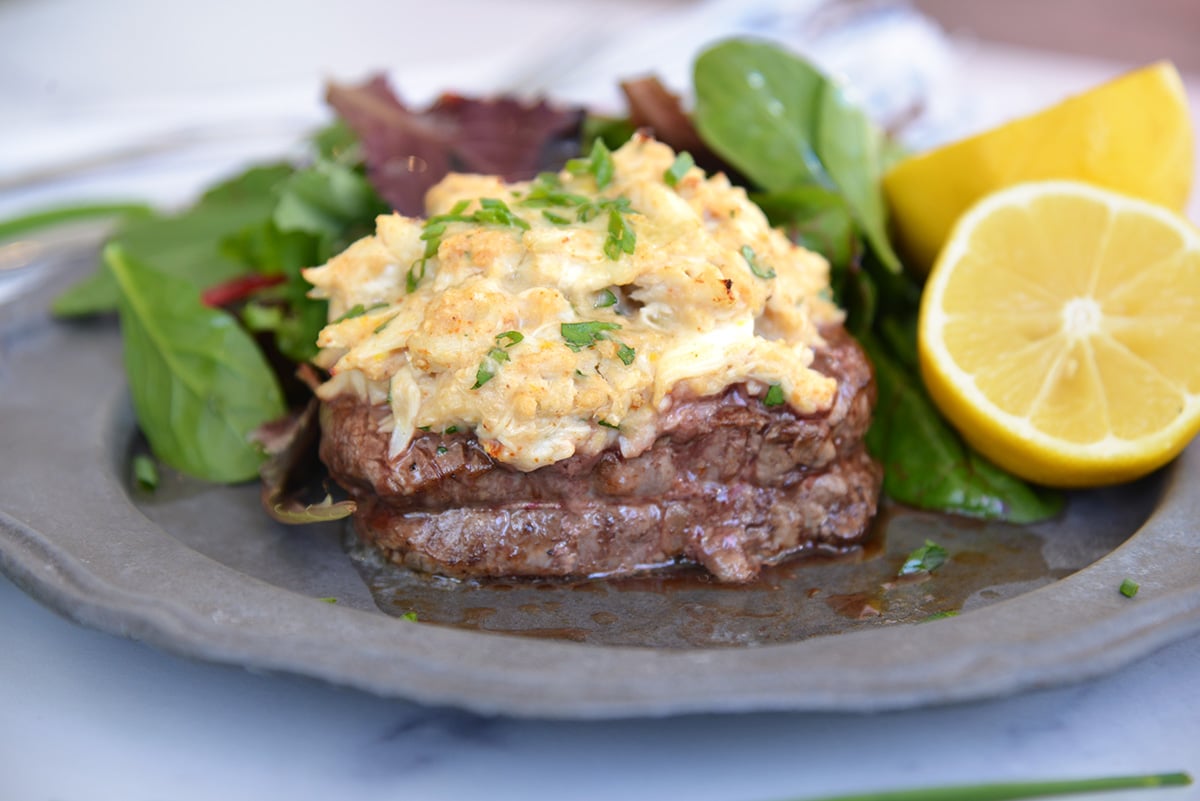 How to Make It
There are three stages, four if you count garnishing, to making Crab Imperial Filet Mignon.

What to Serve it With
Any typical steakhouse side dish is perfect, but it is also a lot of food, so no need to make a lot. A veggie and starch are all you need. Here are my favorites:
Make Ahead & Storage
You can prepare the crab topping ahead of time, but it is really best enjoyed fresh from the oven.
Store leftovers in an airtight container in the refrigerator for up to 4 days. It can probably go longer, but I'm always careful with seafood. Reheat in the oven or microwave.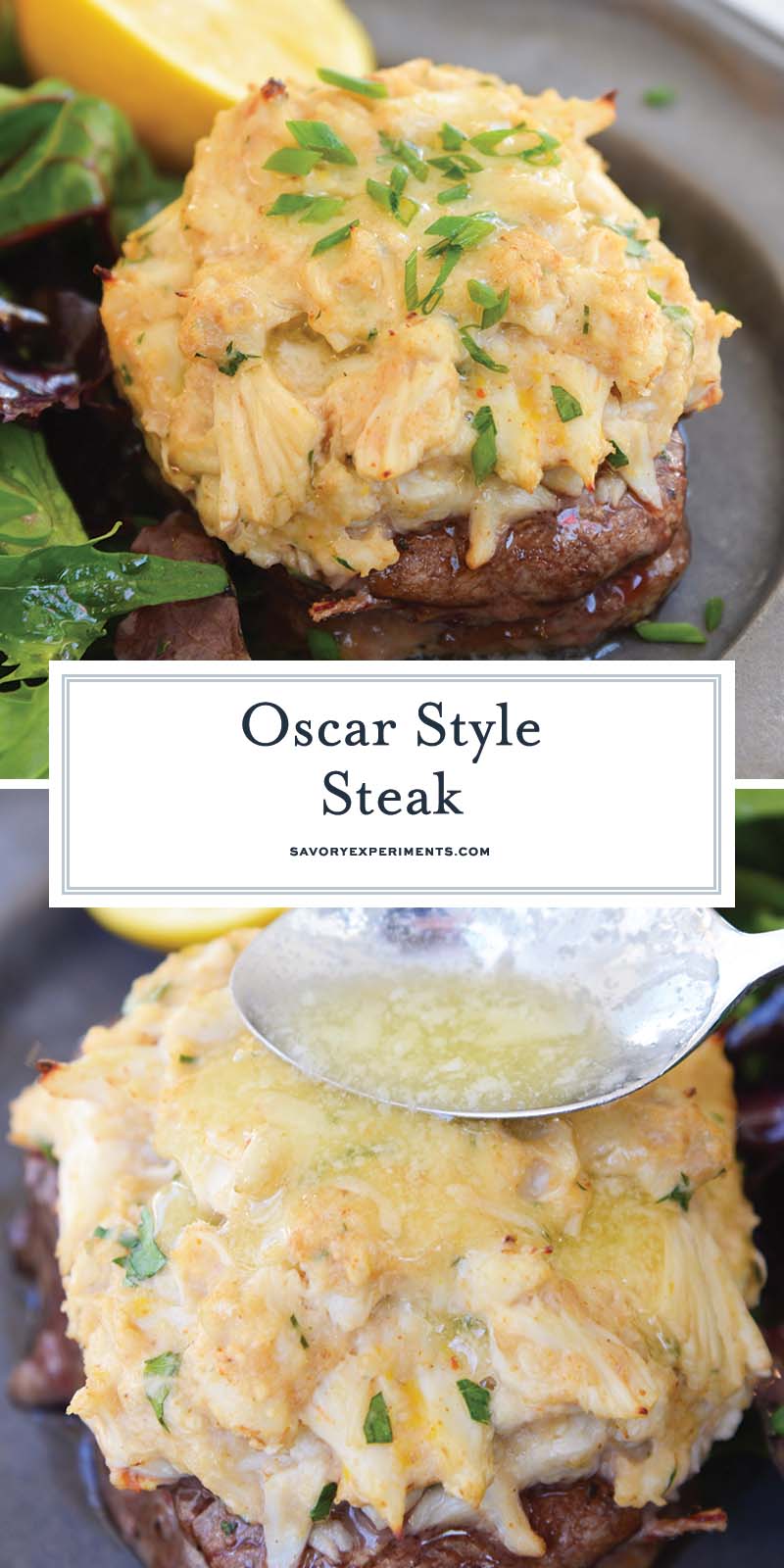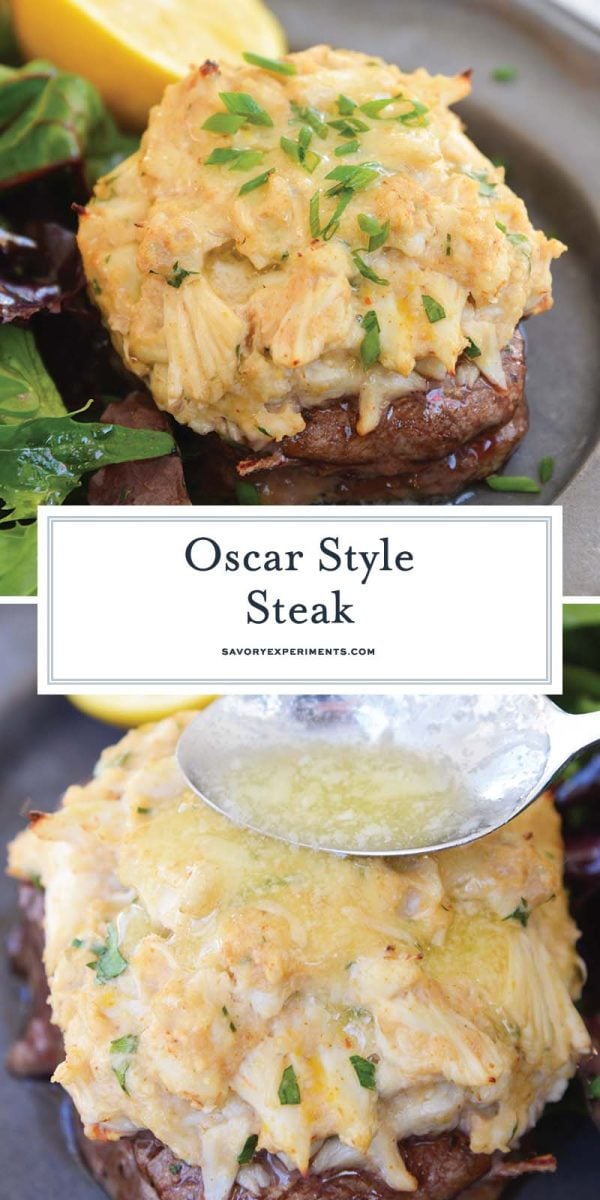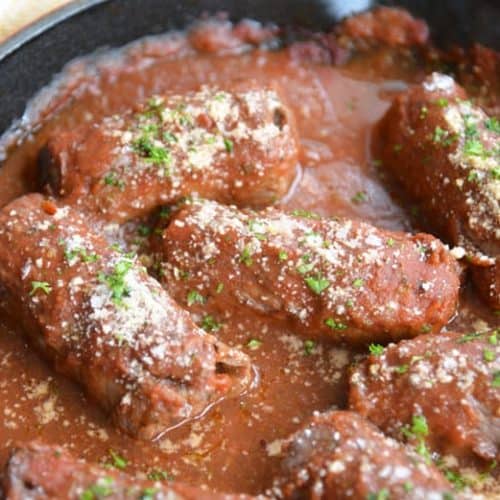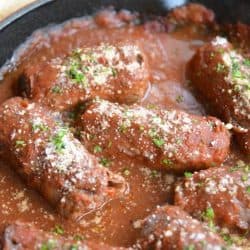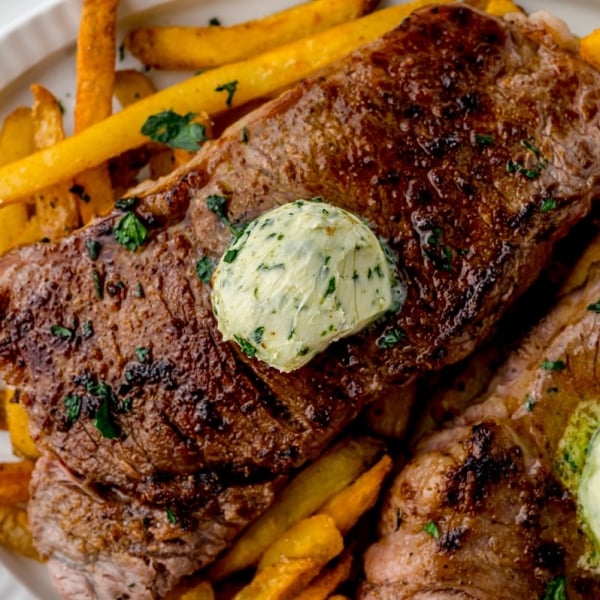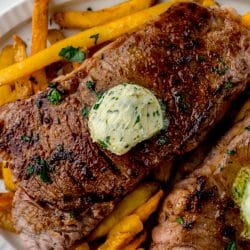 Steak Frites
A juicy seasoned steak over crispy French fried potatoes, topped with tangy maitre d'hotel butter and served with sauteed garlic mushrooms and onions.
See The Recipe!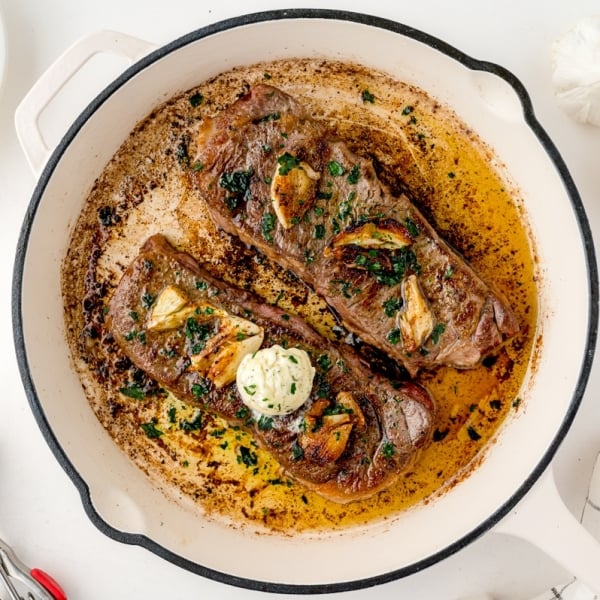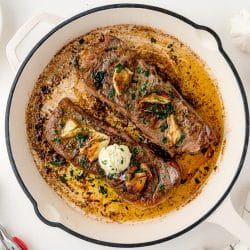 Pan Fried Steak
How to make a Pan Fried Steak at home is easier than you think with my step-by-step instructions and easy steak seasoning!
See The Recipe!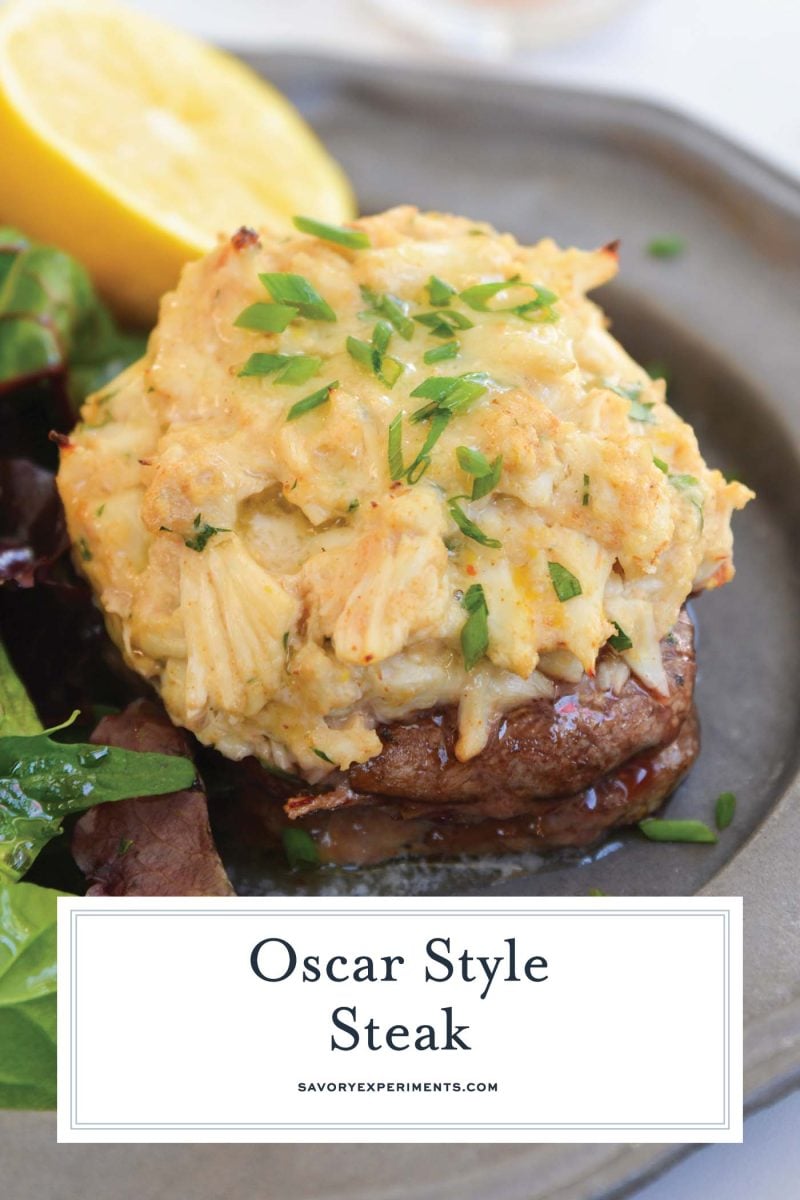 Oscar Style Steak (Crab oscar)
Fork tender beef tenderloin filets topped with crab oscar and buttery sauce! Ready in under 30 minutes and the perfect romantic dinner idea.
Ingredients
For the Filet:
4

8-ounce

filet mignon

coarse kosher salt & freshly ground pepper

1

tablespoon

vegetable oil

, optional* see notes
Instructions
Season the beef with the salt and freshly ground pepper. Set aside at room temperture while preparing other ingredients.

Preheat the oven to 350°F degrees and line a baking dish with aluminum foil, unless you are using a cast iron or oven safe skillet, then this is unnecessary.

In a medium bowl, whisk together the mayonnaise, bread crumbs, egg white, parsley, lemon juice, Worcestershire sauce and Old Bay seasoning. Gently fold in the crab meat. Place in the refrigerator until ready to use.

If using a well-seasoned cast iron pan, no additional oil is needed, but if using stainless steel or another type of pan, heat the oil over medium-high heat. When hot, carefully add the beef. Depending on preference, sear for 2-4 minutes on each side. Remember, the steak will continue cooking in the oven, so you want it to be undercooked, just nicely seared on the outside. If you like your steak well done, cook for longer.

Remove the steaks and place onto prepared baking dish. Top each generously with crab imperial mixture. Place in the hot oven for 12 minutes, or until crab imperial turns golden brown on top.

Remove and spoon clarified butter or beurre blanc sauce over each filet mignon. Top with parsley and serve with lemon wedges, if desired.

If you liked this recipe, come back and let us know how you liked it in the comments or star ratings.
Notes
You can prepare the crab topping ahead of time, but it is really best enjoyed fresh from the oven.
Store leftovers in an airtight container in the refrigerator for up to 4 days. It can probably go longer, but I'm always careful with seafood. Reheat in the oven or microwave.
Nutrition
Calories:
248
kcal
,
Carbohydrates:
4
g
,
Protein:
12
g
,
Fat:
20
g
,
Saturated Fat:
4
g
,
Polyunsaturated Fat:
8
g
,
Monounsaturated Fat:
3
g
,
Trans Fat:
1
g
,
Cholesterol:
33
mg
,
Sodium:
718
mg
,
Potassium:
146
mg
,
Fiber:
1
g
,
Sugar:
1
g
,
Vitamin A:
28
IU
,
Vitamin C:
4
mg
,
Calcium:
34
mg
,
Iron:
1
mg