Crab imperial filet mignon is a sponsored post on behalf of Certified Angus Beef ® brand. All opinions and statements are 100% my own.
Looking for a way to spice up your date night or even just feel like switching it up and making something nice?
This crab imperial recipe is the perfect surf and turf combination that everyone will love! A fancy meal that is actually pretty easy to prepare and always garners a few jaw drops.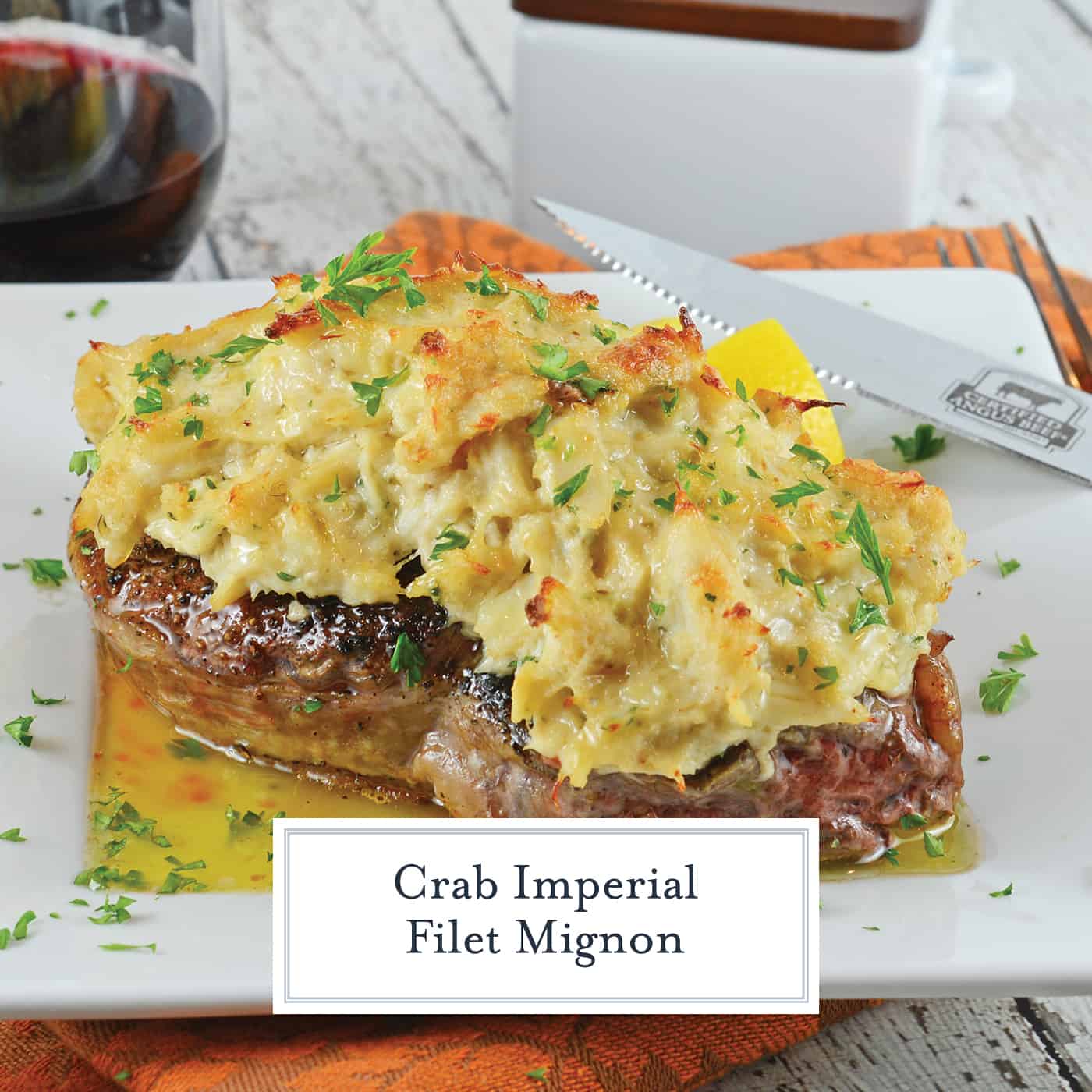 Crab Imperial Filet Mignon is an easy dish perfect for special occasions. Tender beef topped with buttery crab and clarified butter!
I really struggled naming this dish. In a nutshell it is filet mignon topped with a crab imperial, but so many restaurants use so many different names for this "style" of serving that you aren't quite sure what people expect.
Steak Oscar (or Filet Oscar) filet mignon topped with shrimp or crab and smothered in a hollandaise or béarnaise sauce. This recipe kind of fits the ticket, but I'm missing the sauce.
Instant I use clarified butter or even my Beurre Blanc Sauce. Both excellent options.
Crab topped filet didn't really summarize it either since it isn't plain old crab, it is an imperial style mix. So I landed on Crab Imperial Filet Mignon since people love my traditional Crab Imperial so much!
This dish isn't for an average weeknight, although we might all wish it was. Beef so tender, you hardly need a knife topped with a buttery lump crab mix.
It is the perfect Valentine's Day dinner for your loved one. Or at the very least, just an impressive meal! I know, I know, people are often scared of cooking filet mignon, but it isn't that hard. Read on… the perfect filet mignon awaits you…
What is filet mignon? Filet mignon means "tender fillet", "delicate fillet", or "fine fillet". It comes from the smaller end of the beef tenderloin, sometimes referred to as "tenderloin steaks" or the "short loin".
I was making Mini Beef Wellington for New Year's Eve and had tenderloin leftover that I didn't want to go to waste. It was just hubby and I on a Friday night, so I decided, what the heck!
Let's have a fancy dinner… in our pajamas… while we binge watch The Walking Dead. I mean, who doesn't want an excuse to eat filet mignon?
UPDATE: Walking Dead has officially jumped the shark…
My choice for beef is always Certified Angus Beef ® brand. I don't have to mess around with checking out the texture and marbling, just seeing the label means it has already been scrutinized and presumed worthy by the brand itself.
I can just pick it up and move along.
One thing you might want to stop and spend a few more minutes on is shopping for crab meat. Aim to get a non-pasteurized meat. It is a million times better with taste. Trust me on this one.
PRO TIP: Toss the meat, don't stir it. You paid for giant lump crab meat and stirring will just break apart those glorious chunks!
For crab imperials, most people use a blue crab as opposed to King or snow crab. The little lumps are perfect for this type of recipe. Lump or jumbo lump are ideal, but more expensive.
Claw– dark meat that comes from the claw, a little more stringy than other varieties.
Special– smaller pieces, comes from small little crevices or the "special" sections of the crab, good for flavoring and dips.
Backfin– some larger lumps coming from, you guessed it, the back of the shell, whiter meat, does well in crab cakes, feathery texture.
Jumbo lump– large, lumps of meat, the beauty is the large pieces used for crab meat cocktails or delicious to pop in your mouth plain, very tasty and moist.
You can also opt for a backfin or claw, but it won't be in chunks. You don't need much, so you can either freeze the rest or buy it from the seafood section in ounces instead of in a can.
This recipe also calls for clarified butter, which is butter that the milk solids and water removed, leaving you with liquid gold. It is why the butter you see in restaurants always looks different than your own.
The process is simple and can be done ahead of time. If for some crazy reason, pouring clarified butter over your Crab Imperial Filet Mignon doesn't appeal to you, just leave it off or opt for a beurre blanc sauce.
Serve your Crab Imperial Filet Mignon with Baked Rice Pilaf, Red Wine Vinegar Broccolini, Toasted Couscous or Cheesy Twice Baked Potatoes!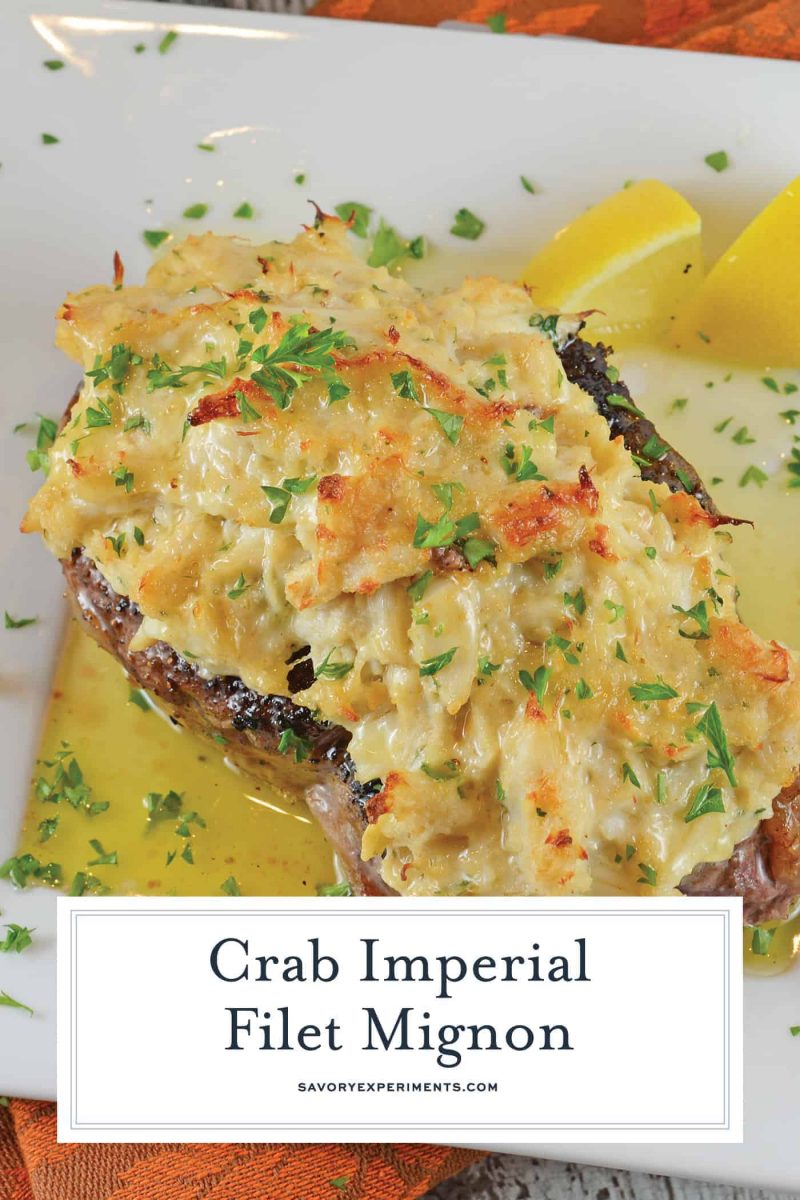 Jalapeno Lime Flank Steak Tacos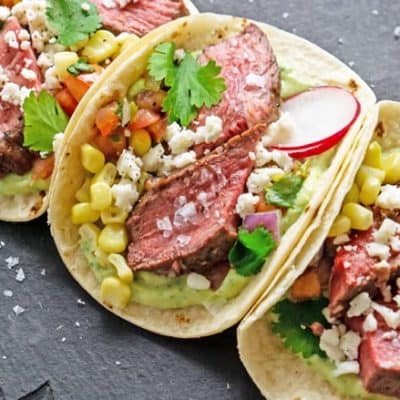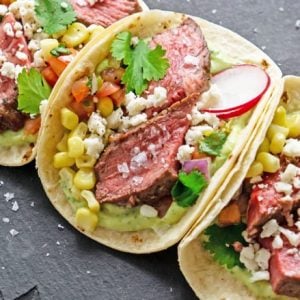 Flank Steak Tacos with a jalapeno lime marinade that will have you craving more. Made with few ingredients and lots of flavor, it's sure to become a family favorite!
Italian Beef Braciole without Egg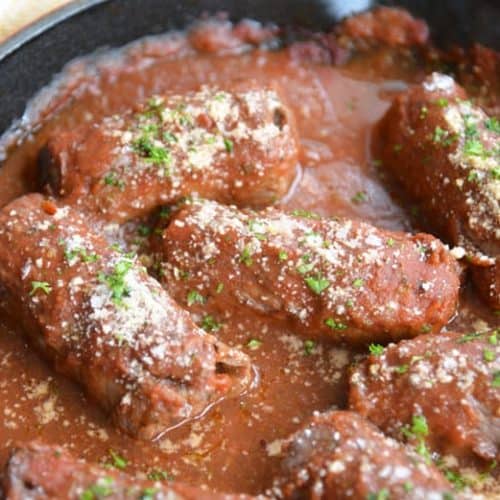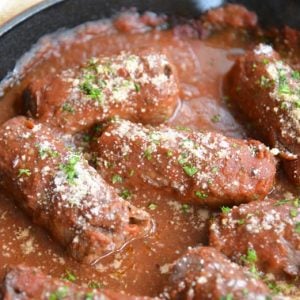 This EASY Beef Braciole recipe is the best Italian comfort food! Juicy flank steak, tomato sauce, herbs and cheese make up this delicious Italian rolled steak!
Tools for making filet mignon:
Cast Iron Skillet– Yes they are heavy, yes they take a little extra TLC. Are using cast iron pans worth it? YES!!! Just buy one and you'll thank me later! I have both pre-seasoned and unseasoned. I like them both for different reasons.
You can also learn how to season and clean your cast iron!
Square Glass Baking Dish– I prefer glass to metal any day of the week. It looks nicer longer and usually comes with a lid.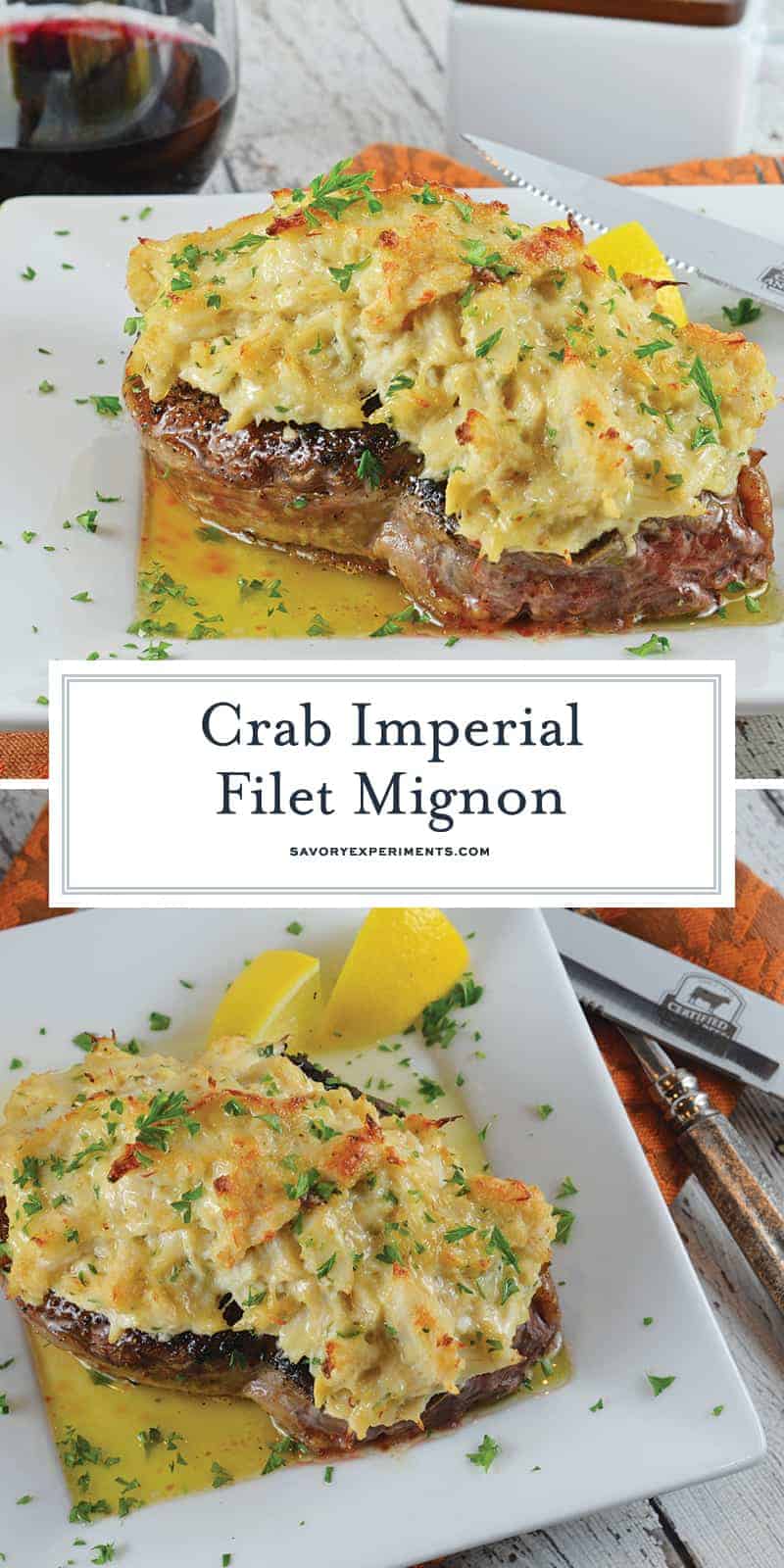 Questions you might have about how to make Crab Imperial Filet Mignon:
Can I make the same crab topping for other cuts of beef? Sure! You can even put it on chicken, which is called CHicken Chesapeake in these parts.
Can I make it in advance? I don't suggest making this dish in advance. You can make the crab topping ahead of time and put it in the fridge until you are ready to make the rest.
What if I don't want to make clarified butter? You can purchase jarred clarified butter at the store, it is called ghee and usually in the international foods section, as it is commonly used in Indian cuisine.
Do I have to use a cast iron pan? Cast iron is ideal for making steaks indoors because it gets so hot and is oven safe. It isn't necessary, but well worth the investment and I highly suggest it. You just won't get a hot pan with stainless steel or other materials.
CONNECT WITH SAVORY EXPERIMENTS!

Be sure to follow me on social media, so you never miss a post!

Facebook | Twitter | Youtube
Pinterest | Instagram
Get our FREE 8 Day E-Course on How to Be a Better Home Cook. Sign up HERE!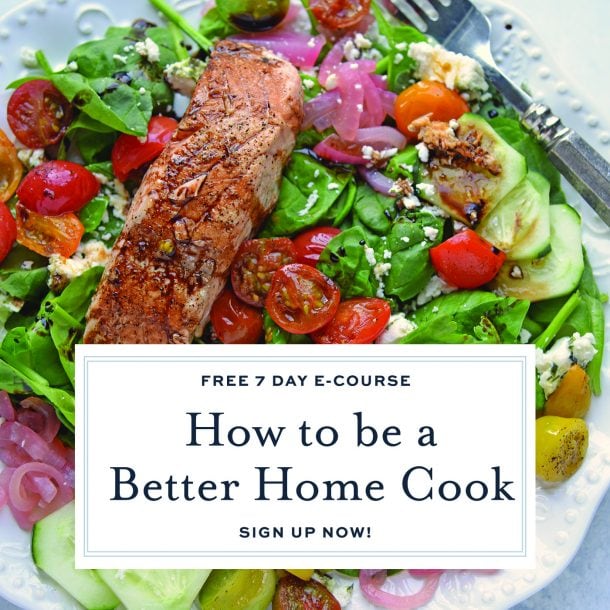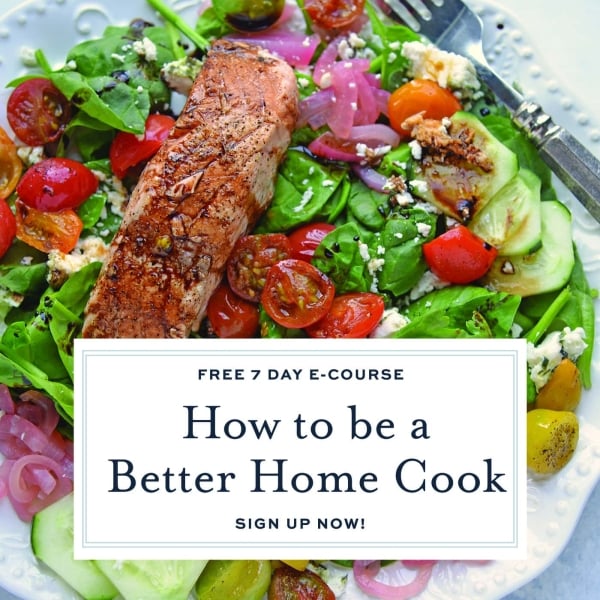 Crab Imperial Filet Mignon
Crab Imperial Filet Mignon is an easy dish perfect for special occassions. Tender beef topped with buttery crab and clarified butter.
Instructions
Preheat oven to 350 degrees. Line a baking dish with aluminum foil.

Season beef tenderloin with fine sea salt and freshly ground pepper. Set aside at room temperture while preparing other ingredients.

In a medium bowl, whisk together mayonnaise through Old Bay. Gently fold in lump crab meat. Place in refrigerator until ready to use.

Heat olive oil in a large cast iron skillet. When smoking, add seasoned beef tenderloin. Depending on preference, sear for 2-5 minutes on each side. Remember, the steak will continue cooking in the oven, so you want it to be under cooked, just nicely seared on the outside. If you like your steak well done, cook for longer.

Remove steak and place onto prepared baking dish. Top each generously with crab imperial mixture. Place in the hot oven for 12-14 minutes, or until crab imperial starts to brown lightly.

Remove and spoon clarified butter over each filet mignon. Top with parsley and serve with lemon wedges, if desired.

If you liked this recipe, come back and let us know how you liked it!
Nutrition
Calories:
353
kcal
|
Carbohydrates:
2
g
|
Protein:
11
g
|
Fat:
33
g
|
Saturated Fat:
12
g
|
Cholesterol:
68
mg
|
Sodium:
601
mg
|
Potassium:
127
mg
|
Vitamin A:
15
IU
|
Vitamin C:
4.2
mg
|
Calcium:
31
mg
|
Iron:
0.5
mg