These sloppy Joe sliders have all of the original flavors of classic sloppy Joes but in slider form. Browned beef is mixed with a slightly sweet and tangy sauce before being baked on buttery slider buns.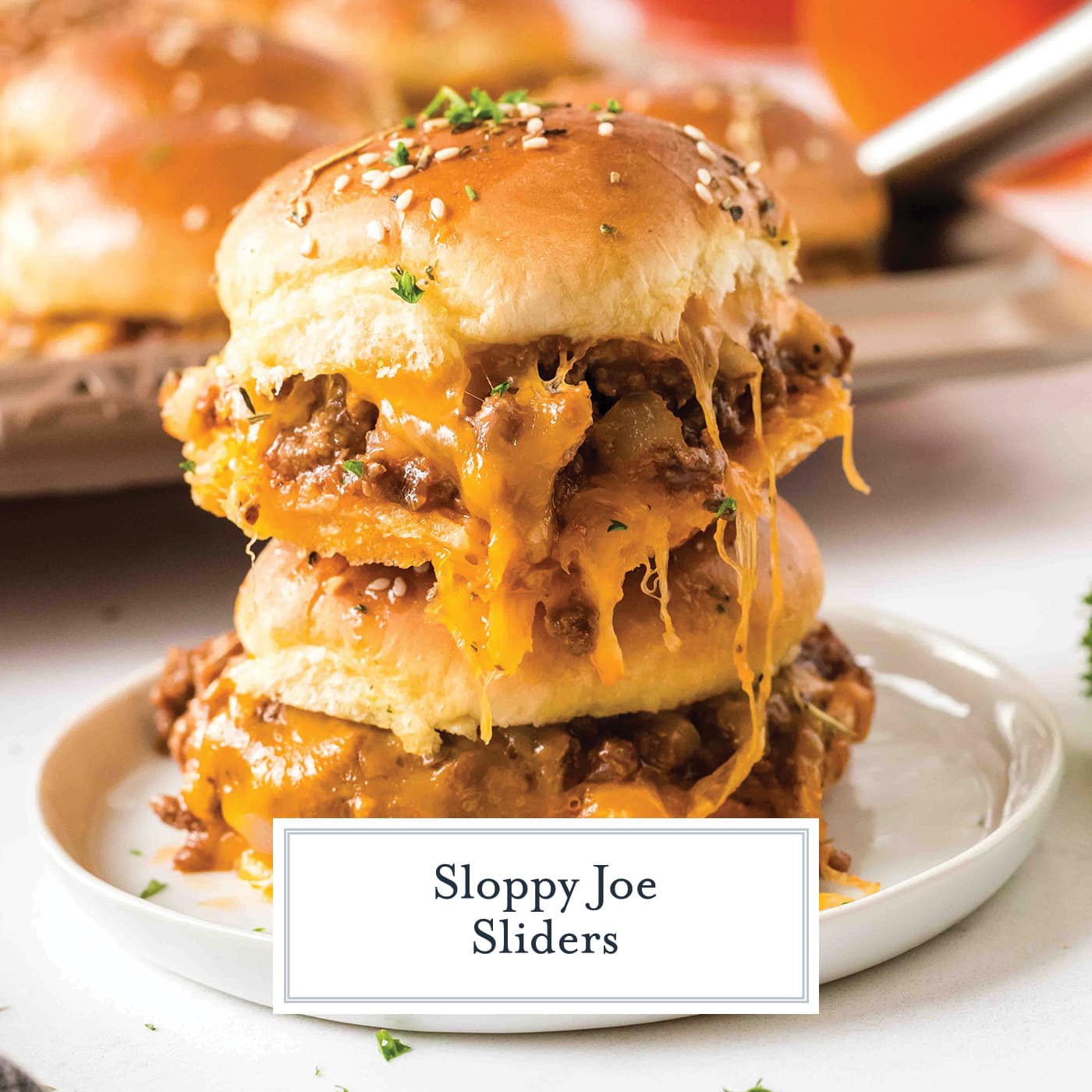 Oh, and there's plenty of melted cheese, too. Because the only thing better than sloppy Joe sliders is cheesy sloppy Joe sliders.
You can whip these up quickly for handheld party snacks or they're great to make as a hearty meal at dinnertime paired with your favorite sides. The next time you have a comfort food craving, turn to these little sloppy Joe sandwiches.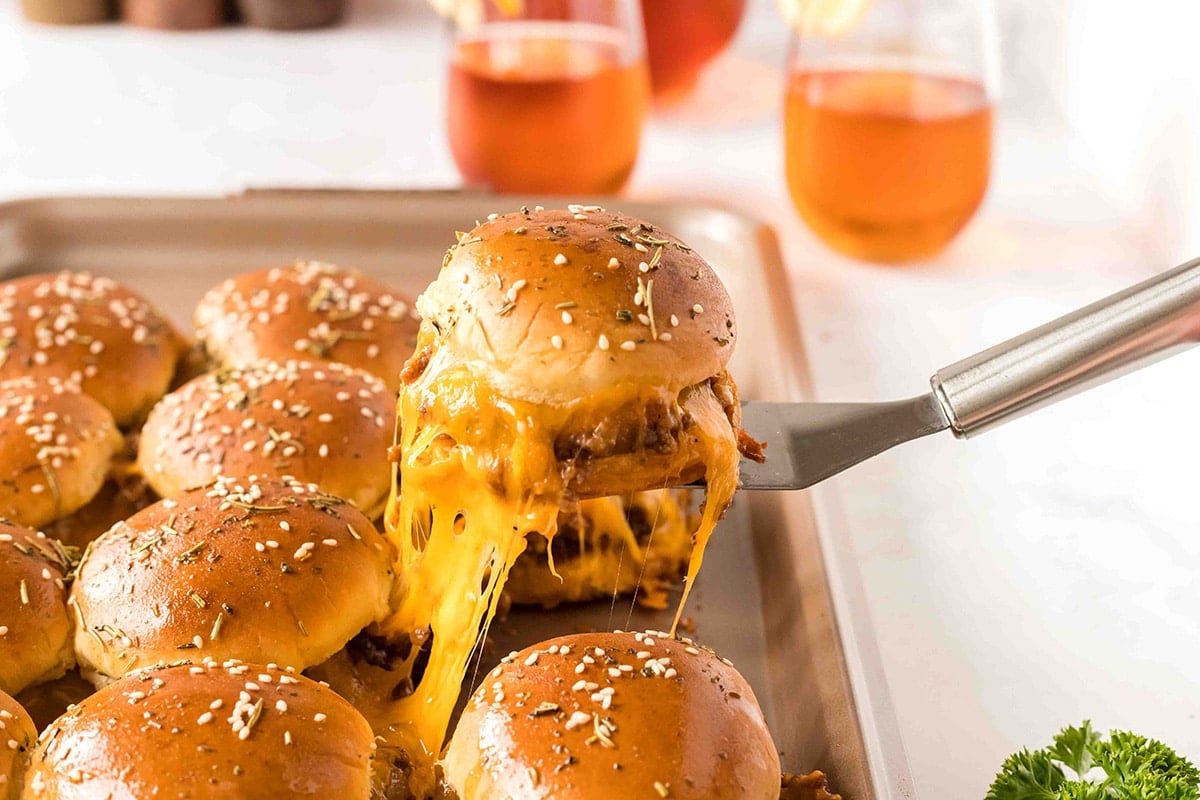 Why You'll Love Sloppy Joe Sliders
There are so many reasons to love these tasty sliders.
Easy – You can whip the filling up in no time and assemble them quickly for sliders that will feed a crowd.
Convenient – All of the ingredients are easy to access at most grocery stores.
Popular – Most people love a good sloppy Joe so this is perfect for parties but it also can be an easy weeknight dinner that everyone will love.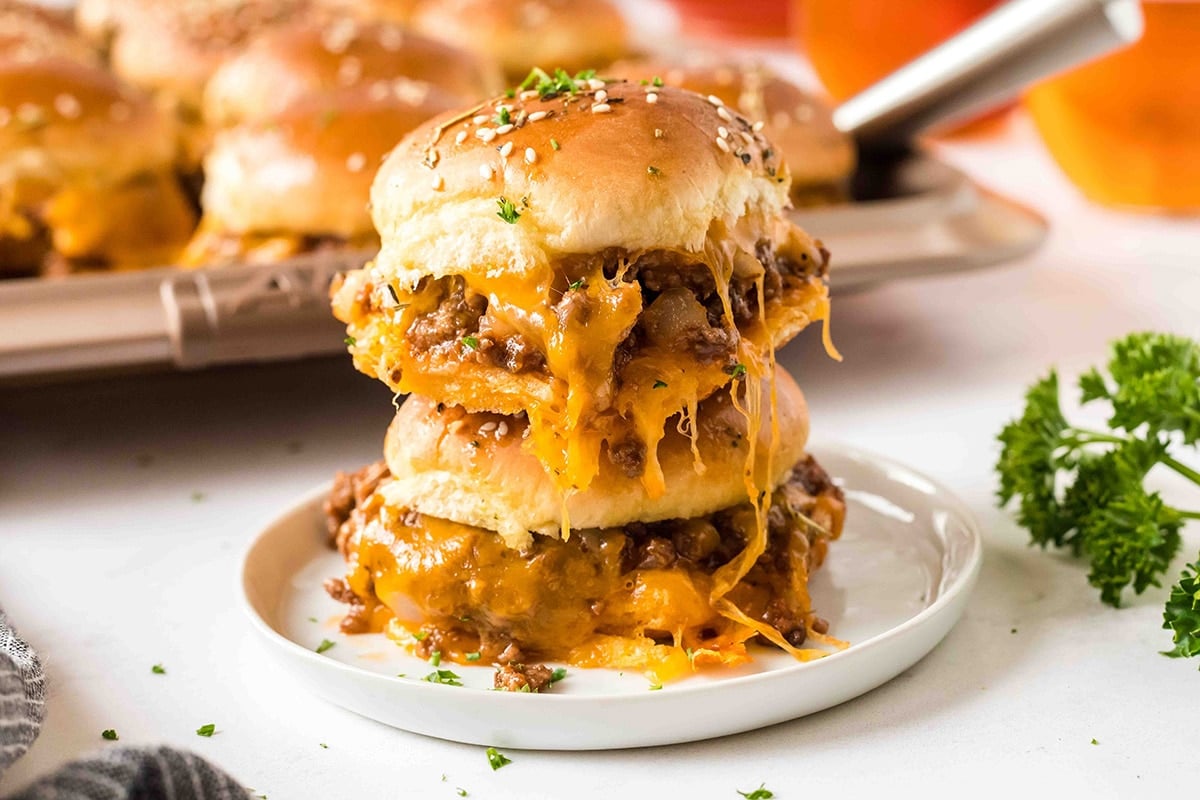 Ingredients
These simple ingredients are all you need to make sliders that are sure to be a crowd-pleaser.
Lean ground beef – Use lean beef so that you avoid having too much excess grease after cooking it. Of course, ground turkey or ground chicken can be swapped.
Diced white onion – Make sure to dice the onion into small pieces so it blends well with the meat, especially for little eaters.
Ketchup – You can use your favorite brand or make your own homemade ketchup.
Yellow mustard – This style of mustard brings bright and tangy flavor to the sauce. Dijon or a spicy brown makes things even more interesting.
Worcestershire sauce – Using Worcestershire sauce is a great way to add depth to the sauce.
Light brown sugar – Brown sugar adds just a touch of rich sweetness. Dark can be used for a heavier molasses undertone.
Salt – This helps to balance the flavors of the sauce.
Black pepper – You can grind it fresh or just use a variety that's already ground.
Onion powder – While there's already onion in the sauce this helps to add even more flavor.
Garlic powder – Using the powder makes the recipe easy but if you want to mince garlic cloves you can do that, too.
Slider buns – We love Hawaiian rolls but you can use dinner rolls or any other slider-style buns that you can find at the grocery store.
Mild cheddar cheese – It's ideal to shred the cheese yourself for the best flavor but you can use pre-packaged shredded cheese, too. Other flavors of cheese are great options as well.
Butter – You can use salted or unsalted butter — whichever is your preference.
Italian seasoning – Make your own homemade Italian seasoning, or buy a blend at the store.
White sesame seeds – You can find these in the spice aisle or the international foods section at your local grocery store.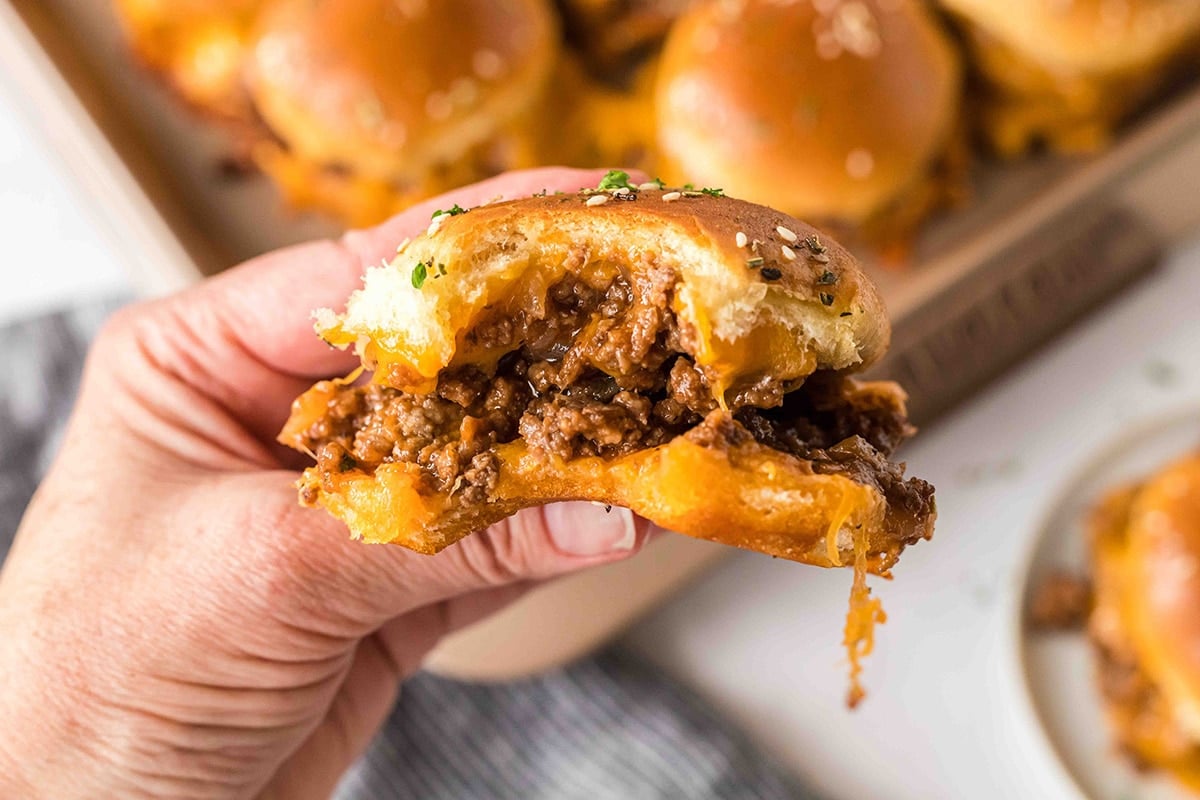 How to Make Sloppy Joe Sliders
These are so easy you'll be wondering why you didn't make them sooner!
Cut the bread. Slice through the slider buns lengthwise.
Prep the bread. Place the bottom halves in a baking dish or on a baking sheet that has been lined with parchment paper or aluminum foil.
Brown Beef. Add the onions and ground beef to a large skillet that has been preheated.
Make Sloppy Joe Sauce. Once the beef is browned, add the ketchup, mustard, Worcestershire sauce, brown sugar, onion powder, garlic powder, salt, and pepper. Continue to cook until the sauce thickens then remove from the heat.
Assemble Sliders. Place shredded cheese on top of the bottom buns, then spoon the beef mixture evenly over all of the buns. Sprinkle remaining cheese over top of the meat. Add the top halves of the buns.
Melt Butter. Melt the butter in a small bowl and mix with Italian seasoning. Brush the melted butter on the tops of the buns.
Top with Seeds. Sprinkle sesame seeds over tops of buns while still tacky.
Cook. Bake until cheese melts and the buns are browned.
Garnish and Serve. After removing from the oven, garnish with parsley, if desired, and serve.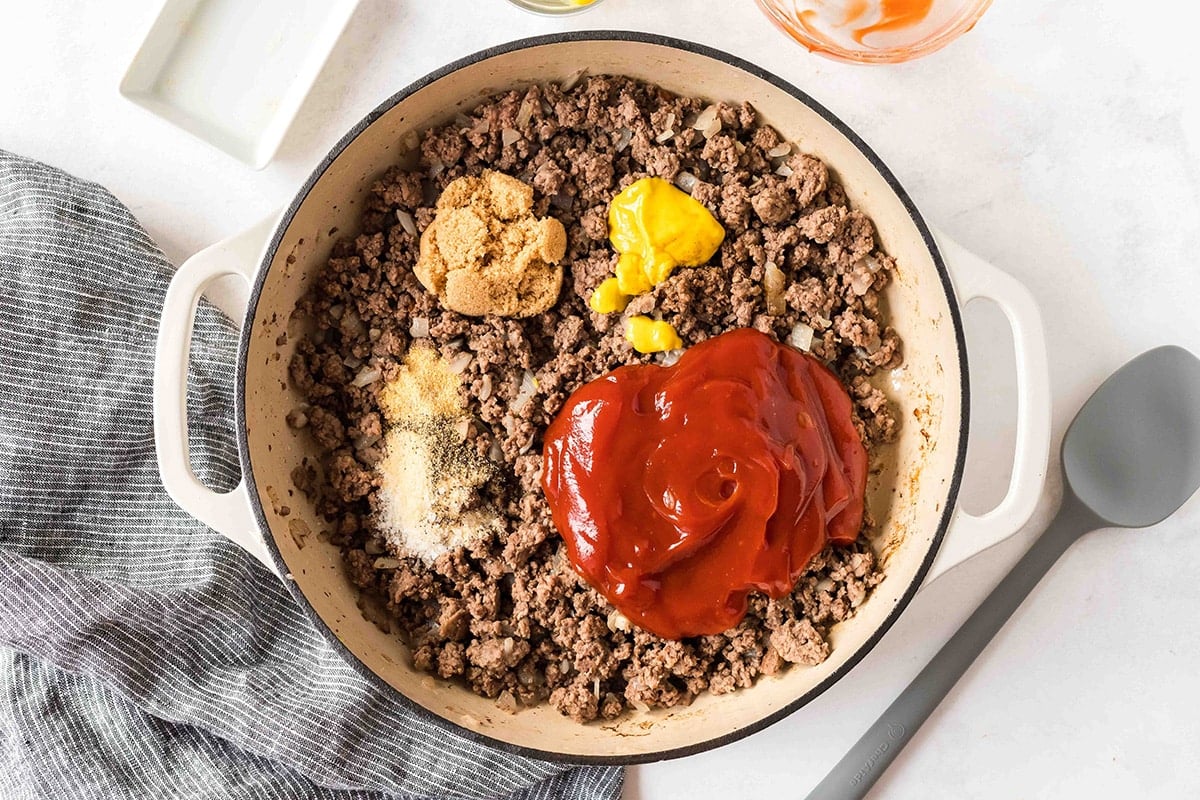 What to Serve with Sloppy Joe Sliders
There are tons of great sides to serve with sliders. For game day we like to serve them alongside other snacks like potato chips, jalapeno poppers, pimento cheese deviled eggs, and Buffalo wings.
You can also make fries — our favorites are air fryer french fries and ranch bacon cheese fries. Or, try whipping up a simple ranch pasta salad or tossing together an easy side salad.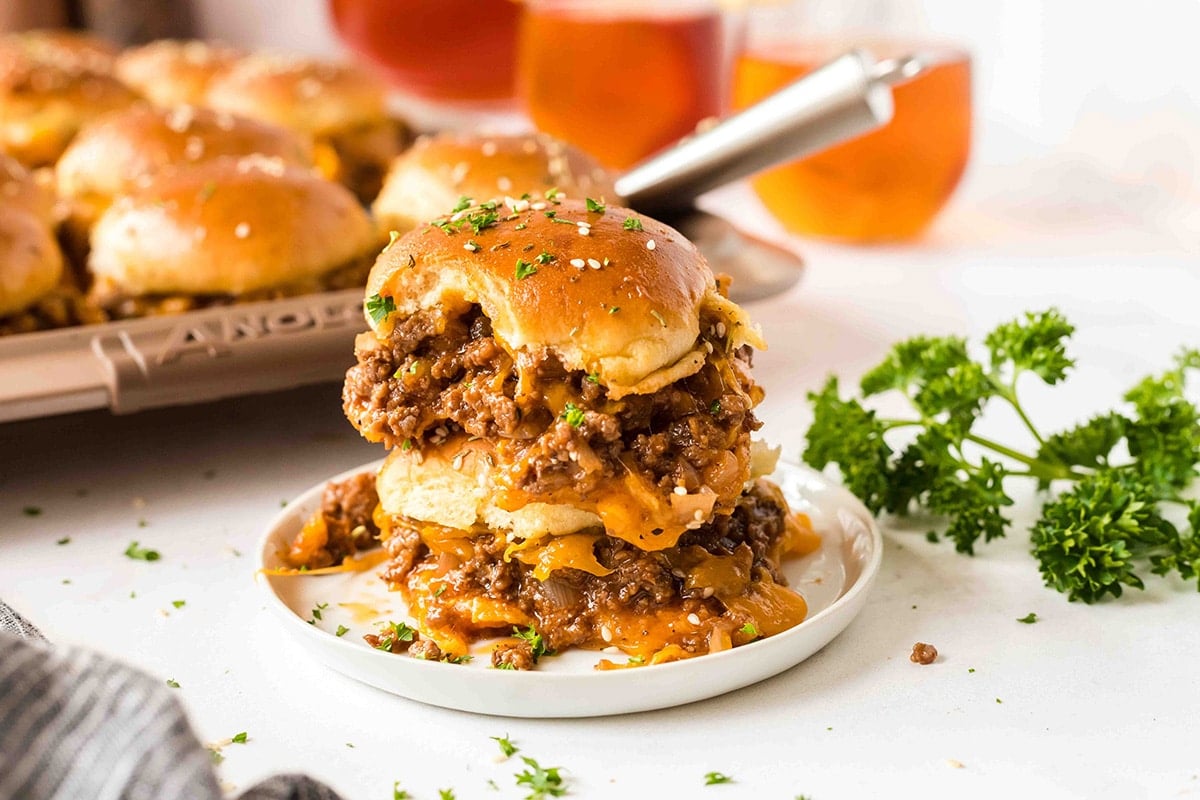 Variations
There are lots of ways to put your own spin on these little sandwiches.
Meat – Instead of ground beef try using ground turkey, chicken, or sausage. You can also use your favorite plant-based alternative.
Cheese – Switch out the cheddar for American cheese, Monterey Jack, provolone, or even parmesan cheese.
Heat – Add some spiciness to your slider with hot sauce, chili powder, cayenne pepper powder, or crushed red pepper flakes.
Vegetables – Sneak some veggies into this meaty sandwiches by dicing up some bell peppers (green pepper works well) or mushrooms and adding them to the mixture.
Smoky – Make your own version of a White Castle Smoky Joe Slider by using smoked cheddar and topping with crispy onions.
Acidity – If you want your filling to have a bit more of a bite, experiment with adding a bit of apple cider vinegar.
Tomato flavor – If you want a less sweet sauce with more condensed tomato flavor try using a mixture of tomato paste and tomato sauce in place of the ketchup.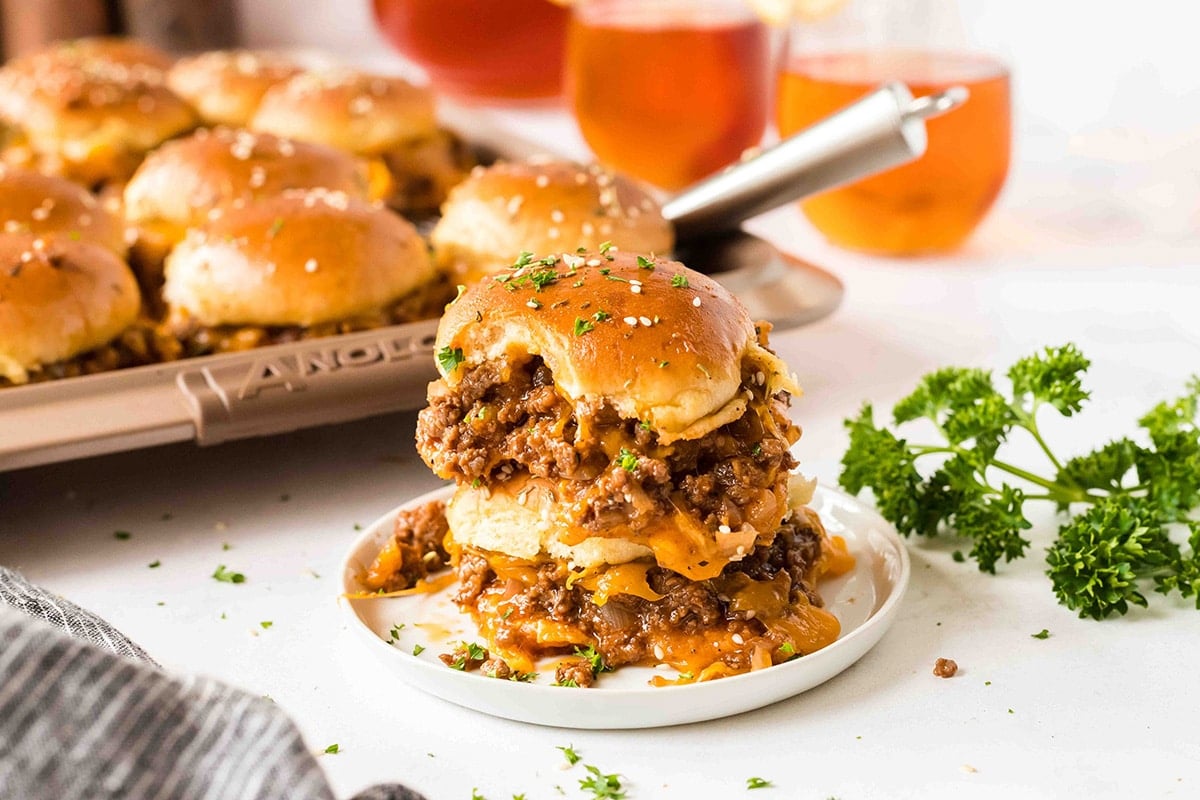 Storage, Make Ahead and Freezing
If you think you might have leftovers, it might be ideal to use sliced cheese instead of shredded on both the top and the bottom to prevent the meat mixture from making the bread soggy when stored.
Make-Ahead: You can make the filling ahead and refrigerate for up to 1 day before filling the slider rolls and baking.
Refrigerator: Cover the sliders in the baking dish with aluminum foil or plastic wrap, or in an airtight container, for up to 3 days.
Freezer: We do not recommend freezing sloppy Joe sliders. However, the meat filling can be frozen.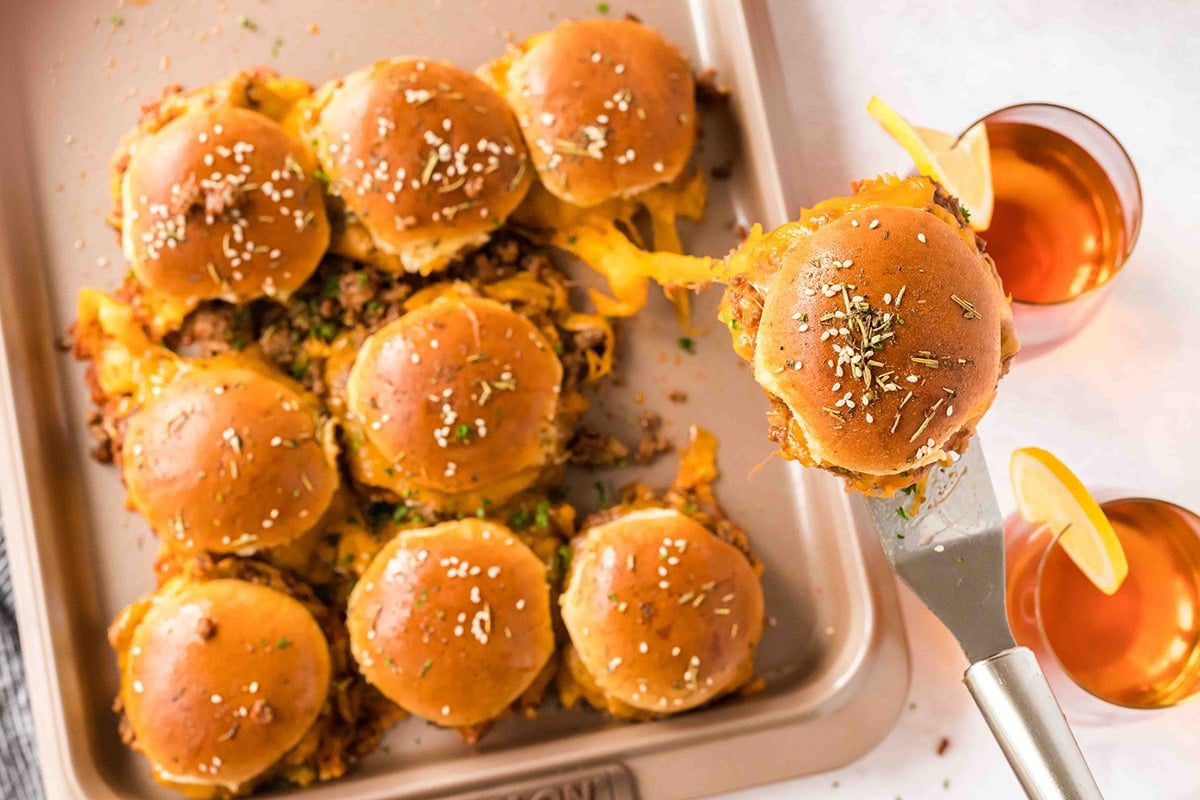 Common Questions About Sloppy Joe Sliders
What to serve with sloppy Joe sliders?
You can serve nearly any side dish with these meaty sliders from corn on the cob to pasta salads or fries. You can also roast up some vegetables or serve fresh veggies with dip.
What is sloppy Joe sauce made of?
The tomato-based sauce combines ketchup with a variety of aromatic seasonings like garlic and onion. It's then sweetened with sugar and balanced by Worcestershire sauce.
What's the difference between a sloppy Joe and a sloppy Jane?
While the meat used for a sloppy Joe is usually ground beef, a sloppy Jane is made using ground turkey.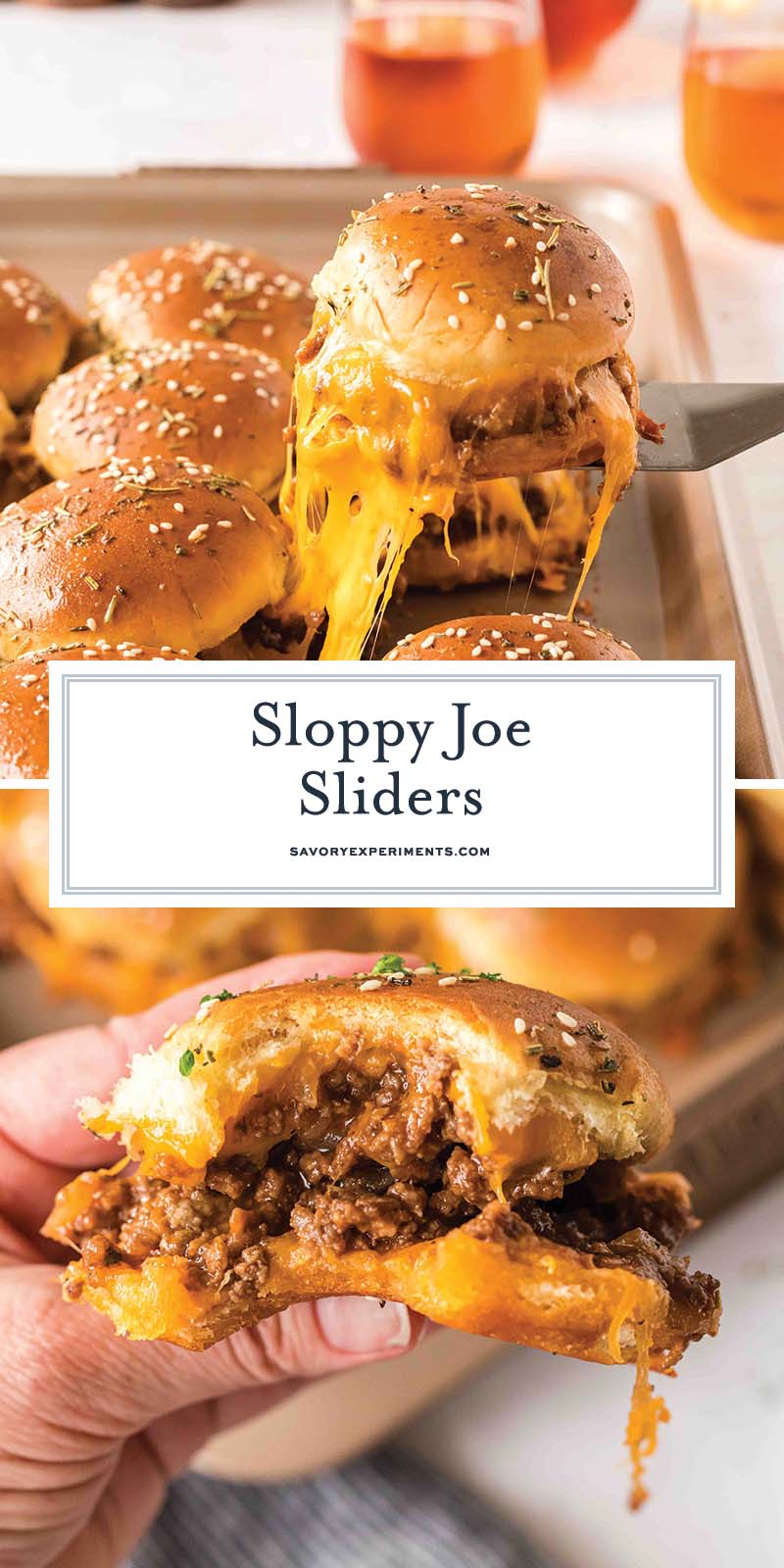 Other Savory Sliders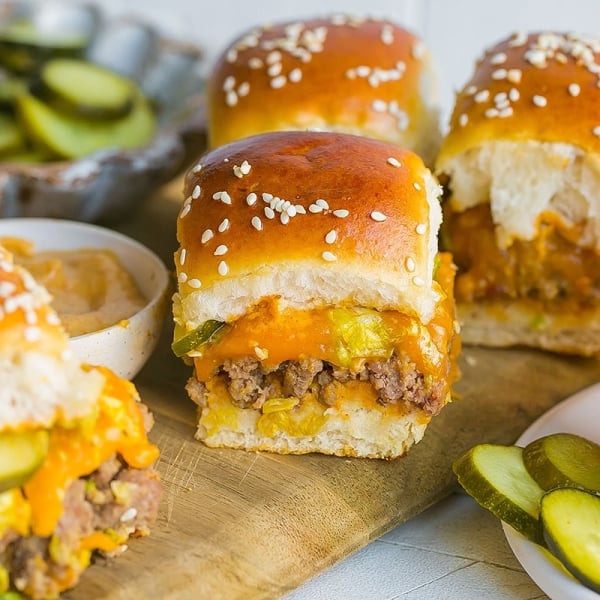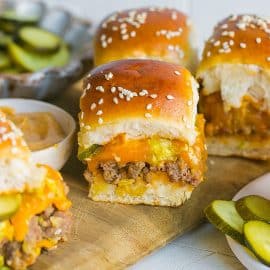 Big Mac Sliders
These easy Big Mac sliders combine all of the flavors and textures of the classic McDonald's burger in a simple recipe great for a crowd!
See The Recipe!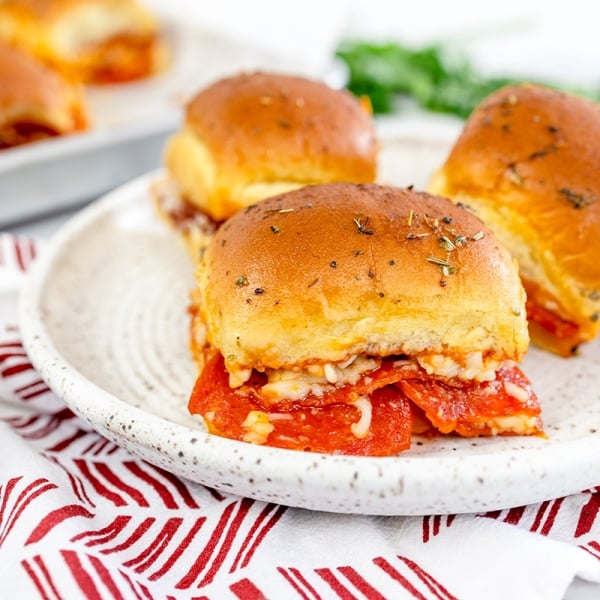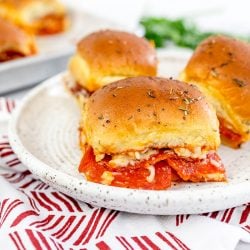 Pizza Sliders
Cheesy Pizza Sliders are easy to make with just 4 ingredients and the best for parties. Loved by kids and adults!
See The Recipe!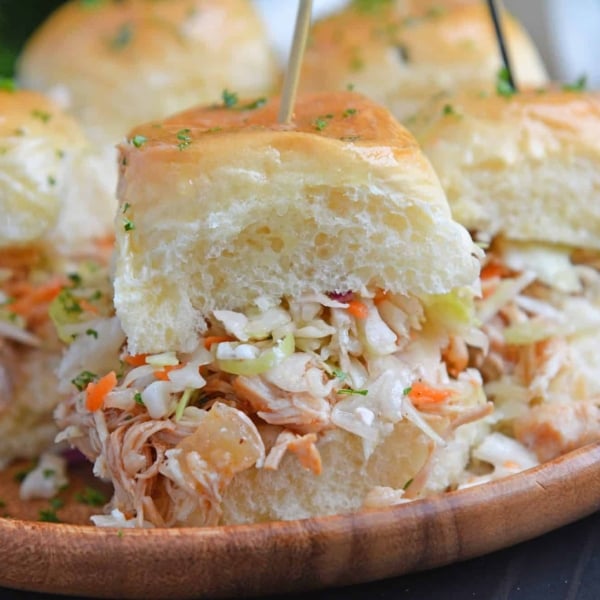 BBQ Chicken Sliders
BBQ Chicken Sliders are made with 5 unique layers making them go above and beyond any other sandwich recipe. Fabulous for parties, potlucks and game day and can be served hot or room temperature!
See The Recipe!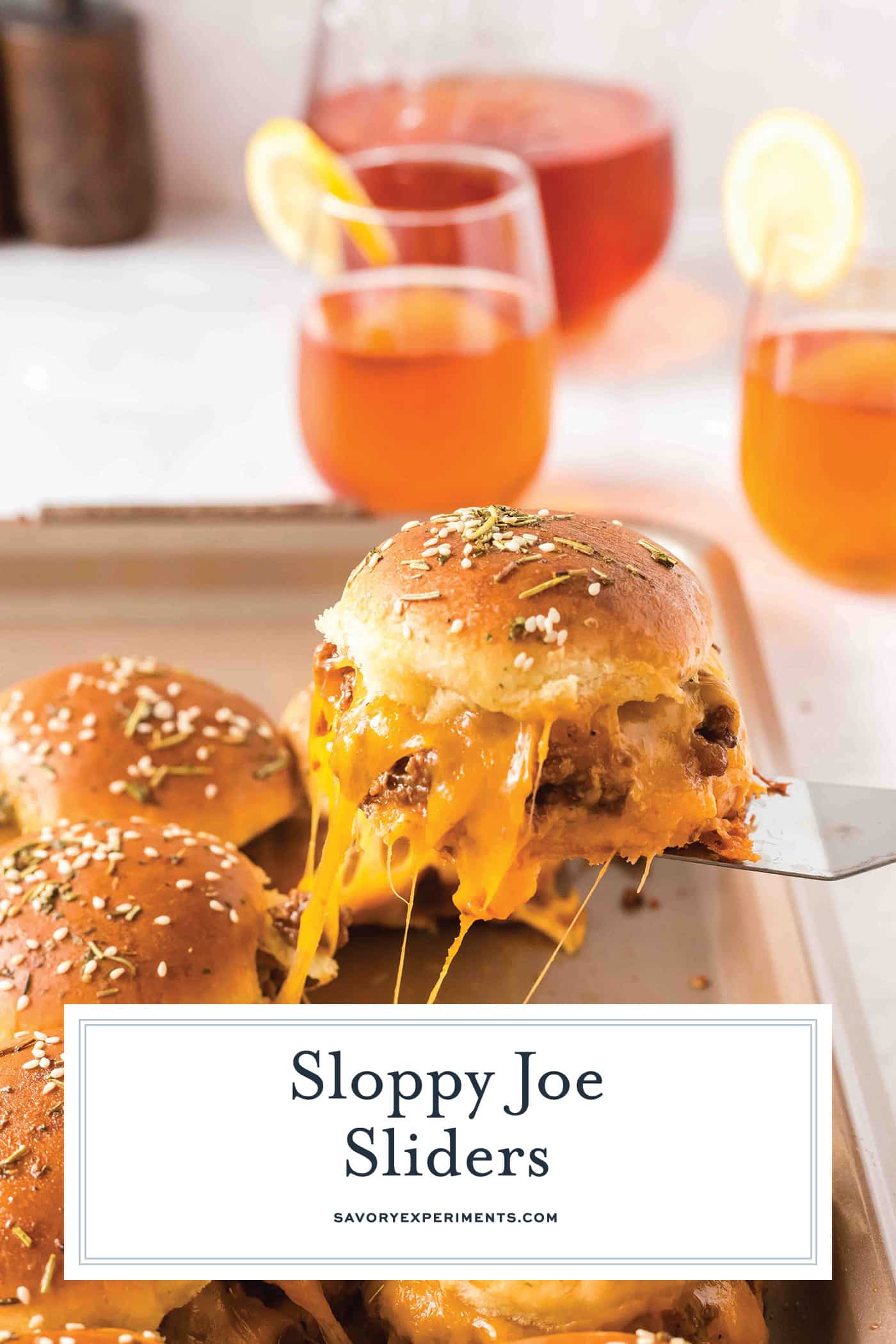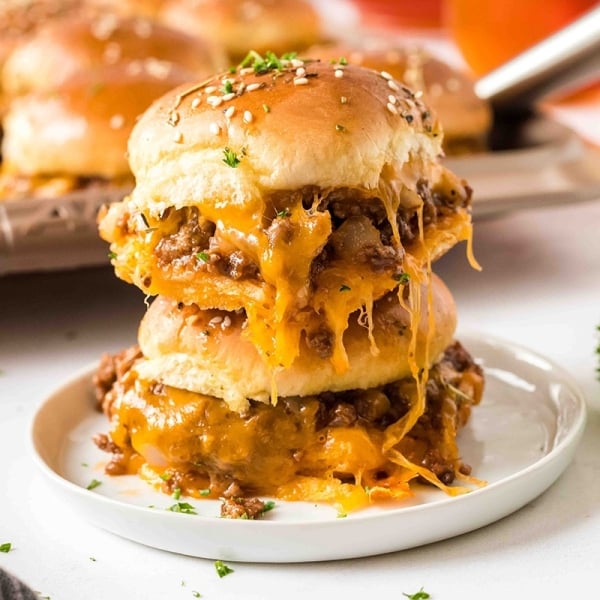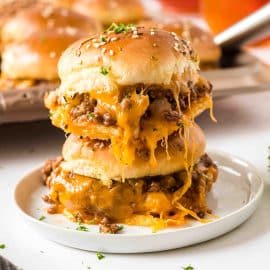 Sloppy Joe Sliders
These EASY cheesy Sloppy Joe Sliders have all of the original flavors of classic sloppy Joes but in slider form. Perfect for parties!
Instructions
Preheat the oven to 375°F.

Cut the slider buns lengthwise using a serrated knife and place bottoms on a baking sheet lined with aluminum foil or parchment paper for easy clean up.

In a large skillet over medium high heat, saute the onions and ground beef until the beef is no longer pink and the onions soften.

Stir in the ketchup, mustard, Worcestershire sauce, brown sugar, onion powder, garlic powder, salt, and pepper.

Cook for 2-3 minutes until the sauce is combined with the meat and it starts to thicken. Remove from the heat.

Sprinkle half of the cheese on the slider bun bottoms. Top with sloppy joe mixture evenly between the buns and top with remaining cheese. Add the tops of the buns back.

In a small microwave-safe bowl, melt the butter and add the Italian seasoning.

Brush over the slider bun tops. Sprinkle with the sesame seeds.

Bake for 10-15 minutes until the tops are golden brown and the cheese is melted.

Remove from the oven and serve warm.

Garnish with fresh chopped parsley if desired.

If you've tried this recipe, come back and let us know how it was in the comments or star ratings.
Nutrition
Calories:
378
kcal
,
Carbohydrates:
27
g
,
Protein:
24
g
,
Fat:
19
g
,
Saturated Fat:
10
g
,
Polyunsaturated Fat:
1
g
,
Monounsaturated Fat:
5
g
,
Trans Fat:
0.3
g
,
Cholesterol:
78
mg
,
Sodium:
709
mg
,
Potassium:
332
mg
,
Fiber:
2
g
,
Sugar:
10
g
,
Vitamin A:
550
IU
,
Vitamin C:
2
mg
,
Calcium:
322
mg
,
Iron:
3
mg