Looking for an easy shredded chicken recipe or BBQ pulled chicken (they are the same things, really)? Crockpot BBQ Chicken is the easy slow cooker chicken recipe you are looking for!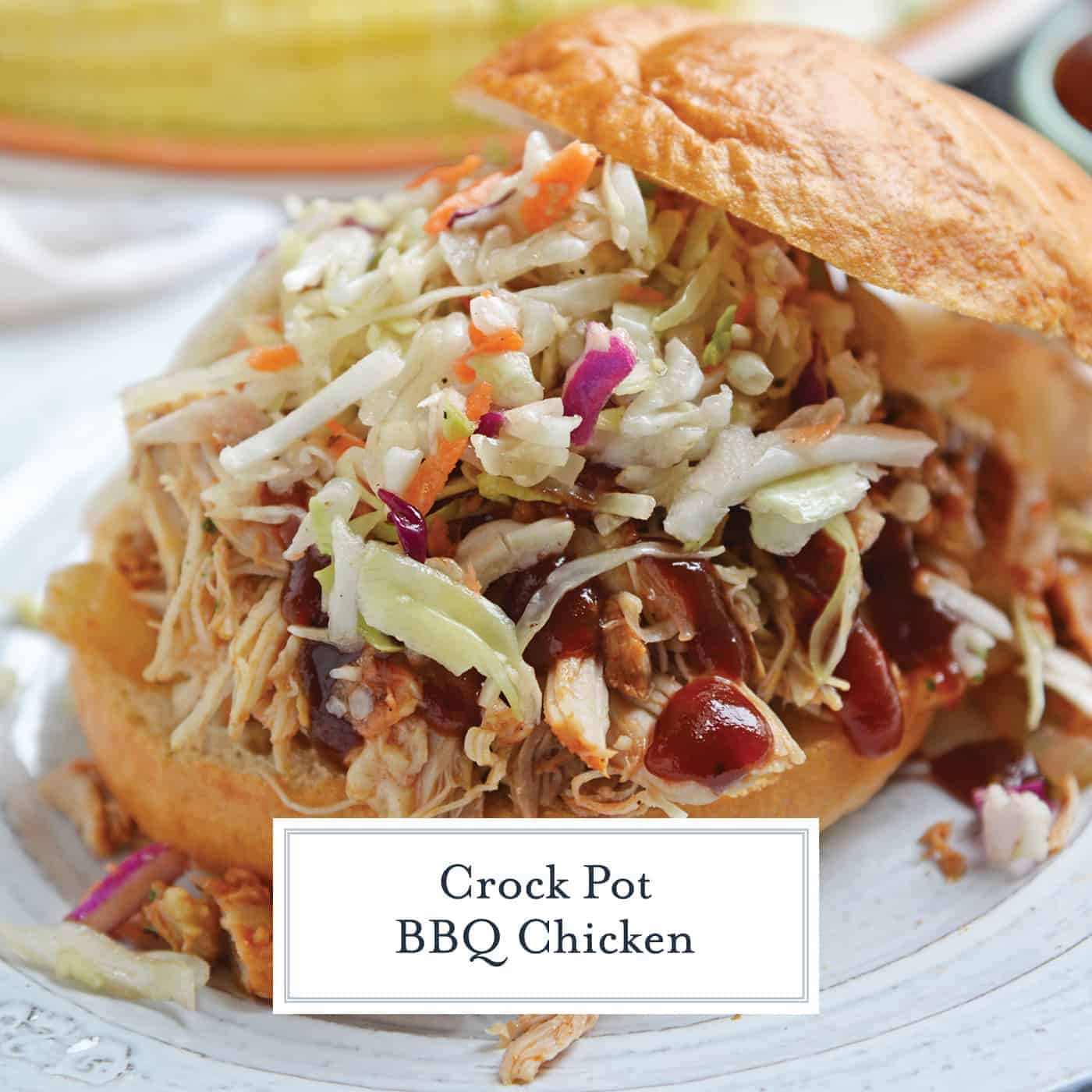 Crockpot BBQ Chicken take just minutes to get into the slow cooker. Hours later you have flavorful, fork tender chicken perfect for sandwiches, salads or even quesadillas!
What makes this the BEST Crockpot BBQ chicken recipe? Layering flavor. We cook the chicken in a makeshift BBQ sauce to infuse it with flavor and moisture, but then slather it in our favorite saucy concoction at the end.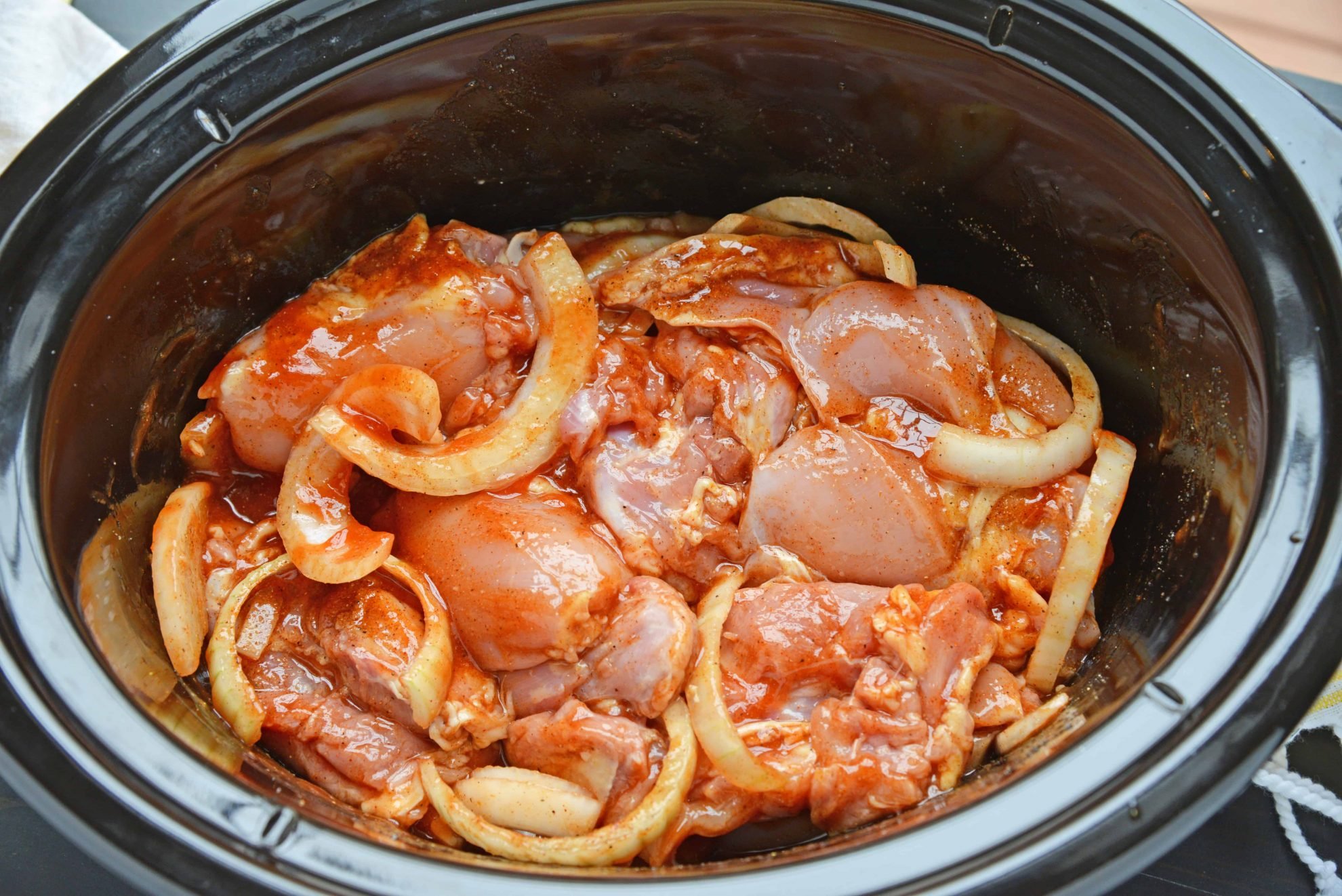 Notice how I specially say BEST crockpot BBQ chicken (or slow cooker if you are being PC) and not just best BBQ chicken? This is simply because you aren't going to make the best BBQ chicken ever in the slow cooker.
By definition, it is barbecued or grilled. Grill enthusiasts are gasping at my declaration of the best BBQ chicken recipe! BBQed chicken on the grill is indeed, better. I agree.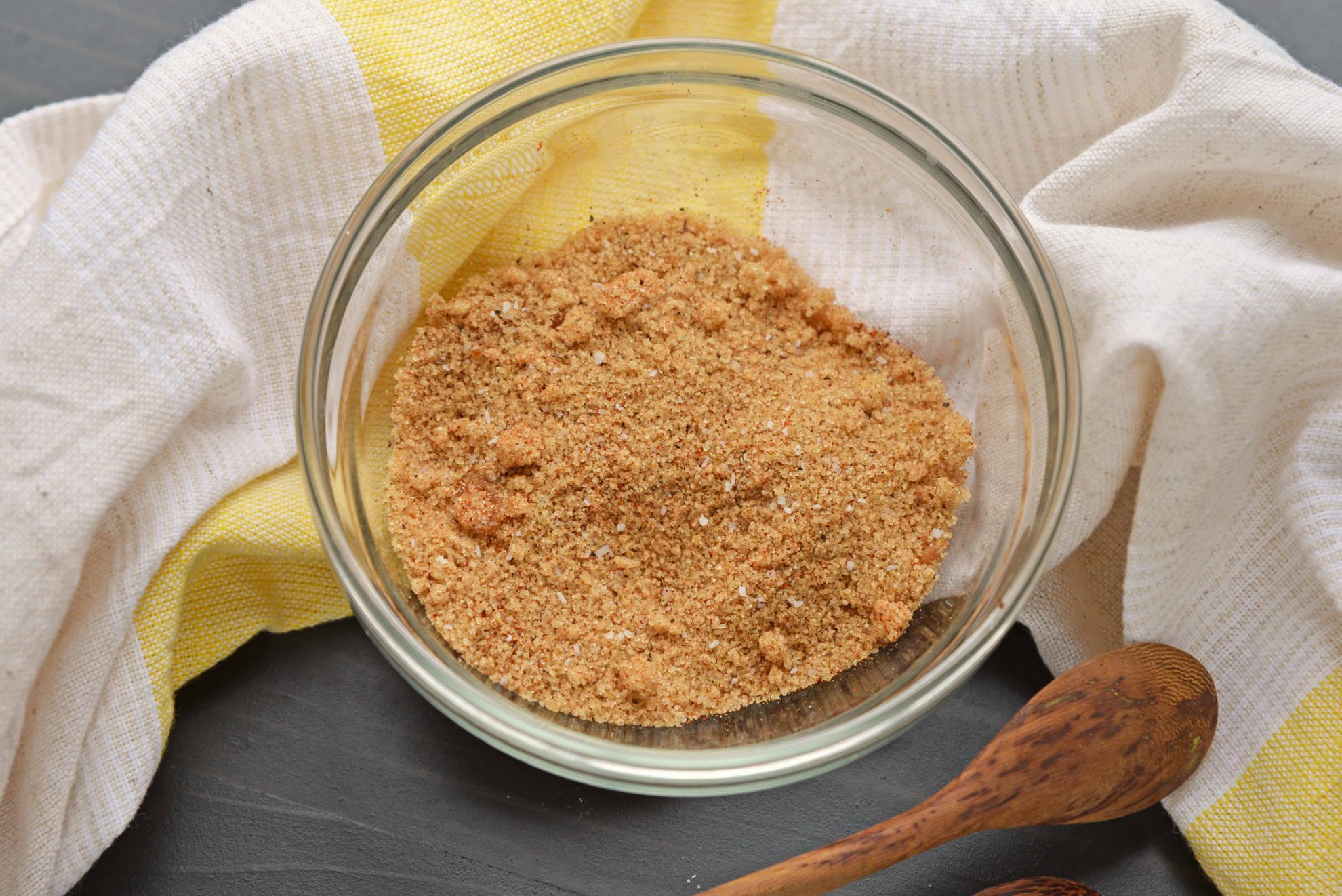 But you know what? Sometimes that isn't feasible. Sometimes crockpot chicken recipes are just easier. This slow cooker BBQ chicken recipe is perfect for potlucks, family gatherings, bringing to a baby shower or bridal shower even plopping on the table for the big game.
Chicken thighs are my preference for slow cooker chicken recipes. They have more flavor and are so much more tender than boneless skinless chicken breast and honestly just better for BBQ chicken recipes.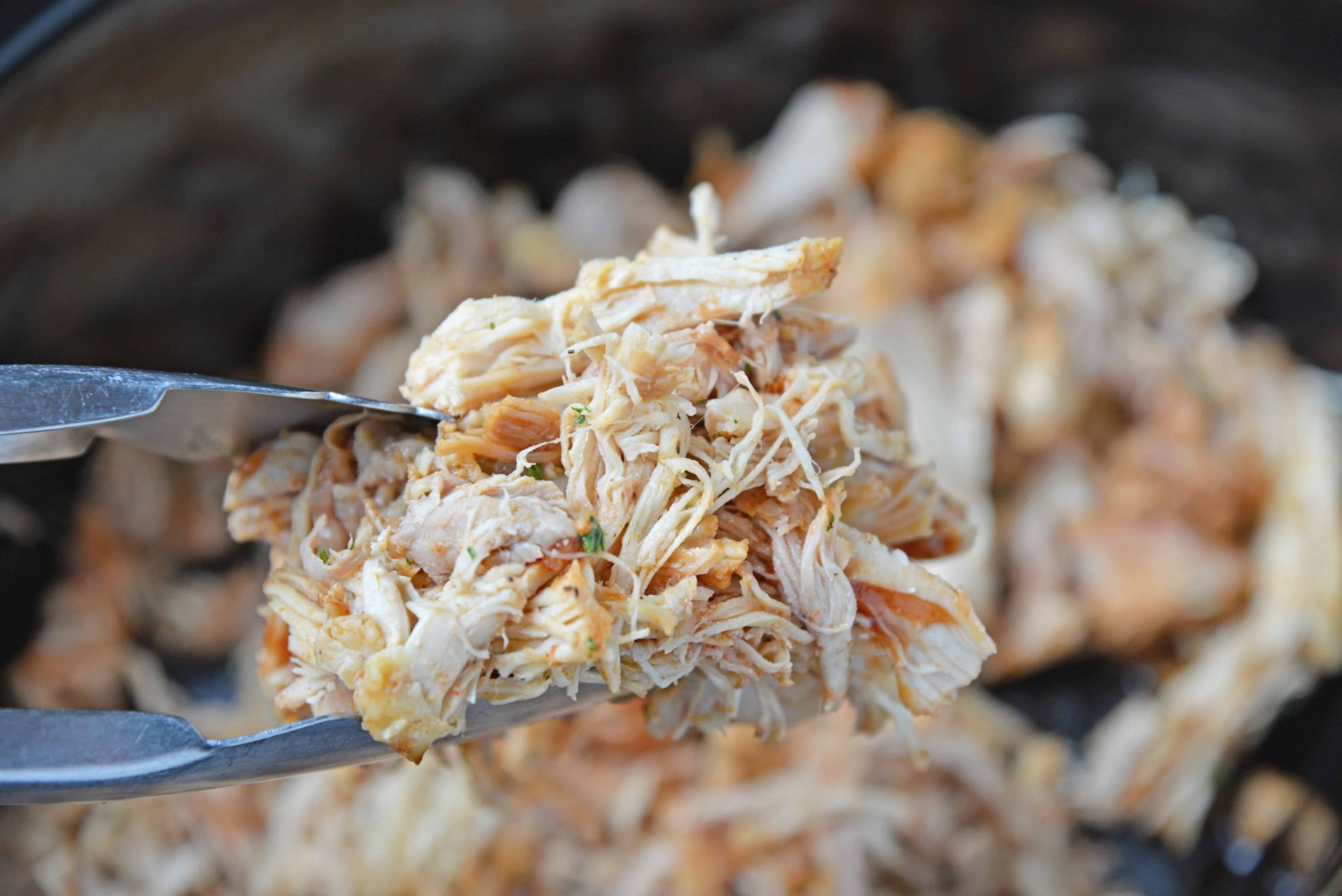 Yes, they have more fat and you can take your time trimming this off, but honestly, much of it will cook off and the liquids used to cook the chicken will be drained off before you actually plate it, so I don't even bother.
After choosing the cut of chicken you use, making crockpot BBQ chicken is easy! Simply make the easy BBQ sauce, cook on high for 3-4 hours, shred the chicken, toss with your favorite BBQ sauce and your ready to serve! It is perfect for parties or a weeknight meal.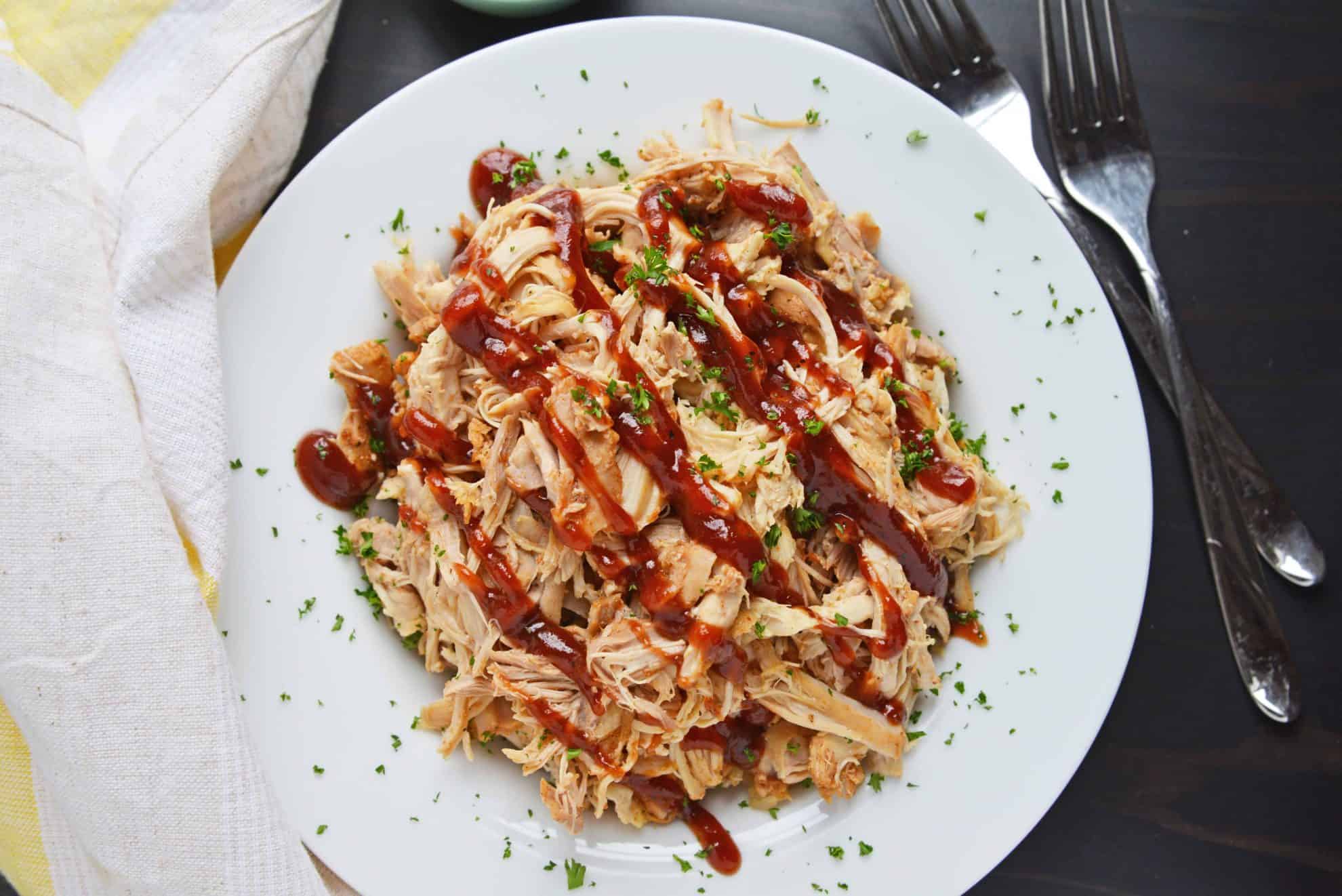 If you do make Crockpot BBQ Chicken for a party, gathering or potluck, let people make their own BBQ chicken platters, with or without a bun, and set up some condiments for them to give it a unique spin.
Coleslaw is always a favorite. My Greek Yogurt Coleslaw always gets rave reviews, but so does Vinegar Coleslaw. Pickles, like Honey Habanero Pickles, are a safe bet as well.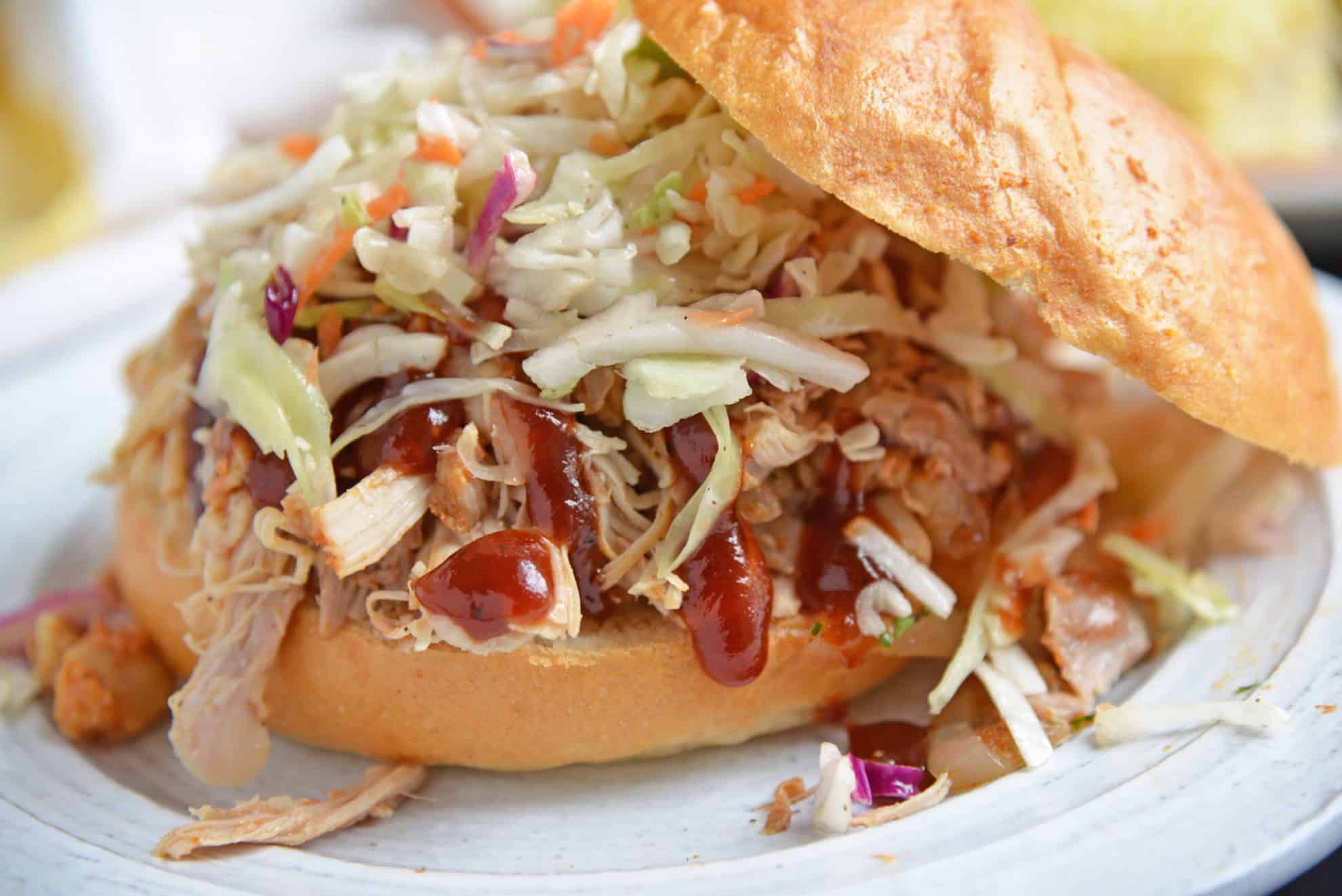 The makeshift BBQ sauce is not going to be your main BBQ sauce. It is simply something wet to keep your chicken nice and moist and allowing it to be the fork-tender chicken of your dreams.
You can use a bottled BBQ sauce, but I also love making homemade barbecue sauce. It freezes well and always has that special umph missing from a bottle. If you do use bottled, Sweet Baby Ray's is always my pick!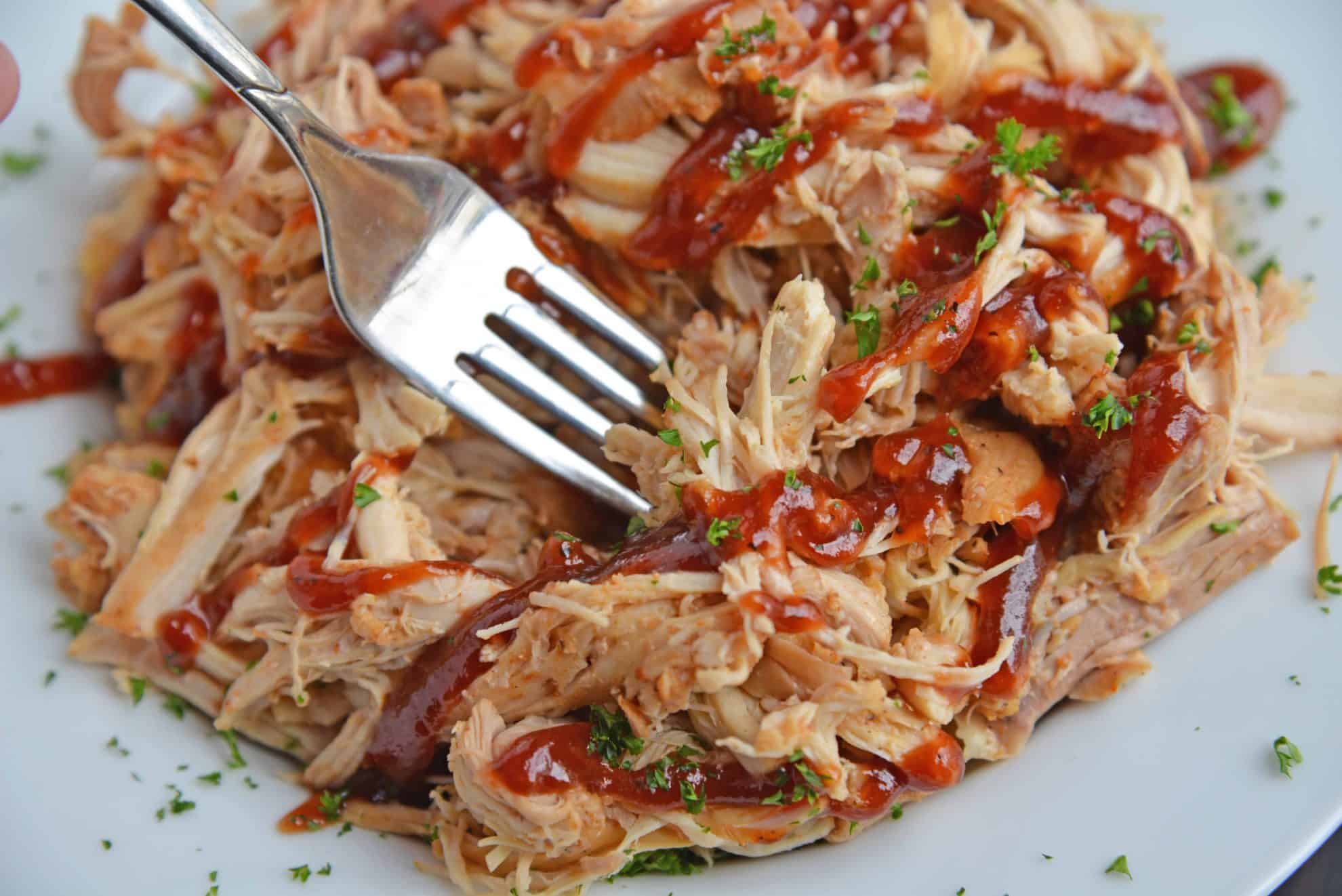 Here are my favorite homemade barbeque sauce recipes:
Other variations you can throw on this pulled chicken recipe are adding 1 teaspoon of crushed red pepper flakes if you like it hot, hot, HOT!
Add jalapenos, fresh or pickled, fresh minced garlic or even hot sauce. If you like your BBQ chicken sweeter, you can add additional molasses or brown sugar to counteract the heat.
You can also make BBQ Pulled Chicken in your Instant Pot!
Tools for making Crockpot BBQ Chicken:
Slotted Metal Spatula– Your slow cooker BBQ chicken will be so tender, you won't need tongs or a fork to get it out. Your best bet it with a slotted metal spatula.
Slow Cooker– obviously you'll need a slow cooker to make crockpot BBQ chicken, right? A 6 quart will do the trick!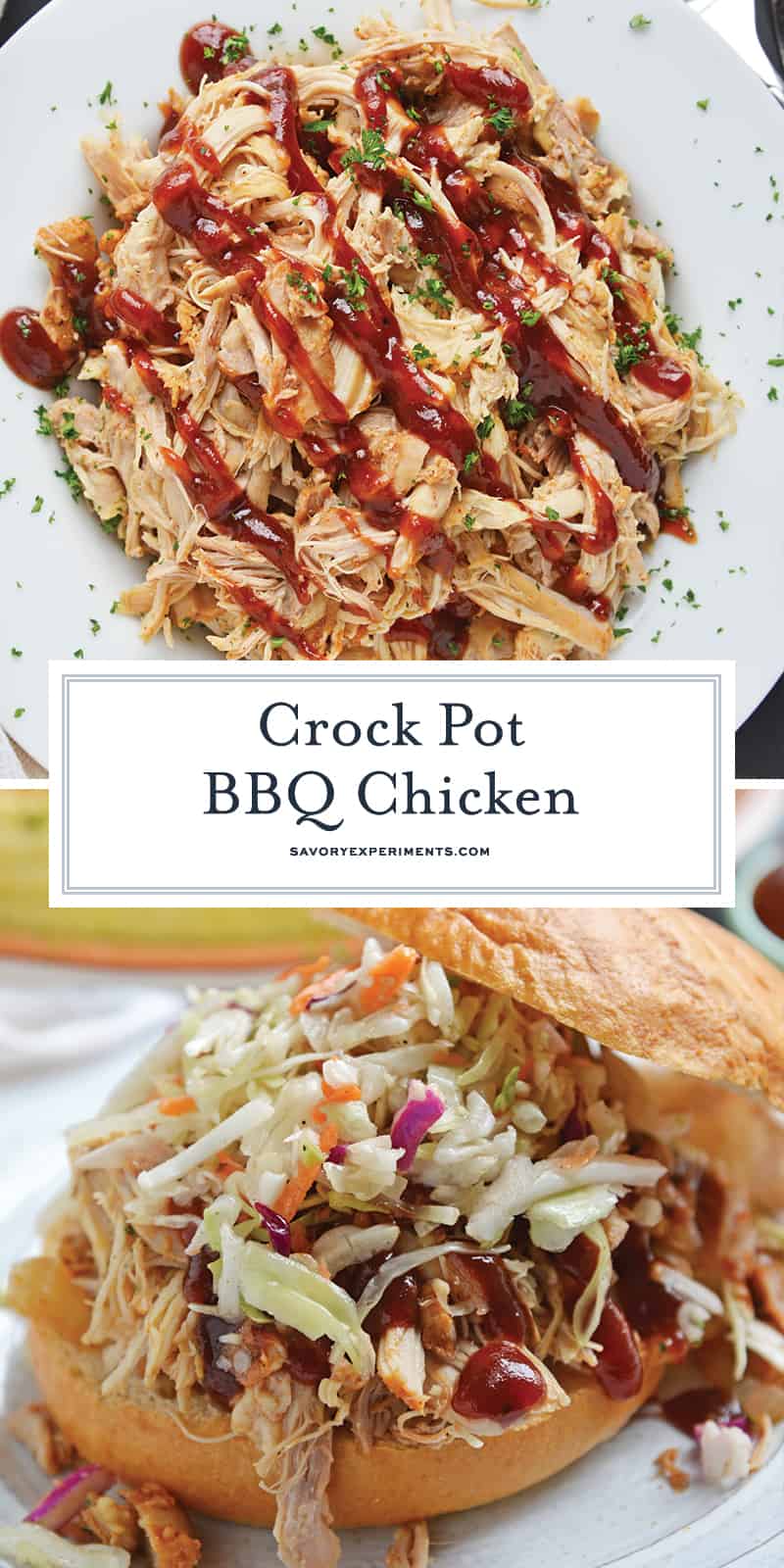 Check out my favorite side dishes to serve with barbeque chicken: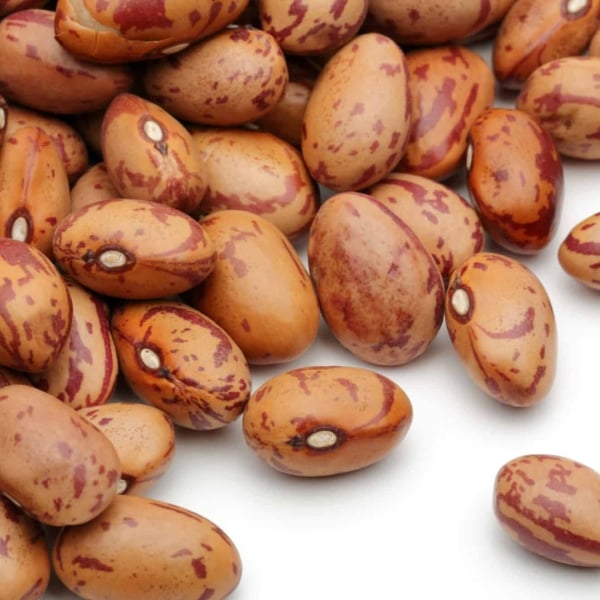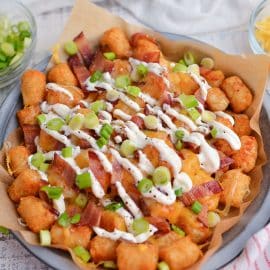 Questions you might have about how to make Crockpot BBQ Chicken:
Can I use chicken breasts for BBQ chicken? You surely can! I prefer to use chicken thighs for the reasons above, but you can use breasts if you prefer.
Can you freeze crockpot BBQ Chicken? Yep! Place your shredded BBQ chicken in an airtight container or plastic bag, removing any excess air. Keep frozen for up to 3-4 months.
Is crockpot BBQ chicken keto? Nope- not a chance! The base recipe uses sugar and ketchup. If you'd like, you can use a keto approved BBQ Sauce instead, but then you don't really need this recipe either, huh?
Can I make this BBQ chicken recipe ahead of time? You sure can! Reserve some of the liquid and reheat it in the crock pot. The reserved liquid will help it stay moist. Using chicken thighs versus chicken breasts will also help prevent drying.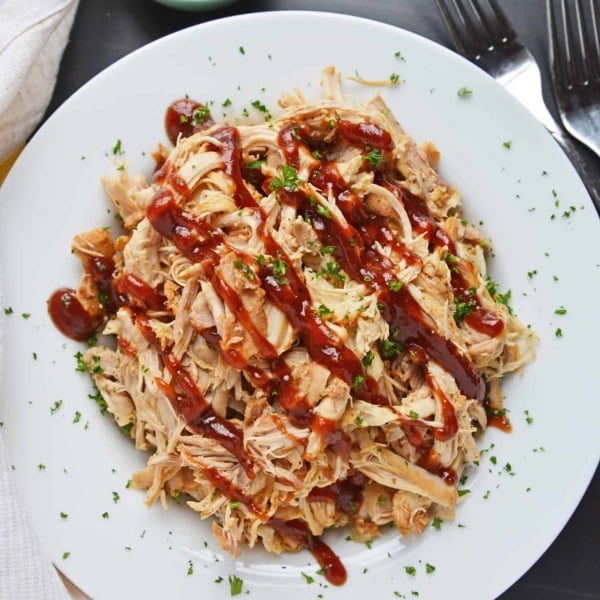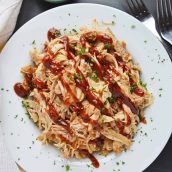 Crockpot BBQ Chicken
Crockpot BBQ Chicken take just minutes to get into the slow cooker. Hours later you have flavorful, fork tender chicken perfect for sandwiches, salads or even quesadillas!
Instructions
Place chicken thigh fillets and sliced sweet onion in your slow cooker. Toss with ketchup, apple cider vinegar, worcestershire sauce and water.

In a small bowl, whisk together light brown sugar, paprika, cumin, Kosher salt, ground black pepper and garlic powder.

Pour over chicken and onions, tossing to coat.

Set for 3-4 hours on high or 7 hours on low.

Using a slotted spoon, remove chicken to a cutting board or plate. Using two forks, shred chicken.

Reserve 1/2 cup of cooking liquid, discarding the rest. Return to the crockpot and toss with remaining liquid until ready to serve. This will keep it moist.

Serve with your favorite BBQ Sauce.

If you've tried this recipe, come back and let us know how it was!
Nutrition
Calories:
412
kcal
,
Carbohydrates:
38
g
,
Protein:
19
g
,
Fat:
19
g
,
Saturated Fat:
5
g
,
Cholesterol:
111
mg
,
Sodium:
1787
mg
,
Potassium:
499
mg
,
Fiber:
1
g
,
Sugar:
31
g
,
Vitamin A:
535
IU
,
Vitamin C:
2
mg
,
Calcium:
45
mg
,
Iron:
1.8
mg