Basically Bloom Sauce is Outback Steakhouse's version of the classic southern sauce called Comeback Sauce. I wonder why they just wouldn't call it that. It works perfectly for marking, doesn't it?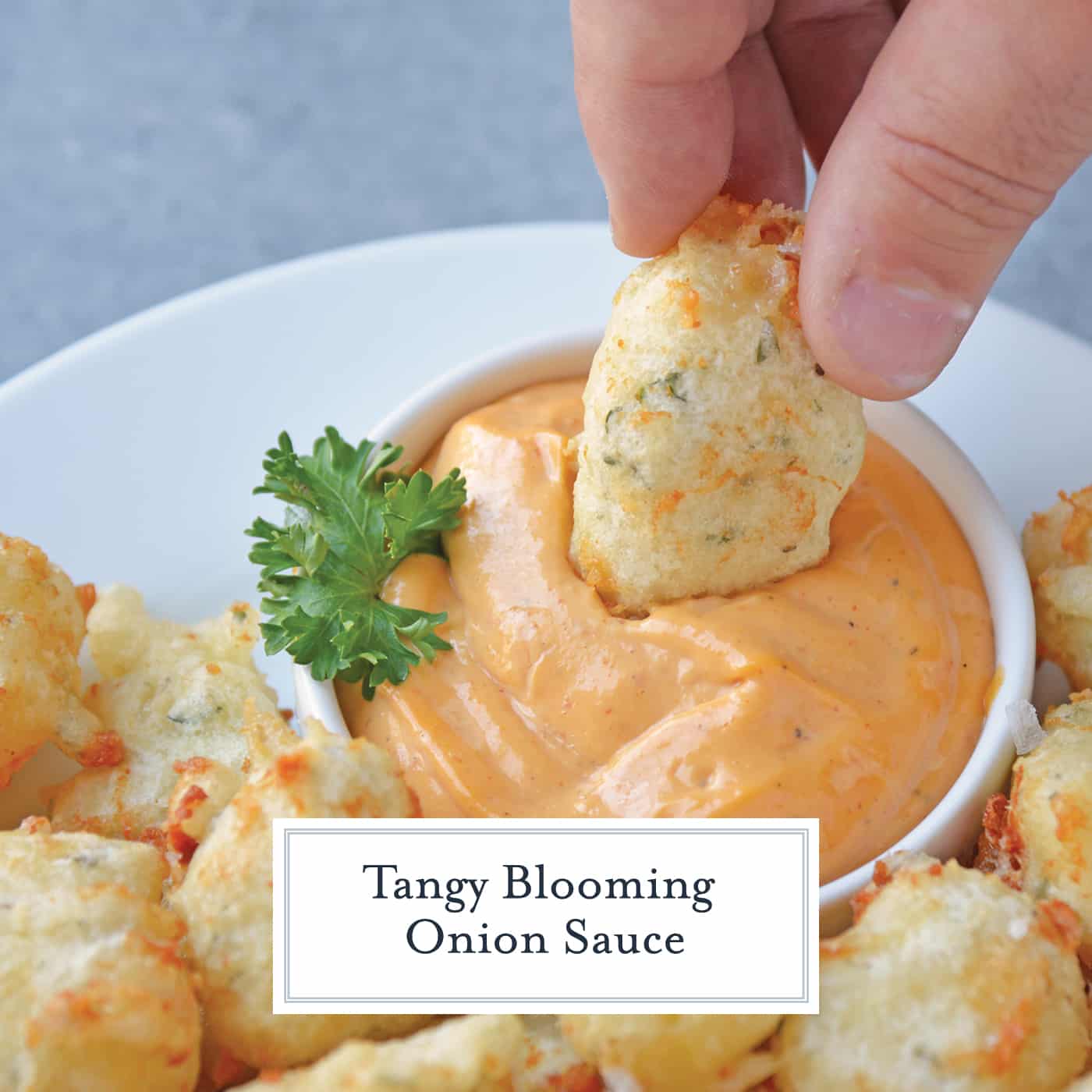 What is Bloomin Onion Sauce?
Outback Bloomin Onion Sauce is a zesty and fun dipping sauce that can be made in just 5 minutes. Versatile and perfect for serving with nearly anything, but is probably best known as onion ring sauce, onion petals, whatever you want to call them.
Voted as the most unhealthy appetizer offered by chain restaurants, Outback's Bloomin Onion is possibly one of the most delicious as well. You gotta have compromises in life and diving into one of these bad boys once a year should be allowed.
Outback isn't one of our go-to restaurants, but man, if we do go, a Blooming Onion will be on the table. Why does it feel so good to be so bad?
Let's break this down: sweet onion, dipped in a tangy batter and fried to a golden brown. Yes, it is tasty, but the peachy-orange dipping sauce known as Bloom Sauce is what really makes the dish, peach in color, not flavor!
What to Use it On?
Bloom Sauce can also stay on the table to be a dipping sauce for French fries, topper of baked potato, tater tots and dressing of salad. Of course, it is perfect as an onion ring dipping sauce too. Isn't that essentially what a bloomin onion us? A giant onion ring?
Try switching up your onions by using a red onion instead of a sweet vidalia onion.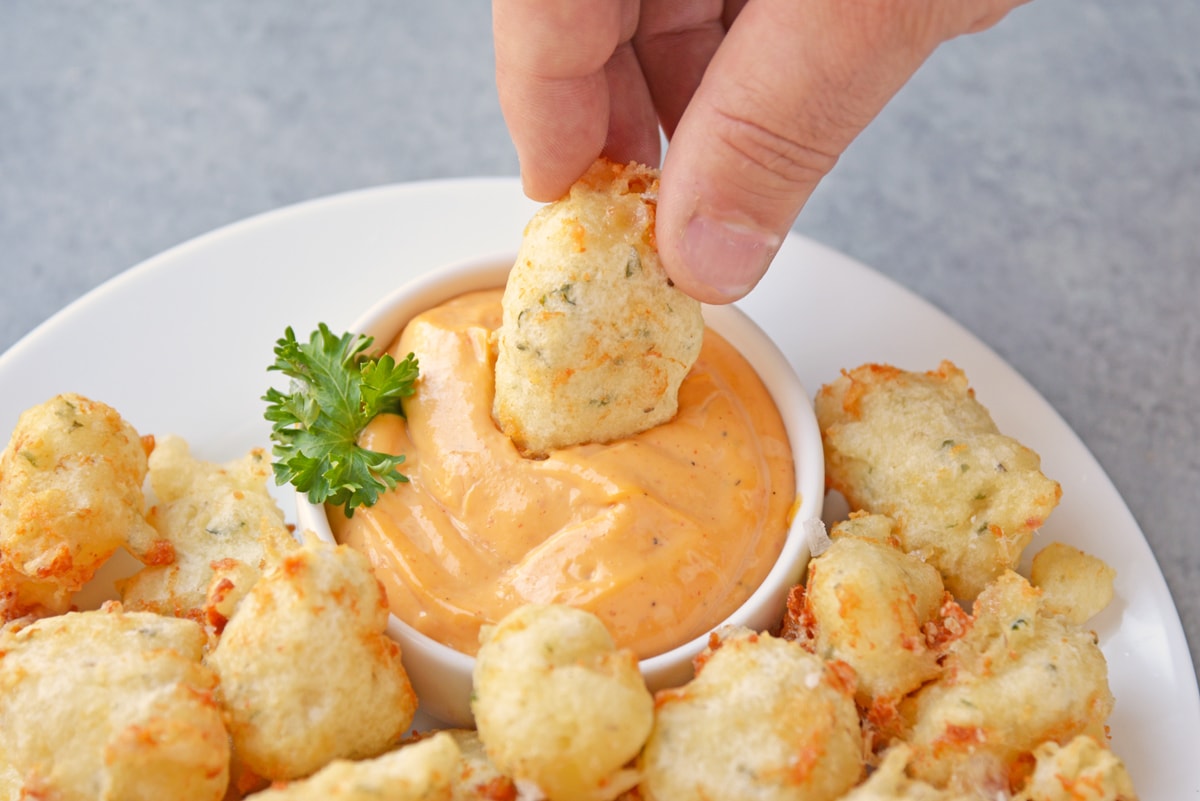 This might not be the exact recipe… but it is darn close. Since I don't own one of those handy dandy Bloomin' Onion Makers (I'd die of a heart attack making them for myself at home) I served my Bloomin Onion Sauce with Fried Cheese Curds.
How To Make Bloomin Onion Sauce
Start by gathering your ingredients. Here is what you'll need:
Mayonnaise– A good quality version. Some folks swear by using sour cream instead, but I like mayo.
Chili Sauce- such as Heinz or Del Monte- this is NOT the same as Thai Chili or Cock Sauce
Dijon Mustard– smooth, not grained
Onion powder
Garlic powder
Worcestershire sauce
Ground black pepper– freshly ground is best
Hot sauce
Lemon juice– fresh is always best, anything bottled will be muted
The preparation is simple. While I prefer to use a mini food processor to really combine ingredients well, you can also whisk them together. The food processor agitates the spices and helps to yank out the natural oils to make it really flavorful. Alternately, place it in a small bowl and whisk together vigorously. Whatever you do, make a double batch, you'll want extra sauce, I promise you this.
For best results, allow the sauce to sit. Without time to marry flavors, it will just taste like flavored mayo, like an aioli. If you want a spicy sauce, add a dab of cayenne pepper too.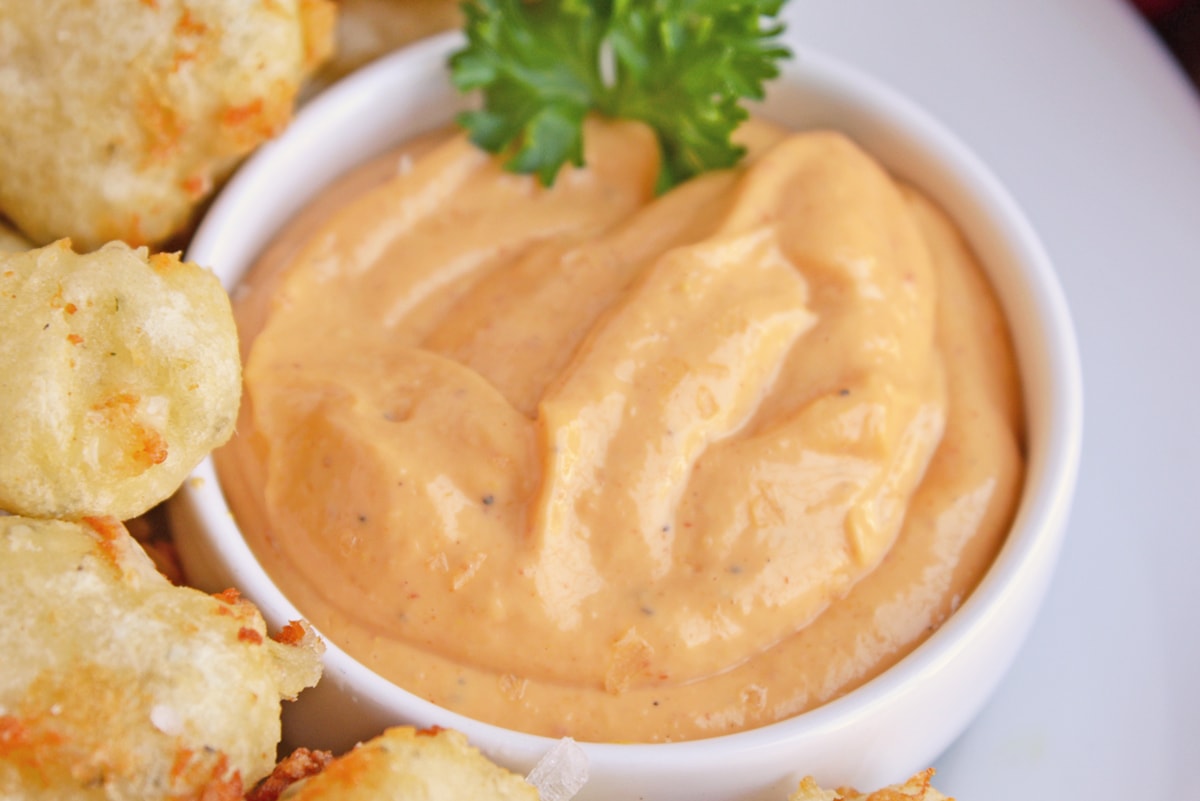 Make Ahead & Storage
Can I freeze this onion ring sauce? I wouldn't recommend freezing Bloomin Onion Sauce. I don't really recommend freezing many mayonnaise based sauces. Since it is so easy to make, it is also simple to make a fresh batch when needed.
Can I make bloomin onion sauce ahead of time? You sure can! In fact, it tastes better when the flavors have time to set and marry.
How long is bloomin sauce good for? Since this recipe doesn't contain any preservatives, it is only good in an airtight container in the refrigerator for up to 5 days.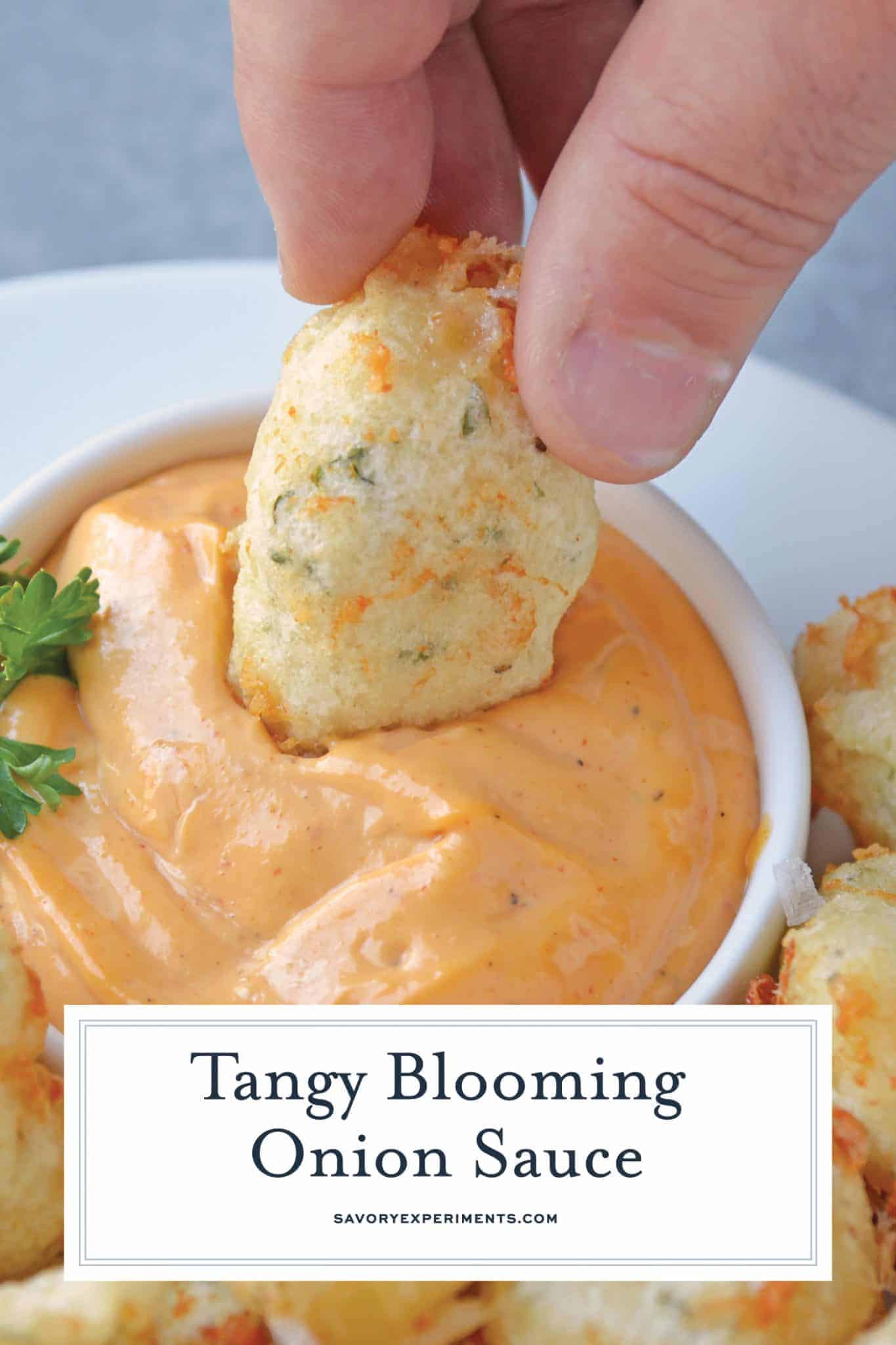 More Saucy Recipes: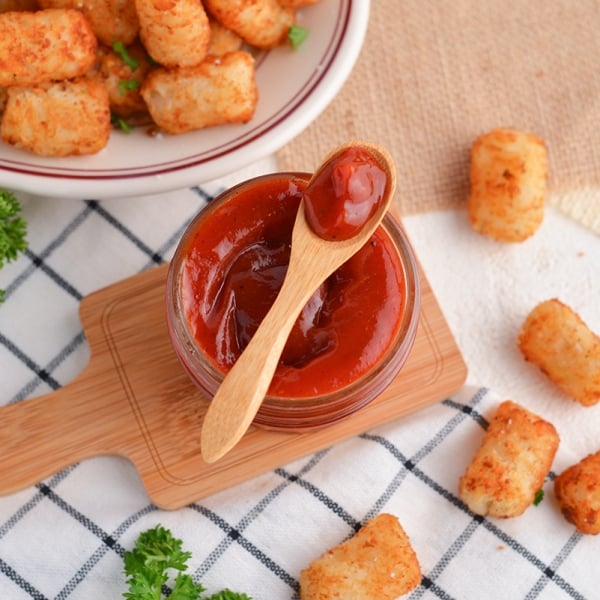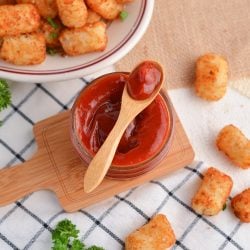 Spicy Ketchup
Spicy Ketchup is a sauce that kicks up a classic and favorite. Serve with fries, on a burger or hot dog or anything else that needs some zing!
View this recipe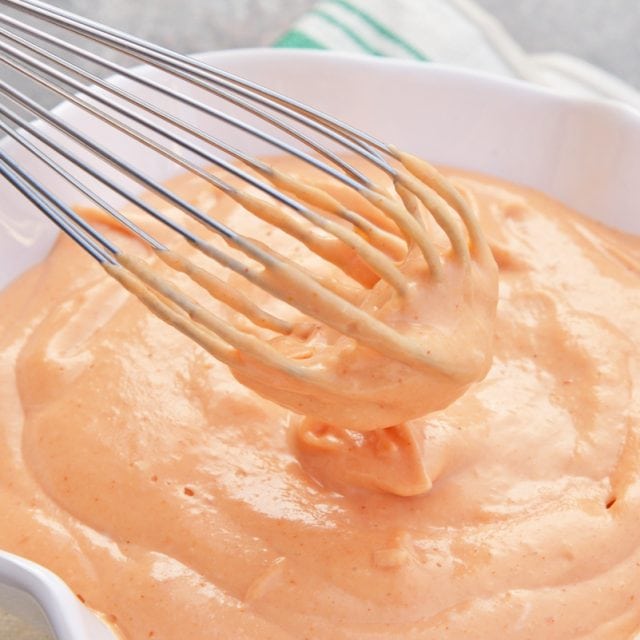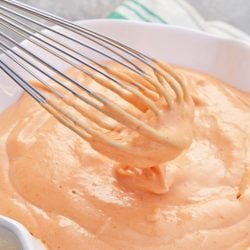 Yum Yum Sauce Recipe
Yum Yum Sauce is an easy sauce for seafood and vegetables. Now you can make your favorite pink sauce at home!
View this recipe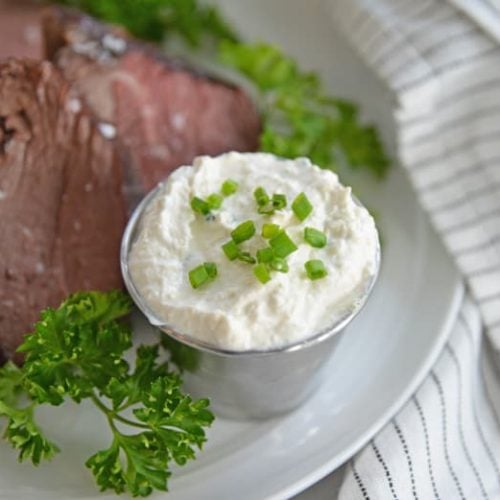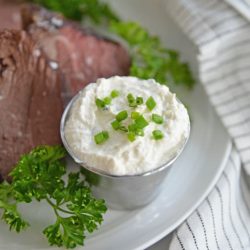 Creamy Horseradish Sauce
Creamy Horseradish Sauce comes together in less than 5 minutes with a sour cream base, tangy horseradish, this is a winner that will rival any steak sauce!
View this recipe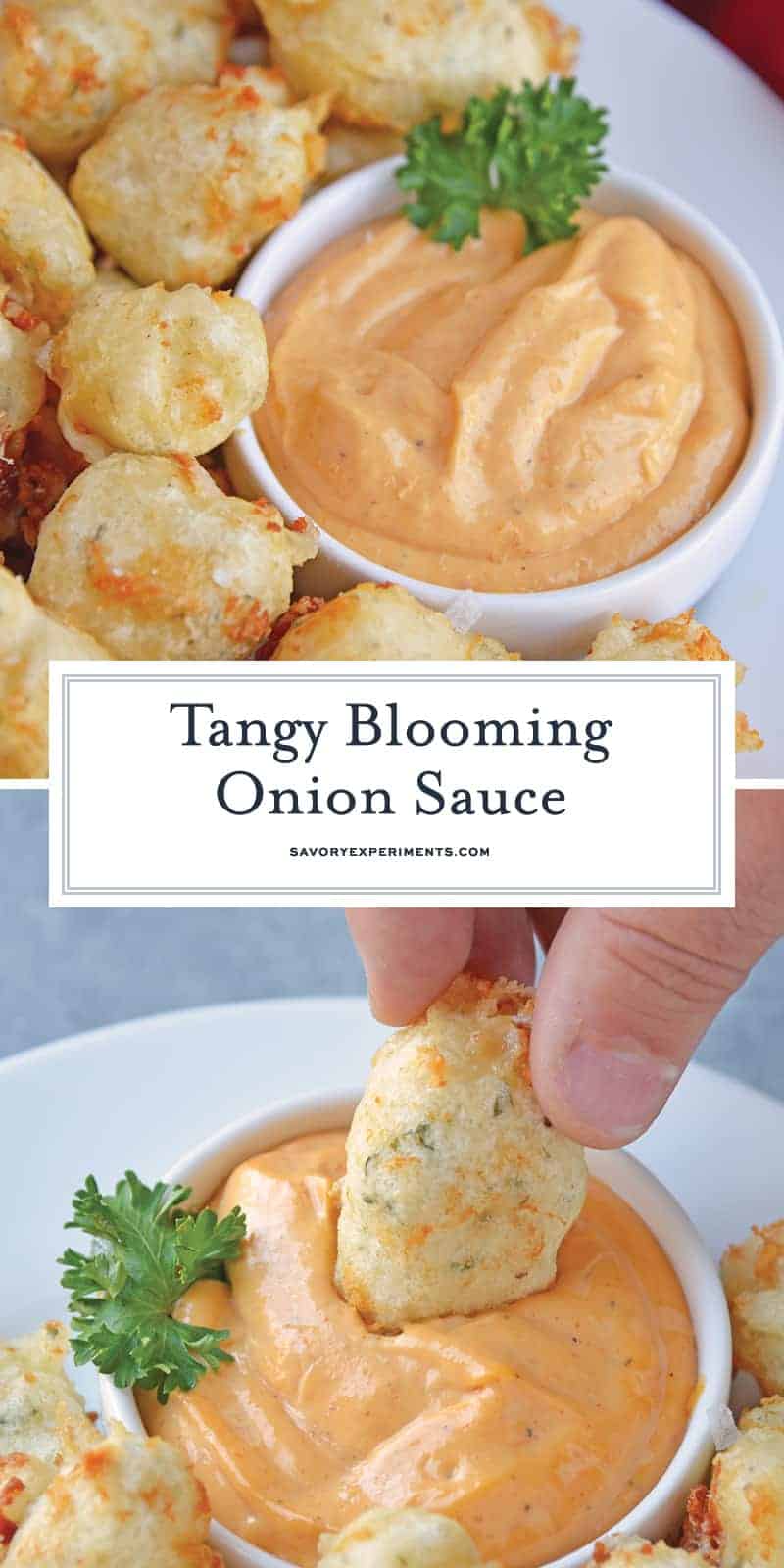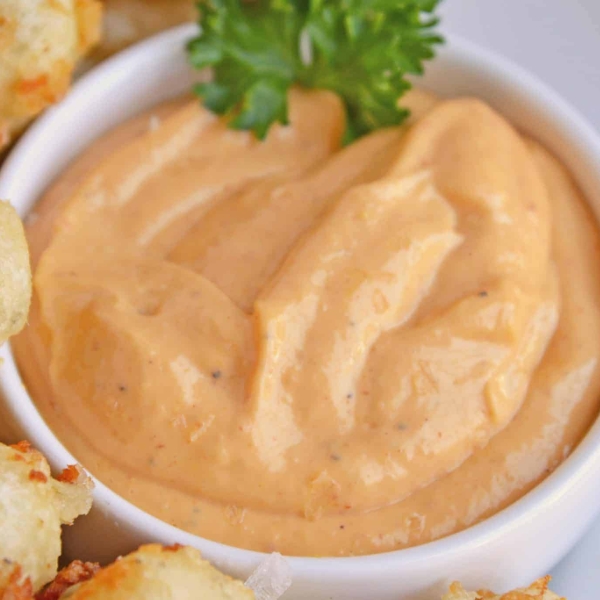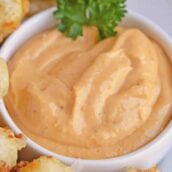 Bloomin Onion Sauce Recipe
Outback Bloomin Onion Sauce is a zesty and fun dipping sauce that can be made in just 5 minutes. Versatile and perfect for serving with nearly anything!
Instructions
Combine all ingredients in a bowl or mini food processor. Blend well.

This sauce can be served immediately but tastes even better the longer it is allowed to sit and marry. Bloom Sauce can be refrigerated for up to one week.

If you've tried this recipe, come back and let us know how it was!
Nutrition
Calories:
273
kcal
,
Carbohydrates:
4
g
,
Fat:
27
g
,
Saturated Fat:
4
g
,
Cholesterol:
11
mg
,
Sodium:
455
mg
,
Potassium:
90
mg
,
Fiber:
1
g
,
Sugar:
2
g
,
Vitamin A:
135
IU
,
Vitamin C:
3.7
mg
,
Calcium:
8
mg
,
Iron:
0.4
mg