Easy Custard Recipe
There is nothing that compares to a homemade custard, and this Vanilla Custard recipe is to die for!
Luscious, velvety, and smooth, describe exactly what this vanilla custard pudding tastes like!
This Vanilla Custard recipe is a rich, creamy and decadent classic homemade custard!
Custard versus pudding. Sometimes used interchangeably, they are vastly different.
The term pudding is used more in Western culture and it made from sweetened milk and thickened with cornstarch.
Custard, however, is made from whole milk and eggs using low heat to produce the coagulation of the egg proteins, which thickens the sauce.
Custard can be eaten plain, like pudding, and it is used in creme brûlée and other baked desserts. It doesn't stop there though, most are hybrids between custard and pudding, like this recipe.
Although a hybrid, this recipe can be used as a vanilla custard filling or vanilla pudding.
As long as there is a large proportion of eggs, I typically call it a custard, they all produce a very similar texture and consistency. After the base is made, custards can be flavored with whatever floats your boat.
This recipe is for basic vanilla and topped with a sprinkle of fresh cinnamon. You can easily add other flavors as you see fit.
Apparently the origin of custard goes all the way back to when Queen Victoria sat on the throne! Sir Alfred Bird created an eggless custard powder in 1837.
It was made from sugar, cornstarch, flavorings, and colorings, and it only needed some hot milk added to it to make it into custard. It is essentially what we know as instant pudding today.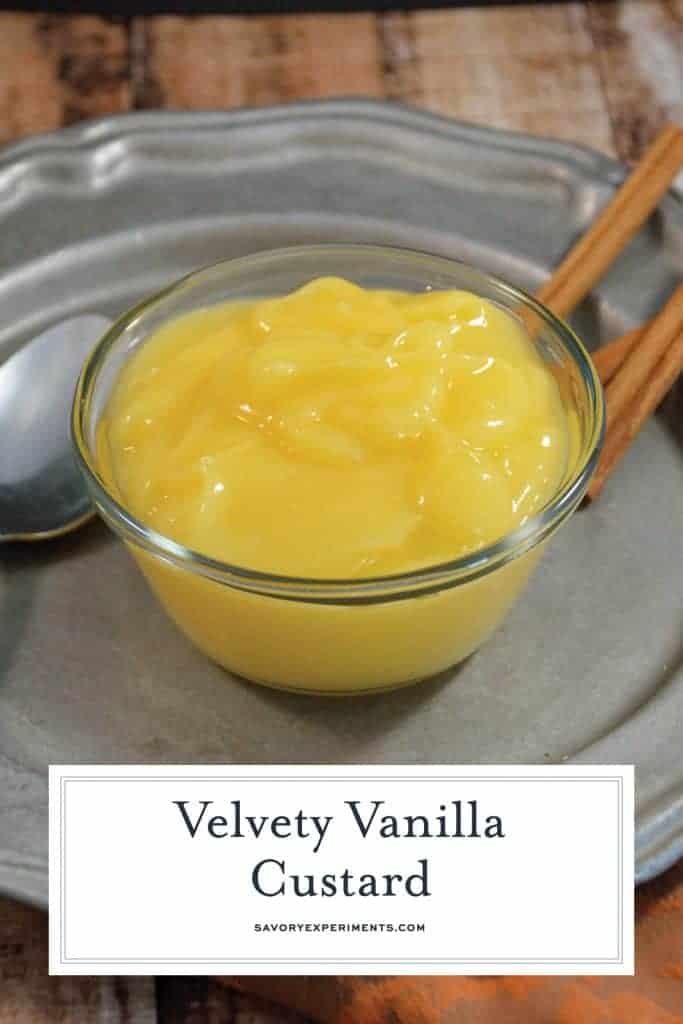 There were no eggs added to it because his wife was allergic to them. 'Bird's Custard' was created and accounts for more than half of the custard eaten in the UK today!
A fun little fact for you is that he also created baking powder. I guess we have Sir Alfred Bird to thank for a couple things!
Questions you might have about how to make vanilla custard:
Is egg custard safe to eat?
It does contain near raw eggs, but has a little bit of heat added. If you are concerned, look for pasteurized or heat treated eggs at the grocery store.
Many other items you eat often also contain semi-raw eggs like hollandaise sauce.
Are pudding and custard the same thing?
Pudding is thickened with gelatin and is a cream or milk base. Custard is is also a dairy base, but thickened with eggs. With that said, the two are commonly used interchangeably. A
merican custard is sometimes referred to as pastry cream in England and France. It is more stable than pudding and therefore makes a better sauce for stuffing pastries.
Can I freeze vanilla custard?
Vanilla custard freezes fine, it just doesn't thaw well. But some folks actually like it frozen. Since it is an egg base, it tastes a lot like ice cream!
Can I make vanilla custard in advance?
You sure can! I would make it up to a day ahead of time, just keep it refrigerated until you are ready to serve it.
If you loved this vanilla custard pudding, check out these easy dessert recipes:
Tools for making homemade custard:
Whisks– I buy whisks in multiple sizes. You never know which one you will need.
Measuring Utensils– While I like to eyeball it, most folks prefer to measure. Suit yourself 🙂
Heavy Bottom Sauce Pan– this will be one of your most used kitchen tools. Having something that is heavy bottom will distribute heat better and prevent burning whether you are using an electric or gas range.
Print Recipe
Vanilla Custard
This Vanilla Custard recipe is a rich, creamy and decadent classic homemade custard!
Ingredients
2

cups

whole milk

2

teaspoons

vanilla extract

4

large egg yolks

room temperature

2/3

cup

sugar

1/4

cup

cornstarch

1/4

teaspoon

salt

2

tablespoons

unsalted butter

diced

Cinnamon

optional
Instructions
Heat milk and vanilla extract in a heavy bottom, medium sauce pan. Meanwhile, place egg yolks through salt into the bowl of a stand mixer fitted with the whisk attachement or a large mixing bowl with a whisk ready to use.

Right before milk starts to steam (do not bring to a boil), start to whisk egg yolk mixture until light yellow in color. Slowly, add steaming (not boiling) milk mixture, whisking continually.

After mixture has been fully whisked together, transfer back to the sauce pan and cook over medium-low heat for 2-4 minutes, or until thickened. Whisk continually to prevent mixture from scalding to the pan. No one wants burnt pudding.

As soon as mixture thickens, remove from heat and whisk in butter.

Transfer to a clean bowl and cover with plastic wrap. Press plastic wrap into the custard mixture so there is no air between the two. This prevents the filmy skin that can develop.

Refrigerate for a minimum of 2 1/2 hours, but up to 3 days.

If you have tried this recipe, come back and let me know how it was!
Nutrition
Calories:
347
kcal
|
Carbohydrates:
47
g
|
Protein:
6
g
|
Fat:
14
g
|
Saturated Fat:
7
g
|
Cholesterol:
222
mg
|
Sodium:
208
mg
|
Potassium:
180
mg
|
Sugar:
39
g
|
Vitamin A:
630
IU
|
Calcium:
161
mg
|
Iron:
0.5
mg
CONNECT WITH SAVORY EXPERIMENTS!

Be sure to follow me on social media, so you never miss a post!

Facebook | Twitter | Youtube
Pinterest | Instagram

Get our FREE 8 Day E-Course on How to Be a Better Home Cook. Sign up HERE!