Oh those Cajun turkey people are SMART! There you are trying to figure out what size turkey to buy and there is a pretty display promising you the BEST Thanksgiving turkey you've ever tasted with a bottle of turkey injection juice.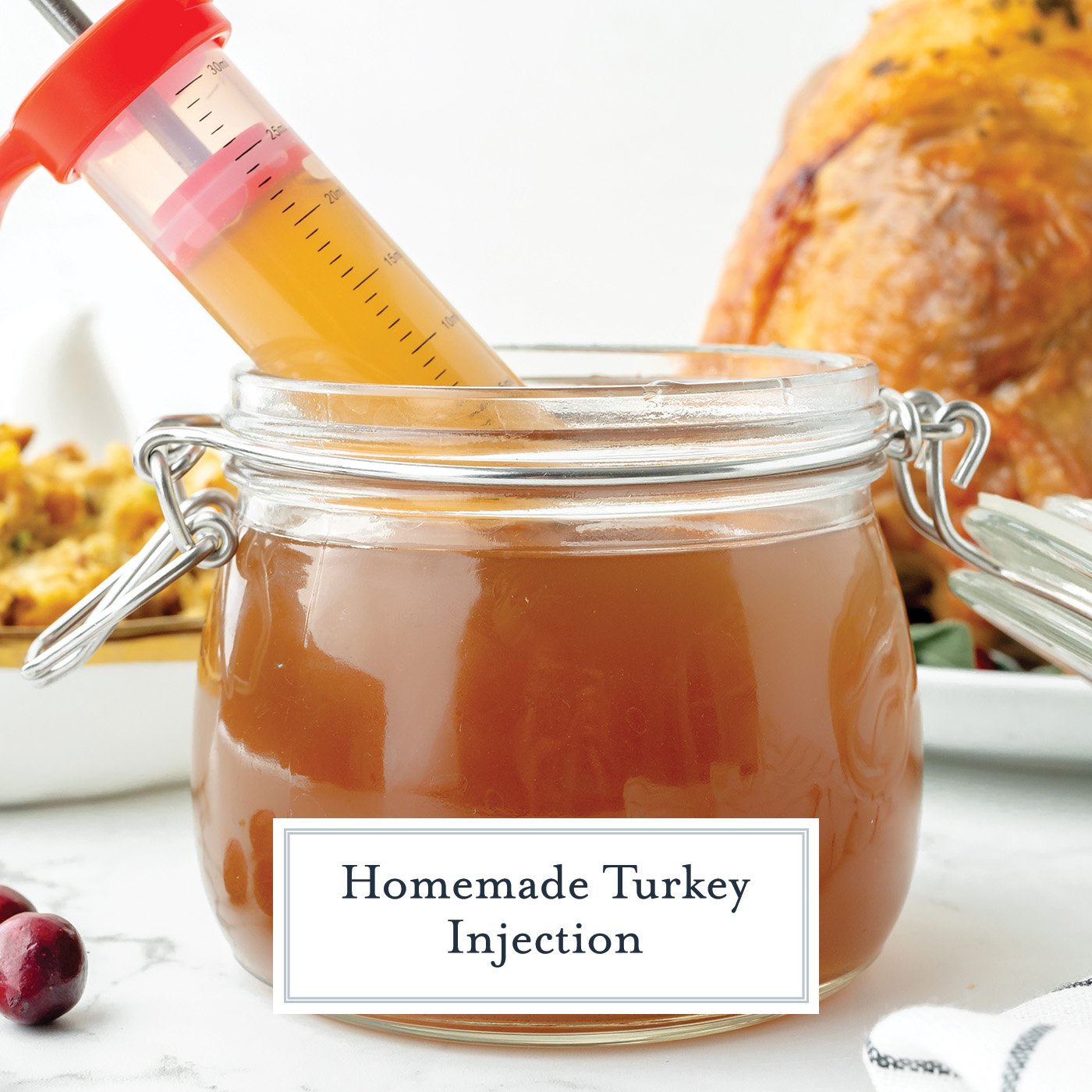 Well, they lie. You can make something even better at home!
Best Turkey Injection Recipe
This Homemade Turkey Injection Seasoning is super easy, taking only 5 minutes for a flavorful and slightly sweet bird just like store bought. It's basically an injectable marinade.
Let's start with a little honesty. I wasn't all that interested in making turkey, let alone the perfect homemade turkey until I realized how many of my foodie friends were struggling.
After posting How to Brine a Turkey on a whim one year and it BLEW UP! I was getting hundreds of emails and comments thanking me or asking emergency turkey-making questions.
I literally spent my entire Thanksgiving answering panicked home cooks across the states. The truth is that there are a million ways to make a really good turkey, but there is no one perfect way. It depends on how many people you are feeding, your preferred method of cooking and of course, taste preferences. Some folks just need a turkey breast recipe instead of the whole bird.
All are good. All are delicious. And all are acceptable.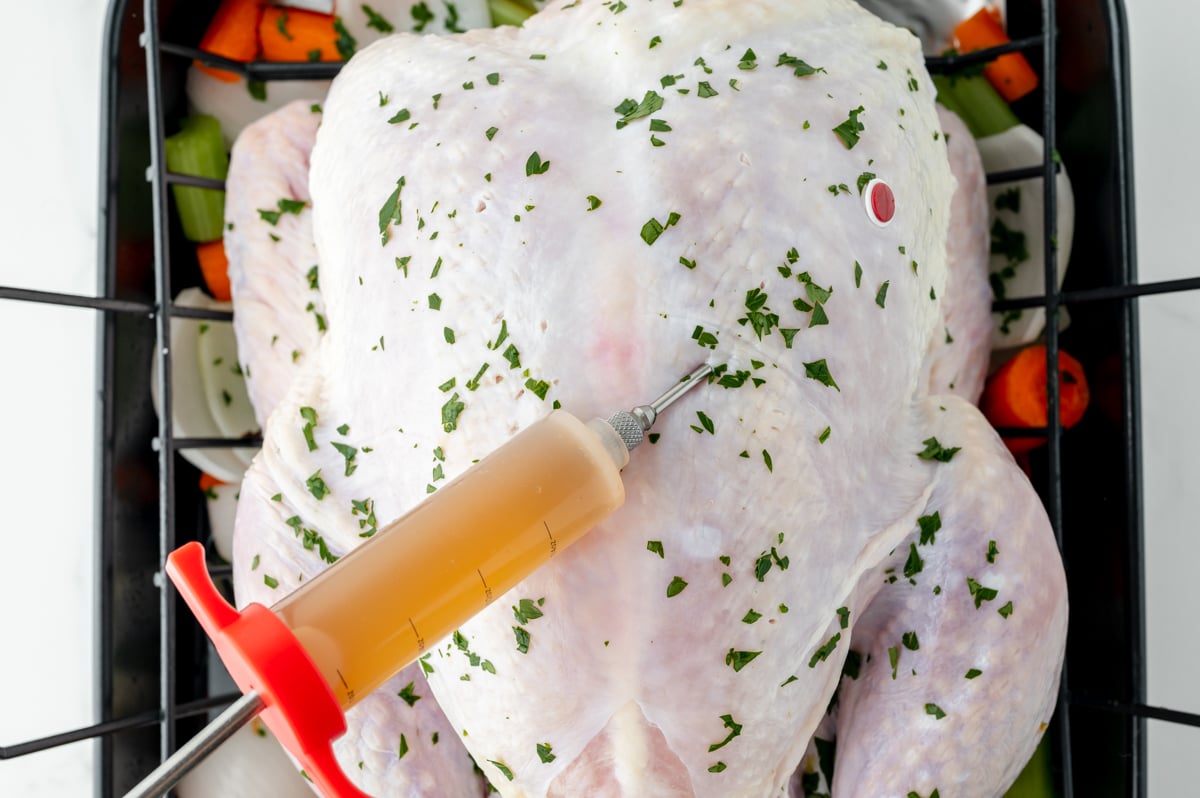 Why You'll Love This Turkey Injection
Similar to a flavorful marinade, this cajun turkey injection recipe is sure to make the best turkey you've ever had.
A lot of flavor – If you're looking for flavorful meat, this injection is the best way to achieve that. It's a simple recipe that is full of great flavors.
Makes a juicy bird – No one likes a dry turkey, and with turkey brines and this injection, you will get the perfect turkey every time.
Flavorful turkey – With the cajun seasoning in this savory turkey injection, you will have the most delicious savory flavor you've ever had.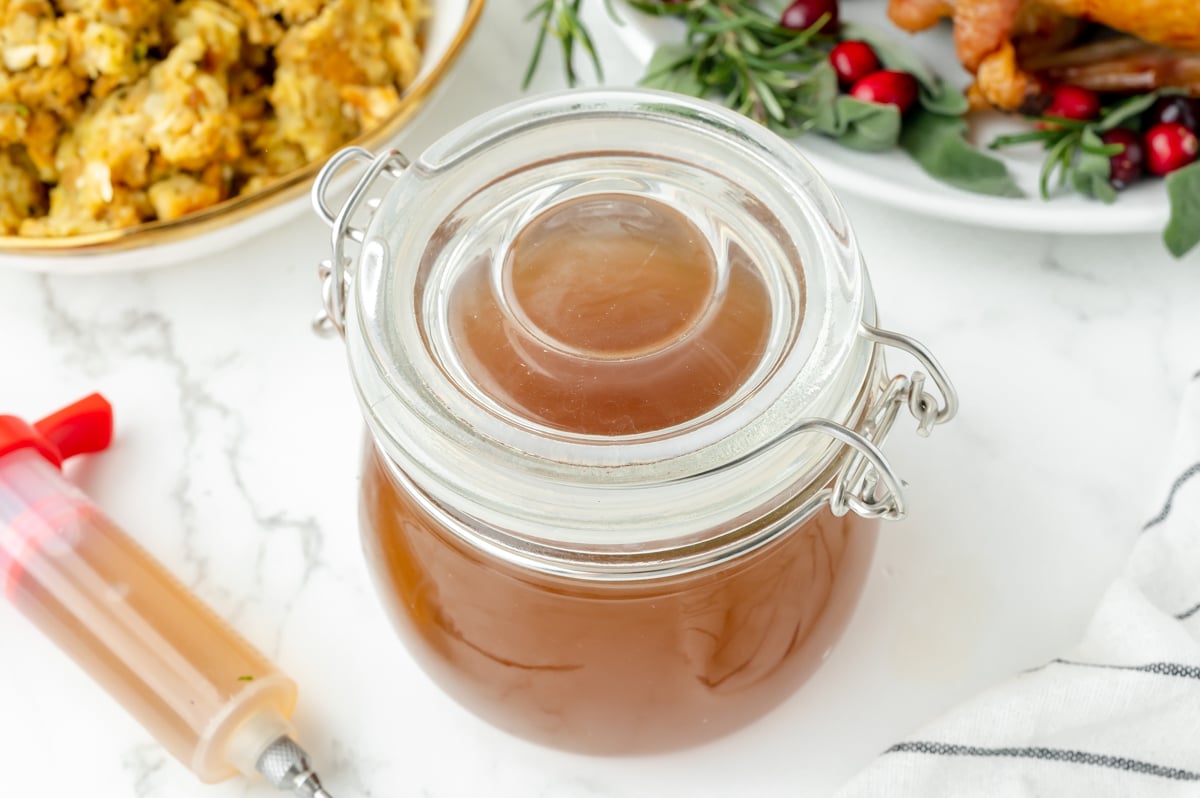 Ingredients for Turkey Injection
Making your own also means you get to customize the flavors and make something special. Add more or less hot sauce, use a broth instead of beer, maybe even take out the honey all together.
Beer – I like using a light beer, but if you really want to use a dark, go for it. Remember, the whole bird will be infused with these flavors, so choose wisely. Low sodium chicken broth can also be used.
Worcestershire sauce– adds a savory depth and sophistication.
Honey– balances the sauce and also helps to stabilize it. You can also use agave nectar.
Hot sauce– A thin cayenne sauce like Texas Pete or Frank's works best. Anything too thick or with chile and garlic pieces will clog up the syringe. This diulates quite a bit so don't worry about your bird being too spicy. Add more for a spicy bird.
Coarse Kosher Salt- Use Kosher salt and makes sure it is fully dissolved. Iodized can leave a metallic taste and regular sea salt has much finer grain- you can use it, but reduce to 1/2 teaspoon.
Make sure you whisk the ingredients in a bowl. I very stupidly made the mistake of putting them all in a jar and trying to shake it together… well carbonated beer + shaking = mess. Also avoid adding any spices or herbs that will clog in the injection needle- like black pepper or flaky herbs. If adding them, put them in a spice grinder to get them real fine first.
Lemon juice and Creole seasoning are also favorites.
Some also use butter or olive oil, but I find this to be a little silly. Butter (or olive oil) will not absorb into the turkey meat and the hole you created will not seal, so all of that butter is just going to bubble out of the hole. I do not believe in butter based injections. It is not water soluble.
You can, however, rub it down with a compound butter, our turkey seasoning and butter or use the cheesecloth method, which suspends on the skin and that helps to crisp and flavor. Butter works best for roast turkey. It will burn on a fried turkey and smoking takes so long, it will start to melt off.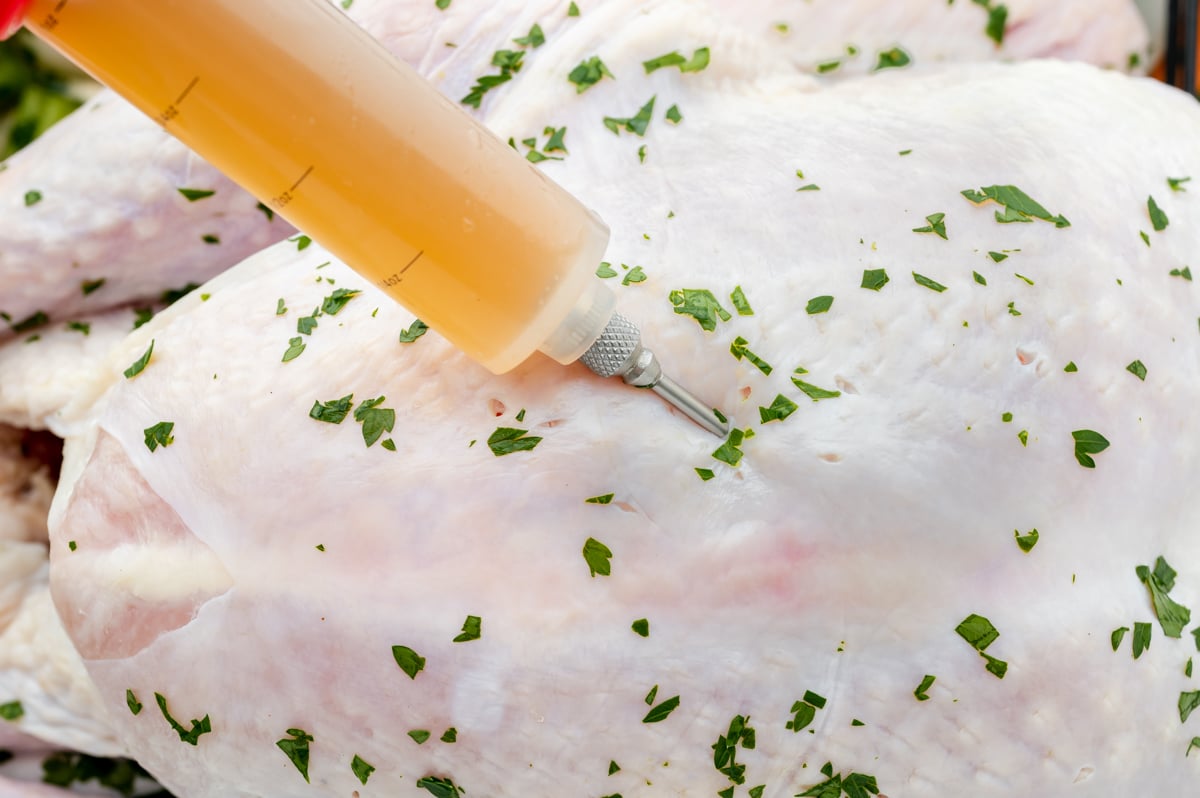 How to Cook a Turkey with Injection
There are literally hundreds of ways to cook a turkey, but the most popular seem to be brining, rubbing and injecting.
Let me tell you a few things about the store bought Turkey Injection Juice:
It is overpriced. Homemade Turkey Injection marinade will cost under $1 and you probably already have the ingredients.
You will never use that whole bottle and unless you make turkey weekly, you'll be throwing it out because it expired.
They taste good because they are full of salt.
You can make your own injection mix less than 3 minutes, save money and not overdo the salt.
You can smoke, fry or roast or even air fry an injected turkey.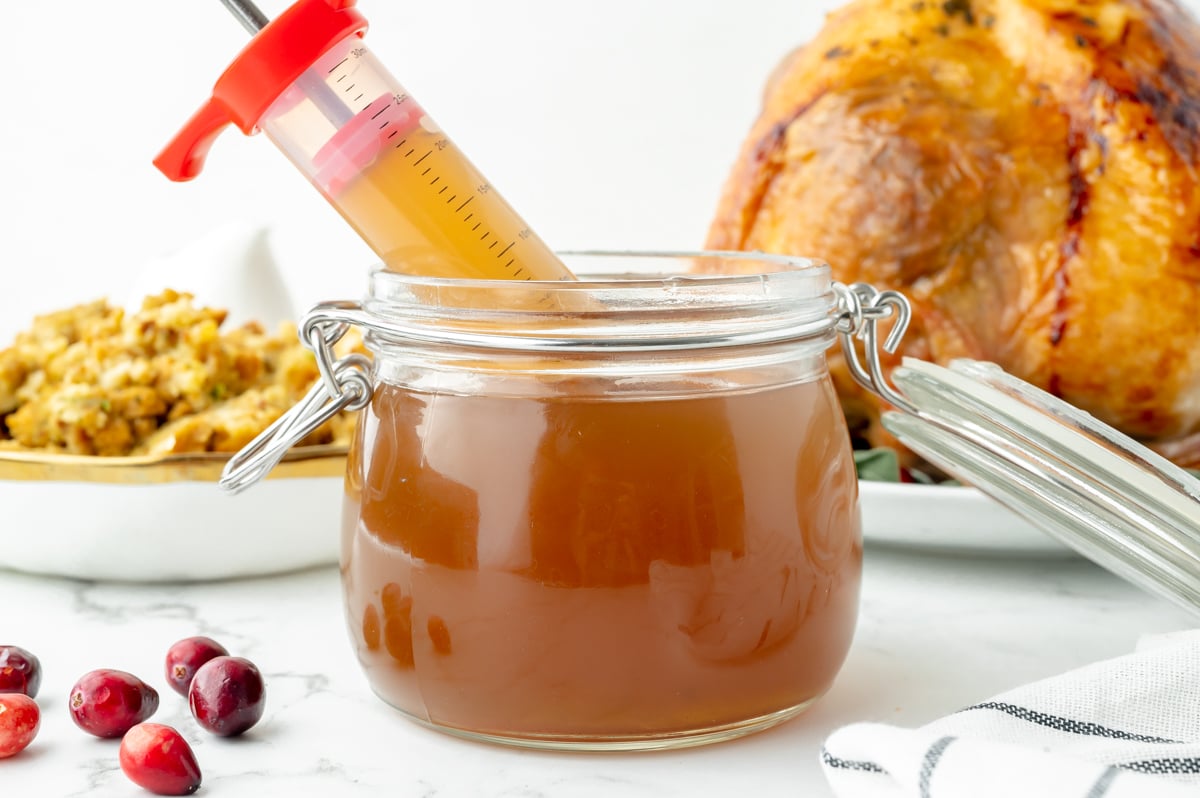 How to Inject a Turkey
The only special equipment you will need is the injector, but you can buy this bad boy once and use it over and over again with many different recipes. I do prefer the heavy duty ones compared to plastic, these often don't have much power to inject into dense meat and then they break.
You can literally infuse anything you'd like using the meat injector. Chicken, pork … ok, it might be a little hard to inject fish, but you get the point. Now you just need to doing the actual injecting.
Plan for 1/2 an ounce of marinade for every 5 pounds of a whole turkey. Plan to inject the turkey right before cooking. Don't too it too early and do it AFTER rubbing with seasoning or butter (if you are doing either of these). The pressure from the massage will push out the marinade. I even place it in the roasting pan before injecting so I don't jostle it out in transit.
Inject both breasts, deep inside, but not all the way through. Take it out and do it at different angles to evenly distribute the marinade.
Inject both thighs, also deep, but don't go through to the cavity.
Depending on the size and meatiness of your bird, inject any other areas that are thick with meat.
No need to inject thinner areas, the marinade won't stay put. Avoid injecting right up next to bones.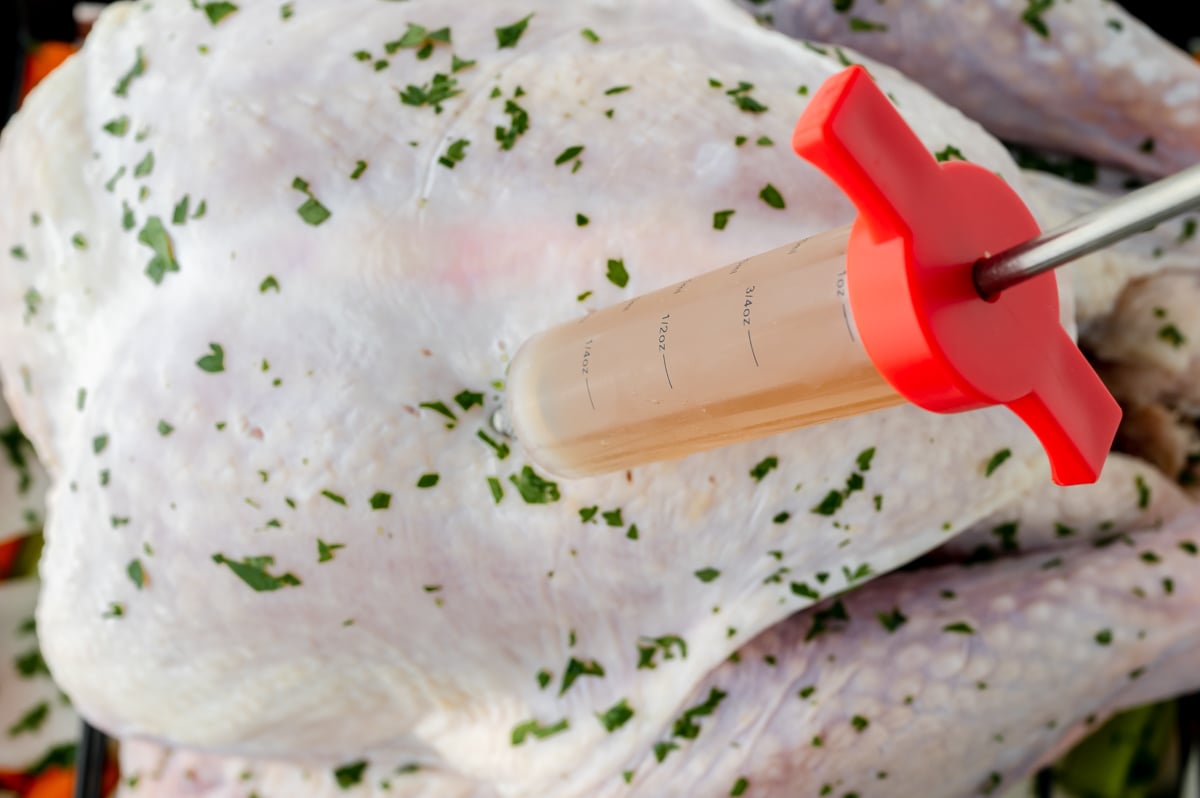 Injection vs Brining
Many people will ask if you can brine and inject a turkey. The turkey does not need both. If brined properly, it will be sufficiently saturated with the brining liquid and can't physically handle any more. So you can try, but most of the liquid will come popping back out through the hole you created.
Here is the truth time though. Using a turkey injection will never replace the process of brining. We've all been there when you realize maybe you should have started brining last night instead of this morning.
And brining for a turkey and can take over 24 hours depending on how big the bird is! Injecting is the second best option. And of course, go old school and just rubbed the bird down with your favorite spice blend and butter.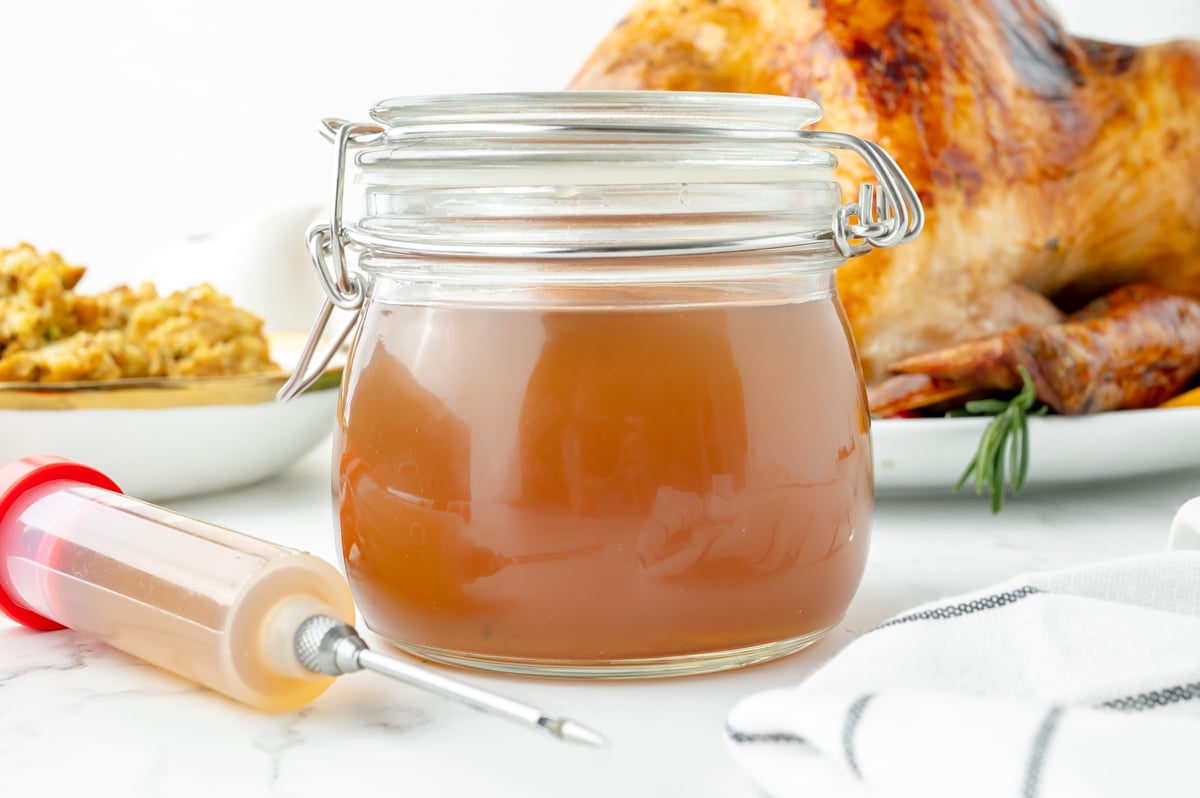 Make Ahead & Storage
Make Ahead & Storage: You can make this blend up to two days ahead of time. Store in an airtight container in the fridge and whisk lightly before using.
Freezing: I do not suggest freezing this recipe. In fact, the alcohol in the beer won't even freeze so you have turkey injection slush.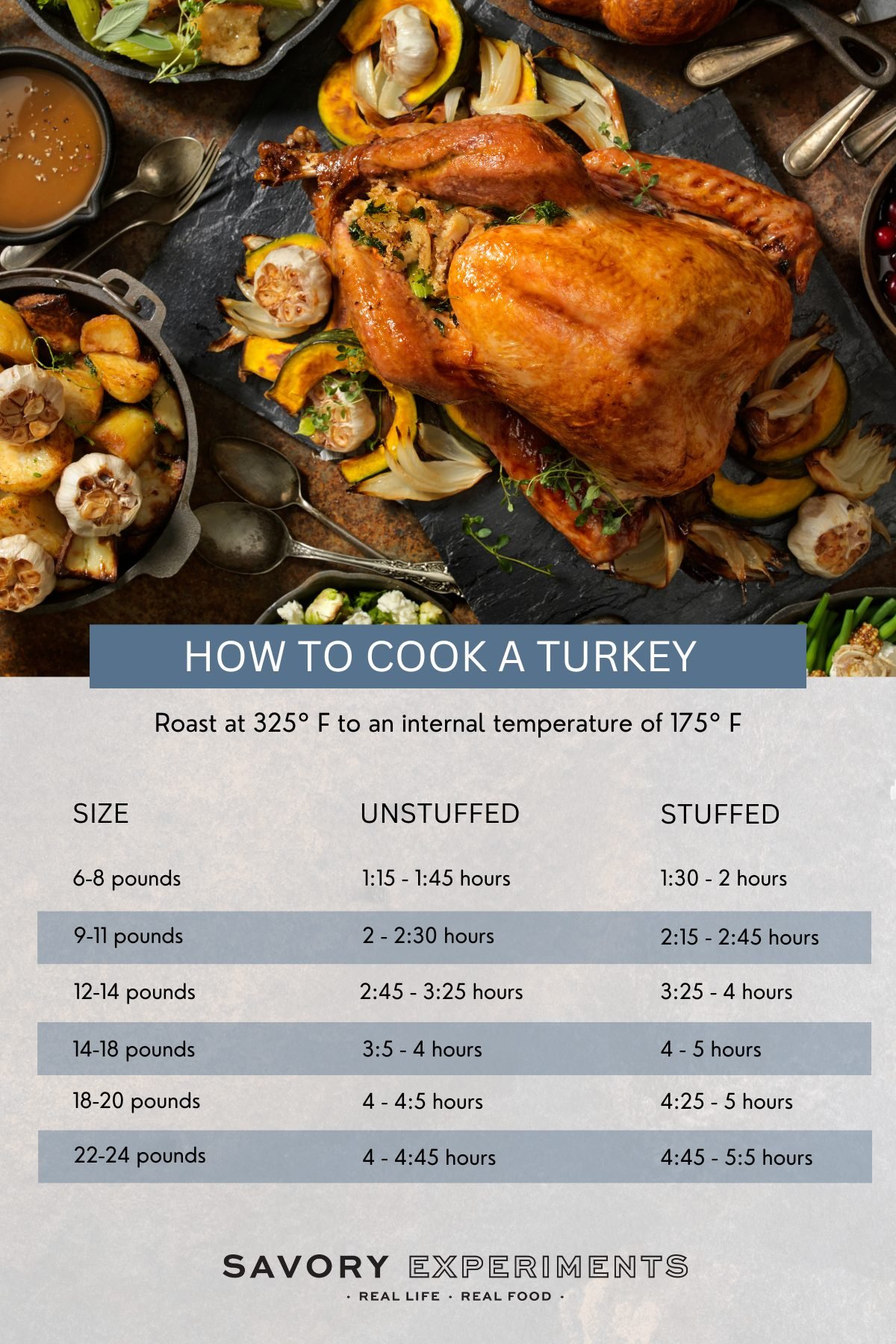 Commonly Asked Questions
How to cook turkey injection seasoning?
You don't have to cook this one! Just whisk it together and you are good to go! If you are worried about the alcohol, don't be. It will get hot enough to burn off and leave behind nothing but flavor while the turkey roasts.
When to Inject a Fried Turkey?
Use the injection seasoning right before you lower the bird into the oil and try not to put too much pressure on it. There aren't any plugs to keep the seasoning locked in.
Also, dab up any spots that spilled out and over with paper towels. The key to a fabulous fried bird is a dry skin.
How long before cooking do you need to inject the turkey?
The beauty of using an injection seasoning is that you don't have to do it in advance. You can inject the bird right before cooking.
In fact, I call it the lazy person's version of brining.
Can I use a turkey injector the night before?
I wouldn't suggest using it the night before because there is nothing to keep the flavor and liquid from escaping. A good bit might absorb into the turkey meat, but some will get out.
You can, however, make the actual turkey injector recipe the night before so it is ready when you are!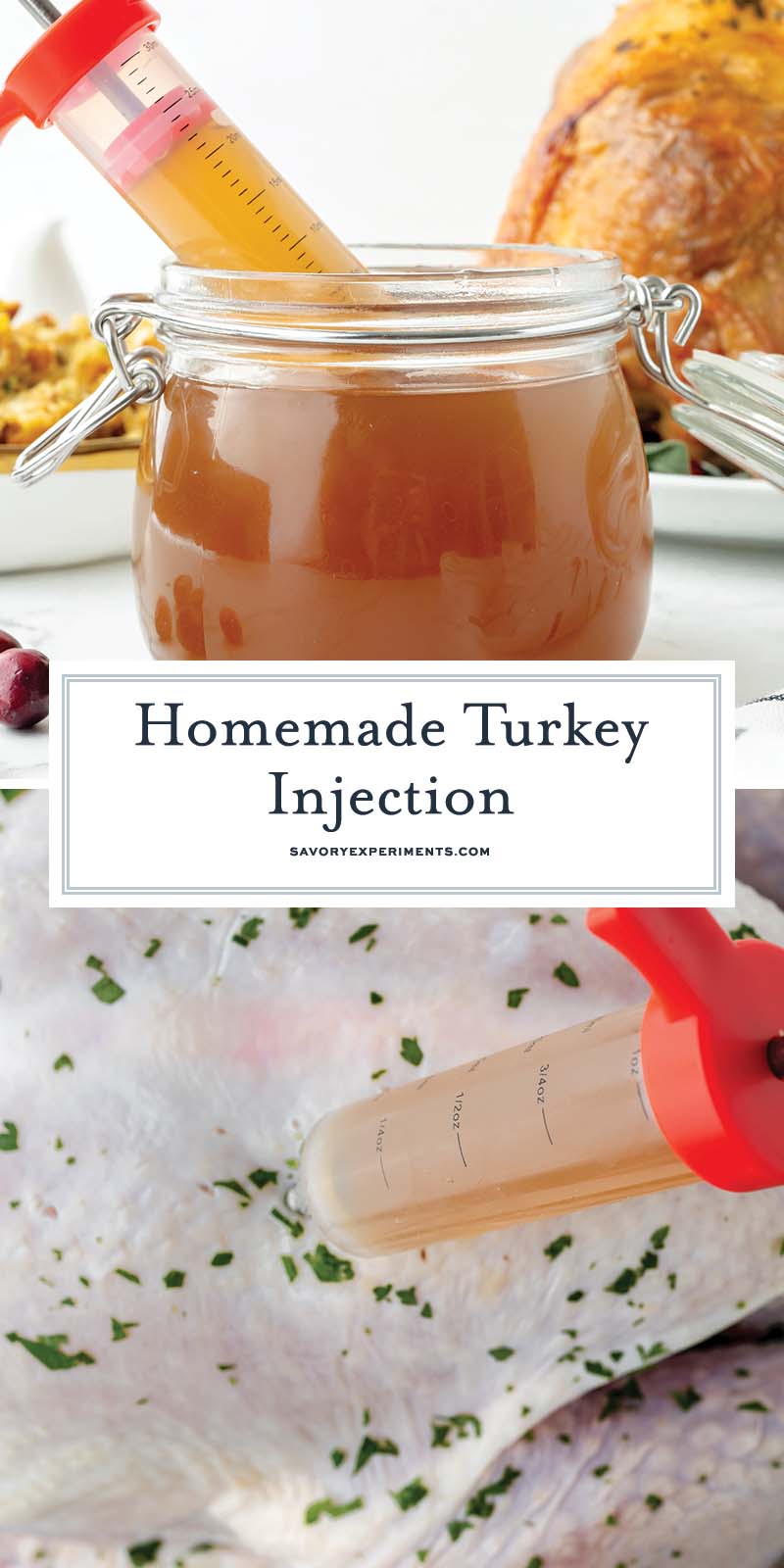 Serving Suggestions
If you are still looking for some ideas for your Thanksgiving dinner table, here are a few of our favorite savory side dishes. We also have some ideas for alternative Thanksgiving entrees if you are serving a mixed lifestyle table.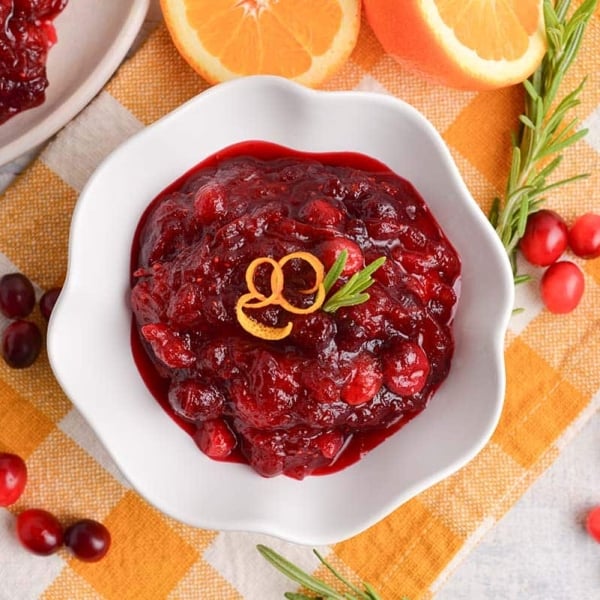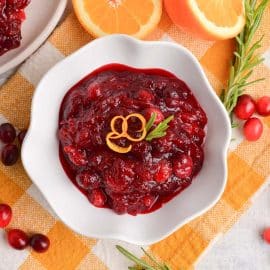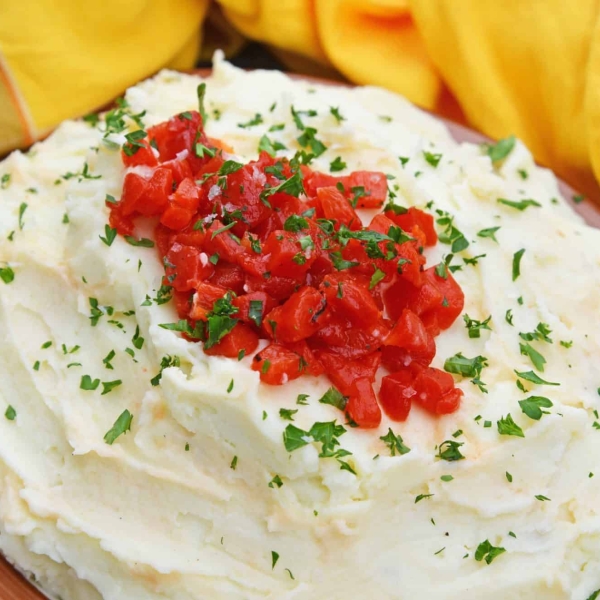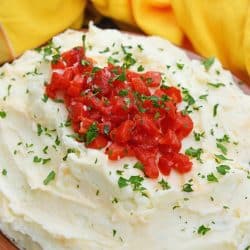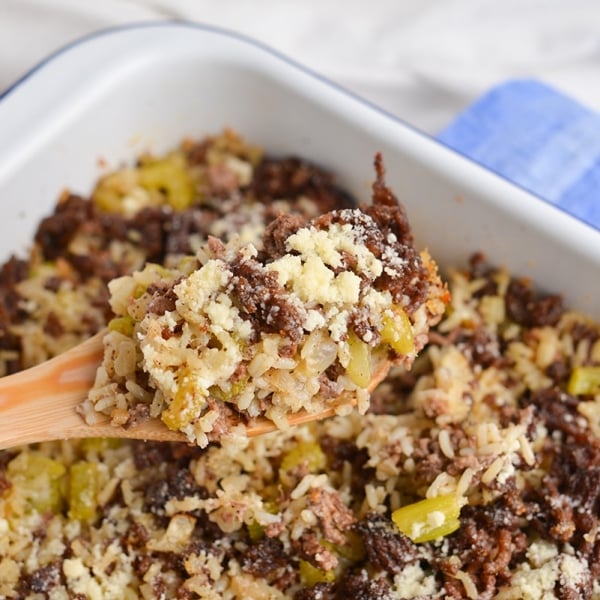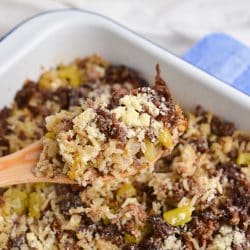 And a few sweet Thanksgiving Dessert Ideas.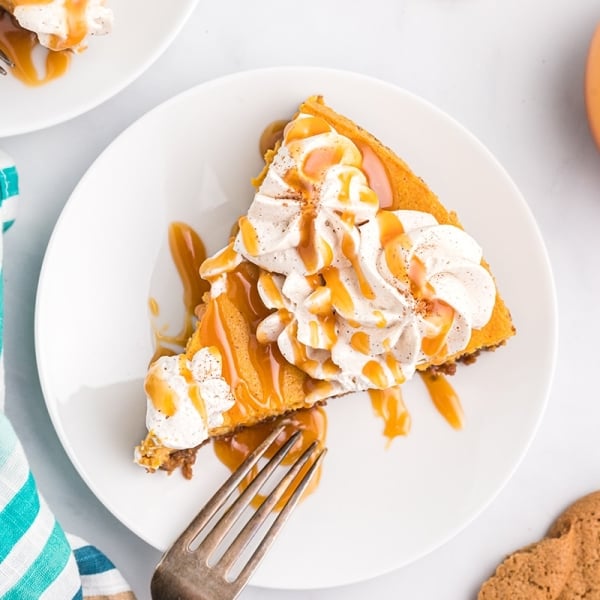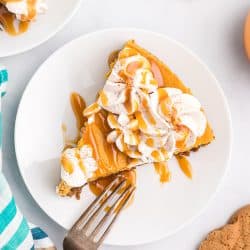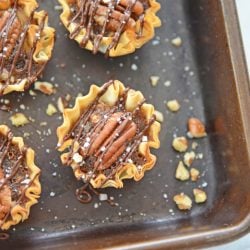 Mini Pecan Pies
With only one bowl and 20 minutes, you can have these EASY Mini Pecan Pies done in no time! This is the BEST Mini Pecan Pies recipe.
See The Recipe!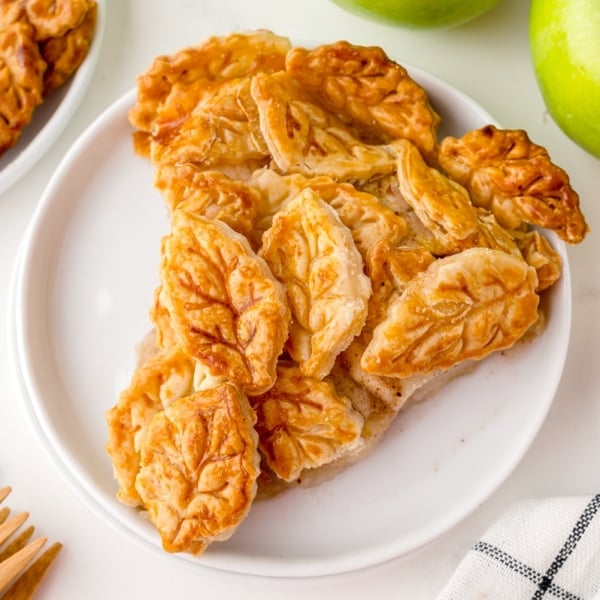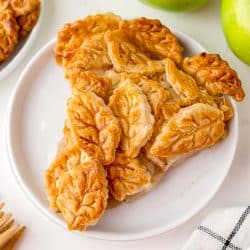 And after you get done eating your turkey, check out our leftover turkey recipes or make Turkey Stock or Turkey Noodle Soup!
More Favorites from Savory Experiments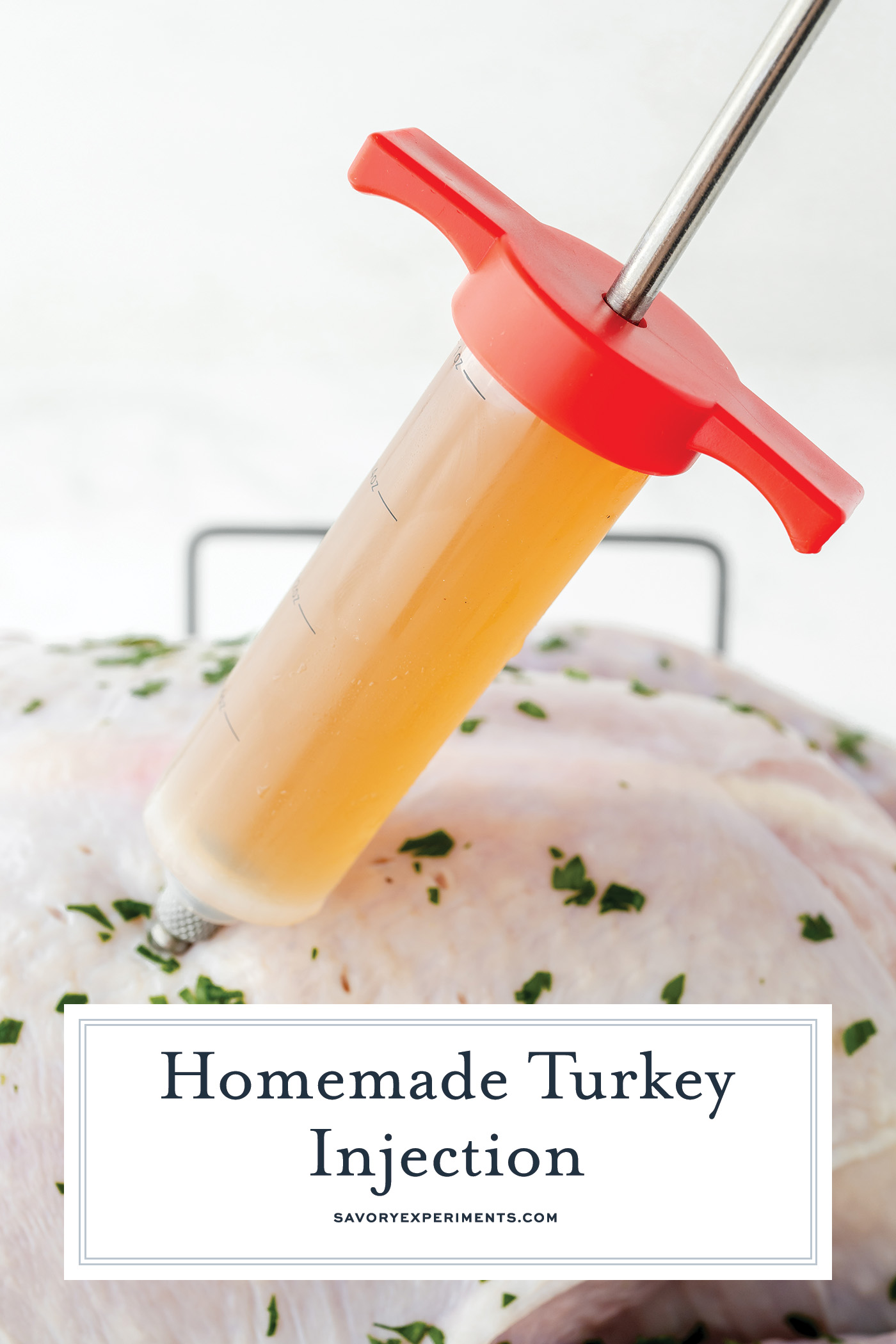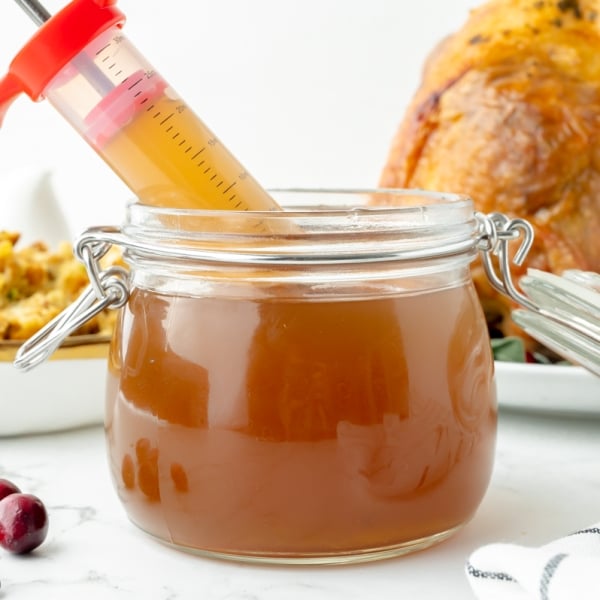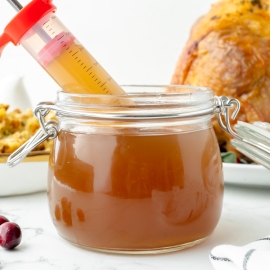 Homemade Turkey Injection Recipe
This Homemade Turkey Injection Seasoning is super easy, taking only 5 minutes for a flavorful and slightly sweet bird just like the Cajun turkey injector they sell at the store!
Instructions
Whisk together all ingredients in a small bowl until combined and smooth.

Inject into turkey before cooking.

If you've tried this recipe, come back and let us know how it was in the comments or ratings!
Nutrition
Calories:
253
kcal
,
Carbohydrates:
46
g
,
Sodium:
2806
mg
,
Potassium:
343
mg
,
Sugar:
38
g
,
Vitamin C:
8.2
mg
,
Calcium:
50
mg
,
Iron:
1.8
mg