This Grilled Lobster Tail recipe shows you how to prepare lobster tails in 2o minutes or less! You will be left with succulent, tender lobster tails grilled to perfection with garlic, butter, and parsley.
This Grilled Lobster Tail recipe is ready in under 20 minutes with a super garlic butter sauce and loads of flavor.
Hubby and I have visited the Caribbean on several occasions and always love to sample the local fare. One of my favorite things to nosh are Grilled Lobster Tails, simply prepared with butter, loads of garlic and parsley.
Cutting the tails in half, they create their own little cooking vessels for tender, sweet meat.
The lobster you eat in the Caribbean is most likely the local spiny lobster, as opposed to a Maine lobster. You can tell the difference by white spots on the tail and they are usually a little smaller than their northern cousins.
Spiny lobsters are less sweet than Maine and are therefore perfect for the added flavor of garlic.
You also want to aim for smaller (and cheaper) tails. Lobsters have very long lives and continue to grow. Older lobsters have less flavor and tougher meat. Smaller tails will also ensure even cooking.
Go too big and you need to poach to prevent drying.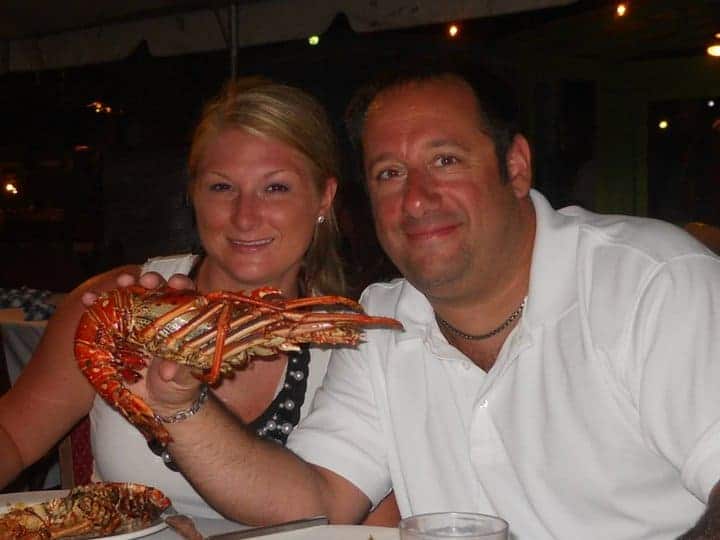 Hubby and I in St. Lucia eating Spiny Lobster at a street festival.[/caption]
We buy ours frozen, as lobsters need to be cooked or frozen soon after harvesting, so unless you are buying a live one, they will surely be frozen.
Luckily, at our store, once per month they go on sale for $5 per tail, so I buy a bunch and save them for later.
Serve with Grilled Beef Filet with Garlic Brandy Butter or Portabella Crusted Strip Steak.
You'll most likely find lobster than is broiled or even poached, but grilling is excellent cooking technique for the sweet meat. The most common issue making lobster at home is that people overcook it.
To get the perfect steakhouse style lobster tail, you want to cook it until it is just opaque. The meat will be slightly springy. At this point, remove it from the heat. Any longer and will end up with dried out, chewy lobster meat. No good!
If you are making this recipe for a crowd, a romantic night in or just want to be ahead of the game, you can even prep everything ahead of time.
PRO TIP: If you want a BIG garlic flavor, minced or crush your garlic. For a less intense garlic flavor, coarsely chop or slice garlic cloves. The flavor intensity is based on how many cells are ruptured, more damage and trauma (like crushing) = more garlic taste.
Go ahead and cut the lobster tails in half, wrapping them tightly in plastic wrap and putting them back into the fridge.
The butter, garlic and parsley sauce can be mashed together and put in the fridge until you are ready to cook as well.
Tools for making Grilled Lobster Tails:
Ramekins– I like giving folks their own individual sauce cups. Then you don't have to worry about double dipping!
Ramekins are also great for ingredient preparation and baking mini soufflés. If you want extra garlic butter sauce on the side, these are perfect!
Kitchen Shears– Sometimes kitchen shears are more efficient than a knife. Jobs like snipping herbs, cutting meats or making your biscuits into fourths are good examples! Always make sure to hand wash anything with a blade, as the dishwasher will dull the edges.
You can also use a super sharp knife, cutting your lobster shell down the center.
Southern Salmon Croquettes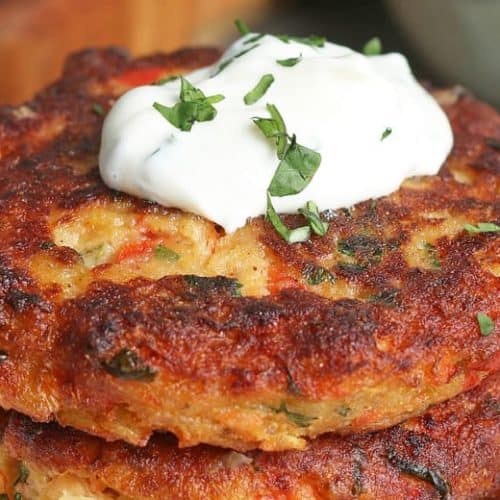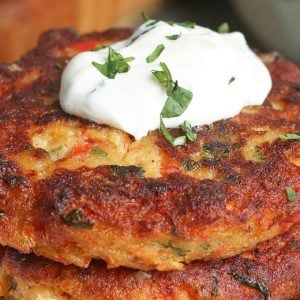 Salmon Croquettes are a southern classic! Full of salmon, peppers, onions and seasoning, this versatile dish is sure to be loved by all!
Baked Cod with Lobster Topping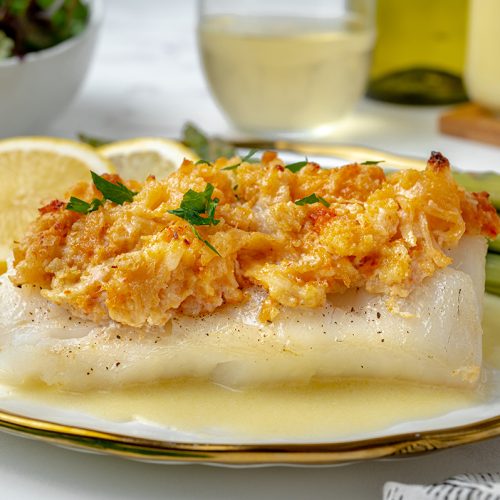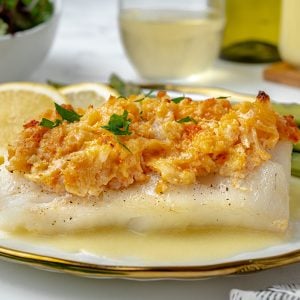 Tender Bake Cod topped with buttery lobster chunks in a creamy topping and finished with velvety beurre blanc sauce.
Questions you might have about how to make grilled lobster tails:
Can I use frozen lobster tails? Yes, in fact, most lobster tails (if you don't actually see them attached to the lobster) were previously frozen.
Can you get farm raised lobster? To my knowledge, no, which is one of the reasons they are still so expensive.
Can I use this same recipe but make broiled lobster tails? Sure! Simply follow the instructions for my broiled lobster tail recipe, but use this garlic butter.
How do I defrost lobster tails? Thaw lobster tails by placing in refrigerator for 12-24 hours, depending on size.
If you need them fast (lobster emergency!!!) place in an airtight plastic bag and submerge in cold water. You can also run water over them until fully thawed, then place back into the fridge until ready to cook.
Should I serve them with anything? I like to keep my lobster meat fairly simple since it is so good on its own, but if you want to dress up the plate or add a little zing, a lemon wedge is the way to go!
Fun Lobster Facts~
During Colonial times, lobster was considered to be the "poor man's food", a bottom feeding crustacean, it was fed to livestock.
Only Maine lobsters have claws, Caribbean lobsters called spiny lobsters, have no claws.
Lobsters can live as long as 100 years. They rarely get "sick" and die, they need to be preyed on.
Lobsters continue to grow through their life, so a lobster can grow up to 40 pounds! That puts your pricy 7 pound lobster to shame. Ha!
Lobsters are a great form of protein, omega 3 fatty acids and are low in fat and calories (until you add the butter….)
Lobster molt their shells through the lifecycle, also known as soft-shelled lobster, kind of like soft-shelled crab. They are plentiful from July-October.
Live lobsters aren't red, they are blue, yellow or brownish.
This Grilled Lobster Tail recipe is ready in under 20 minutes with a super garlic butter sauce and loads of flavor.
CONNECT WITH SAVORY EXPERIMENTS!

Be sure to follow me on social media, so you never miss a post!

Facebook | Twitter | Youtube
Pinterest | Instagram
Get our FREE 8 Day E-Course on How to Be a Better Home Cook. Sign up HERE!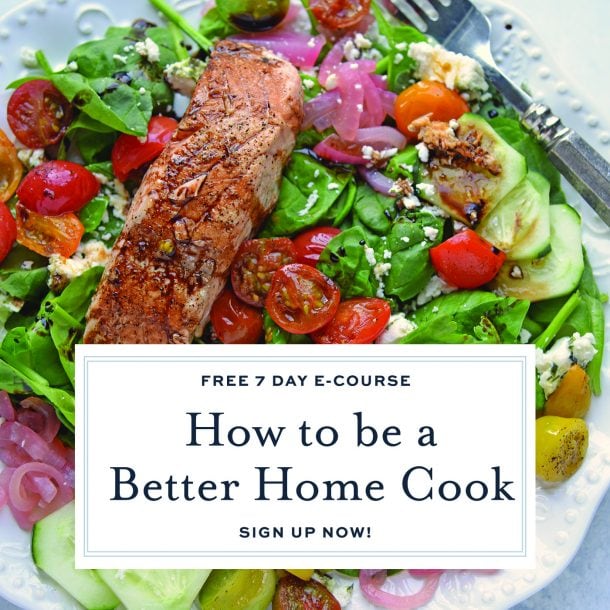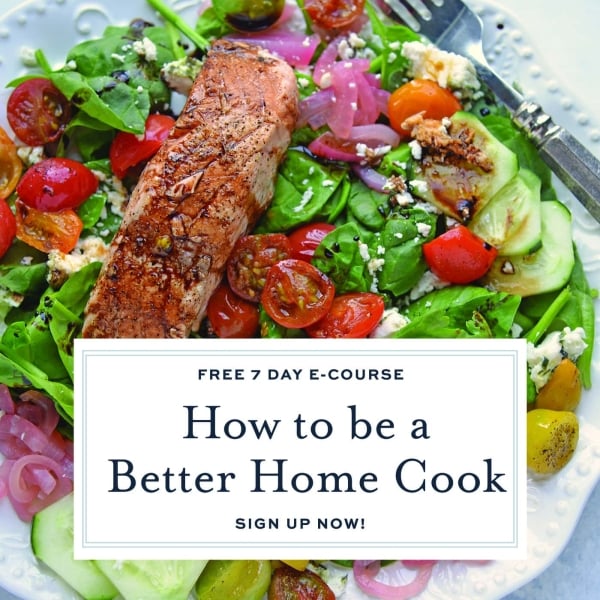 Grilled Lobster Tails
Succulent, tender lobster tails grilled to perfection with garlic, butter and parsley.
Instructions
Using kitchen shears, cut lobster tails down the center vertically and symmetrically.

Combine butter through parsley in a small bowl, microwave until melted.

Heat grill to high medium-high heat. Place lobster tails on the top grill rack, meat side down for 3 minutes. Turn and spoon butter mixture over lobster meat. Close lid and grill for and additional 5 minutes or until meat is white and pearly.

Remove and lightly season with fine sea salt and freshly ground pepper.

Enjoy your Grilled Lobster Tails!

If you've made this recipe, come back and let us know how it was!
Nutrition
Calories:
131
kcal
|
Carbohydrates:
1
g
|
Protein:
5
g
|
Fat:
11
g
|
Saturated Fat:
7
g
|
Cholesterol:
70
mg
|
Sodium:
137
mg
|
Potassium:
86
mg
|
Vitamin A:
525
IU
|
Vitamin C:
3.6
mg
|
Calcium:
38
mg
|
Iron:
0.3
mg