The Bloody Mary Mix Cocktail might be the most iconic of brunch beverages coming in right behind the a mimosa. I always joked that if I could get my alcohol with antioxidant rich veggies, then I was "drinking healthy".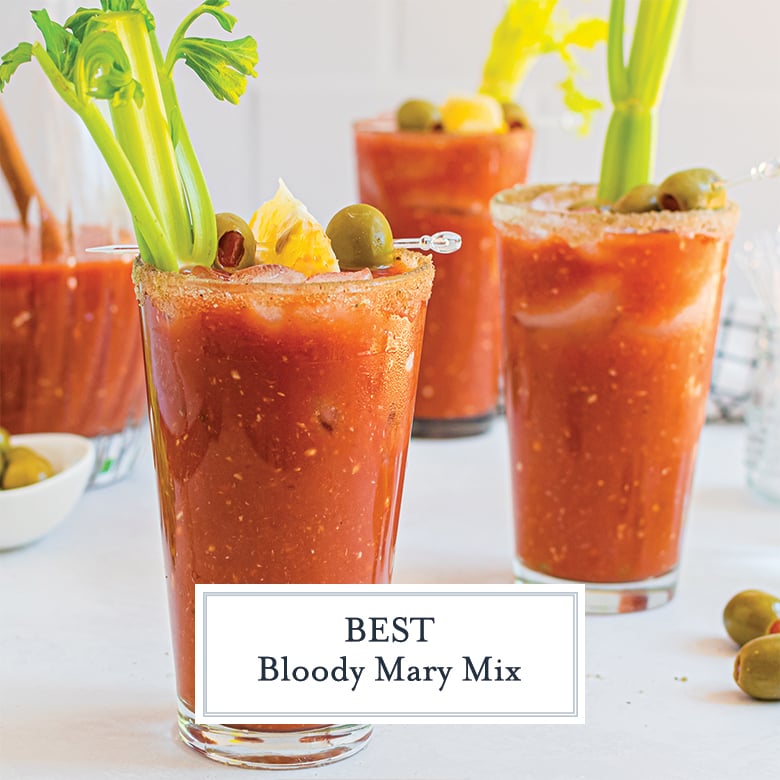 Comprised of tomato juice and several other zesty ingredients and vodka, it is sure to wake you up and give you a good start to the day. Or help cure the hangover…
Bloody Mary Mix
The classic brunch cocktail all starts with a mix and this blend can make or break it. I've certainly had a bad bloody Mary and I am sure you have too.
This bloody Mary recipe is a for a clean and basic drink. No frills, no ridiculous add-ins or garnishes. However, feel free to make your own unique blend.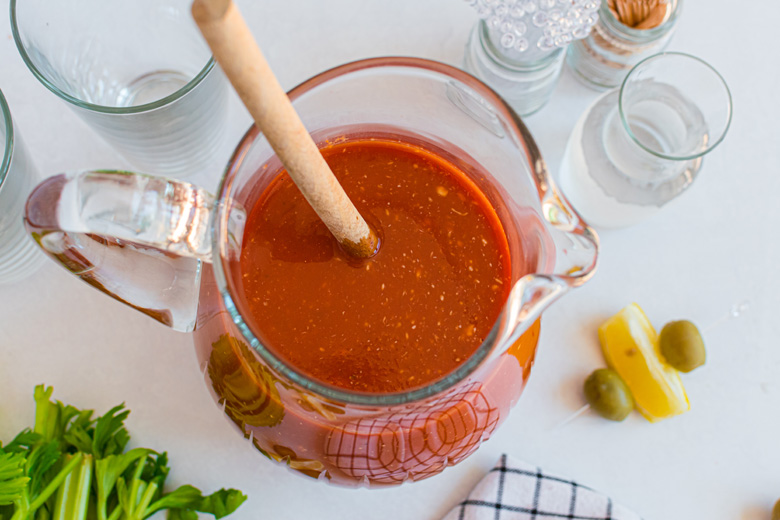 Ingredients vary from version to version, but all of them require tomato juice. From there the options are large from the actual drink to over-the-top garnishes.
Bloody Mary Ingredients
It all starts with the tomato juice, which I will talk about in length below. My recipe uses these other simple ingredients:
Prepared Horseradish– don't get all fancy trying to grate fresh horseradish, the prepared version that is suspended in vinegar. This plumps it up, enhances the flavor and also keeps it from getting too stringy and tough.
Lemon Juice– lemon gets it bright and zingy, but make sure to use fresh lemons, not bottled juice. To get the most out of your lemons, heat them for several seconds in the microwave, roll them around on the counter to loosen and then use a citrus press. An average lemon has 2 tablespoons of juice.
Worcestershire Sauce– possibly the most mispronounced ingredient in all the kitchen, this robust sauce gives depth and flavor.
Black Pepper– use freshly ground black pepper. If you use pre-ground, you might need to add a little more.
Kosher salt– In the salt world, Kosher salt is the least salty of the salts, so it seasons without making you pucker.
Hot sauce– use a thin, vinegar based hot sauce like Texas Pete, Tabasco or Frank's.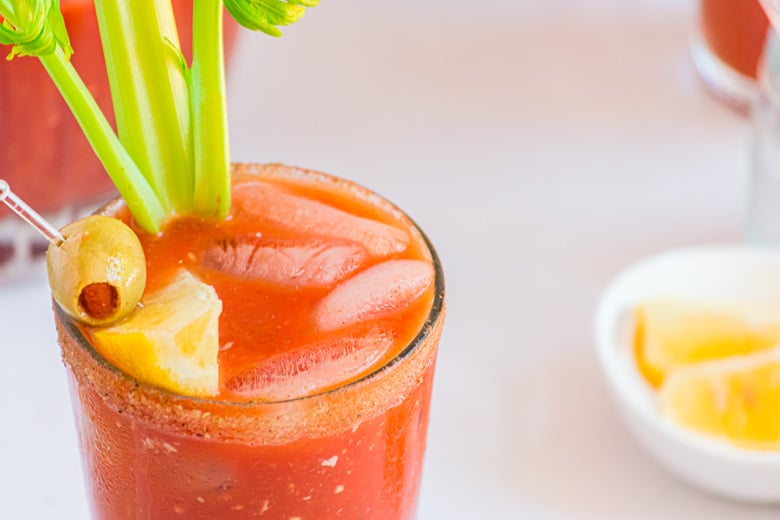 From here some folks add clam juice for a Clamato or other unique ingredients including garlic, cucumber, celery seed, lime juice, pickle juice and the list goes on. As previously mentioned, this recipe is for the best basic bloody Mary mix, to be tampered with at your leisure.
Shaken, not Stirred
How do you make a bloody Mary? The process is simple.
First, combine all of the ingredients except vodka in a shaker. Shake, shake, shake it like a Polaroid picture… then you have a choice. You can serve it like this or you can strain it.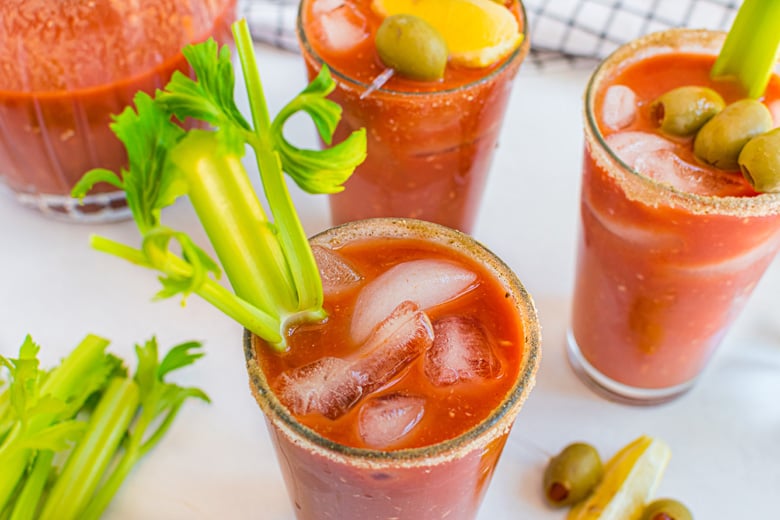 If you fall into the straining camp, I highly suggest you make your bloody Mary mix ahead of time and allow it to sit so the flavors of the items you'll be straining out (primarily horseradish and black pepper) have time to permeate the rest of the tomato juice.
If not (I happen to like these bits- it adds some texture), then you have the choice to make the mix ahead of time or right before you blend.
Now, you can add ice and shake to chill, straining out ice as you pour OR you can serve this mix right over ice cubes.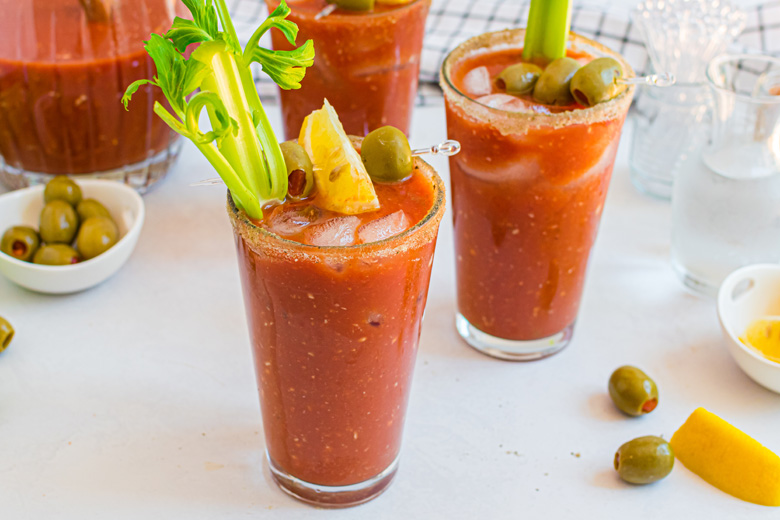 Virgin Bloody Mary's would be good to go right here, but if you want a spiked Mary, now you'll add vodka. Simply pour on top of the mix and give it a good whirl with a long mixing spoon.
Bourbon and whiskey have also been known to be used and served alongside BBQ.
Tomato Juice
This drink is really all about the tomato juice so I highly recommend you taste test a few before deciding on one for your bloody mary mix.
You'll want to look for something that isn't too think and also has a clean, non-metallic or overly acidic flavor.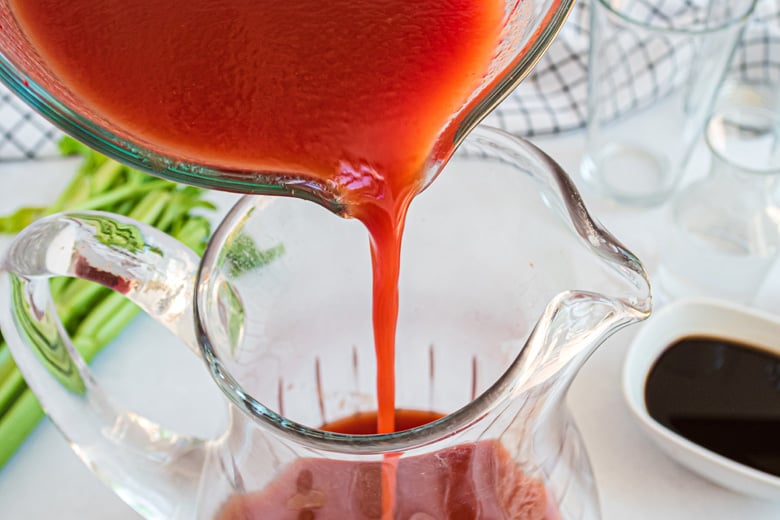 Sacramento and Campbell's brand are one of the most popular. Both come in a can, not a jug (just so you know what to look for). I've also used V8 and although it is a little thicker, in my head it is healthier because I am getting even more veggies.
You can even make your own using a juicer.
Rimmers
What do I use to rim a bloody Mary? Celery salt is the traditional rimmer of choice. I happen to love it and generally use it, but there are other options too.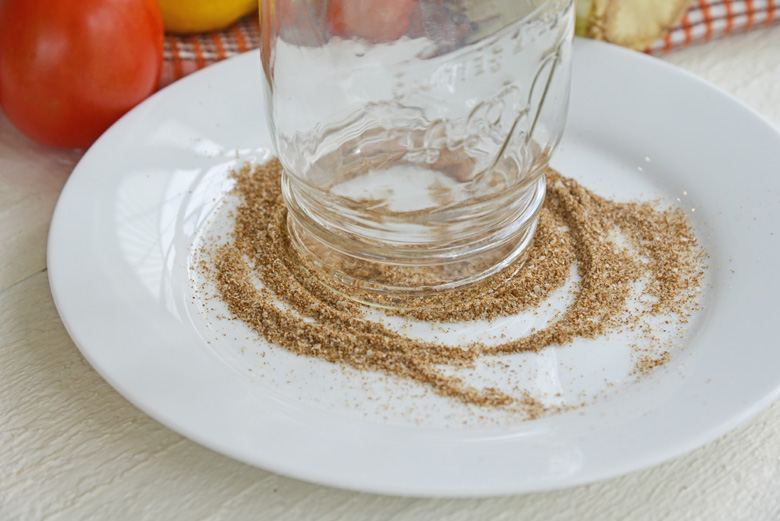 Here in Maryland, we live for Old Bay on our Bloody Mary's alongside some jumbo lump crab cakes. You can use straight up salt, rimming blends that are marketing specifically for tomato based drinks, bacon crumbles or nothing at all.
How do I rim a glass?
In a small saucer or shallow plate, add a few tablespoons of liquid. Water or lemon juice work best.
Holding the glass by its stem, carefully tip it toward the first saucer at about a 45-degree angle. Dip the glass into the liquid, swirling the glass through the juice so that the rim becomes moist.
In another saucer, place 2 tablespoons of whatever you are using to rim your glass. In my case, celery salt.
Roll the wet part of the glass in celery salt.
Pour bloody mary mix beverage into the glass because careful to not disrupt the rimmer.
Garnishes
I'm sure you've seen these jaw dropping bloody Mary garnishes. Here we just used old school celery, but feel free to liven yours up with some of these ideas.
Stuffed olives
Skewered steamed shrimp
Snow crab claws
Pickles or cornichons
Cocktail onions
Pickled carrots, beets or asparagus
Lemon or lime wedges
Chunks of cheese
Pepperocinis
Bacon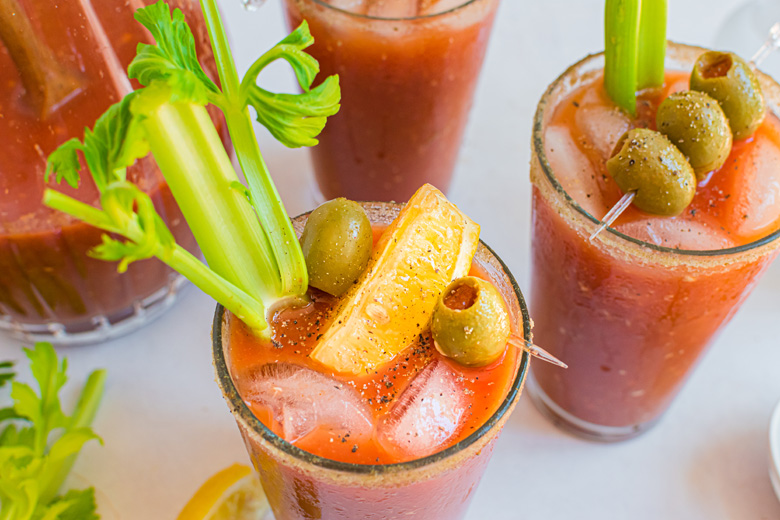 Bloody Mary Bar
What should I put on a Bloody Mary Bar? I like to make the bloody mary mix without horseradish or hot sauce, or at least halve these ingredients for those who don't want any spice.
Then have a small bowl of both on the table, allowing guests to add their own to make a personalized drinks.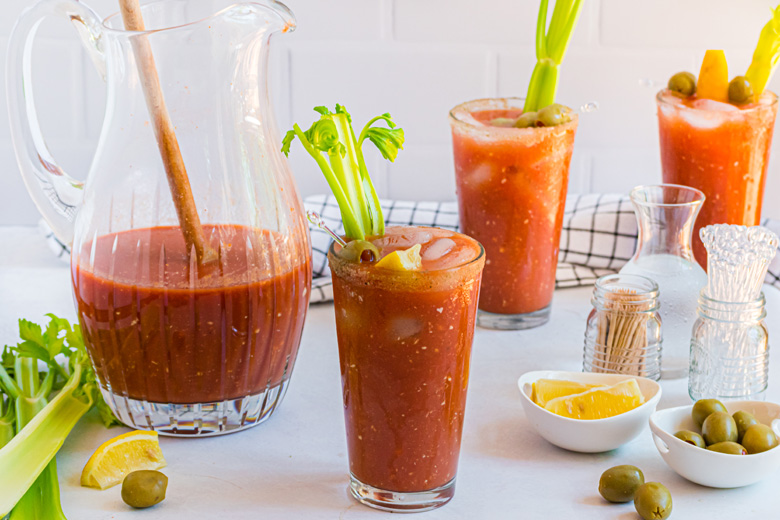 Next, have several bowls with the garnishes above. Make it even more fun and special by creating a contest to see who can create the most over-the-top Bloody Mary using only the items on the table.
Make Ahead
You can surely make your bloody mary mix ahead of time, up to a few days, but keep in mind that some of the ingredients might be a little muted by then. I like to prepare mine no more than 2-3 hours in advance.
Some of the ingredients also have the tendency to sink, so it will need another good shaking or stirring before being used.