It turns out that figuring out how to make shrimp cocktail was surprisingly easy. No fancy ingredients boiled into the water and no stress about getting the shrimp cooked just perfectly.
It's so easy!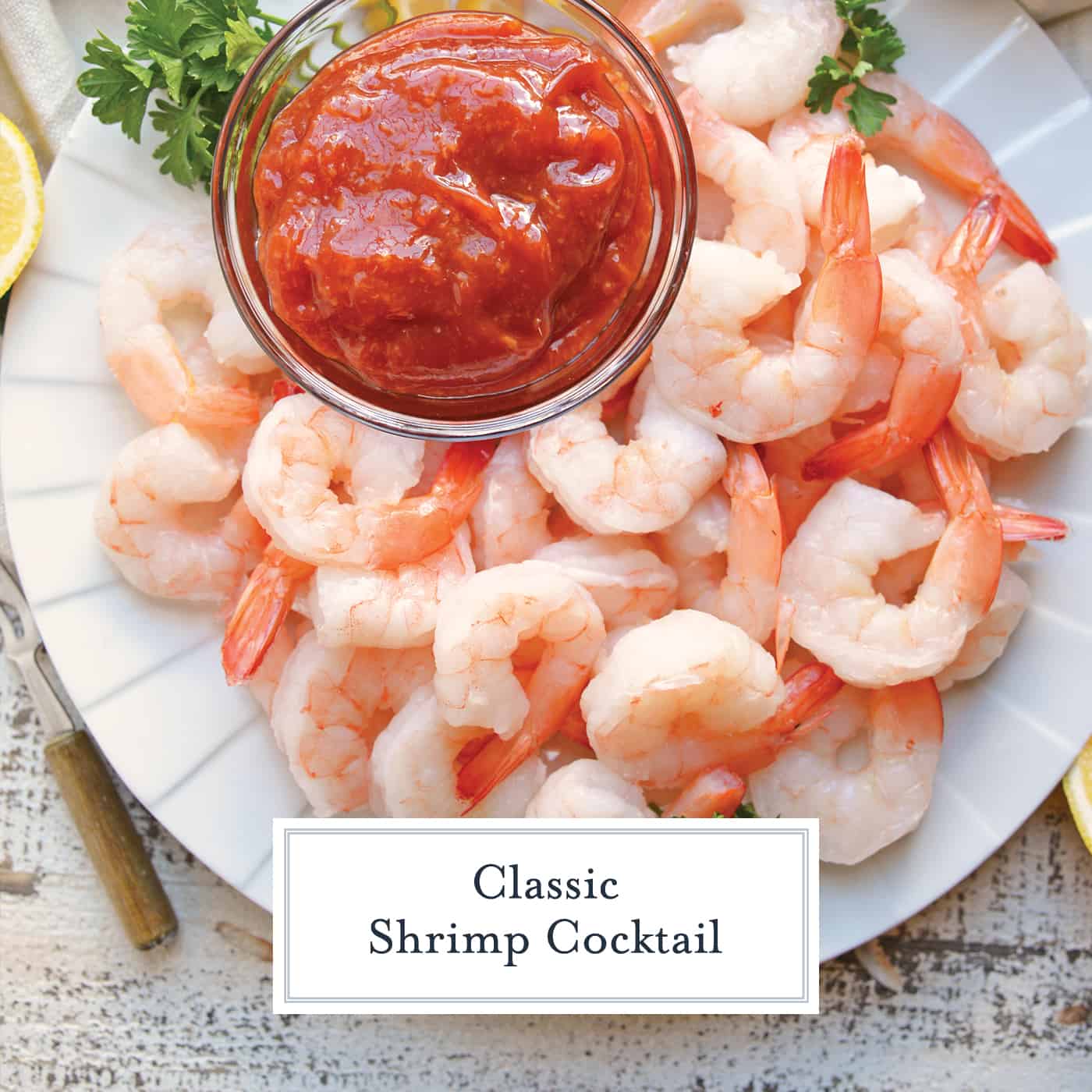 This Classic Shrimp Cocktail recipe goes back to the basics to result in the best shrimp cocktail. Prepared with just lemon and salt, this classic dish will be the hit appetizer at all celebrations!
Some people overthink shrimp cocktail. Boiling carrots, celery and whole peppercorns for up to 30 minutes, essentially making a brine for a quick dunk.
I've made shrimp that way and I've made them this way and let me tell ya… I can't tell the difference.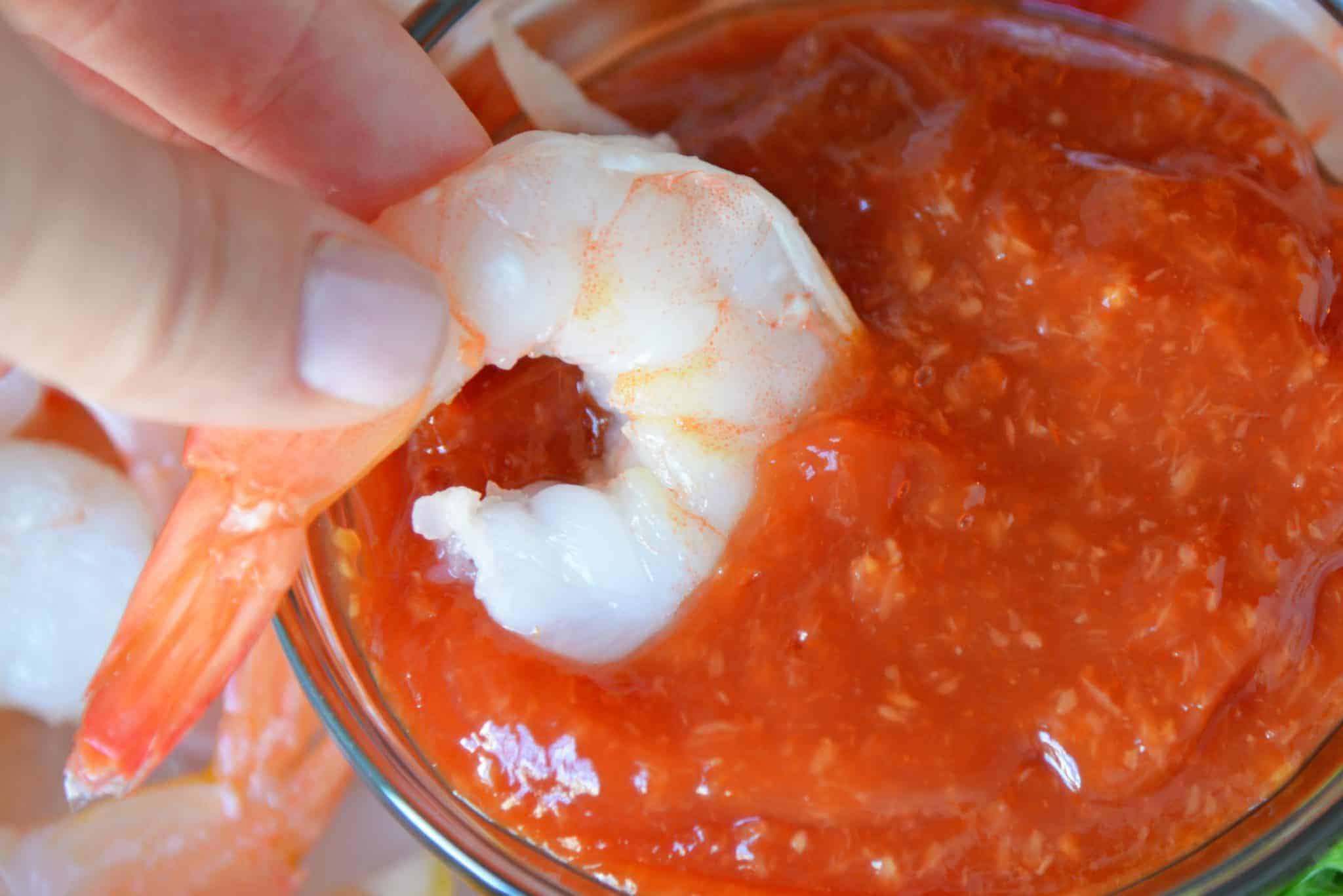 I also think people are intimidated by shrimp cocktail. Either worried about overcooking or undercooking and thus ruining a pricey appetizer or munchie.
It doesn't take much heat or time to cook shrimp. The shrimp will tell you when they are done. They turn pink and their tails curl.
At that moment, you need to stop the cooking process by removing them from the heat element and cooling them down. Any residual heat will continue the cooking process and risk you having rubbery shrimp.
No one wants that! That's why it's important to rinse with cold water – don't skip this step!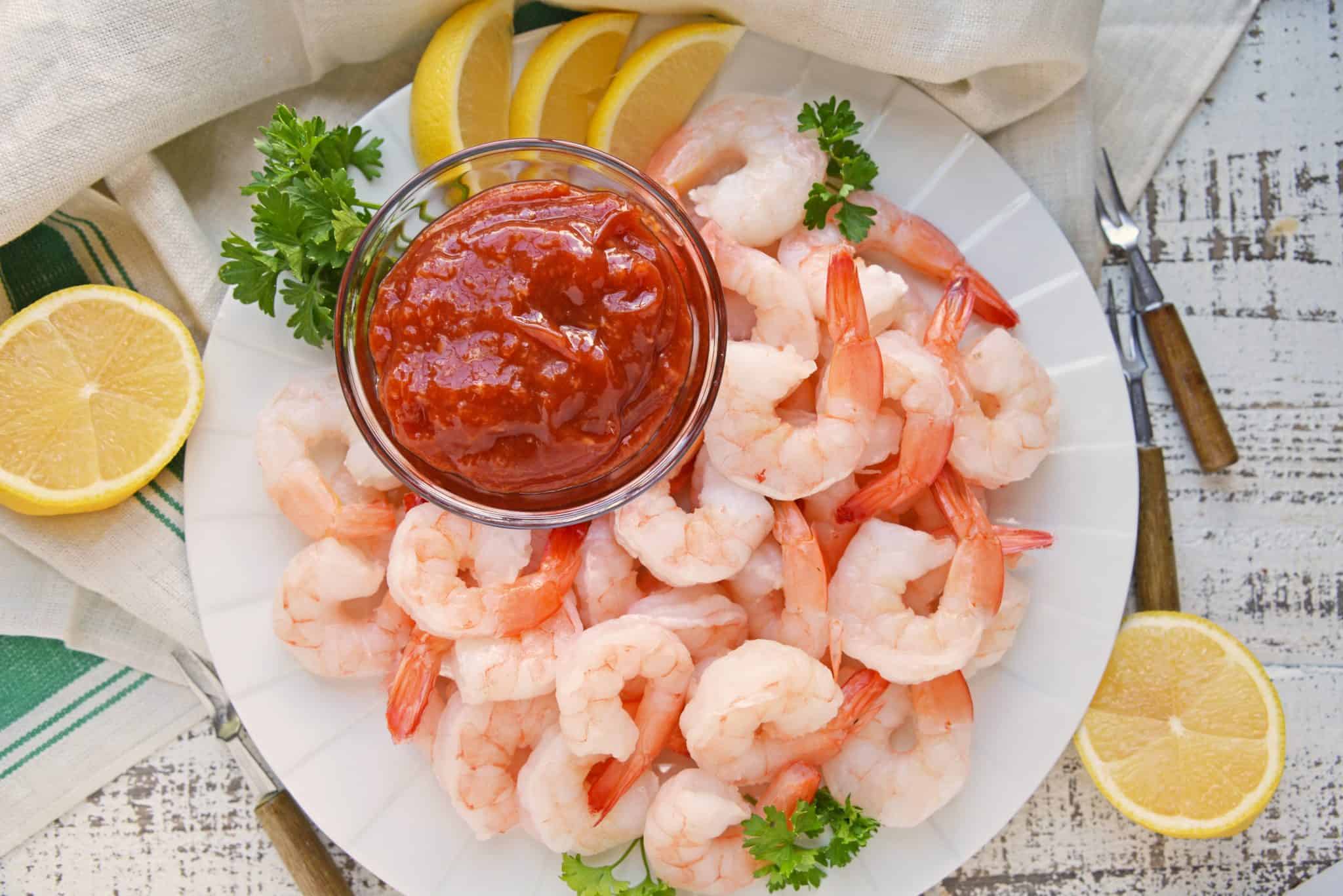 If you're not serving right away, refrigerate the shrimp until you're ready to serve.
For this Classic Shrimp Cocktail recipe, I went back to the basics. The only ingredients in what I consider to be the best shrimp cocktail recipe are lemon, salt and, of course, cocktail sauce for serving.
That's it.
Boil the lemon in water, add salt, remove from heat, add the shrimp and stir until they're perfectly cooked. Don't forget to rinse with cool water and boom, the best shrimp cocktail you've ever made.
This is my go-to shrimp cocktail recipe for any parties I host, especially around the holidays. I mean, is it really a New Year's Eve party if there's no shrimp cocktail appetizer?
I think not!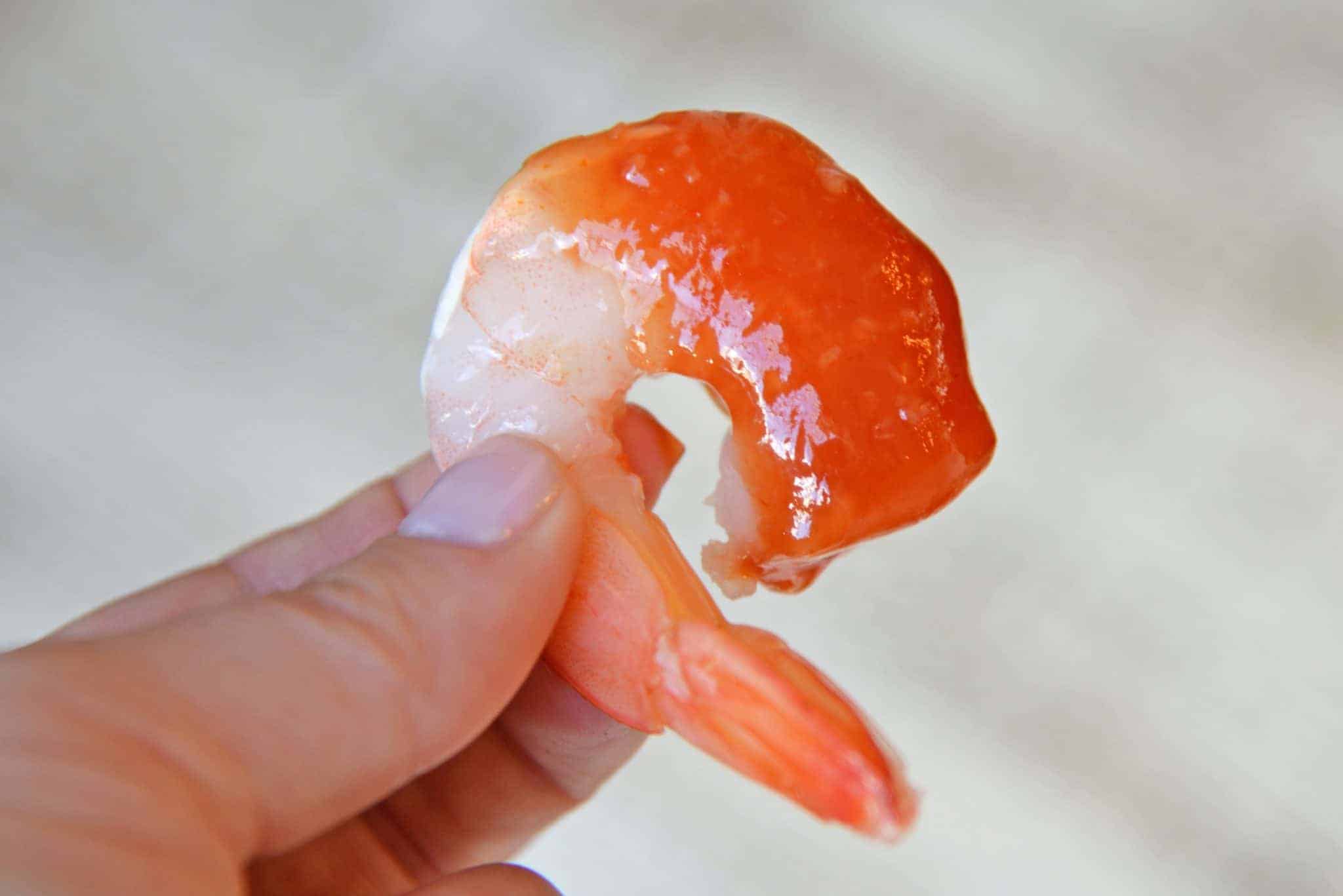 If you've been nervous to make shrimp cocktail in the past, definitely give it a shot. This shrimp appetizer may be far easier than you think!
Chipotle Lime Buttered Shrimp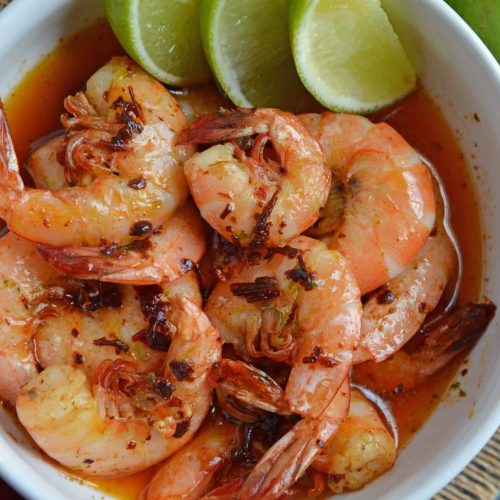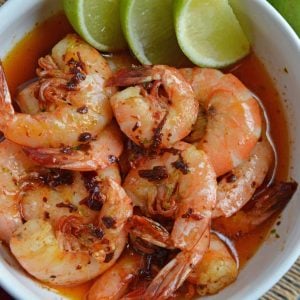 Chipotle Lime Buttered Shrimp is a delicious, spicy shrimp recipe! The chipotle peppers in adobo sauce with lime juice, make this recipe the perfect appetizer!
Garlic Shrimp Kabobs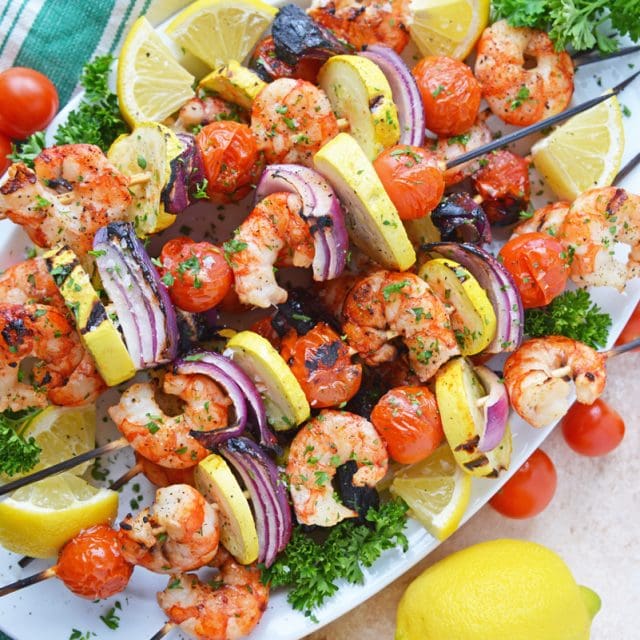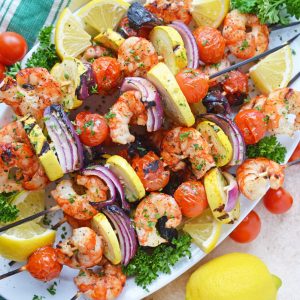 Looking for the perfect summer BBQ Recipe? Garlic Shrimp Kabobs with white cooking wine, garlic and fresh veggies are the perfect choice!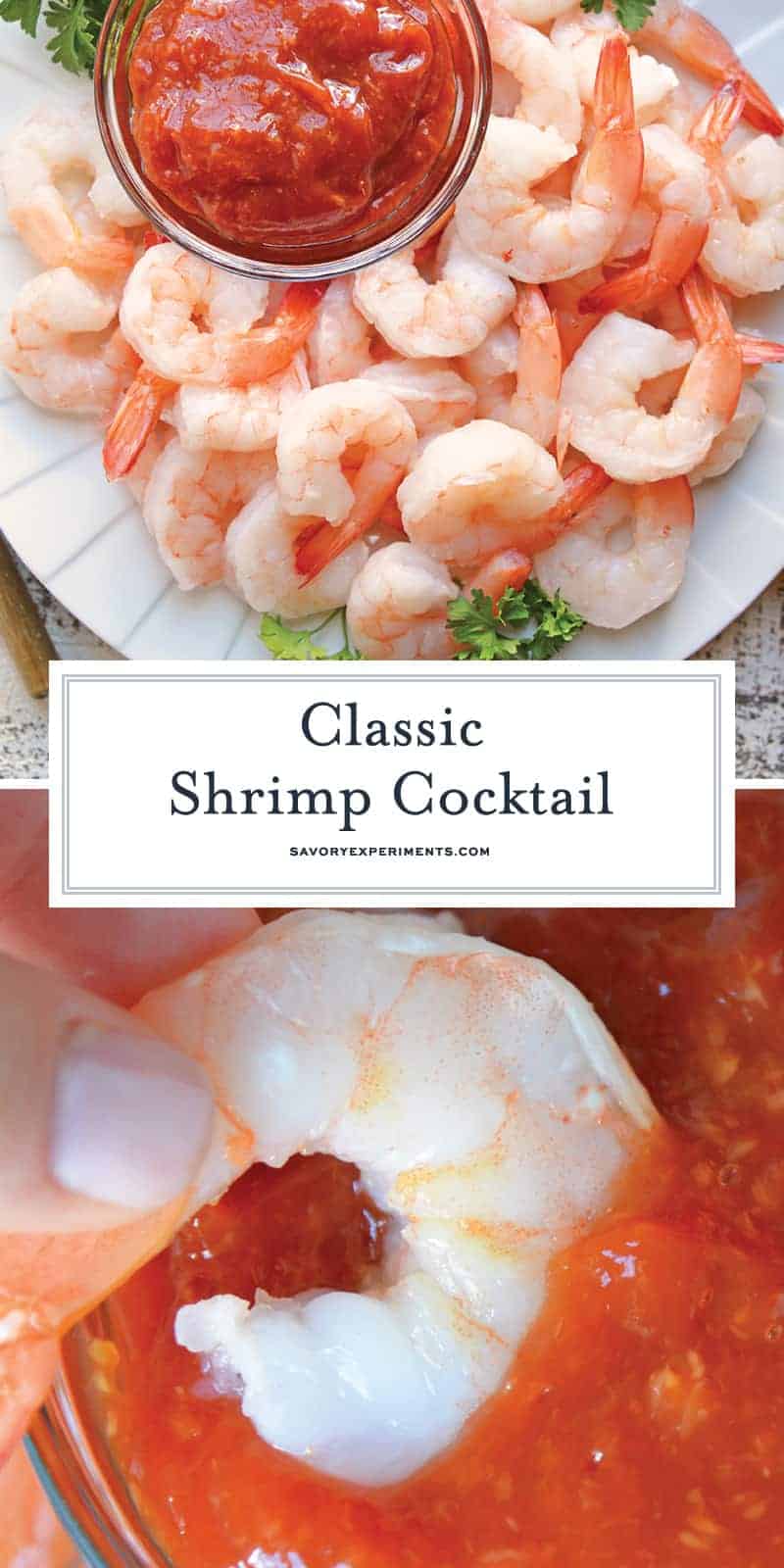 Tools for making Shrimp Cocktail:
Colander – Another kitchen staple that every home should have.
Heavy Bottom Sauce Pan– this will be one of your most used kitchen tools. Having something that is heavy bottom will distribute heat better and prevent burning whether you are using an electric or gas range.
Ramekins– I like giving folks their own individual sauce cups. Then you don't have to worry about double dipping! Ramekins are also great for ingredient preparation and baking mini soufflés.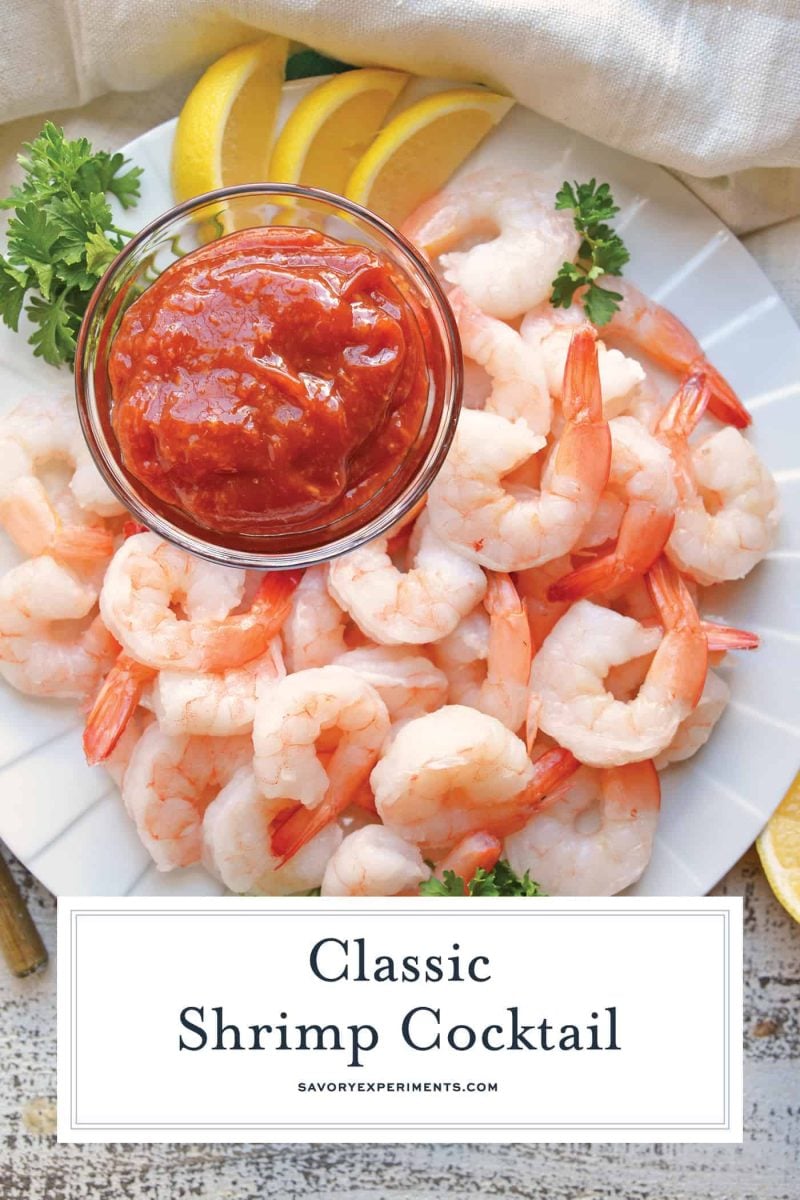 Questions you might have about how to make shrimp cocktail:
Are shrimp cocktail raw? Nope! They are cooked.
Can shrimp cocktail be frozen? Most shrimp was previously frozen and should not be frozen a second time. However, it isn't totally impossible.
How long ahead of time can I make shrimp cocktail? You want to give it enough time to chill, so make it at least 1 hour before serving, but you can make it up to 24 in advance. Make sure you refrigerate until ready to eat.
How much shrimp cocktail should I make per person? This really depends on a several factors. What else are you making with your meal and how large are the shrimp?
If it is a sit-down meal with large or extra large shrimp, account for 4-5 per person. If you are hosting a party and it is buffet style, 2-3 ounces per person should be good. I would also suggest using a smaller shrimp.
Please be mindful that the size of the shrimp will impact cooking time.
Can I use frozen shrimp? Of course! Chances are that if you buy it on the seafood counter, it was previously frozen. You'll save some money buying frozen from the start.
Can I use peeled and deveined shrimp? For a classic shrimp cocktail, you'll want tail-on shrimp that have been deveined.
---
Get our FREE 8 Day E-Course on How to Be a Better Home Cook. Sign up HERE!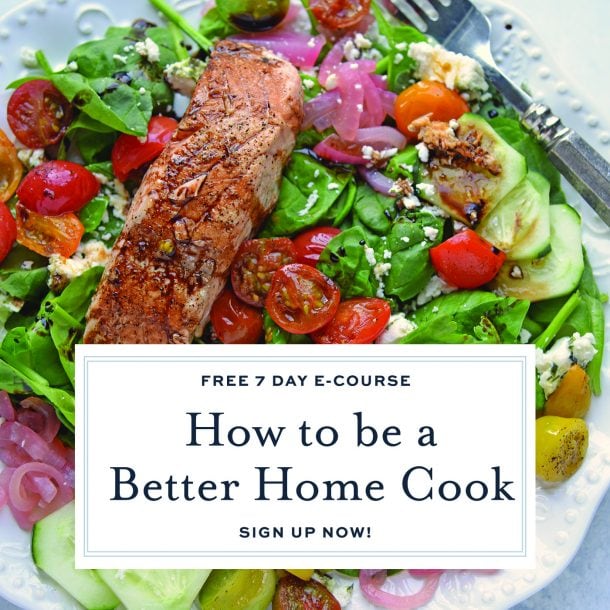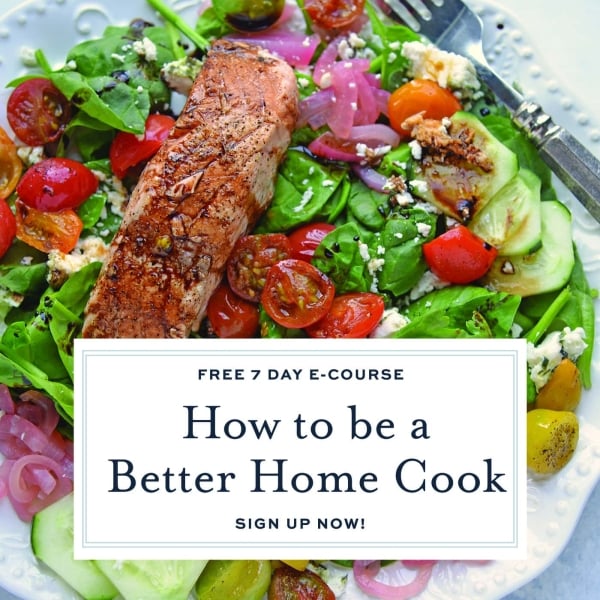 CONNECT WITH SAVORY EXPERIMENTS!

Be sure to follow me on social media, so you never miss a post!

Facebook | Twitter | Youtube 
 Pinterest | Instagram 
---
Classic Shrimp Cocktail
This Classic Shrimp Cocktail recipe goes back to the basics to result in the best shrimp cocktail. Prepared with just lemon and salt, this Classic Shrimp Cocktail will be the hit appetizer at all celebrations!
Instructions
Bring water and lemon to a rolling boil in a large pot or Dutch oven.

Add salt, boil for 1 more minute.

Add shrimp and remove from heat.

Stir shrimp until they turn pink and curl.

Drain well and rinse with cold water.

Refrigerate until ready to eat. Serve with Classic Cocktail Sauce.

If you've tried this recipe, come back and let us know how it was!
Nutrition
Calories:
201
kcal
|
Carbohydrates:
12
g
|
Protein:
31
g
|
Fat:
2
g
|
Cholesterol:
381
mg
|
Sodium:
2724
mg
|
Potassium:
271
mg
|
Sugar:
9
g
|
Vitamin A:
205
IU
|
Vitamin C:
17.4
mg
|
Calcium:
245
mg
|
Iron:
3.5
mg