This is a sponsored post written by me on behalf of BUBBA burger. All opinions are 100% my own.
Rich mushroom gravy and lacy Swiss cheese make this Mushroom Swiss Burger one of the best you'll ever sink your teeth into!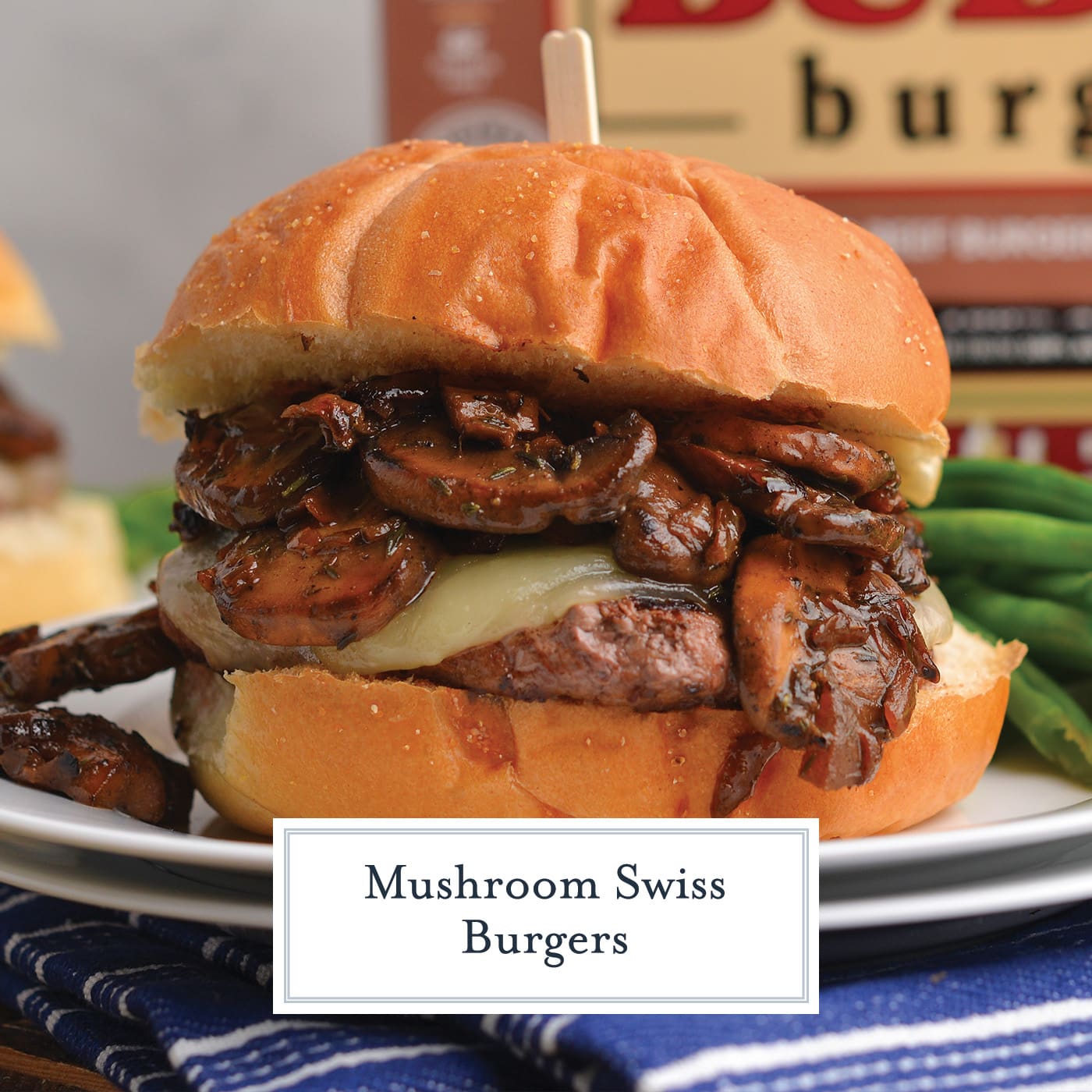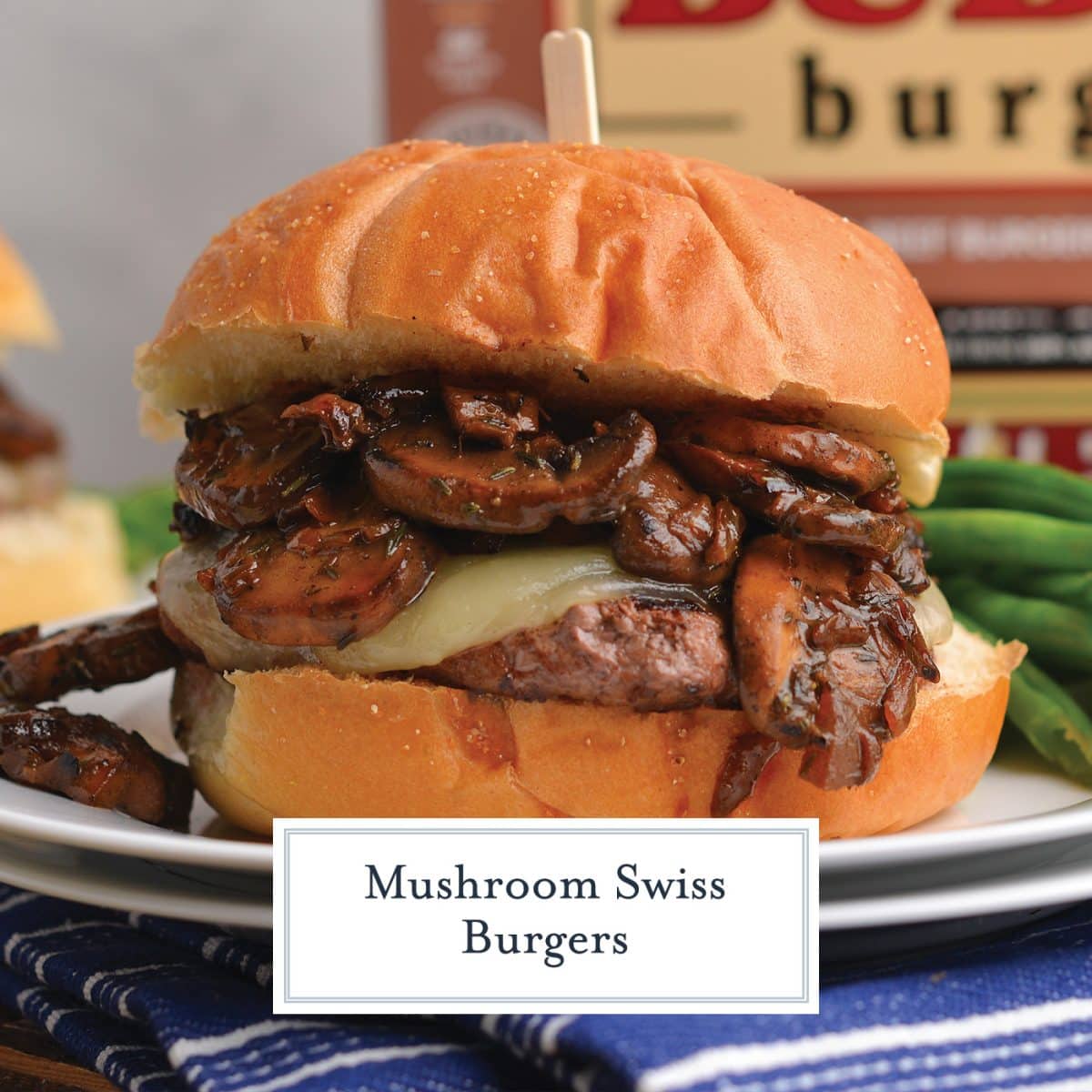 A juicy BUBBA burger topped with a zippy mushroom gravy (with a secret ingredient!) and slices of sweet and nutty Swiss cheese on a Kaiser roll. Pair it with a leafy green salad, green beans or slow cooker baked beans for the perfect easy meal.
Gourmet Burgers
It is true you can love both a standard burger, but also gourmet burgers. And while I love some good toppings, I also want them to complement the beef, not overpower it. Mushrooms and onions have long been friends of beef, so a Mushroom Swiss burger makes perfect sense.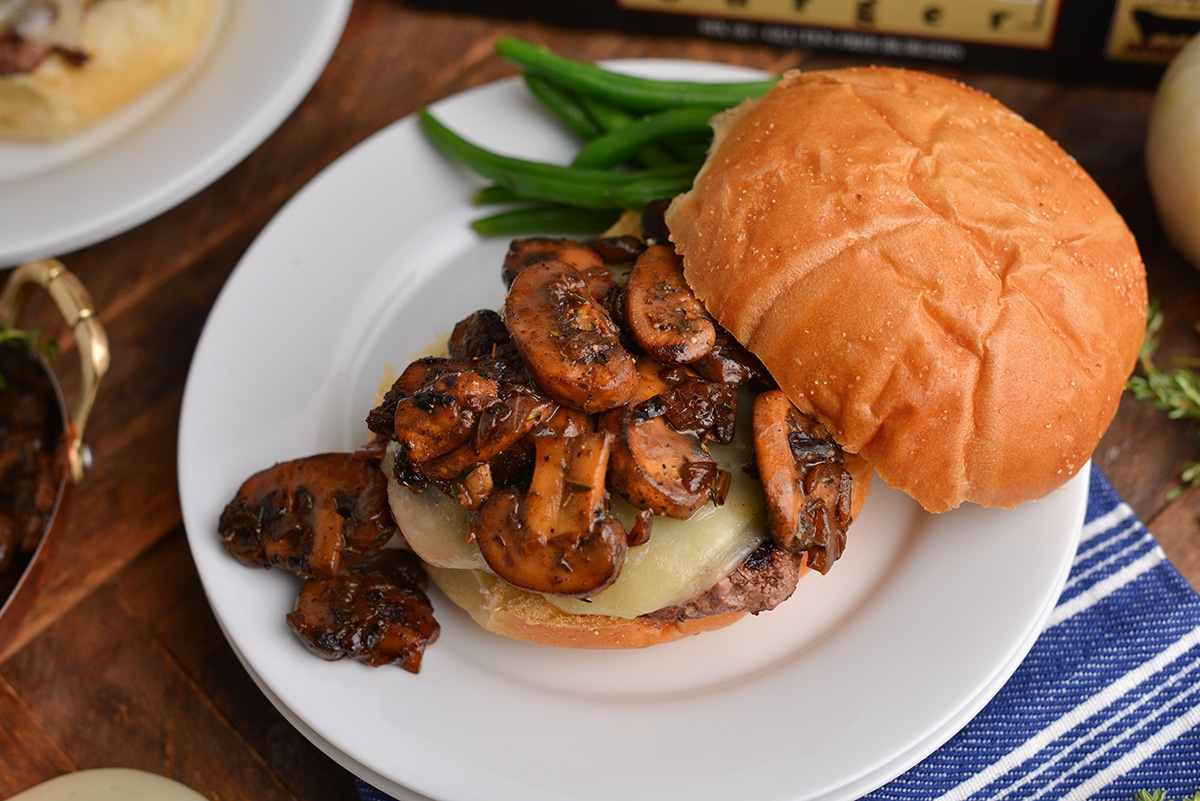 A good burger should start with quality beef which is why we choose BUBBA burgers. They can be kept in the freezer and cooked frozen, so no need to think ahead. BUBBA burgers are made with 100% USDA Choice Chuck; no fillers, no artificial ingredients, and no preservatives. A family time meal solution!
What You'll Need
BUBBA burgers- BUBBA burgers only have one ingredient: 100% choice beef chuck and for this beef cookbook author, that is super important. They are high in protein and quality and super convenient.
Bun- I like this pairing on a Kaiser roll, but a sesame seed bun, brioche or any other type of bread can be used. I even eat these sans the roll for a lighter meal.
Mushrooms- I used sliced baby bella mushrooms, but feel free the gravy blend by using shitake, oyster or chopped portobellas. Make a mushroom medley for a variety of textures and flavor.
White Onion- So many recipes leave the onions in rings, but since the stars here are really the burger and mushrooms, I chopped mine up. Sweet or red onion can be swapped.
Unsalted Butter- Offers flavor and fat for cooking the mushroom gravy. Use unsalted so you have control over the saltiness.
Worcestershire Sauce- This heady ingredient packs and punch and a little goes a long way.
Dijon Mustard– Another zing for the mushroom topping! Dijon is just mild enough to be noticed, but not steal the show.
Brown Sugar- Just a touch balances out the other robust flavors and helps to quickly caramelize the onions and mushrooms. This is my secret ingredient that no one can ever put their finger on- it is the molasses that seeps out of the brown sugar and infuses with the mushrooms.
Thyme– For ease I used dried thyme leaves, but fresh thyme is also an option. Other herbs can be used or it can be omitted.
Coarse kosher salt & freshly ground black pepper- For seasoning.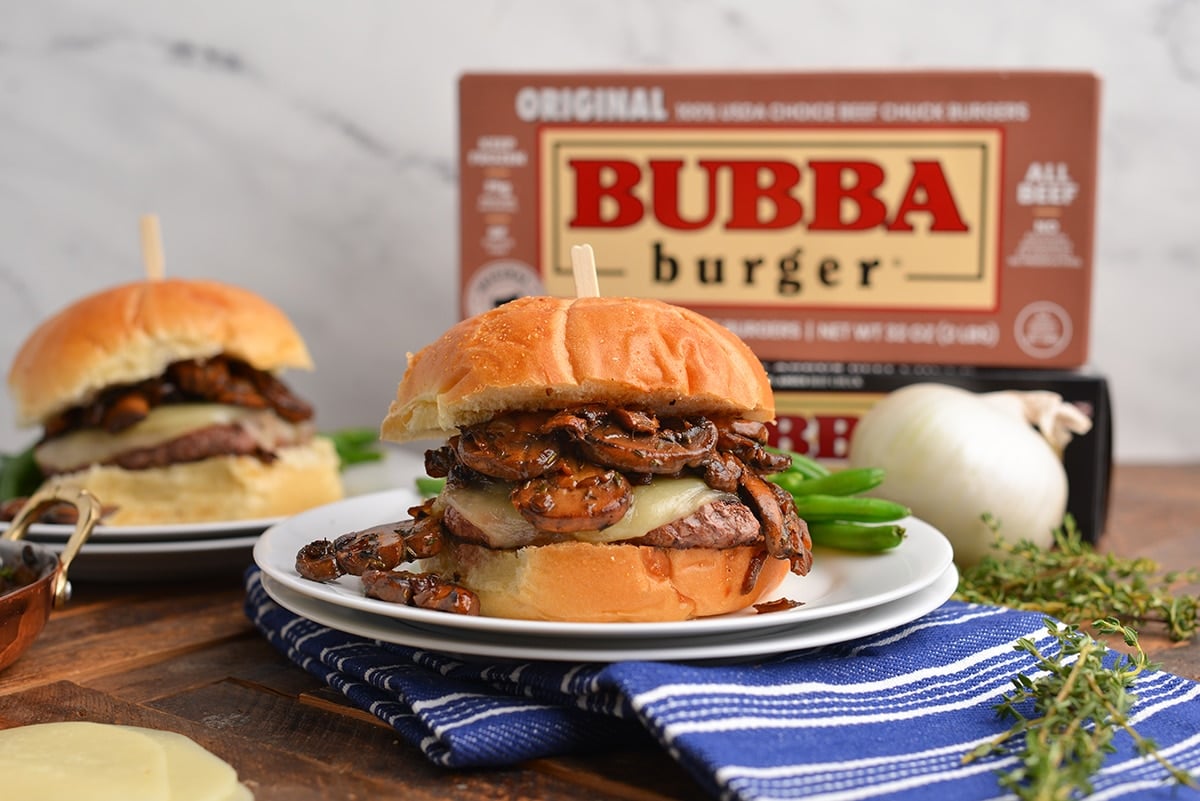 How to Make a Mushroom Swiss Burger
You have options when making your BUBBA burgers. For this burger recipe, I opted to use a skillet, but fee free to prepare yours outdoors on the grill.
Place the frozen burger directly on a preheated grill (350°F on indirect heat) or skillet (medium heat).
Wait for the juices to rise to the top without moving the burger around and do NOT press on it with a spatula, approximately 4 to 6 minutes. Browning is a good thing, it helps to develop natural flavors!
Flip the BUBBA burger and cook for another 4 to 6 minutes or until your desired doneness.
Allow the burger to rest. While the burgers rest, make the mushroom gravy. In a medium skillet (I used the same skillet), melt the butter and then add the mushrooms and chopped onion over medium high heat. The goal is to "sweat" the mushrooms and onions by releasing all the liquid. After about 4-5 minutes, the skillet should be dry and you'll start to get a little brown on the mushrooms and onions.
At this point, add the Worcestershire sauce, mustard, brown sugar, thyme and 1 tablespoon of water. Season to your liking with coarse kosher salt and freshly ground black pepper. Just a few shakes does the trick.
Continue to cook until the sugar dissolves. There should be enough to coat the mushrooms, but it is not a sauce or traditional liquid gravy. Remove the mushrooms from the skillet and return the burgers to the hot skillet.
Place Swiss cheese over each burger, then top with a lid to let the steam and heat gently melt the cheese.
Assemble the burger by placing the cheesy burger on the bottom then top with a hefty helping of mushrooms.
Enjoy open-faced or top with the other half of the bun.

More Toppings for Mushroom Swiss Burgers
Thick cut tomato
Caramelized onions
Crushed red pepper flakes
Garlic Aioli
BBQ Sauce
Bacon
Spring greens or lettuce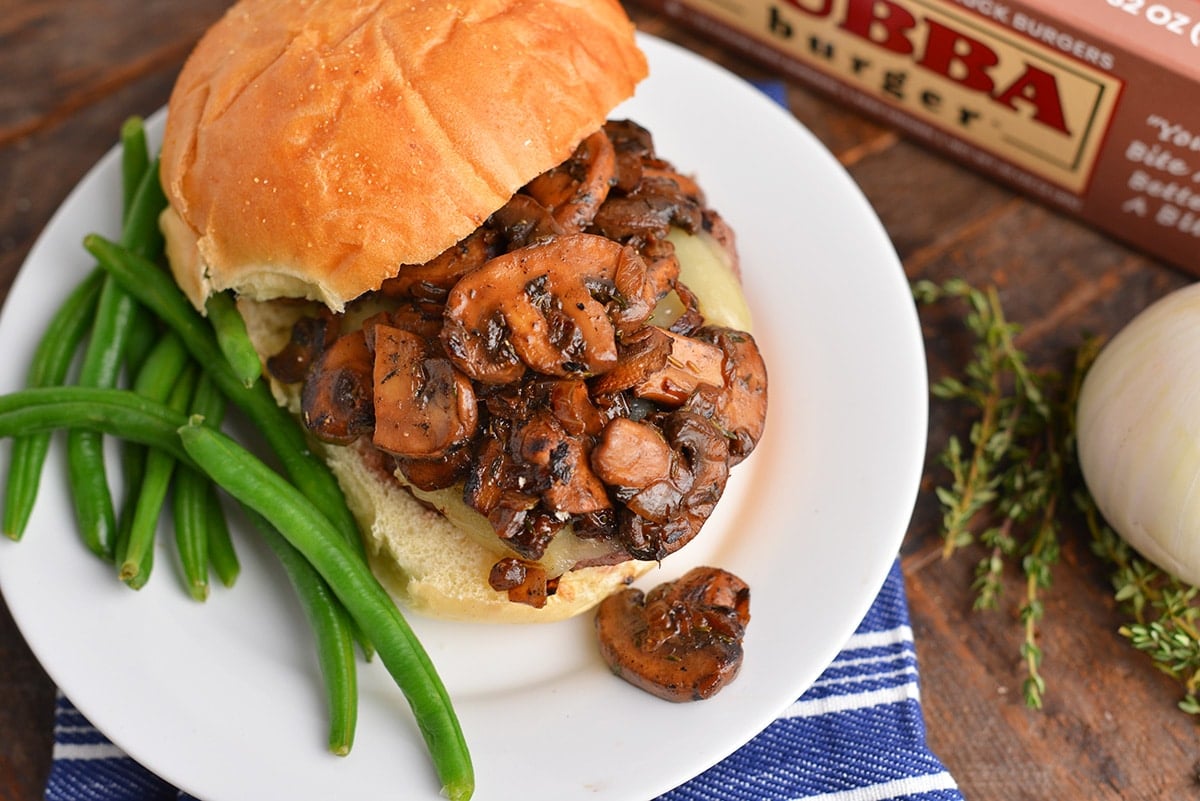 Leftovers
I highly suggest building your burgers fresh and enjoying them hot. If you do have leftovers, store the burgers and the topping separately and make them as needed.
Reheat in a skillet or a quick trip to the microwave and then assemble the burger from scratch just like the original instructions.