Slow Cooker Beef Stew is a sponsored post on behalf of Certified Angus Beef ® brand, however opinions expressed are 100% my own. 
Beef Stew is one of the most iconic comfort foods to make! This version has beef and vegetables in a lavish stew. Your whole family will love this delicious Slow Cooker Beef Stew recipe!
Slow Cooker Beef Stew is one of the best comfort foods to enjoy! It features tender beef, onions, potatoes, and fire roasted tomatoes in a rich herb stew!
The wintery weather has arrived which means I also get to break out all of my favorite comfort foods, like Slow Cooker Beef Stew.
Beef Stew used to be considered a peasant food. Made with the cheapest cuts of beef and cheap root vegetables, it has seen a revival to sophisticated and gourmet status.
The beauty of a beef stew comes in the hours of simmering, which tenderizes even the most stubborn pieces of chuck. The slow cooker is the perfect place for this magical process, as is the pressure cooker, if you have one.
However, I prefer to use a nice cut of beef from the get go. This makes my beef stew meat super tender with maximum beef flavor.
My choice for beef is always Certified Angus Beef ® brand. Seeing this label means that the beef was certified as Angus and then passed a 10 point quality inspection before receiving the coveted stamp of approval. When you look for their brand logo, you do not need to worry about quality, it is guaranteed.
I've worked with them for over two years now, even visiting their test kitchens and developing recipes with beef experts and chefs. Check out my Beef Carpaccio, Carpaccio Crostinis and Cranberry Glazed Tri-tip to learn more about my experiences and the brand!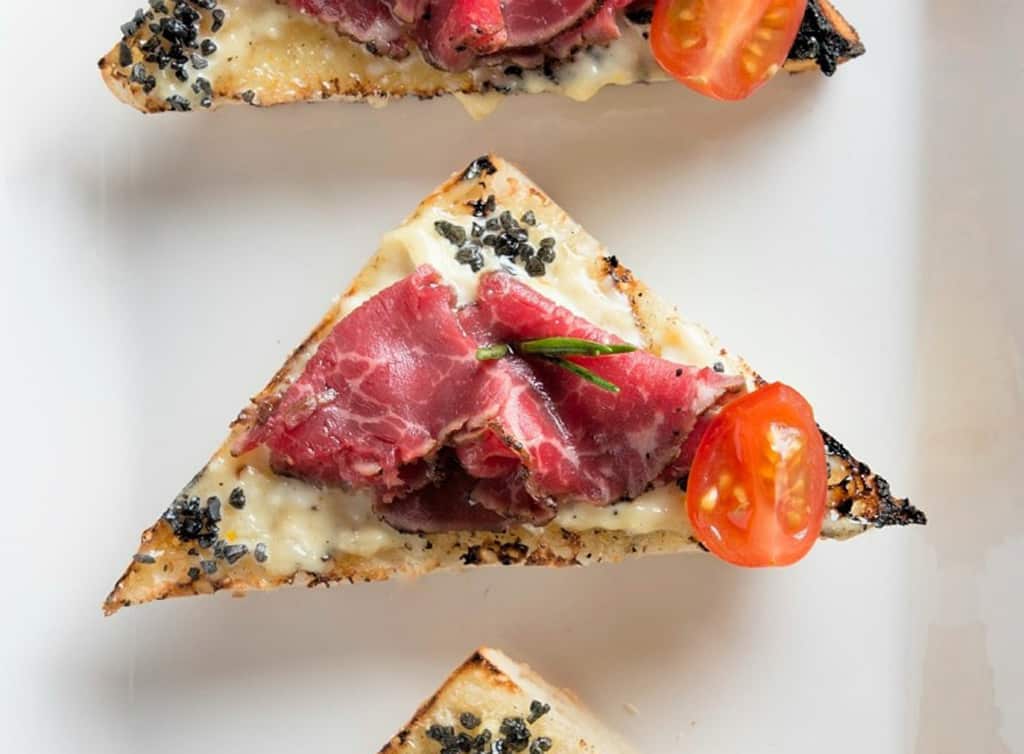 But you are here for my Slow Cooker Beef Stew recipe, so let me tell you a little more about how to make beef stew! I started off with two Certified Angus Beef ® brand strips steaks.
They are naturally lean and flavorful which means that I will have less fat to ladle out of my stew and a rich flavor for the broth.
I kept my onions cut into larger pieces for a hearty, stew-like texture. Zesty fresh oregano and a bay leaf with a splash of red wine vinegar and Worcestershire result in a rich broth thickened with natural arrowroot. Fire roasted tomatoes add smoky deliciousness to the mix.
You can prepare in the slow cooker
, although it goes directly against my "10 minutes in the pot" rule because you will have to brown the meat, or prepare it in a Dutch oven
on the stovetop.
If you like this recipe, you should also check out my Red Wine Beef Stew, a quick and dirty version spiked with a deep burgundy.
CONNECT WITH SAVORY EXPERIMENTS!

Be sure to follow me on social media, so you never miss a post!

Facebook | Twitter | Youtube
Pinterest | Instagram

Get our FREE 8 Day E-Course on How to Be a Better Home Cook. Sign up HERE!