Potatoes O'Brien is a fried potato dish commonly associated with St. Patrick's Day, probably due to the Irish name and also well, potatoes.
Roots of Potatoes O'Brien
Potatoes O'Brien, also known as O'Brien Potatoes in some regions, a dish of fried potatoes with chopped bell peppers and onions has long been associated with St. Patrick's Day and Ireland, but did you know that the dish actually originated in the United States?
Yep, right here in the USA! There is some debate around which city, but rumor has it either Manhattan or Boston. My vote is on Boston, seeing there is a much higher saturation of Irish folks there.
How did it get its name? It was actually named after an Irish cook who was bored with typical fried potatoes. He decided to liven them up a bit by adding color using bell peppers.
What are Potatoes O'Brien?
They are a pretty basic skillet fried potato with a medley of green and red bell peppers. Fried up crispy in rendered bacon fat, these bad boys, while simplistic with their ingredients, pack quite the flavor punch. I like to add onion and sometimes garlic.
These days you'll see Potatoes O'Brien served at breakfast, lunch and dinner and with all sort of potato varieties. Basically as long as it has as the three basics: cubed potatoes and bell pepper, it is considered an O'Brien dish. Sometimes you'll just see them listed as a plain old breakfast potatoes recipe too.
What type of Potatoes To Use?
I like to use red potatoes, the skin can stay on (it carries nutrients in it) and they have a little more flavor. They are waxy and tend to hold their shape well while getting a nice crunchy exterior.
You can use Russets, Yukon Gold or even sweet potatoes, but be mindful that they are starchier and might get a little mushy. If you prefer a potato dish with half fry and half mash, then you might want to give these options a whirl!
Skillet Potatoes O'Brien
I find the best way to get super crunchy potatoes is in a hot cast iron skillet.
I use rendered bacon fat, if I have it, but vegetable oil will work just fine. Whatever fat or oil you use, don't use too much and make sure it is hot enough or else your potatoes will get all mushy. You also want something with a high smoke point so it doesn't just burn, which is why oil is better than butter in this case.
If you make them in a skillet, feel free to crack an egg over top to make a whole meal. They can also be used in place of any type of potato in breakfast casserole recipes.
My Secret Ingredient
The secret to the robust flavor of my Potatoes O'Brien really comes with one secret ingredient: Worcestershire sauce. I bet you didn't see that one coming!
Yep, that same ingredient you use to deepen the flavor in meats and gravies also works miracles with potatoes (and many other side dish recipes for that matter).
And now you know my secret. Just do me a favor and don't going telling everyone, okay?
What are other flavors I can add?
Onion powder
Cayenne pepper or crushed red pepper
Garlic powder
Crumbled sausage
Crumbled bacon
Oven Potatoes O'Brien
Can you make Potatoes O'Brien in the oven? You can! Simply chop it all up and par-cook the potatoes at 350 for about 20 minutes. Toss in the other ingredients and cook for another 20 minutes.
They might not get as crispy as pan frying and it will take longer, but if you just want something hands-off and need the stove space, go for it!
Make Ahead, Storage & Freezing
This dish is perfect to make ahead and then reheat when you are ready- like for a family function or holiday breakfast. I do suggest reheating them in a hot skillet so you can get the crunch back. The microwave will just make them mushy.
They will be good in the fridge for 3-5 days if kept in an airtight container.
Can you freeze Potatoes O'Brien? You sure can! Just put them in an airtight plastic bag and try to get out as much air as you can. They will stay fresh for about 3-4 months. You can reheat them by baking at 350 until warm (approximately 20 minutes) or heat them in a skillet with a little oil for about 10-12 minutes.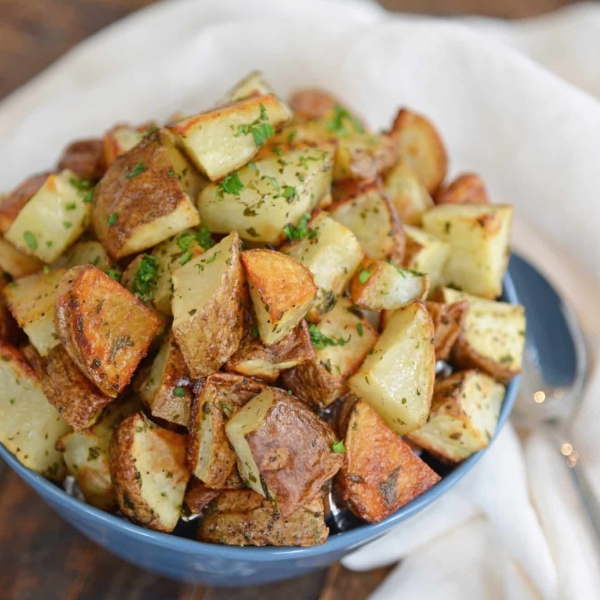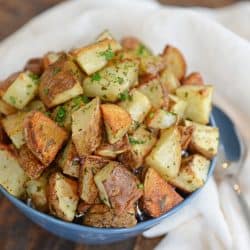 Ranch Roasted Potatoes
Looking for an easy side dish? These Roasted Ranch Potatoes are the BEST! And you only need 3 ingredients to make them!
View this recipe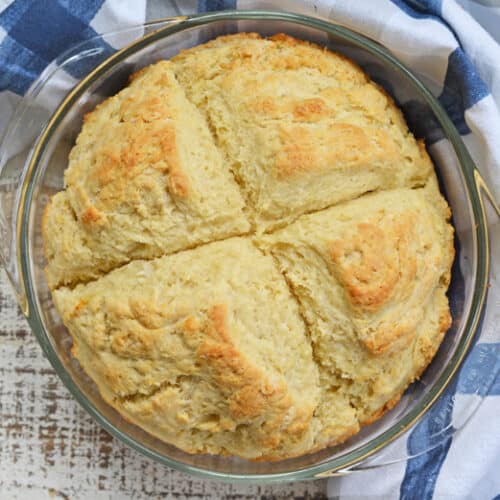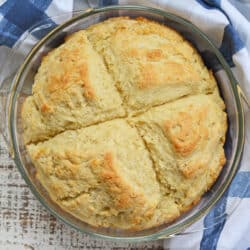 No Yeast Potato Bread
Thick and chewy No Yeast Potato Bread is an easy and quick homemade bread recipe perfect for deli sandwiches and more!
View this recipe
Tools for making Potatoes O'Brien:
Heavy Bottom Frying Pan– this will be one of your most used kitchen tools. Having something that is heavy bottom will distribute heat better and prevent burning whether you are using an electric or gas range. You'll use this large skillet a lot!
Wood cutting board – wood won't dull your knives like plastic and if treated properly, has natural antimicrobial properties.
Good knife – Global is my favorite! They are worth the price, I promise. I am kind of obsessed with them and store them tucked away so no one else can use them. Including hubby. Hands off my good stuff!
Cast Iron Skillet– Yes they are heavy, yes they take a little extra TLC. Are using cast iron pans worth it? YES!!! Just buy one and you'll thank me later! I have both pre-seasoned and unseasoned. I like them both for different reasons.
Potatoes O'Brien
This is a traditional Potatoes O'Brien recipe with one special ingredient to really amp up the flavors! Potatoes, bell peppers and onions, you just can't go wrong!
Instructions
Heat 2 tablespoons oil in large skillet. When it reaches a smoking point, add potatoes. Skillet must be hot to make a nice crust. Cook, tossing frequently, for 10 minutes.

Add red and green bell peppers and onions to skillet, toss. Season to your liking with fine sea salt and freshly ground pepper. Cook for 5 minutes.

Add Worcestershire sauce, toss and continue to heat for 1 minute. Serve immediately.

If you've tried this recipe, come back and let us know how it was!
Nutrition
Calories:
192
kcal
,
Carbohydrates:
30
g
,
Protein:
3
g
,
Fat:
7
g
,
Saturated Fat:
5
g
,
Sodium:
72
mg
,
Potassium:
861
mg
,
Fiber:
3
g
,
Sugar:
4
g
,
Vitamin A:
650
IU
,
Vitamin C:
54.5
mg
,
Calcium:
25
mg
,
Iron:
1.5
mg