Potatoes O'Brien is a fried potato dish commonly associated with St. Patrick's Day, probably due to the Irish name and also well, potatoes.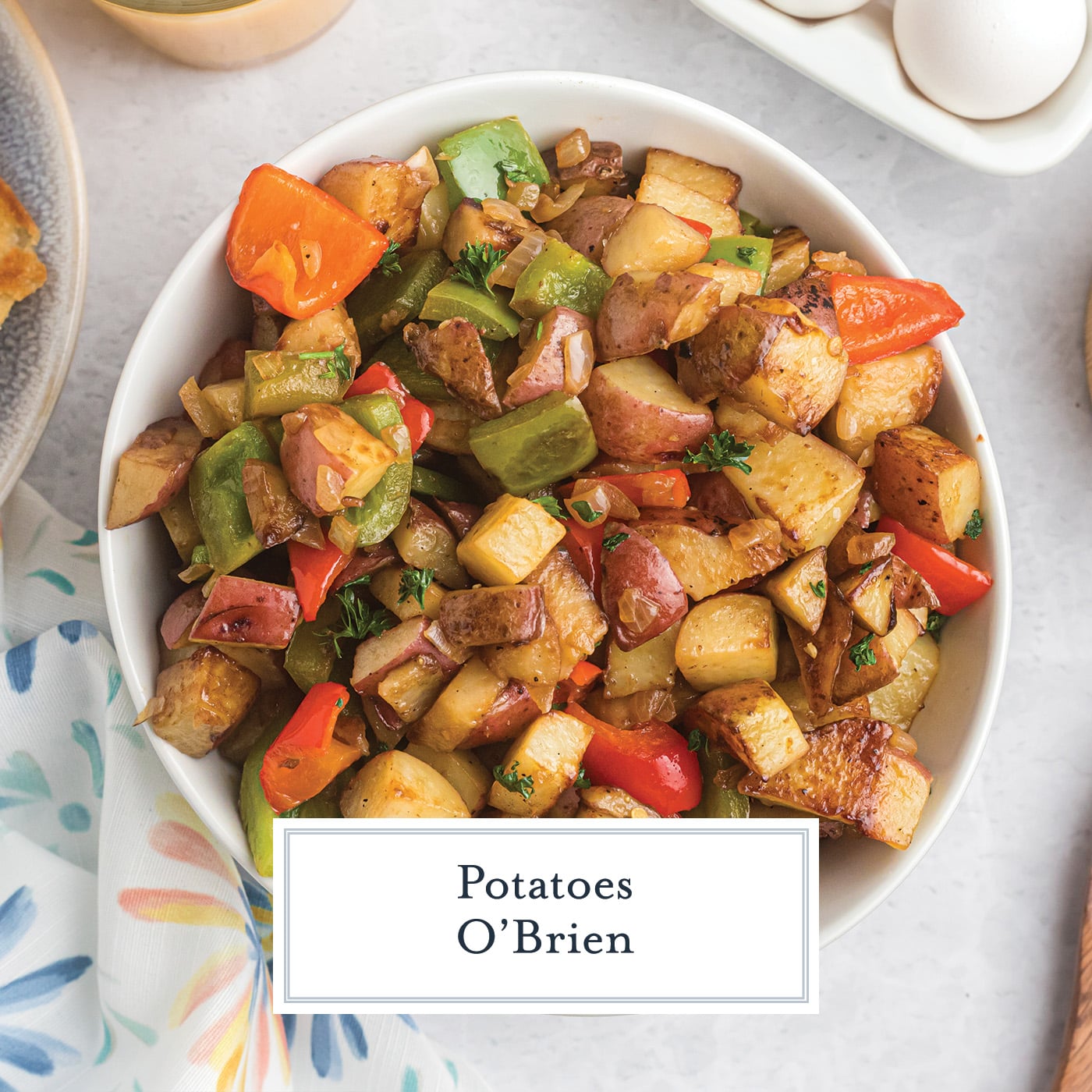 Potatoes O'Brien, also known as O'Brien Potatoes in some regions, a dish of fried potatoes with chopped bell peppers and onions has long been associated with St. Patrick's Day and Ireland, but did you know that the dish actually originated in the United States?
Yep, right here in the USA! There is some debate around which city, but rumor has it either Manhattan or Boston. My vote is on Boston, seeing there is a much higher saturation of Irish folks there.
Why You'll Love These Potatoes O'Brien
These crispy potatoes have been loved for years. There are countless reasons why they're delicious and loved, but here are a few of our favorites:
Versatile – Not only are they great in place of regular hash browns for breakfast, but hey make a perfectly crispy easy side dish for any meal.
Family friendly – Because of it's simple ingredients, this dish is loved by both kids and adults alike. They'd be the perfect addition to your next family meal.
Quick and easy – You can have these potatoes ready in less than 30 minutes. It doesn't get much quicker than that.
Simple ingredients – Green pepper, red peppers, onion, potatoes and seasoning. That's literally all you need to make these potatoes!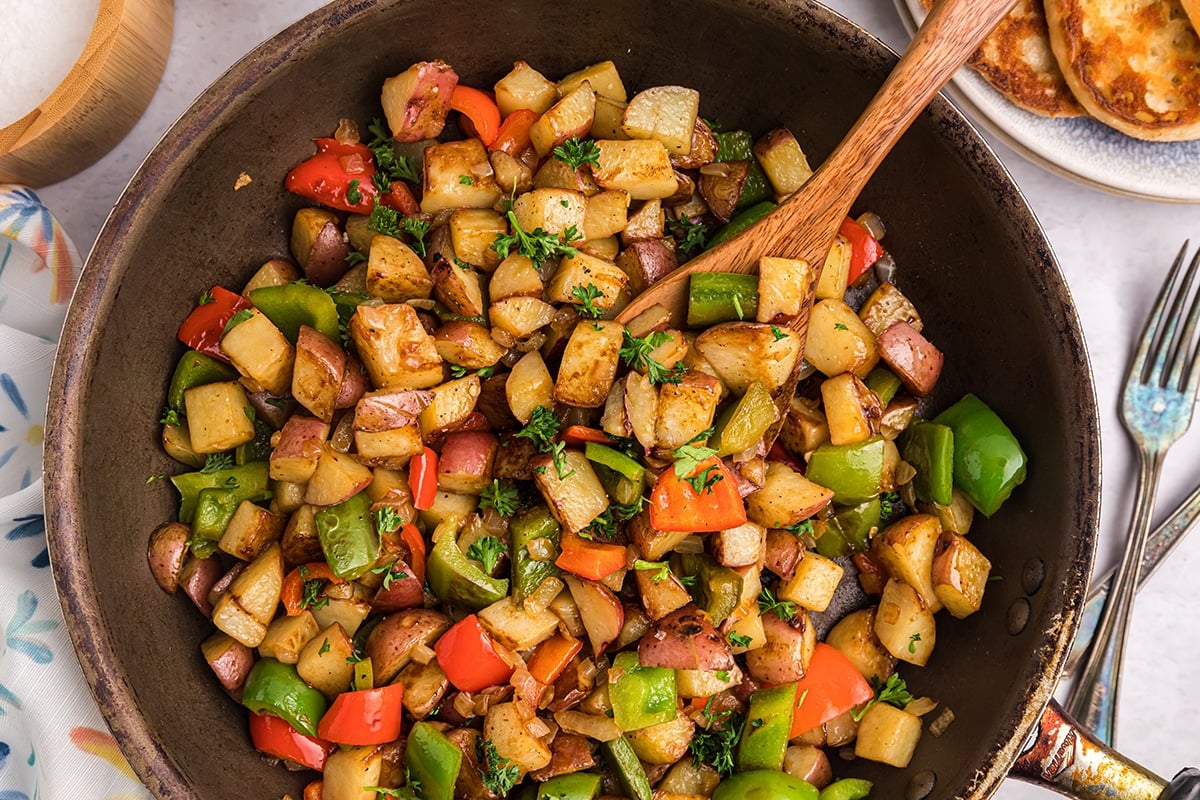 What are Potatoes O'Brien?
They are a pretty basic skillet fried potato with a medley of green and red bell peppers. Fried up crispy in rendered bacon fat, these bad boys, while simplistic with their ingredients, pack quite the flavor punch. I like to add onion and sometimes garlic.
These days you'll see Potatoes O'Brien served at breakfast, lunch and dinner and with all sort of potato varieties. Basically as long as it has as the three basics: cubed potatoes and bell pepper, it is considered an O'Brien dish. Sometimes you'll just see them listed as a plain old breakfast potatoes recipe too.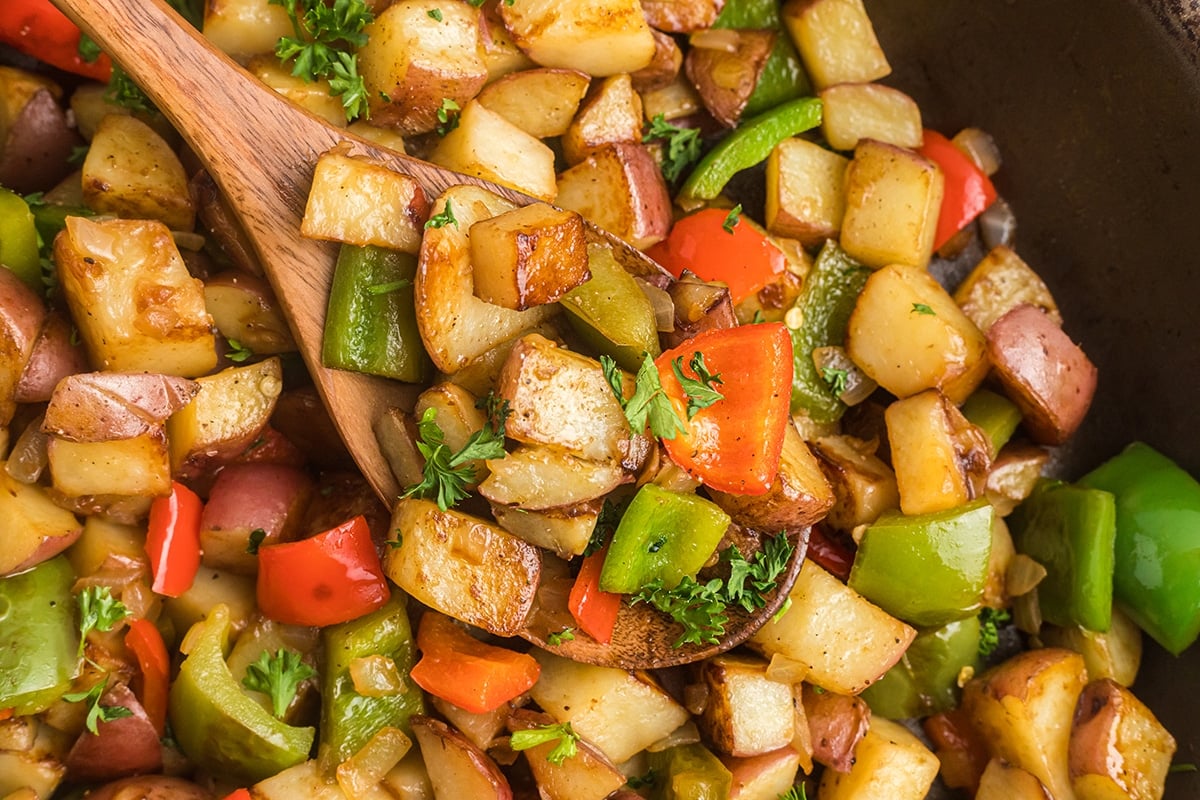 What type of Potatoes To Use?
I like to use red potatoes, the skin can stay on (it carries nutrients in it) and they have a little more flavor. They are waxy and tend to hold their shape well while getting a nice crunchy exterior.
You can use Russets, Yukon Gold or even sweet potatoes, but be mindful that they are starchier and might get a little mushy. If you prefer a potato dish with half fry and half mash, then you might want to give these options a whirl!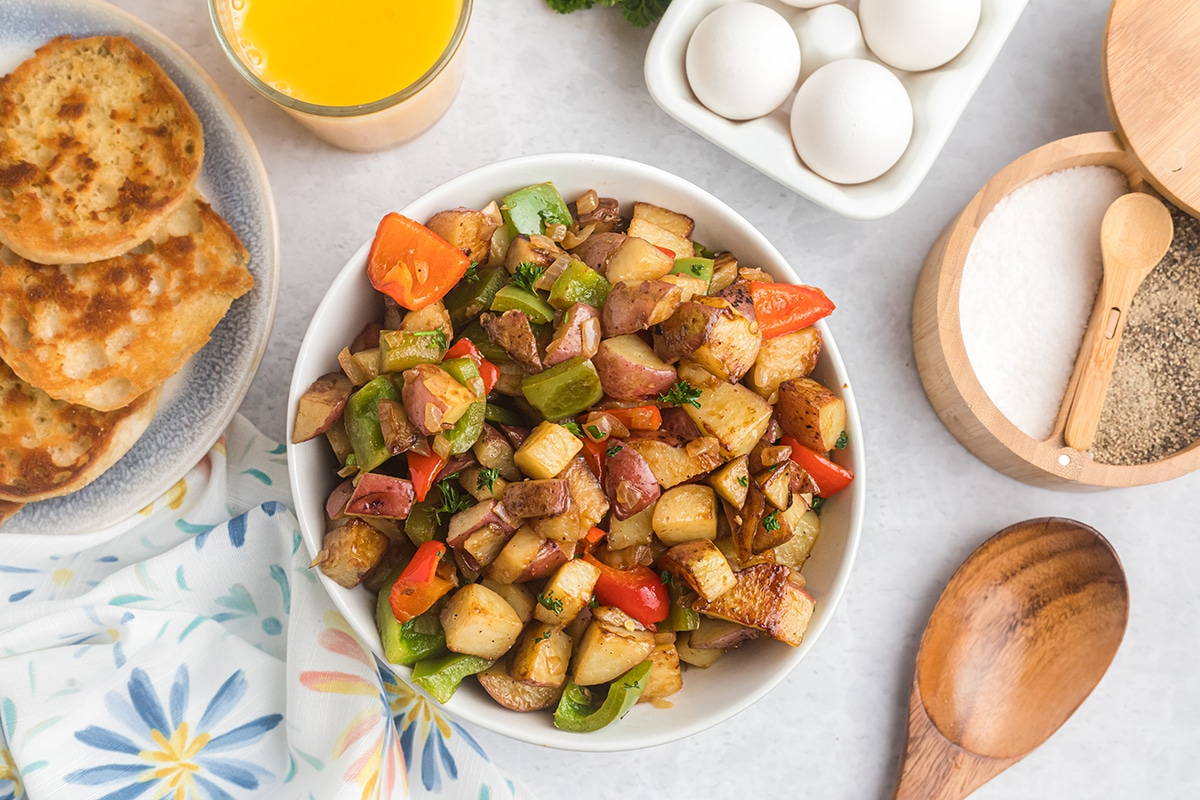 Skillet Potatoes O'Brien
I find the best way to get super crunchy potatoes is in a hot cast iron skillet.
I use rendered bacon fat, if I have it, but vegetable oil will work just fine. Whatever fat or oil you use, don't use too much and make sure it is hot enough or else your potatoes will get all mushy. You also want something with a high smoke point so it doesn't just burn, which is why oil is better than butter in this case.
If you make them in a skillet, feel free to crack an egg over top to make a whole meal. They can also be used in place of any type of potato in breakfast casserole recipes.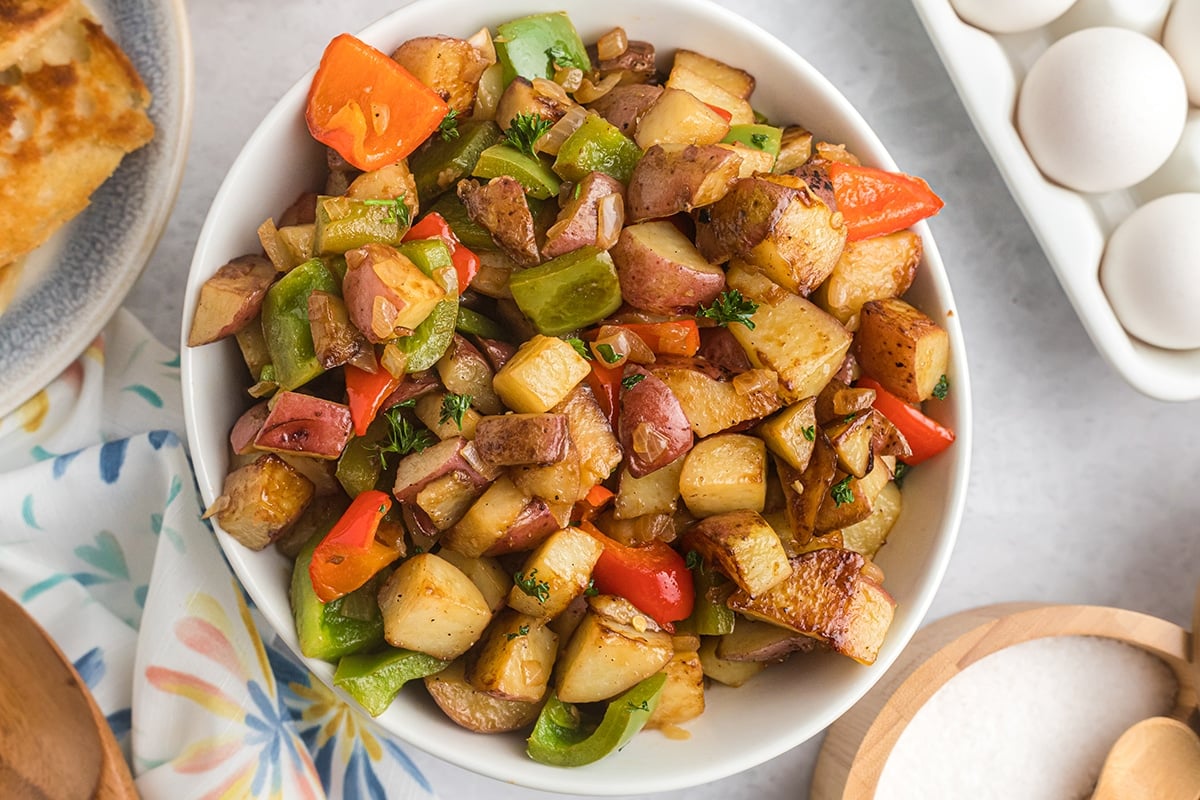 My Secret Ingredient and Variations
The secret to the robust flavor of my Potatoes O'Brien really comes with one secret ingredient: Worcestershire sauce. I bet you didn't see that one coming!
Yep, that same ingredient you use to deepen the flavor in meats and gravies also works miracles with potatoes (and many other side dish recipes for that matter).
And now you know my secret. Just do me a favor and don't going telling everyone, okay?
What are other flavors I can add?
Onion powder
Cayenne pepper or crushed red pepper
Garlic powder
Crumbled sausage
Crumbled bacon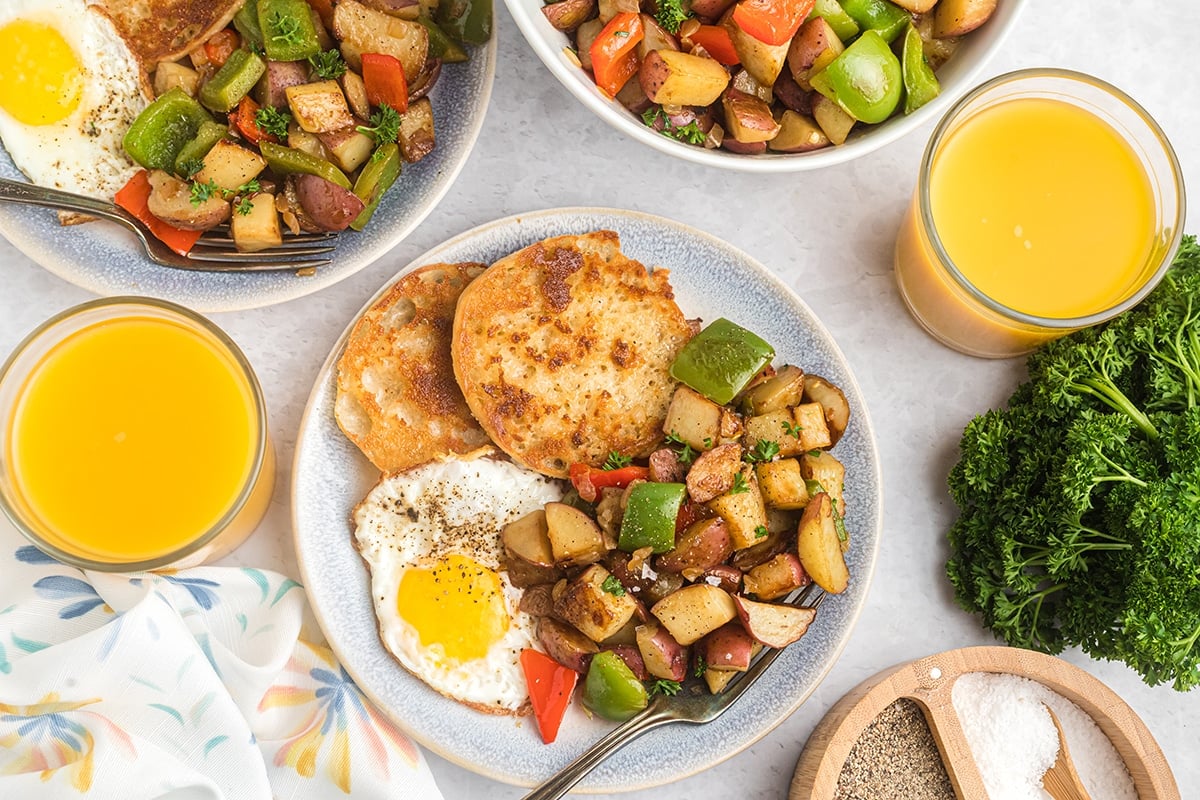 Ingredients
One of the things I love most about this Potatoes O'Brien recipe is how short the ingredient list is. All without lacking on flavor.
Vegetable oil – You can really use any type of neutral oil for this recipe. Hot oil and a hot pan are key to getting the crispiest potatoes and achieving that golden color.
Potatoes – As stated above, red potatoes are the best to use for this recipe. I prefer using fresh potatoes, but you can use frozen chunks of real potatoes. Just make sure there aren't any ice crystals.
Peppers – Traditionally this dish is made with green bell pepper and red bell pepper. But them to about the same size that you did the potatoes. This will promote even cooking.
Onion – You could use either a white onion or yellow onion. I prefer the sweetness that the yellow onion provides to the dish, but the choice is up to you.
Salt and pepper – I used a blend of fine sea salt and freshly ground black pepper. You can add this to taste.
Worcestershire sauce – And lastly, my secret ingredient! The vegetables themselves add a nice balance of flavors to this dish. But I like to add a little something extra to mine, and this is just the ticket.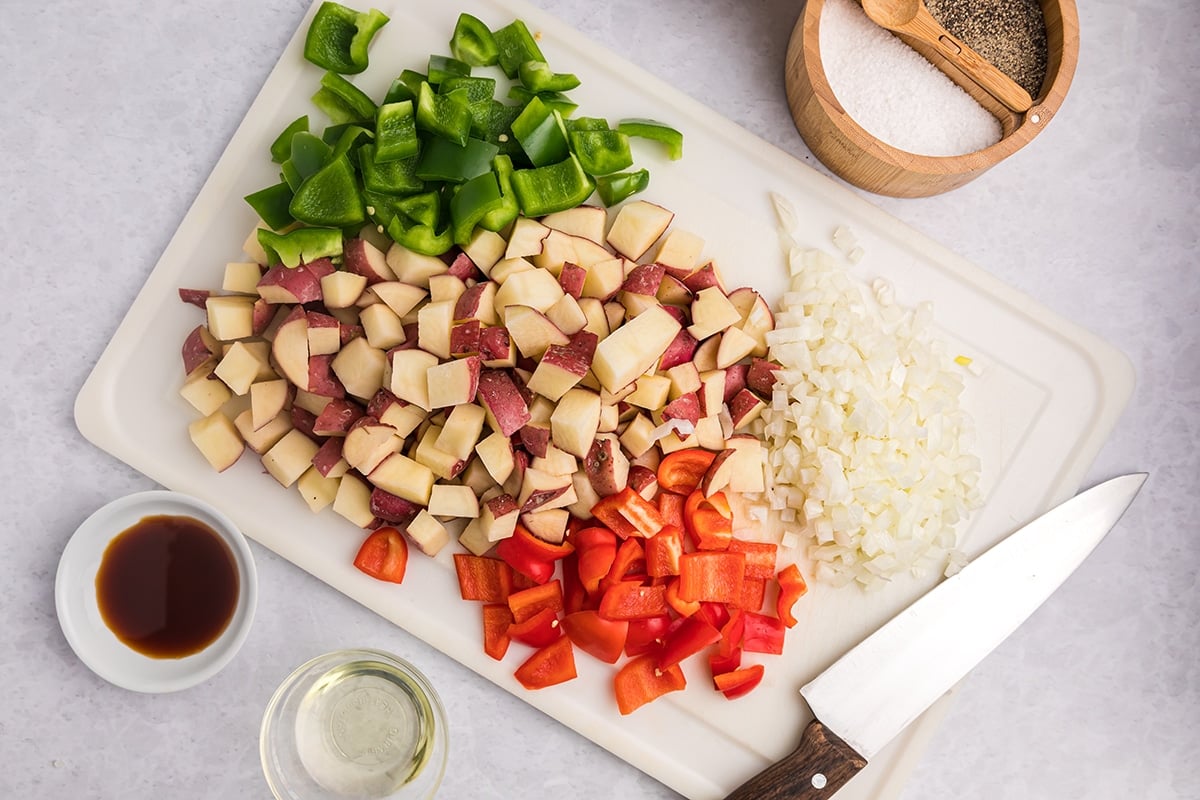 How to Make Potatoes O'Brien
I think you'll be pleasantly surprised at how easy it really is to make these breakfast potatoes. It's literally as easy as one, two, three!
Cook potatoes. Heat oil in large skillet. When it reaches a smoking point, add potatoes. Skillet must be hot to make a nice crust. Cook, tossing frequently.
Add onion and peppers. Add red and green bell peppers and onions to skillet, toss. Season to your liking with fine sea salt and freshly ground pepper.
Secret ingredient. Add Worcestershire sauce, toss and continue to heat. Serve immediately.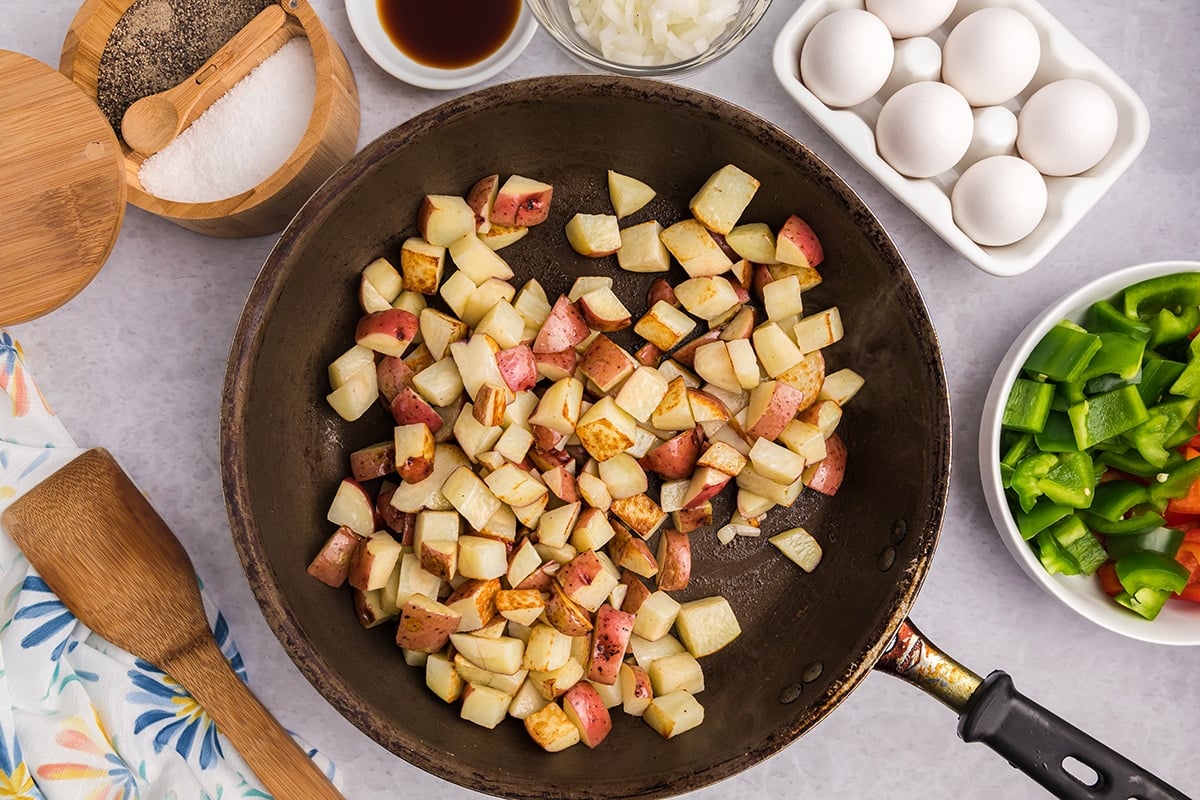 Potatoes O'Brien in the Oven
You can also make these potatoes in the oven! Simply chop it all up and par-cook the potatoes at 350 for about 20 minutes. Toss in the other ingredients and cook for another 20 minutes.
They might not get as crispy as pan frying and it will take longer, but if you just want something hands-off and need the stove space, go for it!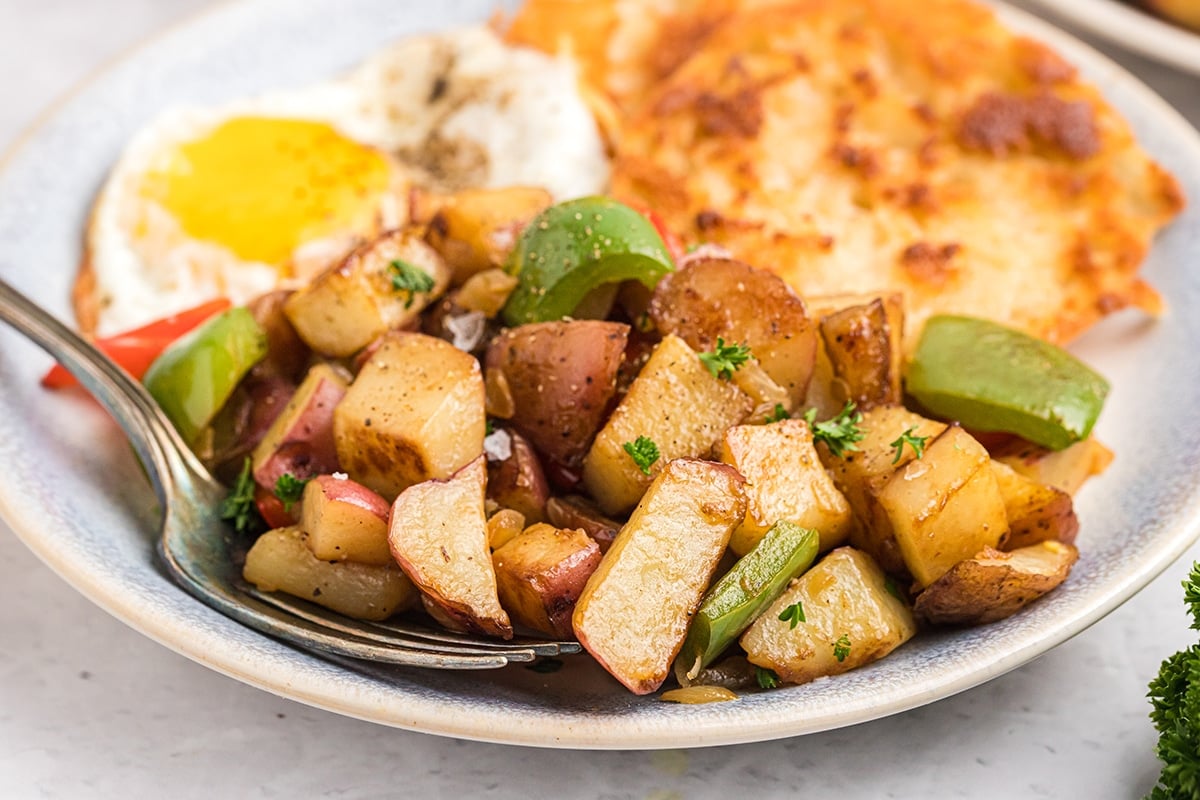 Make Ahead, Storage & Freezing
Make ahead: This dish is perfect to make ahead and then reheat when you are ready- like for a family function or holiday breakfast. I do suggest reheating them in a hot skillet so you can get the crunch back. The microwave will just make them mushy.
Storage: They will be good in the fridge for 3-5 days if kept in an airtight container.
Freezing: They're easy to freeze too. Just put them in an airtight container or plastic bag and try to get out as much air as you can. They will stay fresh for about 3-4 months. You can reheat them by baking at 350 until warm (approximately 20 minutes) or heat them in a skillet with a little oil for about 10-12 minutes.
Flash freezing: You can also flash freeze them. Laying out the cooled potatoes on a parchment or foil covered baking sheet in an even layer. Put in the freezer and freeze for about 4 hours. When frozen, transfer to a heavy-duty freezer storage bag, label, and keep in your fridge for up to 3 months!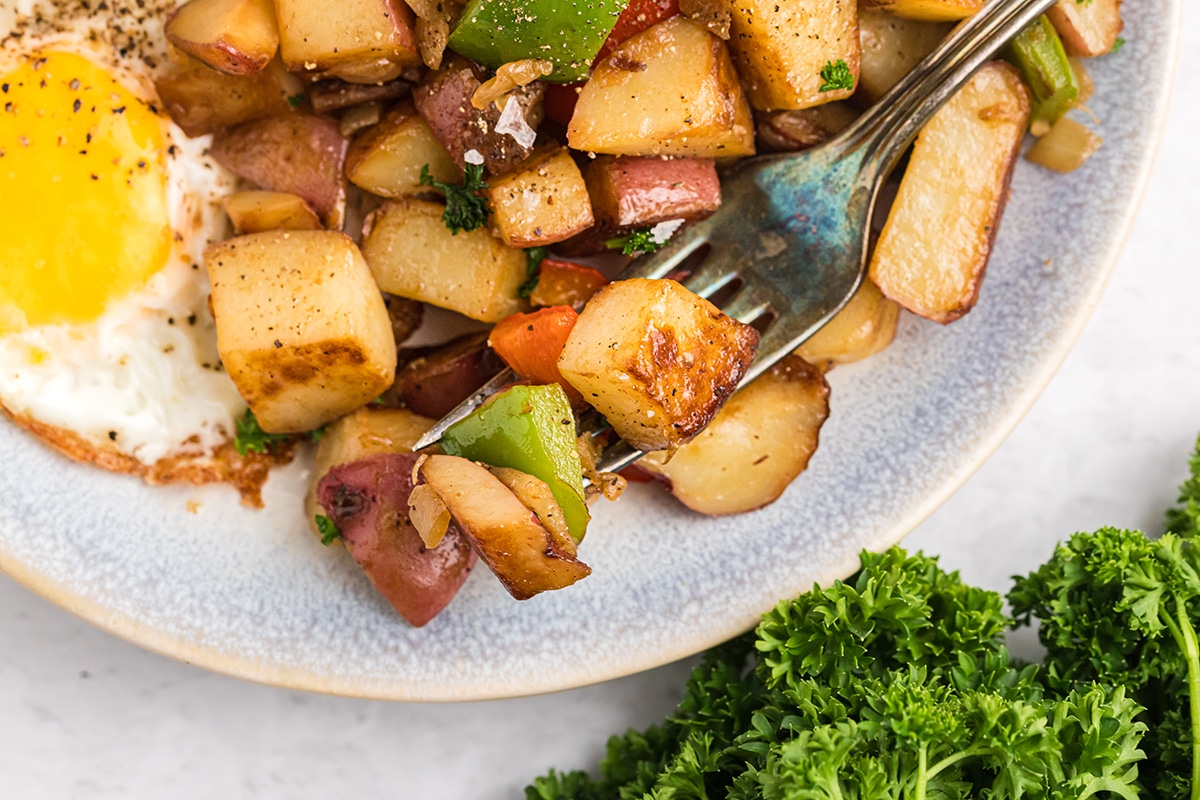 Frequently Asked Questions
Does Ore-Ida still make potatoes O Brien?
Ore-Ida Potatoes O'Brien with onions is still a product that you can find at plenty of local grocery stores. They're conveniently frozen for quick and easy cooking at home. This is the highest quality frozen version that I've tried. Cook according to package directions.
Can you put potato o brien in air fryer?
You sure can! And it cuts down on oil spatters too. Make sure not to crowd the air fryer basket and cook the potatoes at 400F for about 15-20 minutes or until they reach the desired crispness.
Why do they call it potatoes O Brien?
It was actually named after an Irish cook who was bored with typical fried potatoes. He decided to liven them up a bit by adding color using bell peppers.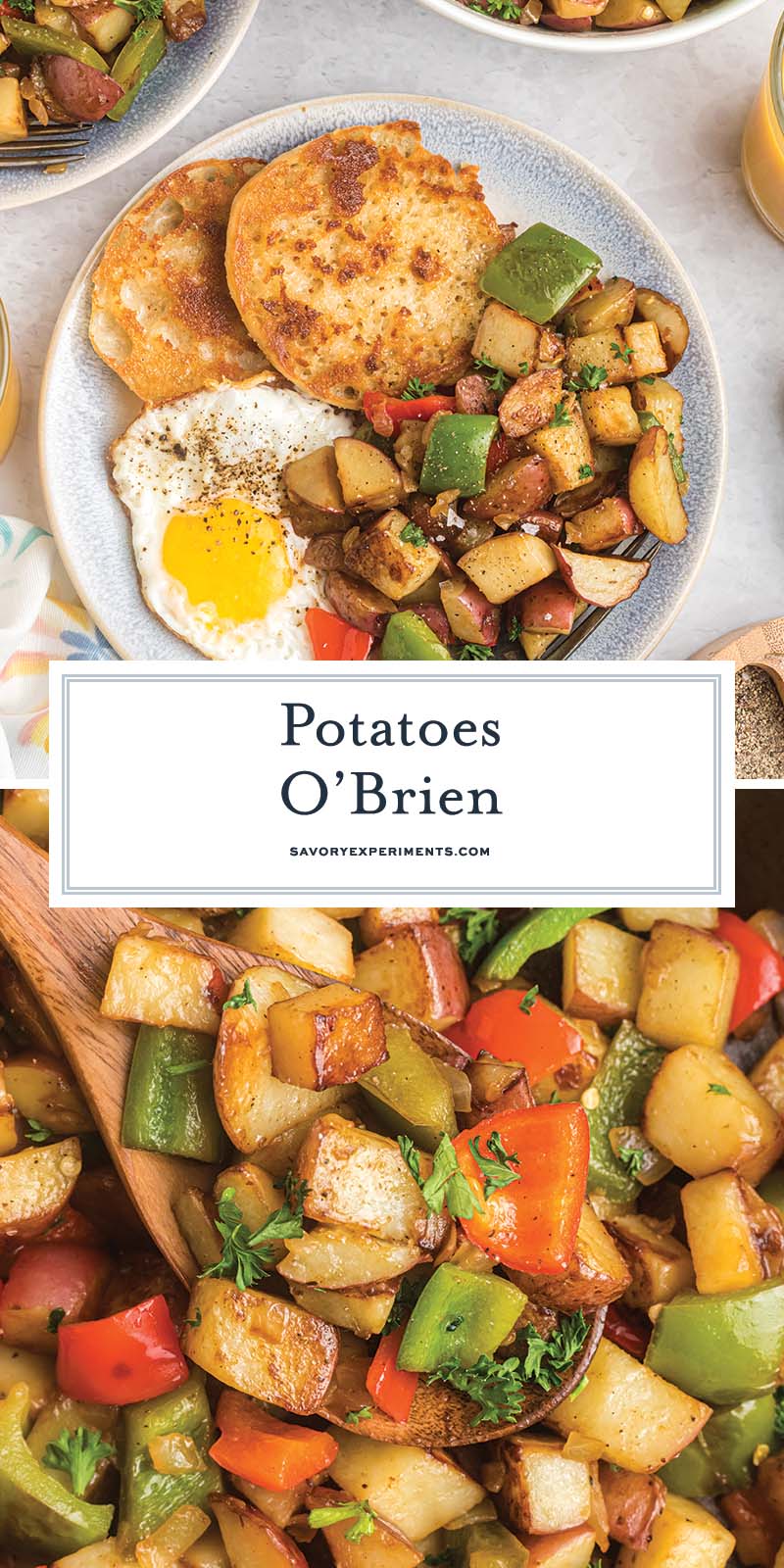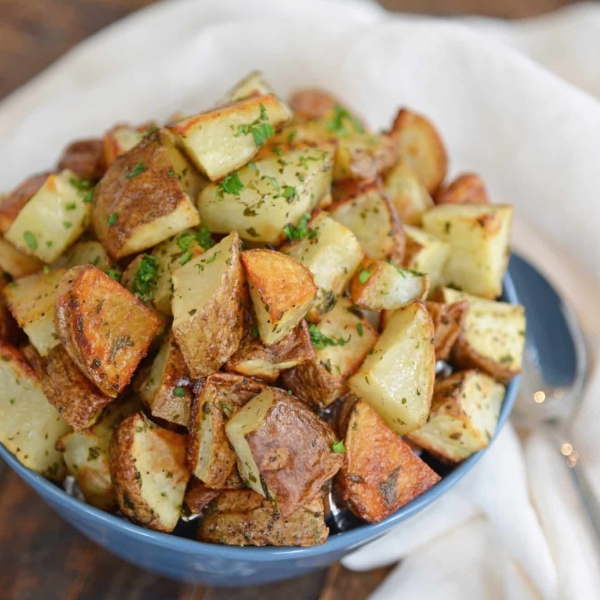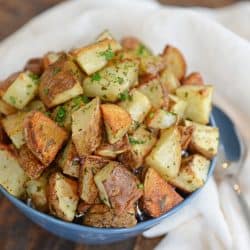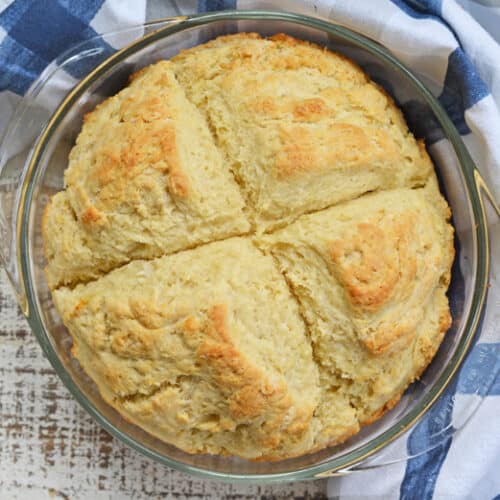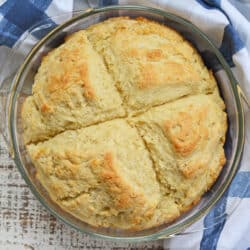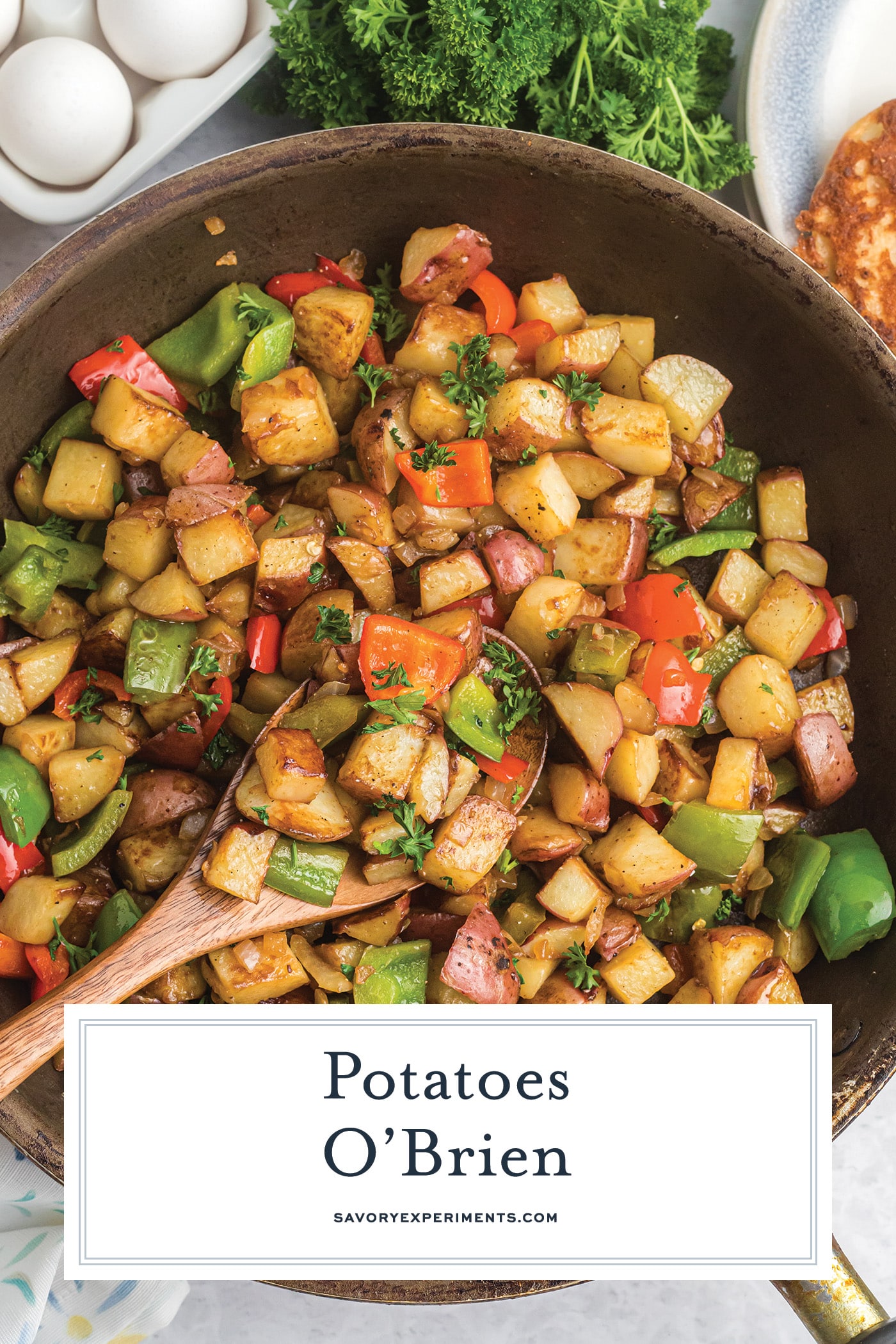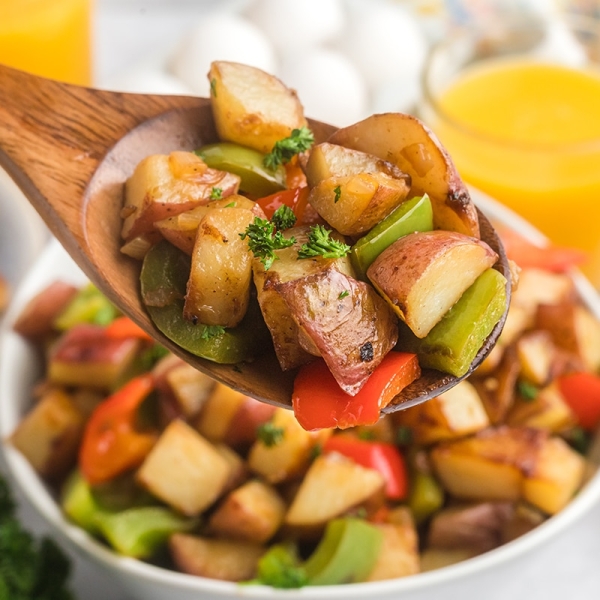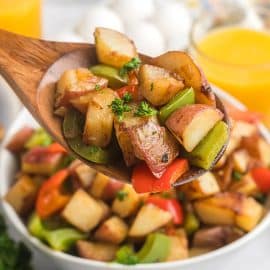 Potatoes O'Brien
This is a traditional Potatoes O'Brien recipe with one special ingredient to really amp up the flavors! Potatoes, bell peppers and onions, you just can't go wrong!
Instructions
Heat 2 tablespoons oil in large skillet. When it reaches a smoking point, add potatoes. Skillet must be hot to make a nice crust. Cook, tossing frequently, for 10 minutes.

Add red and green bell peppers and onions to skillet, toss. Season to your liking with fine sea salt and freshly ground pepper. Cook for 5 minutes.

Add Worcestershire sauce, toss and continue to heat for 1 minute. Serve immediately.

If you've tried this recipe, come back and let us know how it was!
Nutrition
Calories:
192
kcal
,
Carbohydrates:
30
g
,
Protein:
3
g
,
Fat:
7
g
,
Saturated Fat:
5
g
,
Sodium:
72
mg
,
Potassium:
861
mg
,
Fiber:
3
g
,
Sugar:
4
g
,
Vitamin A:
650
IU
,
Vitamin C:
54.5
mg
,
Calcium:
25
mg
,
Iron:
1.5
mg