Nearly any main dish can be paired with a simple salad. A plate of leafy greens dotted with a few other vegetables and a house dressing. The perfecter starter and the ideal way to get those veggies into your day.
For a long time I held off on creating this post, because well, is there really just "one" side salad recipe? No! In fact, any salad recipe can really be scaled down to a starter salad. But it seems people do look for a small leafy green salad or ways to make them a little more interesting. So here we are, talking about all things salad!
Easy Side Salad
These go-with-everything salads are designed to be somewhat basic, so here I'm providing with the bones and then I challenge you to take it to the next level. So many fun variations from cheese, to dressing and even the type of lettuce you pick. There really isn't a true best side salad recipe.
I try to incorporate these elements into my side salads: texture, color, zing, sweetness. Texture generally means something crunchy. Color is either all one color for a mono salad or all sorts of colors for a rainbow. Zing is something acidic or spicy to balance it all our. Sweetness comes from the veggies themselves, candied nuts or fruit.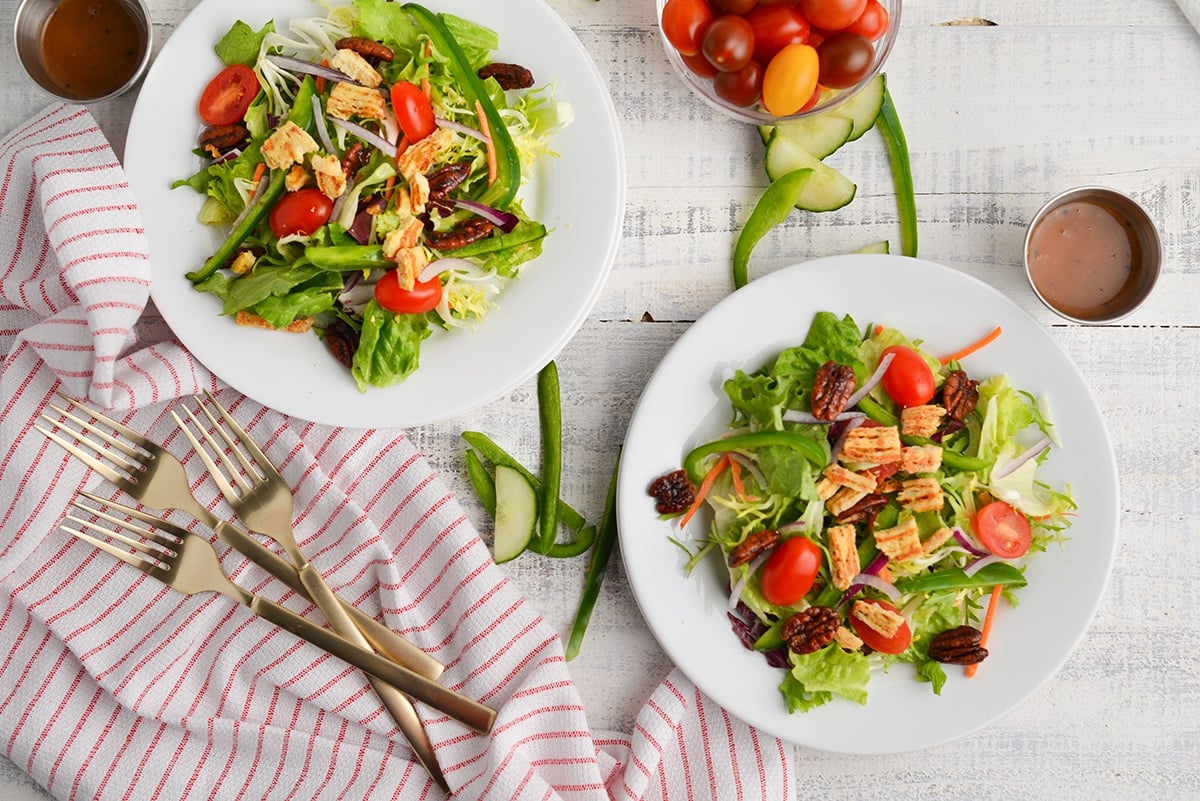 Ingredients for Side Salad
I am a firm believer of using what you have on-hand, so modify this how you choose.
Spring mix lettuces – This is a blend of baby lettuce, spinach, romaine and radicchio.
Cherry tomatoes– Grab one with a lot of colors. They are sweet, but don't have a ton of pulp so you don't have to worry about them mushing up other items.
Bell Pepper– We had green, but feel free to use red, orange or yellow.
Cucumber– English cucumbers have the thinnest skin, so they are easy to shew and don't require peeling.
Red onion- I use red onion purely for aesthetics, use whatever variety you enjoy.
Shredded Carrots- Or chop them up.
Croutons– These crunchies aren't croutons at all. They were leftover cheese crackers from a charcuterie board.
Candied Pecans– Both sweet and crunch!
Garlic balsamic vinaigrette– One of the most basic of salad dressings.
Flaky sea salt & freshly ground pepper– This includes Maldon sea salt and freshly ground pepper. You might want to allow your guests/diners to season their own salad.
How to Make a Side Salad
Prepare this easy green salad for your main course in just minutes and then customize it with our suggestions below.
Evenly divide the lettuce onto 4 small plates. Top with the tomatoes, green pepper, cucumber, red onion and croutons.
Drizzle dressing over each salad, tossing well to evenly coat.
Sprinkle with flaky sea salt and/or ground pepper or allow your guests to do so. Serve immediately to prevent browning.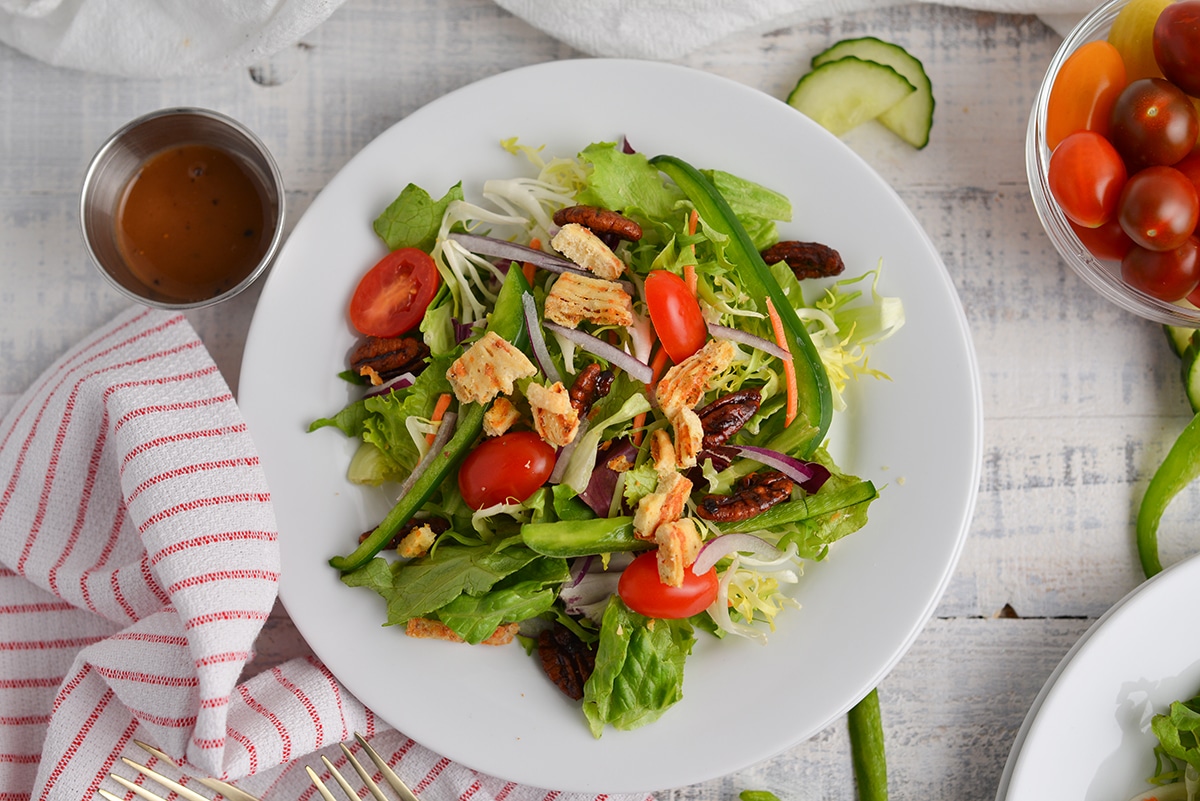 When Should I Salt My Salad?
Not all salads need to be salted, some will have enough in the toppings and dressing. I suggest not salting until after you've tasted it unless you've made a salad a million times before and are certain it needs it.
In that case, dressing the salad, tossing well and then salt. If you salt before dressing, it will pool up or fall to the bottom. Having something tacky on there (dressing) gives it something to stick to.
Why is it Best to Tear Lettuce
Hand torn lettuce isn't just sound fancy, it actually serves a purpose. Tearing lettuce by hand allows it to break along natural points, preserving cells and preventing browning. This is overall the best choice and will keep your leafy greens looking snazzy longer.
Cutting lettuce using a sharp knife is sometimes what is needed to get the job done and that is fine, but now the same cells will be ruptured mid cell and start to brown within 2 hours of chopping.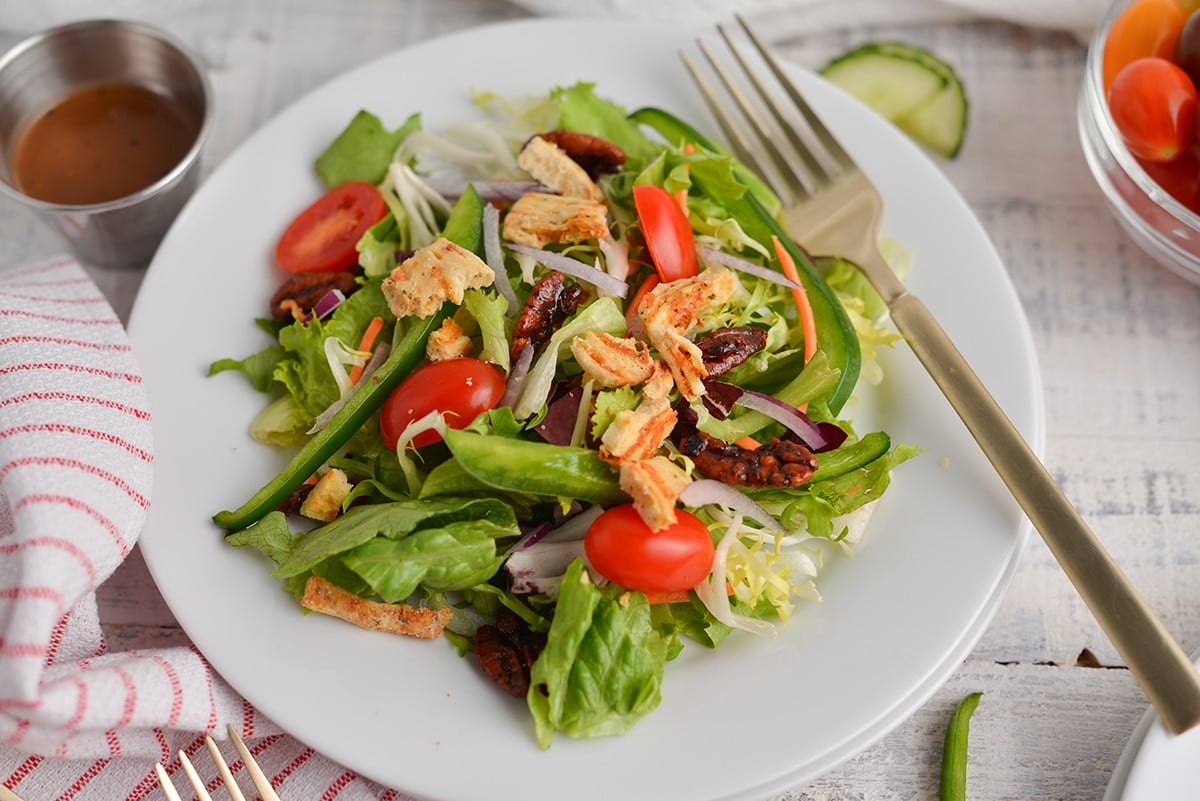 What is the Best Type of Lettuce for a Salad?
I'm not sure there is really an answer to that. There are over 100 varieties of lettuce out there, each with their own unique texture, flavor, appearance and sometimes even smell. Don't feel like you need to pick just one, have fun and use a couple.
What is The Healthiest Type of Lettuce?
Many beleive that Romaine is the more nutrient dense lettuce. With most of it being made of water, there is little room for much else. However, spinach is a close second and offers more flavor.
In my eyes, the best simple green salad has multiple types of salad greens, so mix them up.
What are the Best Side Salad Toppings?
A matter of personal preference and the tone of the meal will dictate the best toppings for salad. A Greek meal might warrant olives, pepperoncini and feta cheese while grilled chicken begs for roasted red peppers, hot dog croutons and sunflower seeds. think of bright flavors and of course, mind your own taste preference.
This is the longest list of salad topping ideas out there- a great way to get started.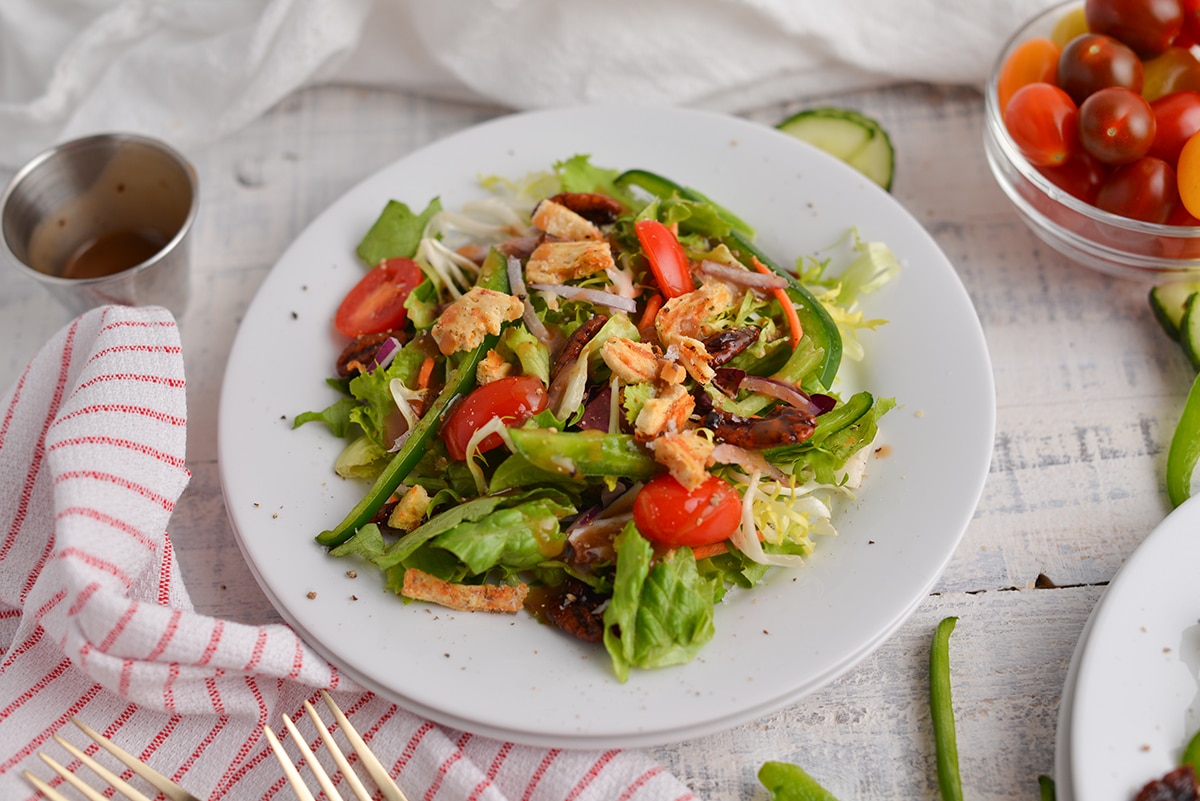 Best Salad Dressing for a Side Salad
Really any type of dressing from creamy to a vinegarette can be drizzled over a simple green salad. I try to pair mine with the meal being served so the dishes flow and don't have competing flavors. Here are great homemade salad dressings to try.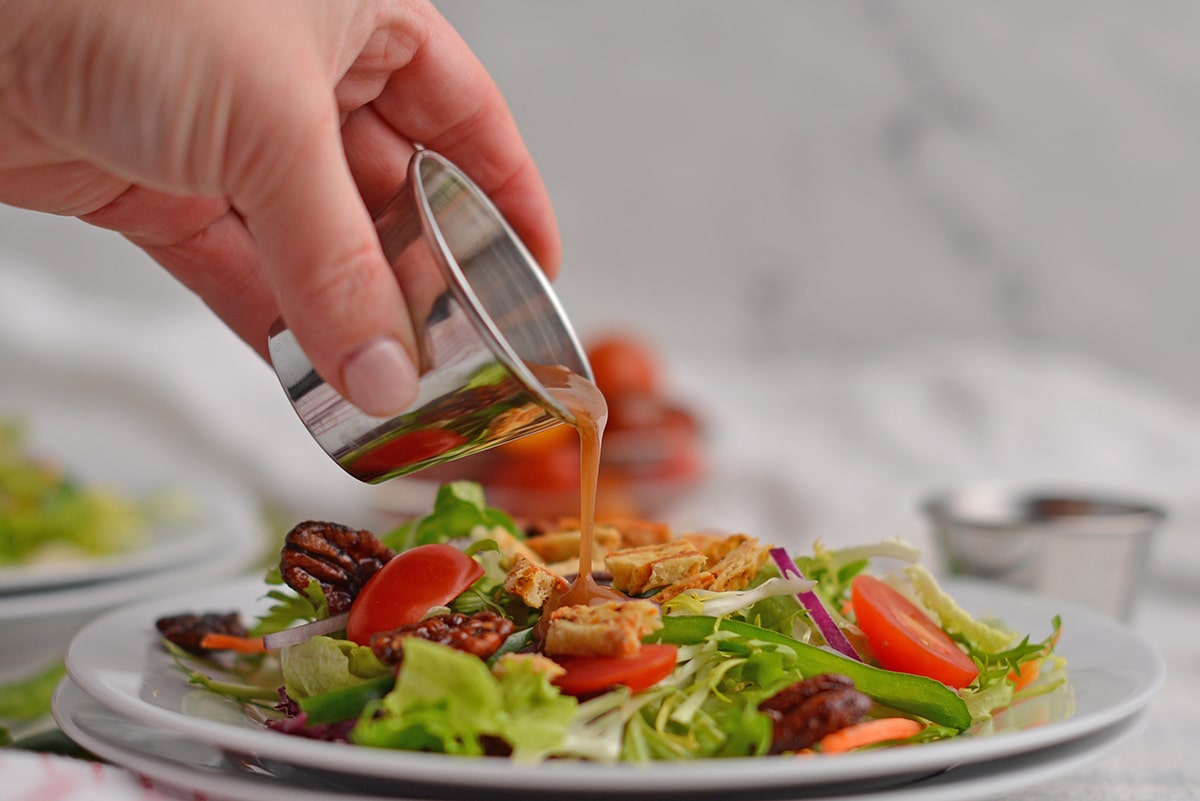 Storage & Make Ahead
How Long Will Salad Keep For?
The moment the lettuce and veggies are chopped, it will start to degrade, some faster than others. This rate increase significantly the moment it is dressed (tossed in salad dressing).
I would aim to do this right before serving or within 2 hours of prepping your delicious salad.
How to Make Salad in Advance
This doesn't mean that you can't make a salad in advance. Choose vegetables that don't oxidize fast (like avocados), hand tear the lettuce and prep everything in separate containers. Assemble the salad right before serving.
If you need to assemble the salad before then, line the bottom with paper towels to catch any residual moisture and prevent other items from getting soggy. Remove and dress right before serving.
Can you Freeze Salad?
We do not recommend freezing salad. Most lettuces, in particular, is mostly water and will thaw as a soggy mess.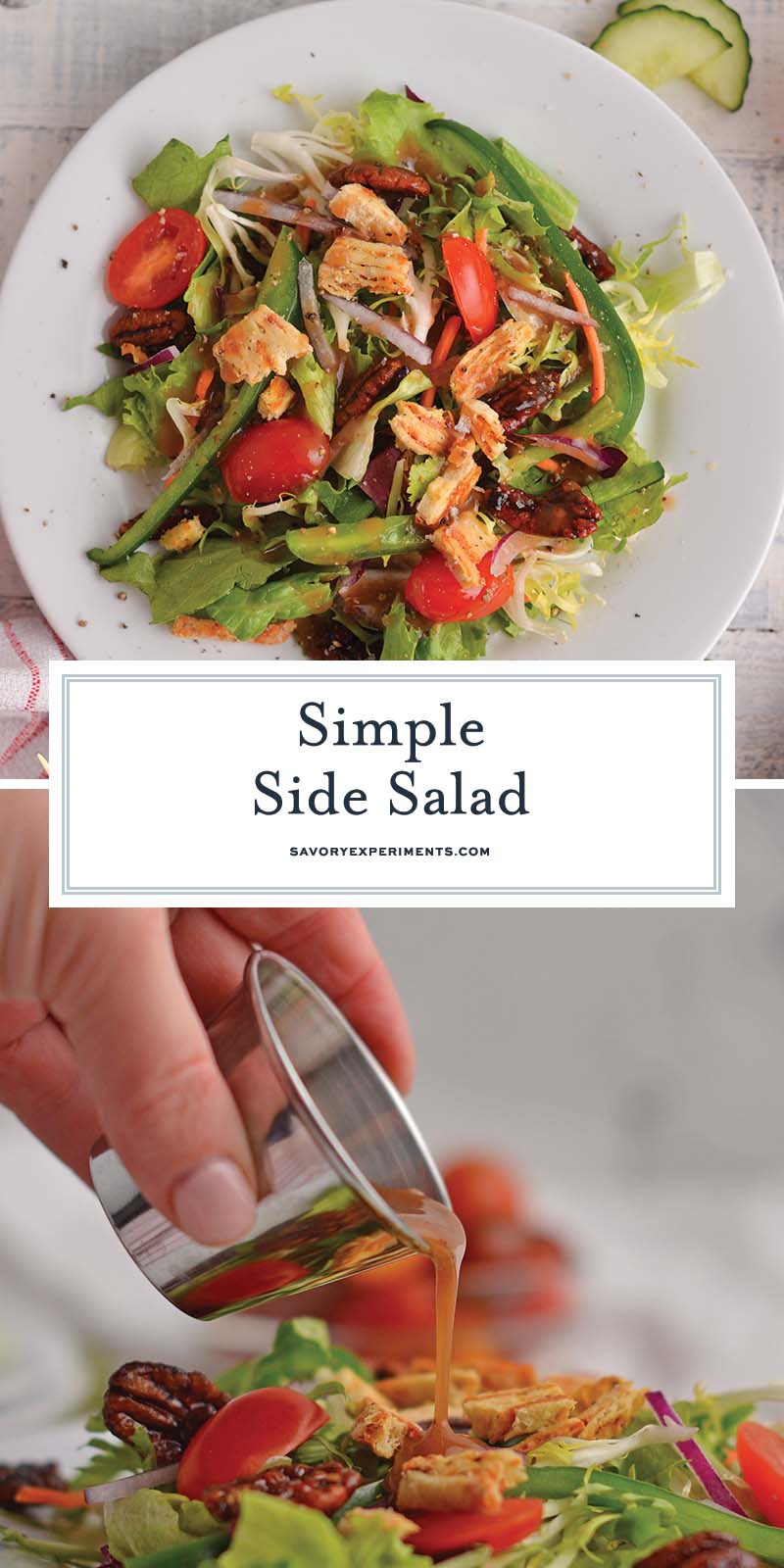 Best Salad Recipes