Candied walnuts, sometimes known as sugared walnuts or caramelized walnuts, they only take a few minutes to prepare and a handful of ingredients.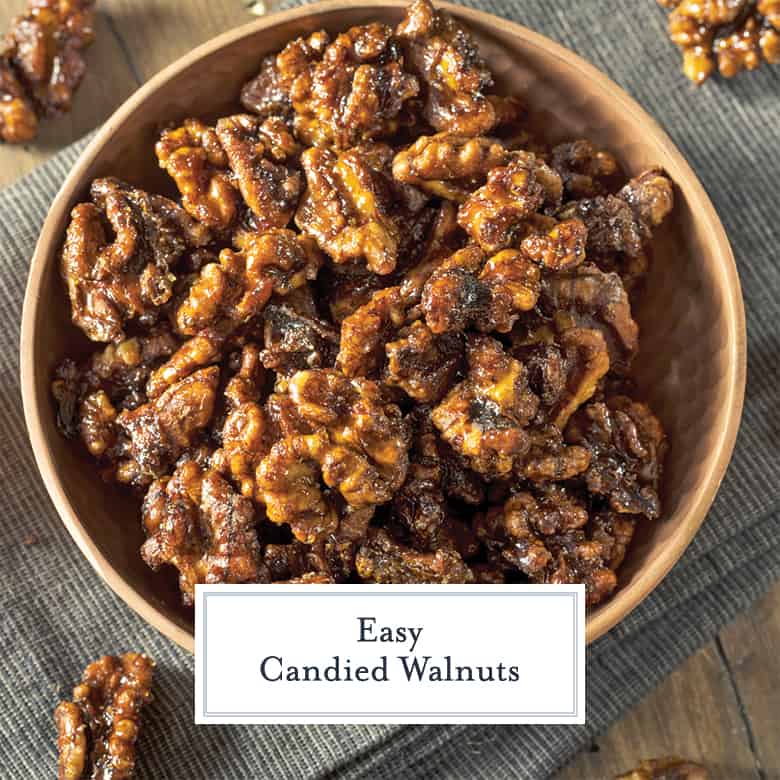 They are super verstile, a great munchie on their own, they are also perfect on salads and for dessert recipes.
Candied walnuts are easy to make with just brown sugar, cinnamon and a pinch of salt. Add to any dessert, salad or more!
Candied walnuts are easy, however, they require a watchful eye. It only takes a moment for brown sugar to go from melted and gooey to burnt.
Use candied walnuts in salads or even desserts, like Balsamic Strawberry Parfaits and my Pear Salad with Honey Balsamic Dressing.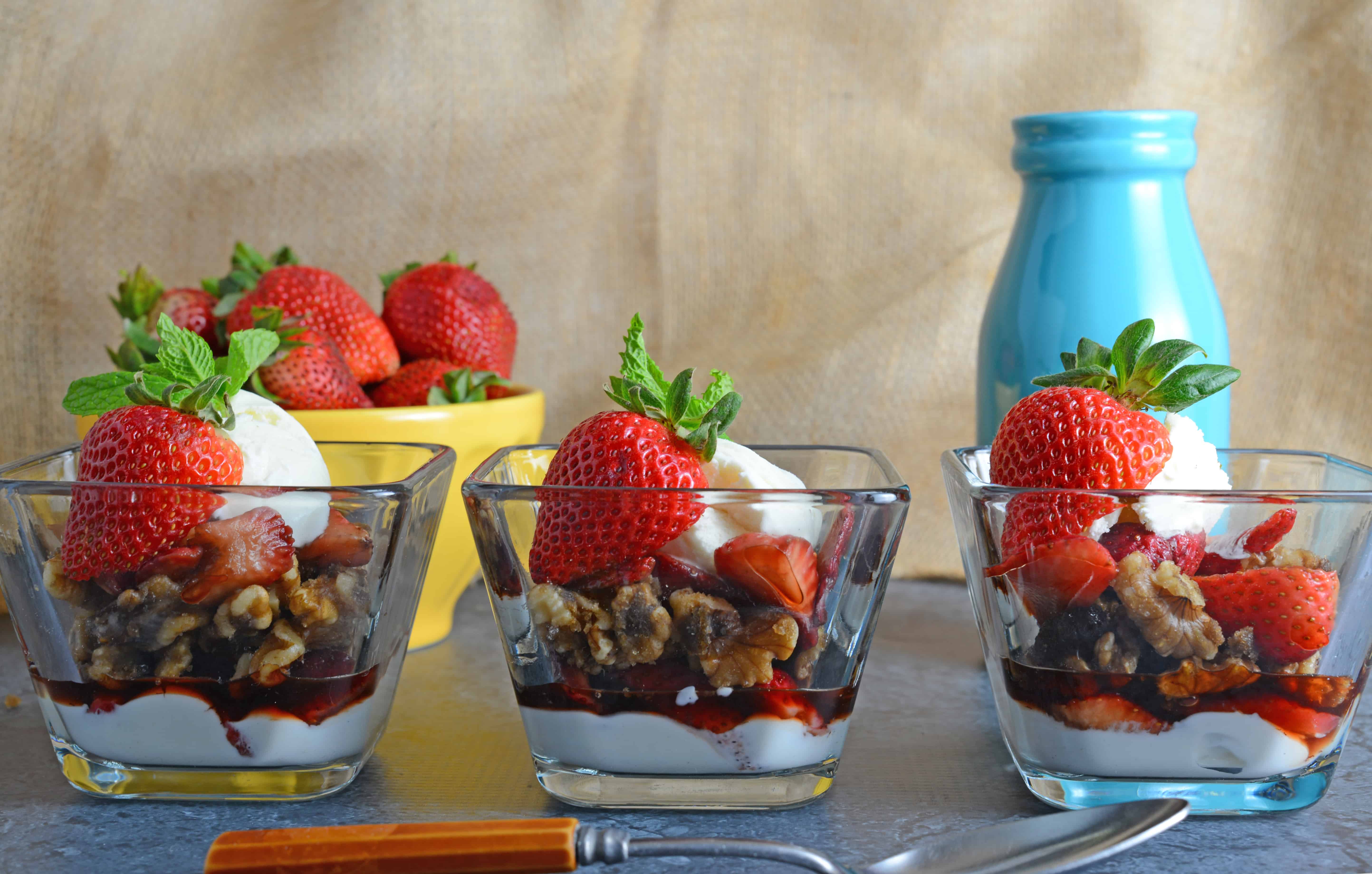 Don't this discourage you from making them though. One day I was running low on time and hubby, being the wonderful man he is, offered to help me out in the kitchen.
Walnut Fact: They are prehistoric and the oldest food tree known to man! Known as a nutritional "powerhouse" they have been providing omega 3s and other healthy fats since way long ago!
One of his tasks was to make Candied Walnuts and to be 100% honest, I was a little nervous. I'm a little OCD and sometimes have a "I'll do it myself to make sure it gets done right" attitude, but I let him do it.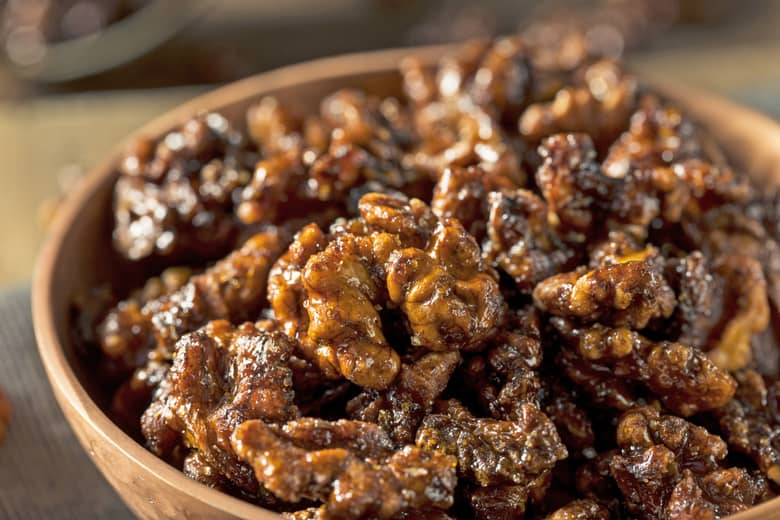 And you know what, they turned out perfect! If can make them, so can you!
I do recommend using a heavy bottom skillet to equally dispense heat and reduce the chance of burning. Fleur de sel will add another layer of sophistication and bring out the flavor in your walnuts.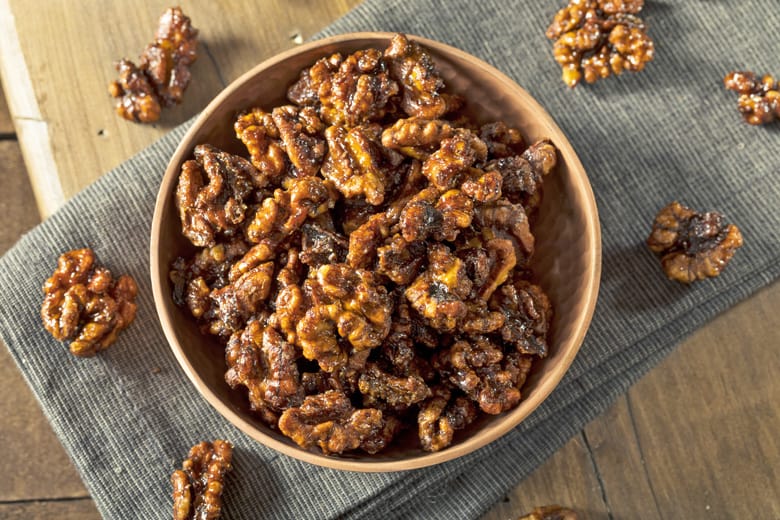 If you opt to add cinnamon, make sure to use true cinnamon, read my The Truth About Cinnamon to make sure!
What will you make with your Candied Walnuts? Inquiring minds want to know! Scroll down for more recipes with all sorts of walnuts!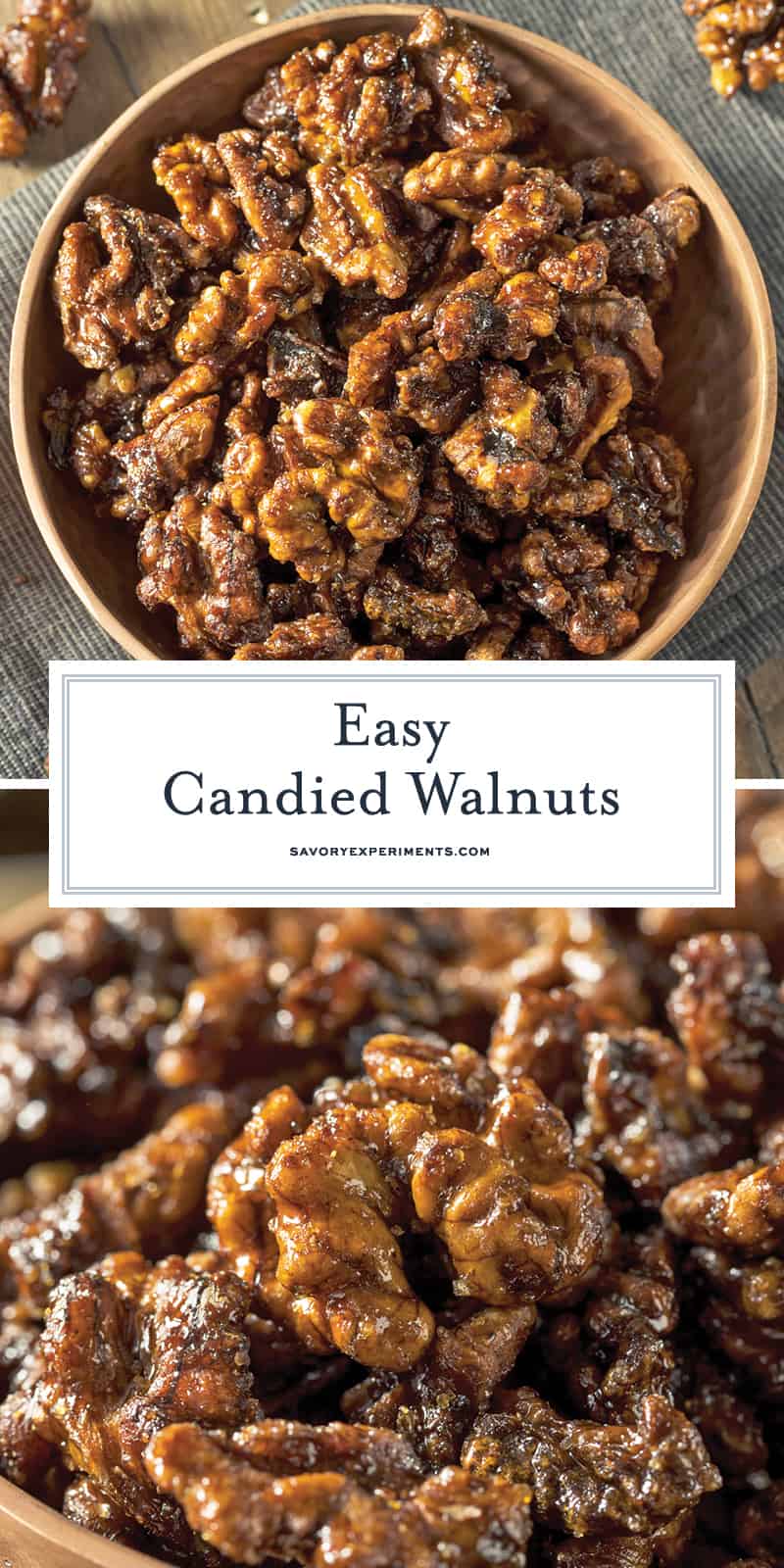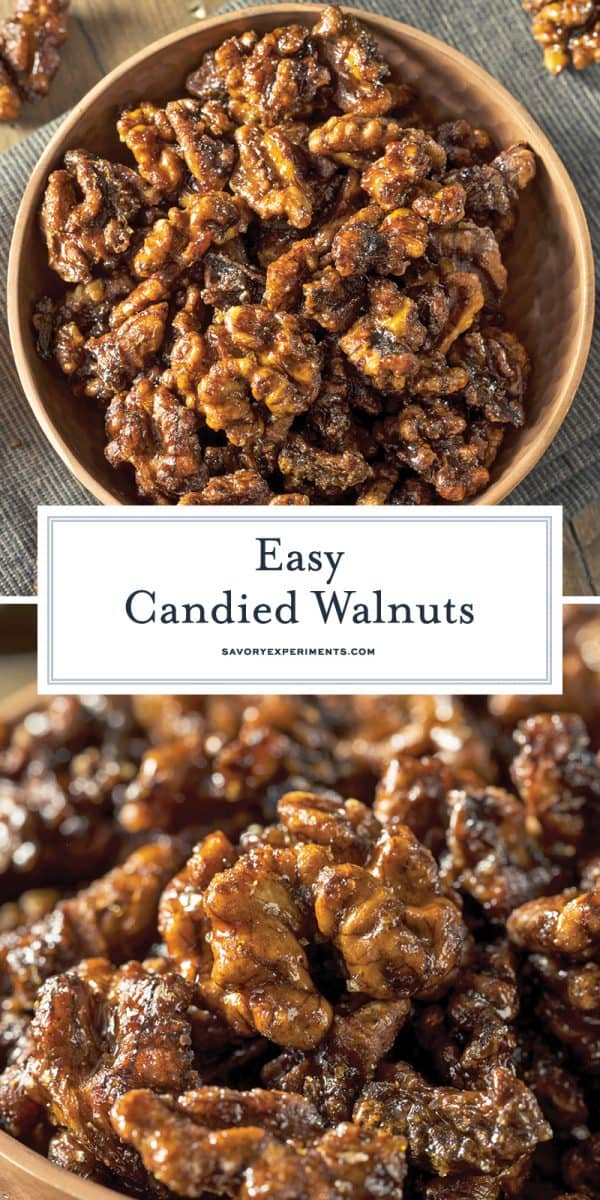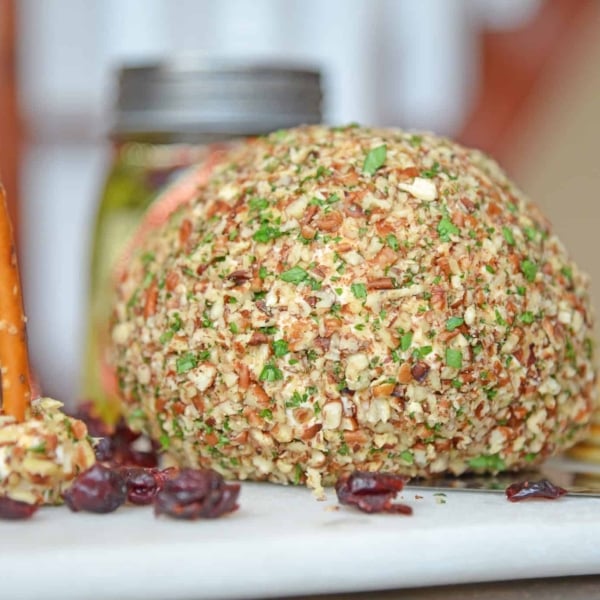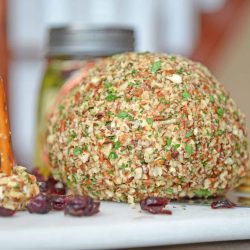 Party Cheese Ball
This cheese ball with cream cheese is a classic Party Cheese Ball recipe, made with simple ingredients. A must-make for any and all parties!
See The Recipe!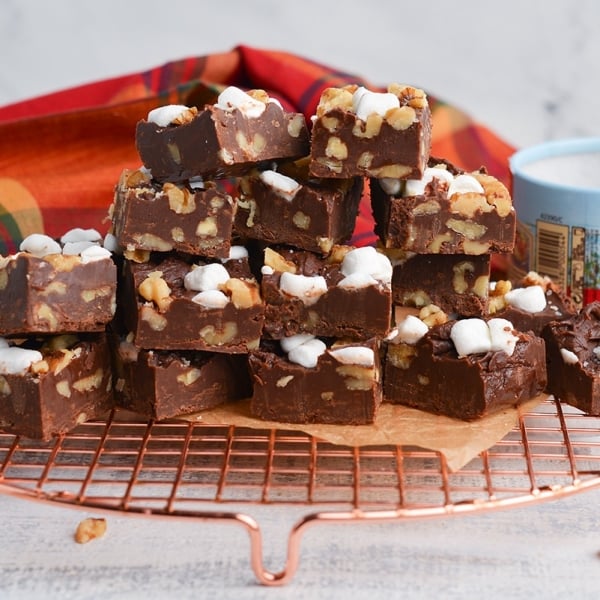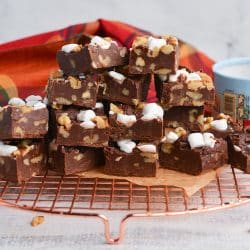 Tools for making caramelized walnuts:
Heavy Bottom Frying Pan– this will be one of your most used kitchen tools. Having something that is heavy bottom will distribute heat better and prevent burning whether you are using an electric or gas range.
Parchment Paper– perfect for letting your candied walnuts cool and harden.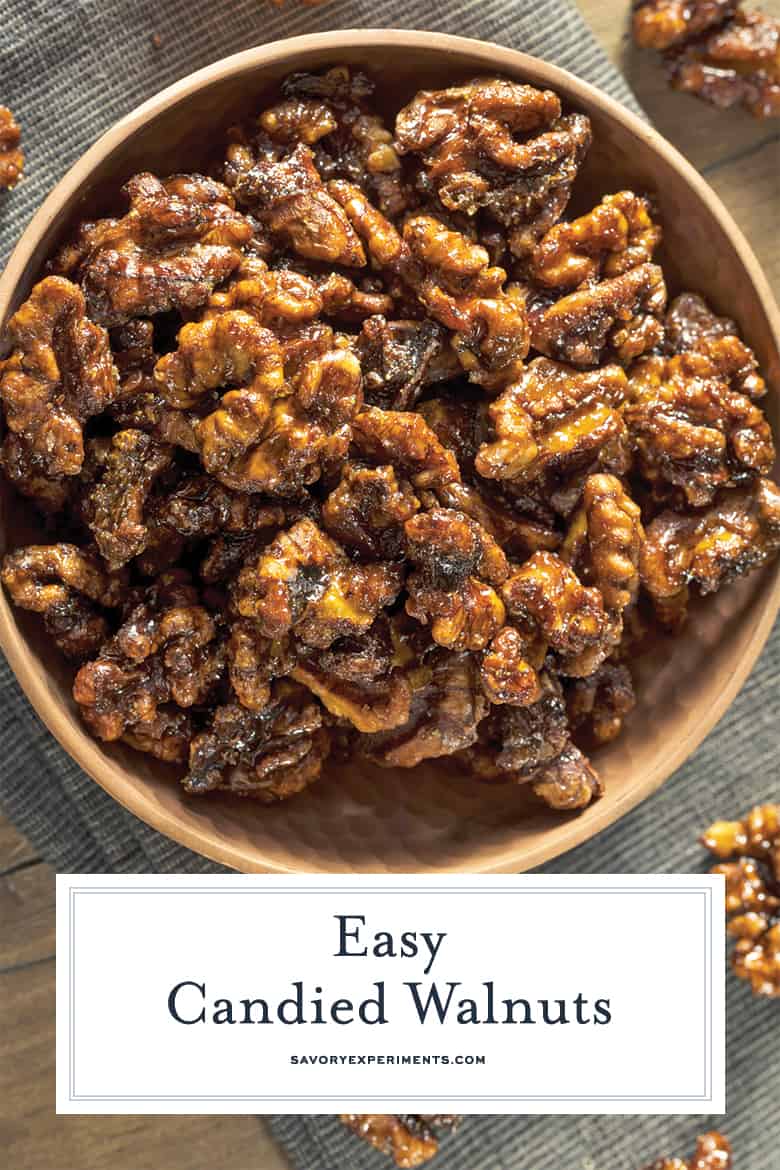 Questions you might have about how to make candied walnuts:
How long are candied walnuts good for? This recipe is good for up to a week. Since they aren't packaged with preservatives and other nonsense, they don't last as long.
Do I need to refrigerate candied walnuts? Caramelized walnuts do not require refrigeration. In fact the sugar part will get super hard and need to come up to room temperture before eating.
Do candied walnuts have dairy? This recipe does include dairy because I use butter.
Can candied walnuts be made with a sugar substitute like Splenda or Equal? I am sure there are ways to do this, but my walnut recipe really needs brown sugar.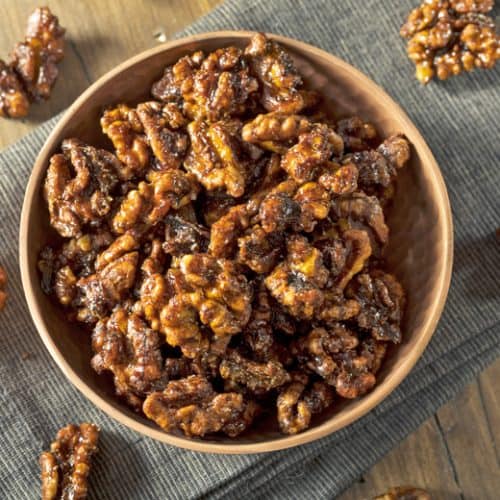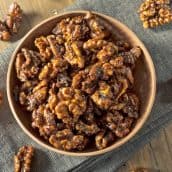 Candied Walnuts
Candied walnuts are easy to make with just brown sugar, cinnamon and a pinch of salt. Add to any dessert, salad or more!
Instructions
Heat butter in a heavy bottom skillet over medium-high heat.

Add walnuts and sugar, tossing to coat. Allow sugar to melty and become sticky.

Spray a piece of parchment paper with cooking spray.

When walnuts are evenly coated, turn out onto parchment in a single layer. Sprinkle with cinnamon or fleur de sel (both optional).

Allow to cool, then crumble.

If you've tried this recipe, come back and let us know how it was!
Nutrition
Calories:
1102
kcal
,
Carbohydrates:
51
g
,
Protein:
18
g
,
Fat:
99
g
,
Saturated Fat:
21
g
,
Cholesterol:
60
mg
,
Sodium:
212
mg
,
Potassium:
563
mg
,
Fiber:
7
g
,
Sugar:
38
g
,
Vitamin A:
700
IU
,
Vitamin C:
1.5
mg
,
Calcium:
145
mg
,
Iron:
3.7
mg