Balsamic Reduction Sauce Recipe
An easy Balsamic Reduction Sauce will achieve the same distinguished flavor and velvety texture as 15 year aged balsamic using the cheap stuff and in only 15 minutes!
Easy Balsamic Reduction Sauce takes any meal from boring to sophisticated! Two ingredients and it is ready in just minutes!
There are a couple of simple things a home cook can do to achieve restaurant quality food in the kitchen. The first is always the quality of ingredients, for some things at least.
There are some things, like produce or a quality cut of meat, that you just shouldn't skimp on. The next technique is to layer and plate. Layering means using a multifaceted approach to flavors.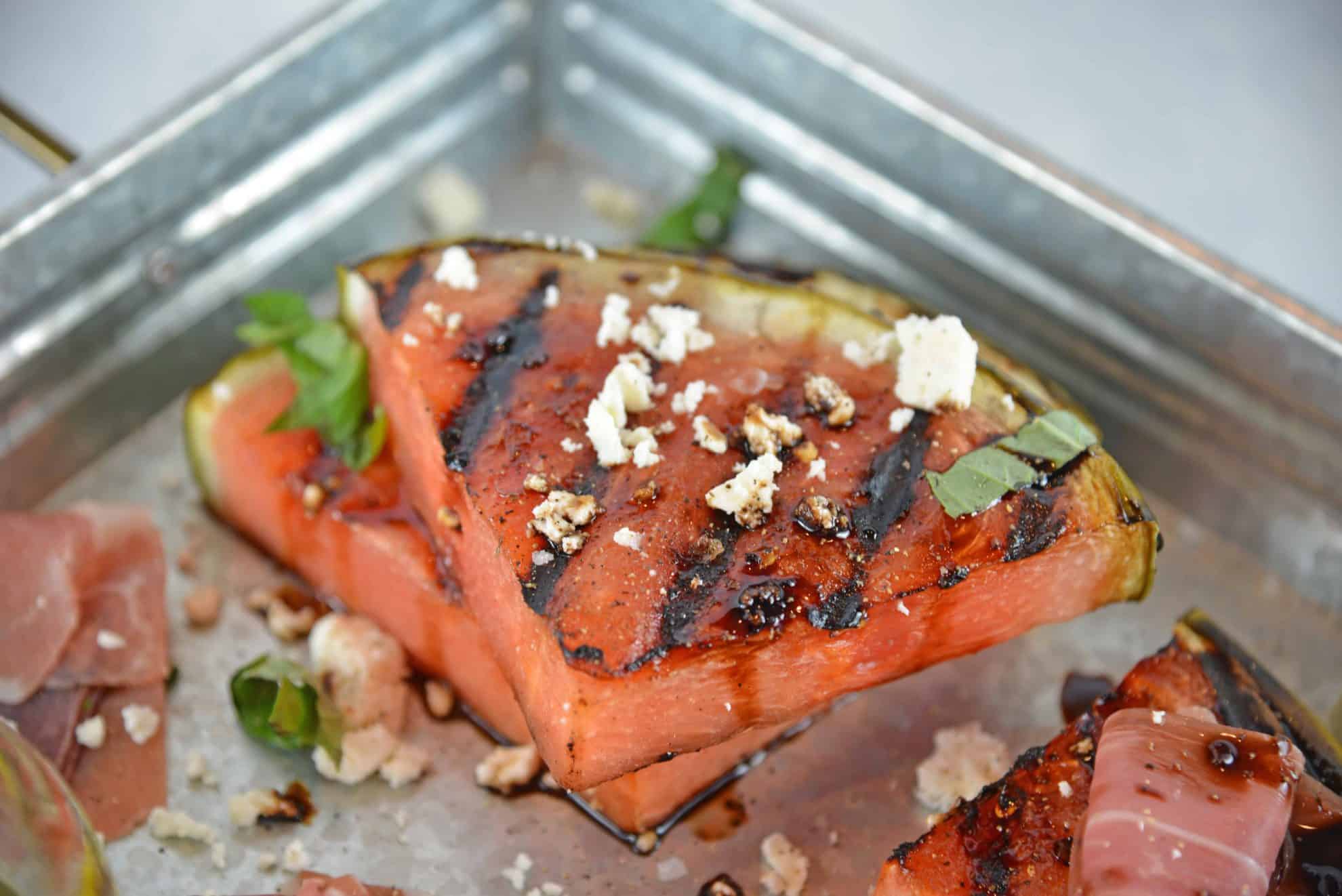 You will rarely receive a single note dish at a restaurant, instead the flavors will be complementing and layered. Say an herb roasted chicken, sprinkled with Maldon Sea Salt and set in a small amount of a vinegar spiked fruity gravy.
Three distinct flavors instead of just "herb roasted chicken".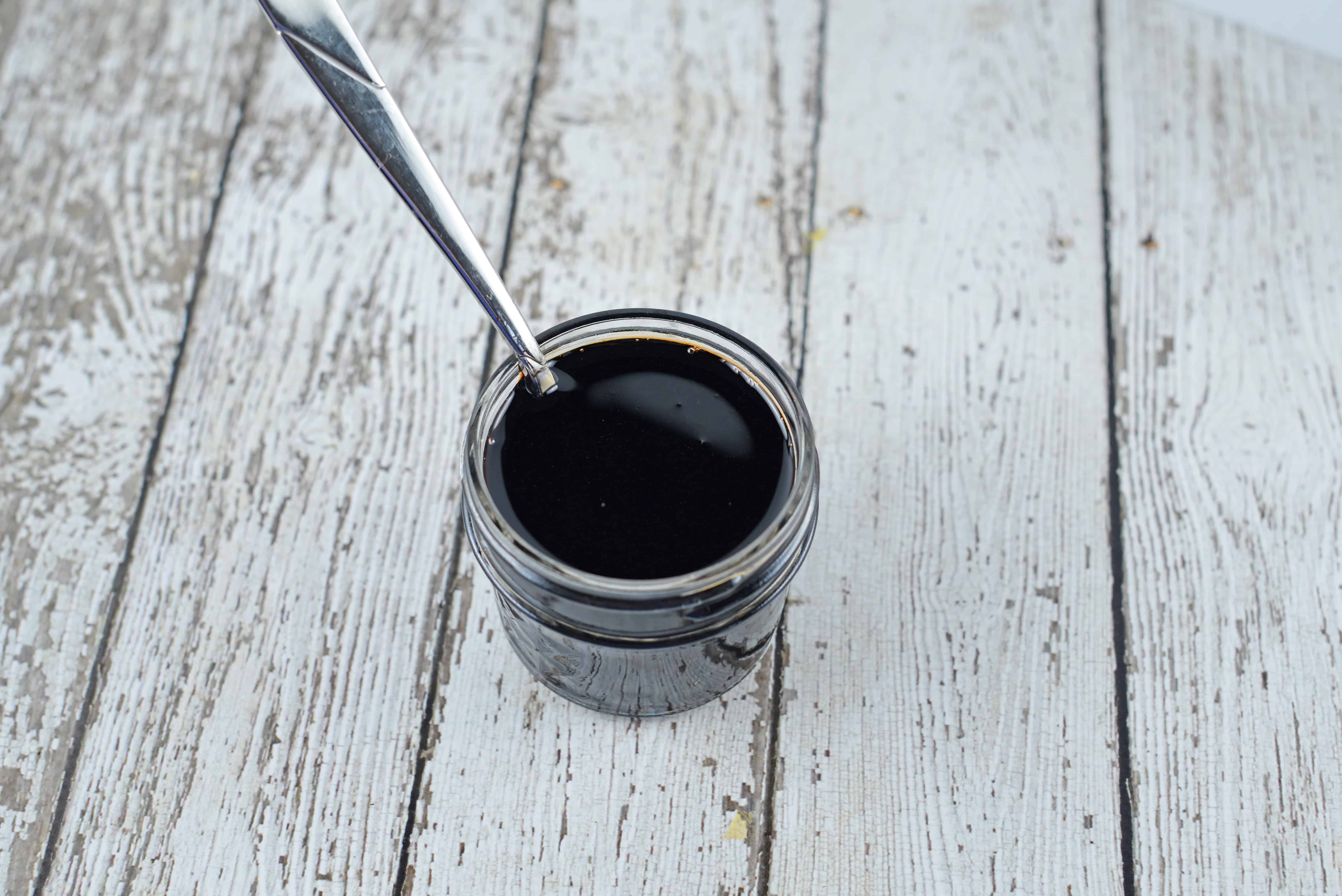 Sauces not only achieve the goal of layering flavors, but they also add to the visual appeal and plating. Instead of drizzling a sauce over your food, try creating a pool and placing the food in the sauce.
Take note next time you are at a restaurant as to how they creatively use sauces as an art instead of just a taste bomb.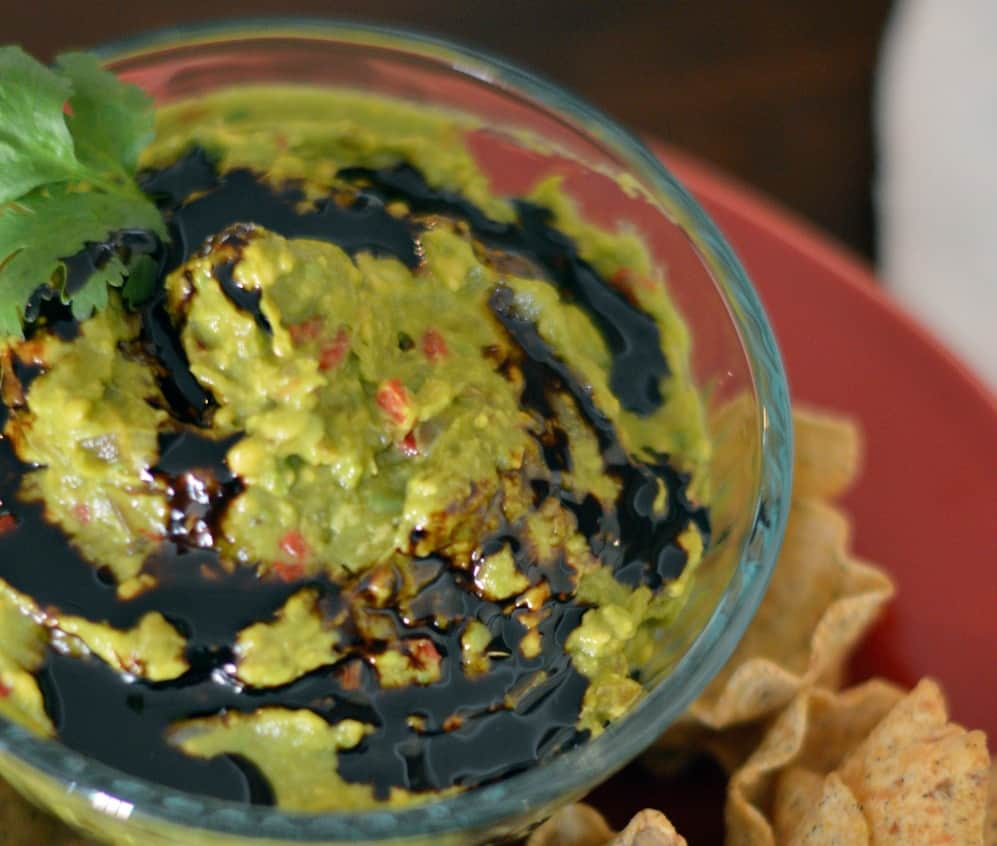 A Balsamic Reduction Sauce, sometimes known as a balsamic glaze, is one of the most basic and used sauces for layering and plating.
It only uses three ingredients, which can even be reduced to two, and provides a syrupy sweet and acidic profile that is used in savory and sweet dishes. Some recipes use honey, but I don't find it to be necessary.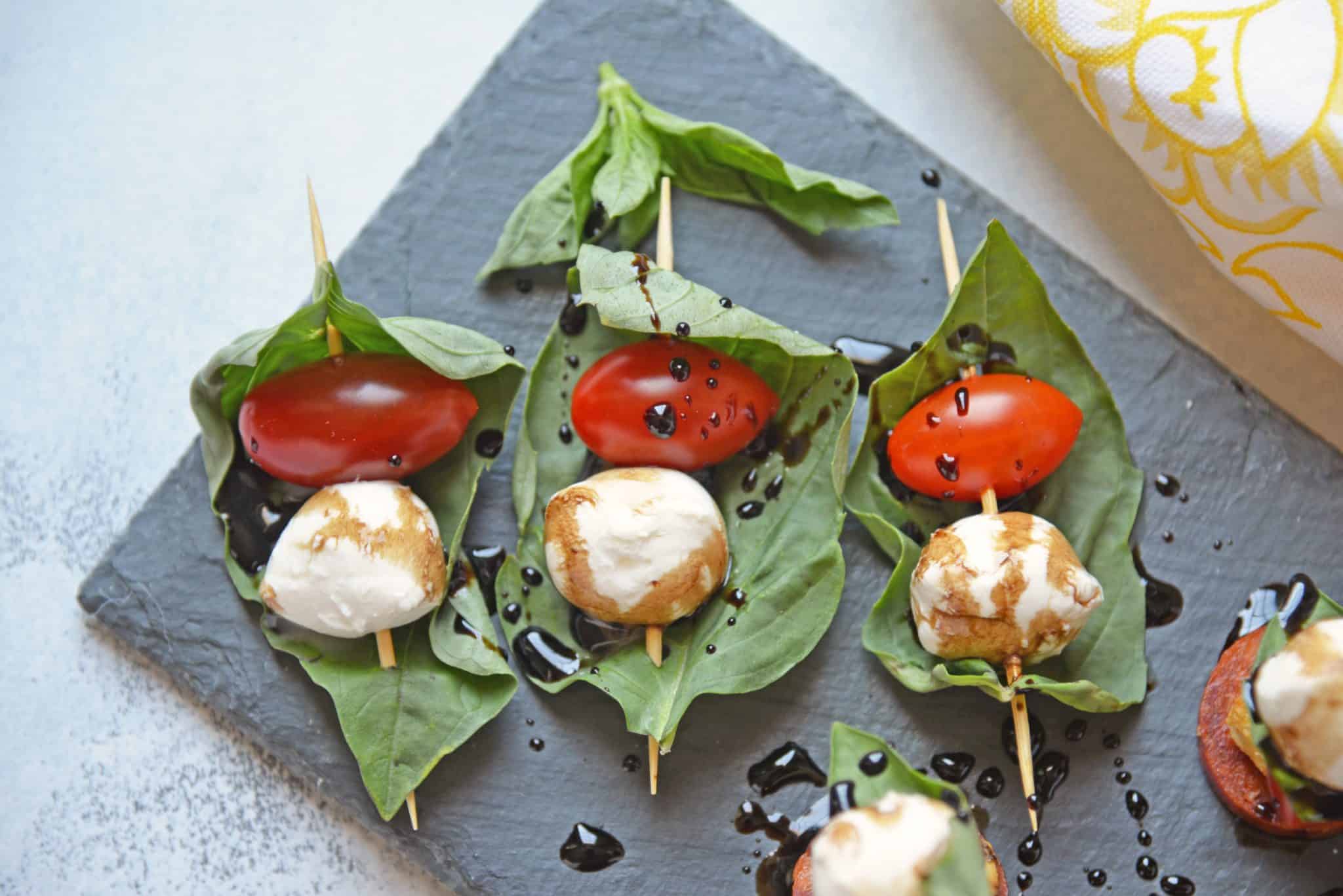 Here are some of my favorite dishes that use a Balsamic Reduction Sauce, but you can also use it to dress up a salad or even on vanilla bean ice cream!
Is balsamic glaze and balsamic reduction the same thing?
Yes! The two are interchangeable as far as terms go. Either can be dressed up with fresh herbs or spices. Some balsamic glazes use honey instead of sugar.
Can you make balsamic reduction ahead of time?
Yes! By all means, yes! It takes a little time to reduce and then you'll want to use it at room temperture because that is when it thickens.
If storing for longer than a few hours (which you can do at room temperture), place in the refrigerator, but allow for an hour or so to come to room temp before using.
What can I use balsamic reduction on?
Pizza
Avocado Toast
Salad or Grilled Romaine
On Grilled Chicken, Beef or Seafood
Grilled Cheese
With Caramelized Onions
Slow Cooker Balsamic Honey Pulled Pork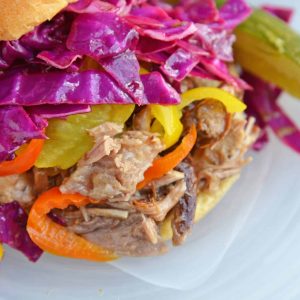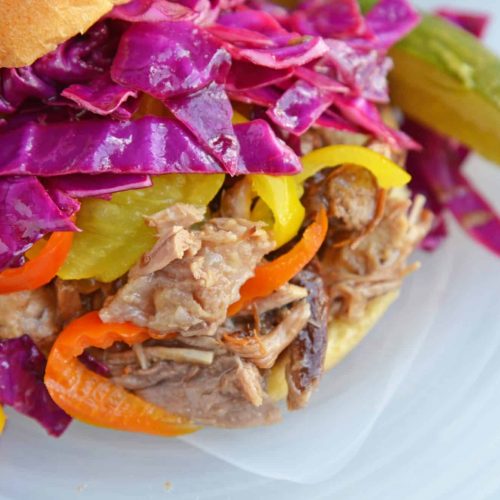 Slow Cooker Honey Balsamic Pulled Pork is a pulled pork recipe using sweet and Asian flavors resulting in a super delicious sandwich.
Balsamic Cherry Ham Glaze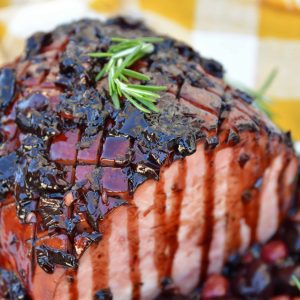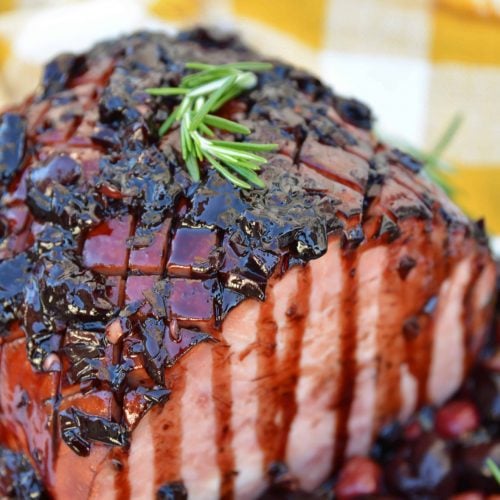 Balsamic Cherry Ham Glaze is an easy ham glaze for your Christmas ham or any baked ham throughout the year. Tart cherries, balsamic vinegar and brown sugar lend bold flavors.
Watermelon Shrimp Kabobs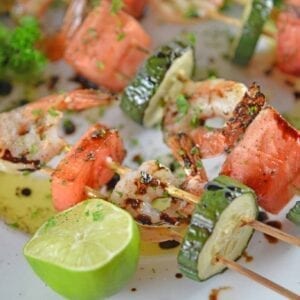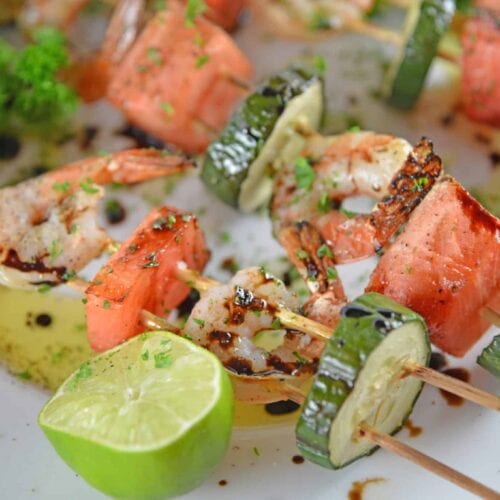 Watermelon Shrimp Kabobs combine grilled shrimp with grilled watermelon with a sweet balsamic reduction and zesty lime. A healthy kabob recipe on the grill.
CONNECT WITH SAVORY EXPERIMENTS!

Be sure to follow me on social media, so you never miss a post!

Facebook | Twitter | Youtube
Pinterest | Instagram

Get our FREE 8 Day E-Course on How to Be a Better Home Cook. Sign up HERE!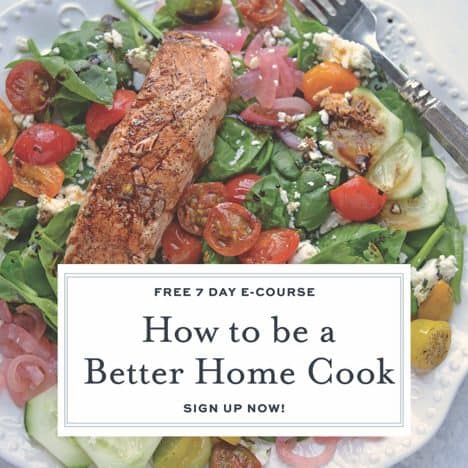 Print Recipe
Balsamic Reduction Sauce
How to make a balsamic reduction sauce just like the restaurants! Tastes like 15 year aged balsamic, but cheap and made in 15 minutes with only 3 ingredients.
Ingredients
1

cup

balsamic vinegar

2

tablespoons

brown sugar

Dash of fine sea salt
Instructions
Stir both ingredients together in a small sauce pan. Allow to simmer on low and reduce by half, approximately 15 minutes. Mixture will thicken when cooling, should coat the back of a spoon. It will not appear thick while still hot, allow it to cool to get the right consistency.

Stir in dash of fine sea salt.
Video
Nutrition
Calories:
315
kcal
|
Carbohydrates:
66
g
|
Protein:
1
g
|
Sodium:
65
mg
|
Potassium:
285
mg
|
Sugar:
61
g
|
Calcium:
89
mg
|
Iron:
1.8
mg