A Balsamic Reduction Sauce, sometimes known as a balsamic glaze, is one of the most basic and used sauces for layering and plating. One element that can elevate any dish, savory or sweet.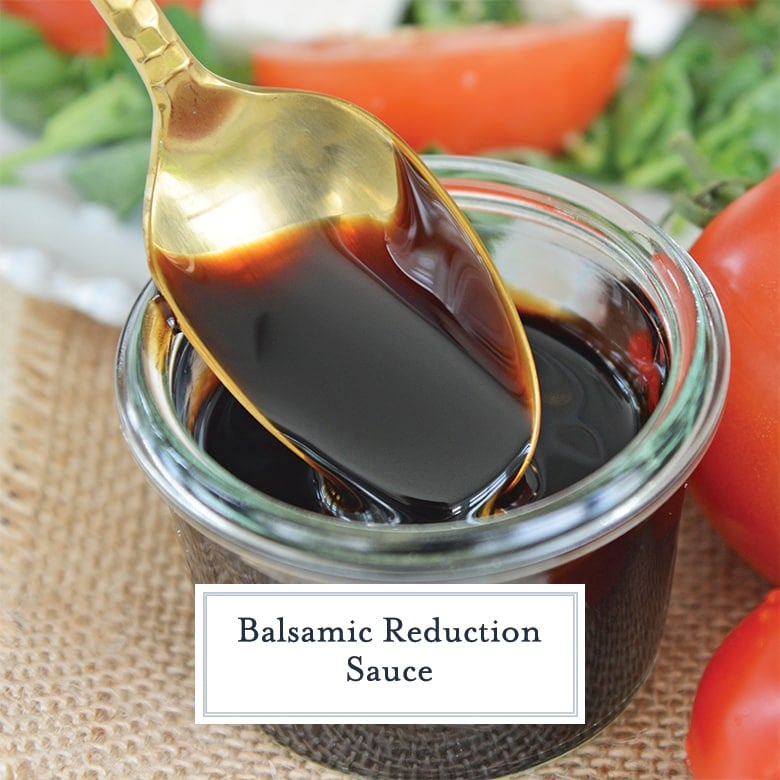 Balsamic Reduction
There are a couple of simple things a home cook can do to achieve restaurant quality food in the kitchen. Layering foods to add texture, flavor and sophistication is the easiest.
Homemade balsamic reduction is an easy way to achieve this. A thick, velvety sauce that can be made ahead and is ready in a snap.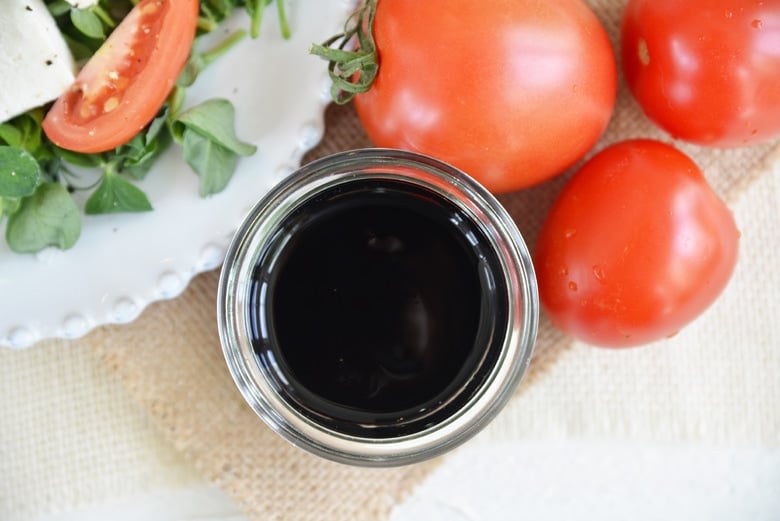 For my sauce, I use a cheaper balsamic vinegar (not the super cheap stuff, the middle of the road stuff). I find that after reducing and adding some brown sugar, I could save my 15-year aged balsamic for salads and dressings that needed those impactful notes.
Naturally gluten free and dairy free, this sauce be used on so many things. You can also reduce the sugar or omit it altogether for a fully healthy sauce.
Feel free to add fresh herbs to the mix to complement your dish even further. Fresh thyme, oregano or basil are all great. Allow the whole herb to simmer with the sauce and then fish it out after reducing.
Balsamic Vinegar & White Balsamic
Balsamic is Italian in origin and made from grape must, a freshly pressed combo of grape, skin, seeds and even vine. It is boiled and then fermented into the acidic flavor of vinegar.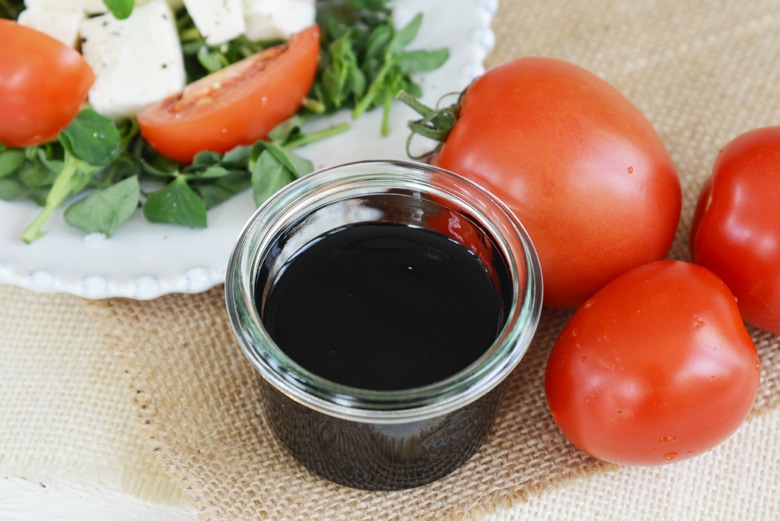 Quality of grapes and length of aging is what determines the final taste. An aged vinegar will be dark and rich in flavor, while a younger version still tangy, but thinner and light. Both have their uses and are perfectly acceptable.
White balsamic is made using white Trebbiano grapes in the same process, but it a pale yellowish color. You can use either to make a reduction or glaze.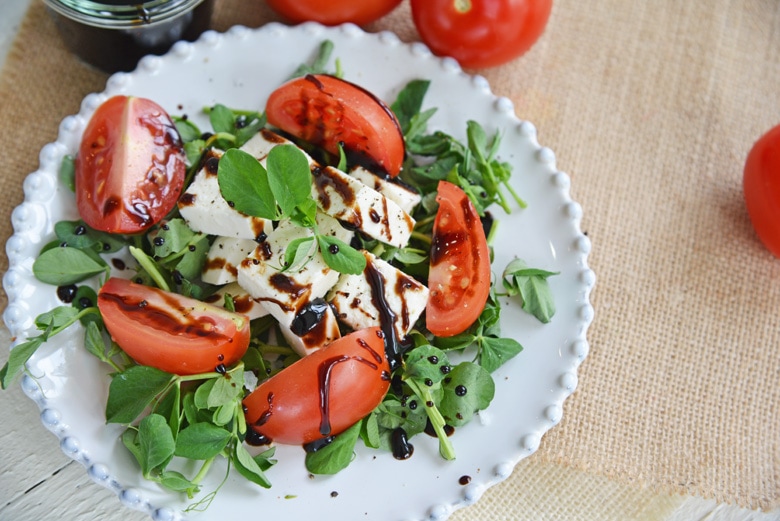 How to Make Balsamic Reduction
In its most basic form, balsamic reduction from scratch only uses one ingredient: vinegar. But mine adds a little molasses and sweetness from brown sugar and then a dab of zing from salt.
The salt helps to balance out the acid and sweet flavors using the culinary trifecta of salt, acid and sweet. These three ingredients provide a syrupy sweet and acidic profile that is used in savory and sweet dishes.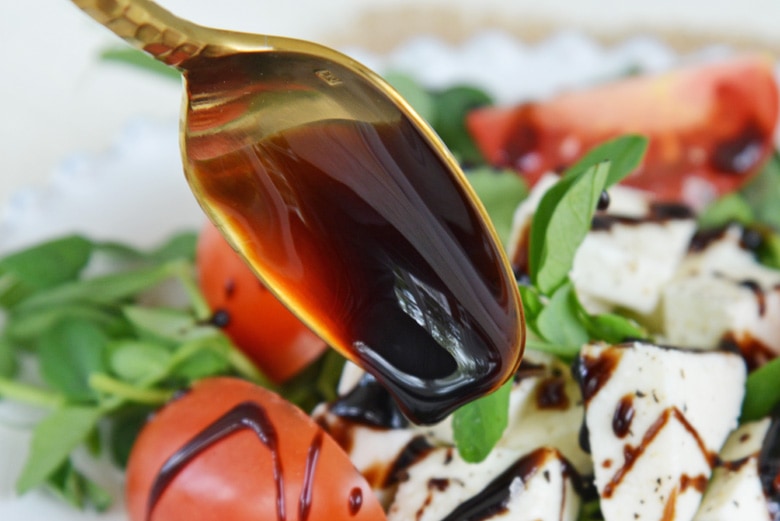 The process is simple, pour your vinegar and sugar into a small saucepan, bring it to a low simmer and let it reduce by about half.
It won't get super syrupy on the stove, that will happen as it cools. At this point, add your salt, if desired. Just a pinch will do.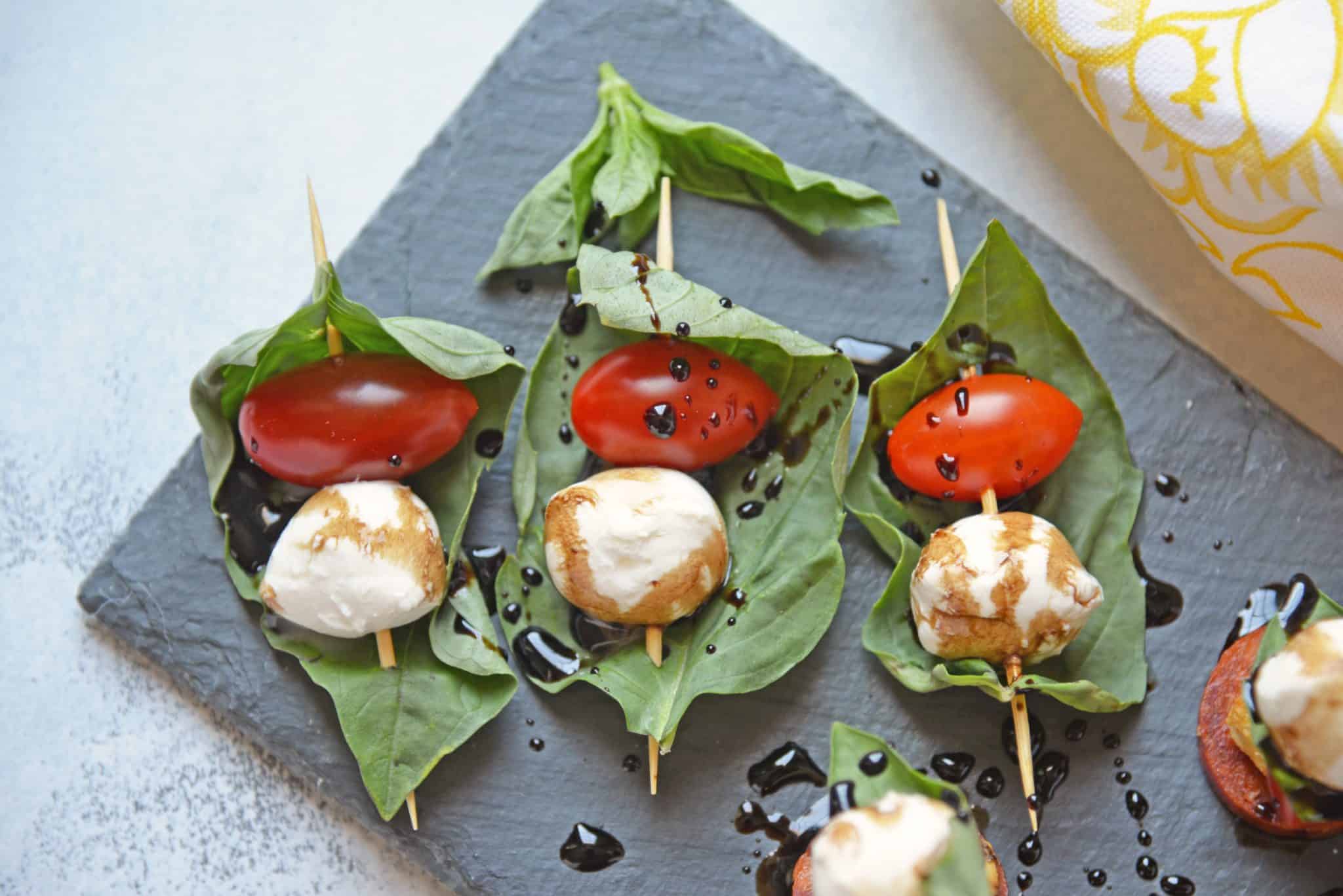 Balsamic Glaze
Is balsamic glaze and balsamic reduction the same thing?
Yes! The two are interchangeable as far as terms go. Either can be dressed up with fresh herbs or spices. Some balsamic glazes use honey or agave nectar instead of sugar. White sugar can also be used, but I like the molasses flavors in light or dark brown sugar.
There are also variations on balsamic reduction, like this savory blueberry sauce or even a similar version with cherries.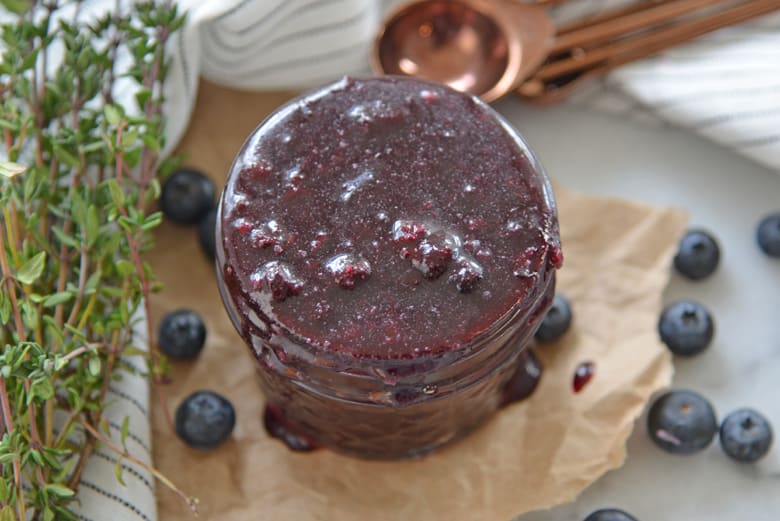 Make Ahead & Storage
Can you make balsamic reduction ahead of time?
Yes! By all means, yes! It takes a little time to reduce and then you'll want to use it at room temperture because that is when it thickens.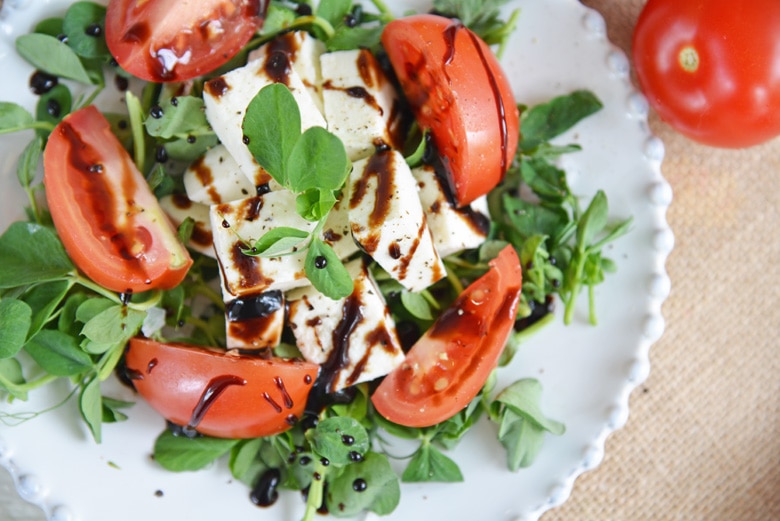 If storing for longer than a few hours (which you can do at room temperture), place in the refrigerator, but allow for an hour or so to come to room temp before using.
Uses
What can I use balsamic reduction on? Um, literally, anything! The list will go on and on. A balsamic glaze can be used on desserts like Strawberry Balsamic Parfaits or just a bowl of vanilla ice cream or savory dishes like grilled watermelon steaks.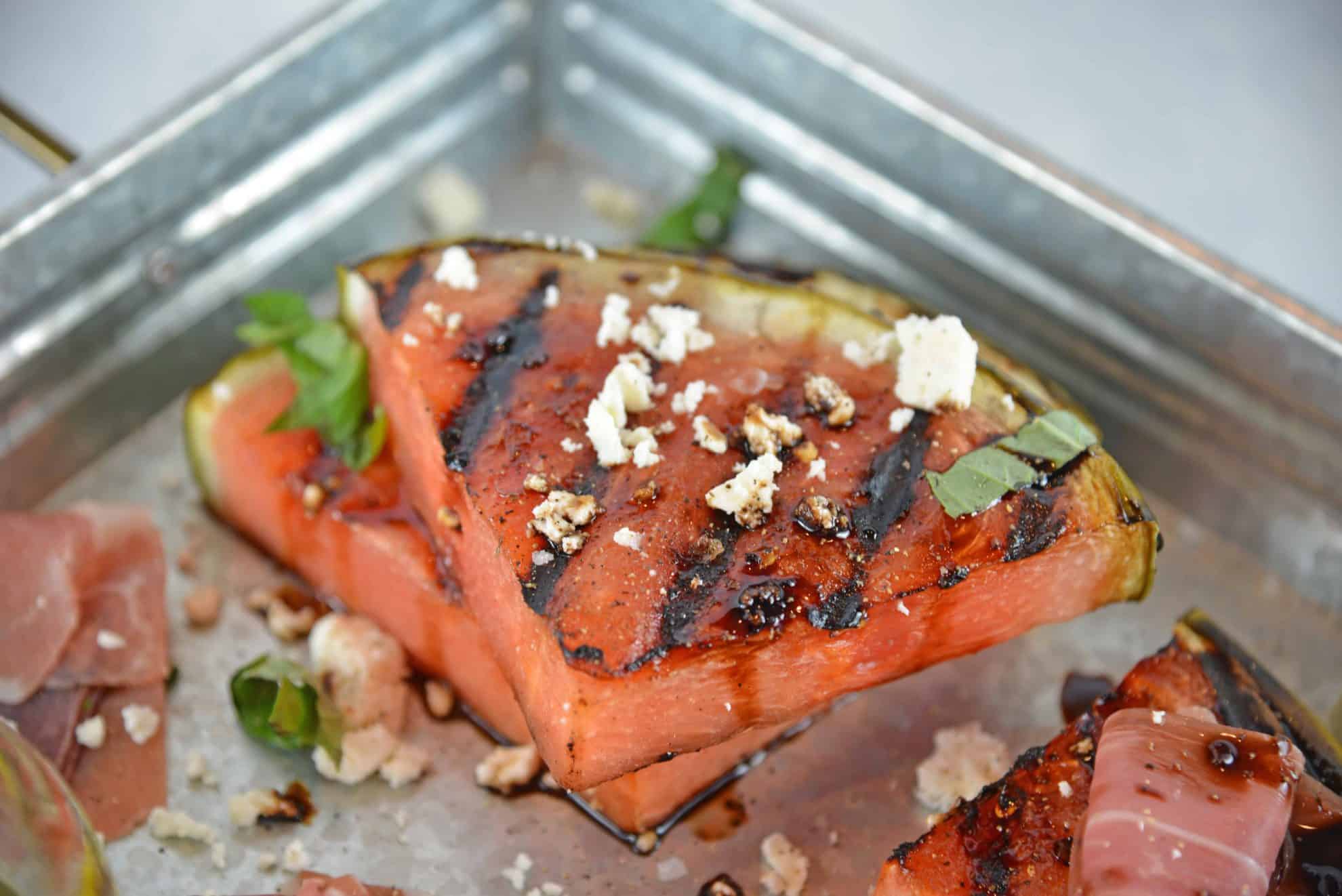 Avocado Toast
Salad or Grilled Romaine
Beef, Seafood or Fish
Grilled Cheese
Brussels Sprouts
With Caramelized Onions
Caprese salad is probably one of the most popular uses. A simple combination of mozzarella cheese and freshly sliced tomatoes with basil. The deer are eating all my basil at the moment, so I made my salad with fresh pea shoots instead.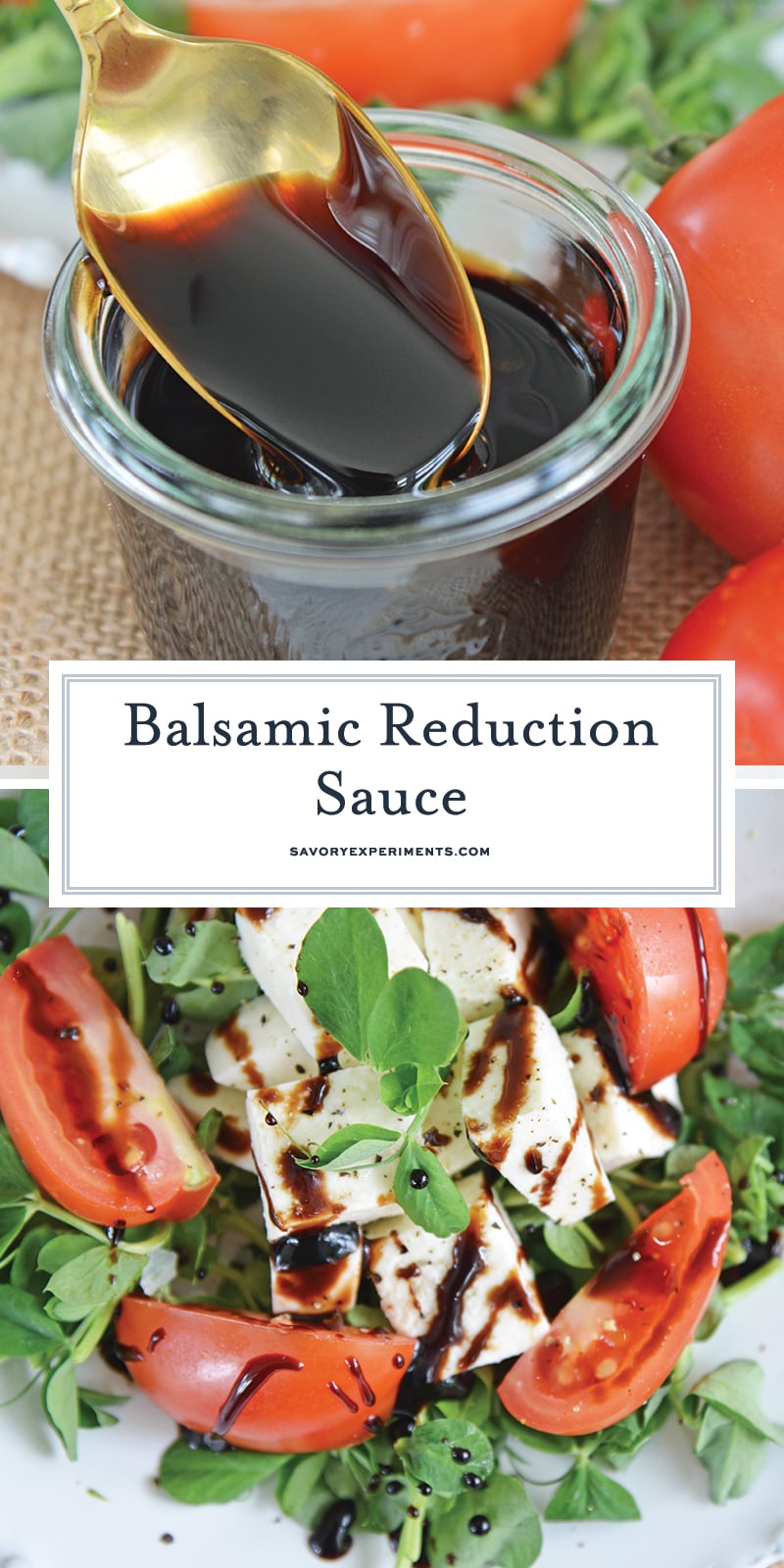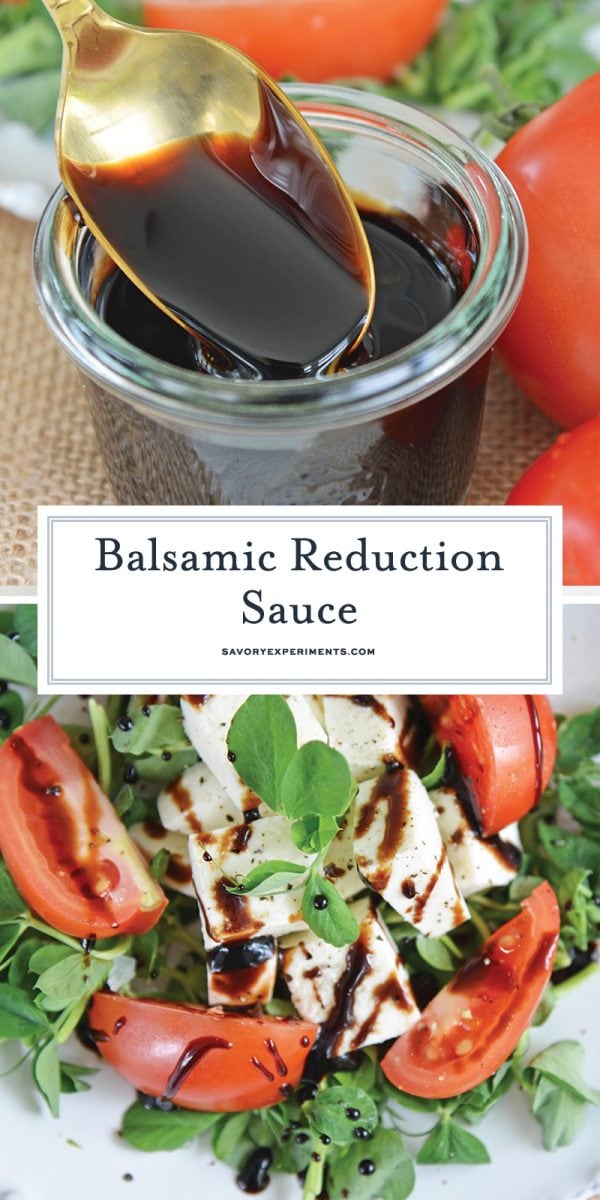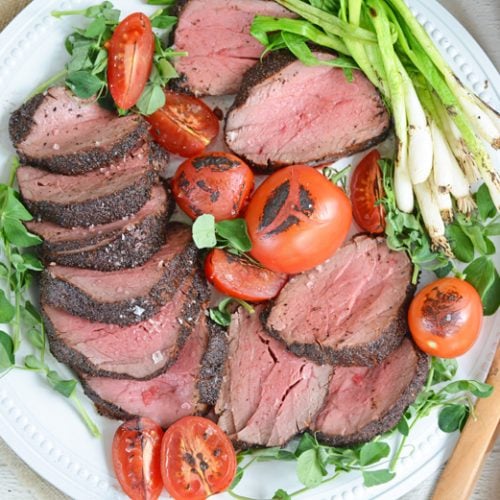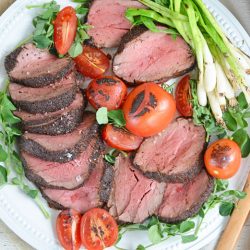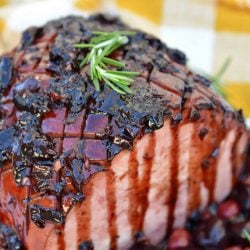 Balsamic Cherry Ham Glaze
Balsamic Cherry Ham Glaze is an easy ham glaze for your Christmas ham or any baked ham throughout the year. Tart cherries, balsamic vinegar and brown sugar lend bold flavors.
See The Recipe!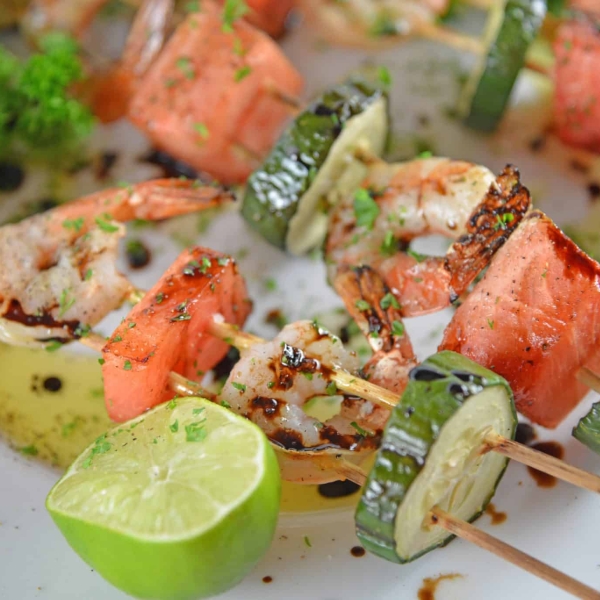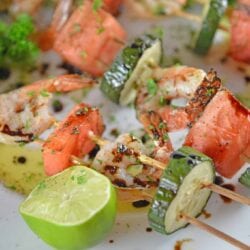 Watermelon Shrimp Kabobs
Watermelon Shrimp Kabobs combine grilled shrimp with grilled watermelon with a sweet balsamic reduction and zesty lime. A healthy kabob recipe on the grill.
See The Recipe!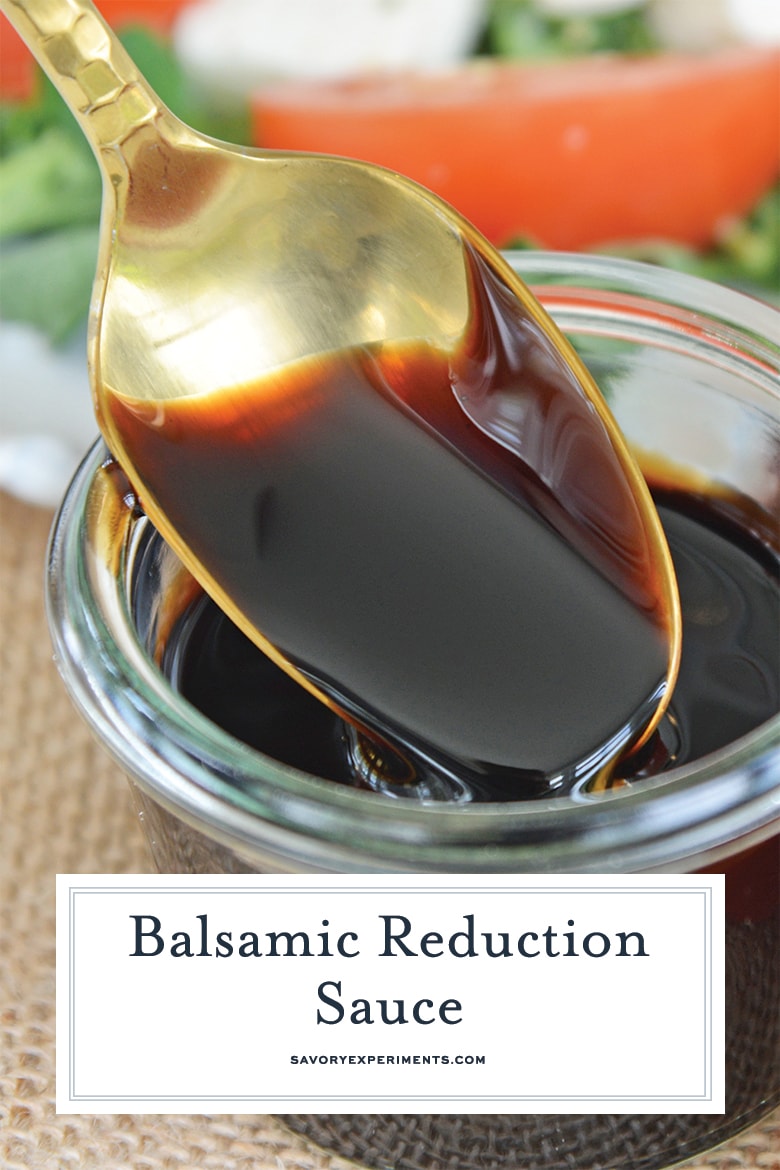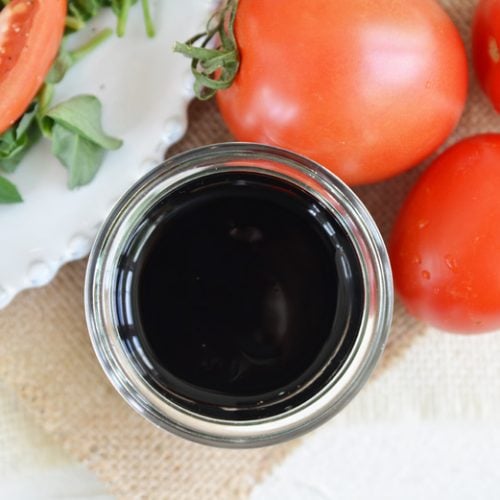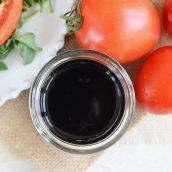 Balsamic Reduction Sauce
How to make a balsamic reduction sauce just like the restaurants! Tastes like 15 year aged balsamic, but cheap and made in 15 minutes with only 3 ingredients.
Instructions
Stir both ingredients together in a small sauce pan. Allow to simmer on low and reduce by half, approximately 15 minutes. Mixture will thicken when cooling, should coat the back of a spoon. It will not appear thick while still hot, allow it to cool to get the right consistency.

Stir in dash of fine sea salt.

If you've tried this recipe, come back and let us know how it was in the comments and ratings!
Notes
Brown sugar can be omitted, reduced or substituted for agave nectar, honey or white sugar.
Nutrition
Calories:
315
kcal
,
Carbohydrates:
66
g
,
Protein:
1
g
,
Sodium:
65
mg
,
Potassium:
285
mg
,
Sugar:
61
g
,
Calcium:
89
mg
,
Iron:
1.8
mg