If you like ranch, you are going to LOVE this super simple Chipotle Ranch Dressing recipe! Perfect as a salad dressing, marinade, or dipping sauce!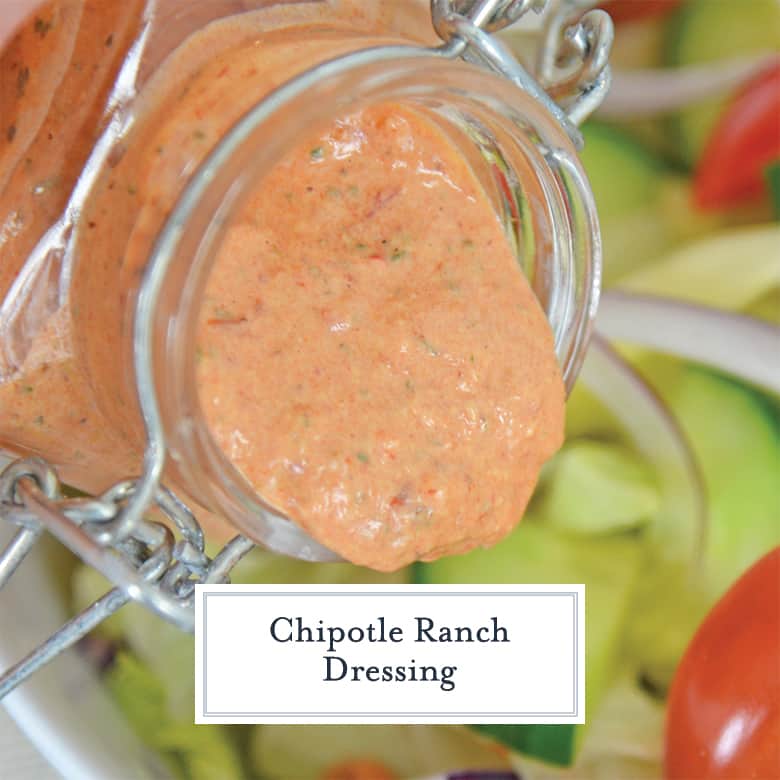 Chipotle Ranch Dressing
Ranch dressing might be one of the most popular salad dressings in all America. It is no wonder why people started to create one-offs to only amplify it's delicious flavor.
Chipotle ranch is just one of them! Made popular by pairing with a Southwest Chicken Salad, chipotle ranch dressing can be used for so many other things such as…
Grilled or roasted vegetables
Pizza dipping sauce
Dipping sauce for French fries and tater tots
On sandwiches
For buffalo wings
On burgers and hot dogs
As a marinade for chicken or pork
Dipping raw veggies like carrots or celery
History of Ranch
Where did the whole ranch phenomenon start? Ranch dressing was created by Steve Henson as his signature buttermilk dressing. He made it for friends and family until later in life he purchased a ranch with his wife, Gayle.
They started calling it the dressing of the Ranch and then mass marketed. Hidden Valley Ranch is the name of their ranch and the rest is history. Homemade chipotle ranch dressing is like regular ranch's zesty cousin.
What is in chipotle ranch dressing?
The ingredient list is lengthy, but all pretty standard.
dry powdered buttermilk
dried parsley flakes
dried dill
garlic powder
onion powder
dried onion flakes
ground black pepper
dried chives
fine sea salt
milk
mayonnaise
chipotle peppers in adobo sauce
Powdered Buttermilk
You are probably familiar with all of the ingredients with the exception of maybe one: dry powdered buttermilk.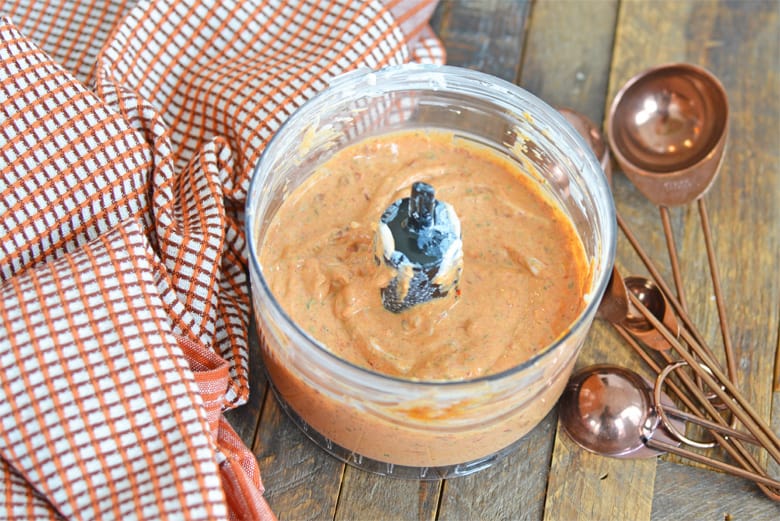 Dry powdered buttermilk is just like any other dry powdered milk. It is made from actual buttermilk, which is the liquid left behind after churning to milk butter, but fermented so it is a little funky.
What are chipotle peppers in adobo sauce?
Chipotle chiles are dried, smoked jalapeños that are reconstituted when put into adobo sauce. Adobo is a spicy, slightly sweet red sauce.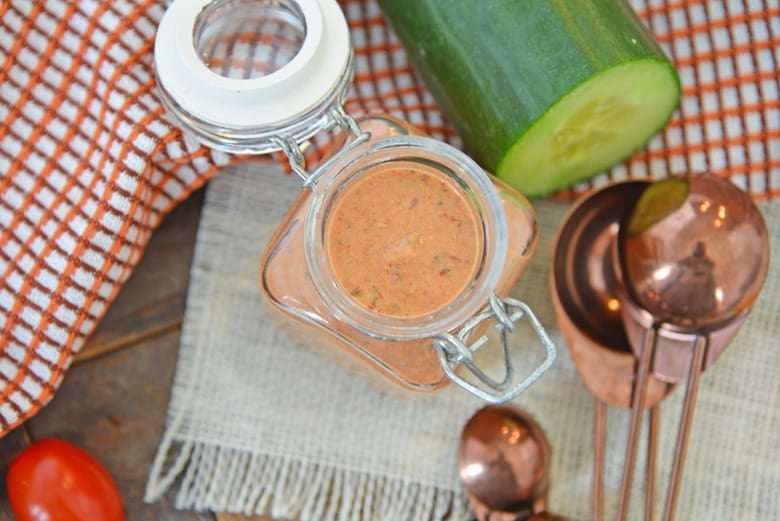 The flavors together are pretty intense so it doesn't take a lot paint them in a recipe. I generally don't use one or two, but a whole can has up to 6. They can keep in the fridge for a week or so.
If you liked this chipotle ranch recipe, check out these other homemade salad dressings:
How do I make chipotle ranch dressing?
Simply put, mix dry ranch dressing mix with milk, mayonnaise and chipotle peppers. Because you are using whole peppers, I highly recommend using a mini food processor to get a smooth dressing.
If you don't have one, mince chipotle peppers as fine as you can and whisk it all together.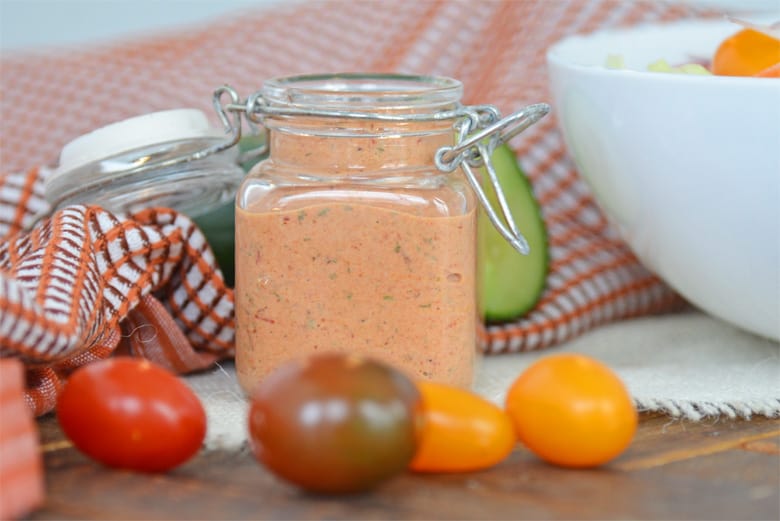 You can also add half of an avocado, if you wish. A nice way to sneak in some extra veggies!
To make this a skinny or light version, substitute 1/2 cup skim milk for whole milk and 1 cup plain Greek yogurt.
Storage
It is stored best in an airtight container- either plastic or a mason jar with a tight lid. Since it is homemade and doesn't have any preservatives other than salt, a natural preservative, it only last about a week.
You can make a large batch of the dry ranch seasoning and then make fresh dressing every night though. I doubt it will last a whole week since it is so good!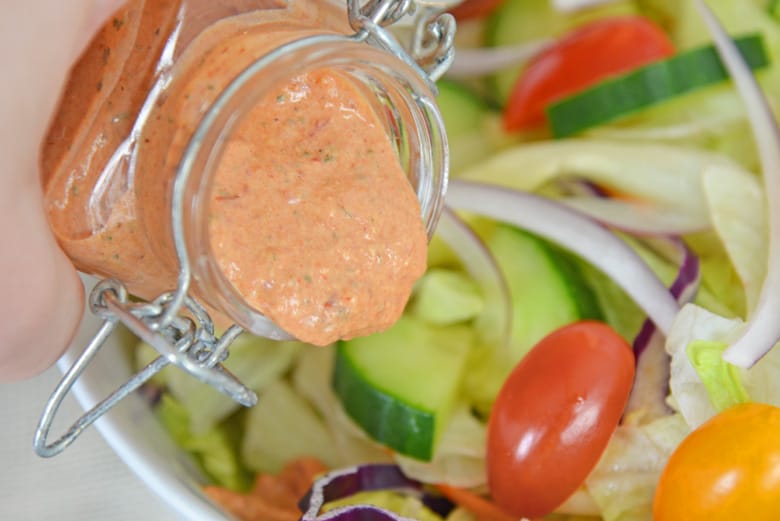 Tools:
Mini Food Processor– I use this thing daily! It is by far my most used kitchen appliance, it is small and I throw all the parts into the dishwasher, well except the base and cord, of course!
I love it for salad dressings so they are equally blended with no chunks of herbs and spices. Unless you are into that sort of thing, which is fine too.
Measuring Utensils– While I like to eyeball it, most folks prefer to measure. Suit yourself ?
Whisks– I buy whisks in multiple sizes. You never know which one you will need. If you don't have a food processor, I recommend using a whisk.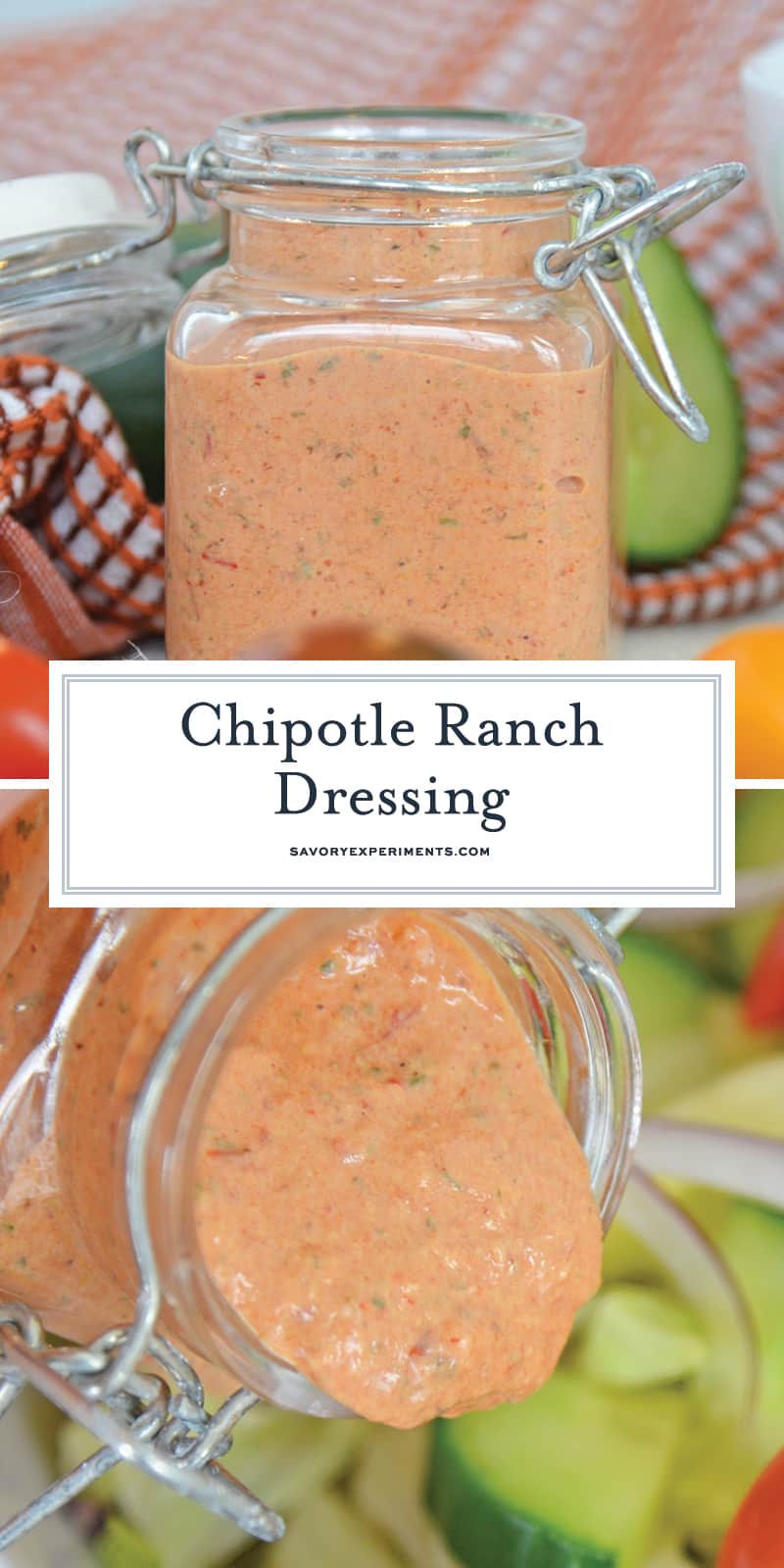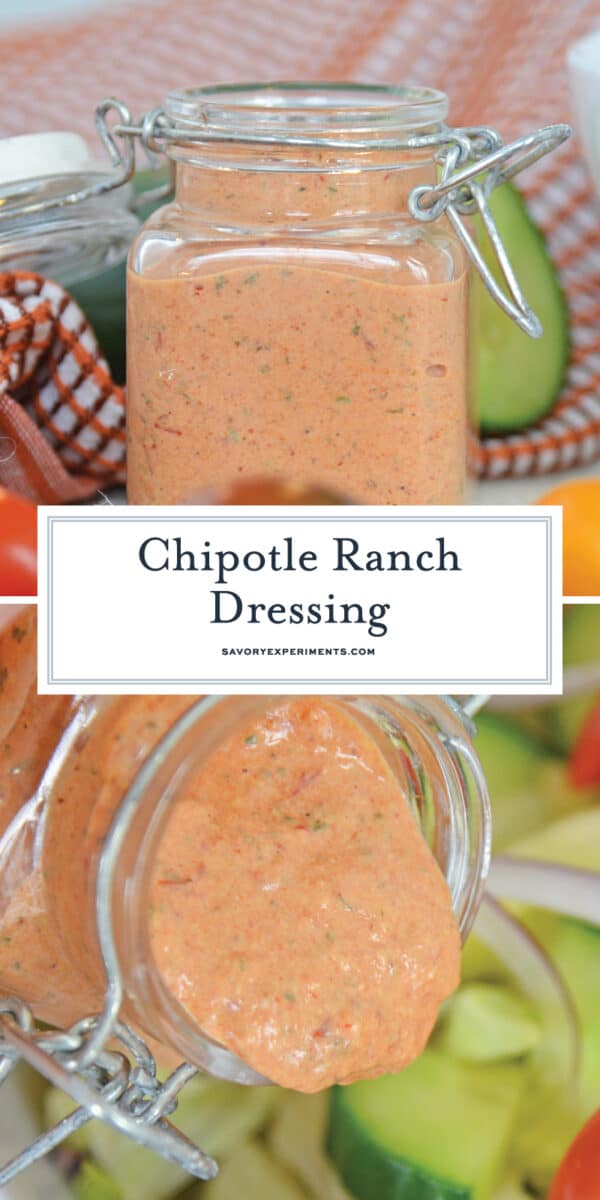 ---
---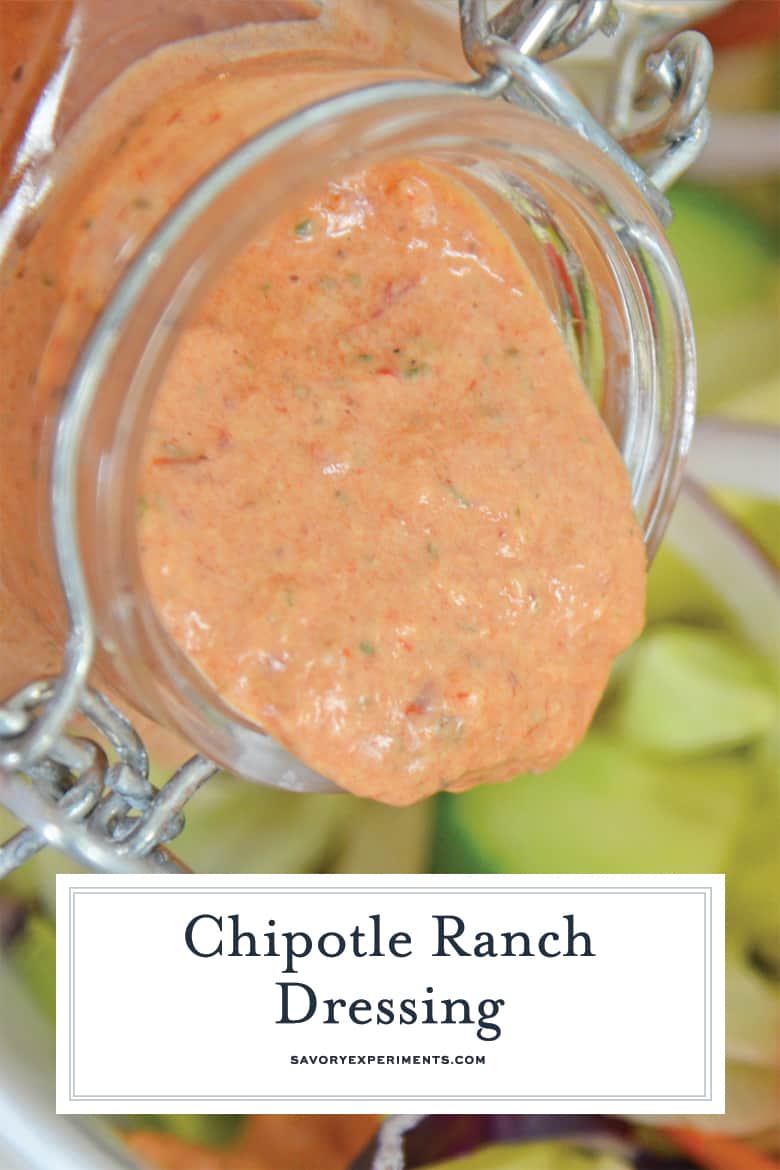 Chipotle Ranch Dressing is sure to be your new favorite homemade salad dressing recipe!
Chipotle Ranch Dressing
Add some zing to your homemade ranch with this Chipotle Ranch Dressing recipe! Made with only 4 simple ingredients.
Instructions
Combine all ingredients in a small food processor and pulse until smooth.

For best results, refrigerate for 30 minutes before serving.

If you've tried this recipe, come back and let us know how it was!
Notes
To make this a skinny or light version, substitute 1/2 cup skim milk for whole milk and 1 cup plain Greek yogurt.
Nutrition
Calories:
220
kcal
|
Carbohydrates:
4
g
|
Protein:
1
g
|
Fat:
22
g
|
Saturated Fat:
4
g
|
Cholesterol:
15
mg
|
Sodium:
514
mg
|
Potassium:
51
mg
|
Fiber:
1
g
|
Sugar:
2
g
|
Vitamin A:
110
IU
|
Vitamin C:
1
mg
|
Calcium:
37
mg
|
Iron:
1
mg