You'll be sure to impress your family and friends with this amazing puff pastry appetizer! A tasty treat they will not soon forget!
Pear Salad with Candied Walnuts, Honey Balsamic Dressing and tart goat cheese makes the perfect winter salad for dinner parties and holidays. Not only does it look great but it also tastes amazing!
No bees, just honey…. and delicate puff pastry wrapped around a caramelized baked pear. Pear Salad is a luscious and sweet fall salad perfect for a cozy night at home, dinner party or holiday. It is stunning to set on the table and even more fun to eat!
Fall fruit is upon us and I am forever trying to find new, inventive ways to use them. The taste of sweet, juicy pears in a salad is one of my favorites.
I saw puff pastry wrapped pears as a dessert and wanted to combine the two together. I mean who doesn't want dessert for salad?
The ultimate glue is Honey Balsamic Dressing, made out of… you guess it… honey! The honey drizzle will melt over warm pear and puff pastry while acidic balsamic pulls it more towards savory than sweet.
I used forelle pears, but you can use other varieties. I like the colors, shape and size. Perfect for a salad!
The cooking time and caramelization process can vary depending on the level of ripeness and variety of pear. More ripe = less cooking time, less ripe = more cooking time. Use your best judgement, but know that this isn't a one size fits all.
Also try not to overlap the puff pastry or it won't cook all the way through. I actually like it when it looks a little haphazard. I call this "rustic" and then I don't put so much pressure on myself to make them all identical and perfect.

Crunchy candied walnuts coupled with tart, creamy goat cheese make for a rich and decadent pear salad.
Want all the pear but without the salad? Serve it for dessert! Just lose the leafy greens and pair with Vanilla Bean Ice Cream, Candied Walnuts and a Balsamic Reduction.
Prosciutto, Pear, and Brie Crostinis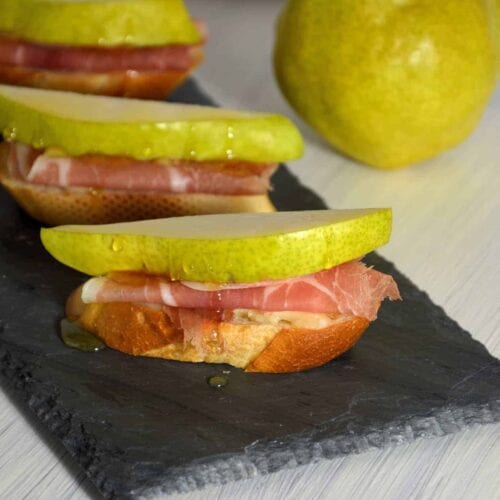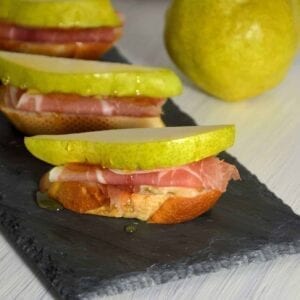 Prosciutto, Pear, and Brie Crostinis fit the bill for any party with tender prosciutto draped over warm brie and topped with a slice of pear and honey.
Tools for making Pear Salad with Candied Walnuts:
Wood cutting board – wood won't dull your knives like plastic and if treated properly, has natural antimicrobial properties.
Good knife – Global is my favorite! They are worth the price, I promise. I am kind of obsessed with them and store them tucked away so no one else can use them. Including hubby. Hands off my good stuff!
Good Balsamic Vinegar
– You know, the type with some body to it, not just liquidy.
---
Get our FREE 8 Day E-Course on How to Be a Better Home Cook. Sign up HERE!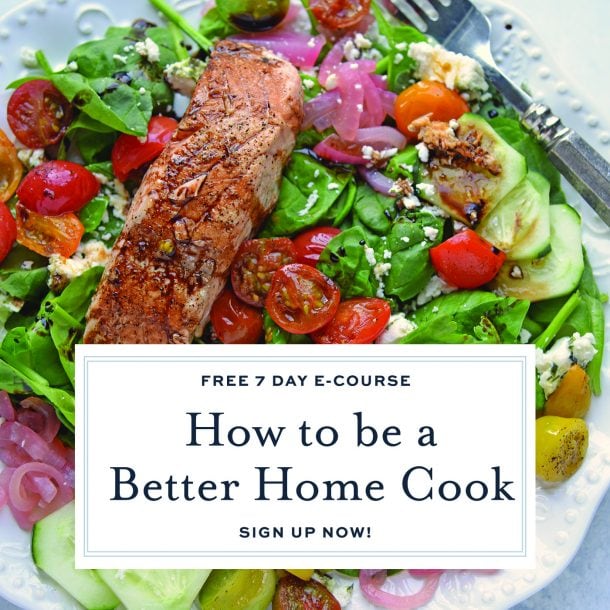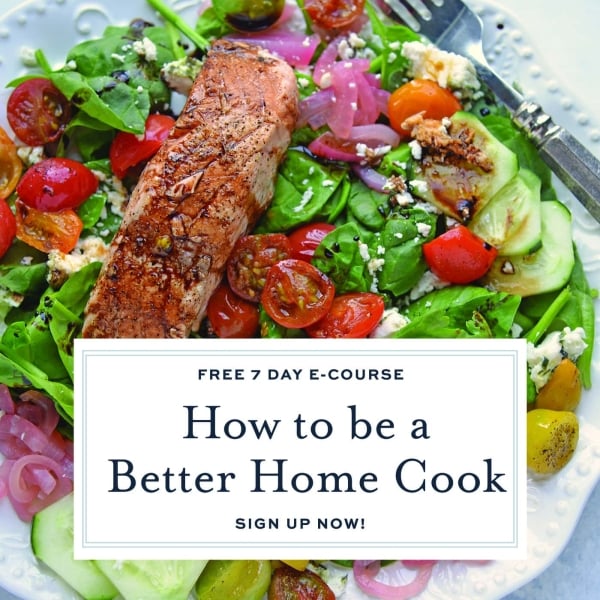 CONNECT WITH SAVORY EXPERIMENTS!

Be sure to follow me on social media, so you never miss a post!

Facebook | Twitter | Youtube 
 Pinterest | Instagram 
---
Pear Salad with Candied Walnuts
Pear Salad with Candied Walnuts is the perfect winter salad for dinner parties and holidays. Honey Balsamic Dressing and tart goat cheese make the best salad recipe!
Instructions
Preheat oven to 400 degrees. Line baking sheet with parchment paper or aluminum foil.

Wash pears and dry well. If needed, trim bottoms to allow pears to sit flat on their own.

Cut puff pastry into thin strips about 1 inch wide. Starting at the bottom, wrap puff pastry around the pear, slightly overlapping each strip and securing with beaten egg white. Press down lightly to secure. Continue to wrap until the entire pear is covered, leaving just the bottom bare. Repeat with remaining pears.

Place pears on a baking sheet and cook for approximately 15 minutes. If the tops start to brown faster than the body, loosely place a sheet of foil over the tops. Remove when puff pastry is flaky and lightly browned.

Assemble salads in large salad bowls. Put down a base layer of spring mix lettuce. Crumble candied walnuts and goat cheese evenly over all four salads.

Place warm pears directly in the middle of each salad. Drizzle pure honey over each beehive pear. Drizzle salad dressing mixture over lettuce surrounding the pear.

Serve immediately while pears are still warm and puff pastry is crispy. Enjoy!
Nutrition
Calories:
684
kcal
|
Carbohydrates:
78
g
|
Protein:
8
g
|
Fat:
39
g
|
Saturated Fat:
9
g
|
Cholesterol:
6
mg
|
Sodium:
270
mg
|
Potassium:
254
mg
|
Fiber:
7
g
|
Sugar:
39
g
|
Vitamin A:
190
IU
|
Vitamin C:
7.7
mg
|
Calcium:
50
mg
|
Iron:
2.5
mg