If you are a fan of fresh flavor packed dressings and condiments, then do I have a recipe for you. Avocado Green Goddess Dressing will soon be a workhorse in your kitchen.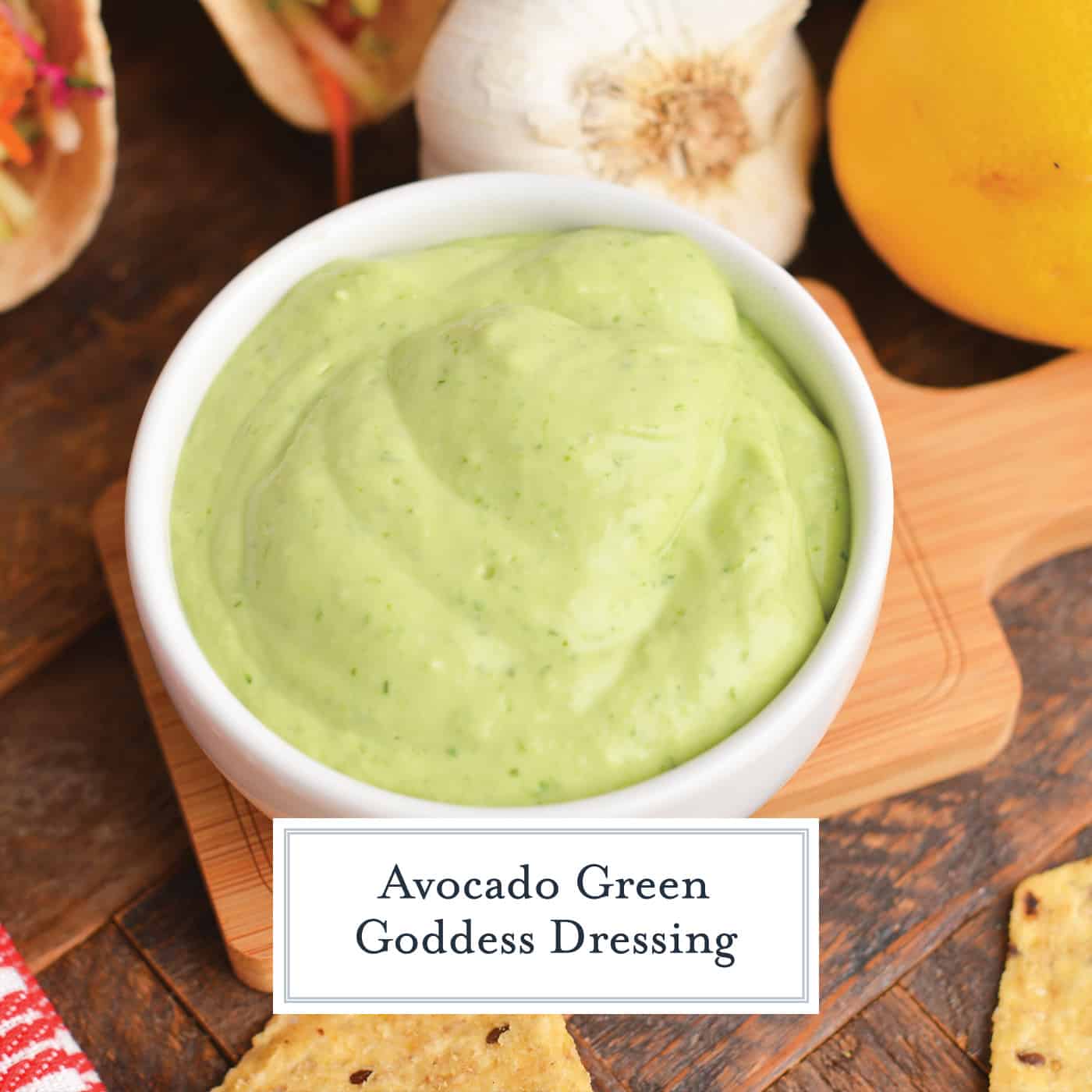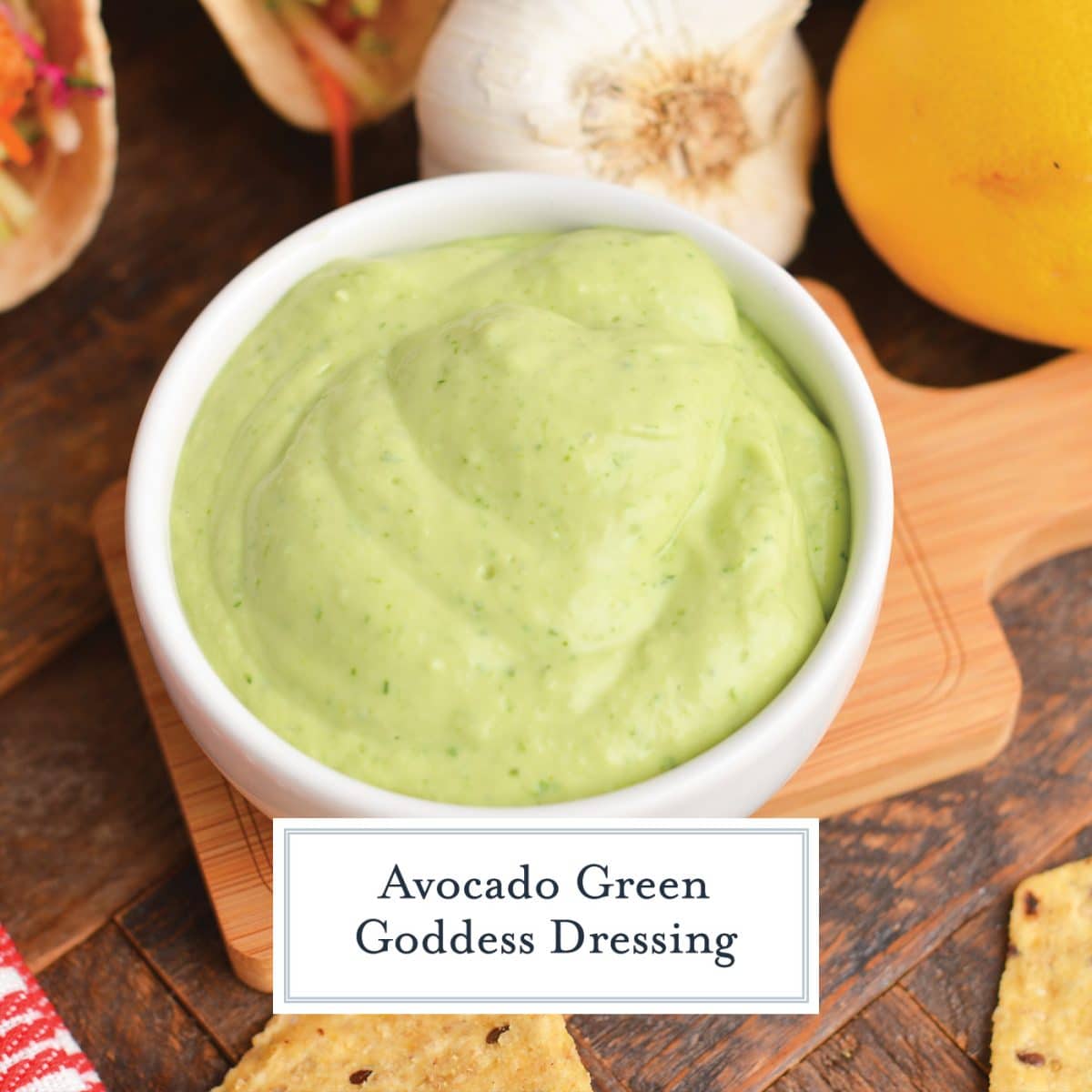 This green sauce is full of good-for-you veggies and an abundance of fresh herbs, perfect for leafy green salads, but also ideal as a dipping sauce or a spread for sandwiches. Depending on how much milk you add, it can be super thick or thin enough for drizzling.
What is Green Goddess Dressing?
The first time I tried green goddess dressing, I assumed it was made with avocados. I mean, anything this green must have avocados, right?
After some research, I found out that it has many incarnations and avocado isn't typically one of the main ingredients. Can you believe this food trend has been around since the late 60's?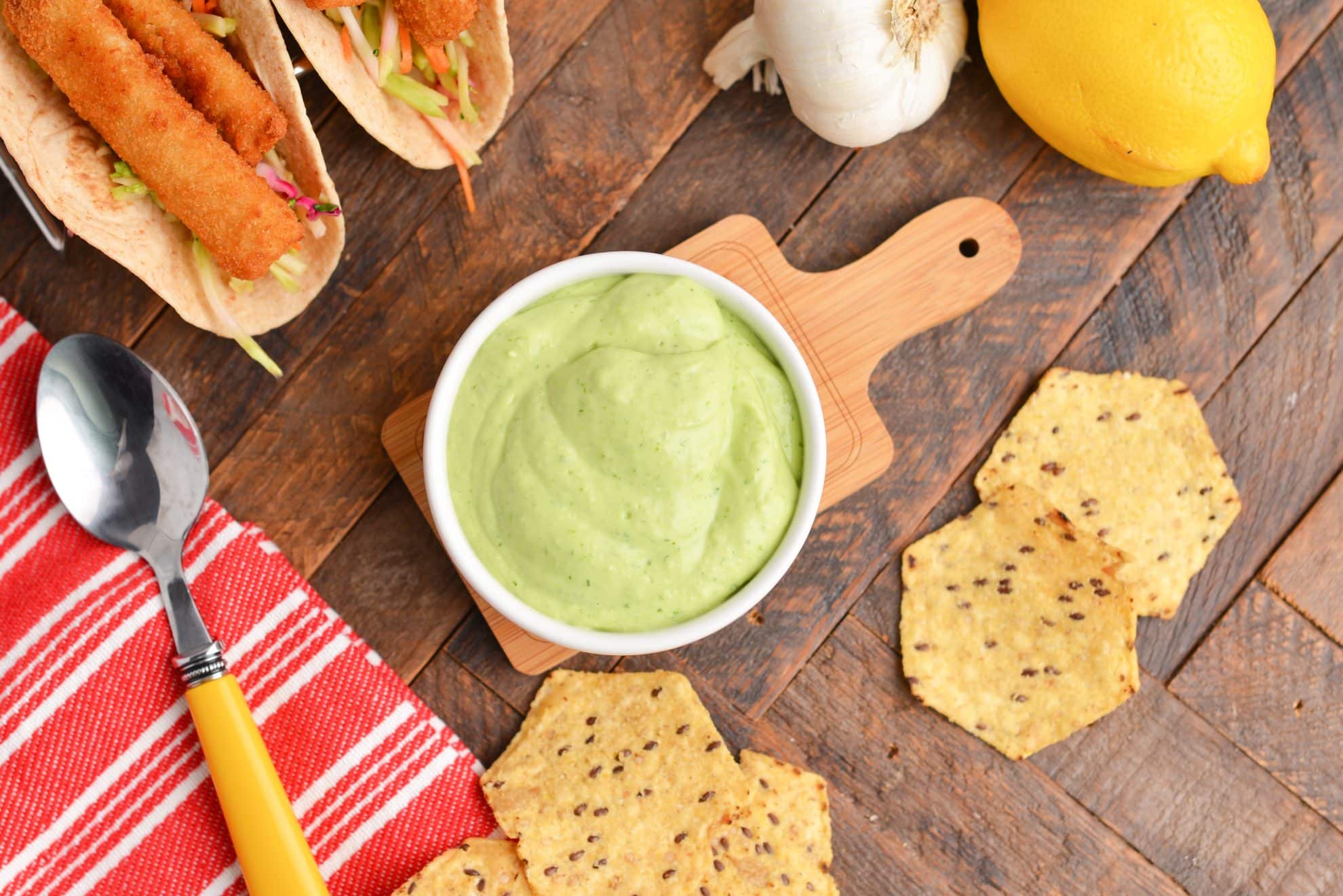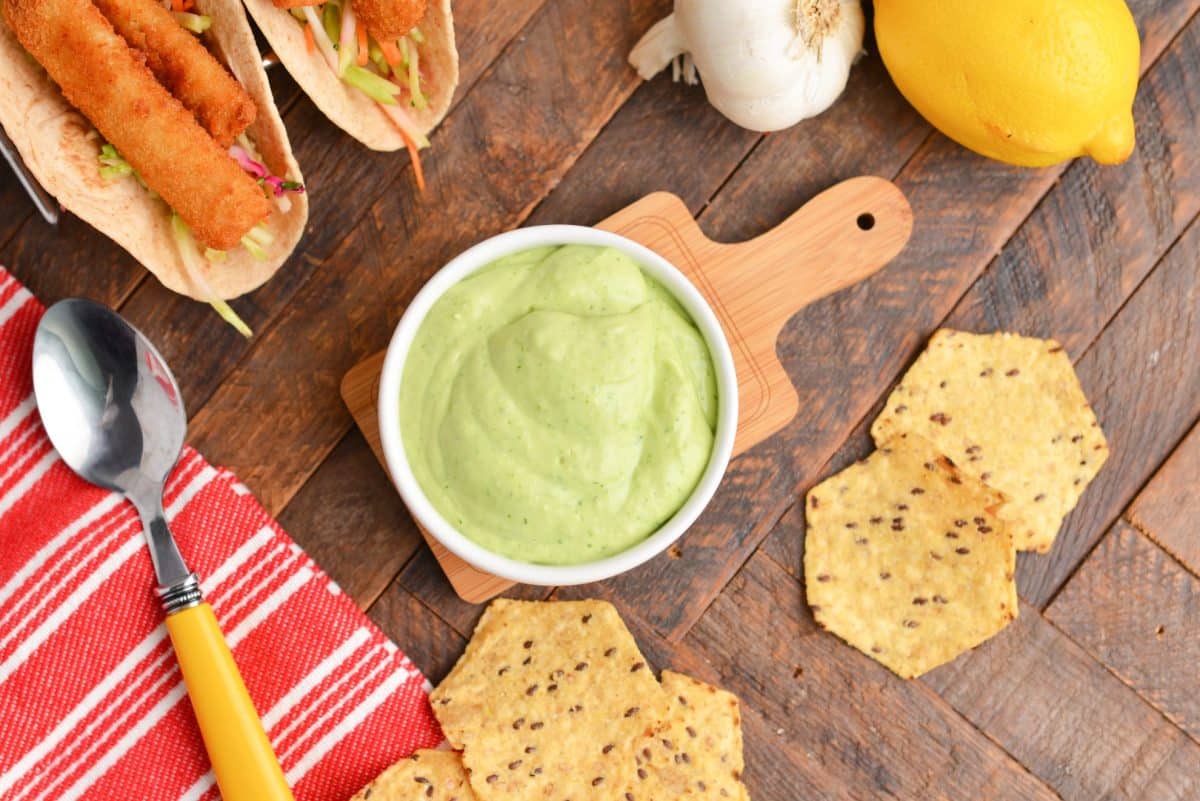 It started as a dressing on California Cobb salads at the Palace Hotel in San Francisco, Californica. and it got its name from its bright hue and heavenly texture. Typically, a Green Goddess Dressing is made with mayonnaise, sour cream, chervil, chives, anchovy paste (blended anchovy fillets), tarragon, lemon juice, olive oil and pepper.
However, for my Avocado Green Goddess Dressing, I decided avocado would be in the mix. The health benefits are unparalleled and the taste and creaminess are hard to imitate. And of course, garlic, which I measure with my heart.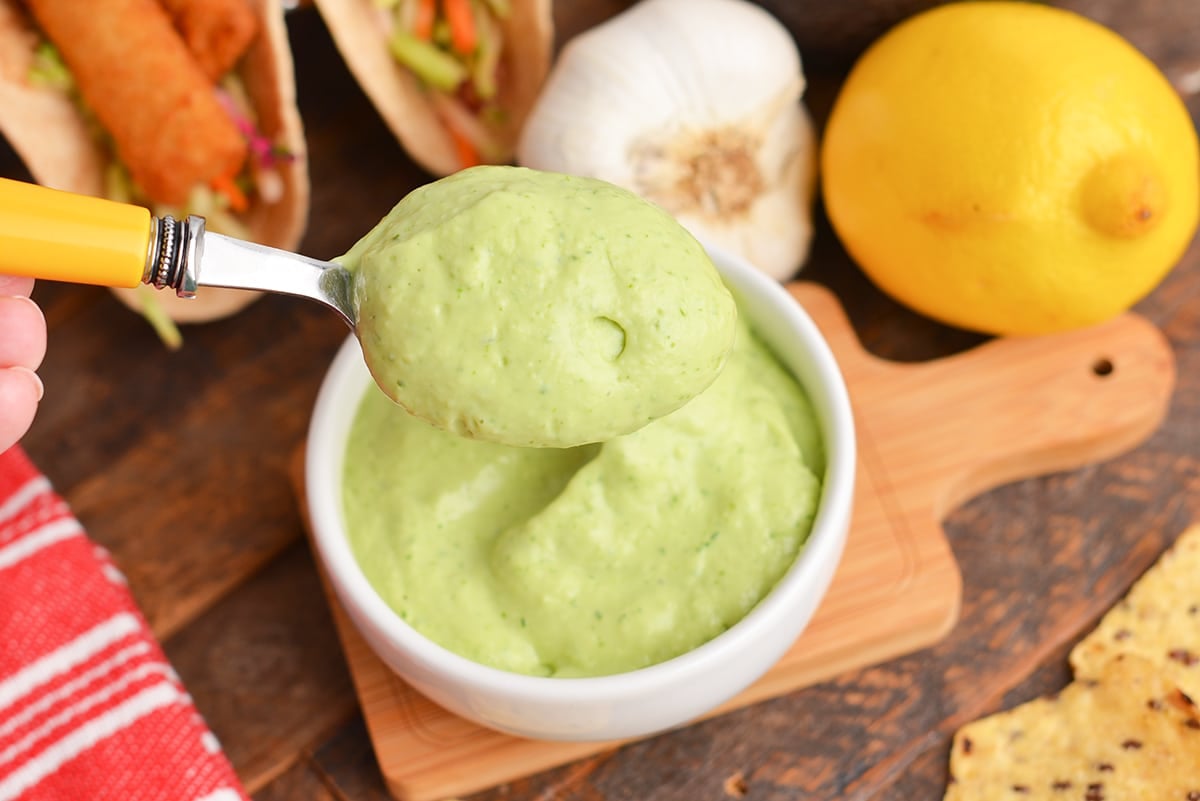 What You'll Need
Fresh Garlic Cloves– Please use fresh garlic clove, not the jarred stuff which can be sweet instead of garlicky. Cloves vary greatly in size, so measure based on your personal preference. Two to three cloves will give a pretty robust garlic flavor.
Avocado- Try for an avocado that is just as ripe as you would want it for guacamole. It can be slightly harder, but if it is, then it will also lack flavor.
Plain Creamy Greek yogurt– Greek yogurt is strained for longer than regular yogurt, resulting in a heavy and thick texture. It is better for sauces than regular yogurt. Substitutes are sour cream and mayo, of course.
Fresh lemon juice- Fresh citrus packs more of a punch than bottled any day. It starts to lose its potency the moment it is juiced, so wait until you are ready to use it. Citric acid also prevents the avocado from browning. Lime juice is a good swap.
Cilantro- Fresh herbs balance and add a freshness, but if you if you are one of the few that has an opposition to cilantro, swap with fresh flat leaf parsley.
Coarse kosher salt- Helps to accentuate the natural flavors. Sea salt is another option, but use half of the volume since the grain size is so much smaller.
Milk- Buttermilk or even water to help thin it out. Much of this will depend on what you are using it for. As a sandwich spread, you might want something thicker, but as a dipping sauce, something a little thinner. If you want a little bite, use apple cider vinegar.
Optional add-ins are fresh parsley in addition to cilantro (or other green herbs) and black pepper. You can also blend it with a 1:1 ratio of ranch dressing for a fun variation making avocado ranch or even cashew cream for a vegan green goddess dressing.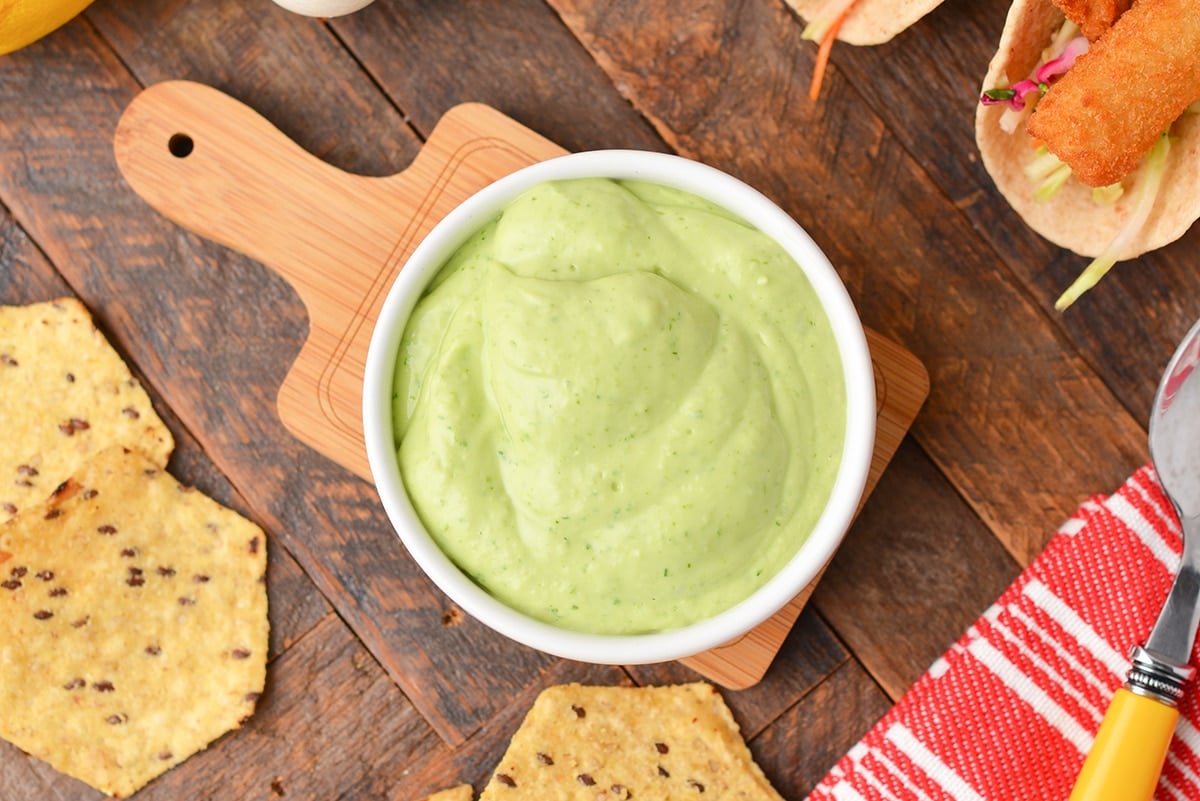 How to Make Green Goddess Dressing
Use a small food processor or a high speed blender and combine the avocado and garlic, pulse until it is coarsely chopped. Giving it a quick chop before adding the other ingredients helps it be smoother.
Add the yogurt, lemon juice, cilantro and salt to the bowl of a food processor and blend well. This usually takes a few minutes, be patient.
Depending on how thick you desire your sauce, add milk until it is pourable. A thick dressing it great for sandwiches, while a thinner creamy dressing for tacos and dipping tortilla chips.
Can I make this without a food processor? I will be the first to tell you that one of my most used kitchen appliances is my mini food processor. I use it for everything and highly recommend investing in one.
You can also use a blender or immersion (stick) blender. Just blend until smooth and add the milk because it needs some liquid to work best.
However, if you don't have one and don't want to get one, you can finely minced all your ingredients. It will be a little chunky and won't have the smooth texture the dressing in known for. It might also not be the same vibrant colors since it isn't broken down as much.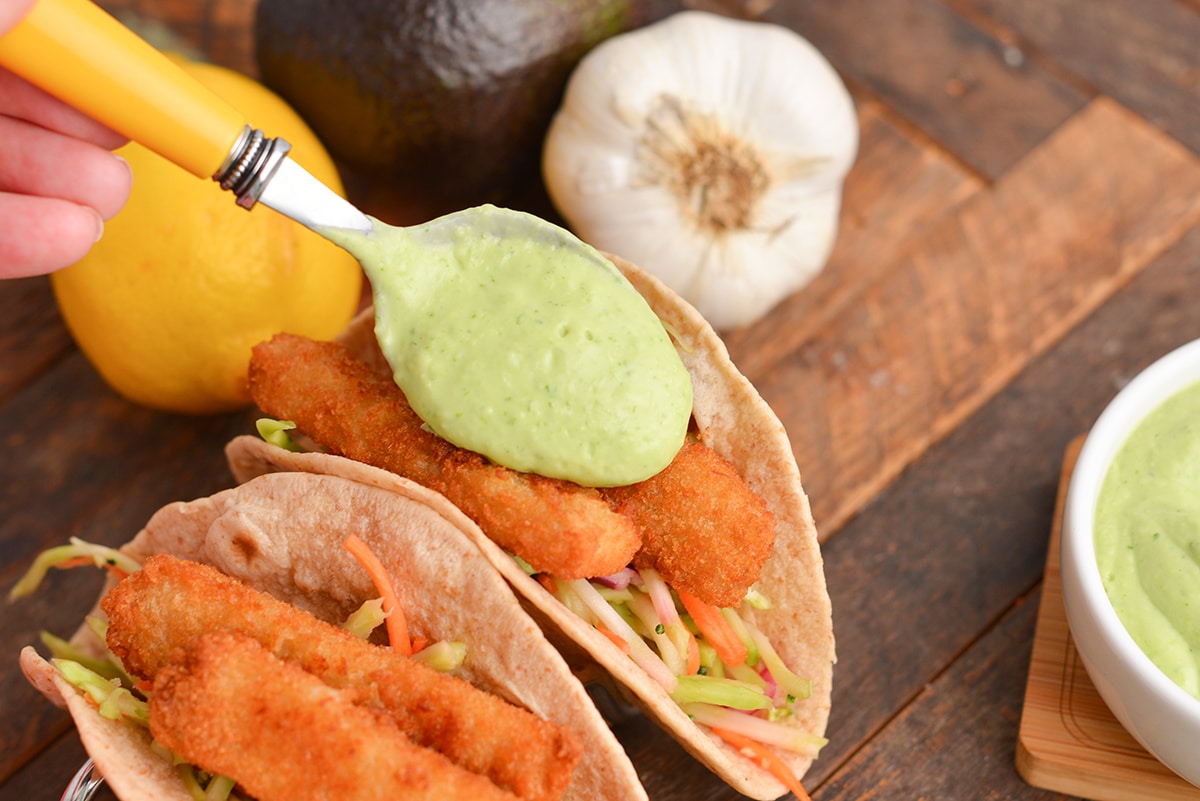 What to Serve it With
I use Avocado Green Goddess Dressing on everything. So much so that I often refer to it as a sauce or a condiment. No dish is safe. It is incredibly versatile.
I love it on tacos, but it is also great drizzled on BBQ Chicken Lettuce Wraps, or to dip Pulled Pork & Gouda Egg Rolls or even as a salad dressing on Pesto Chicken Cobb Salad.
Today I served them on my famous fish tacos… also known as fish sticks with vinegar coleslaw on tortillas. Trust me, it is GOOD!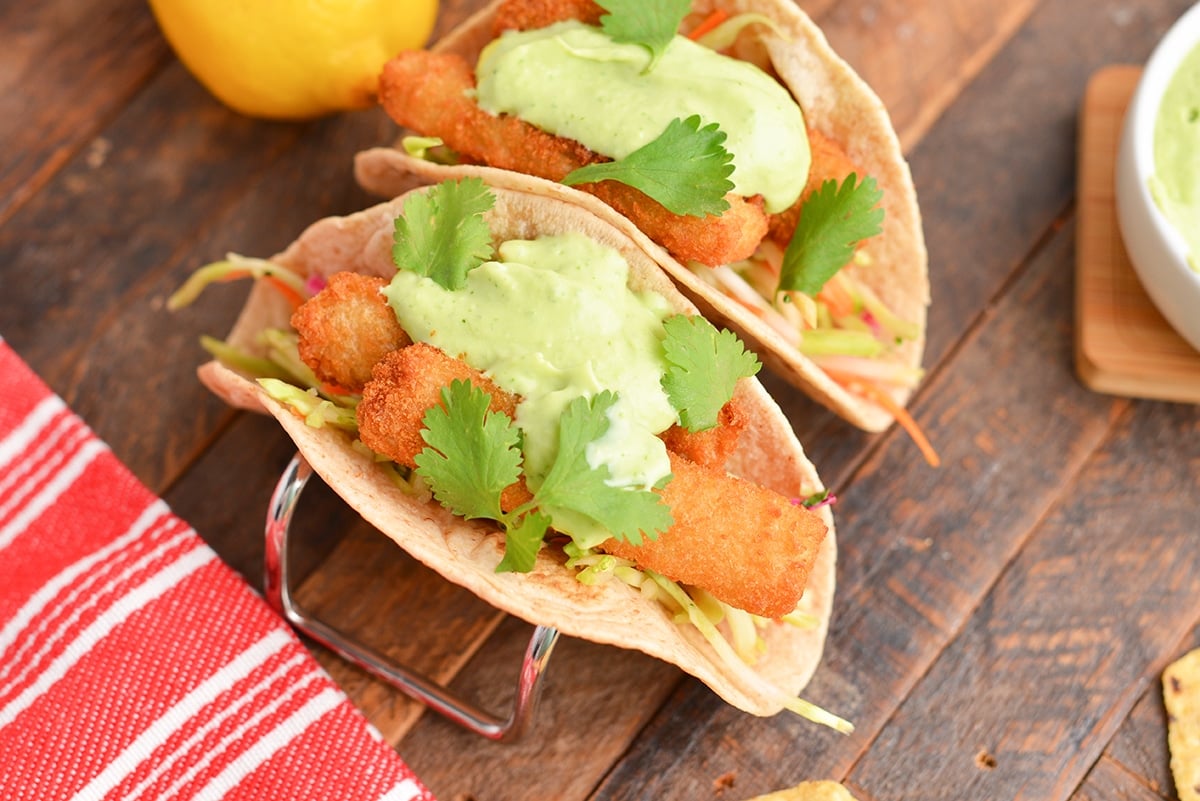 Storage & Freezing
Does this homemade dressing need to be refrigerated? Yes! Since it doesn't have any additives or preservatives, it need to be refrigerated. It will stay fresh for up to a week in an airtight container. Give it a good stir before using each time.
I do not recommend freezing this recipe. It will thaw brown and watery.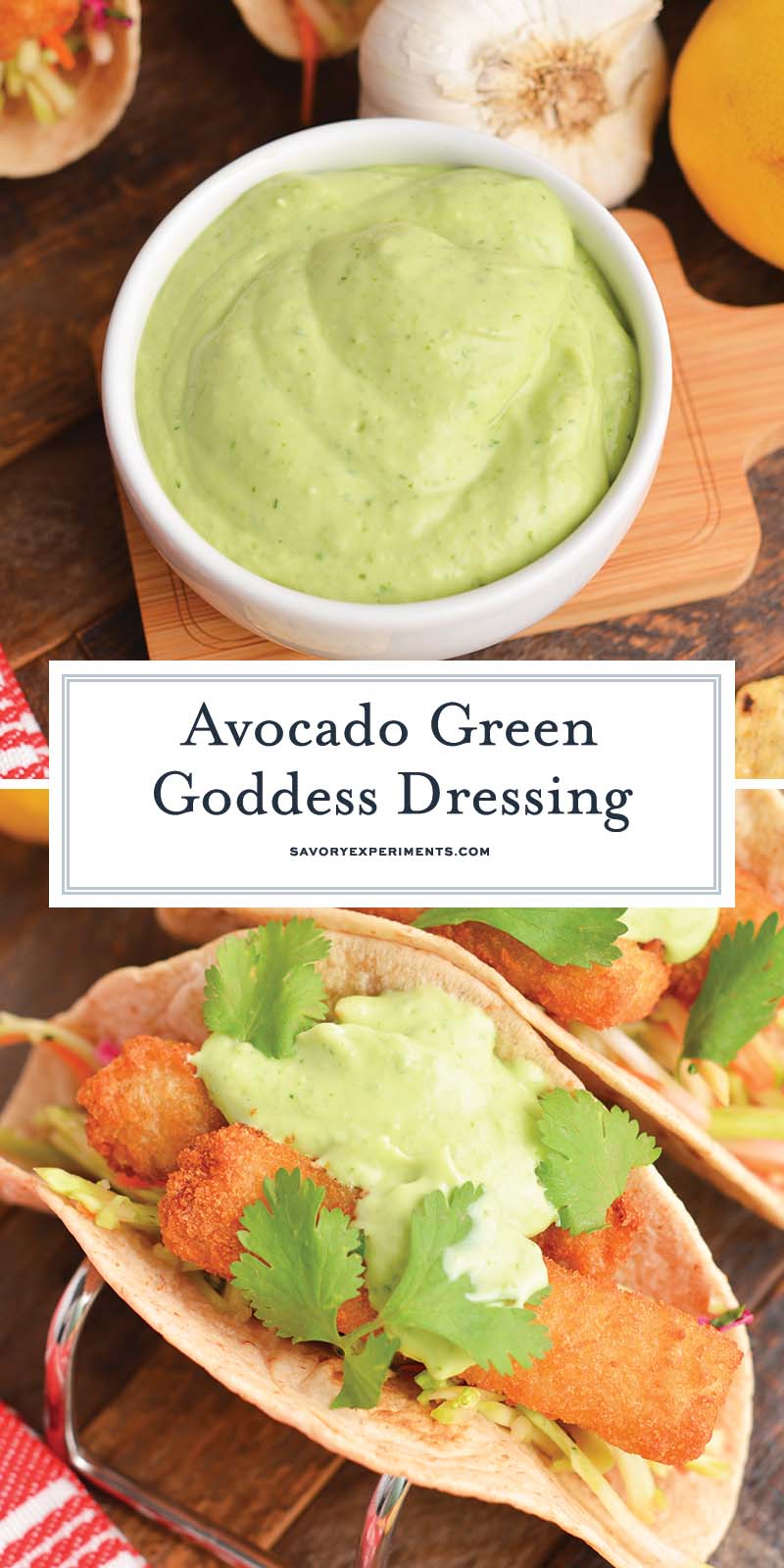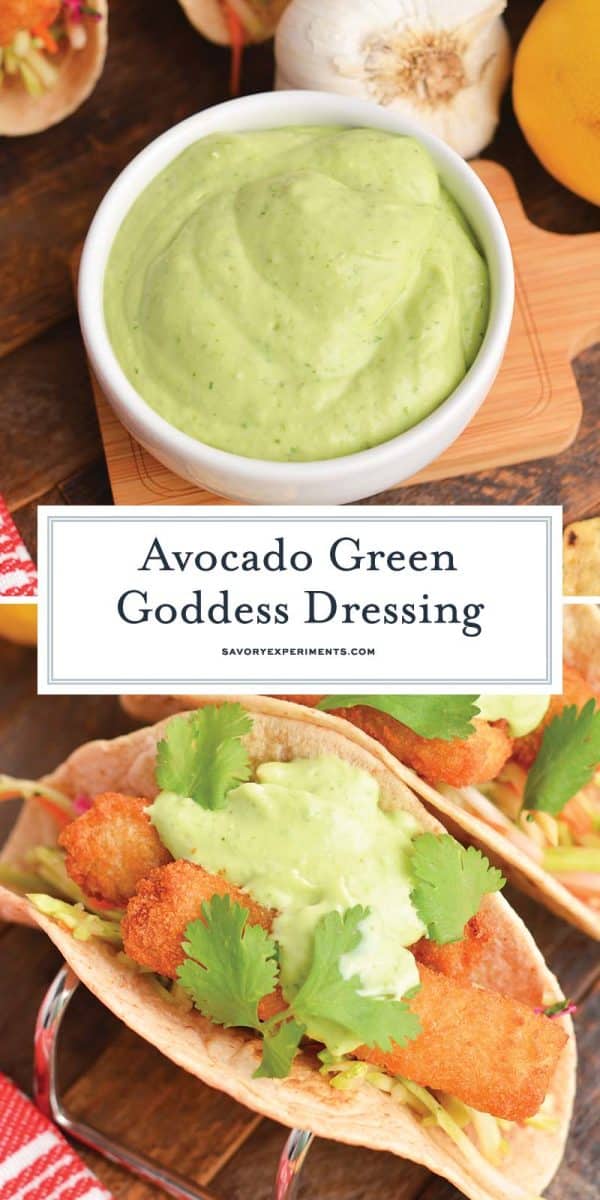 More Delicious Dressing Recipes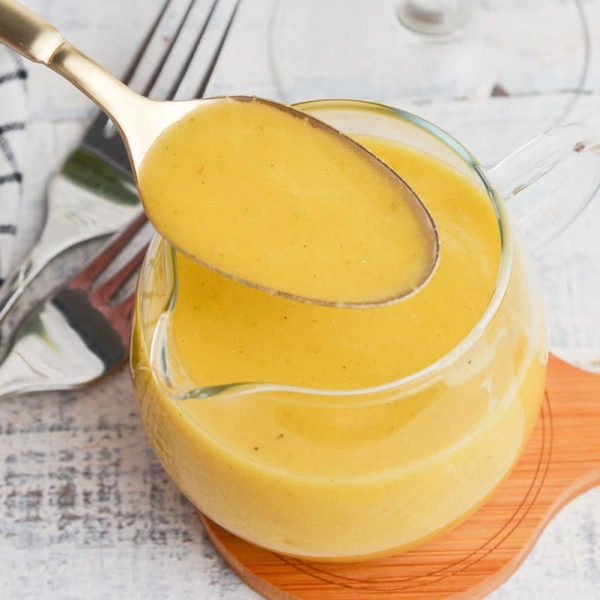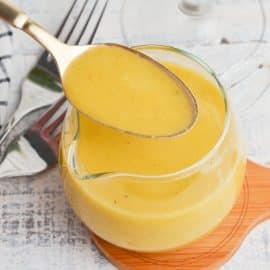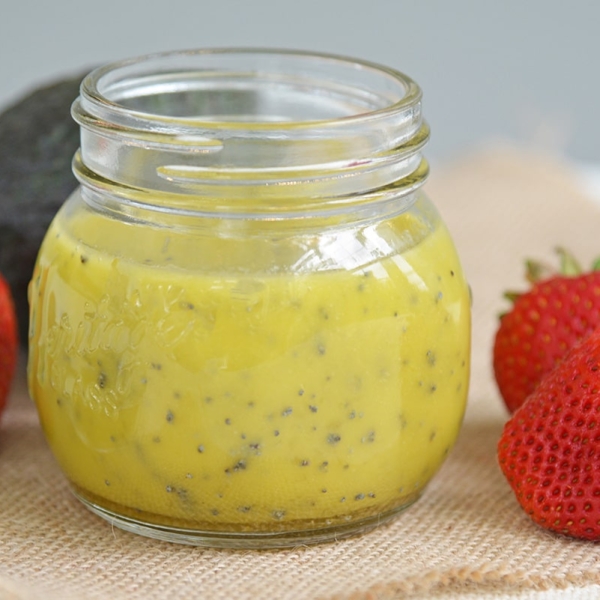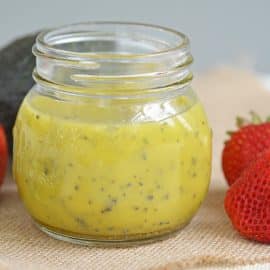 Poppy Seed Dressing
An all-purpose dressing, this Poppy Seed Salad Dressing recipe is light and bright, perfect for summer salads! It's EASY to make and so delicious!
See The Recipe!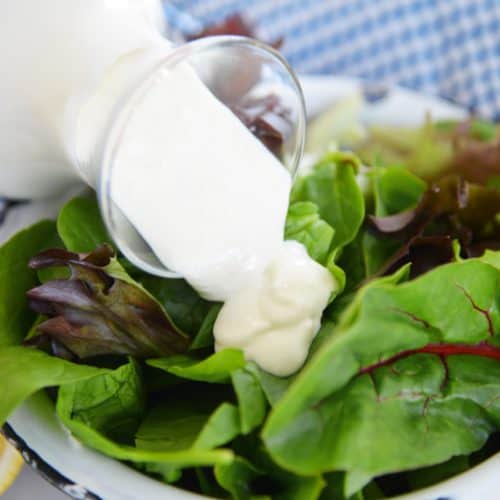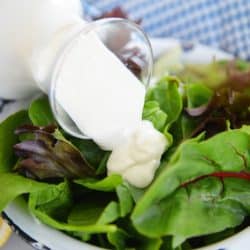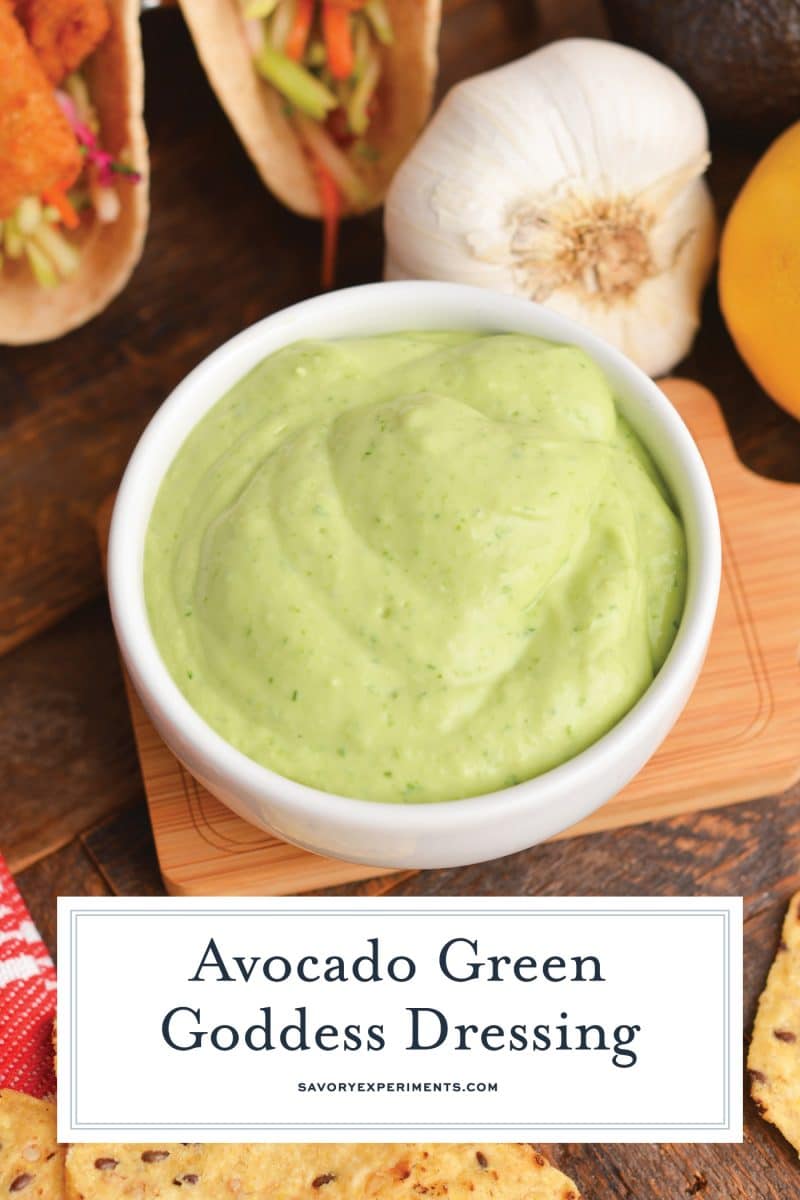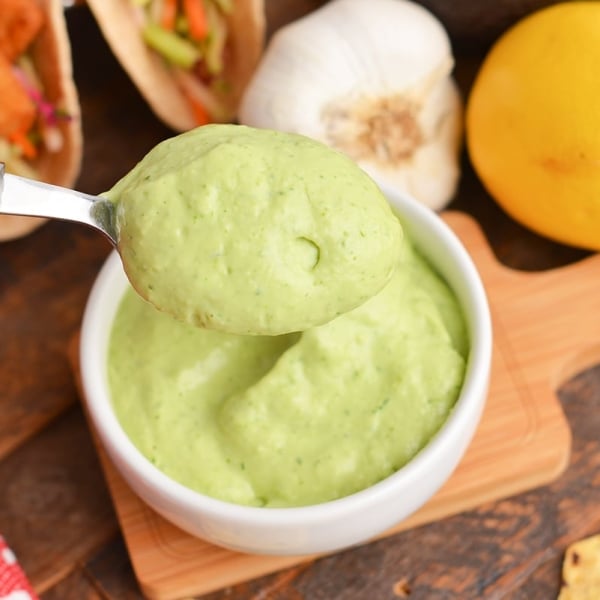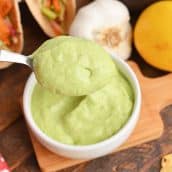 Avocado Green Goddess Dressing
Avocado Green Goddess Dressing is full of good-for-you veggies and herbs, perfect for salads, but also ideal as a dipping sauce or a spread for sandwiches.

Instructions
Use a small food processor or a blender and combine the avocado and garlic, pulse until it is coarsely chopped.

Add the yogurt, lemon juice, cilantro and salt.

Depending on how thick you desire your sauce, add milk until it is pourable.

If you've tried this recipe, come back and let us know how it was in the comments or star ratings.
Nutrition
Calories:
246
kcal
,
Carbohydrates:
15
g
,
Protein:
14
g
,
Fat:
16
g
,
Saturated Fat:
3
g
,
Polyunsaturated Fat:
2
g
,
Monounsaturated Fat:
10
g
,
Trans Fat:
0.01
g
,
Cholesterol:
7
mg
,
Sodium:
1218
mg
,
Potassium:
700
mg
,
Fiber:
7
g
,
Sugar:
5
g
,
Vitamin A:
311
IU
,
Vitamin C:
14
mg
,
Calcium:
164
mg
,
Iron:
1
mg