Wondering how to make seafood salad? It's much easier than you may think!
Made with shrimp, calamari and lump blue crab meat, this Italian Seafood Salad is one of the easiest but most delicious seafood recipes you'll ever make.
Italian Seafood Salad (Antipasti di Mare) is traditionally a Christmas Eve appetizer. Though I'd tried other seafood salad recipes in the past, I first learned about this simple recipe and tradition while traveling in Italy.
Though Italian Seafood Salad can be enjoyed throughout the year you will typically find Italian families enjoying it on Christmas Eve as the first course or an appetizer.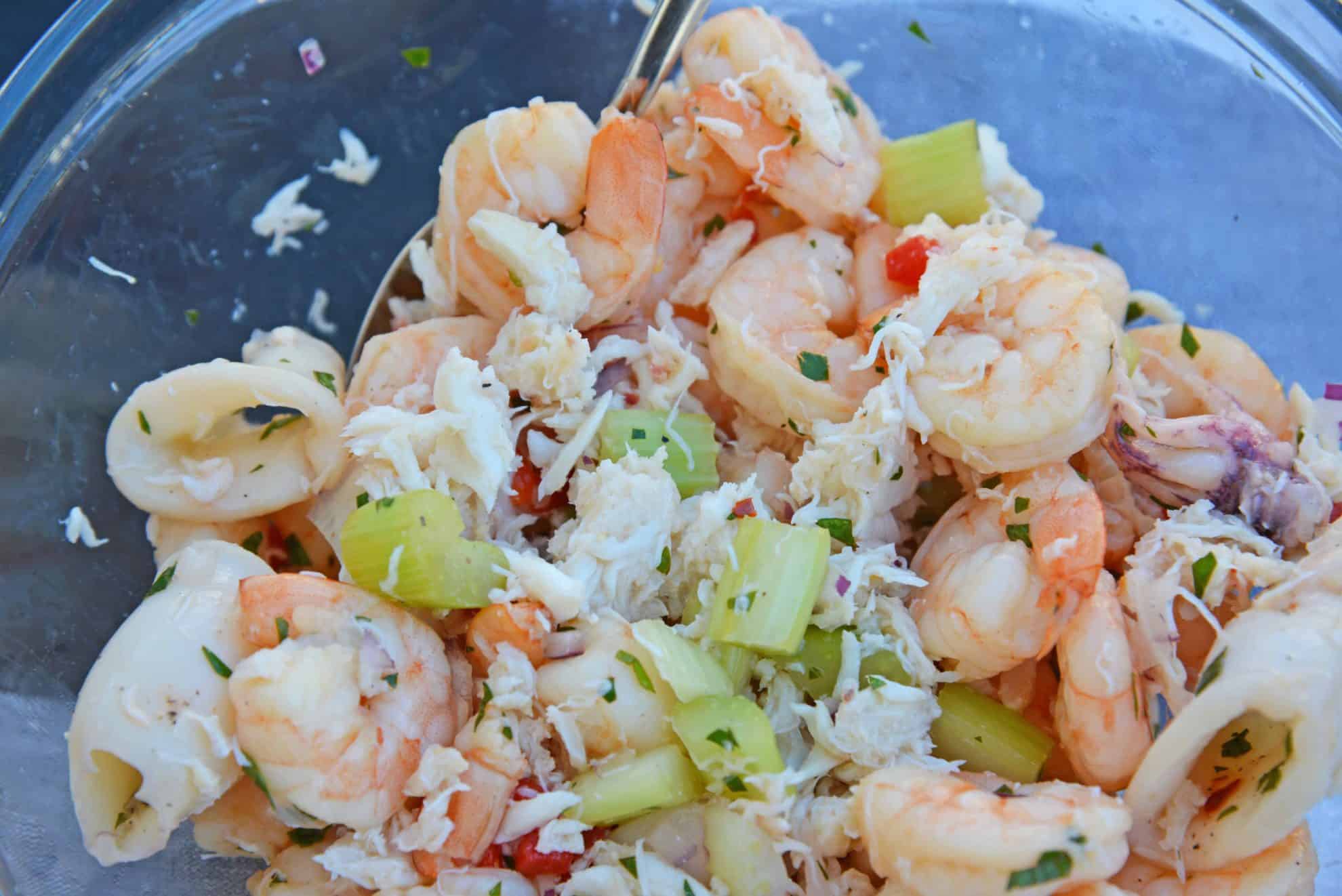 Other times of the year you might see it served with bread or even on top of a fresh salad.
I can see why it is considered to be a special holiday recipe. After all, while many Italians eat seafood pretty regularly, most American families don't… but this seafood salad recipe is so good that I can't imagine just eating it once per year.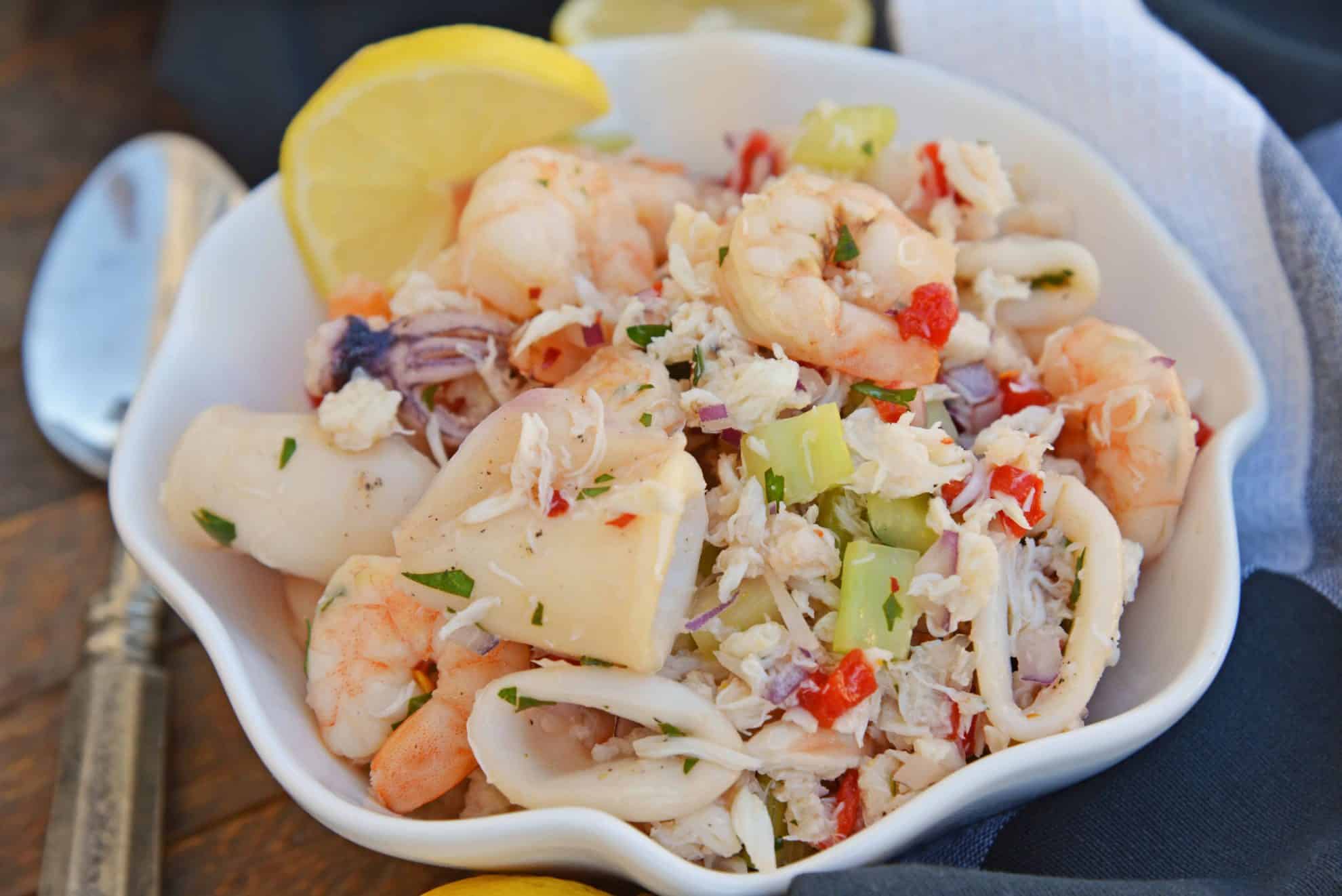 You'll find different variations of Seafood Salad with varying seafood ingredients. In this recipe, I stuck with shrimp, calamari and lump blue crab meat, but feel free to add cooked clams, mussels or large pieces of white fish.
Best seafood for seafood salad:
Shrimp
Crab meat
Lobster
Squid
Calamari
Clams
Mussels
Oysters
These three provide a variety of flavors and textures for the recipe. I've also seen recipes that include lobster or multiple varieties of shrimp, among other seafood.
You can, of course, just use one type of seafood or only two. It is totally up to you (and your budget).
So, how to make seafood salad? It's so easy!
Cook the seafood and the combine all ingredients together in a bowl. Many times you can even find the ingredients precooked at the store or ask the seafood counter to steam them for you while you shop.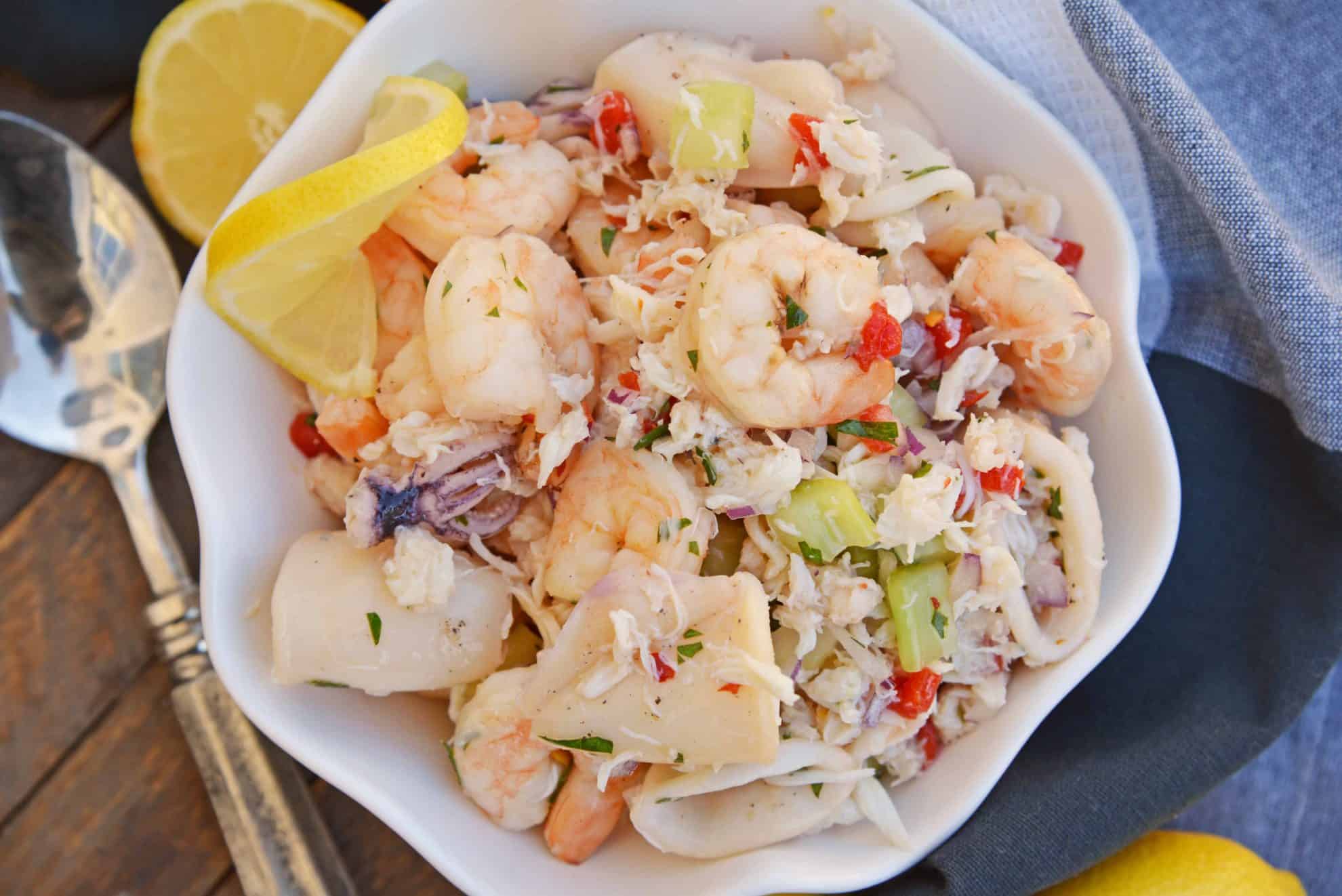 Refrigerate overnight or for at least 12 hours and serve cold. Even though it looks fancy, this could be the easiest Christmas appetizer you ever make.
The dressing is also simple – lemon juice and extra virgin olive oil with sea salt and crushed red pepper flakes. Simple but flavorful, it packs a punch!
I'll be serving this as a holiday appetizer this year but I also look forward to enjoying it on hot summer days as a light lunch.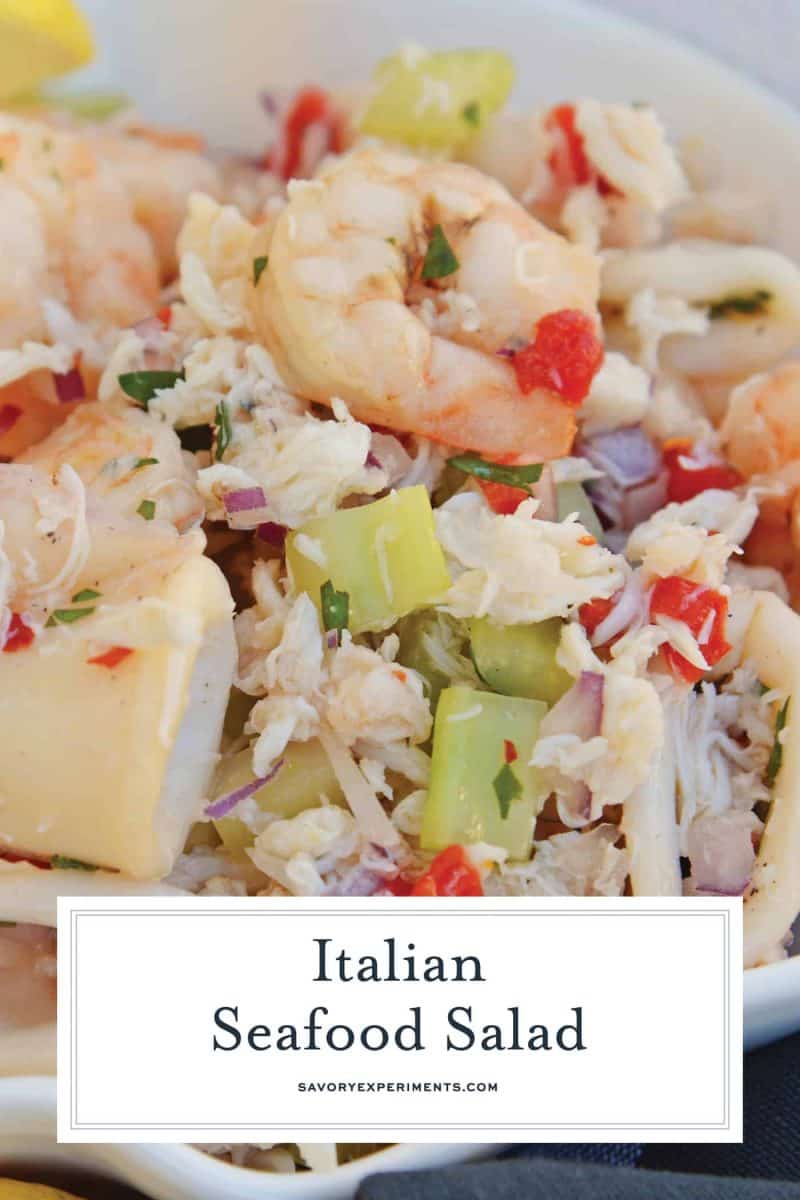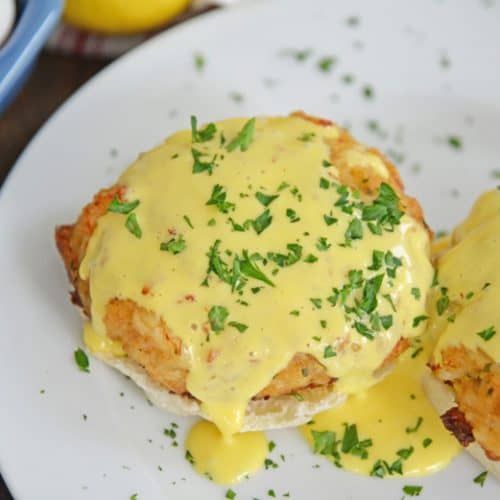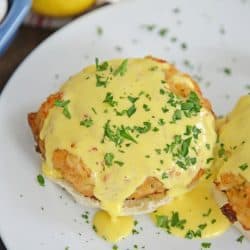 Crab Cakes Hollandaise
Crab Cakes Hollandaise is a decadently delicious dish that is perfect as an entree or as an appetizer. It is certain to wow your guests.
View this recipe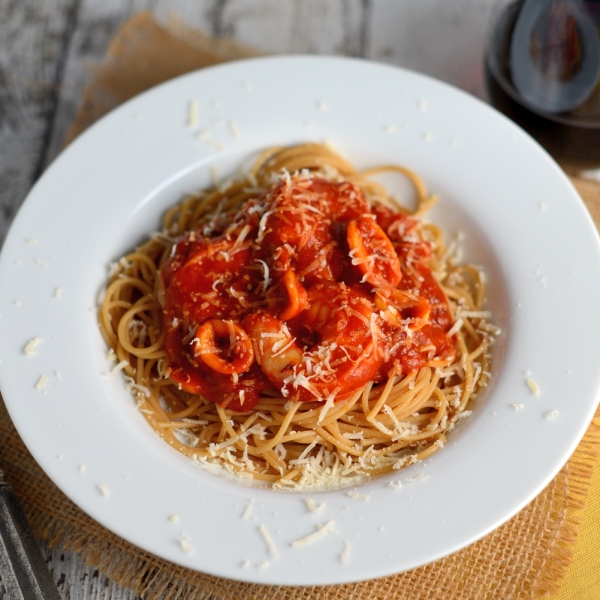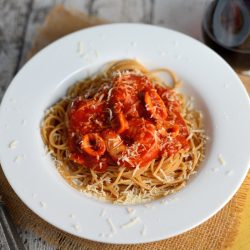 Seafood Fra Diavolo Recipe
Sweet and spicy tomato-based sauce simmered with tender seafood like shrimp, scallops, calamari and more.
View this recipe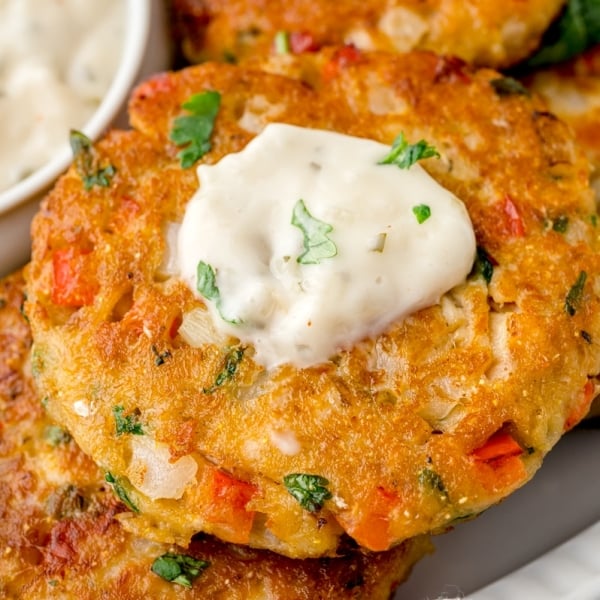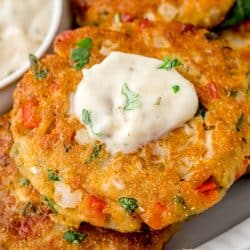 Southern Salmon Croquettes Recipe
Salmon Croquettes are a southern classic! Full of salmon, peppers, onions and seasoning, this versatile dish is sure to be loved by all!
View this recipe
Questions you might have about how to make seafood salad:
How far in advance can I make seafood salad? I like to make mine at least 12 hours in advance, but after 24 hours it can start to lose its texture.
Can I freeze seafood salad? I don't recommend it. First, most seafood is previously frozen and you shouldn't refreeze proteins.
The second is that the celery and roasted red pepper don't thaw particularly well. You want the crunch of the celery and since it is made with so much water, you'll lose that when it freezes.
Can I add onion? Of course! Onion and garlic are always welcome! Use a mini food processor to mince it smaller or a microplane to grate it.
Tools for making the best seafood salad:
Wood cutting board – wood won't dull your knives like plastic and if treated properly, has natural antimicrobial properties.
Good knife – Global is my favorite! They are worth the price, I promise. I am kind of obsessed with them and store them tucked away so no one else can use them. Including hubby. Hands off my good stuff!
Good Extra Virgin Olive Oil– A good olive oil will taste like, well, olives, while a poorly made one will taste like vegetable oil. Gross. While people tend to favor Italian and Greek olive oils, I prefer to buy mine domestically.
There are some great ones out there from all over the world, but the reporting of ingredients isn't always the same and you could find that your super expensive olive oil was actually cut with vegetable oil.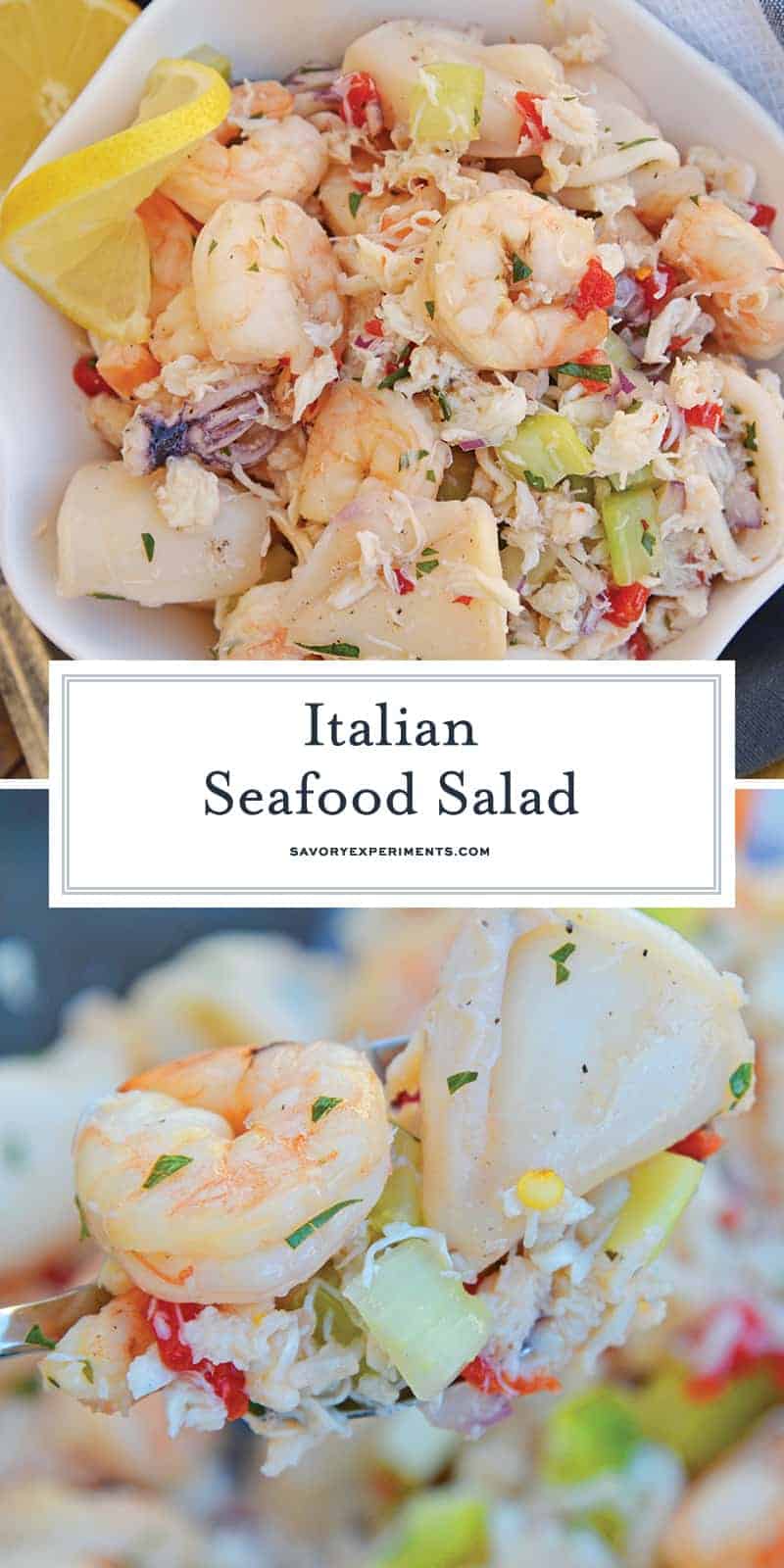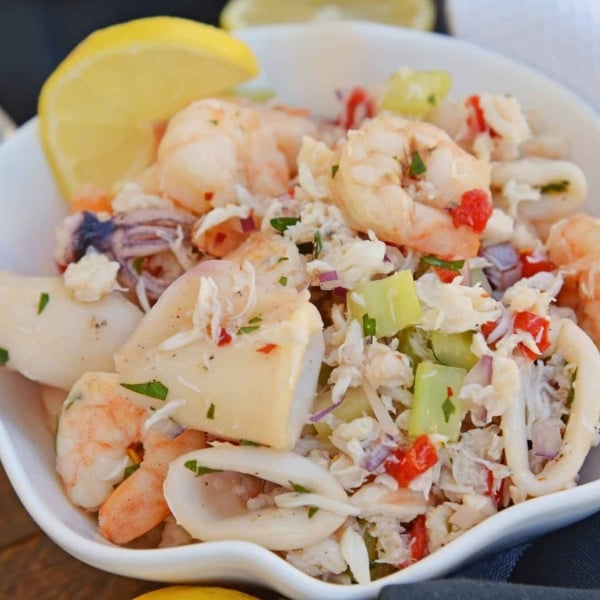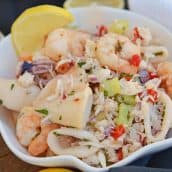 Italian Seafood Salad
Made with shrimp, calamari and lump blue crab meat, this Italian Seafood Salad is one of the easiest but most delicious seafood salad recipes you'll ever make. Perfect as an appetizer or light meal!
Instructions
Combine shrimp, calamari, lump blue crab meat, celery, roasted red pepper, lemon juice, extra virgin olive oil, fine sea salt and crushed red pepper flakes. Toss well.

Cover and refrigerate for at least 12 hours before serving.

Keep cold.

If you've tried this recipe, come back and let us know how it was!
Nutrition
Calories:
158
kcal
,
Carbohydrates:
3
g
,
Protein:
23
g
,
Fat:
5
g
,
Cholesterol:
236
mg
,
Sodium:
1027
mg
,
Potassium:
311
mg
,
Vitamin A:
115
IU
,
Vitamin C:
15.2
mg
,
Calcium:
93
mg
,
Iron:
1.4
mg