Creamy Tomato Salad Dressing is one of the most popular recipes on this blog! You have to give it up for a homemade dressing that is made with vegetables to go on top of vegetables.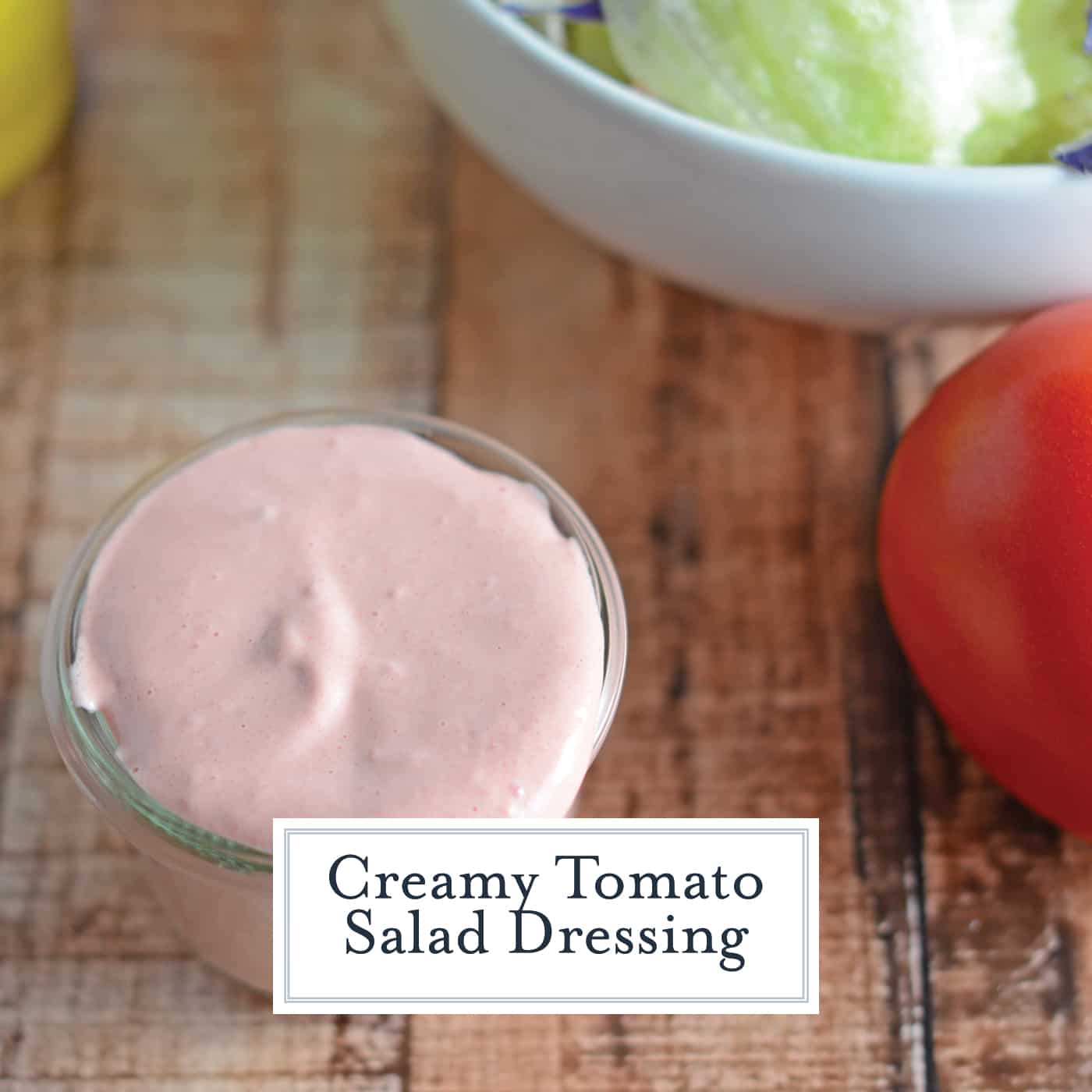 Double the VEGGIES!
Tomato Dressing
This is a is a homemade salad dressing that can also be used on grilled vegetables or as a dipping sauce. It is a delicious blend of fresh tomatoes, zesty lemon juice, and Dijon mustard- a winning combo.
It is cool and creamy, making it great for summer salads. If time is short, make it ahead of time and store it in airtight containers. Preparation is an absolute snap!
Fresh Tomatoes
Overrun with fresh tomatoes from the garden? This recipe is a great way to utilize all that beautiful veg and not let anything go to waste.
I use fresh, ripe tomatoes because generally I am low on time (and patience). I do have two small children. But if you want to further the flavor profile of this already awesome dressing, roast the tomatoes before adding.
I used two large beefsteaks for this batch, but it also works with:
Grape Tomatoes
Plum Tomatoes
Yellow Tomatoes
Heirloom Tomatoes
And generally any varieties you can get your hands on. Two large equals about 1 1/2 cups roughly chopped tomato.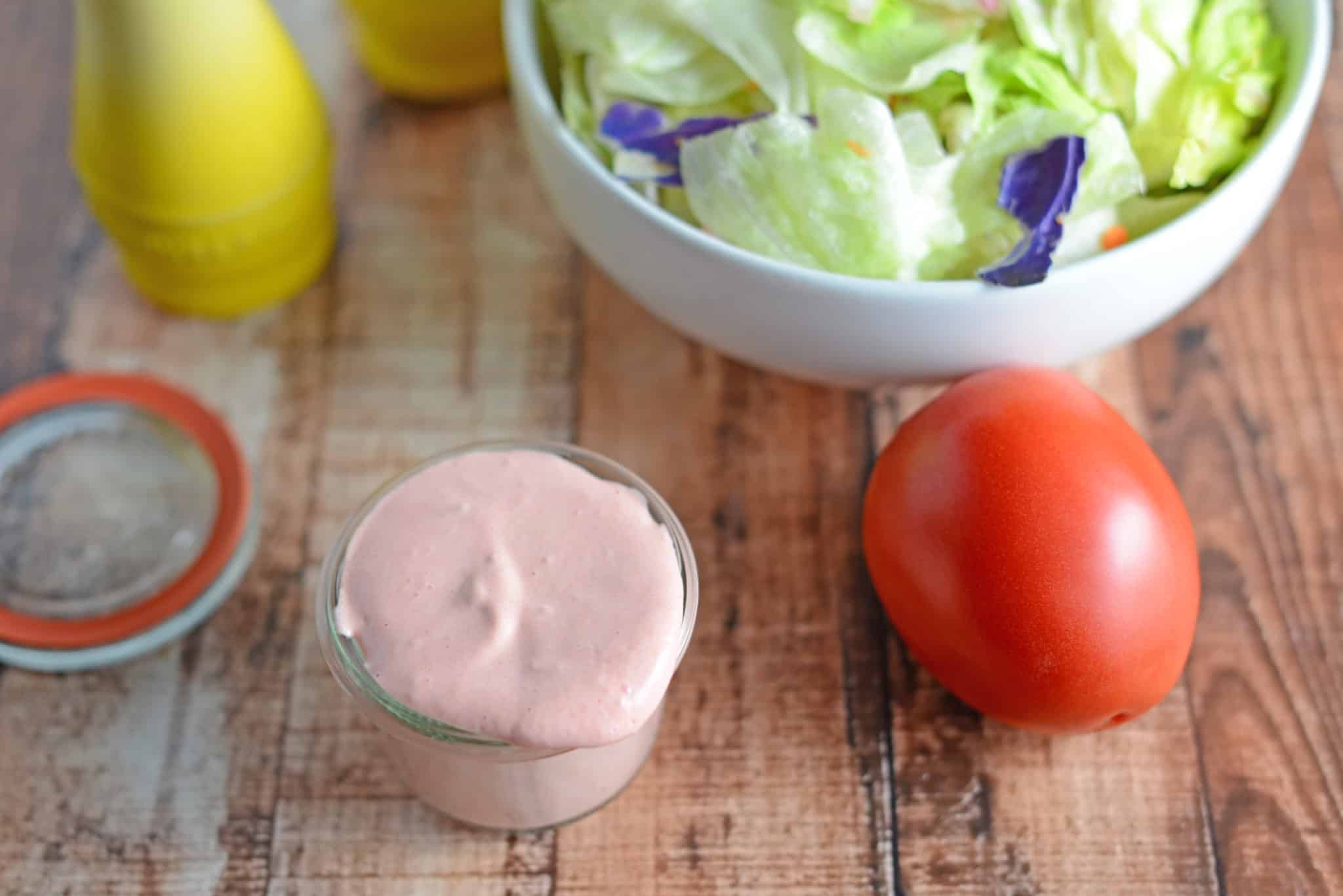 Homemade Dressing
There are so many benefits to not resorting to store bought dressing when it comes to dressing. The first is no additives or preservatives. You may not think about it all that much, but fresh is best if you ask me.
The only "make it last longer" ingredients you'll find in my homemade salad dressing recipes is salt. And we are talking good salt – none of that icky, iodized stuff.
Yuck! You can also choose how much or how little salt, mayonnaise, or olive oil to add.
Second, it's really and truly simple to make. Buying dressing from the store may seem like the best option, but homemade is SO much better. And did I mention how quick and easy it is?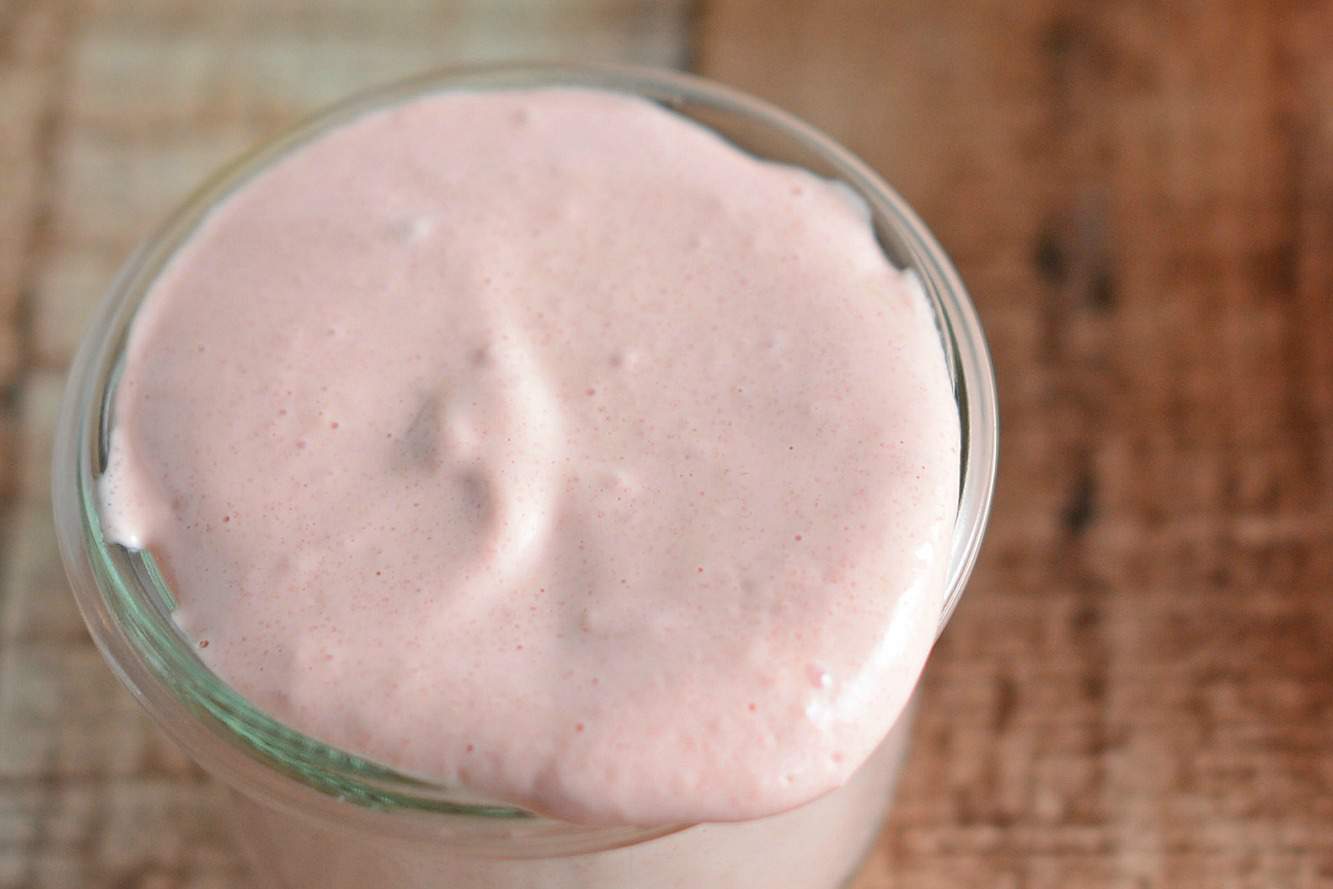 Oil Free Dressing
This salad dressing recipe doesn't use oil. Instead, it uses mayonnaise to give a rich and creamy texture.
Making it homemade gives you so much flexibility with flavors and are never the same twice, so you never get bored. Feel like adding some fresh herbs? Go right ahead!
It tastes great on roasted or grilled vegetables, chicken and seafood, or as a dipping sauce for your veggie tray
If you are feeling really bold, serve it with some potato chips or even French fries for the next game. I promise you, that bowl will go so fast and your guests will love you for it.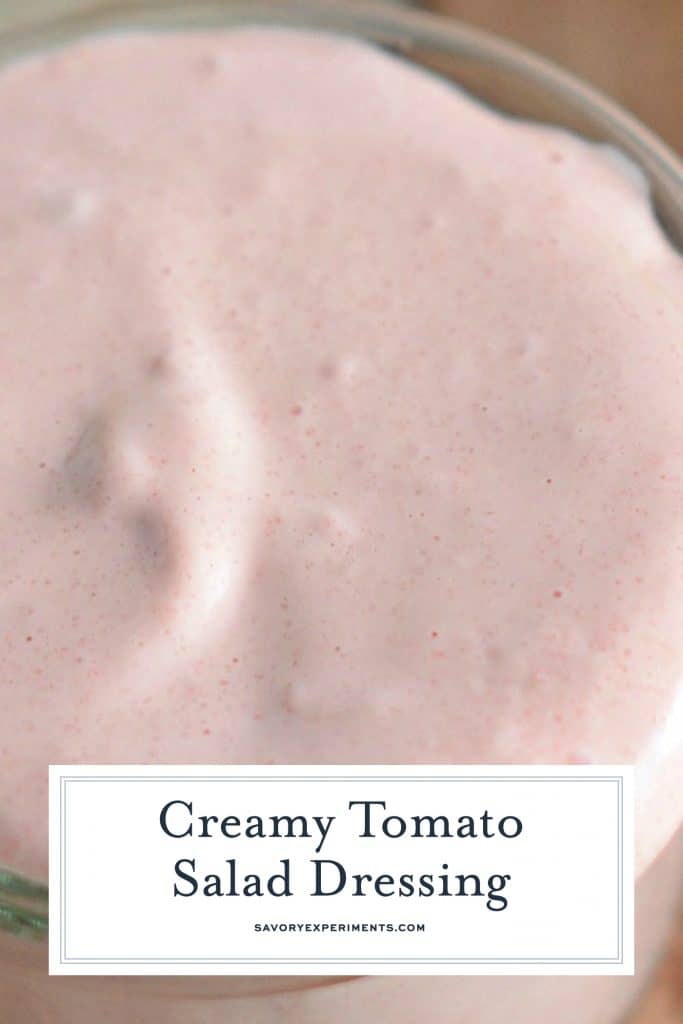 Tools:
Mini Food Processor– I use this thing daily! It is by far my most used kitchen appliance, it is small and I throw all the parts into the dishwasher, well except the base and cord, of course!
Salad Dressing Container– Since I making all my own dressings, I keep a few of these around to easily label, shake em up and keep them food for as long as possible in the refrigerator.
More dressing recipes: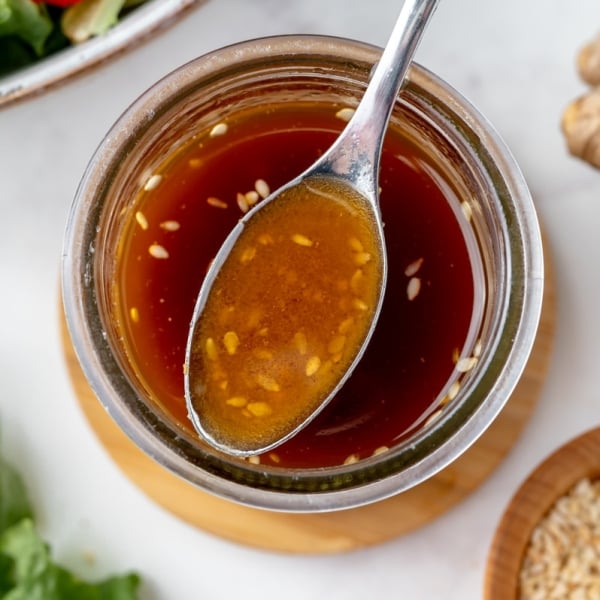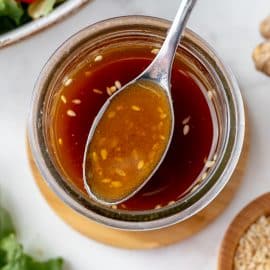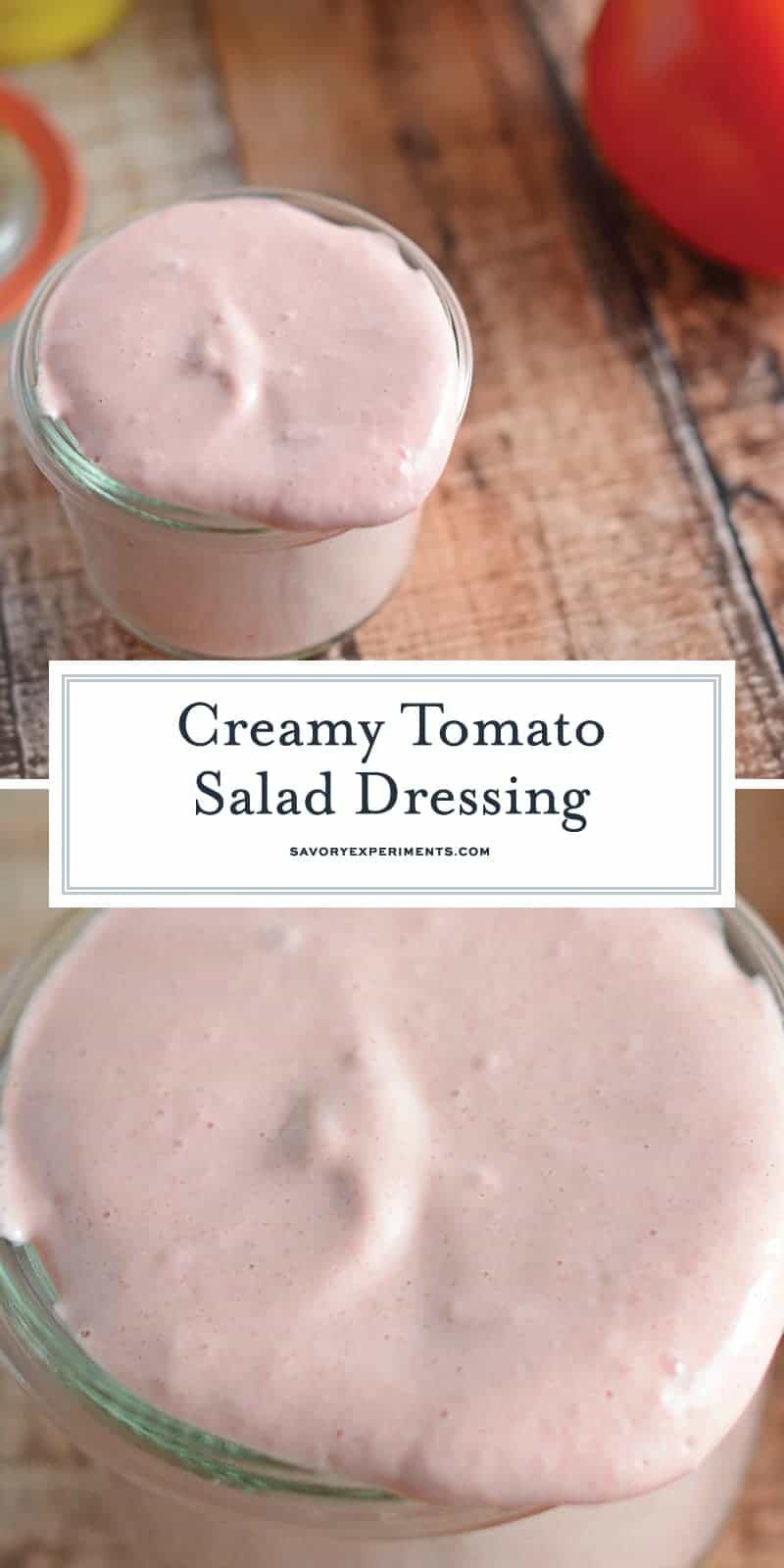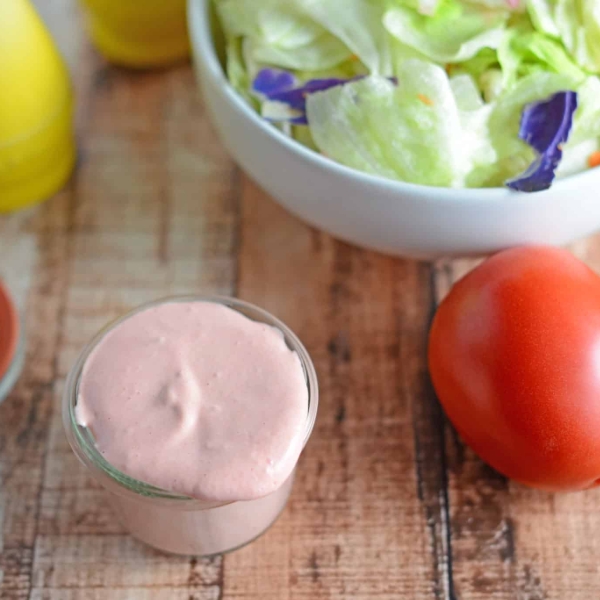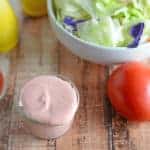 Creamy Tomato Salad Dressing
Creamy Tomato Salad Dressing is a homemade salad dressing that uses fresh tomatoes with zesty lemon juice and Dijon mustard.
Instructions
The first step of this dressing is to prepare the tomatoes by skinning them. If you have never skinned a tomato before, have no fear, it is very easy. Fill a medium sauce pan ¾ with water, bring to a boil. Set up an ice bath directly next to the range. Score a "X" in the bottoms of all tomatoes.

Working in batches of 2-3, drop tomatoes into boiling water. Boil for 45-60 seconds. If the water does not fully cover your tomatoes, turn and boil on the other end for a few seconds.

Remove and immediately submerge in the ice bath. Continue with remaining tomatoes. If the skin does not start to peel in the ice bath, return to the boiling water for just a few minutes.

Remove tomatoes from ice bath and peel. Skin should come off easily.

Chop off stem end and then quarter. Using your fingers, gently press out the pulpy seed sections. Do not worry about getting it all, just the majority.

Place all ingredients into a small food processor, blend until smooth.

Can be refrigerated for 2-3 days. Drizzle over a fresh salad mix. Enjoy your Creamy Tomato Salad Dressing!

If you've tried this recipe, make sure to come back and let us know how you liked it in the comments!
Notes
Use any variety of tomato you'd like, I used beefsteak which equaled about 1 1/2 cups roughly chopped.
Nutrition
Serving:
0.25
cup
,
Calories:
159
kcal
,
Carbohydrates:
3
g
,
Fat:
15
g
,
Saturated Fat:
2
g
,
Cholesterol:
5
mg
,
Sodium:
258
mg
,
Potassium:
145
mg
,
Sugar:
2
g
,
Vitamin A:
510
IU
,
Vitamin C:
10.2
mg
,
Calcium:
6
mg
,
Iron:
0.2
mg