Pickled Asparagus Salad is one of my favorite side dish recipes for BBQs, potlucks and other gatherings. Served as a cold asparagus salad, it is an excellent make-ahead recipe and checks all my boxes as the ideal party food.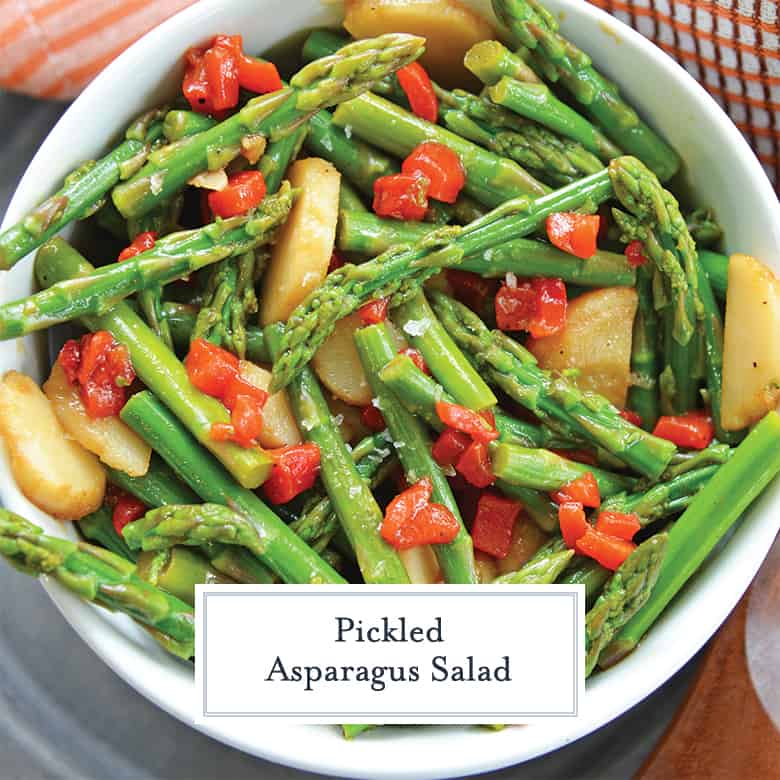 Pickled Asparagus Salad is made with blanched asparagus marinated in a vinaigrette and tossed with water chestnuts and roasted red pepper. A wonderful combination of colors, tastes and textures that is unusually delicious.
Pickled Asparagus Salad a sponsored post on behalf of the Michigan Asparagus Advisory Board. All opinions and statements are 100% my own.
Pickled Asparagus
But wait, you are using fresh asparagus, not jarred pickled asparagus. Why is it called pickled?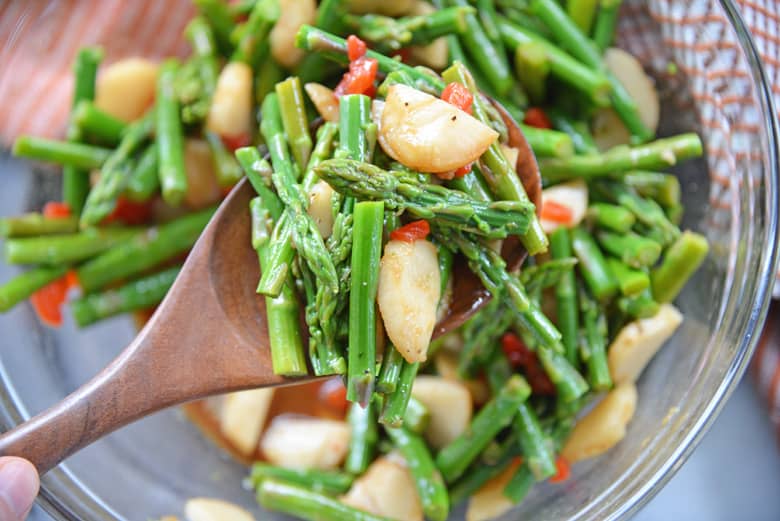 Jarred asparagus tends to be limp and fall apart since it is suspended in water for so long. It is literally water logged. But I also don't have time to sit around for two weeks and use a traditional pickling method.
So instead I use my pickling shortcut. Allowing salted and blanched asparagus to marinate in the vinaigrette instead of essentially "cooking itself" by sitting in vinegar for an extended period of time. Some would just call it marinated asparagus, but I am going with pickled since it has the strong vinegar base.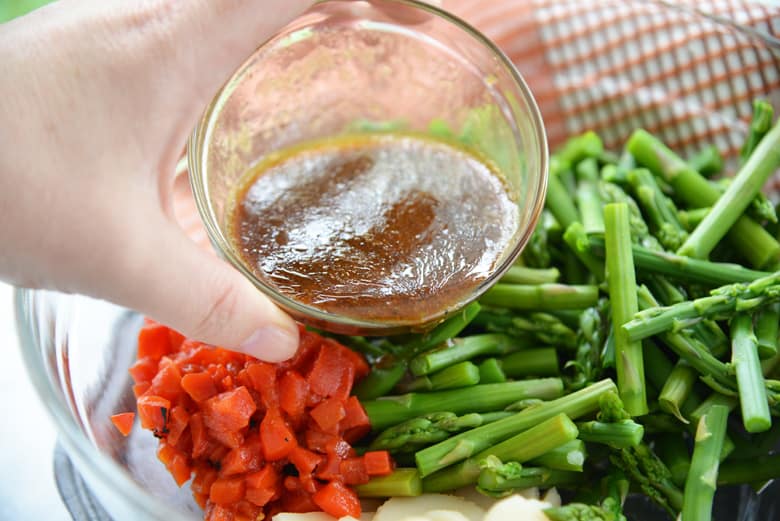 Blanching Asparagus
What is blanching?
The process of blanching, cooking a vegetable in boiling water for a short period of time and then submerging it in ice water to stop the cooking process, not only saves the integrity of the asparagus spear and preserves nutrients, but also saves the crunch and color factor.
Balsamic Vinegar
What is balsamic vinegar?
Balsamic is a vinegar made from grape must, a freshly crushed grape juice with all the skins, seeds and stems. Some are aged to develop more robust and sophisticated flavors.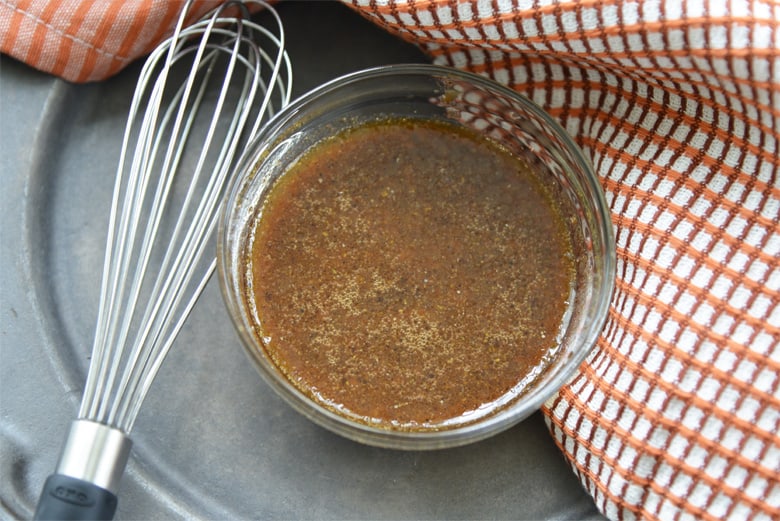 For something like this, using a good quality balsamic vinegar is important, but if for recipes like a balsamic reduction, you can get away with using a less expensive version.
If balsamic is too flavor forward for you, feel free to use one of these substitutes:
White balsamic vinegar
White wine vinegar
Rice wine vinegar
Champagne vinegar
Michigan Asparagus
When purchasing my asparagus, I check the tag to make sure it is Michigan Asparagus, the second largest producer of white, green and purple asparagus in the United States.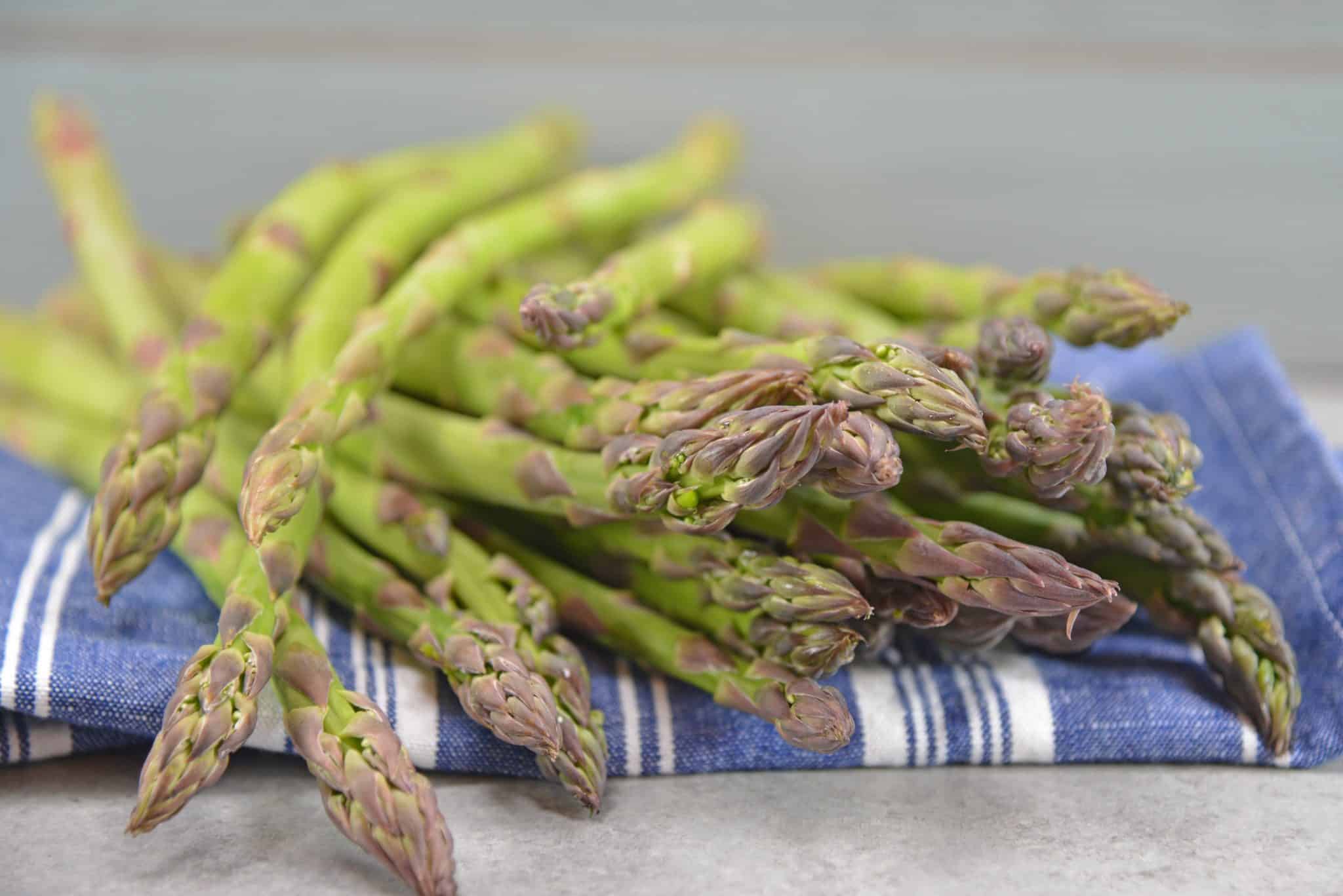 Grown by 120 Michigan families and hand snapped, it guarantees that each spear has been approved as exceptional.
Asparagus Health Benefits
Did you know that asparagus is one of the most nutritionally well-rounded vegetables out there and is also highly sustainable? Asparagus benefits include being low in calories (only 4 calories per spear) and high in folic acid, fiber, thiamin and B6.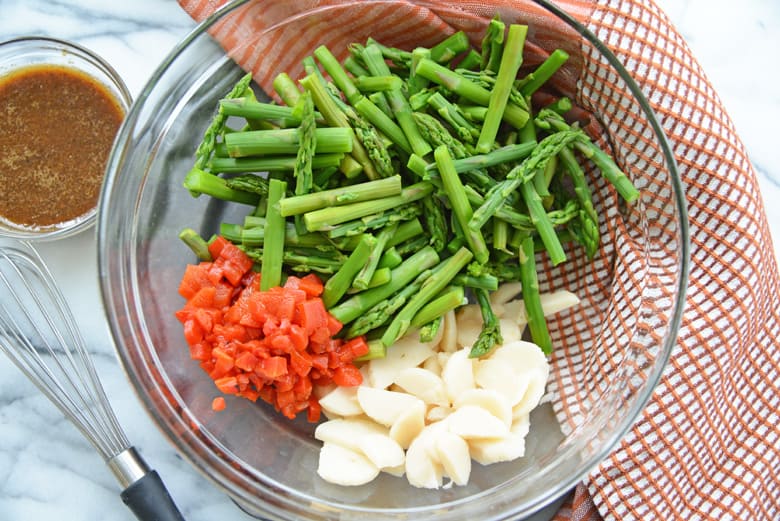 Twenty million pounds of asparagus can grow on just 9,500 acres of land and some plots can be harvested up to twice daily. Here are more fun facts about asparagus:
A spear can grow up to 1/2 inch per hour!
A mature field can produce 25-25 rounds of crops per season.
All asparagus is white until it reaches the top of the soil and photosynthesis turns it green. White asparagus is much more expensive because the process of digging it up is labor intensive.
Purple asparagus turns a deep green when cooked.
Asparagus is part of the lily family.
Asparagus was once a prized food with both medicinal and aphrodisiac qualities.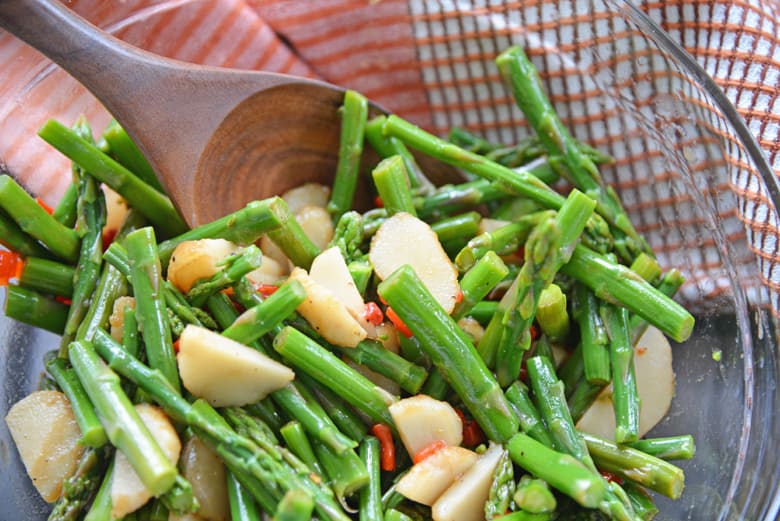 Serving and Storage
To get the "pickled" flavor, I recommend marinating for at least 4 hours, but up to 24. There will be more dressing than you need, so you'll drain it before serving.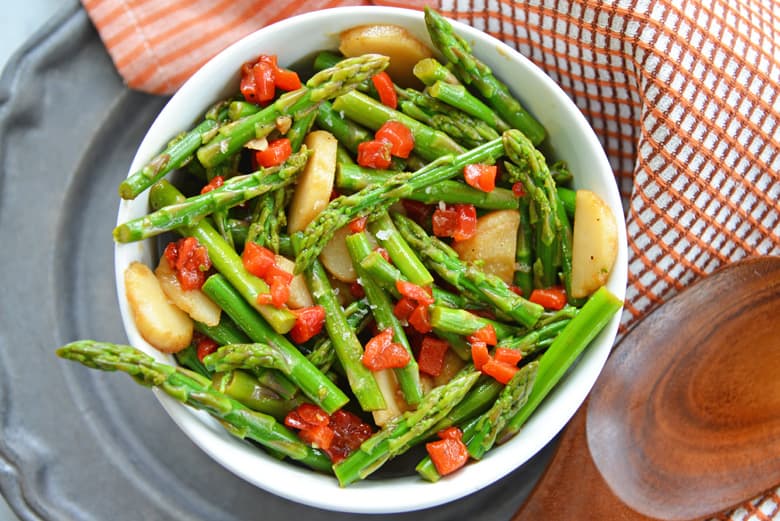 Pickled asparagus salad can be served cold or at room temperture since none of the ingredients are prone to go bad. It stays good in the fridge for up to 5 days.
I do not recommend freezing this dish, as it thaws kind soggy.
Tools You'll Need
Olive oil
– not all olive oil is created equal and in fact, many imported from Italy are cut with less expensive vegetable oil and not kept to strict US standards. I order mine domestically from Amazon to make sure it is 100% pure olive oil.
Colander
– You'll need to drain your blanched asparagus before submerging in cold water.
Glass Mixing Bowls
– Make sure you read about what bowl to use before making this recipe and whatever you do, don't use metal!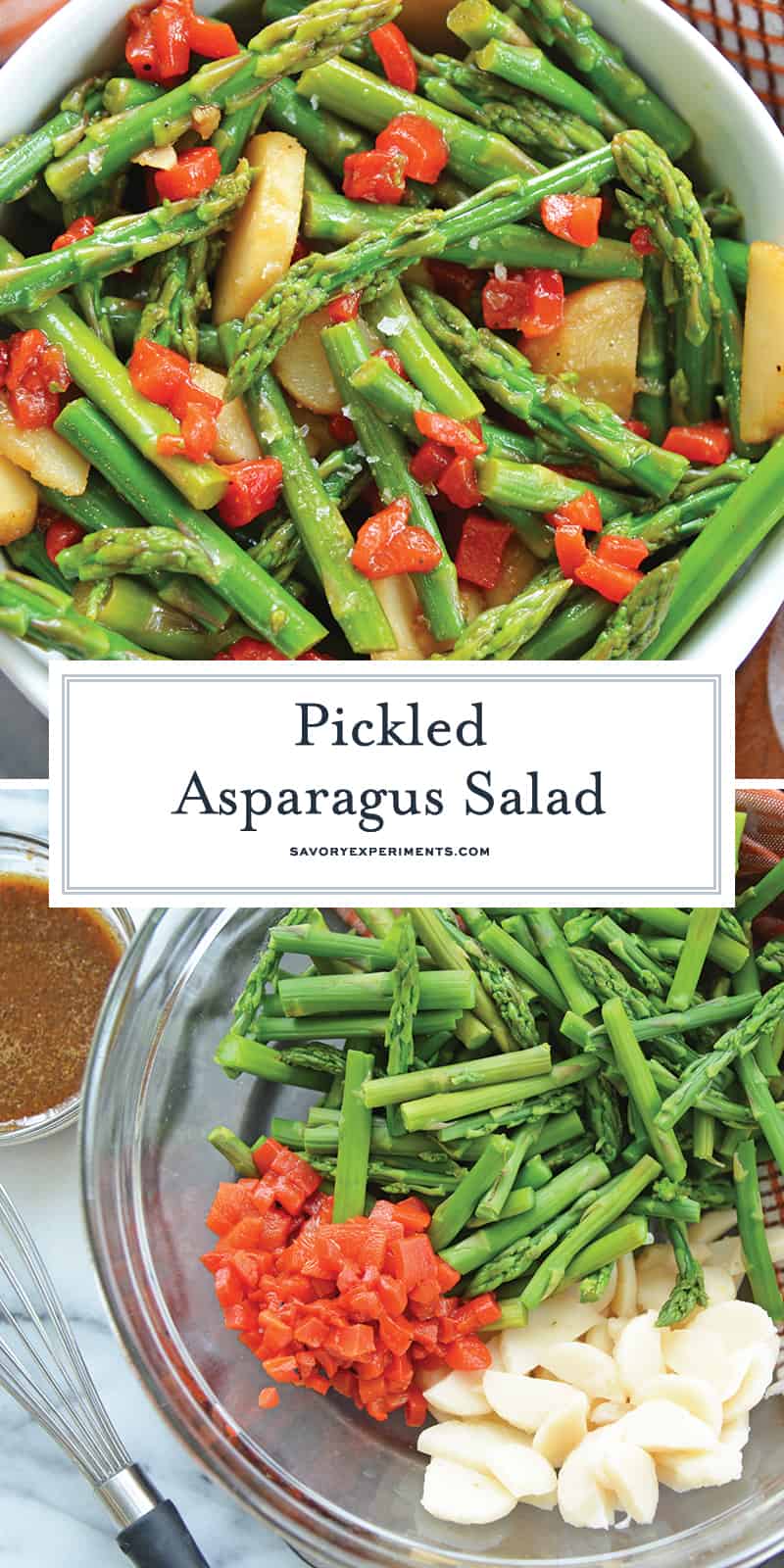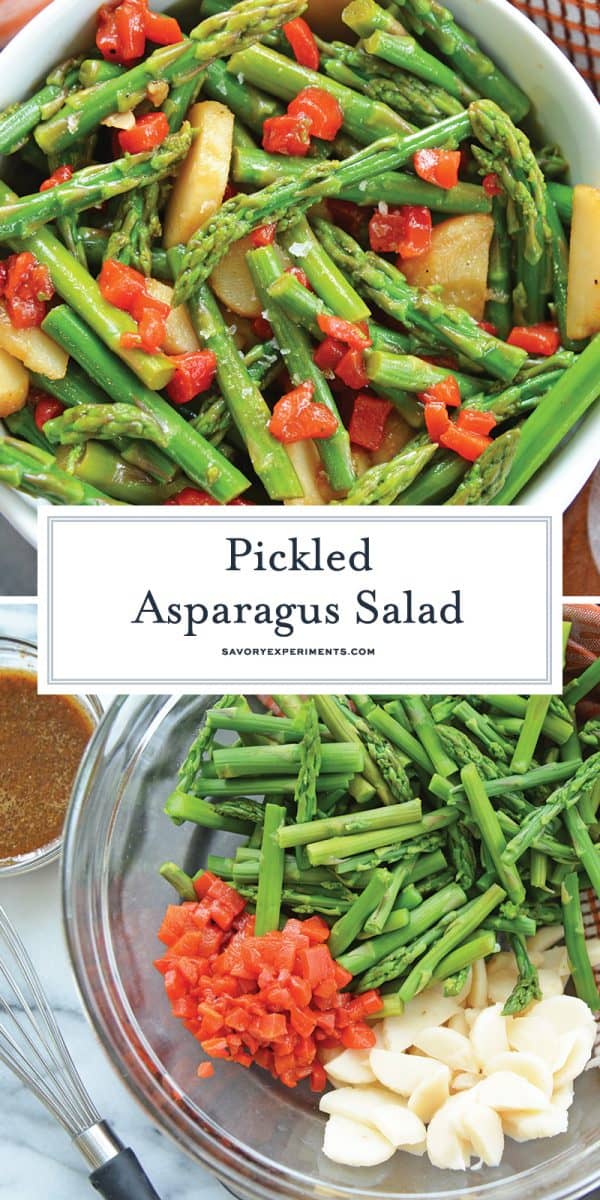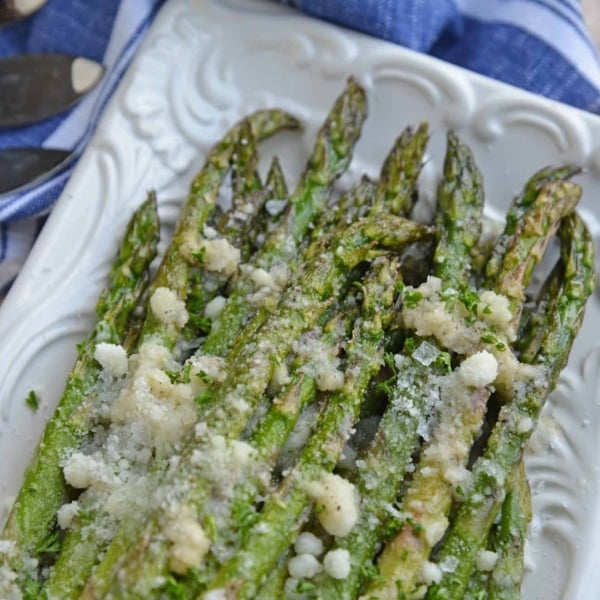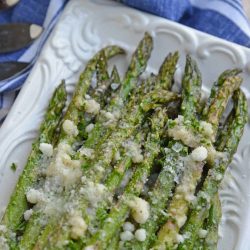 Garlic Parmesan Asparagus
Garlic Parmesan Asparagus is an easy side dish with loads of flavor. One of your favorite vegetables covered in fresh garlic and Parmesan cheese, what could be better?
View this recipe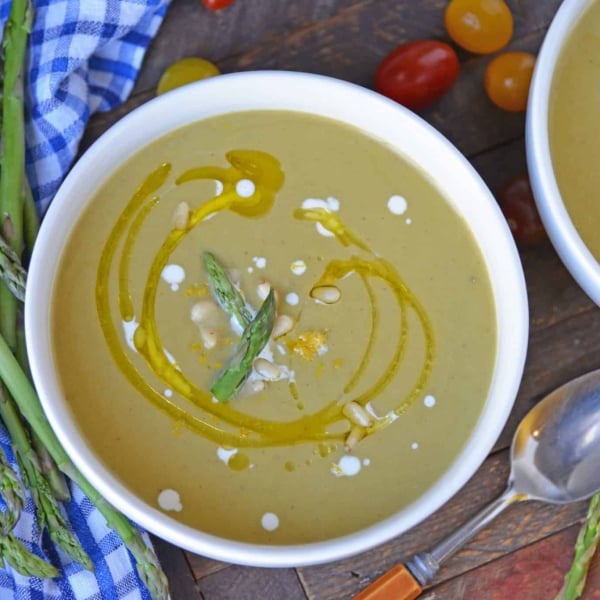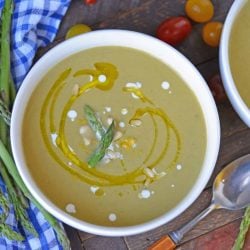 Asparagus Soup
Asparagus lovers will love this creamy asparagus soup! Deliciously smooth and flavored to perfection, this cream of asparagus soup makes the perfect appetizer!
View this recipe
Looking for more cold side dishes? Red Bean Salad, Brussels Sprout Slaw and Three Bean Salad are all good choices!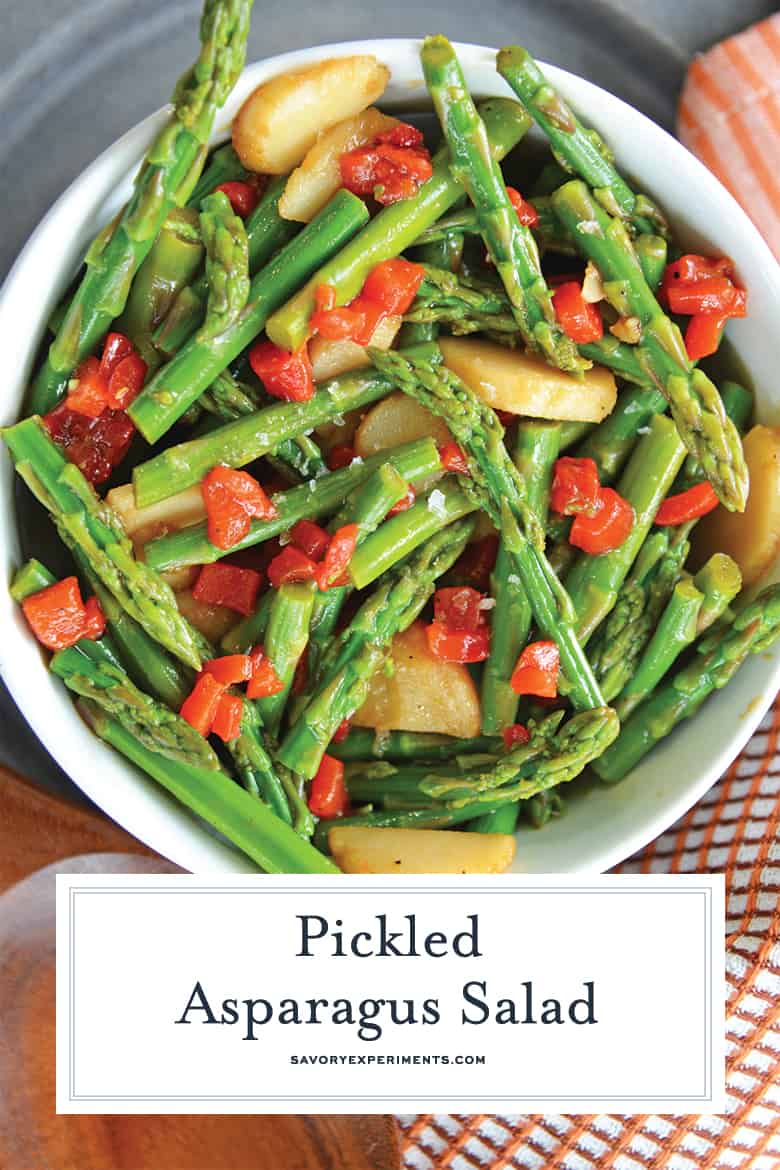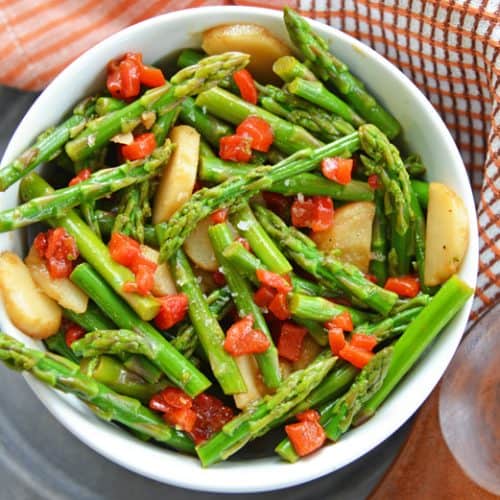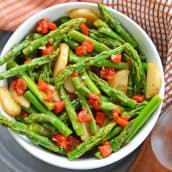 Pickled Asparagus Salad
Pickled Asparagus Salad is made with blanched asparagus marinated in a vinaigrette and tossed with water chestnuts and roasted red pepper.
Instructions
Fill a large Dutch oven or pot 1/2 with water, bring to a boil.

When boiling, add 1 tablespoon kosher and cut asparagus. Boil for 2 minutes.

Drain and transfer to a mixing bowl fitted with a colander and filled with ice water. When cooled, drain in the fitted colander and transfer to a mixing bowl.

Meanwhile, in a small bowl, combine balsamic vinegar, extra virgin olive oil, Dijon mustard, fine sea salt and ground black pepper. Pour over blanched asparagus, tossing well to coat. Toss with roasted red pepper and water chestnuts.

Cover and chill for 4-24 hours.

Before serving, drain extra vinaigrette.

Serve chilled or at room temperture.

If you've tried this recipe, come back and let us know how it was!
Notes
For extra crunch, add slivered or sliced almonds when ready to serve.
Nutrition
Calories:
126
kcal
,
Carbohydrates:
11
g
,
Protein:
3
g
,
Fat:
8
g
,
Saturated Fat:
1
g
,
Sodium:
220
mg
,
Potassium:
302
mg
,
Fiber:
3
g
,
Sugar:
5
g
,
Vitamin A:
875
IU
,
Vitamin C:
8.7
mg
,
Calcium:
40
mg
,
Iron:
2.9
mg