This simple Greek Pasta Salad is just the thing for potlucks and summer cookouts! The textures of crunchy veggies, al dente pasta, and flavors of a savory Greek dressing and feta cheese make this one of the best summer salads around!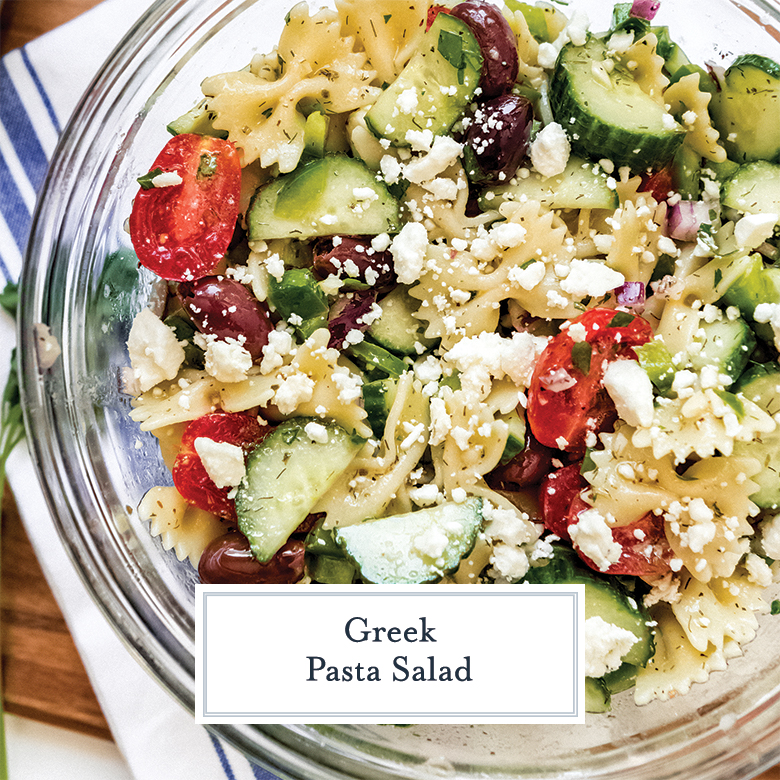 An easy pasta salad sometimes sounds like just the thing for a light lunch or to take along to a gathering. This Greek pasta salad with feta cheese is one that you can throw together in just a few minutes!
It tastes light and refreshing, with the classic tastes of feta, olive, cucumber, and tomato that are the signatures of Greek cooking. You can always bulk it up by adding some grilled chicken or shrimp to make for a satisfying, cool dinner all on its own on hot nights.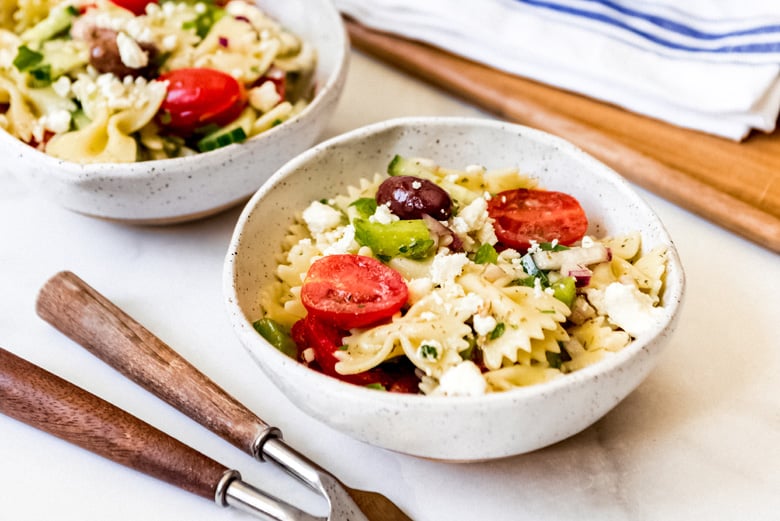 Ingredients in Greek Pasta Salad
These ingredients, and their measurements, are pretty flexible.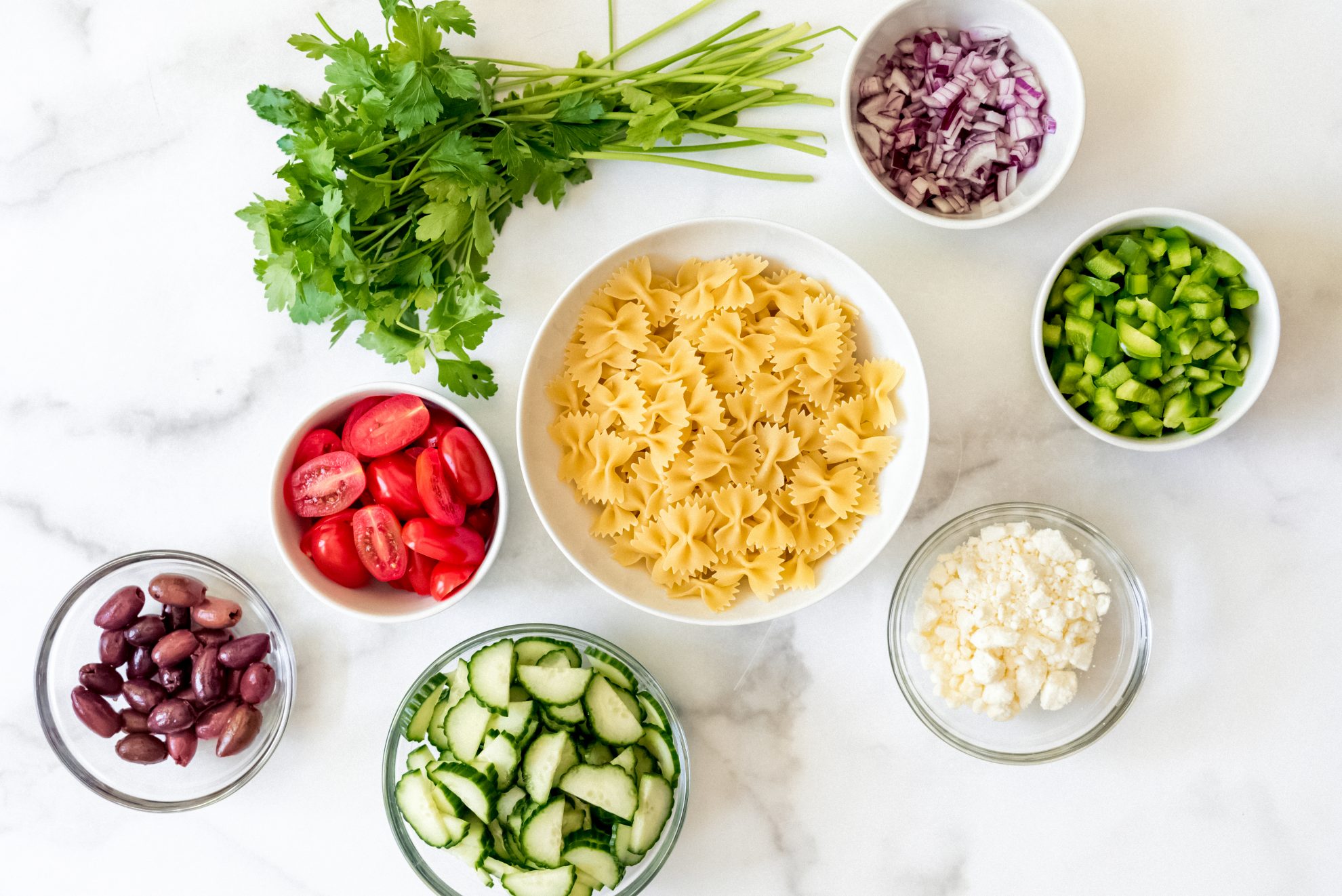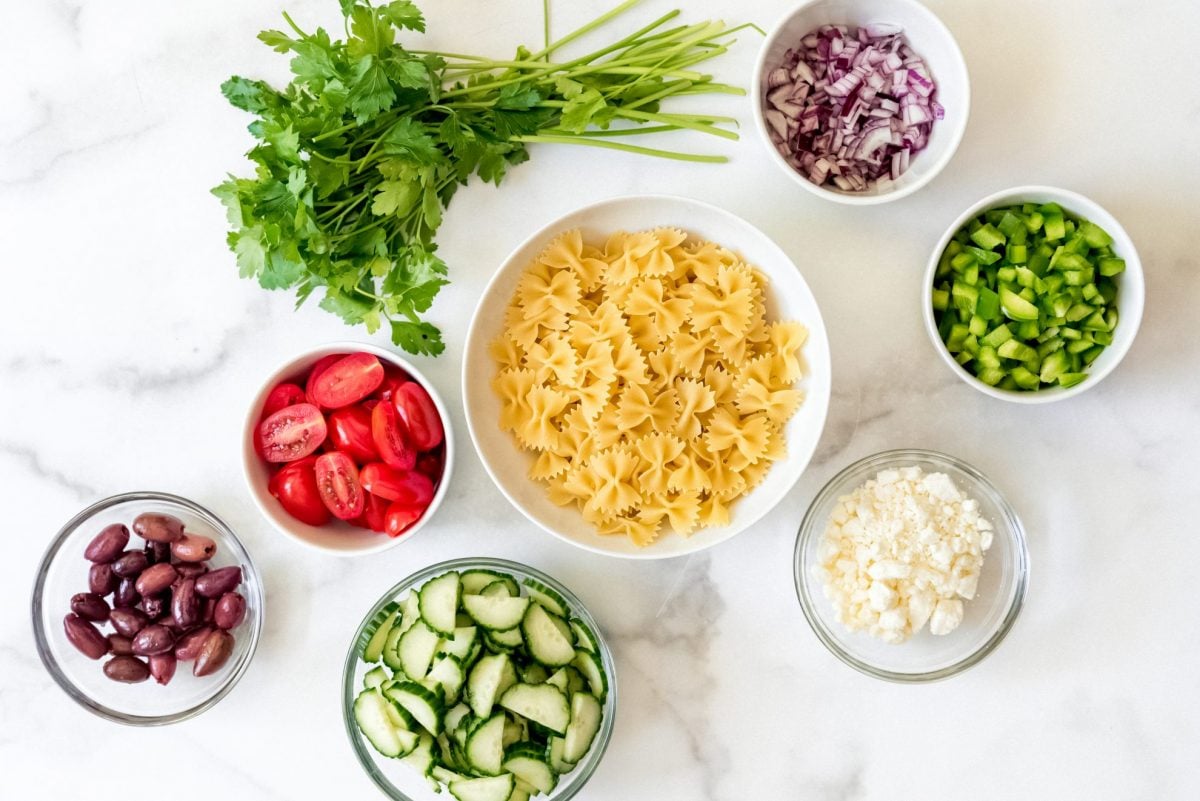 Bowtie pasta
Tomatoes: Grape tomatoes sliced in half make an easy addition to this salad, but any chopped tomato will work. Garden-fresh ones are always best!
Cucumbers: We like English or Persian cucumbers best because they don't need to be peeled first. These add a nice crispy, fresh crunch to the salad!
Green bell pepper
Kalamata olives: Really any kind of olive would work, but the purple jarred Kalamata olives are our favorites.
Red onion: If your red onions have a really strong flavor, soak them in ice water for 10 minutes first.
Feta cheese: Go for crumbled feta cheese if you prefer the flavor of feta to be in every bite. Or do larger chunks for a slightly different taste and texture.
Fresh parsley: Nothing lightens and brightens a salad like some freshly chopped herbs!
Greek dressing
How to Make Greek Pasta Salad
Start by bringing a large pot of salted water to a boil on the stove. Cook the pasta until it is al dente perfection. You don't want to overcook the pasta in this dish or it won't hold up to the dressing and other ingredients.
While the pasta cooks, prep the rest of the salad ingredients by chopping the veggies. Adding all of the dressing ingredients to a jar and shaking well until combined.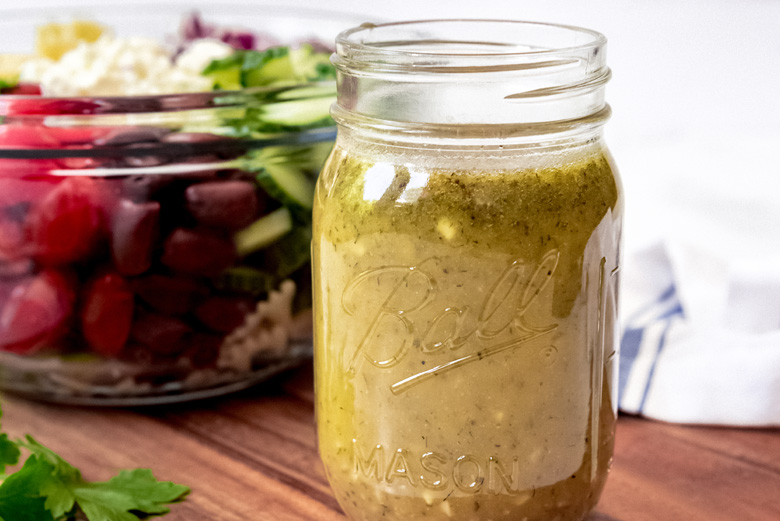 When the pasta is done, drain and rinse with cold water to stop the cooking process so it doesn't just soak up all the dressing as soon as it is added.
Combine the drained pasta in a large bowl with the tomatoes, green bell pepper, cucumber, red onion, kalamata olives, feta cheese, and parsley.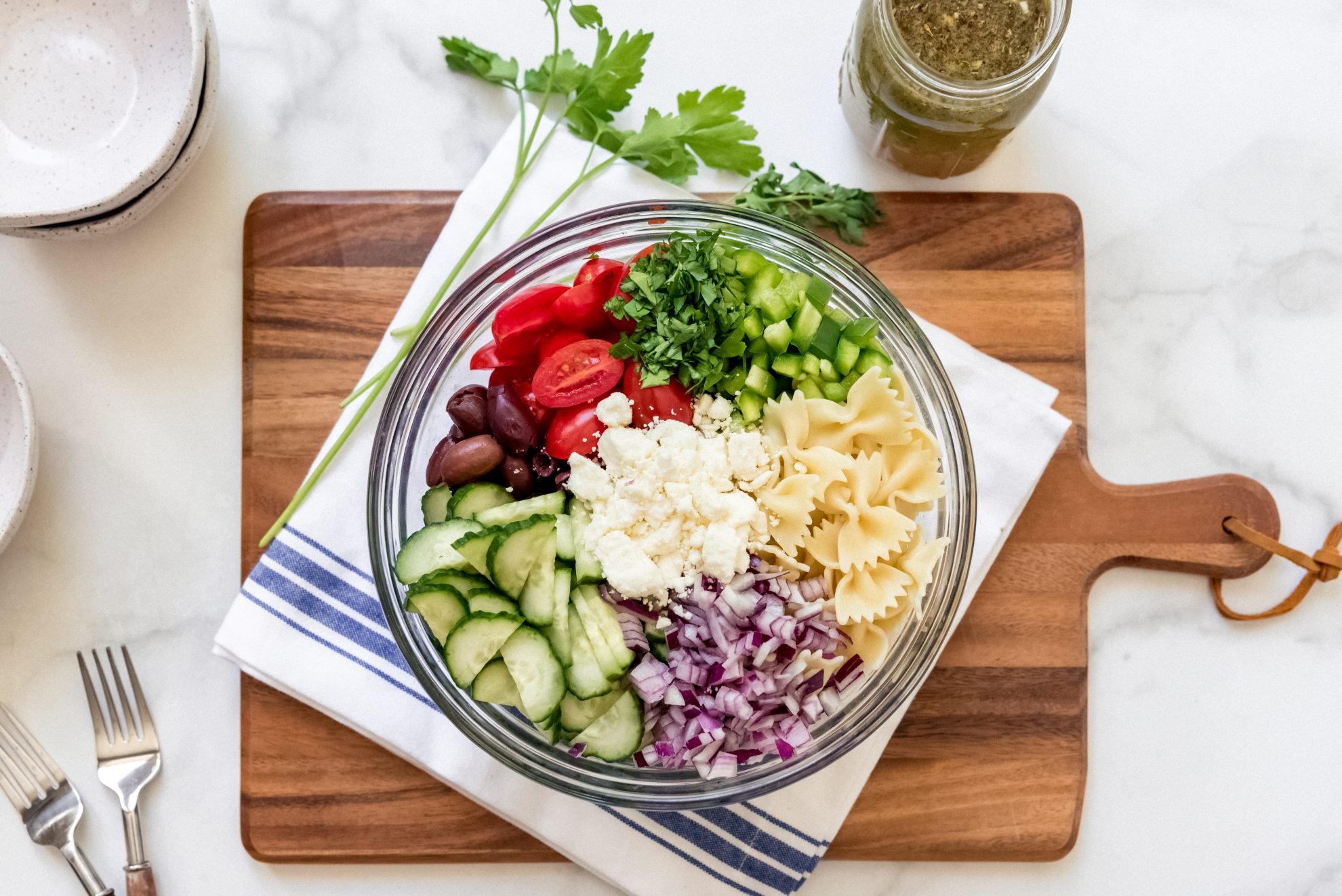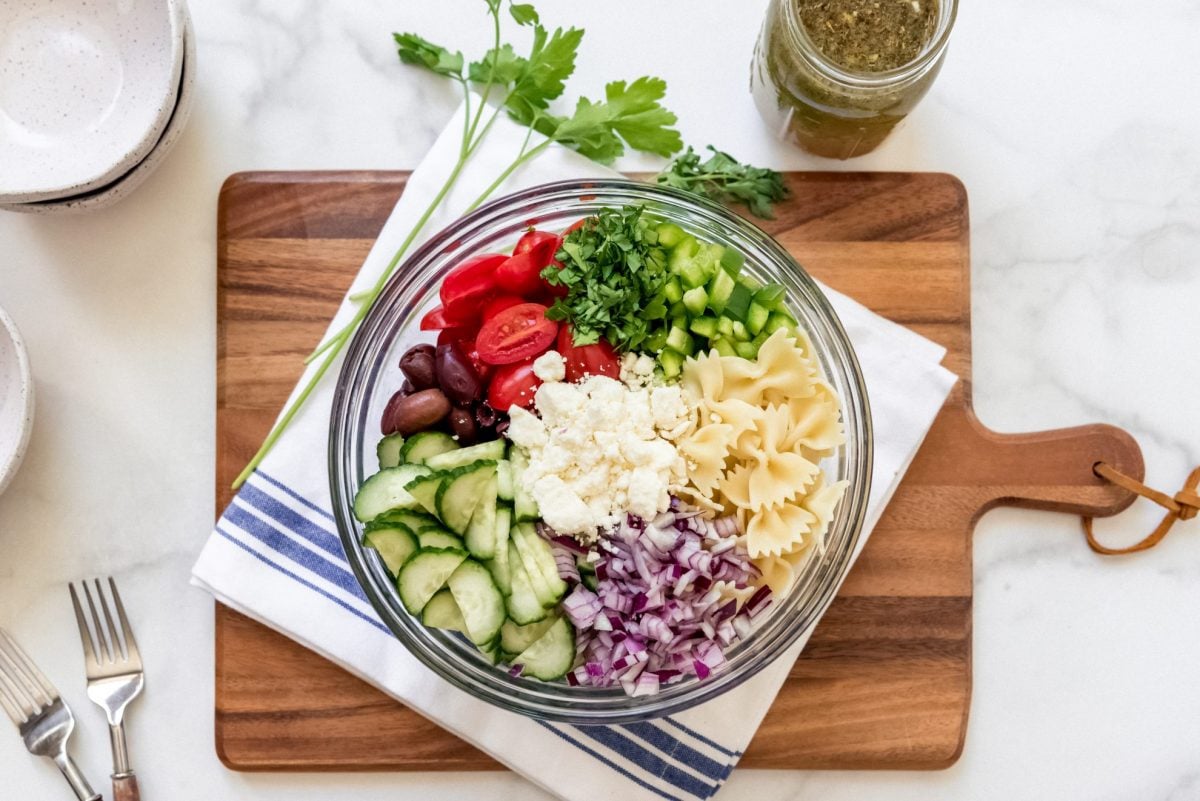 Pour the dressing over everything and toss to coat well. If you are making this Greek pasta salad recipe in advance, I recommend adding only half of the dressing. Then wait to add the rest of the dressing until right before serving since
the pasta will tend to soak up some of the dressing the longer it sits.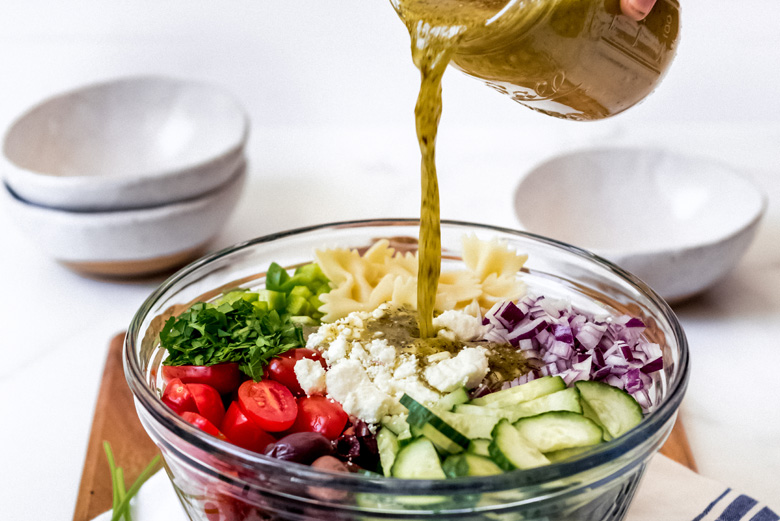 Homemade Greek Vinaigrette
We especially love that this salad feels lighter than other pasta salads because it's made with a homemade vinaigrette instead of mayo. Nothing against mayo, but it's such a nice way to change things up to bring this type of salad to a cookout!
If you want to make things easy, you can always pick up a bottle of Greek dressing from the store. But when it's so easy to make at home, I figure I might as well just make it myself.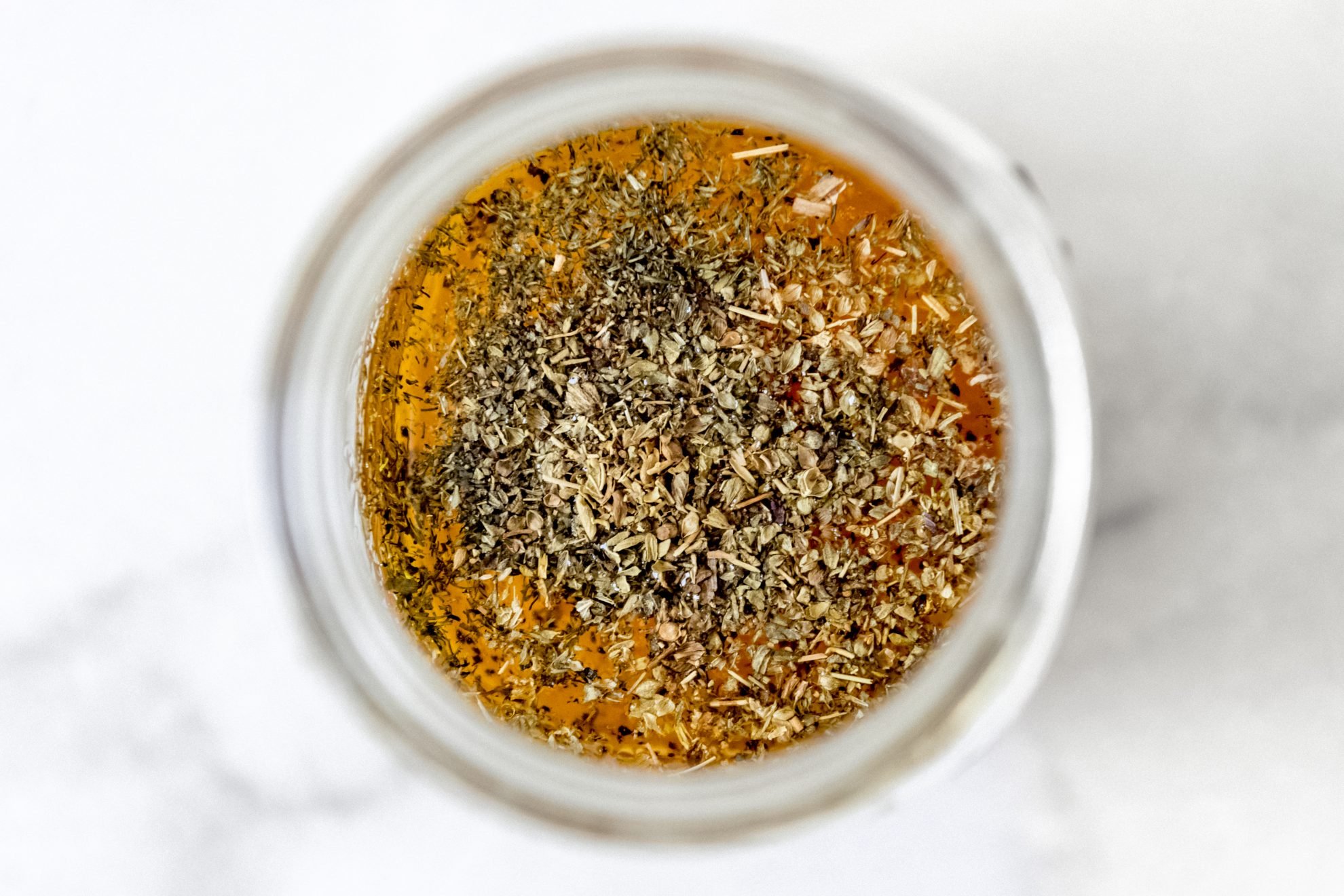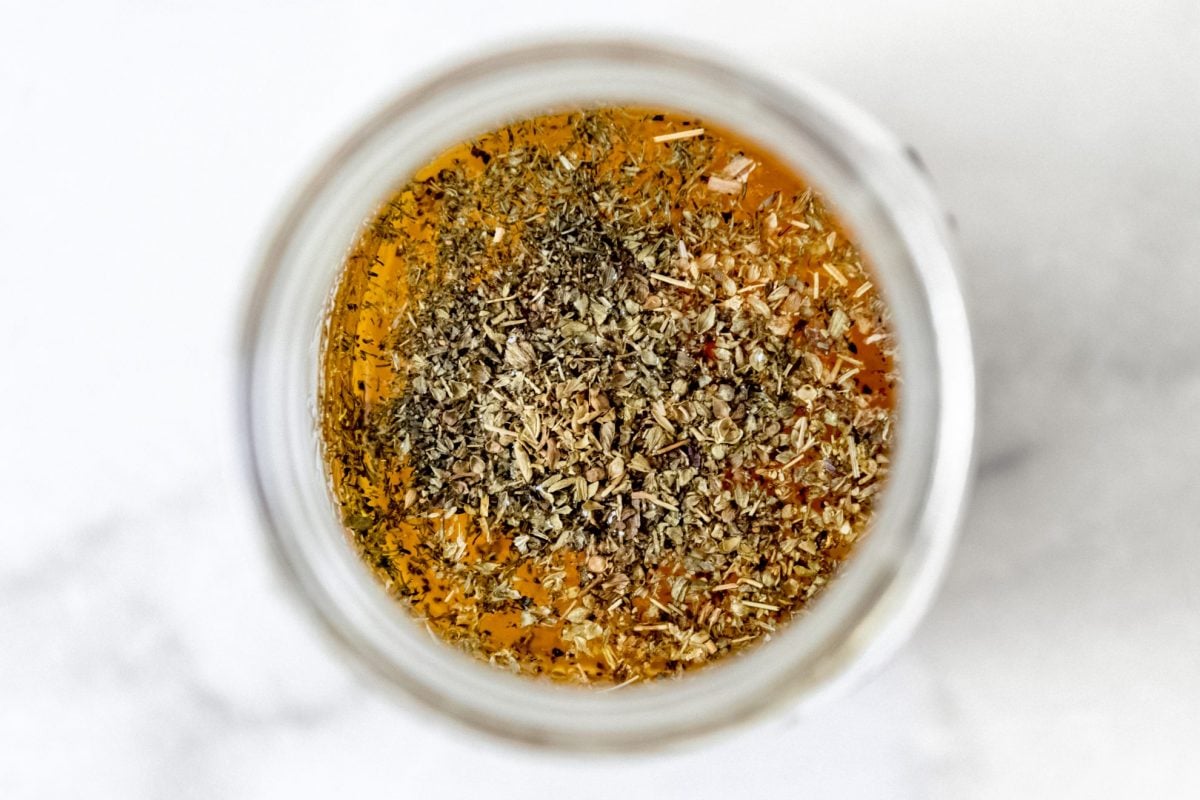 Storage and Variations
This Greek pasta salad will really keep in the fridge for 3-5 days. However, the pasta soaks up more of the dressing the longer it sits. It's really best eaten the day it is made.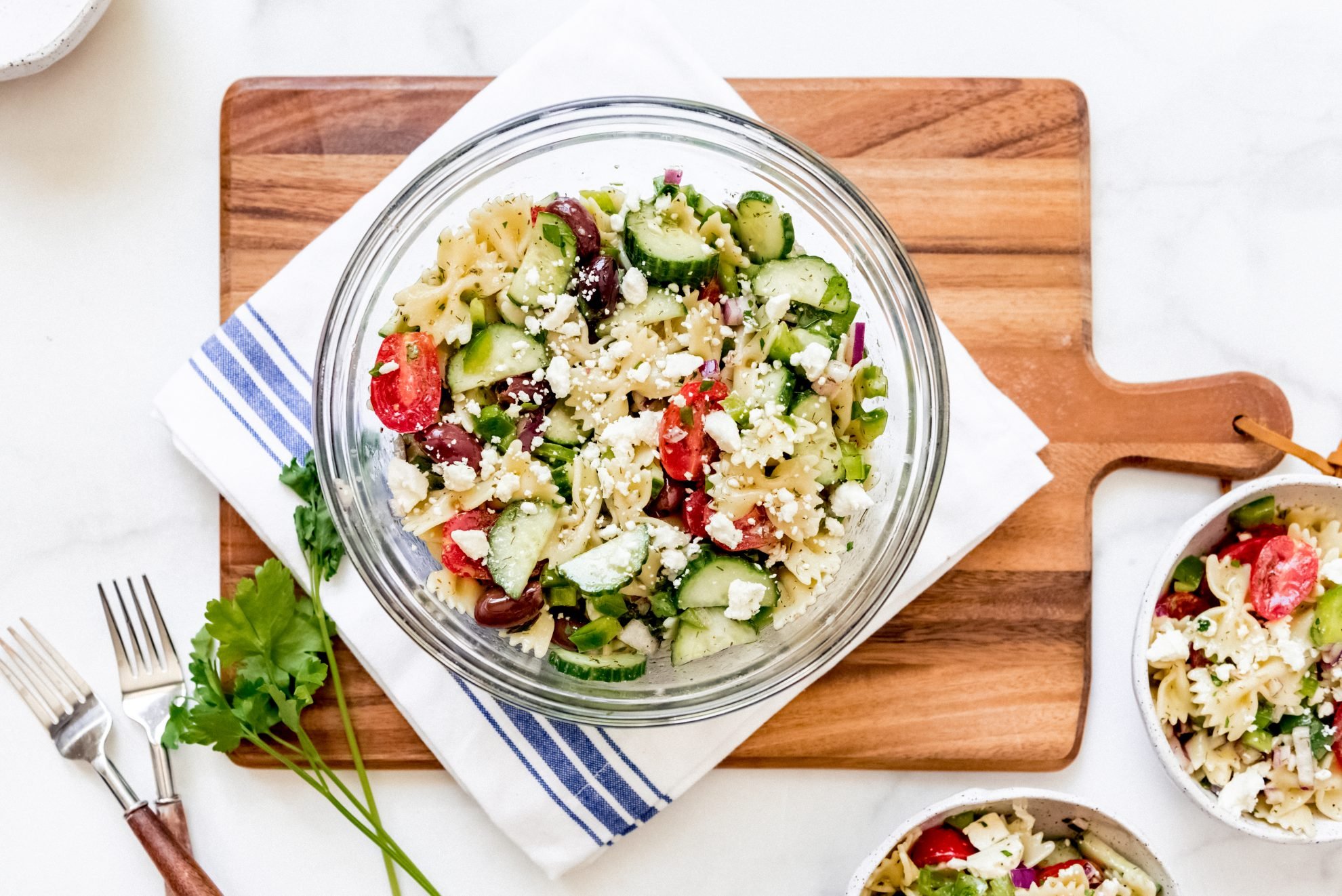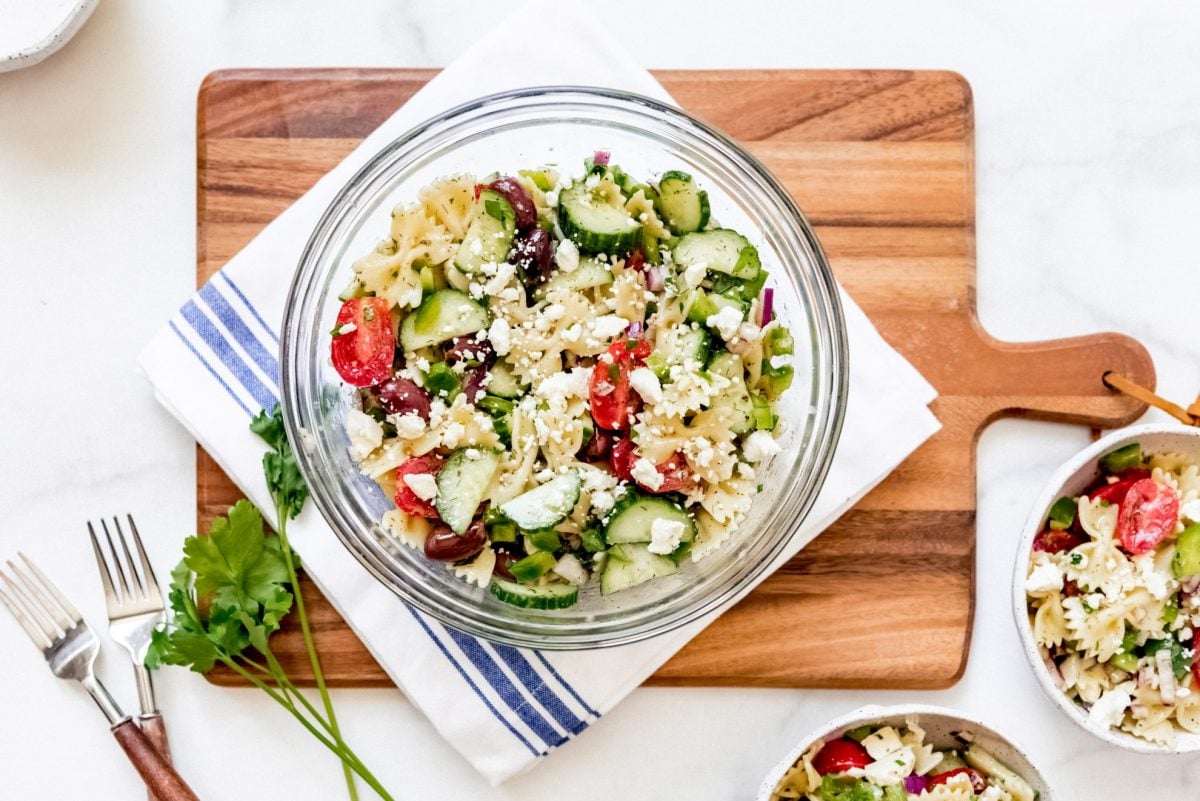 We enjoy bowtie pasta (also known as farfalle) for this salad because it's size and shape.
It's perfectly matched with the sliced cucumber, tomatoes and olives, but rotini or fusilli are also great choices. Even shells, macaroni noodles, or other similarly sized pasta will work.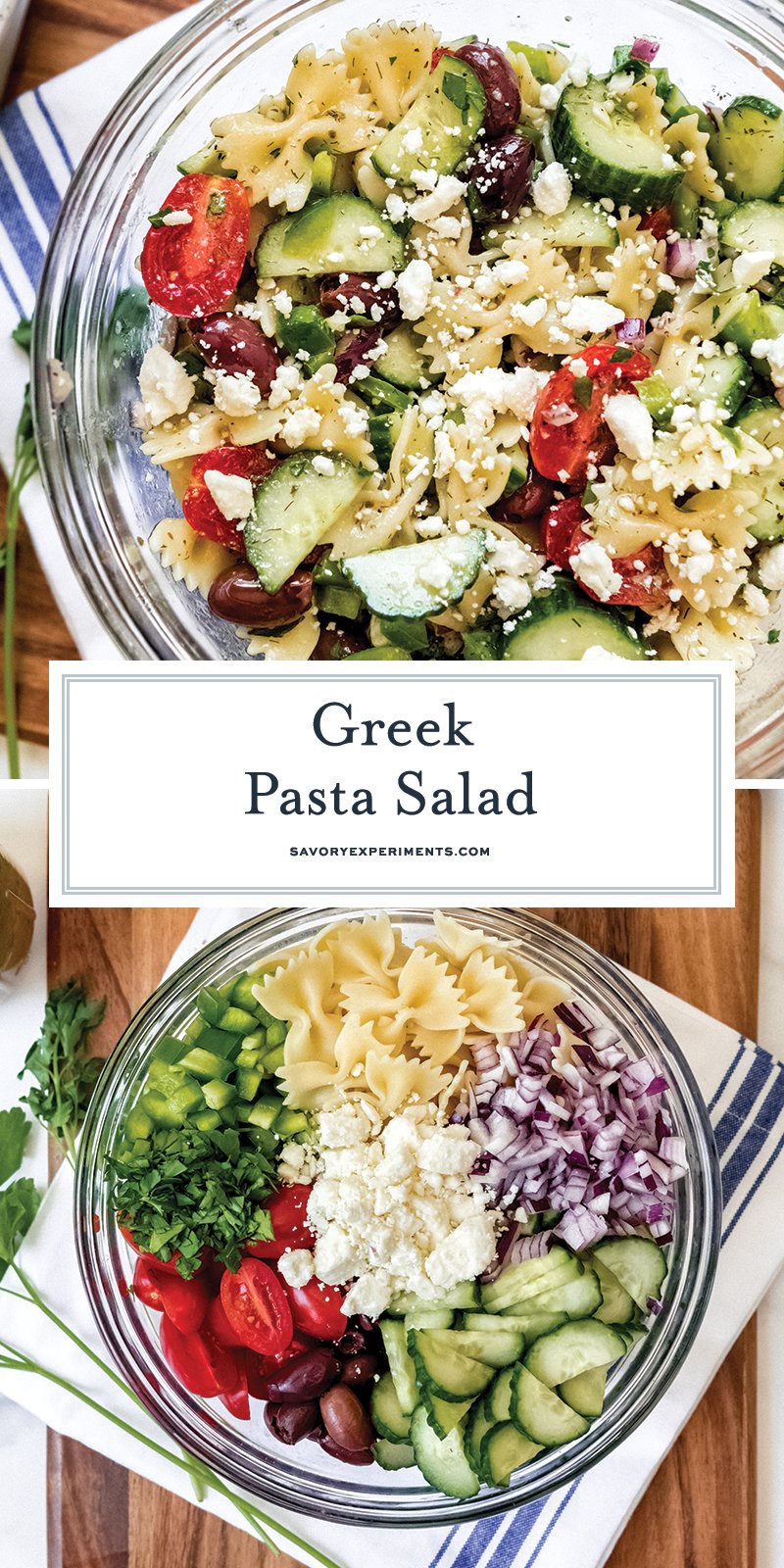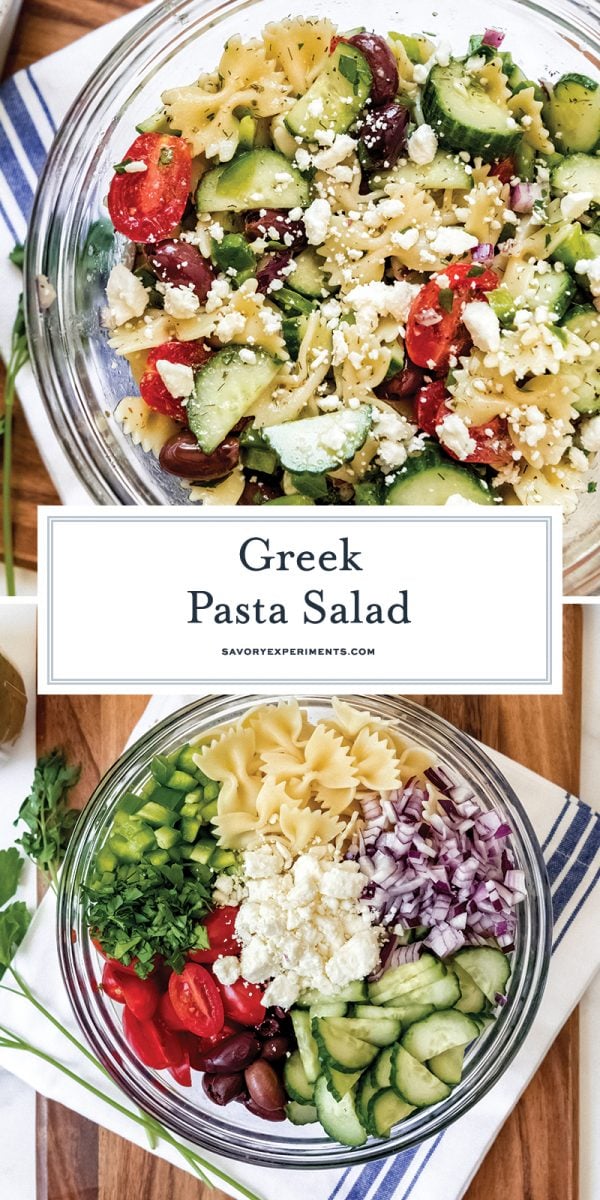 More summer salads:
Cold Lobster Salad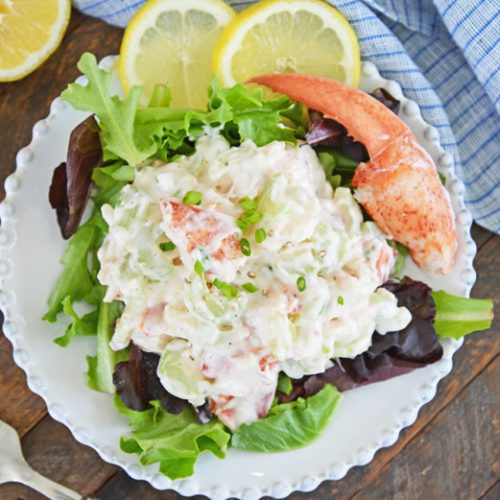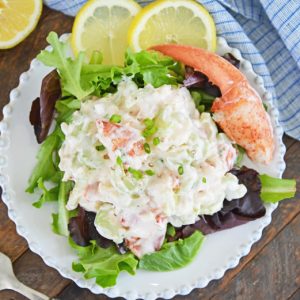 Lobster Salad is perfect for a light lunch or dinner! Serve on top of greens or even in a roll, which is known as a Cold Lobster Roll or New England Roll.
Cucumber Tomato Salad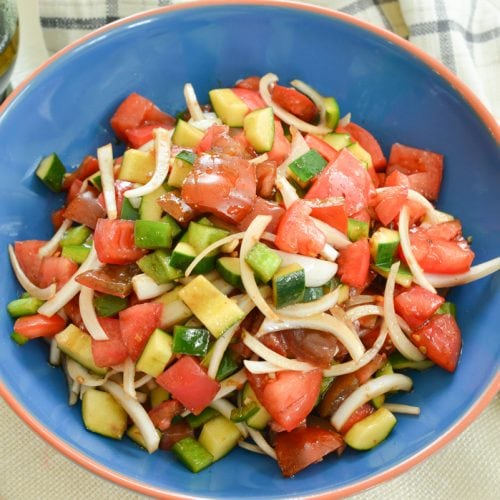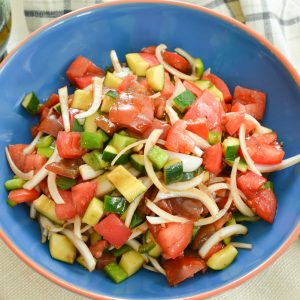 Fresh tomatoes, cucumbers, onion, bell pepper and garlic all in a tangy and slightly sweet easy dressing. The perfect easy salad recipe for summer.
Taco Pasta Salad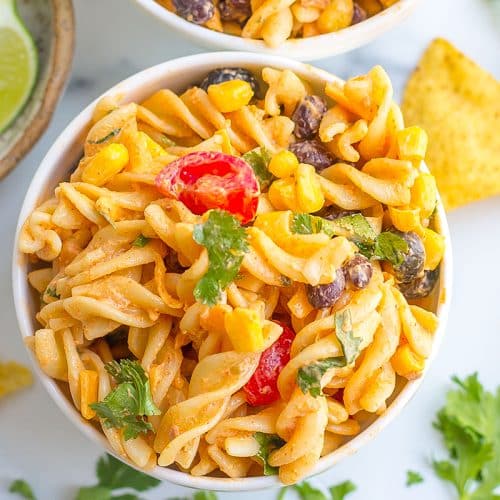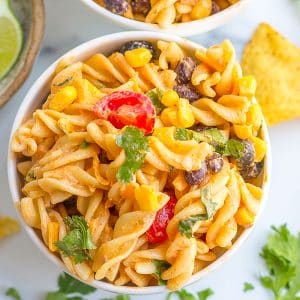 Zesty taco flavors in the form of a pasta salad. Perfect for potlucks and parties!
Kale Mac and Cheese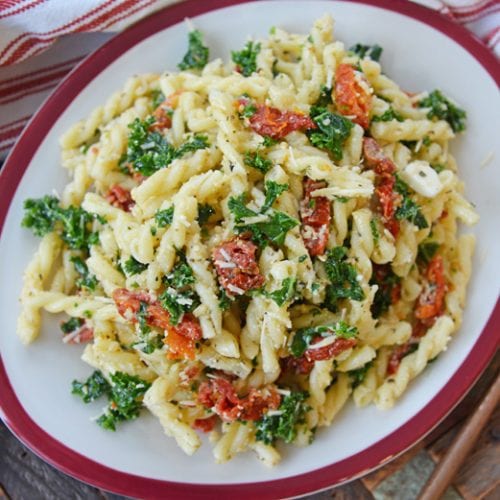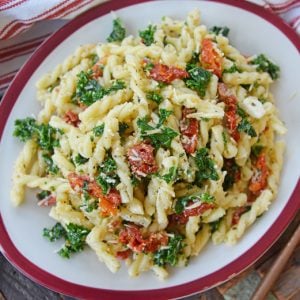 Massaged kale tossed with olive oil, garlic, Parmesan cheese and sundried tomatoes, this EASY Kale Pasta Salad is the ultimate side dish!
Red Bean Salad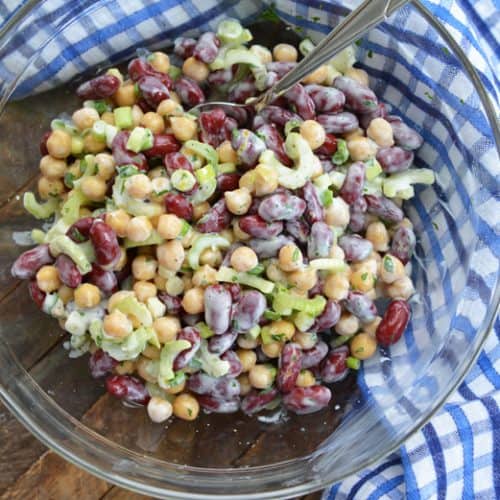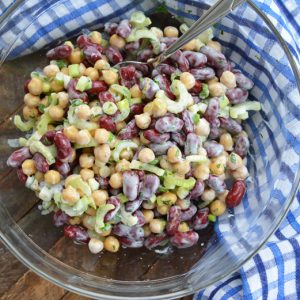 Looking for a non boring side dish? Check out this Red Bean Salad recipe! EASY to make with pantry staples, and great for a weeknight dinner or potluck!
Passion Fruit Caprese Salad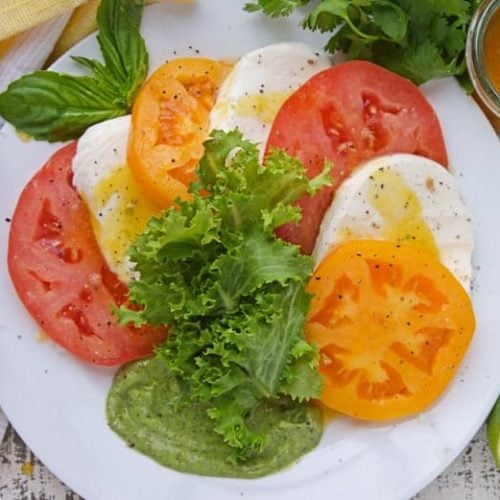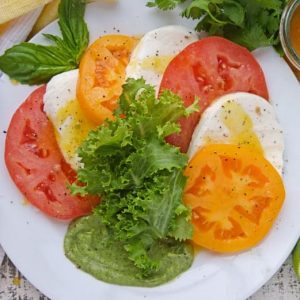 Passion Fruit Caprese Salad, a summer salad offered by Omni Hotels & Resorts, combines a sweet and spicy serrano-passion fruit dressing and avocado spread with a traditional Caprese salad.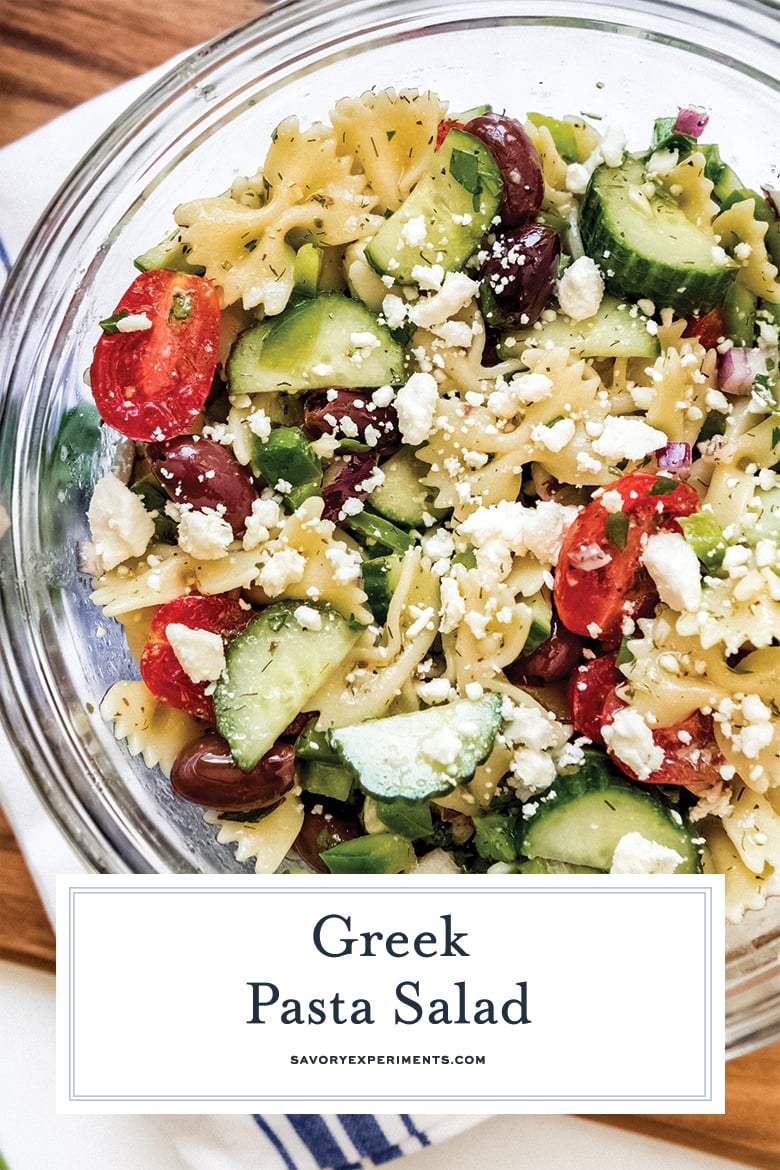 ---
---
Greek Pasta Salad
This simple Greek Pasta Salad is just the thing for potlucks and summer cookouts! The textures of crunchy veggies, al dente pasta, and flavors of a savory Greek dressing and feta cheese make this one of the best summer salads around!
Nutrition
Calories:
304
kcal
|
Carbohydrates:
30
g
|
Protein:
6
g
|
Fat:
18
g
|
Saturated Fat:
4
g
|
Cholesterol:
11
mg
|
Sodium:
429
mg
|
Potassium:
218
mg
|
Fiber:
2
g
|
Sugar:
7
g
|
Vitamin A:
420
IU
|
Vitamin C:
19
mg
|
Calcium:
90
mg
|
Iron:
1
mg