A Cold Chicken Salad recipe is one that every home chef should have in their recipe box! Let me show you just how easy it is to make!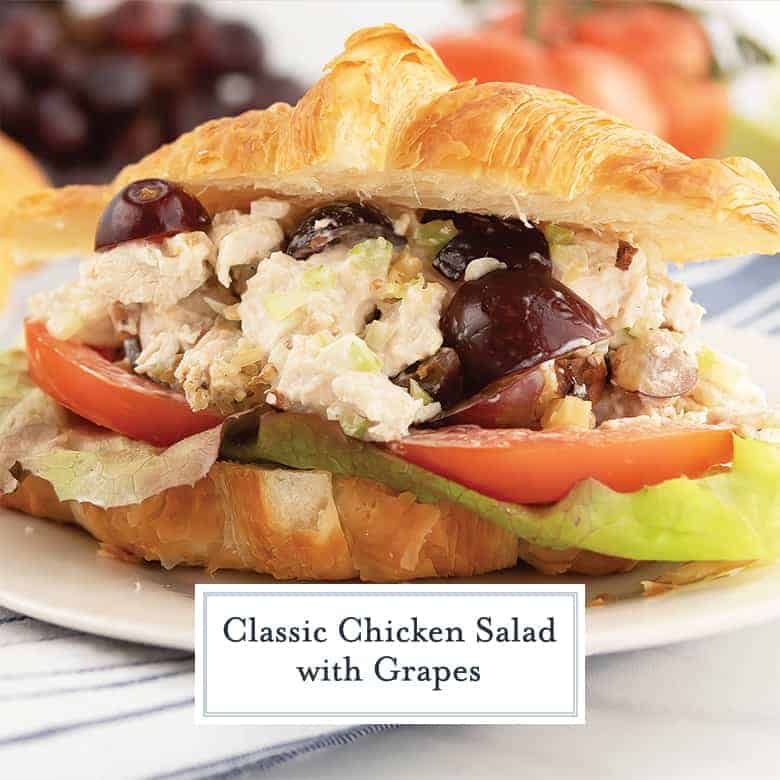 I've finally made the best chicken salad recipe! With grapes, celery, onions and walnuts, this Classic Chicken Salad recipe is perfect for a light lunch.
Chicken salad is one of those recipes I didn't eat until I was an adult. That and Shrimp Salad… I know, I know! Even beyond adult… closer to middle aged. I don't know, it always seemed like a recipe that my grandmother served playing bridge. And there are so many versions of chicken salad recipes to pick from!
Just kind of old school and boring. It was also full of mayonnaise and it took me until my 30's to realize that I preferred homemade mayonnaise to jarred.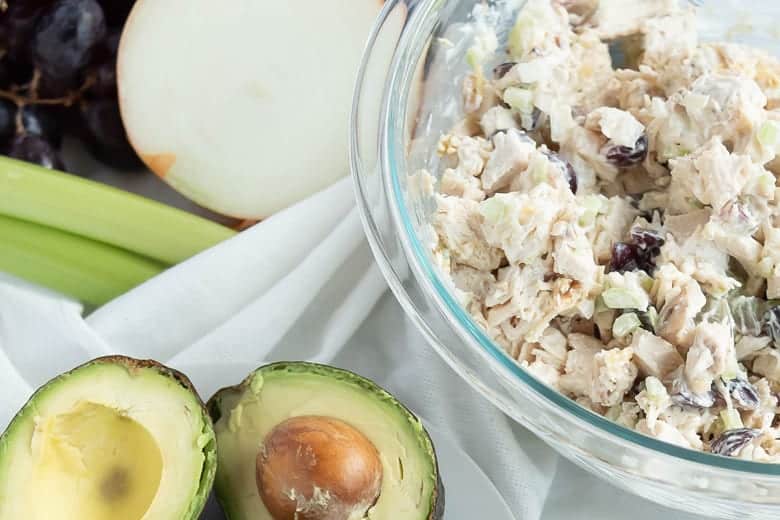 But then I realized why recipes like traditional chicken salad recipes stand the test of time. They are easy to prepare, budget friendly and taste amazing!
Savory chicken, juicy grapes, crunchy walnuts and smooth mayonnaise make for an excellent base. This chicken salad filling can be loaded into pita bread halves, onto brioche rolls for a chicken salad sandwich recipe, slider rolls for appetizers, pita halves for a picnic or even into avocado halves for low calorie and low carb options.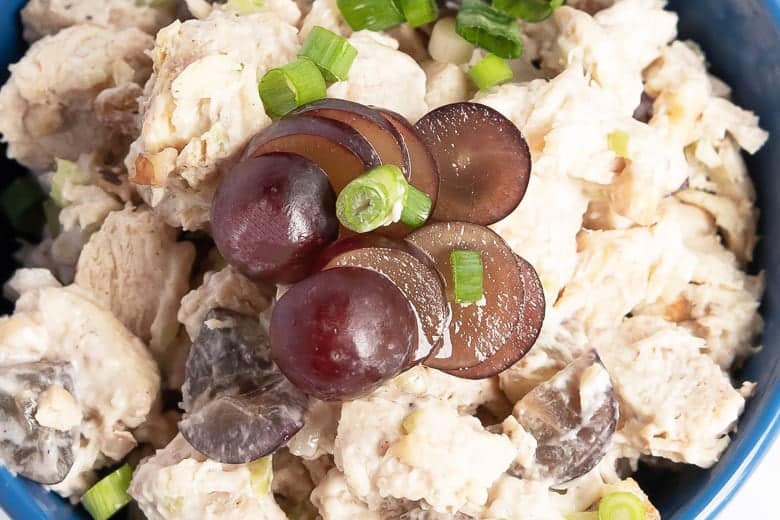 My secret to making an out-of-this-world easy chicken salad recipe is using both Dijon mustard and lemon juice to brighten up the mix. Nearly every family has a "secret ingredient" and we'd love to hear yours in the comments!
PRO TIP: To save even more time in the kitchen, use a mini food processor to finely mince the celery and sweet onion.
One of my biggest kitchen hacks is for using any recipe that includes cooked chicken. Rotisserie chicken from the grocery store. And although it might seem slightly daunting, I can show you exactly how to cut a whole chicken with ease!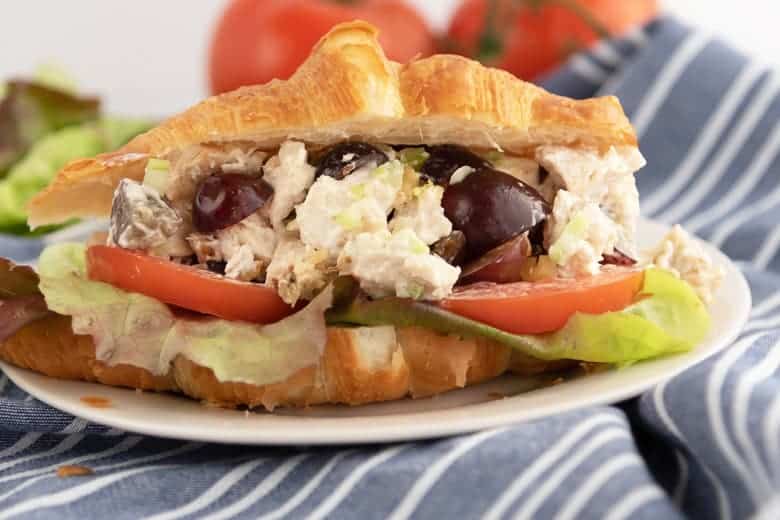 You can gerneally get it for less than it would cost to buy 2 chicken breasts or even a whole roast chicken. It is already cooked and loaded with flavor. All of this saves you oodles of time in the kitchen.
Even if I don't use the whole chicken I just shred the rest and place it in freezer bags to use in something else.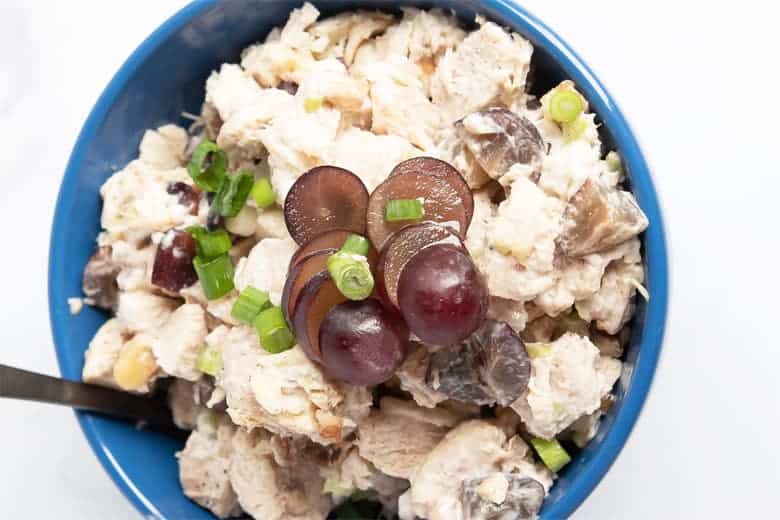 Here are some options to use up your leftover rotisserie chicken: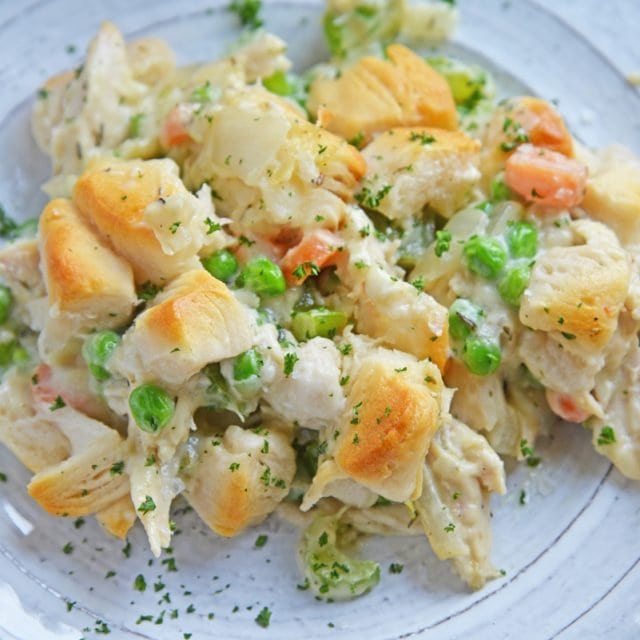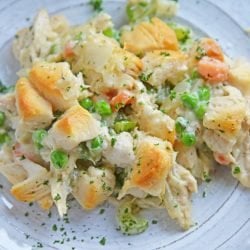 Chicken Pot Pie Casserole
Chicken Pot Pie Casserole using biscuits is an easy way to make a comforting chicken casserole. Easy pot pie filling with buttery topping.
View this recipe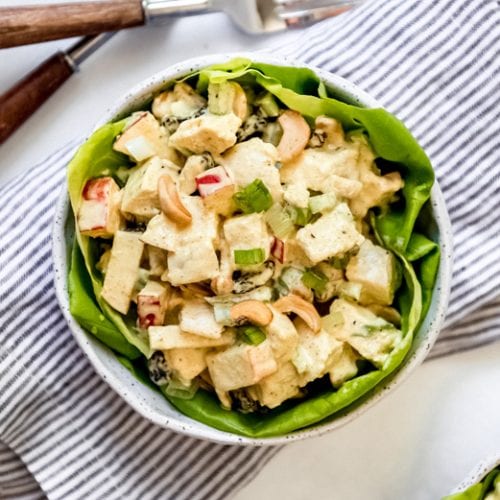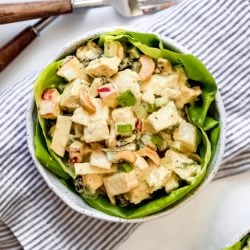 Curry Chicken Salad
A creamy, sweet & savory sauce coats tender bites of chicken in this Curry Chicken Salad. Chunks of crisp apples and celery, chewy raisins, and crunchy cashews are in every bite!
View this recipe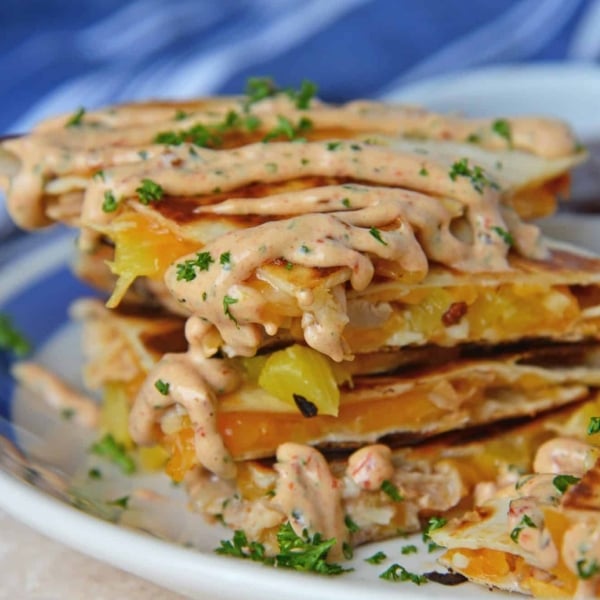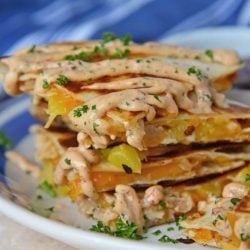 BBQ Chicken Quesadillas
Made in only 10 minutes, these easy BBQ Chicken Quesadillas make for a quick and easy dinner idea! A great use for leftover BBQ chicken!
View this recipe
How to Make Chicken Salad
One of my favorite parts about this recipe is how easy it is, especially if you use a store bought rotisserie chicken like I mentioned before!
You need to start by chopping your chicken into small cubes. Or if you prefer, you could even use shredded chicken for a different texture.
Then it's as simple as mixing all of the ingredients in a large bowl, and serving!
I like an element of sweet to my chicken salad recipe. To accomplish this, you can use raisins, dried cranberries, or even apples, but I chose to make this chicken salad with grapes.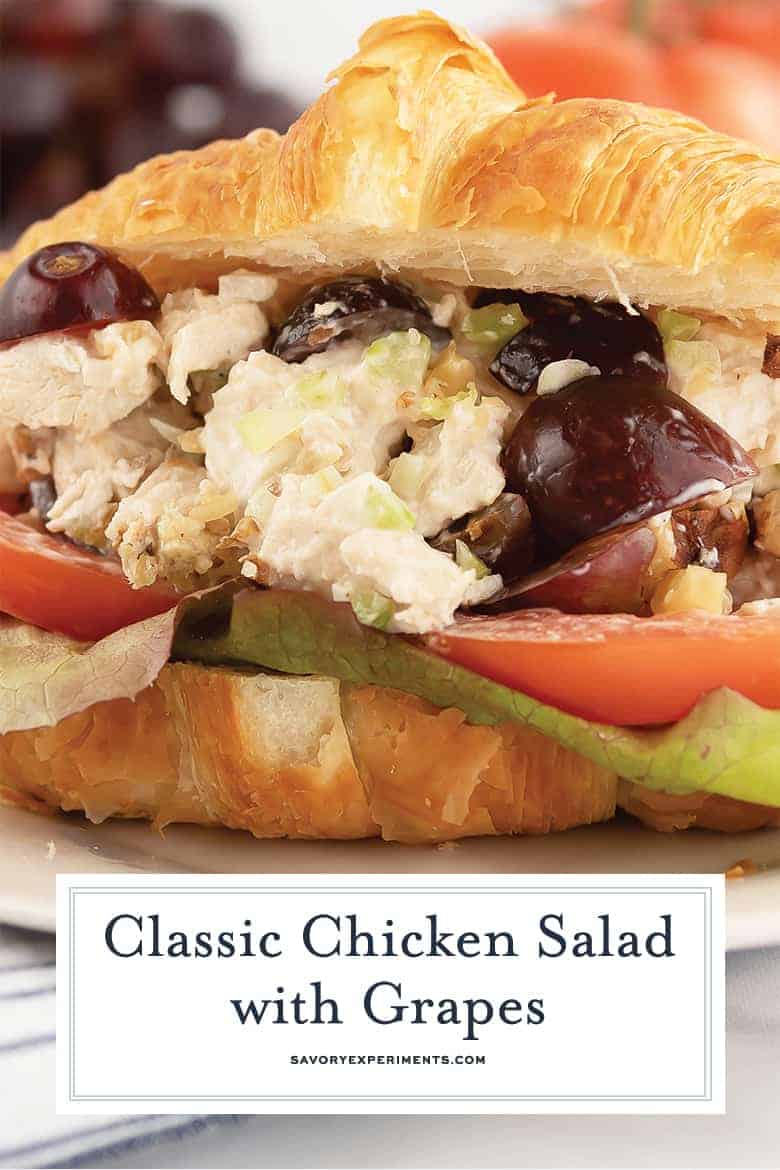 Questions you might have about how to make classic chicken salad:
Can I use canned chicken?
You can, but make sure to drain it well.
Can I make the chicken salad filling ahead of time?
You sure can, but I wouldn't make it more than a day before you plan to serve it.
Make sure to taste and correct seasoning before serving. Chilled foods might need a little more brightening from lemon juice or salt to revive them.
How long can I leave classic chicken salad out?
The CDC recommends no longer than 2 hours.
Can I omit the walnuts or grapes?
Sure you can. You can omit basically any of the ingredients except mayonnaise or chicken because those basically make the recipe.
Can I use green grapes?
Of course! I just like the color that red adds. You can even use half red and half green!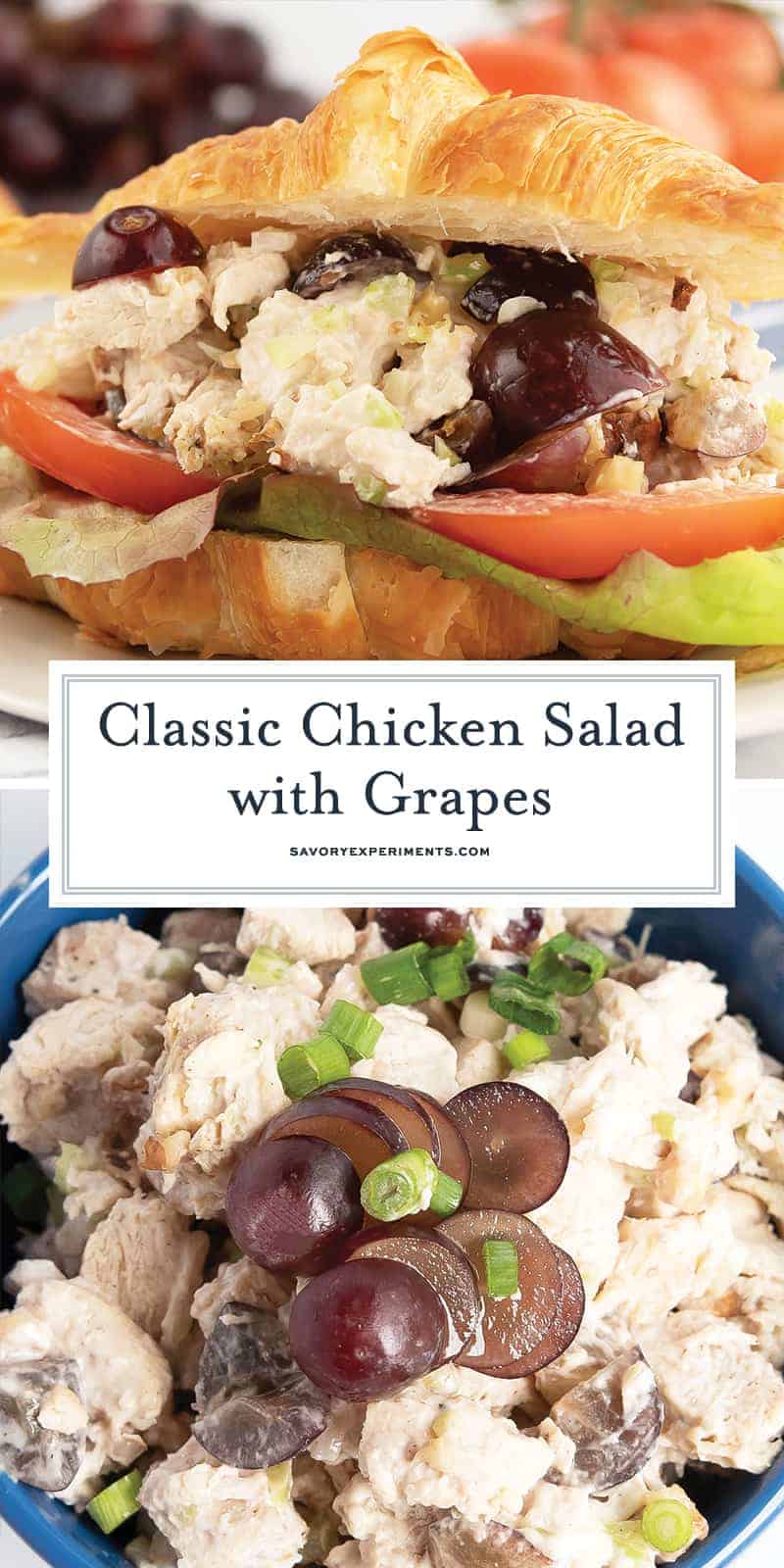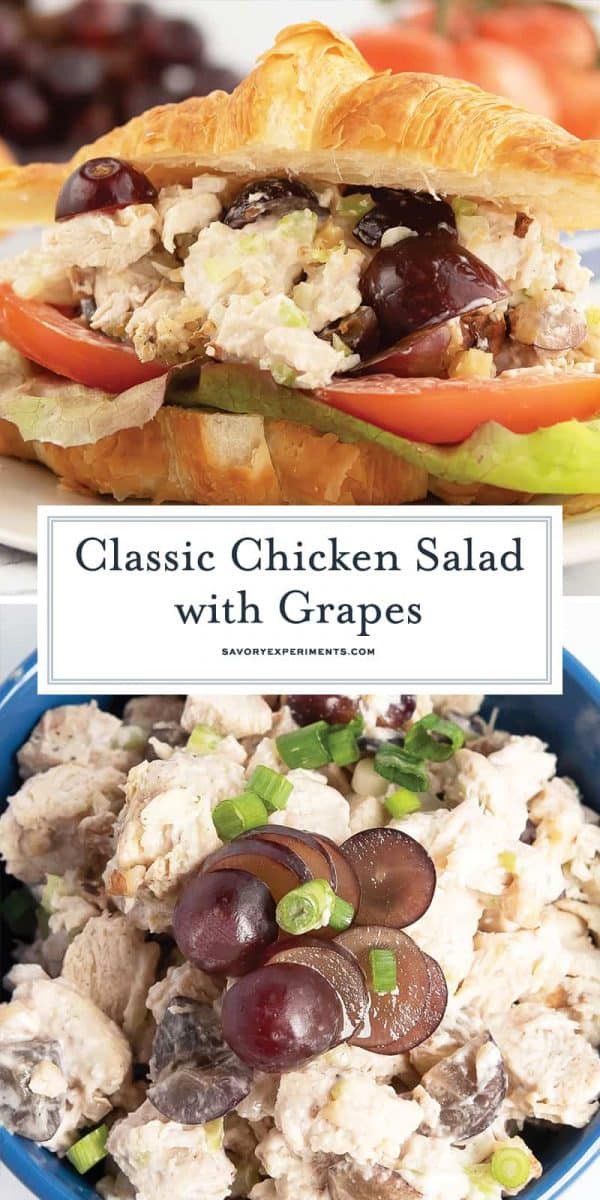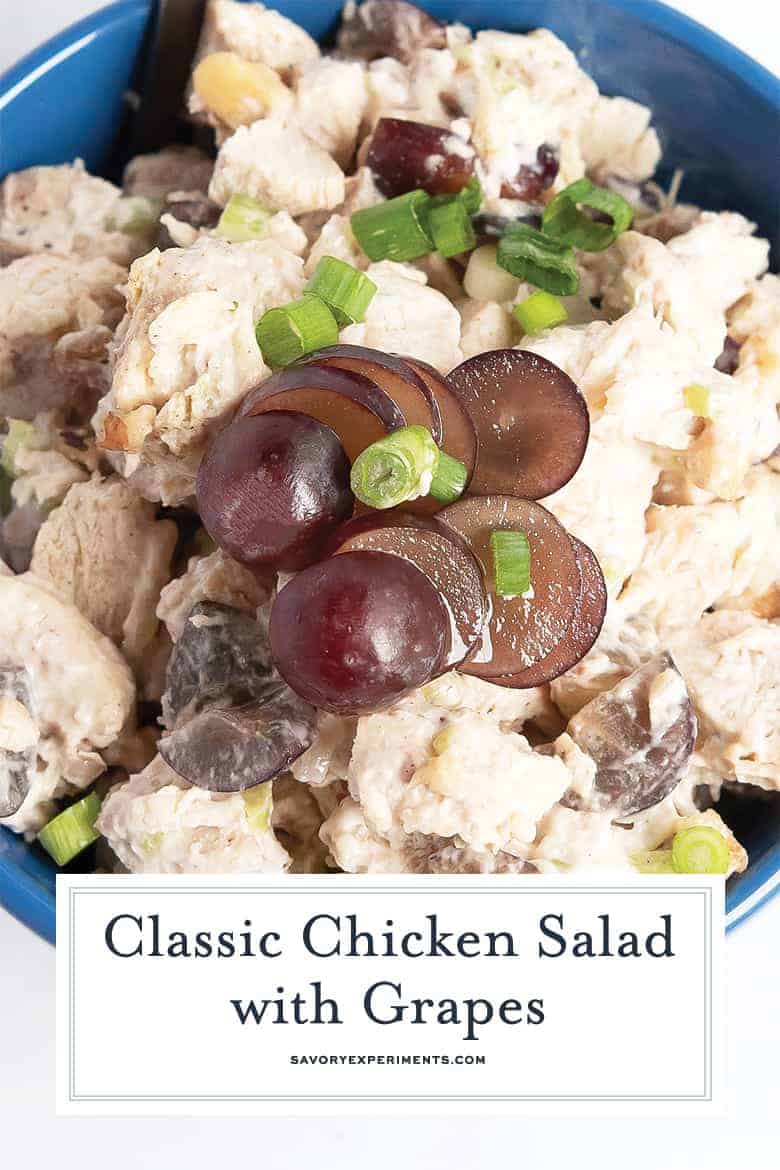 Chicken Salad is one of those recipes that can be personalized so many ways. We'd love to hear about your variations or any nostalgic memories you have of chicken salad at your home in the comments!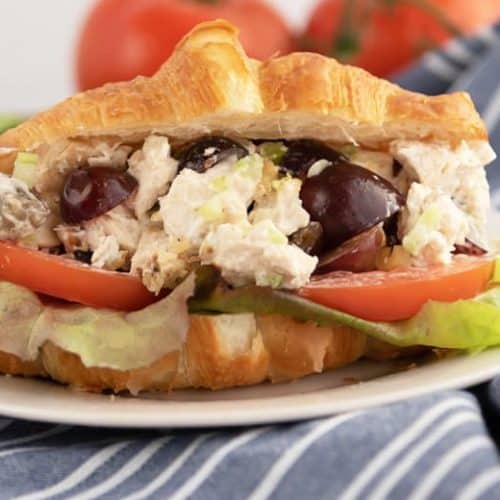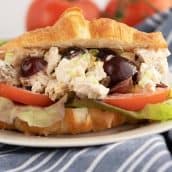 Chicken Salad with Grapes
I've finally made the best chicken salad recipe! With grapes, celery, onions and walnuts, this Classic Chicken Salad recipe is perfect for a light lunch.
Instructions
Combine mayonnaise, cooked chicken, celery, sweet onion, grapes, walnuts, lemon juice, Dijon mustard, fine sea salt and white pepper in a large mixing bowl. Stir to combine.

Serve on your choice of bread with lettuce and freshly sliced tomato.

If you've tried this recipe, please come back and let us know how it was!
Notes
Nutrition is without bread.
Chicken salad can also be served on pita bread, tomato halves or avocado halves for a healthier or low carb option.
Nutrition
Calories:
166
kcal
,
Carbohydrates:
2
g
,
Protein:
1
g
,
Fat:
17
g
,
Saturated Fat:
2
g
,
Cholesterol:
8
mg
,
Sodium:
229
mg
,
Potassium:
44
mg
,
Fiber:
1
g
,
Sugar:
2
g
,
Vitamin A:
31
IU
,
Vitamin C:
1
mg
,
Calcium:
6
mg
,
Iron:
1
mg