Homemade Croutons happen to be one of my simple joys in life. Croutons add life, sophistication and flavor to salads, soups and casseroles that no other ingredient can duplicate. Turns out, it is also super easy to make your own croutons!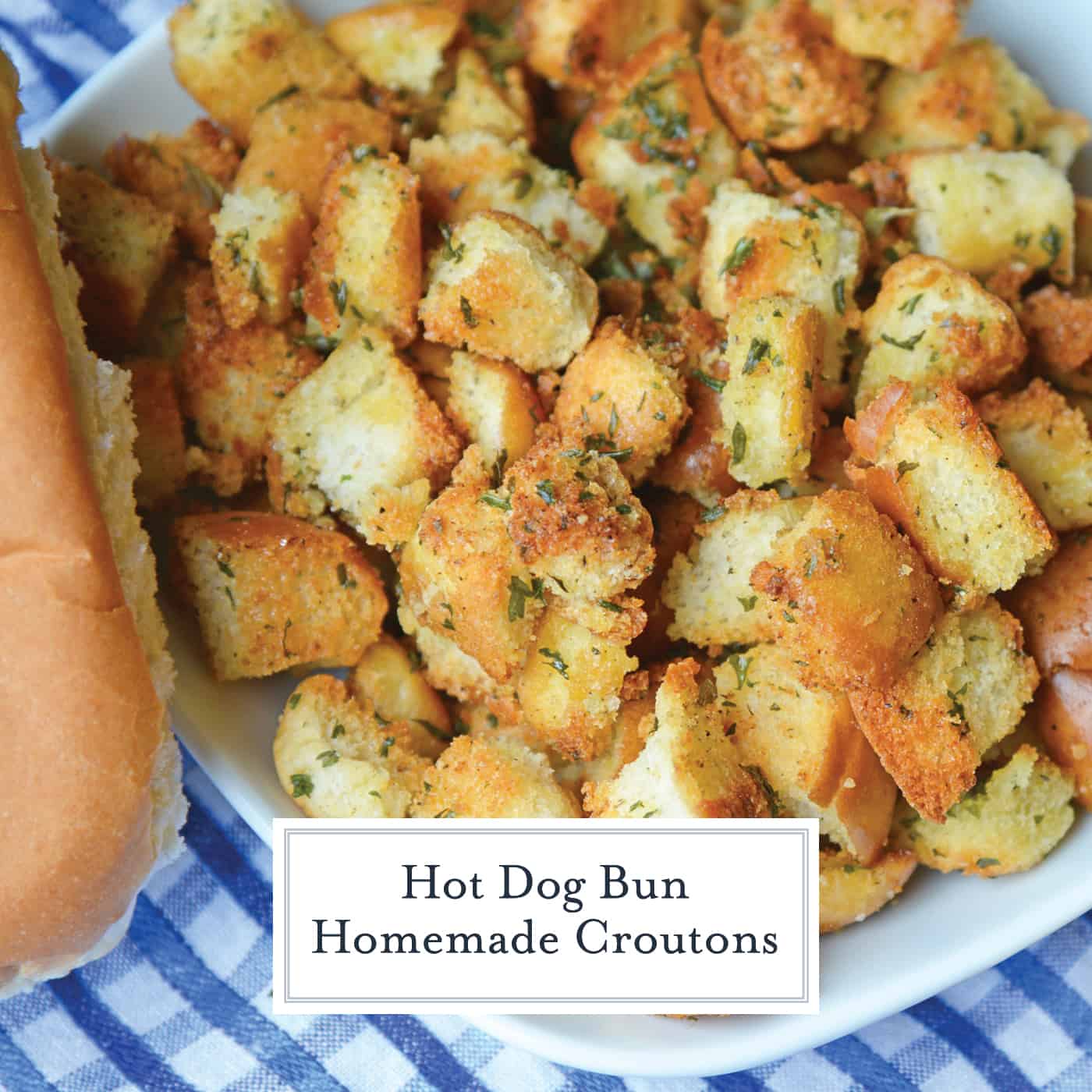 Homemade Croutons with garlic, salt and parsley are the best for salads, soup and more! Learn how to make Hot Dog Bun croutons easily with this crouton recipe.
This is the best crouton recipe because it uses leftover hot dog buns. Don't you always feel like you have too many hot dog buns? Why can't they sell hot dog buns and hot dogs in the same quantity?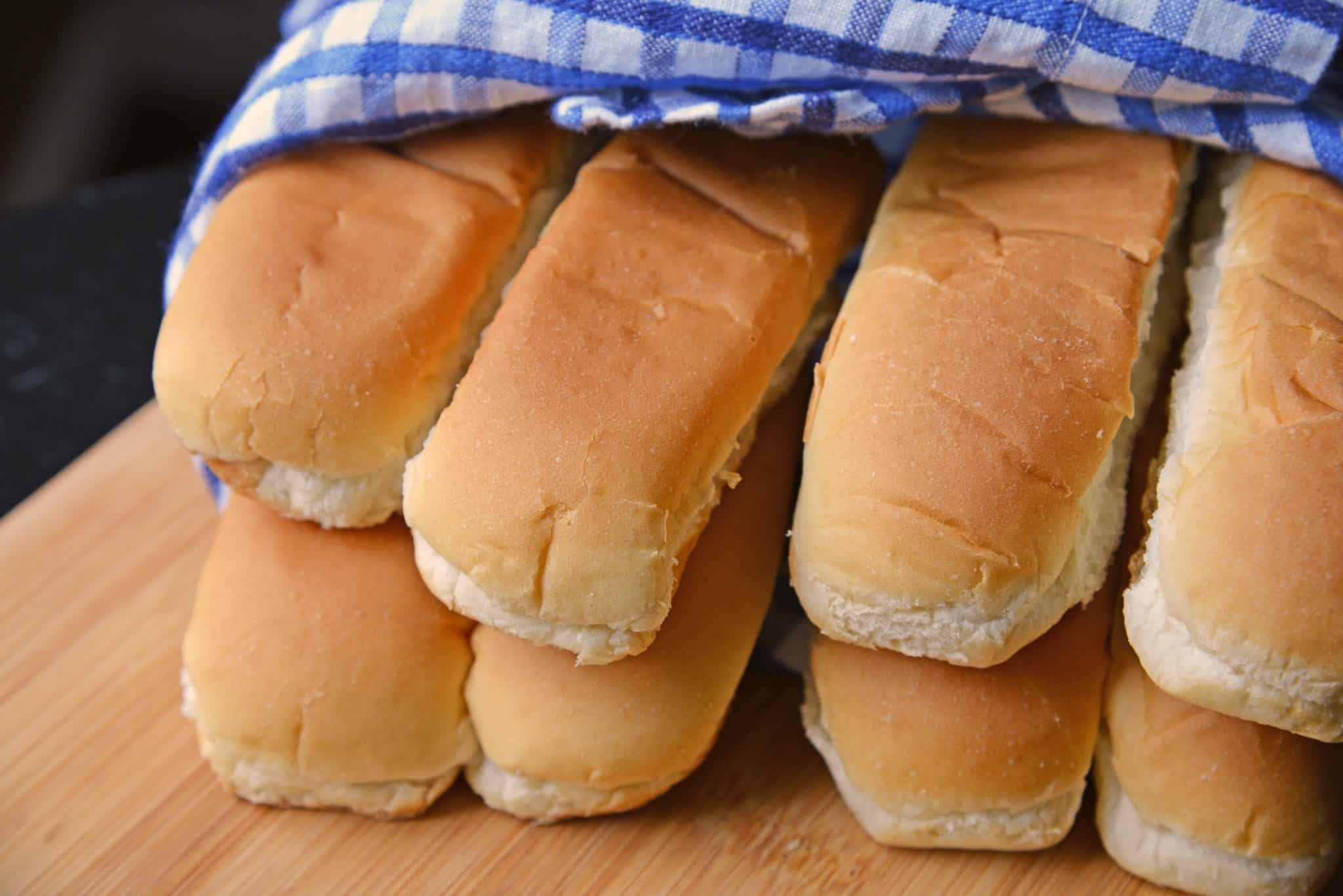 Do you remember that scene from Father of the Bride when Steve Martin freaks out about this exact issue in the grocery store and lands himself in a jail cell? I find myself muttering "I want the chipper chicken" everytime I end up with too many hot dog buns.
Sure, you can freeze them, but what if you don't even have a full package? What if you have one, two, three or four hot dog buns?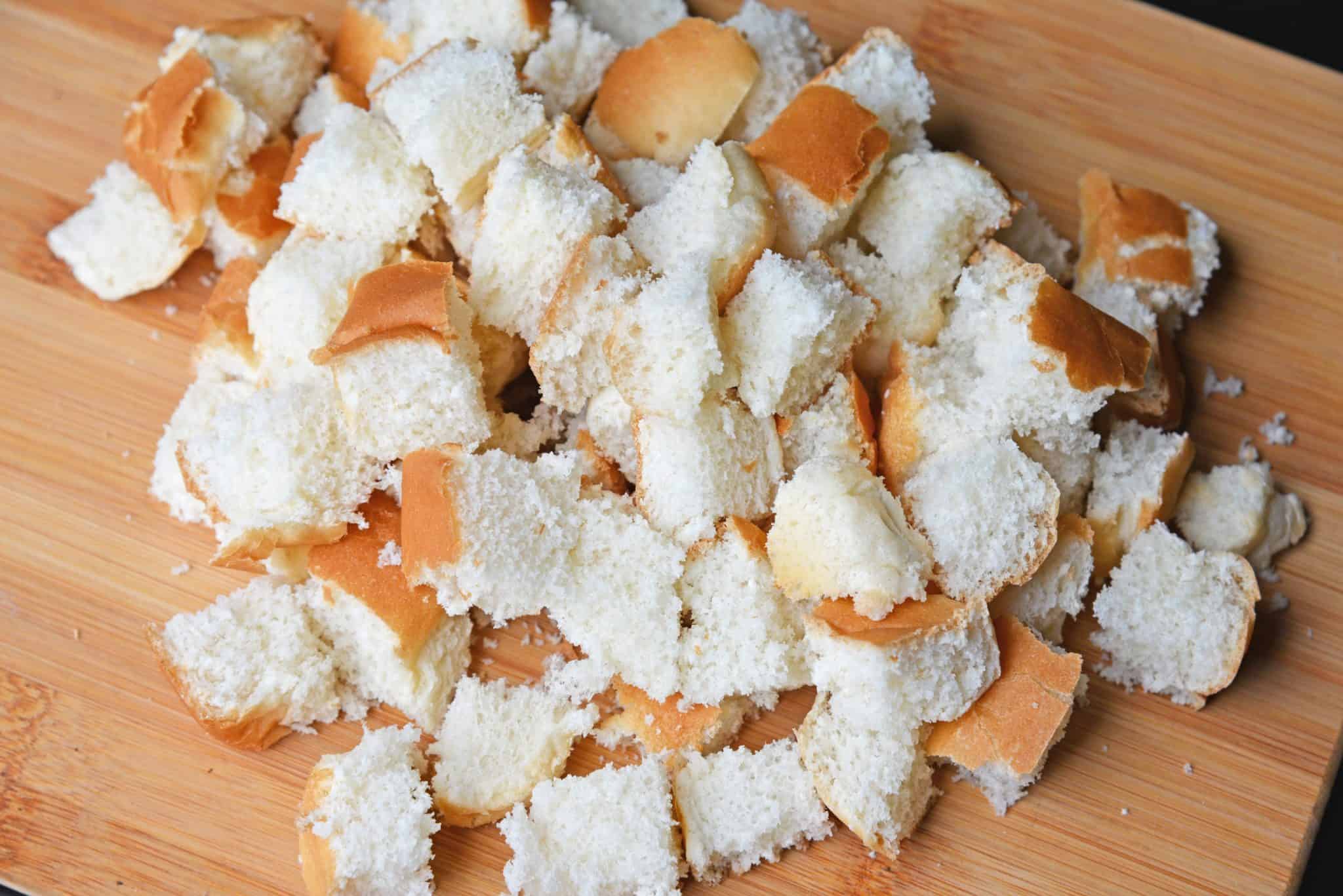 I'm here to teach you how to make croutons from those pesky leftover buns. Super easy and you can use just one or the whole package!
Hot Dog Bun Homemade Croutons use hot dog buns, which can vary in type of bread. I usually opt for potato roll hot dog buns, so they are moist and sweet.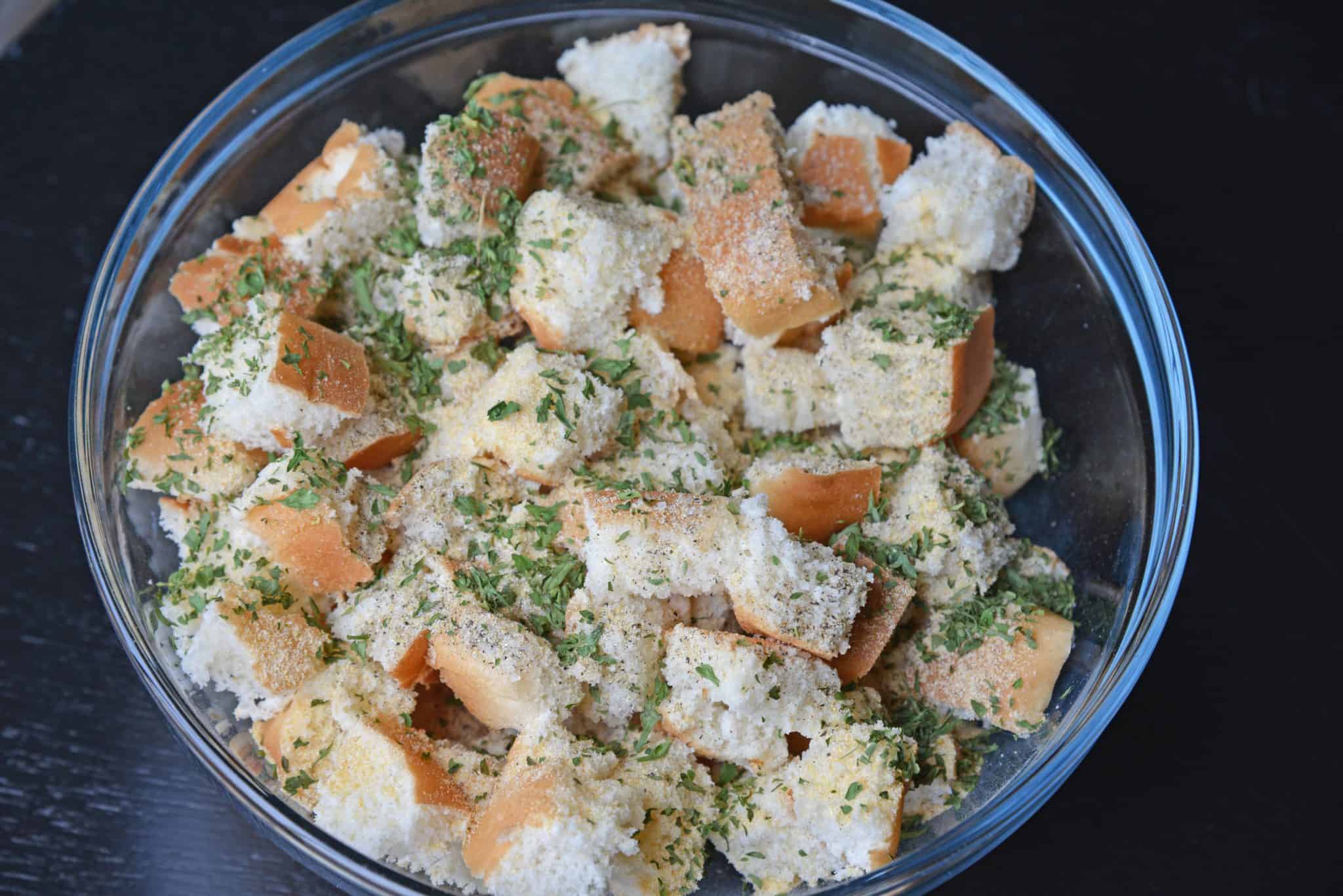 You want your leftover hot dog bun to be at least a day old. If your bread is too fresh, it will be hard to cut and also fall apart easily.
Each hot dog bun will make approximately 20 croutons. You cut it in half lengthwise, then into 5-6 bits widthwise for around 20ish cubes of deliciousness.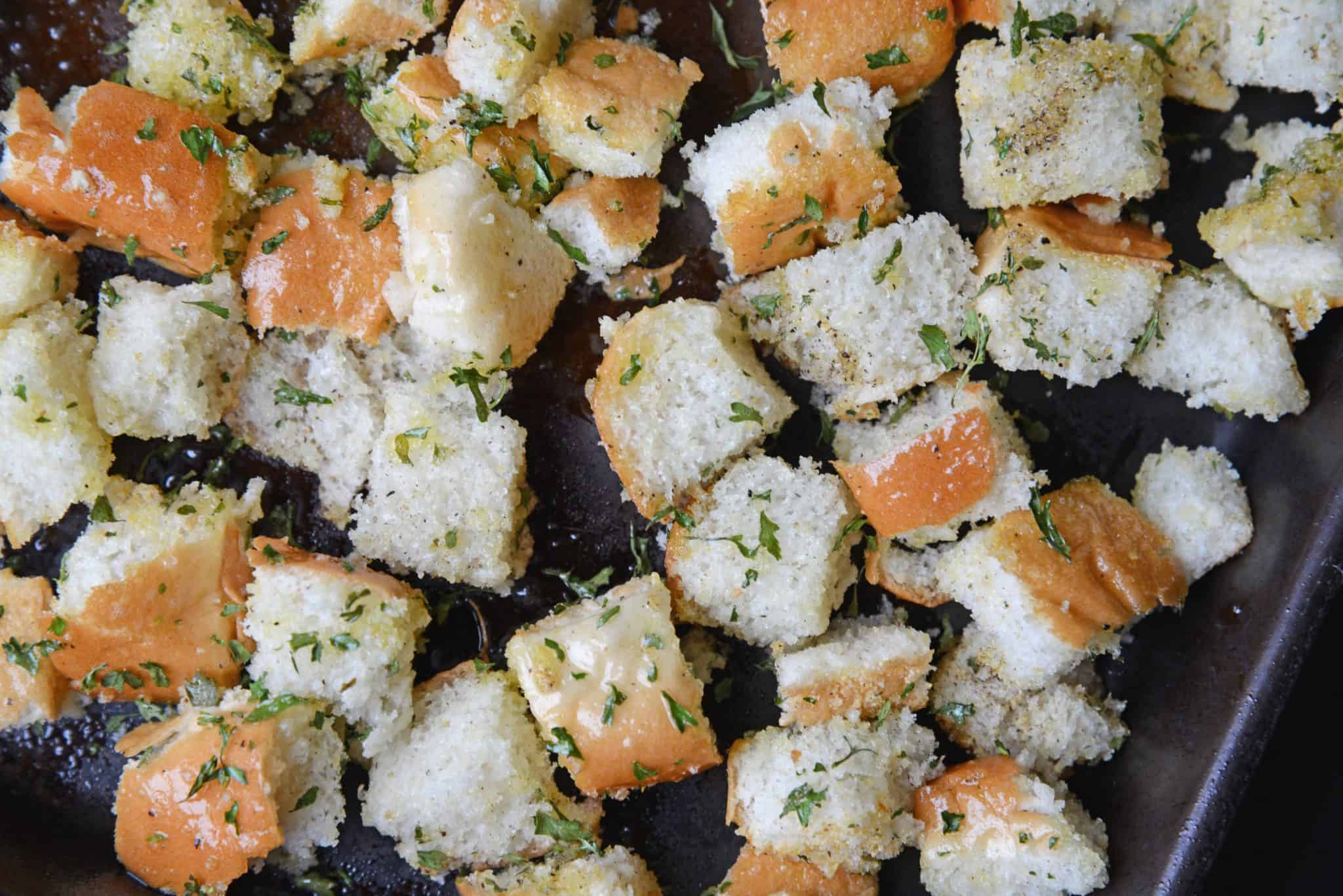 This homemade crouton recipe can be used for salad croutons, soup croutons or to make seasoned bread crumbs perfect for topping macaroni and cheese, casseroles or folding into your meatball or meatloaf mix.
The simple ingredients used for homemade croutons are olive oil or butter, salt, pepper, garlic powder and black pepper. Today I used olive oil because, let's be honest, I was too darn lazy to go melt butter. Call me captain lazy pants, right here!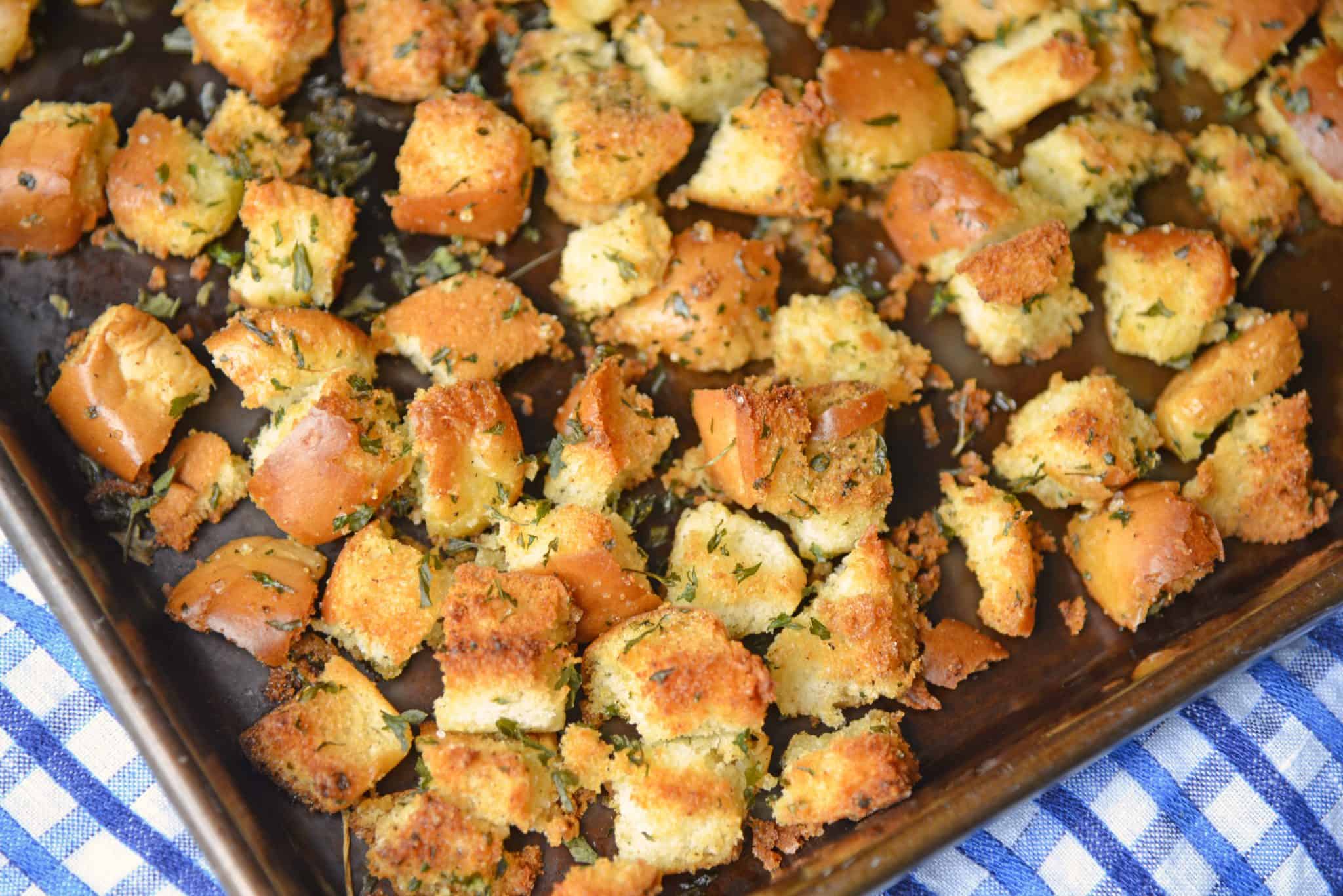 This crouton recipe is for four buns, but you can easily divide it into just 1 and have enough croutons for 2-3 salads. Use the little "servings" button and change it to the number of buns you have and the recipe will automatically update for you.
If you aren't into making your own homemade croutons, then you can use random hot dog buns to make grilled cheese sandwiches, garlic bread, a killer PB&J or plain old toast.
I'm currently staring at 4 packages of 16 hot dog buns. I am seeing lot of croutons, sandwiches and garlic bread in my future!
Lots. Of. Delicious. Croutons. Lots of them. Ha!

If you liked my Hot Dog Bun Homemade Croutons, check this out: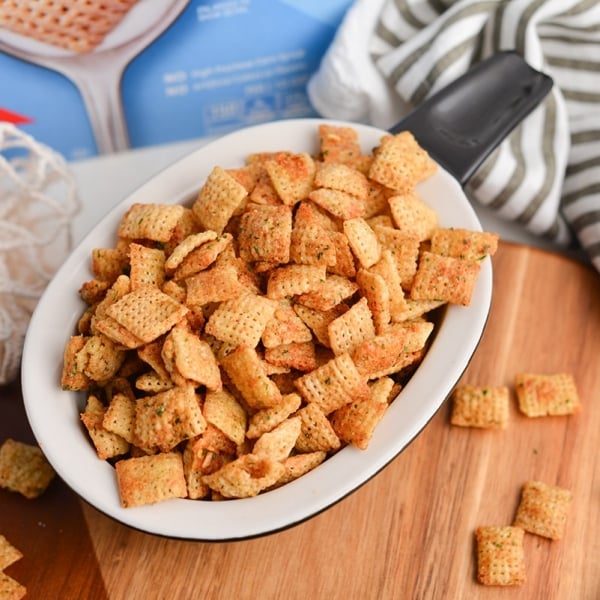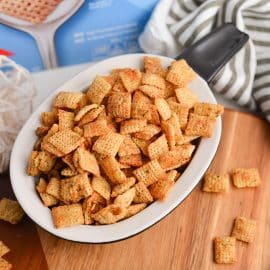 Ranch Chex Mix
If you're looking for a delicious snack that is easy to make, look no further than this zesty Ranch Chex Mix! With only three ingredients, it simply can't be beat!
See The Recipe!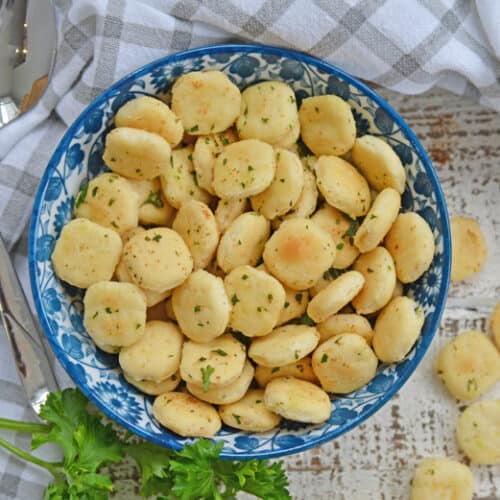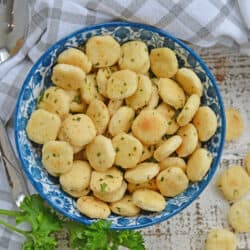 Ranch Oyster Crackers
Ranch fanatics will fall in love with these EASY Ranch Oyster Crackers! With butter, ranch seasoning and crackers, you have yourself a delicious snack!
See The Recipe!
How to Make Croutons, the tools!
Serrated Knife
– You'll need this for cutting any type of bread, but especially for homemade croutons since the pieces are so small and delicate.
Good Extra Virgin Olive Oil– A good olive oil will taste like, well, olives, while a poorly made one will taste like vegetable oil. Gross. While people tend to favor Italian and Greek olive oils, I prefer to buy mine domestically.
There are some great ones out there from all over the world, but the reporting of ingredients isn't always the same and you could find that your super expensive olive oil was actually cut with vegetable oil.
Rimmed Baking Sheet– another kitchen staple! You'll use this for prep work, roasting and much more. I have 7 at my house.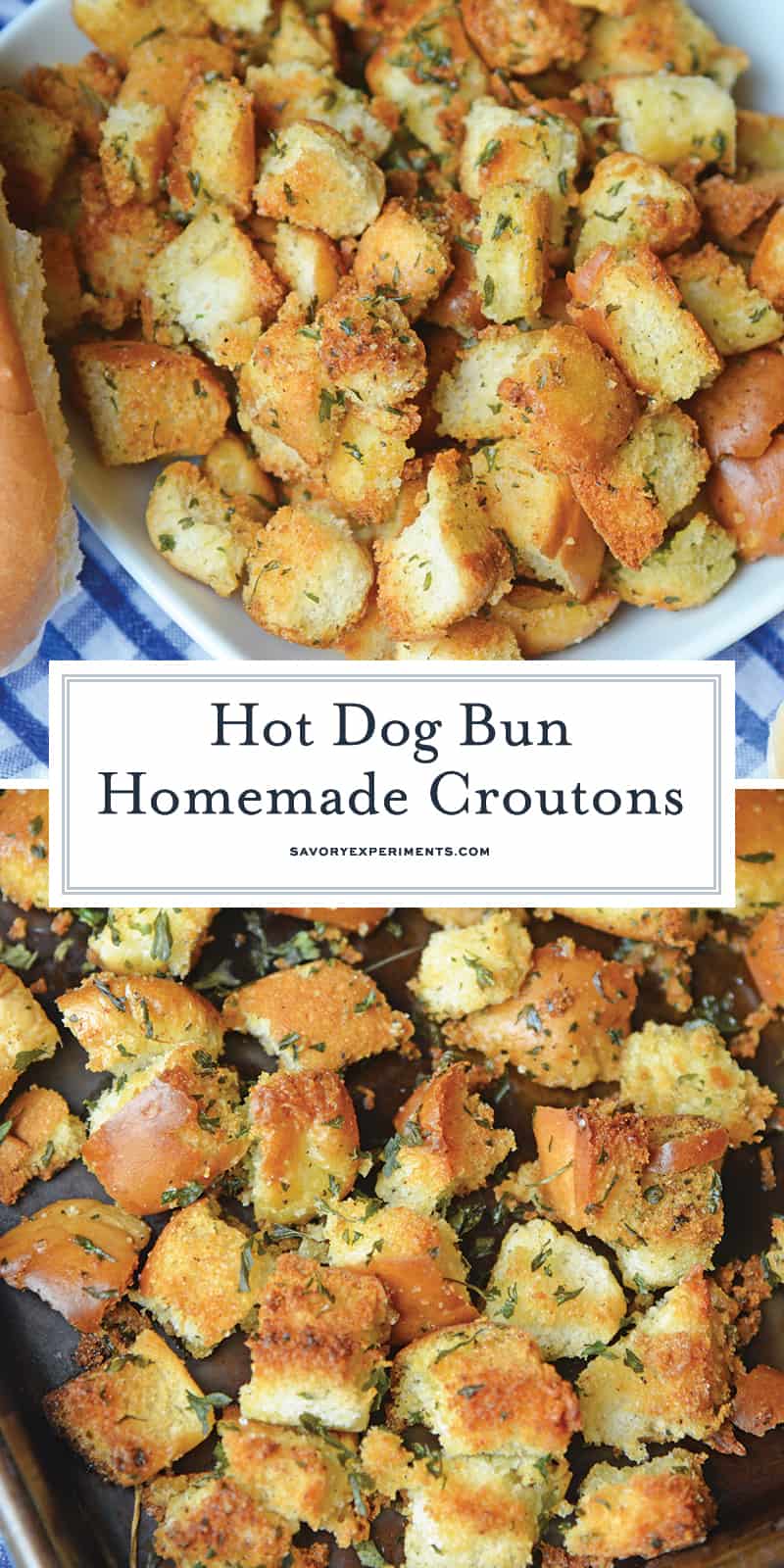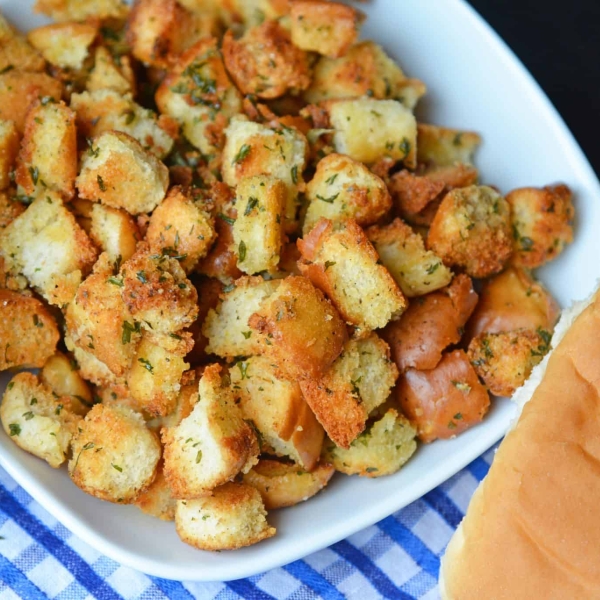 Hot Dog Bun Homemade Croutons
Homemade Croutons with garlic, salt and parsley are the best for salads, soup and more! Learn how to make croutons easily with this crouton recipe.
Instructions
Preheat oven to 375 degrees.

Cut hot dog buns into small cubes, about 20 per roll, using a serrated knife. Place into a mix bowl.

Sprinkle garlic powder, fine sea salt, dried parsley flakes and ground black pepper over bread cubes. Gently toss using your fingers.

Drizzle with olive oil. Toss again.

Arrange seasoned bread cubes in a single layer on a rimmed baking sheet.

Bake for 15 minutes, or until lightly browned.

Remove and allow to cool slightly before tossing into a salad.
Nutrition
Calories:
240
kcal
,
Carbohydrates:
21
g
,
Protein:
4
g
,
Fat:
15
g
,
Saturated Fat:
2
g
,
Sodium:
794
mg
,
Potassium:
62
mg
,
Sugar:
2
g
,
Vitamin C:
0.6
mg
,
Calcium:
74
mg
,
Iron:
1.5
mg