Ever wondered how to pickle onions? I've got you covered! These Quick Pickled Red Onions need only 3 ingredients and are ready in minutes.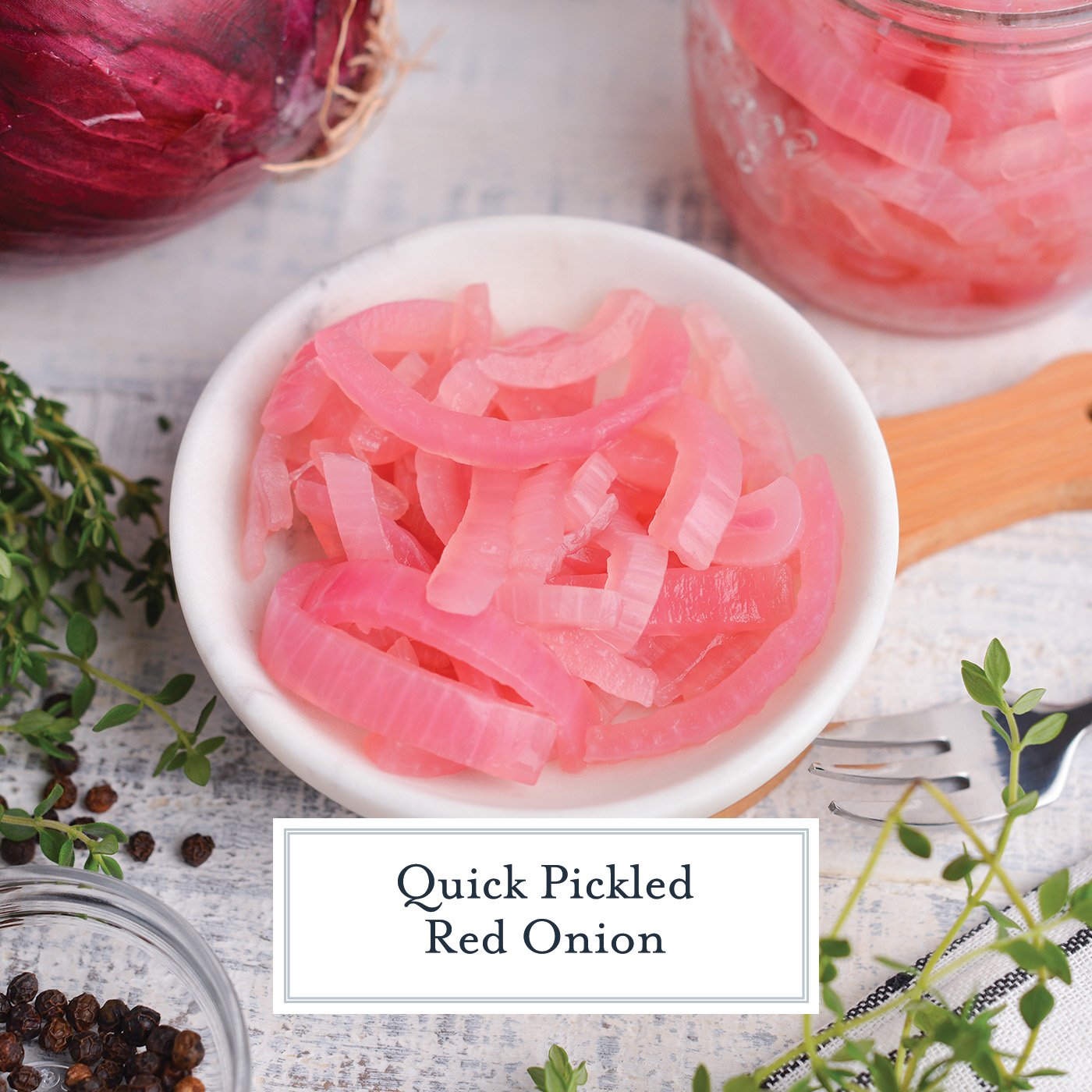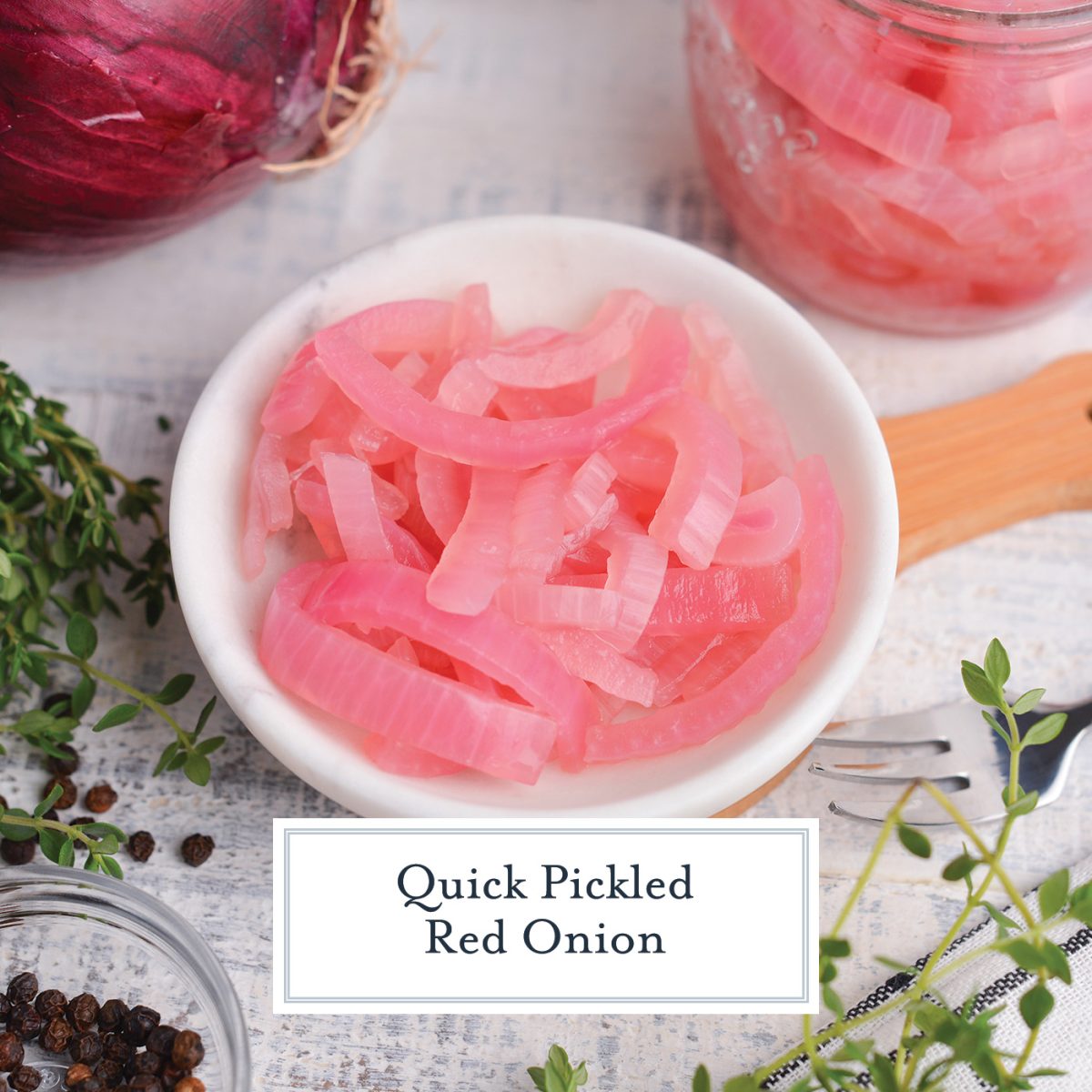 They store well in the fridge and make a great topping for everything from sandwiches and salads to tacos and nachos.
Pickled Red Onion is a condiment that can add a little "oomph" to any dish, from salads and sandwiches to tacos. These pickled onions are so easy to make and will become a staple on your condiment shelf, much like kimchi has.
Why Are They Called Red Onions?
Let's first discuss the elephant in the room. Why is red onion called red?! It's purple!
Apparently it is only because they used to be tinged with red, but now days they are pretty much always purple. What a boring explanation! Now on with the recipe….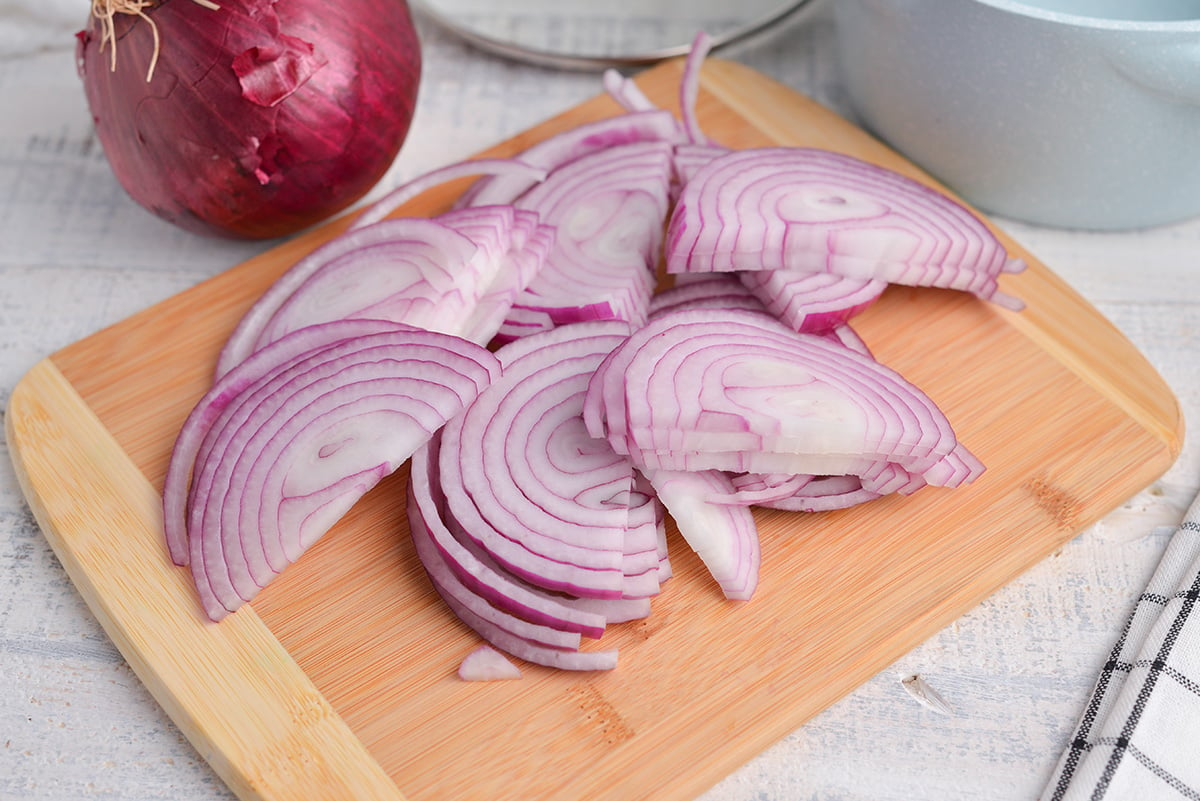 Pickled Red Onion Condiment
Ah, summertime. The season of picnics and cookouts and any other excuse to have friends over outside and fire up the grill, to hang out and relax and sip a cocktail while enjoying delicious food.
I love the potluck nature of these get-togethers because it means that even when I'm hosting, I don't have to worry about preparing an entire meal. Just a main entree, using something to grill, and my friends cover the rest.
Of course, I do have a habit of preparing a few extra things for my guests and Easy Quick Pickled Red Onion is one of them. An easy recipe that is always a crowd pleaser.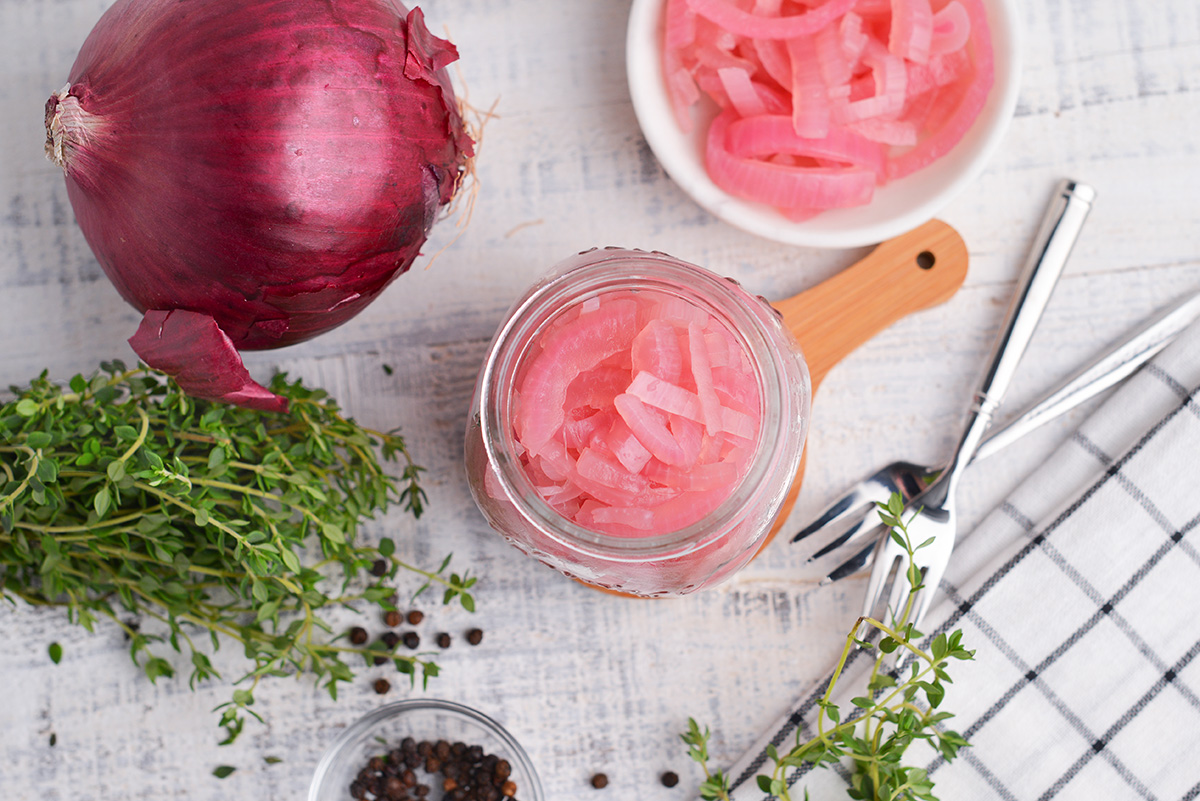 Ingredients
The list is super short, making these a whiz in the kitchen. Just three ingredients!
Red Onions- They are the star of the show, aren't they? Many people ask if you can use a a different kind of onion and the answer is YES, but since each type of onion has a unique flavor, the taste will be slightly different, as will the color.
Apple Cider Vinegar– Nearly any type of vinegar can be used, but the rosy appearance of apple cider adds to the lovely hue while giving the signature bite.
Coarse Kosher Salt- Salt hastens the process and brightens natural flavors, but make sure to use a coarse kosher salt or a coarse sea salt. If using fine salt, reduce the amount by 75%- since the grains are smaller, you'll need far less for the same impact. The downside is that the smaller grains are actually more salty.
Water– OK, I lied, there are four ingredients, but water doesn't really count, does it?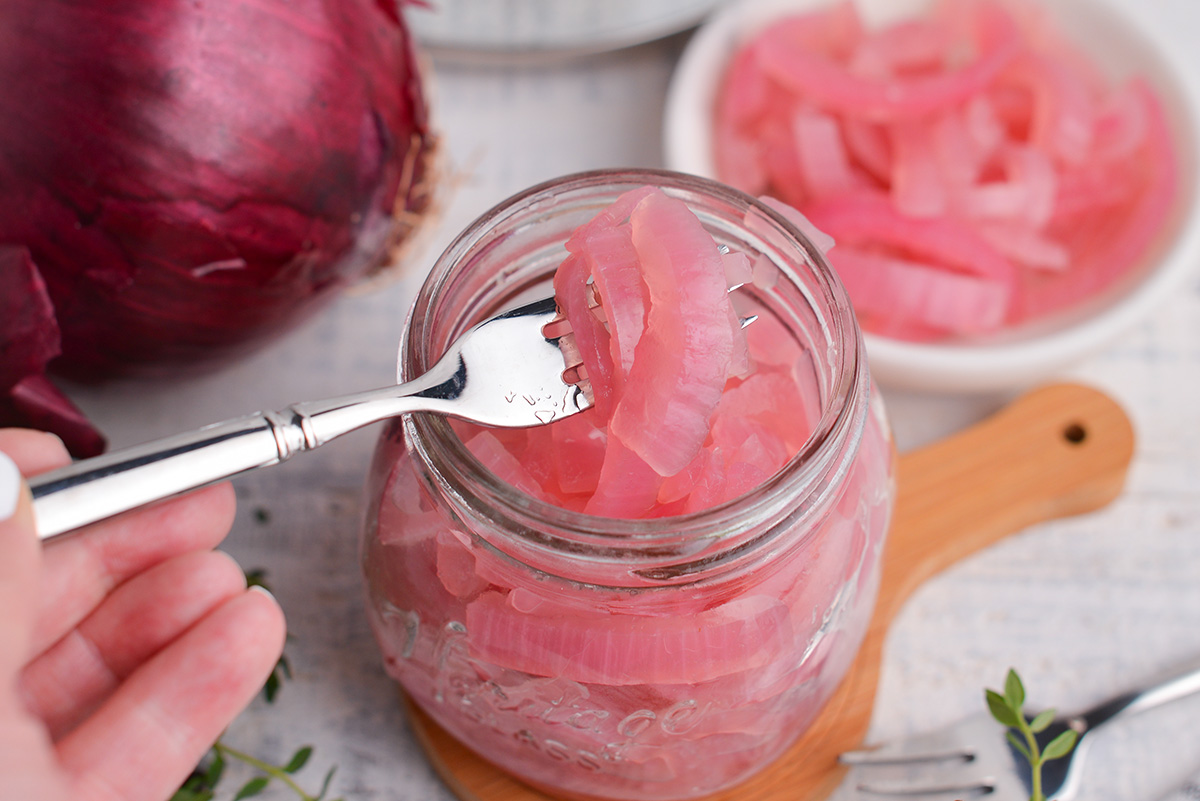 How to Make Quick Pickled Red Onions
Traditional methods of pickling include placing a vegetable, or egg, or whatever you are pickling into a large glass jar and covering with a vinegar based brine. From there time will pickle the food naturally and slowly.
But if you need something quick, there is a hack. It is simple really: HEAT. A light simmer of the onions in a hot vinegar brine will soften and speed up the process leaving you with tender, tangy pickled red onions in no time flat.
Fill a medium saucepan halfway with water and bring to a boil over medium heat. I generally make these in a large batch, but if you are just making one onion, a small saucepan works.
Slice the raw red onions while you wait. The trick here is to make sure the slices are similar in diameter. Using a mandoline slicer or food processor will make the most accurate slices, but also creates more dishes. A sharp knife and steady hand will work just fine. I aim for 1/4 to 1/8 of an inch thick. Leave them in whole rings or cut into half moons.
When simmering, add the sliced onions, apple cider vinegar and salt. The salt should dissolve pretty fast in the hot water.
Continue to simmer until onions are soft, approximately 10-12 minutes. Do not overheat or they get slimy and mushy. The goal is that they still have a little body and snap.
Drain well and then use or place in the fridge to chill in an airtight container, mason jar or pint jar.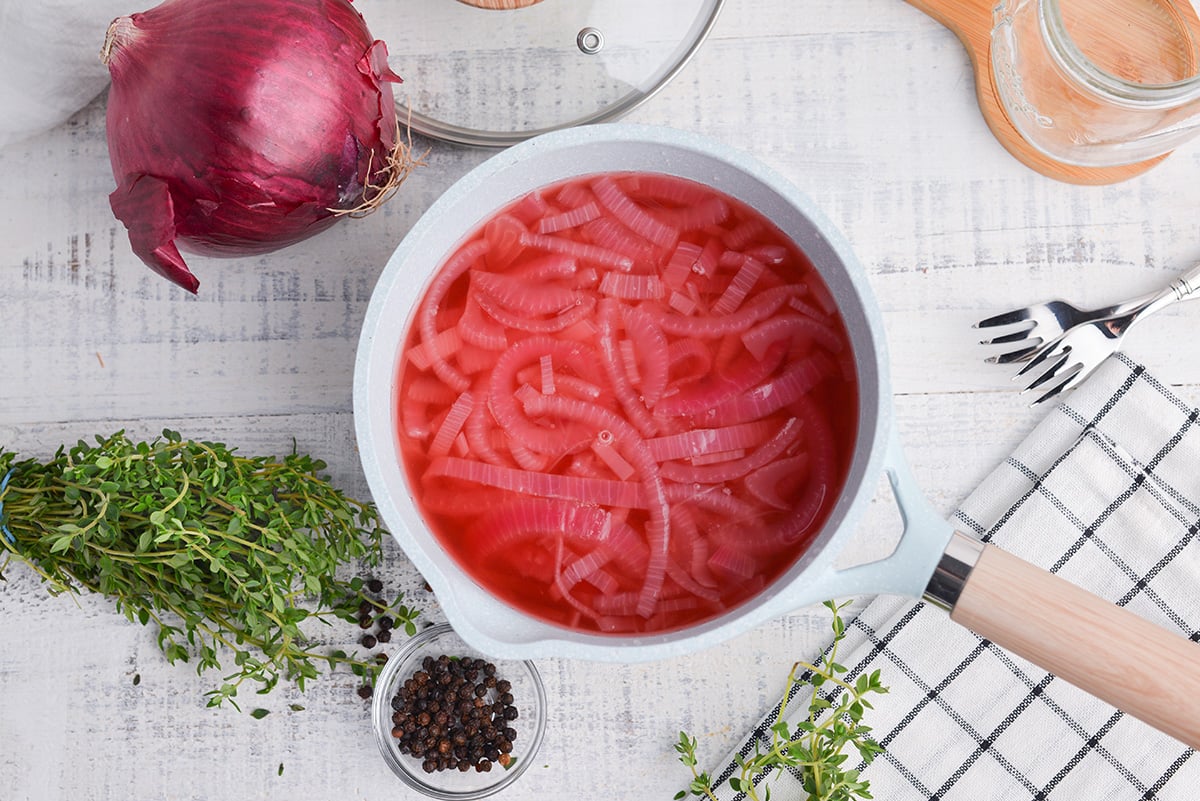 Variations
This favorite condiment can also be customized, but since we aren't using the lengthy pickling process, some of the options like fresh herbs, might not work as well.
Switch up the onions or use a combinations of onions for a complex flavor.
Throw a few whole peppercorns into the brine. Red, white, black or pink will all give unique peppery undertones. Make sure to remove the whole peppercorns before serving or storing.
Swap the type of vinegar. Simple replace apple cider vinegar with red wine vinegar, rice vinegar, white vinegar, white wine vinegar or even balsamic vinegar.
If I was making old school onions, I'd place fresh herbs into the brining container, but for the speedy version, this doesn't work we all. Instead, a small pinch of dried herbs or bay leaf is a better bet. Rosemary, parsley and basil all complement well.
Add a few whole cloves of garlic. Onion and garlic are one of the most iconic flavor combinations, so why not pair them together for pickling? Remove the whole garlic cloves before storing.
Make them sweet and punchy by adding a small dab of pure maple syrup or honey to the hot liquid about halfway through the cooking process.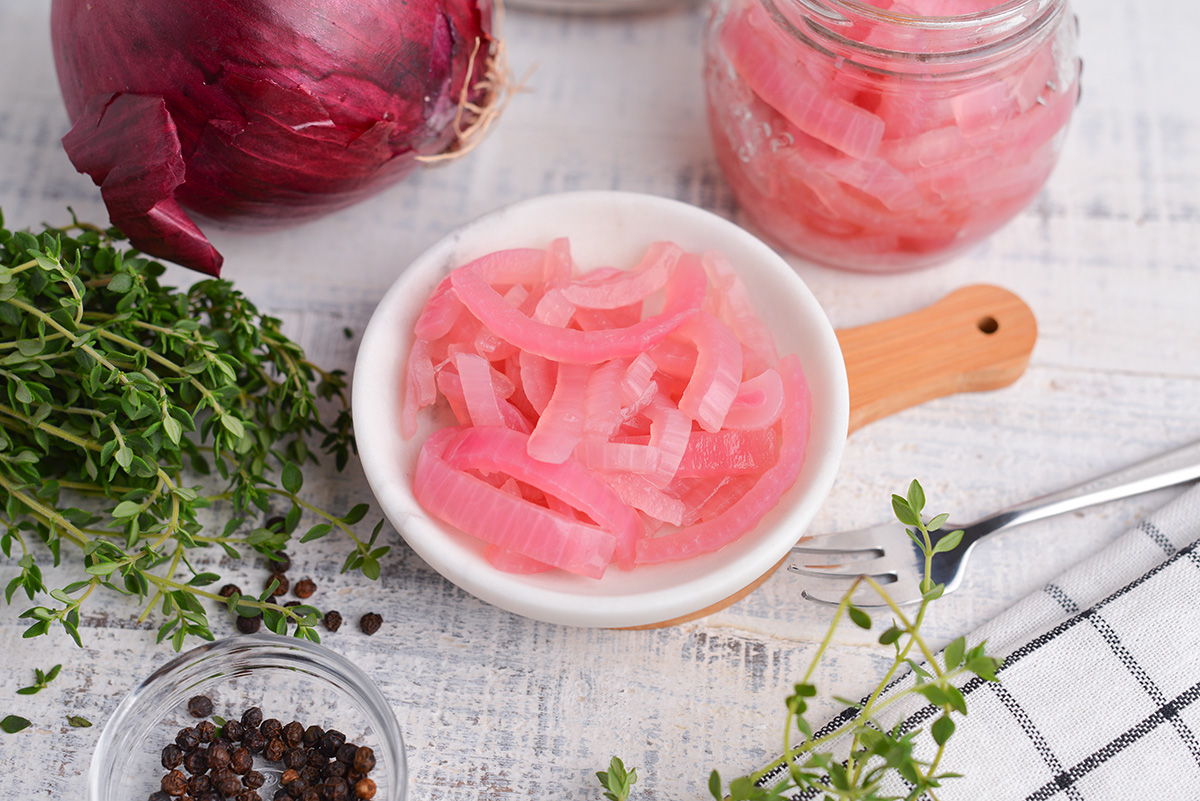 What to Use Pickled Onions On
What can't you? They are truly a verstile condiment. This red onion recipe can be served chilled, room temperature or even hot.
I love to add these to my burgers and sandwiches but they also add a punch of flavor to salads, both green and mayo-based salads. You can even add them to things like tacos, burritos and nachos! Here they are on my Italian Sausage Sandwich Sliders. Avocado toast or pea crostini are also favorites. And Indian favorites are also fun like Shrimp Biryani or Butter Chicken.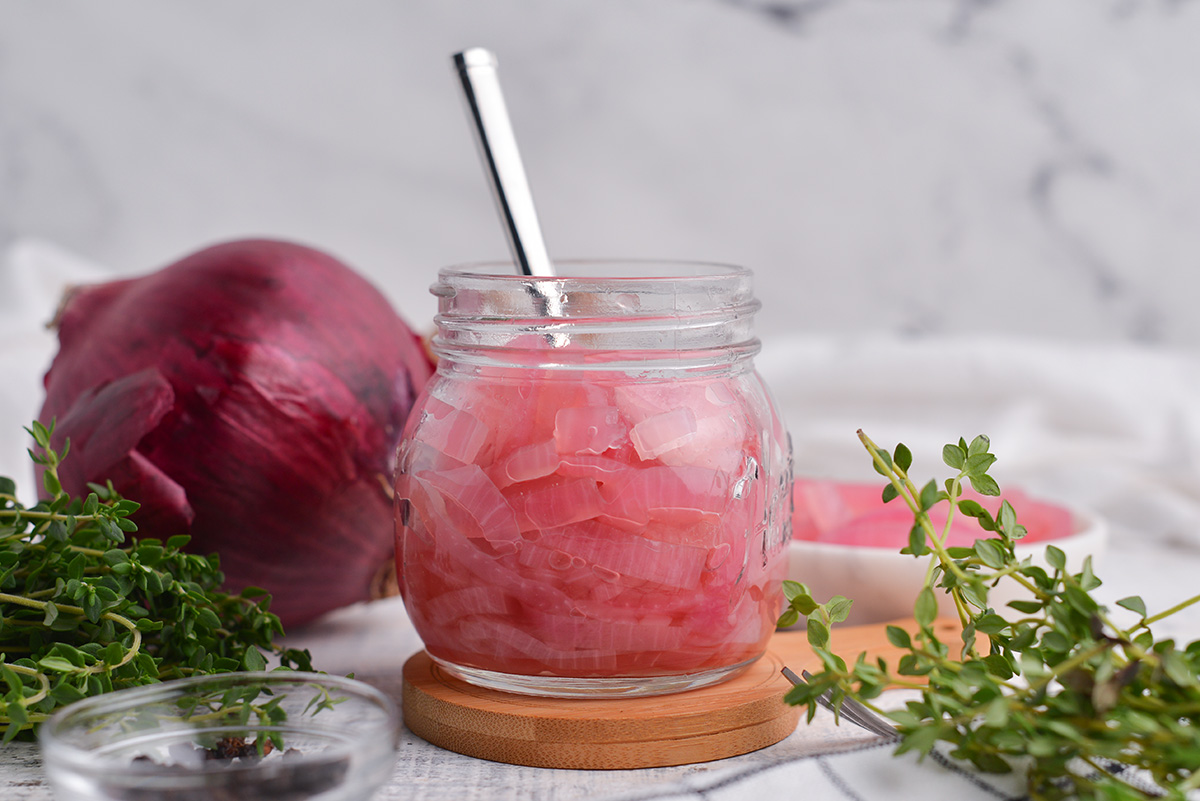 I know some people who will even eat pickled onions straight from the jar with a fork or put them on the plate as their own side dish for a vibrant pop for acidity.
Storage & Freezing
Store a jar of these Quick Pickled Red Onions in your fridge in an airtight container for up to 2 weeks. Pickled red onions can be canned or jarred, but you'll need to use the pickling liquid, so reserve the liquid and let it cool before placing into a mason jar.
I do not recommend freezing onions. They tend to thaw slimy and weird.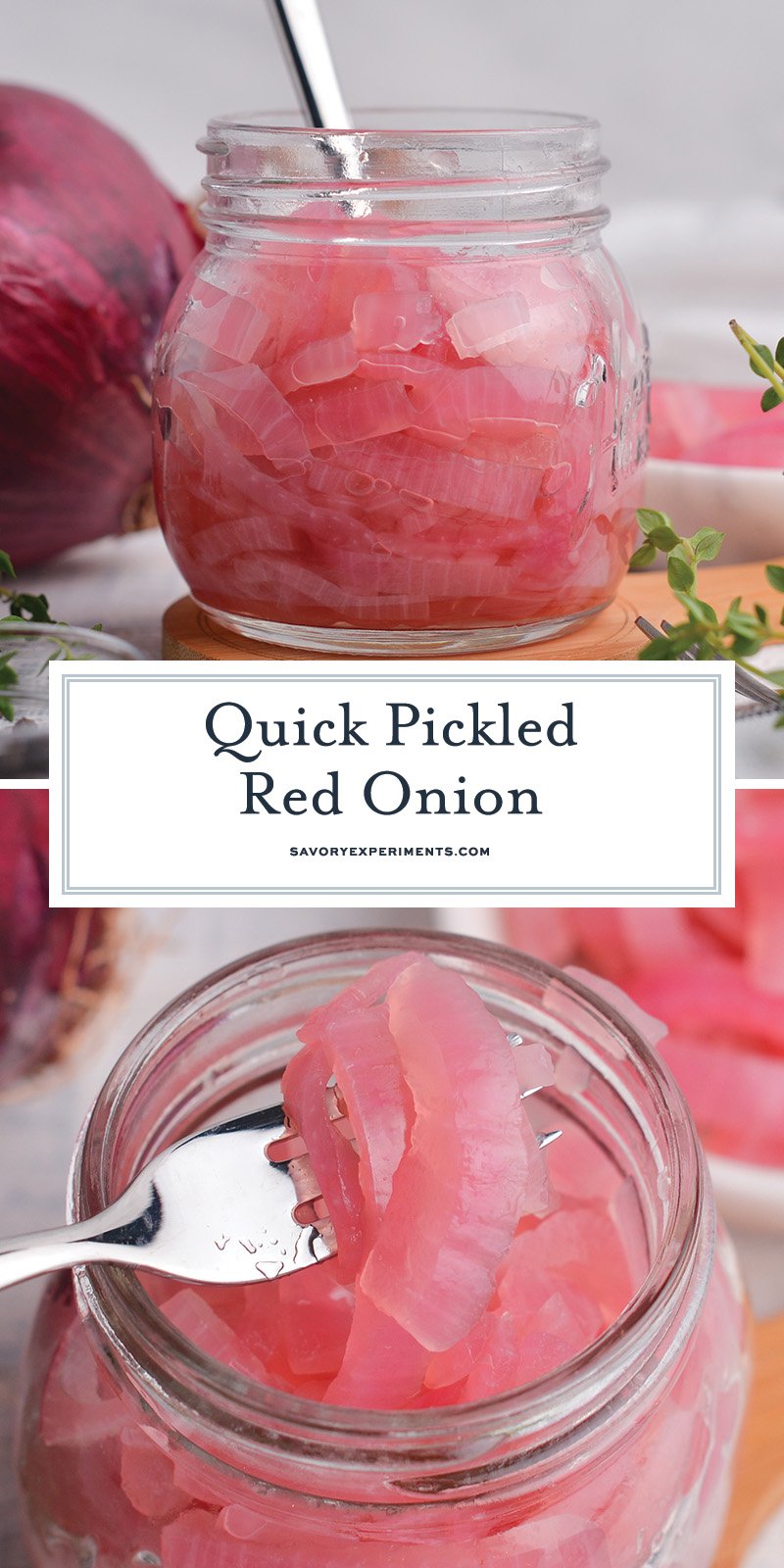 If you love pickled onions, here are some other recipes you might enjoy!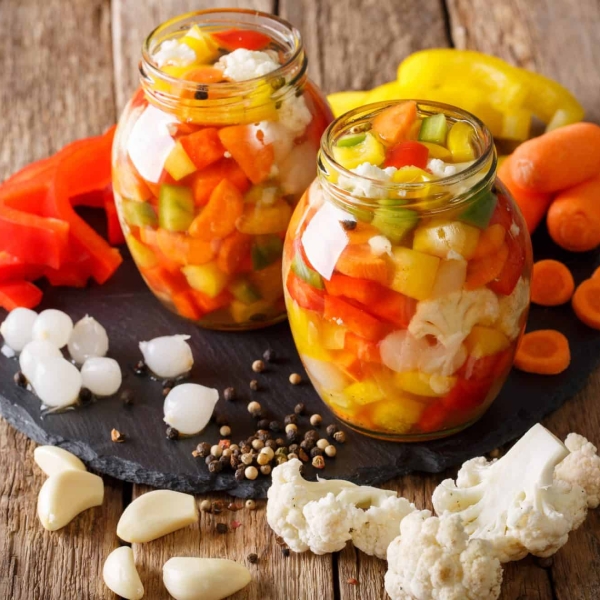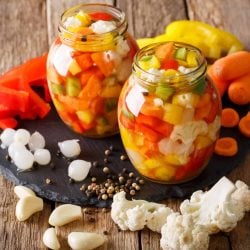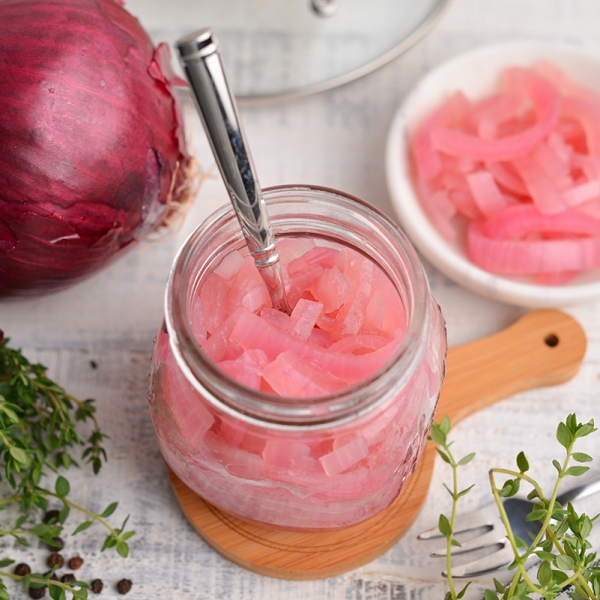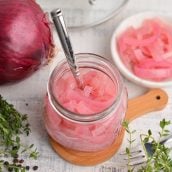 Quick Pickled Red Onion Recipe
Quick Pickled Red Onion will quickly become the only pickled onions you ever make, with just 3 ingredients and limited prep time!
Instructions
Fill a medium saucepan halfway with water. Bring to a boil.

Add the onions, apple cider vinegar and salt.

Continue to simmer until onions are soft, approximately 12 minutes.

Use immediately or refrigerate for up to 2 weeks.

If you like this recipe, please come back to give it a rating and let us know if you made any adjustments!
Nutrition
Calories:
14
kcal
,
Carbohydrates:
2
g
,
Sodium:
292
mg
,
Potassium:
51
mg
,
Sugar:
1
g
,
Vitamin C:
2.1
mg
,
Calcium:
6
mg
,
Iron:
0.1
mg